Today, in the online shopping era, heavy discounts, cash on delivery, easy returns kind of offers, a broad range of make-up has become increasingly accessible and popular. Growing rapidly, even in the pandemic era, the beauty industry is further spurred by technological advancements such as telemarketing and e-commerce. In such an age, when the hyper normalization of makeup and beauty trends dominate the imagination of the masses; 'no makeup' looks sported by some of the most beautiful faces in the country can be radically refreshing.
With the growing popularity of this industry, has also come to the simultaneous rise of a body-positive and self-love movement, where 'Natural' is beautiful. Naturally, a lovely Bollywood actress without makeup, sporting her best accessory – her eyes, is an inspirational and increasingly visible phenomenon today, thanks to quarantine and social media.
Well, we've put together a stunning archive of Indian actresses without makeup, wearing their skin with comfort, style, and ease. We've selected ten of our absolute fave pictures and cannot wait to share them with you in this article. Scroll on and brace yourselves – you are about to be attacked with a ton of charm!
1) Forestry Cool With Alia Bhatt: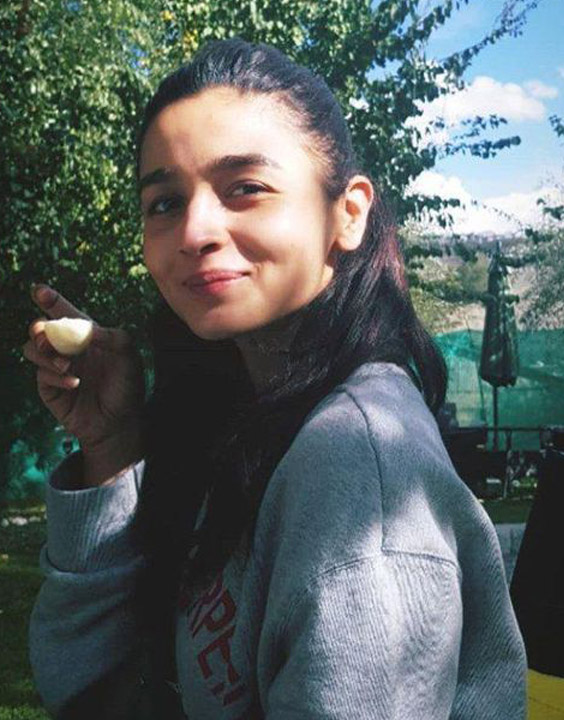 Cool, calm, serene.
A quintessential millennial babe, a snapshot of Alia Bhatt without makeup can be easily found scrolling through the actress's avidly followed Instagram page. Sweet, serene and morning-fresh, the picture captures Alia in her natural element, sans make-up and filled with quiet joy. These are the kinds of mornings worth living for.
Get the look:
Wear your hair half down, half tied-up.
Wear your fave hoodie and scarf.
Go for a mid-November morning stroll.
Fresh face, no make-up.
2) Working It Out With Deepika Padukone: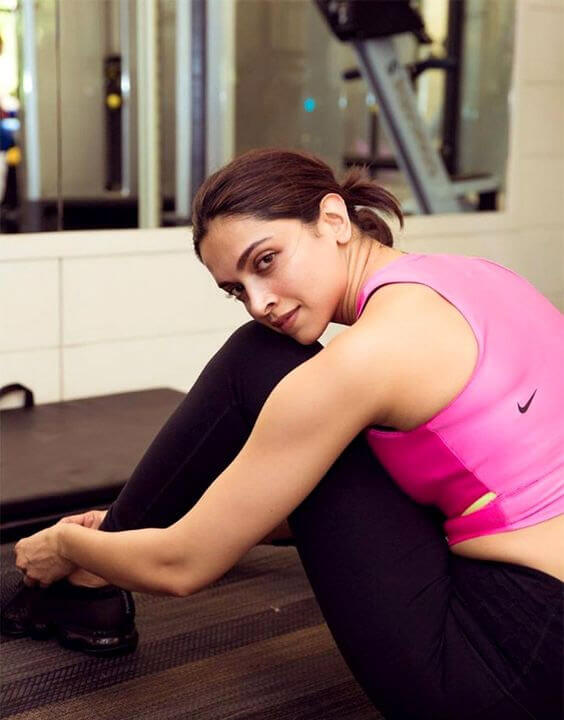 Focused, relaxed, radiant.
Known for her killer legs and toned abs, Deepika, daughter of famed badminton player Prakash Padukone, is avidly into fitness. Often posting post-workout selfies, she peeps through the screen with a sense of radiance and focused calm. Candid and fresh, these pictures of Deepika Padukone without makeup, inspire many to work on their own muscle strength. Kudos to the grit and determination of this bombshell!
Get the look:
High ponytail – all the way.
Wear your fave work-out clothes.
Do a 'Chloe Ting' routine on YT.
Fresh face, no make-up.
3) Retro Ruling With Kajol: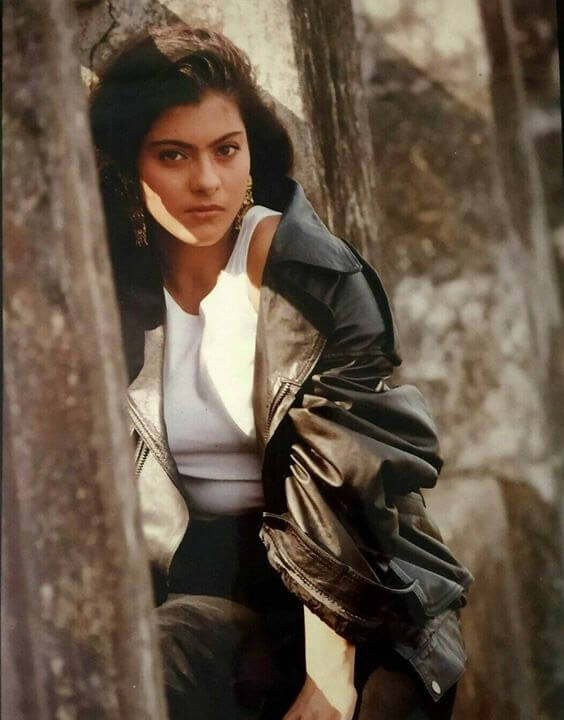 Sultry, Earthy, Brilliant.
The unibrow queen of India, Kajol's archives of her younger days as an actress and model are filled with stunning reminder after reminder, that this beautiful lady can only be enhanced by make-up. Her real beauty is the fire that she gracefully holds within. Sultry to the core, this picture of Kajol without makeup gives us the 90s feels like no other. A style statement in itself, the unibrow only adds to the natural and organic appeal of her no-makeup look.
Get the look:
Grow a unibrow if you can – let your freak flag fly.
Get a leather jacket. Any leather jacket.
Wear your jacket half-way (Ariana Grande style) & schedule a winter shoot with your bestie.
Fresh face, no make-up.
4) Work From Home With Kareena Kapoor: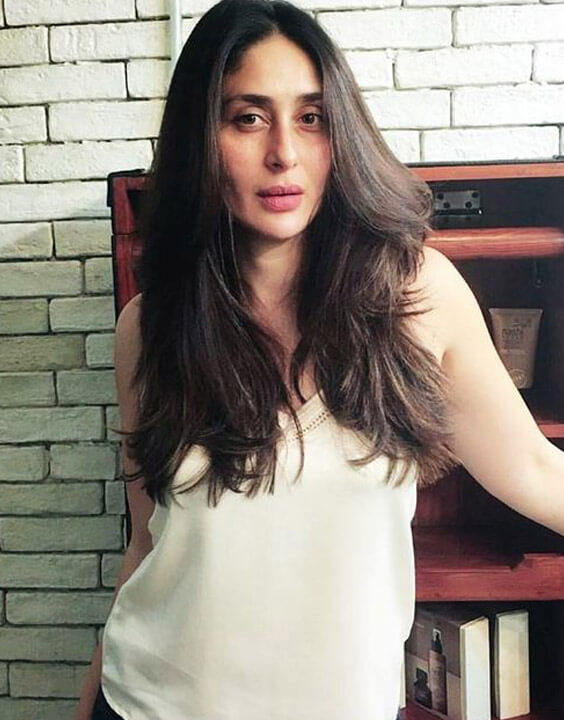 Playful, Charming, Refined.
Oozing with considerable charm and sparkling chemistry, Kareena Kapoor without makeup, appears in playful candid pictures on her Insta feed. Taken by her equally famous husband Saif, in their refined home during the quarantine, this no-makeup post sets an unbeaten benchmark among pictures of an actress without makeup. Perfect for the new normal, this no-makeup look is super relatable and something every woman can pull off with style and ease.
Get the look:
Lightly and quickly blow dry damp hair into a messy coiffe.
Slip into a comfortable, satiny, silky camisole.
Have a date-night with your partner at home to light up the night.
Fresh face, no make-up.
5) Momma-zone With Madhuri Dixit: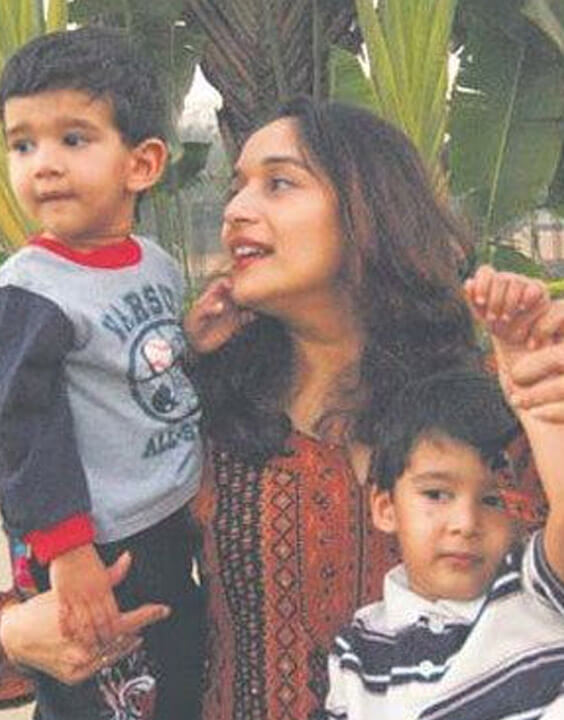 Happy, Healthy, Joyful.
Remember the long hiatus Madhuri Dixit had taken from Bollywood to get married, start a family & settle abroad? Well, she had a wonderfully normal time, allowing herself and her family to grow outside the glare of flashing cameras. Archives of her time away from the spotlight reveal a host of photos of Madhuri Dixit without makeup, but filled with unparalleled maternal joy. Seen here, spending time with her sons, Madhuri appears at her most natural, literally and behaviorally. Her million dollar smile is lit up by the simplest of life's pleasures – spending time with those you unconditionally love.
Get the look:
Let your natural hair texture grow out – keep it nonchalant.
An earthy-toned, printed, oversize kurta is the outfit to go for.
Put on some kolhapuris, and go for an exploratory walk with your family (at a safe time and place of course, in keeping with all necessary precautions).
Fresh face, no make-up.
6) Peppy & Fresh With Priyanka Chopra: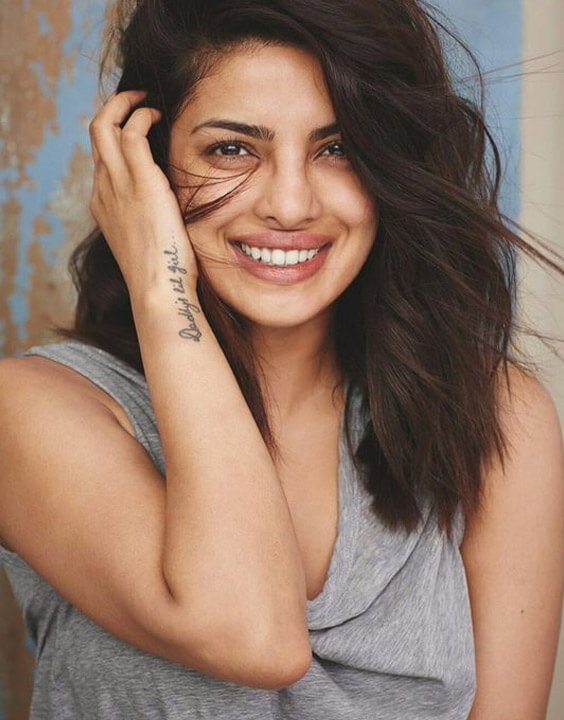 Friendly, Bubbly, Fresh.
A desi-global sensation, Priyanka's effortless style, personality and friendliness has carried her name across oceans. An advocate of regularly posting stunning no-makeup looks on her social feeds, this bombshell looks even more stunning in her natural state. Always well-groomed and put-together, Priyanka Chopra without makeup makes a striking impact. As seen here, for a sans-makeup photoshoot, PC glows with warmth, vibrancy and contentment. Who needs artificial blush, when one can come up with it naturally, with the aid of a genuine smile?
Get the look:
Keep your eyebrows well-groomed, and style your hair into a messy work of art.
Get into your cosies – any casual wear will do.
Come up with a memory that makes you genuinely, and truly happy, Then stare down a camera lens and flash your flashiest smile.
Fresh face, no make-up.
7) Beach-side Voguing With Katrina Kaif: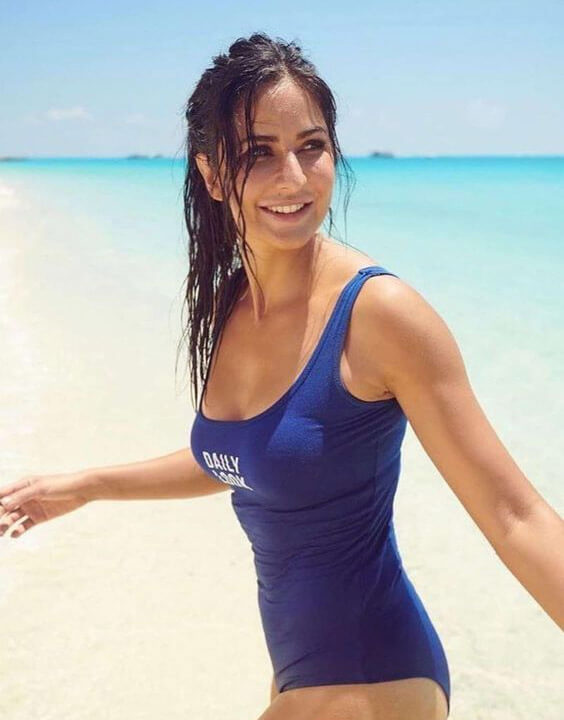 Adventurous, Minted, Incandescent.
Ever since Kat has joined Instagram, and launched her make-up line, 'Kay Beauty', she has made a startling impact on the social media landscape with her relatability, humility and undeniable charm. Looking freshly minted, along a sprawling beach with ocean water in a shade of vibrant turquoise, Katrina has a lot going well for her here. Among all photos of Katrina Kaif without makeup, we picked this one as it has the potential to be one of the best pictures captured of an actress without makeup, in her natural joyous element. Armed with a stunning smile, a golden glow, and a Baywatch bod; Katrina makes the most of the surrounding beauty in a candid and close snapshot.
Get the look:
High or low, your hair would be getting wet at the beach. Try to save it with a swimming cap, but let it free for the camera.
Pick a swimsuit that gently and stylishly reflects your surroundings in color, pattern or print.
Run along the coast or take a drive down the beach for an unforgettable no-makeup experience.
Fresh face, no make-up.
8) Twilight Rendezvous With Shraddha Kapoor:
On-the-move, Professional, Neat.
Who said no-makeup looks are only for home-stays, vacations, work-outs, and funerals? Everyday life is incomplete without work, and one cannot stay covered in makeup ALL the time. Here's the good news – neither do celebs. Even though it's their job to put their best foot forward in the looks department at all times, many go to important meetings, work discussions and professional sets sans makeup, but still looking fabulous. Shraddha Kapoor without makeup, rocking evening meetings in a simple black shirt and jeans is a great example of this. The trick is to always be well-groomed. You can forgo the makeup occasionally if you have been steady and regular in personal grooming activities such as hair trimming, eye-brow shaping and curing nails. It's not necessary, but if you would like to go Bollywood style and walk in the footsteps of this actress without makeup, then a touch of grooming will make all the difference in your presentation.
Get the look:
Keep your eyebrows well-groomed, and ensure your hair is trimmed and set neatly.
This is a no-makeup look that is intended to go well with work and formal wear as well as casual and lounge clothing.
Chill in this no-makeup glory on the go, on one of those overtly hot days, when the heat makes you feel like your face is about to melt off.
Fresh face, no make-up.
9) Vintage Queen – Aishwarya Rai Bachchan: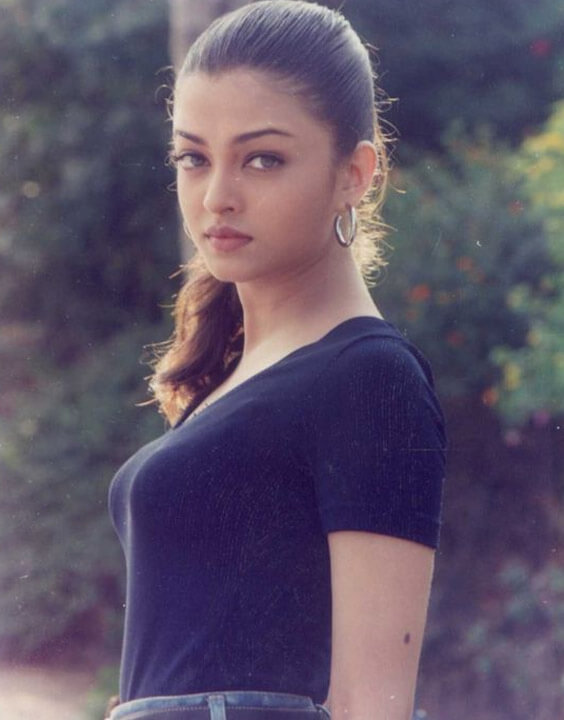 Angelic, Simple, Delicate.
We had to dig deep into our retro archives to come up with this picture. Depicting a delicately youthful Aishwarya Rai without makeup, this photograph is from her very early days, before she became a Miss Universe pageant winner. Those were the days of the pageant queens, but there was no one more natural a beauty than Aishwarya. Stunning, with a piercing gaze and angelic features, Ash did not need much make-up in those days to strike a pose and enchant a room full of important people. One flash of her hazel eyes and simple countenance was more than enough. Giving us true nostalgic feels, Aishwarya in the 90s was a breath of fresh air.
Get the look:
Natural hair, tied up in a loose pony.
Wear your smart casuals elegantly, by belting your jeans up, putting on a delicately appropriate accessory, and keeping things minimal.
A minimally adorned, clean face is the name of the game. Play it well by editing your sans makeup look.
Fresh face, no make-up.
10) Sweetly Content With Sonam Kapoor: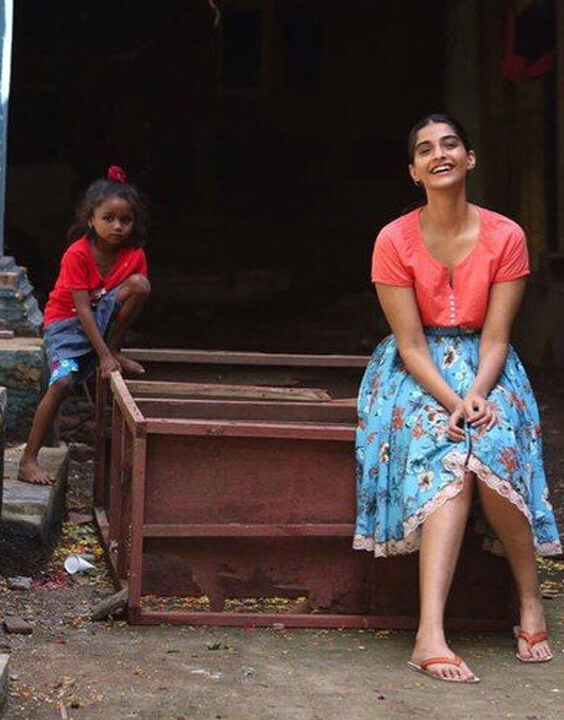 Fun, Vibrant, Cheerful.
Posted on a community wall online, this candid picture of Sonam Kapoor without makeup is on the sets of one of her movies. Incandescent with a fun and playful spirit and exuding vibes of cheerful exuberance, Sonam is spotted here, sans makeup, with the biggest smile. Grinning ear to ear, this natural beauty is radiant in her vibrantly colored clothing. Sweetly accompanied by a little girl, she is seen spending candid moments in the sun, away from frenzied media inquiry. This could explain the positive look of relief on her face.
Get the look:
A low ponytail or bun with a middle parting sets the tone effectively.
Don vibrant and bright colors – pick the deepest of pinks and the most striking blue. Don't be shy of experimenting.
Fling on some Bata chappals and get to the park to let your inner child out. Chill by the swings or take a walk around the broadest tree. Dream of a sunshine paradise in the making.
Fresh face, no make-up.
2020 has taught us many things – and one of the greatest lessons is that we must take care of ourselves. With the beauty industry's focus shifting from makeup to skincare, it's time to invest money in ensuring we look our best naturally, without a ton of product or filters. A new age of clean beauty, and honest consumption is dawning, and it aligns beautifully with the no-makeup revolution on social media today.
So go on – and be your true self. Quit buying makeup from those online shopping apps & get inspired by these beautiful actresses without makeup & snap your own #nofilter #nomakeup selfie today!
Image credits: The copyrights of the images used in this post belong to their respective owners. The credits where known are specified under the image - if you're the owner of an image and want it removed, please contact us.