Quintessentially an industry that produces musicals and great storytelling sagas, Bollywood is not without its fair share of drama and flair. So it comes as no surprise, that the famous Bollywood dialogues have shaped the ethos of popular Indian culture through the decades.
The song and dance may be center stage in a typical Bollywood film, but the one major thing that defines our style is famous Bollywood dialogues. Whether it's the villain asking 'kitne aadmi they' or the hero affirming 'mere paas maa hai.", memorable dialogues in Bollywood often make for successful and career re-affirming roles.
Performing iconic and famous Bollywood dialogues takes skill, practice and a genuine craze for the Hindi film industry. While many of us fans use the best Bollywood dialogues daily, internet personas and content creators like Kusha Kapila and Dolly Singh are making their mark with smooth renditions of iconic and funny Hindi dialogues to entertain the online masses.
We thought it would be amazing fun to delve into 34 of our famous Bollywood dialogues that we're sure you've heard in amusing everyday conversations. Read on for a trip down memory lane and a chuckle!
Here are some most famous dialogues of bollywood movies: 
1) "Mogambo Khush Hua"
Movie: Mr.India
Delivered by: Amrish Puri
An evergreen Indian classic, Mr. India was a movie full of iconic moments, famous Bollywood dialogues, and memorable scenes thanks to Mr. Amrish Puri's exceptional portrayal of an over-dramatic character. Decades after the release of this film, this dialogue is often heard in casual conversations between family & friends.
Millennial Speak: "I am nefariously pleased."
2) "Main apni favorite hoon."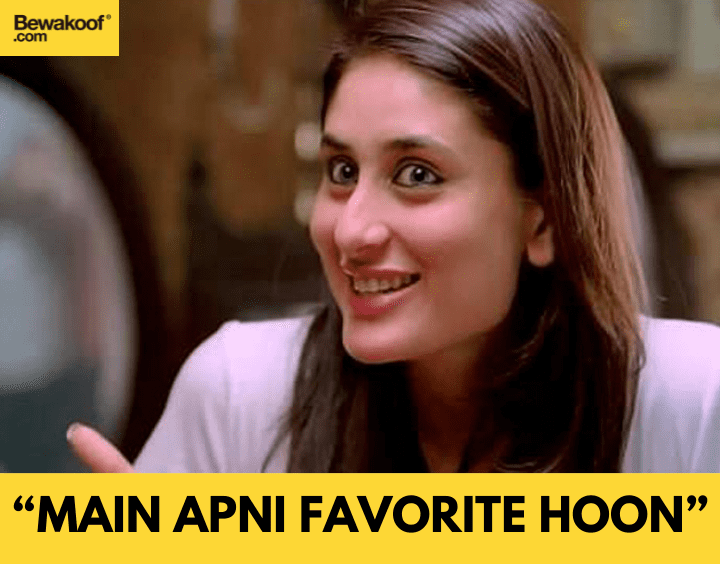 Movie: Jab We Met
Delivered by: Kareena Kapoor
There is no denying that Kareena Kapoor's bubbly character in this fun romedy is one of her most charming portrayals to date. Adding a memorable detail to her extremely verbose character, Geet is also a highly positive and optimistic personality. Hence, when this dialogue pops up in one of her hilarious monologues, it is as endearing as it is entertaining. We should take a leaf out of Geet's book, and be our own favorites too!
Millennial Speak: "I am head over heels in self-love"
3) "Khul ke ro nahi sakogi, toh khul ke has kaise paogi?"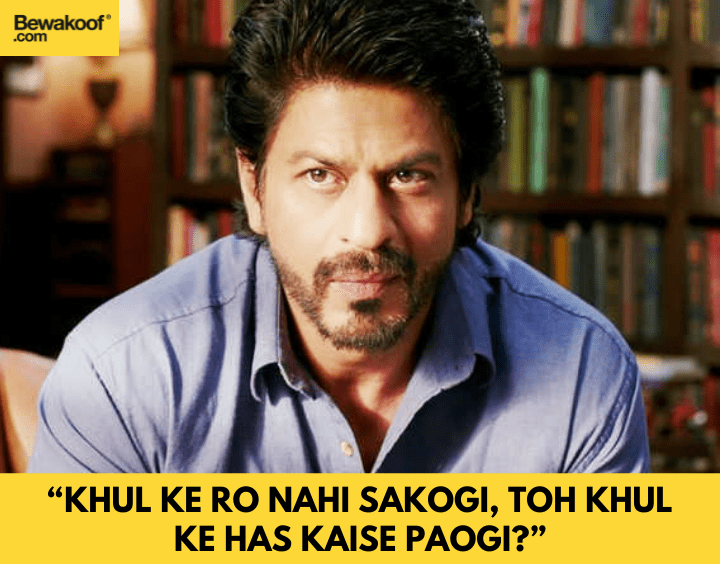 Movie: Dear Zindagi
Delivered by: Shah Rukh Khan
Our hearts were collectively melted when this heartfelt dialogue was delivered by SRK with his signature suave & empathetic delivery. The seaside, the glint in his eyes and the general mood of the film makes this dialogue worth remembering. Embracing oneself, in all our glory – good & bad – is key to living a balanced life. It's important to acknowledge the negative too once in a while so that it doesn't fester into something destructive. A lesson worth learning, indeed.
Millennial Speak: "Therapy is awesome!"
4) "Mere paas Maa hai."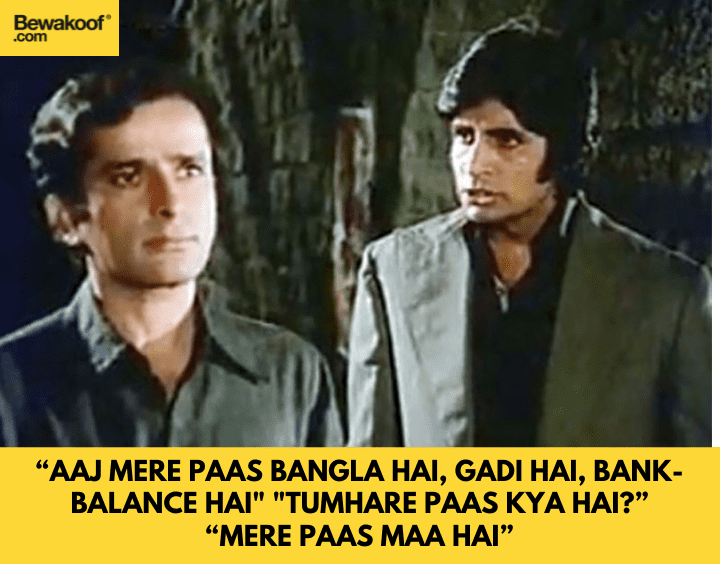 Movie: Deewar
Delivered by: Amitabh Bachchan & Shashi Kapoor
Arguably one of the most iconic moments in Hindi cinema, this robustly candid exchange during the course of a confrontation among brothers is a part of the famous Bollywood dialogues hall of fame. Striking with the vein of our nation and resonating with Indian culture, this dialogue is widely used to make a point.
Millennial Speak: "Mothers are a gift from heaven"
5) "Jaa Simran, jaa. Jeele apni zindagi"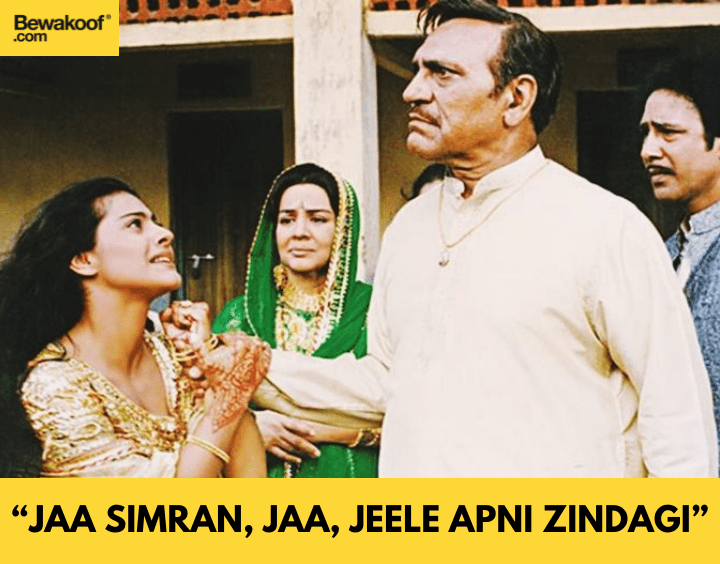 Movie: Dilwale Dulhania Le Jayenge
Delivered by: Amrish Puri
DDLJ is a cult classic filled with script writing that can win trophies for the best dialogue in Hindi cinema's illustrious run. However, this famous Bollywood dialogue, delivered by the revered Amrish Puri is the sure-shot winner. After all, how can we not stan a dialogue that is relatable to so many Indian families? Younger generations often quote this dialogue to describe instances when their parents finally relinquish control over their life decisions. A fitting line, for a fitting sentiment.
Millennial Speak: "I'm free to date whoever I like – finally."
6) "All izz well"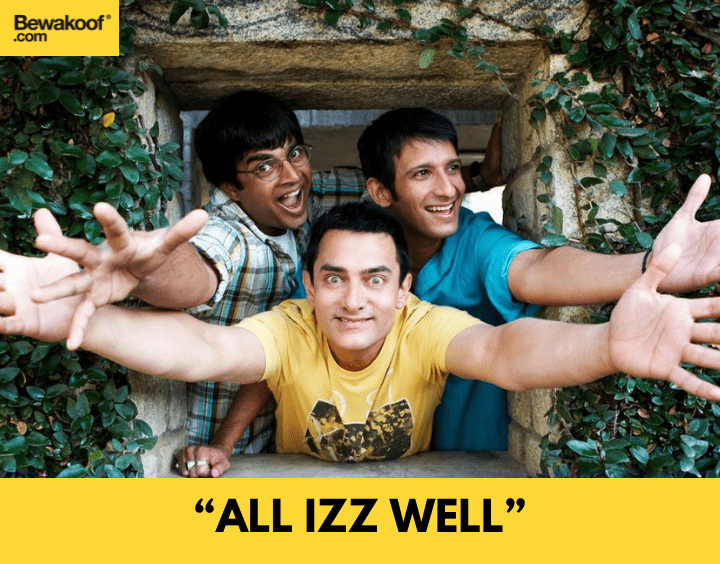 Movie: 3 Idiots
Delivered by: Aamir Khan
The mantra of any entrance exam goer, this sometimes inspirational and sometimes funny Hindi movie dialogue is the very best of the bunch! Emphatically delivered by Aamir Khan, with his fingers fluttering over his heart, is enough to calm the most frayed nerves. We approve & concur!
Millennial Speak: "This too shall pass."
7) "Tussi ja rahe ho? Tussi na jao!"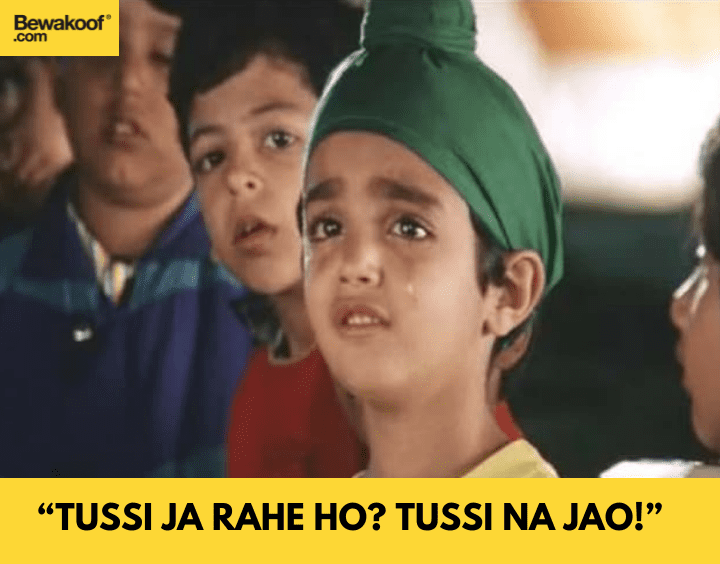 Movie: Kuch Kuch Hota Hai
Delivered by: Parzaan Dastur
Remember the cute kid at the summer camp in K2H2? No, not the actress who plays SRK's daughter – the other one, who attends summer camp with her, tries to count all the stars in the night sky and wears a Sikh dastar. This incredibly cute little kid blurts out this dialogue during a key emotional moment in the film – leading to elongated 'aww's from the audience.
Millennial Speak: "I need you."
8) "Aanewala pal, janewala hai."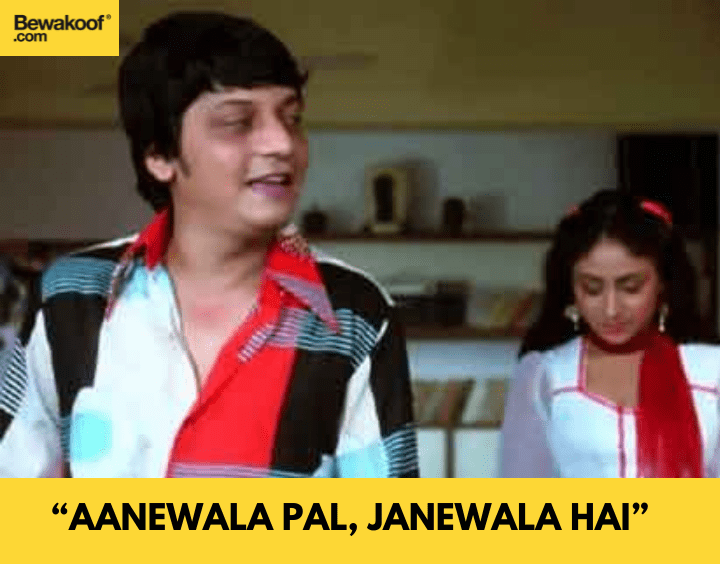 Movie: Gol Maal
Delivered by: Amol Palekar
An oldie, but a goodie. The 70s film Gol Maal is considered an exemplary show of powerful performances and unforgettable music. This one's a dialogue as well as a lyric, albeit a powerful one. Singing about the ephemeral, fleeting nature of life, Amol Palekar does his best to charm the audience into living in the present moment. We love this one to bits.
Millennial Speak: "Kal ho na ho."
9) "Tension lene ka nahi, sirf dene ka."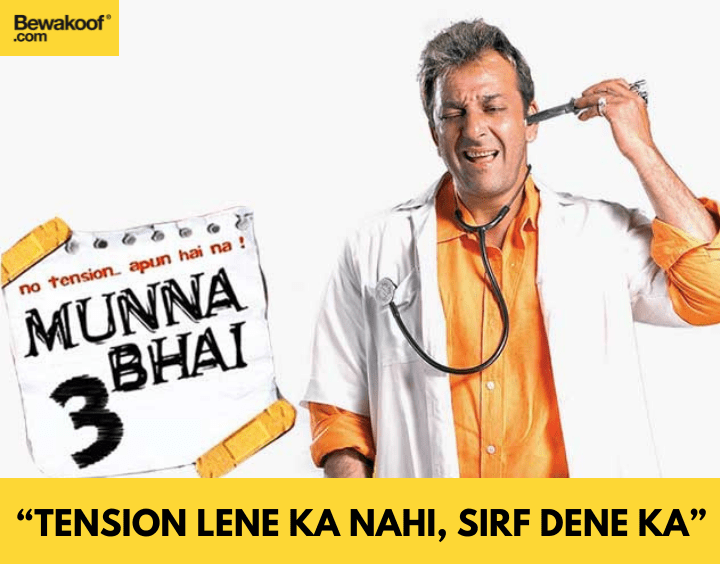 Movie: Munnabhai MBBS
Delivered by: Sanjay Dutt
The boss of funny Bollywood dialogues, Munnabhai MBBS is the kind of feel good movie that's perfect for some fun family time on a quiet Sunday. Filled with laughter, positivity and inspiring moments, this is a movie that will leave you feeling warm and cosy on the inside. This iconic dialogue from the movie is the best of the bunch because it reminds us to be ourselves, and let go of petty worries – a zone we'd all like to be in as 2020 ends.
Millennial Speak: "It's a new art form, showing people how little we care."
10) "Har team main bas ek hi gunda ho sakta hai aur iss team ka gunda main hoon!"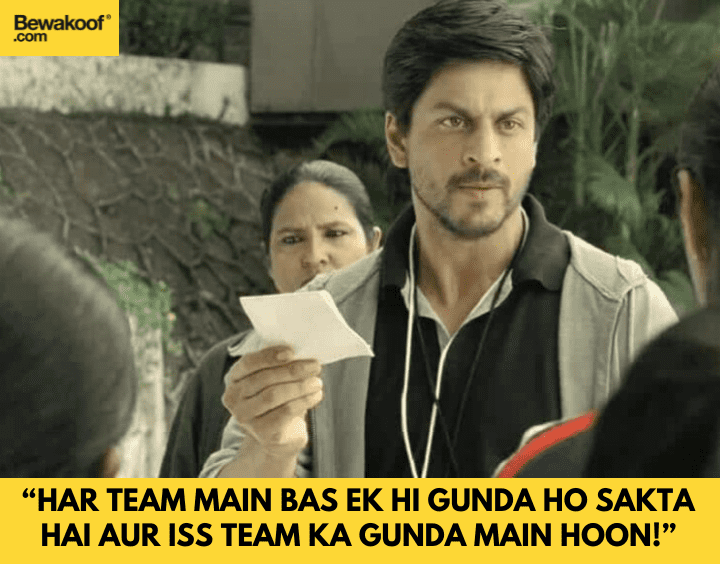 Movie: Chak De India
Delivered by: Shah Rukh Khan
The best dialogue in the Hindi movie 'Chak De India', an inspiring story about the women's national hockey team & their coach, is the one where SRK in his effort to push the team to its limit, spits this line out at a high-pressure moment. Shocking the audience into an alert state, this is undeniably the 'wake-up' scene of the movie.
Millennial Speak: "It's my way or the highway."
11) "Kitne aadmi the?"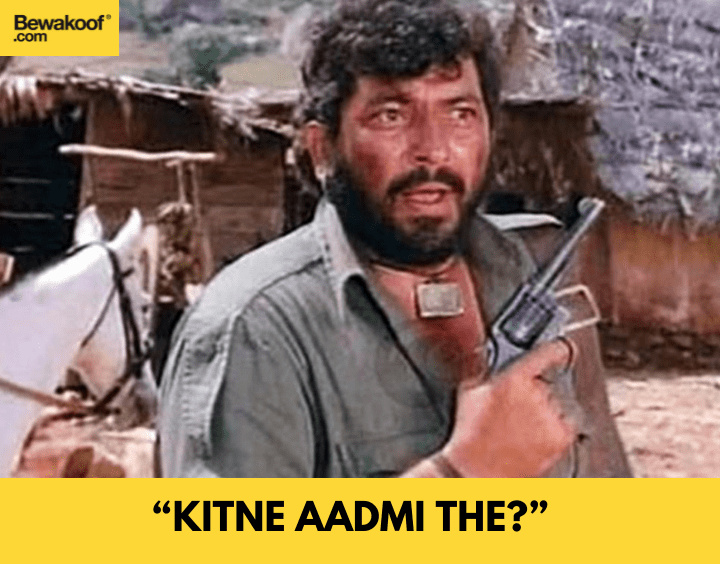 Movie: Sholay
Delivered by: Amjad Khan
Ah, Sholay. A movie with obsessed fans across generations, Sholay is a Bollywood icon. It is the crown jewel of the film industry and goes a long way in proving how good cinema, by critical standards, can also be entertaining and commercially viable. No one can forget Amjad Khan's sinister portrayal of Gabbar Singh & this particular dialogue is delivered by him with a particularly unforgettable sneer and cadence.
Millennial Speak: "Spill the tea, sis."
12) "Ek chutki sindoor ki keemat tum kya jaano Ramesh Babu"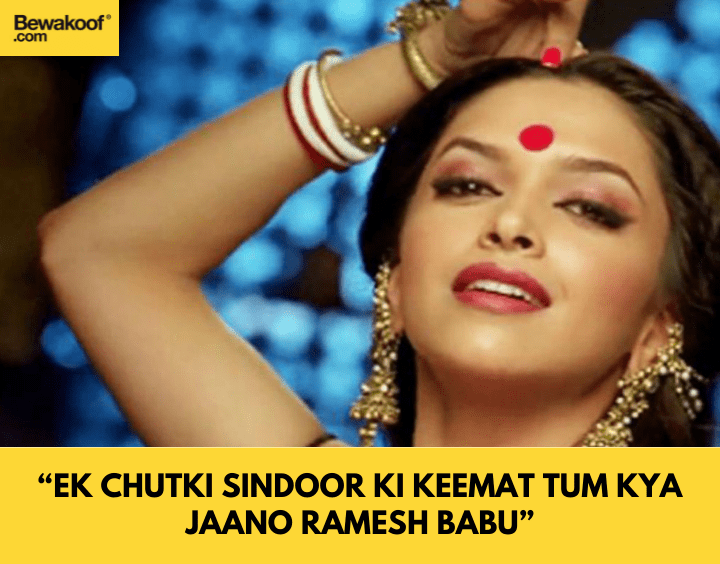 Movie: Om Shanti Om
Delivered by: Deepika Padukone
Often mimicked in a sarcastic spirit, this iconic dialogue has taken over the social media zone. Often quoted by young married women with a special smirk, this is one dialogue that has truly penetrated everyday conversations. Next time your husband tries your patience, hit him with this dialogue for a shared chuckle.
Millennial Speak: "Drama-mama!"
13) "Kya tum mantally challenged ho my buoy?"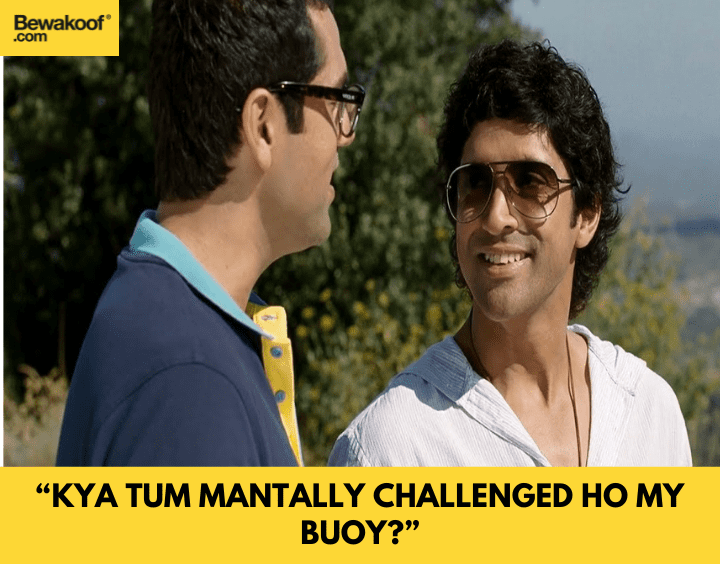 Movie: Zindagi Na Milegi Dobara
Delivered by: Abhay Deol
One of Bollywood's modern, coming-of-age movies, this is an iconic and super-relatable scene that captured the imaginations of many youngsters across the country. As one of the most hilarious and famous Bollywood dialogues featured in the film, this line is delivered by Abhay Deol as he mimics a former professor during the character's schooling. We all have stories like these – especially ones where teachers have said funny things in funny ways and made the class collectively giggle. Truly, those were the days.
Millennial Speak: "Everyone, stand in a straight circle."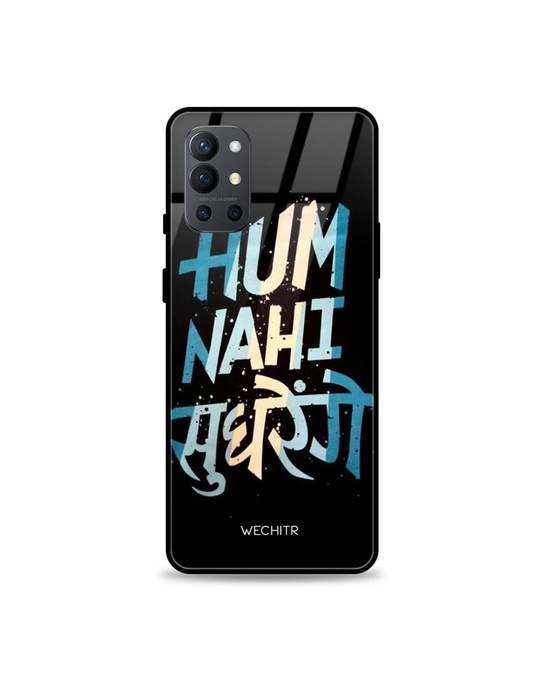 You feel like you're always getting the short end of the stick! You need to stand out amongst your friends and get noticed. Now you can get bigger, with these amazing Hum Nahi sudharenge covers.
14) "Meri himmat aam admi ki himmat hai, is desh ki himmat hai"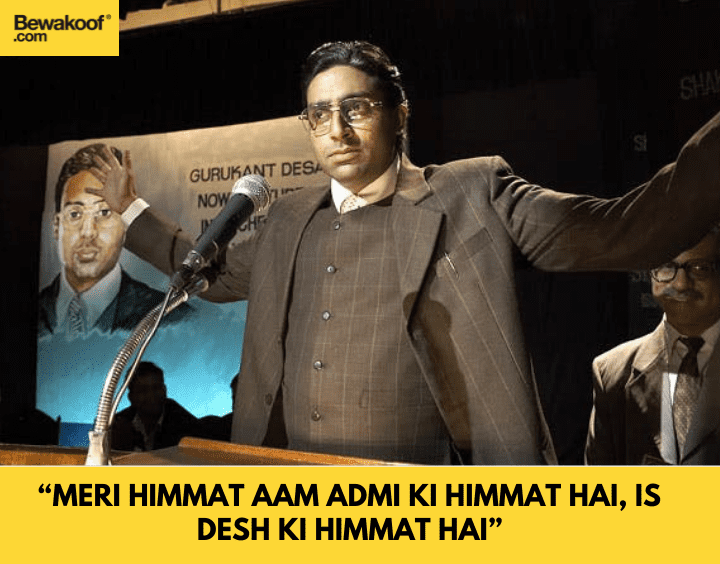 Movie: Guru
Delivered by: Abhishek Bachchan
An inspirational movie about an aspirational man, Jr. Bachchan shines in his role as an industrialist patriarch who is firmly rooted in the Indian-ness of things. Displaying the grit needed to climb the ladders or indisputable wealth with sheer hard work and street-smarts, Abhishek's character quotes the line with deep passion.
Millennial Speak: "We're powerful together."
15) "Picture abhi baaki hai mere dost."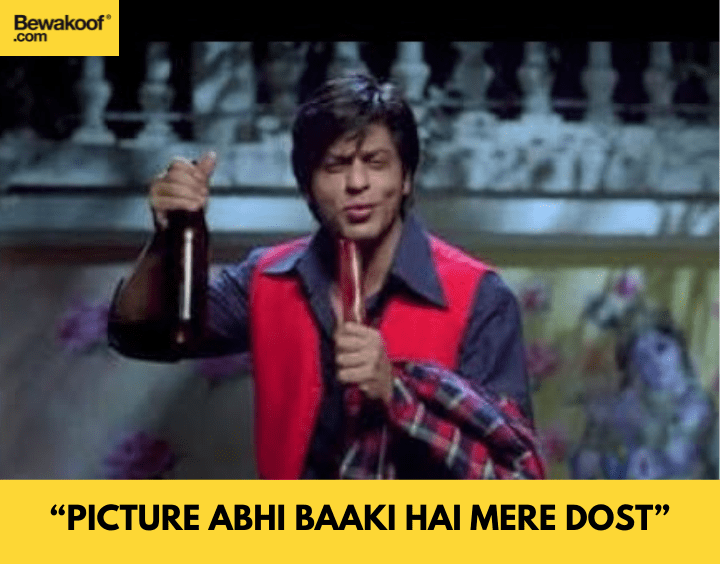 Movie: Om Shanti Om
Delivered by: Shah Rukh Khan
'Om Shanti Om' is a movie based on making Bollywood movies. Filled with one iconic Hindi movie dialogue after another, this film has certainly made its mark with some of the best & famous Bollywood dialogues ever. One of them is a gentle reminder, that this is not the end – our story remains unwritten still, waiting to be shaped by our choices. Widely used in daily conversations, this is an unmissable classic.
Millennial Speak: "This chapter isn't over yet."
16) "Our Business Is Our Business None of Your Business!"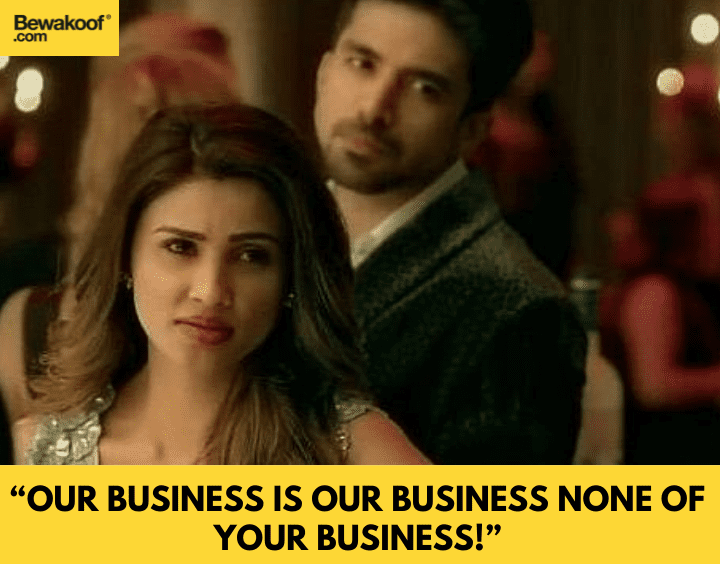 Movie: Race 3
Delivered by: Daisy Shah
Delivered with feistiness by Ms. Daisy Shah, this is a dialogue that has become increasingly popular due to online meme culture. Taking over social media feeds and inspiring a generous amount of amusement for all those who partake, this iconic and funny line has become the tag-line of every argument. You can even find merchandise and clothing emblazoned with this witty one-liner in an online shopping store. That's how popular this dialogue has gotten.
Millennial Speak: "MYOB"
17) "Uska toh na bad luck hi kharab hai"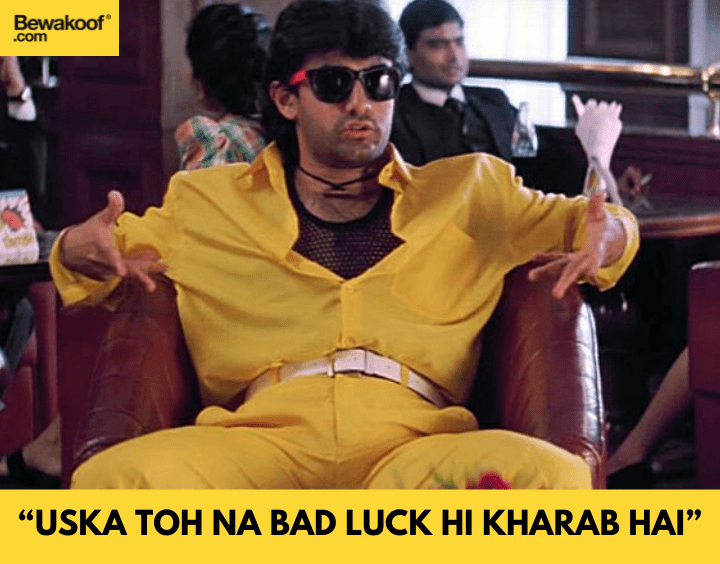 Movie: Rangeela
Delivered by: Aamir Khan
Inciting laughter from the audience, for the ironic use of the word 'bad' to describe the luck of someone as 'kharab' makes this dialogue a genius of punchy comedic writing. Rangeela is a film worth watching for all the OTT dialogues, drama and costumes.
Millennial Speak: "Just my luck."
18) "Thakela, Pakela, Boring Log Cigarette Se Bhi Zyada Hanikarak Hote Hai"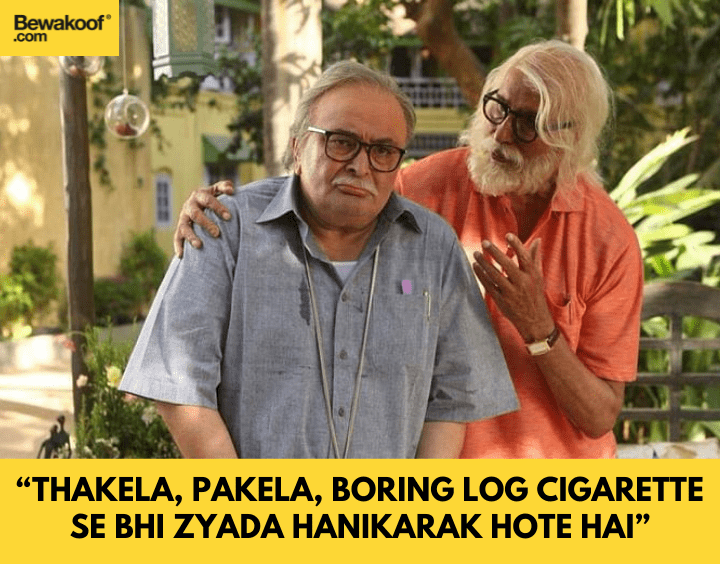 Movie: 102 Not Out
Delivered by: Amitabh Bachchan
Bringing together two mega-stars and the most well respected names in Bollywood, this movie is a must watch. A dramedy with a unique father-son dynamic, is transformed into a coming of (old) age classic, with the snappy dialogues and feel good messages. A testament to the fragility of life, the fleeting nature of time and a parent's unconditional love for their child, this is the Saturday night family movie you've been looking for.
Millennial Speak: "Boredom is bad for health."
19) "Aap Purush Hi Nahi, Mahapurush Hai"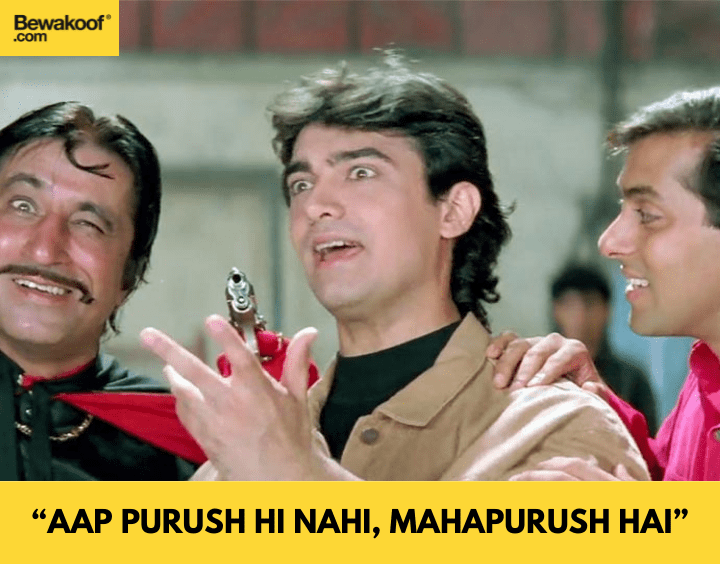 Movie: Andaz Apna Apna
Delivered by: Aamir Khan
Famous Bollywood dialogues come from some iconic Bollywood moments. One of these comes in an old Salman & Aamir starrer, called 'Andaz Apna Apna'. An intrinsically funny scene, this is a dialogue that is often used for sarcastic flattery in everyday dallying.
Millennial Speak: "Your Majesty."
20) "Utha le re baba."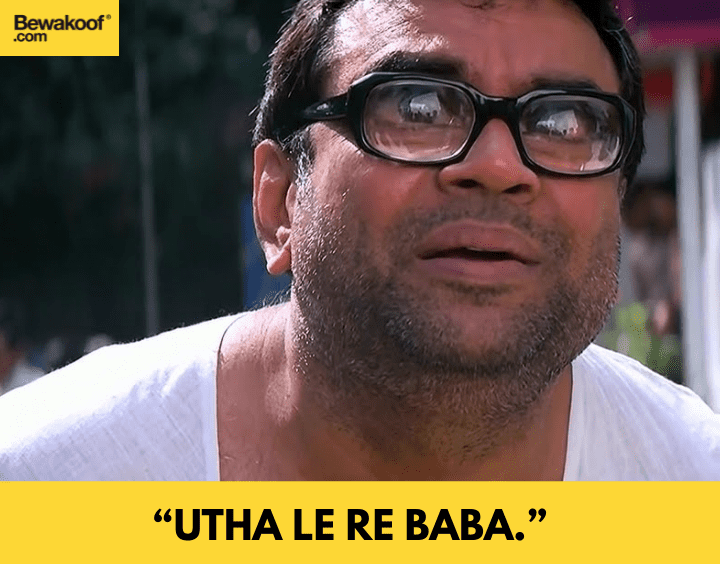 Movie: Hera Pheri
Delivered by: Paresh Rawal
The eternal worry-wart of the movie, Paresh Rawal delivered this dialogue often in his arguably funniest performance ever. Expressing his exasperation with the hilarious events of the movie Hera Pheri, this is a dialogue that resonates with almost everything. This is a line best served during the most frustrating of times, with the satisfaction that comes with necessary venting.
Millennial Speak: "Kill me now."
21) "Darte toh hum kisi ke baap se bhi nahin hai"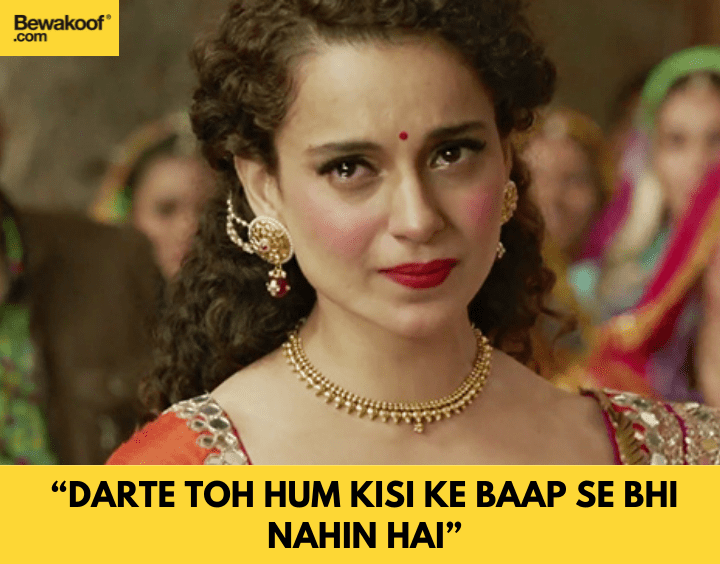 Movie: Tanu Weds Manu
Delivered by: Kangana Ranaut
Kangana plays a fiery and unconventional role in this romantic dramedy. Delivering this iconic dialogue with gusto, she expressed the mood of a generation of women that are not often portrayed well on the Hindi cinema screen. We love many more of her funny Bollywood dialogues, but this one strikes a cord!
Millennial Speak: "Unbothered queen!"
22) "Parampara. Pratishtha. Anushasan. Yeh is gurukul ke teen stambh hai."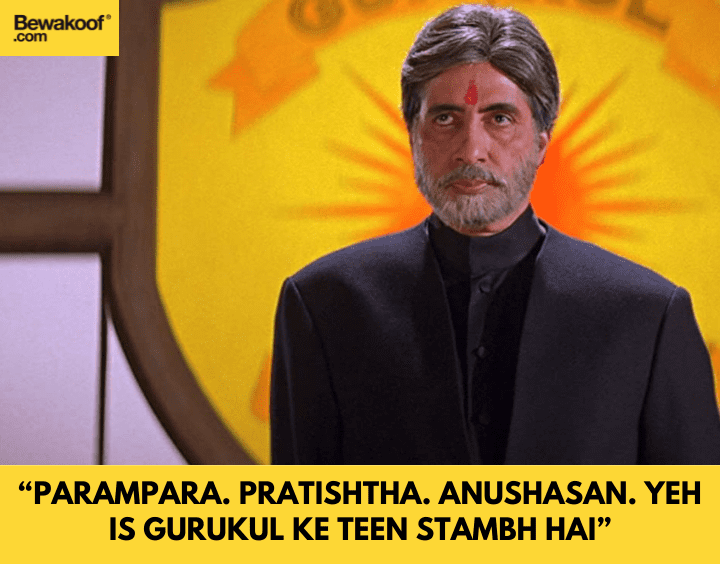 Movie Name: Mohabbatein
Delivered by: Amitabh Bachchan
One of the most iconic love films of all time and with a brilliant star cast that includes Amitabh Bachchan, Shah Rukh Khan, Aishwariya Rai Bachchan, Uday Chopra, Jimmy Shergill, Kim Sharma, Jugal Hansraj, Preeti Jhangiani, and Shamita Shetty. This film is known for its dialogues even after decades of its release. These dialogues are still used in so many ways and are always on top in the memes segment too. Gen-Z has really kept the charm of this beautiful film alive.
Millennial Speak: "Familial Tradition, Prestige, and Discipline"
23) "Thapad se darr nahi lagta sahab pyar se lagta hai"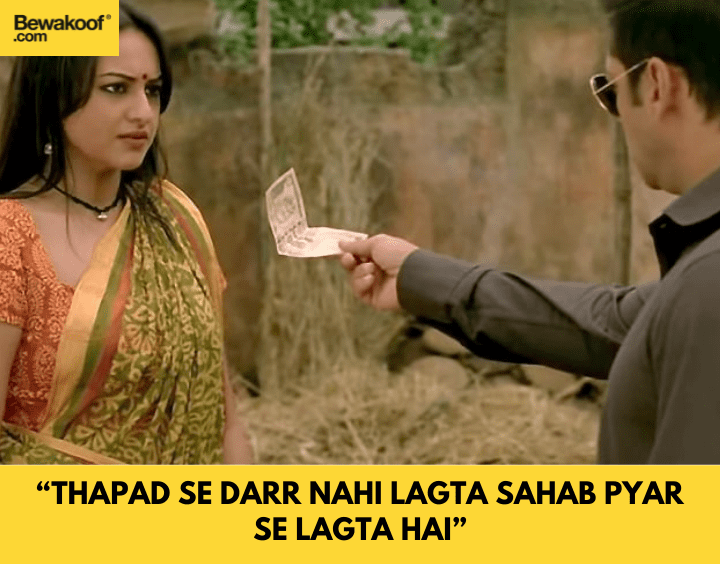 Movie Name: Dabangg
Delivered by: Sonakshi Sinha
Good dialogue and an exceptional delivery does leave a mark on the audience and this dialogue has proved to be one of those. It deserves a whistle, don't you think? Of course, this dialogue is still in all our minds and has now become a part of our conversations. You can't deny not hearing this dialogue in at least one of your funny conversations. The dialogue has stuck around for over a decade now and isn't that what it takes to make it to the list?
Millennial Speak: "we bet, you know this pretty well!"
24) "Mhari choriya chhoro se kam hai kay!"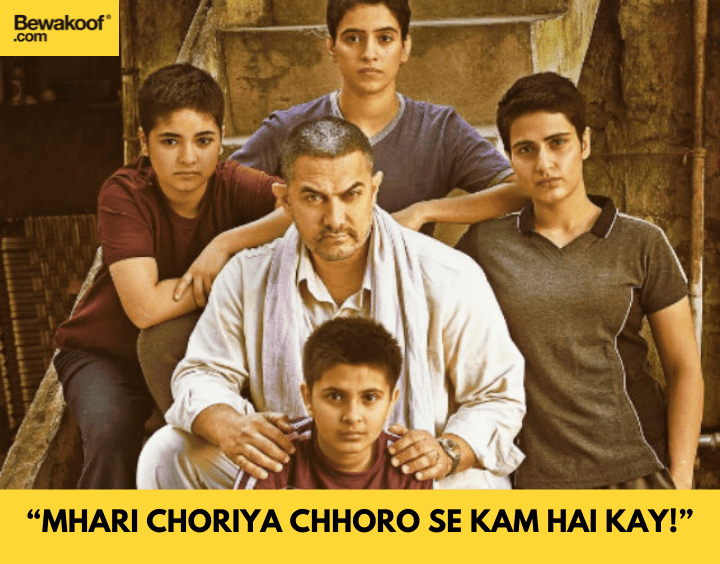 Movie Name: Dangal
Delivered by: Aamir Khan
This inspiring plus entertaining is a combination of excellent direction and delivery. It was the film of the year and delivers a very strong message to the audience. This dialogue is one of the most powerful dialogues and a strong portrayal of what the film is depicting. It is also a whistle-worthy dialogue. Girls are stereotyped as weak and this film is a punch in the face to every human who believes this. It is a hit at the mentality prevailing in certain parts of the world even in the 21st century. Aamir Khan in this tagline says that his daughters are nothing less than boys in any respect and are in fact more capable.
Millennial Speak: "The Future is Female!"
25) "Don't underestimate the power of a common man"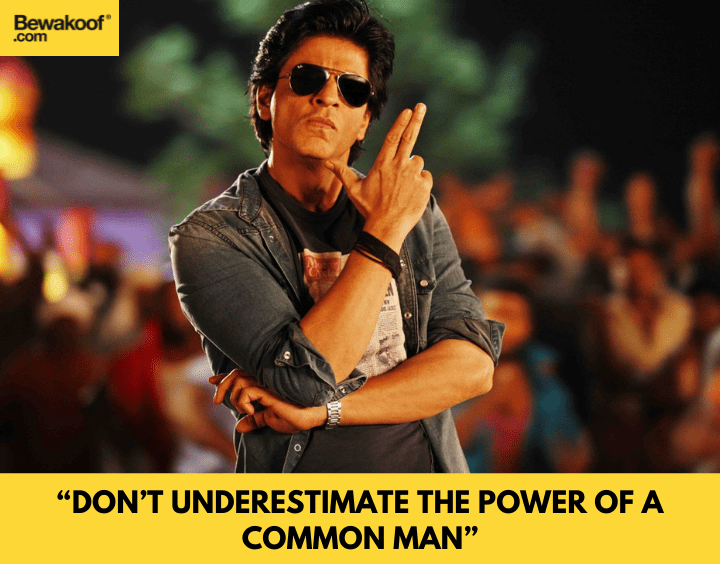 Movie Name: Chennai Express
Delivered by: Shah Rukh Khan
A classic, memorable, and super true dialogue from the film Chennai Express. It speaks volumes of honesty. The film may have had a humorous delivery of the dialogue but the reason why it stuck around was because of the power of the dialogue. This film is a perfect blend of action and comedy which is a classic Rohit Shetty. It also highlights the fact that a common person can be anyone he wants to be and can obtain heights in whatever he/she chooses. This dialogue definitely stuck along and has been added to our dictionaries.
Millennial Speak: "Common Man is the New Hero"
26) "Kaun kambakht bardaasht karne ko peeta hai"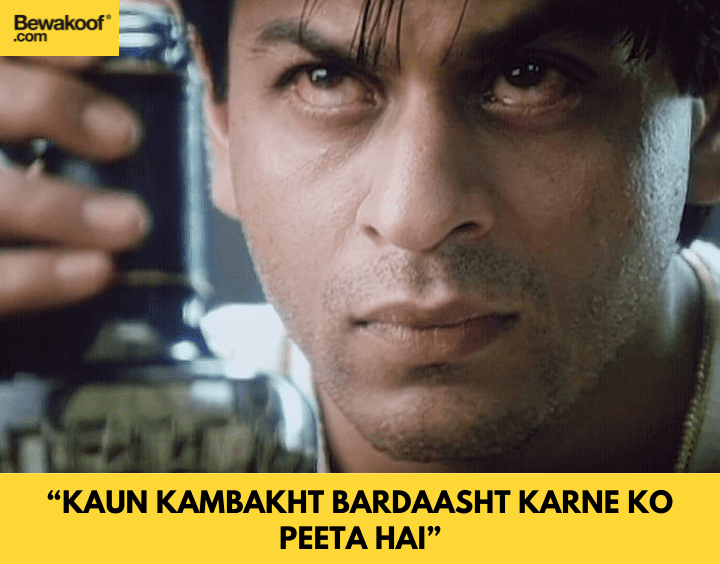 Movie Name: Devdas
Delivered by: Shah Rukh Khan
The famous signature line from Devdas was delivered by the King of Bollywood or simply Shah Rukh Khan. The film is almost reaching the two-decade mark but still continues to be the most iconic and memorable work in Bollywood. It is Sanjay Leela Bhansali's multi-starred film and has a  strong and charismatic cast that includes SRK, Aishwarya Rai Bachchan, Madhuri Dixit, Jackie Shroff, Kirron Kher, and Smita Jaykar. The film is known for its dialogue, frame, direction, set, costumes and music. This dialogue has been one of the most popular Bollywood dialogues and it the delivery was one of the highlights of the mounted romantic melodrama
Millennial Speak: "Gonna sulk alone with a bottle of whiskey"
27) "Tumse naa ho payega"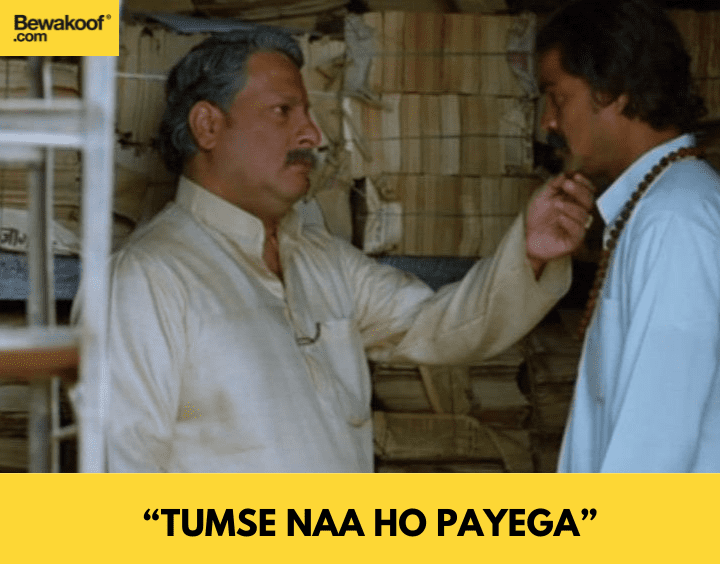 Name of movie: Gangs of Wasseypur 
Delivered by: Tigmanshu Dhulia
"Tumse Na Ho Payega" is probably the most used comeback of this decade. The dialogue was such a huge hit that it became a part of our daily lives and it is our instant reaction in every conversation. This dialogue is so strong and was so well delivered that it instantly stuck with everyone. It truly left an imprint. This dialogue was not just used in memes and daily convos but also T-shirts, mugs, cards, and phone covers [You know where to find them ;)] The memetic gravity of this dialogue speaks for itself and is a total gem. It is definitely this generation's go-to meme.
Millennial Speak : "Skip that shit, buddy!"
28) "Tareekh pe tareekh, tareekh pe tareekh, tareekh pe tareekh milti gayi My Lord, par insaaf nahi mila"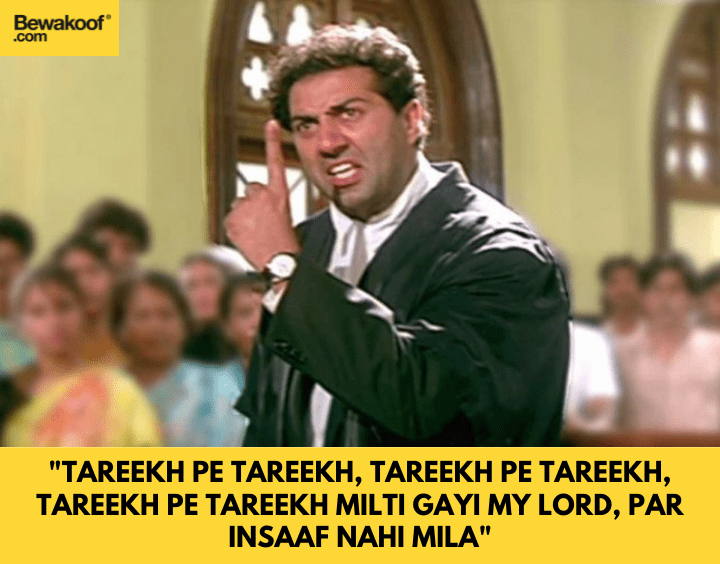 Movie Name: Damini
Delivered by: Sunny Deol
Sunny Deol is known for his heavy and powerful dialogues. The dhai kilo haath man has had some of the best whistle-worthy dialogues in Bollywood. This dialogue is one of his classic and most celebrated dialogues in Bollywood. This dialogue single-handedly made the Ironman Sunny Deol own the film. From the delivery of the dialogue to the acting, performance, and timing, it makes it a total hit.
Millennial Speak: "Been waiting for justice, since ages"
29) "Mere Karan Arjun Aayenge"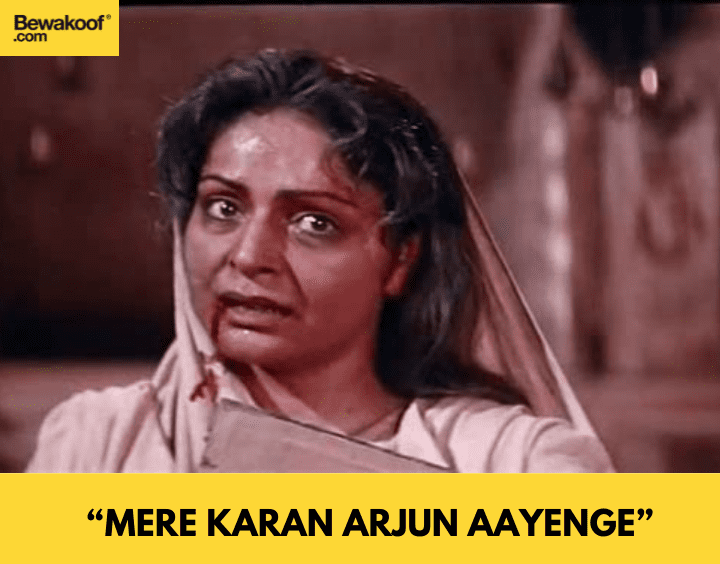 Movie Name: Karan Arjun
Delivered by: Rakhee Gulzar
Apart from the two Khans- Salman and Shah Rukh, this Rakesh Roshan film stars multiple actors namely Raakhee, Kajol, Mamta Kulkarni, and Amrish Puri. Karan Arjun is a well-remembered movie for this famous dialogue by Rakhee. The film showcases two powerhouses of the industry- Salman Khan and Shah Rukh Khan. Even after 25 years of the film, this dialogue still resides in every mind and is known to every child. It is one of the best-narrated stories of the '90s.
Millennial Speak: "Probably Still Waiting.."
30) "Haar kar jeetne wale ko baazigar kehte hai"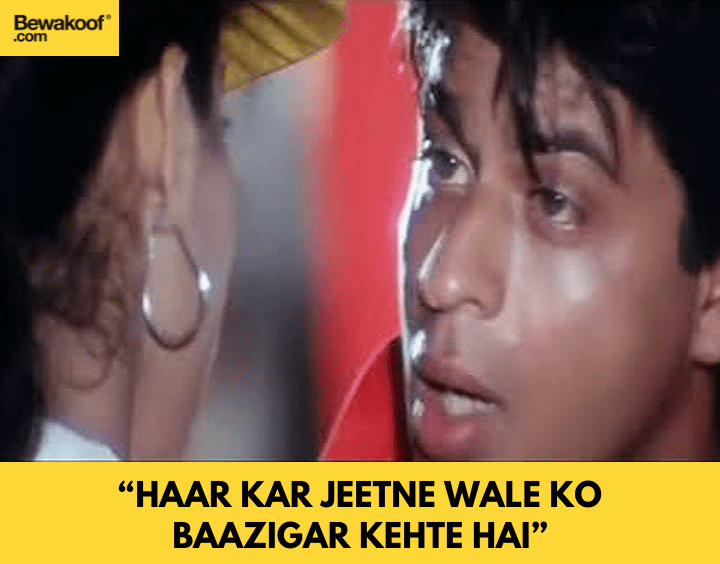 Movie Name: Baazigar
Delivered by: Shah Rukh Khan
Baazigar is the most intelligent revenge thriller which showcases SRK's dynamic powerhouse performance. It is extremely entertaining and has an interesting plot. The most famous dialogue Haar kar jeetne wale ko baazigar kehte hai is still a very catchy and known dialogue and in fact very inspiring. This dialogue in English is translated as "Sometimes to win you must lose something and one who wins from a losing position is called a gambler" This dialogue was also highlighted in the film Ladies v/s Ricky Bahl and it definitely one of the most popular dialogues of SRK.
Millennial Speak: Winners Never Quit!
31) "Bade bade deshon mein aisi choti-choti baatein hoti rehti hai, Senorita"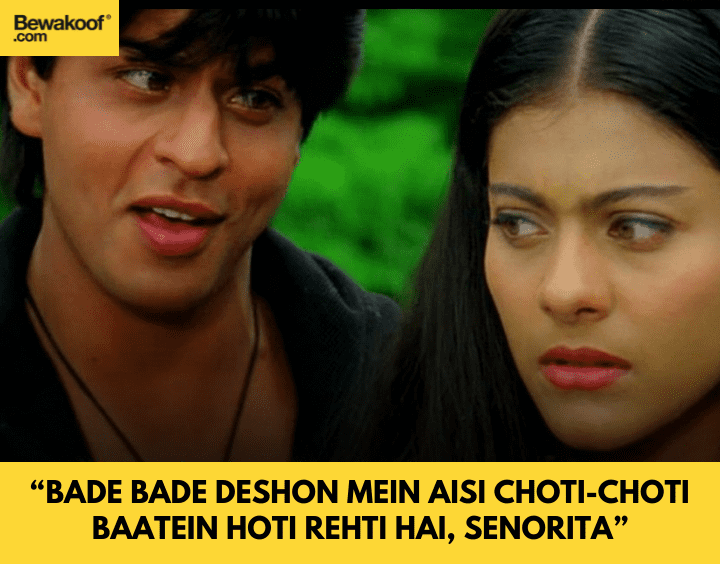 Movie Name: Dilwale Dulhania le Jaayenge
Delivered by: Shah Rukh Khan
One of the biggest hits in the history of Bollywood, DDLJ is most definitely one of the best films and the most iconic movie of all time. It has won several awards and has been one of the longest-running movies in Bollywood. DDLJ dialogues are so commonly used and have definitely been used by almost every Indian. These dialogues are so famous that they have been mentioned in speeches of Trump and Obama. From fan recreations to memes and spoofs, it has been in the game of pop culture. Not only did the film make history but also the dialogues that have stuck around with us even after decades. SRK Kajol's chemistry and the charm of the dialogue delivery still have the audience's heart.
Millennial Speak: "Let it go, Senorita"
32) "Kutte kaminey main tera khoon pee jaunga."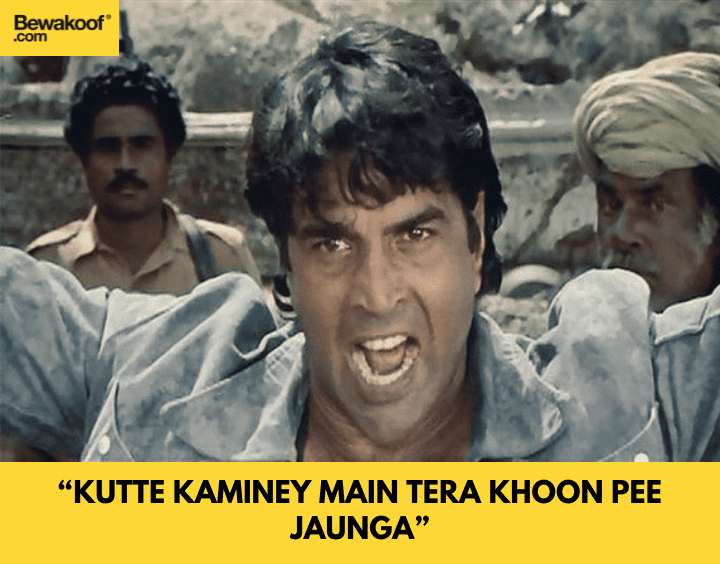 Movie Name: Yaadon Ki Baarat
Delivered by: Dharmendra
The extremely popular bloodthirsty line was repeated so many times in so many Bollywood films, reality TV shows, Web series, etc. Even after years of the film being released, this dialogue still lives in the minds of millions of people rent-free. It was in fact said by Dharmendra himself that the dialogue had been put into his films by producers wanting to make money out of it.
Millennial Speak: "Don't mess with me"
33) "Basanti in kutto ke samne mat nachna"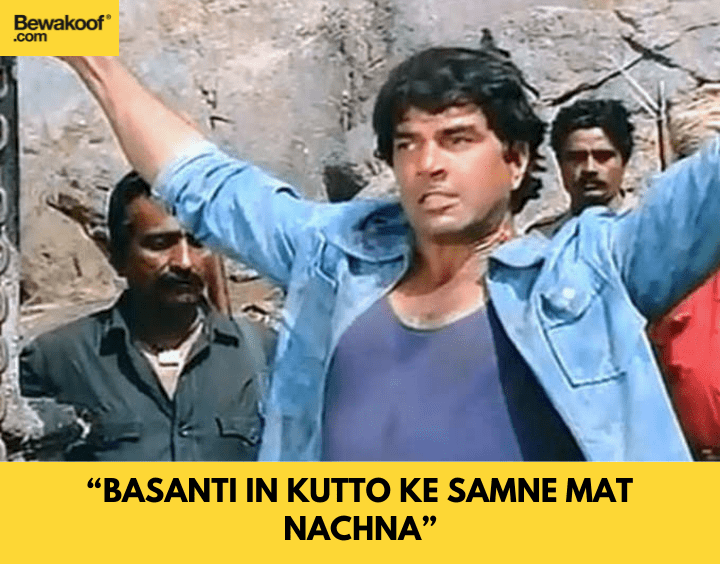 Movie Name: Sholay
Delivered by: Dharmendra
It is the dialogues that make the films in the '80s and '90s so iconic and unforgettable. Dharmendra being the star of the era has delivered some of his best work and Sholay is one of his immeasurable achievements. He is the king of iconic action films including Sholay.
Veeru's most memorable dialogue "Basanti in kutto ke samne mat nachna" has definitely been around for decades. This film has countless other iconic and famous remarks and exchanges that have lived with us in our hearts and minds.
Millennial Speak:  "Pay no heed to them"
34) "Dosti ka ek usool hai madam – no sorry, no thank you"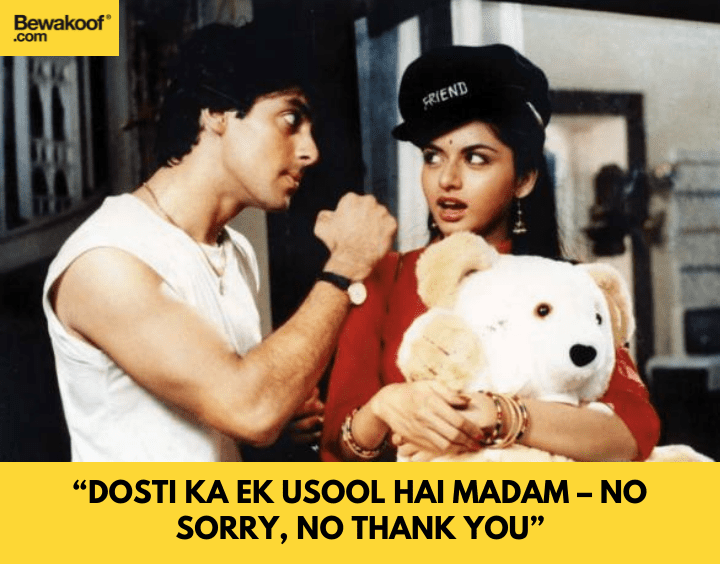 Movie Name: Maine Pyar Kiya
Delivered by: Salman Khan
Bollywood has made us believe for ages in the "friendship before love idea", and has demonstrated it to us in a million movies. Maine Pyaar Kiya is one such films where two youngsters Salman Khan and Bhagyashree (acting debut) fall in love after being friends. Friendship and love films in Bollywood have been loved by the public from the very start and the dialogues are always picked up. Maine Pyar Kiya is considered to be one of the most iconic and cherished films of the Khan. The popularity of the film and the dialogues on friendship and love have been exceptional and were regularly used in other films as well.
Millennial Speak: Buddy, no sorry, no thank you!
We hope you enjoyed our list! What are some of your favorite famous Bollywood dialogues?
Related Articles: 
Image credits: The copyrights of the images used in this post belong to their respective owners. The credits where known are specified under the image - if you're the owner of an image and want it removed, please contact us.