More often than not a blouse will make or break your saree outfit so it's important you choose one wisely. Read for fashion-forward intel on all the sexy backless blouse designs that you know you want! … Let's get hot!
Sultry, stunning and bold – good backless blouse designs will have you living your Bollywood dream in a minute!
Spice up your favourite types of saree outfit at your festive parties or during the wedding season this year with a fabulous backless blouse.
Read on for some amazing inspiration to take your saree-game to the next level!
Backless Blouse Designs For sarees That'll Take Your Breath Away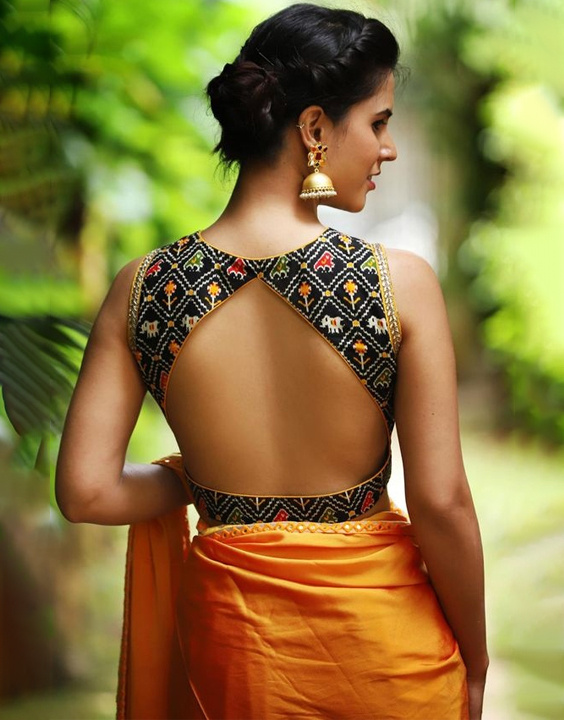 A backless blouse is an evergreen classic in Indian wear – capable of turning the most traditional outfits into contemporary jazziness.
We present you with some striking examples that are guaranteed to help you choose your next saree blouse.
Hot In A Pop-coloured Backless Blouse With Dori!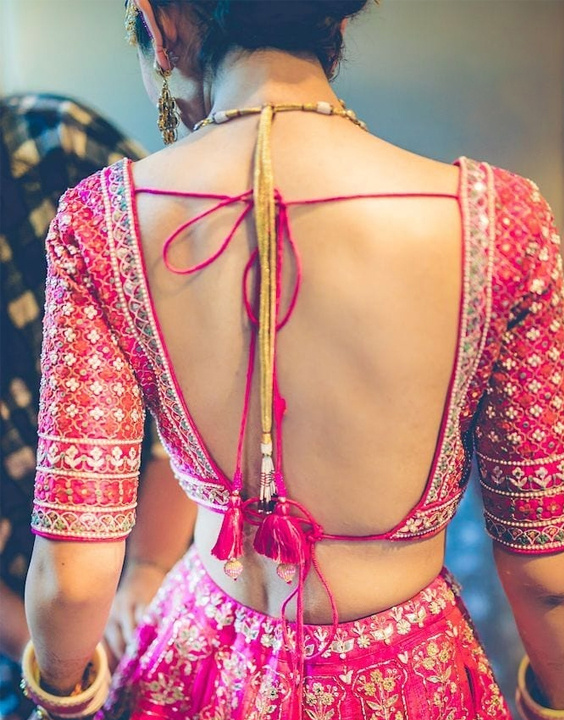 A tie-up is the most straight-forward, versatile and sizzling type of backless design.
Hot saree backless blouses find their reigning queen in this style when worn with bright pinks, blues and mustards.
Great with anarkali backs and lehenga-cholis as well; wear this option to add some pizzazz to a simple lehenga for girl power optimisation!
Styling tip – Wear your hair in a bun sheathed with jasmine flowers for the full Indian experience.
Criss-cross Your Way Like A Seductress!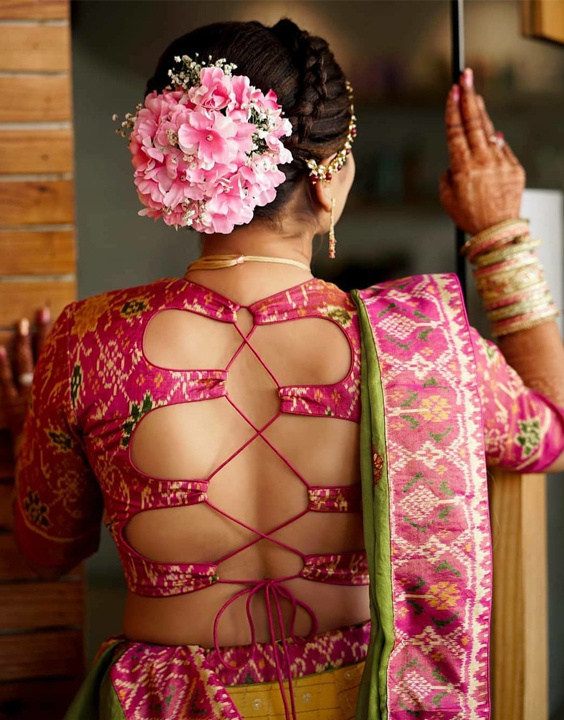 Go bright and folksy in a criss-cross backless tie-up!
Choose a backless blouse with knot tie-up that criss-crosses in interesting diamond patterns for some artistic boho-vibes.
Styling tip – Experiment with macramé patterns to find new ways to criss-cross your dori!
Go Bold Or Go Home In Pom-Pom Detailing – Backless Blouse Designs!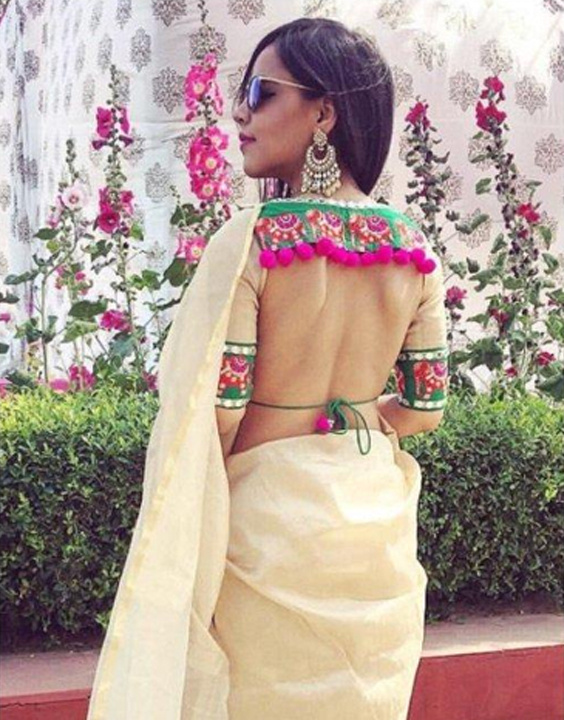 Opt for some whimsical pom-pom trims to give your backless blouse patterns a new lease of life.
Striking in multi-coloured hues, this types of blouse in backless saree outfits looks cheerful, sunny and glamourous all at once.
Style these with your white sarees a wholesome appeal.
Styling tip – Get the pom-pom trim stitched across the border of your sari for some #OTT fun!
Take A Bow In A Bow-tie Backless!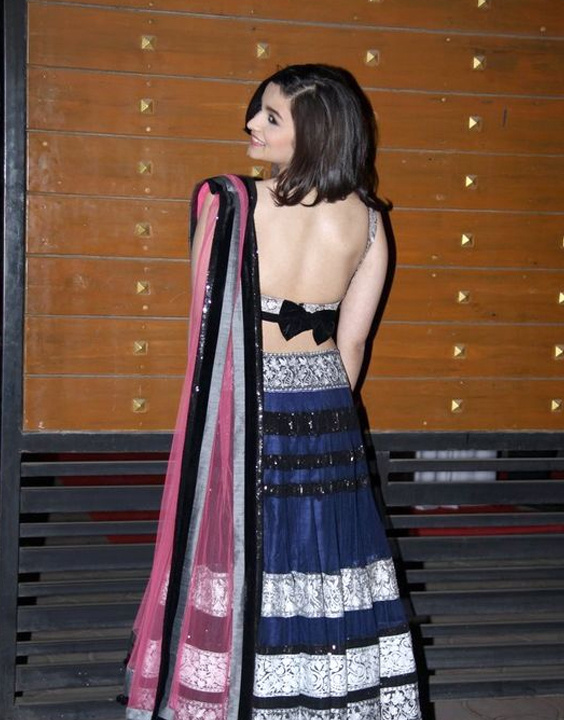 Channel your inner fashionista with this fusion-inspired backless saree blouse style!
A bowed tie-up looks great, not just with a typical bow shape, but also with a lovely broad-patti tie-up that will have you looking extra and fab.
Styling tip – Wear this style in pretty pastels for added femininity.
Dare To Bare In A Spaghetti Style Backless Blouse!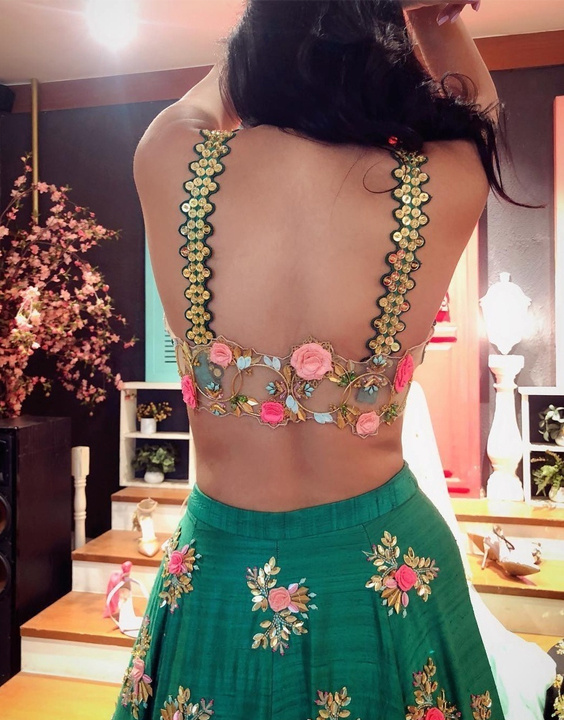 Go for a spaghetti-strap blouse to turn the heat all the way up for the next evening soiree or sangeet ceremony you attend!
Pick a sparkly, sequin-embroidered one with dainty floral ribbon-work or a simple spaghetti back tie-up to be on-trend with the latest backless blouse designs.
Styling tip – Wear your hair long and wavy and brushed to the side for that sultry cinematic effect.
Tell An Enchanting Tale With Tassels!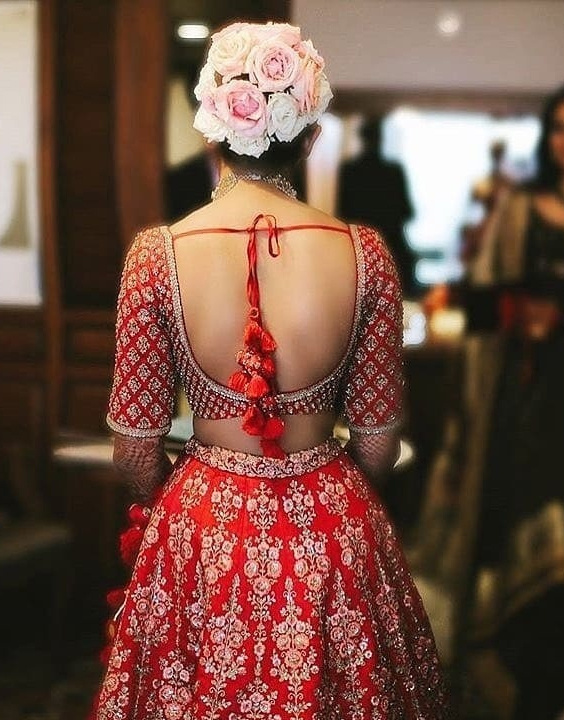 Be it a new simple lehenga blouse backless pattern or an elaborate Dori backless tie-up; an overload of tassels in silk-floss, resham or fabric is bound to take your look to new heights!
Versatile and available in many materials, these are bound to pair up magnificently with the latest simple lehenga design options and also look great in a heavily embroidered trousseau.
Styling tip – Try a multi-coloured pattern embroidery for a heavy indie-folk style!
Bare Your Back In Elegant Strings!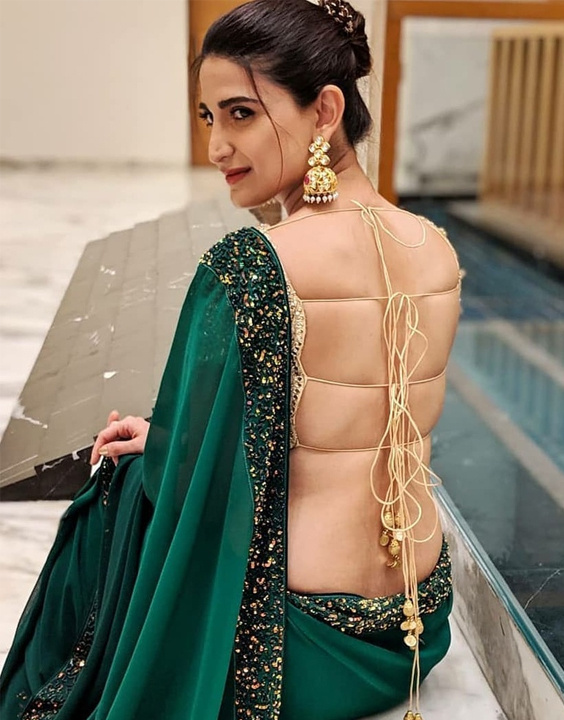 Show off your hard-earned gym-body in this sizzling hot backless blouse option!
Go for multi-coloured and multi-patterned designs that give ample room for creative expression and opt for ones that come with pretty pom-poms or tassels at the end of the strings for maximum desi appeal!
Styling tip – Tie the strings up in a zig-zag pattern for added sass and quirk!
Be A Sucker For Summer In A Sleeveless Design!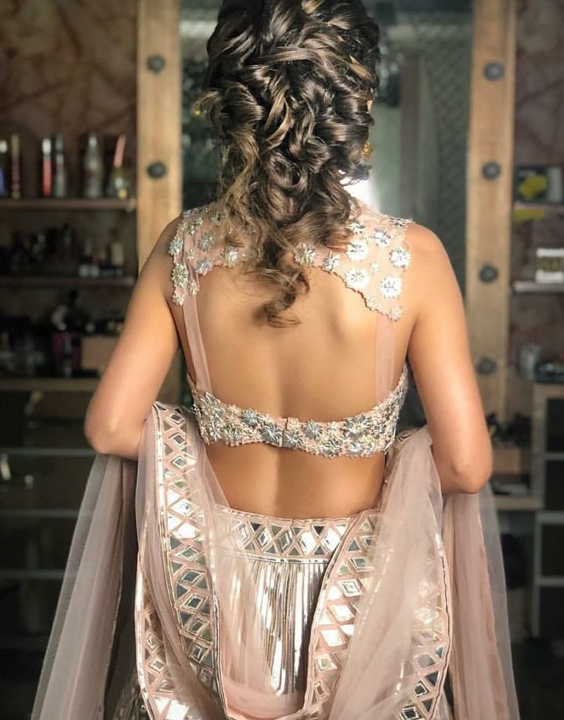 Available in glitzy glam surfaces and also in more conservative, craft-based designs; a classic uncut sleeveless backless blouse is one style that is here to stay forever!
A favourite of the B-town ladies – the sheer beauty and simplicity of this look is capable of giving you a spotlight and adding you to all the fabulous best dressed-lists.
It's okay to shine!
Styling tip – Wear long jhumkas or big earrings to make this look pop!
Teardrops On Black Backless Beauties!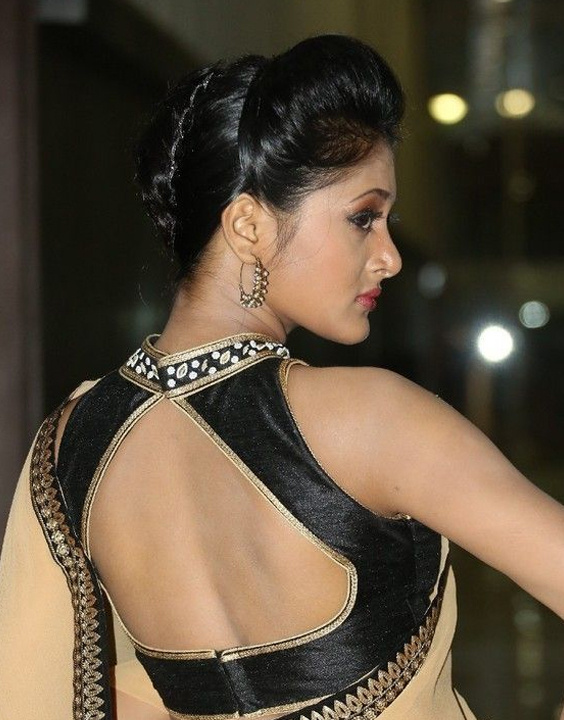 To begin with – a black backless blouse with a tear-drop patterned open shape at the back – is the epitome of hotness!
Pairing it up with a saree or lehenga in a jewel or neutral tone makes the sophistication pop while oozing sex-appeal.
This tear drop shape is also a great backless blouse design for lehenga-choli designs and elevates the feminine appeal of a backless in a sharp and structured manner – what a power move!
Styling tip – Wear this style with cap sleeves for a strong yet gentle vibe.
Keep The Peace In Flirty Frilled Detailing!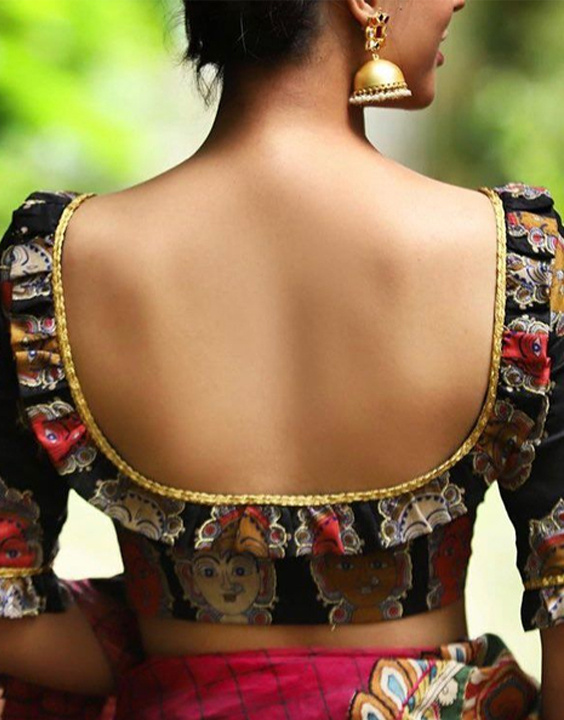 Lovely, uncomplicated and full of freshness and joy – ruffled and frilled details add a very feminine and youthful appeal to a backless blouse design!
Great in prints and textured fabric and equally appealing in thicker and more sheer varieties; these frilled details give the backless pattern a very quirky and charming gorgeousness.
Frills and trills indeed!
Styling tip – Wear this blouse with a pair of high waisted jeans and ride the fusion wave like never before!
Lose Yourself In Ribbons And Bows!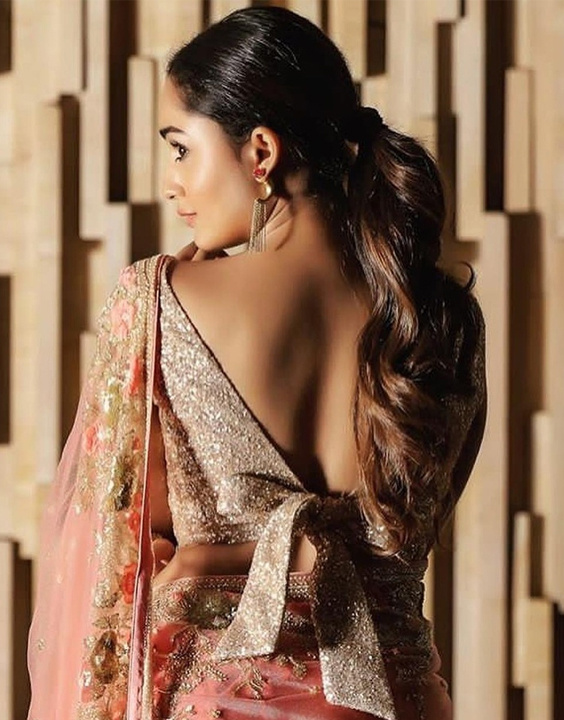 A sash of ribbon, worn like a band or tied up into an elegant bow looks striking with a tailored backless blouse – we love!
Opt for pop colours in this style – fuchsias, rani pinks, neon greens, sunshine yellows and burnt oranges are some of our top picks. Go bright and bold into the eventful nights of shaadis and festivities!
Styling tip – Wear a sash of ribbon on the top of your backless opening and cinch your waist with a broad belt for a unique look!
"Good backless blouse designs is like a classic black slinky dress – timeless, sensual and a risk worth taking.
Feel the heat and the appeal in a beautiful backless fashion statement – choose well!"
Image credits: The copyrights of the images used in this post belong to their respective owners. The credits where known are specified under the image - if you're the owner of an image and want it removed, please contact us.