Love the feeling of high tension, crazy suspense, brutal drama, unmissable thriller, and good action? But don't know which are the best thriller movies in Hindi? Well, we have you covered!  Here's a list of Hindi thriller movies in Bollywood that will keep your eyes glued to the screen and get your blood pumping. You will not have the time to munch on your popcorn because these movies will not lose your attention. Binge these Hindi thriller movies this weekend and get the kick of shocking murders, dark reveals, and lots of twists and turns. 
List of Best Hindi Thriller Movies in Bollywood
1) Kahaani (2012)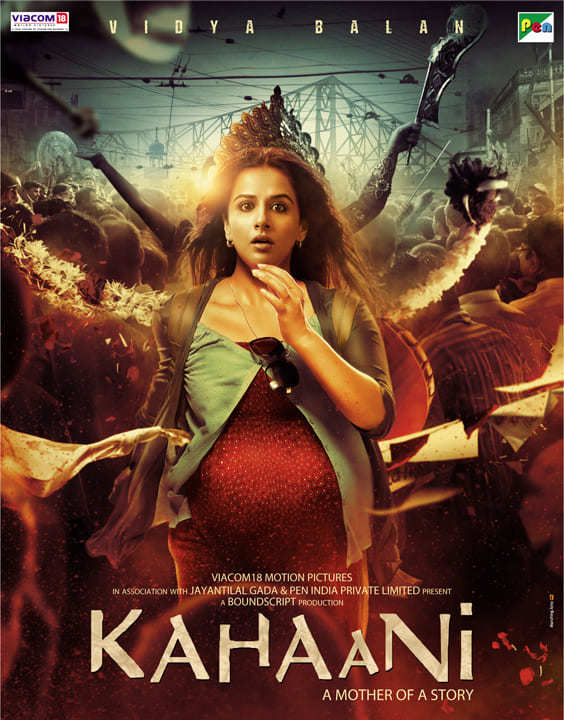 Hindi Thriller Movies in Bollywood like Kahaani is a one-woman show and revolves around a pregnant woman (Vidya Balan as Vidya Bagchi) who comes from London to look for her husband in Kolkata during the festive season. As she begins her hunt, she comes across multiple mysterious clues and characters who may or may not be involved in the case of her missing husband. The story involves a lot of gasps and shocks and will keep you engrossed throughout. She is aided by a cop Rana (Parambrata Chattopadhyay) who plays a very interesting character and leaves a strong mark in the feature. 
The story also has other characters like Officer A. Khan (Nawazuddin Siddiqui), who plays the role of a no-nonsense, blunt, and emotionless cop, and an insurance agent Bob (Saswata Chatterjee) who is an assassin. The story has a strong sense of place, character, and music and keeps you in a maze till the end. This Kahaani is worth the watch and should be added to your list if you want to binge on Hindi suspense thriller movies. 
2) 13 B (2009)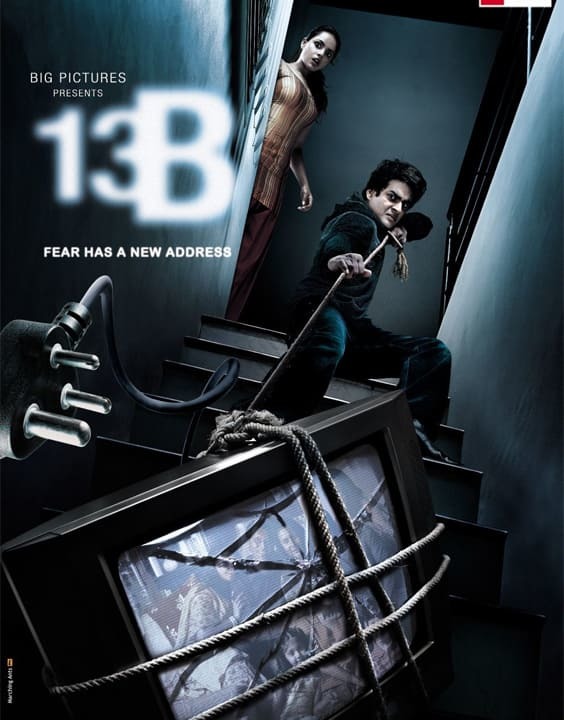 Confused about what is a good thriller to watch on a weekend? Well, sear definitely has a new address and the chill factor is for real. 13 B is one of a kind and not the typical Hindi horror-thriller films are like. It has a satisfactory explanation and will give you goosebumps. Must add for all suspense thriller movies Bollywood enthusiasts. The story focuses on a family that moves into a new building but death and danger are what came with apartment 13B. The story begins on a very happy note where a nice happy family comes together in a new house. 
The story turns when he starts experiencing supernatural paranormal incidents like the lift that does not work only for Madhvan or when the milk gets spoiled frequently, there is a tv-show that exclusively telecasts only on his television. The story unravels when Manohar (R Madhavan) realizes that the soap mirrors their very own lives. With all the mandatory twists and turns and a series of strange events, this film can be added to the list of best Hindi Thriller Movies in Bollywood. 
3) A Wednesday (2008)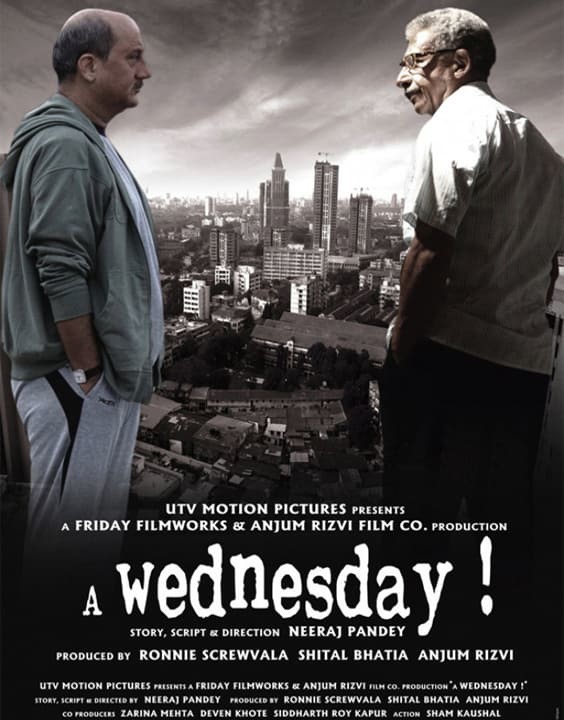 A Wednesday is a thought-provoking pacy thriller movie that tells the story of events that occur on a random Wednesday in Mumbai. This Bollywood movie highlights the amount of injustice a common man faces. It is an eye-opener and the intensity of the film is maintained throughout. The story begins when a man (Naseeruddin Shah) arrives at the rooftop of a building and calls Rathod, the Mumbai Commissioner (Anupam Kher). He informs him that he has placed five bombs in locations throughout the city and has programmed them to explode simultaneously within four hours unless the Commissioner gives in to his demands and releases four terrorists. 
The movie showcases the insecure common man in the country who wants justice for the common man. The film has the plot and incidents of the 2006 Mumbai Train Bombings. It is hard-hitting and one of the best suspense thriller movies in Bollywood
4) Race (2008)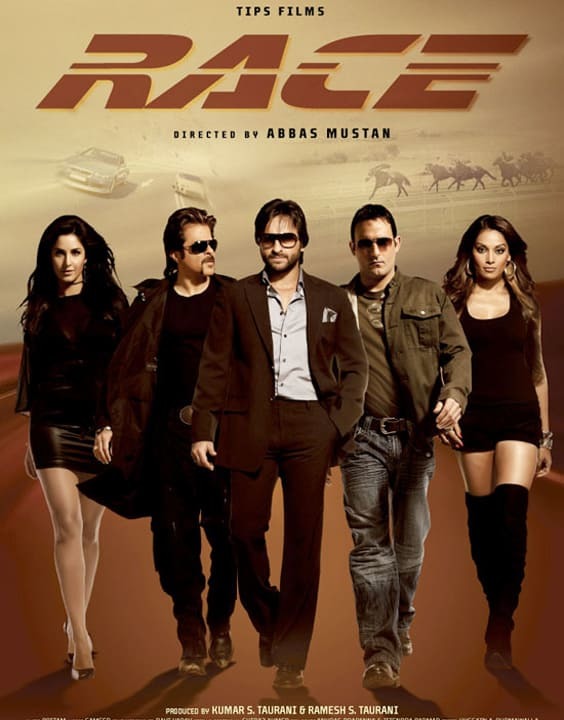 The kings of suspense thriller movies Hindi, the Burmawala brothers (Abbas-Mustan) have created some of the best Hindi Thriller Movies in Bollywood has seen. Race is surely the one you cannot miss. The story revolves around two brothers Ranvir (Saif-Ali Khan)  and Rajiv (Akshaye Khanna) who are giants in the horse-racing circuit. Rajiv (younger of the two), is jealous of his older brother and is an alcoholic. He is laid-back and envious of his brother and is busy plotting for the his death to pack off 100 million dollars from his insurance but there is a murder and things get messy. 
The film has several twists and turns and will surely hold you on from the start. It is an A-class entertainer with good direction and amazing music! 
5) Talaash (2012)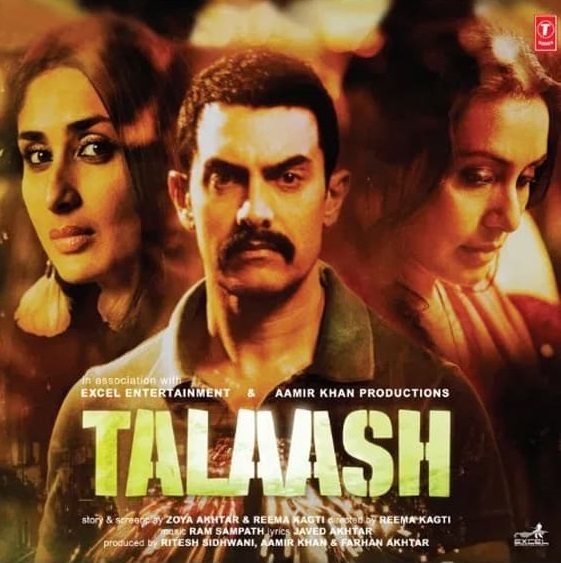 The Aamir Khan starred film is nothing but flawless from frame one to ten. There is a combination of conspiracy, tension, and tragedy. As the title says, "the answer lies within", it is the perfect description of the film in four words. The movie starts with a murder case of a popular film star Armaan Kapoor (Vivaan Bhatena) and Surjan Singh Shekhawat (Aamir Khan) who is a cop, is assigned to the investigation of this high profile case. Upon investigation, the case unravels at a red-light area where he goes looking for answers. 
He stumbles upon one of the workers named Rosie (Kareena Kapoor) who adds shades of mystery and suspense to the film. The movie highlights how Surjan Singh Shekhawat (Aamir Khan) is on a quest to investigate a murder but in the process also deals with his life trauma and troubles. The film just tells a story of coming to terms with the loss of loved ones. It will captivate you till the last reel.
6) Drishyam (2015)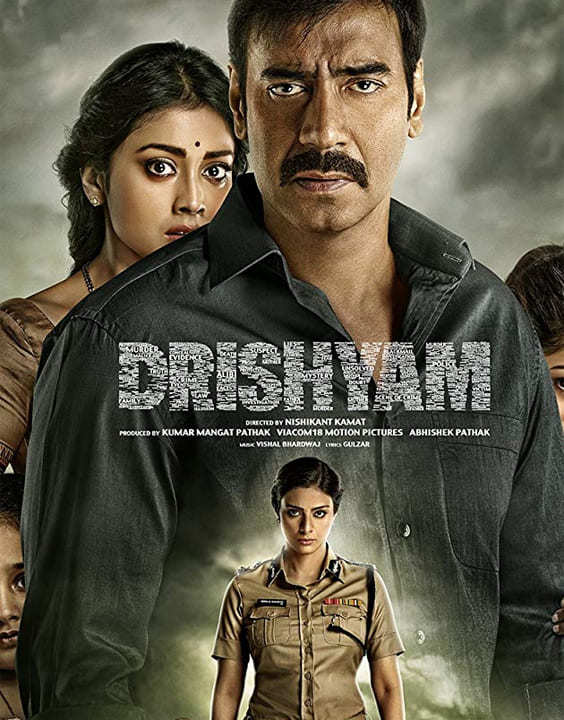 Wrong or wronged? Originally adapted in Malayalam and after becoming one of the biggest blockbusters, Drishyam was made for Hindi Cinema and added to the must-watch list of hindi thriller movies in Bollywood. The movie revolves around a small happy family that consists of Vijay (Ajay Devgn), his wife Nandini (Shriya Saran), and two daughters. Vijay who is a 4th-grade drop-out and runs a cable business in Goa is a hard-working man and has reached this level of hard work only through his hard work and street sense. 
He is a man of few means and needs and lives a very simple life with his family. Things turn upside-down for his family when they become the number one suspect in a missing case of a young boy Sameer Deshmukh (Risabh Chaddha) the son of IG, Meera Deshmukh (Tabu). Watch the movie to see how the family deals with the system. With Vijay's wit and Meera's no-nonsense attitude, the film will keep you glued to your seat from start to finish. 
So next time when someone asks you which is the No 1 thriller movie in India? We hope you will know the answer!
7) Badla (2019)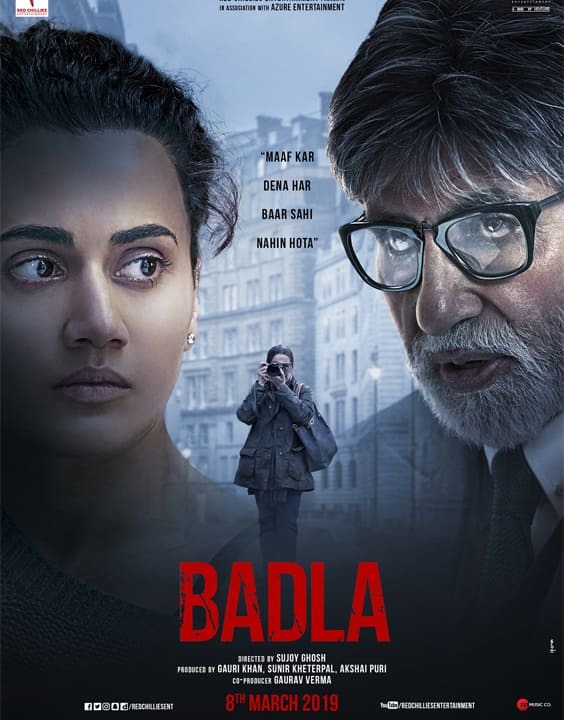 A young businesswoman Naina Sethi (Tapsee Pannu) finds herself stuck in a situation when she is accused of the murder of her lover Arjun (Tony Luke). It is one of the best suspense thriller movies filled with crazy twists and will make you gasp at every turn. When Naina's lawyer Jimmy (Manav Kaul), tells her that he is going to assign Badal Gupta (Amitabh Bachchan), one of the best lawyers who has not lost a single case in the last four decades. 
Badal Gupta is not convinced with the story Naina Sethi narrates and finds many loopholes in the story. The story unravels and the shades of the characters are depicted in different stages of the film. It is the kind that will make you bite your nails. Add this to your list of suspense thrillers. 
8) Ittefaq (2017)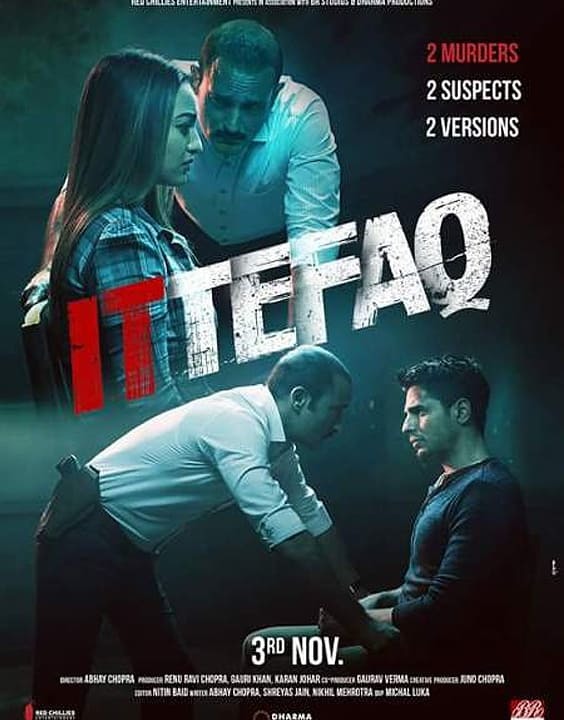 Double homicide and only two witnesses who are also the primary suspects! Already tickles your love for thriller movies in Bollywood? Two suspects, Two versions, and only one truth. The suspects Vikram (Siddharth Malhotra) and Maya (Sonakshi Sinha) have totally different stories to say about the night but there is only one truth and one killer. Dev (Akshaye Khanna), who is the cop assigned to this double murder case, shreds between the two tales but he will not stop till he has the killer behind bars. 
A short film and definitely a must-watch. Add this to your list of weekend binge-watch because it is one of the best thriller movies in Bollywood.
9) Baby (2015)
Ultimate Bollywood Dhamaka film Baby revolves around a secret counter-intelligence unit that is formed to fight multiple terrorist organizations. The story takes you to multiple locations like India, Nepal, Turkey, and the Middle east. Team 'Baby' is led by Ajay Singh (Akshay Kumar) and includes Tapsee Pannu as Shabana Khan, Rana Daggubati as Jai Singh Rathore, Anupam Kher as Shuklaji, and Danny Denzongpa as Feroz Ali Khan, Ajay's boss. Ajay discovers a threat to the nation and informs his boss about the threat. A temporary team is created, to save the nation. The team faces some major challenges and takes a lot of risks. So much tension and so much thrill, it has to be on the list of must-watch thriller movies in Bollywood. 
10) Wazir (2016)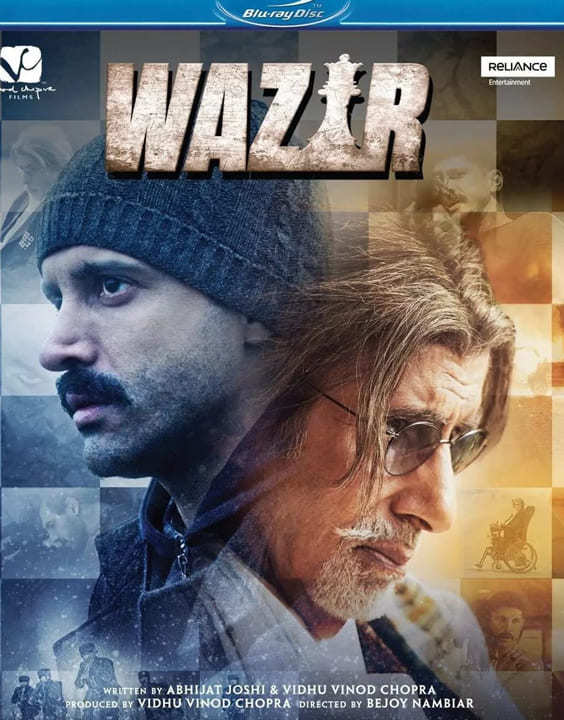 When an incident costs ATS officer Danish Ali (Farhan Akhtar) his daughter's life, it leads to his suspension. Unable to deal with all the issues, he tries to take his life but this decision is changed when Panditji Omkar Nath Dhar (Amitabh Bachchan) enters his life. They develop a strong friendship over drinks and the game of chess. Amid their friendship Panditji talks about how he lost his daughter who was murdered by politician Yazaad Qureshi (Manav Kaul), he talks about seeking revenge. Danish decides to join Panditji in this battle. 
What happens when Danish realizes that Yazaad Qureshi has a lot to hide and is not just a politician? When Danish plans to kill Yazaad Qureshi, a mysterious person named 'Wazir' (Neil Nitin Mukesh) enters. The answers are what form the end of the film and they turn Danish's life upside down. A crazy thriller that will keep you glued to your seat from start to finish. 
11) Ek Hasina Thi (2004)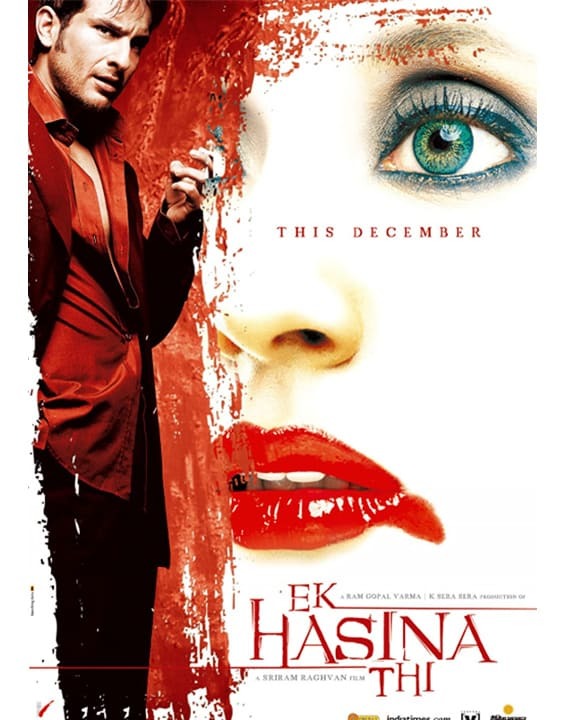 Ek Hasina Thi is one of the best Indian thriller movies about love, passion, revenge, and hatred. The story revolves around girl Sarika (Urmila) , a sweet simple woman, who falls in love with a cool billionaire Karan (Saif Ali Khan). They get married and are living happily but much to Sarika's dismay, she has no idea what she got into and her life turns upside down. Karan involves Sarika in looking for baggage that consists of illegal firearms. She is then arrested and wrongly accused of having connections in the underworld. 
It is a powerful film that has really strong characters. It is gripping and definitely is one of the best thriller movies in Bollywood to date. From simple romance to shocking revelations, it will keep you hooked. 
If you want to experience the feeling of edge-of-your-seat tension and the suspense unraveling excitement, what's better than Hindi thriller movies. You can always watch these thriller movies in Bollywood when on the thriller run, as they guarantee to keep you engaged from start to end. 
We hope you had a good read. To stay updated on the latest trends, Fashion, Fun, and more stay tuned to Bewakoof.
Related Articles: 
Image credits: The copyrights of the images used in this post belong to their respective owners. The credits where known are specified under the image - if you're the owner of an image and want it removed, please contact us.