Ladies Summer's just a few days away, are you ready to drop it like it's hot? Looking for some major beach body & summer fashion inspiration? Here are 36 times Bollywood actresses in bikinis looked like a bombshell! When the fashionistas of b-town take a break from working on their projects, these hot actresses are busy giving us major vacay vibes and beach body goals at stunning locations! From funky prints to sultry bohemia, Bollywood actresses in bikini sets know how to carry this look in every style with panache. We are here to serve you 36 instances of an Indian actress in a bikini who looks to kickstart your spring/summer with some masterful inspiration. Without further ado, let's dive into the Bollywood actress hot photos archive and break it down into helpful and fabulous style tips!
HOT BOLLYWOOD ACTRESSES IN BIKINI 
1. Pure Denim Love With Alia Bhatt In Bikini!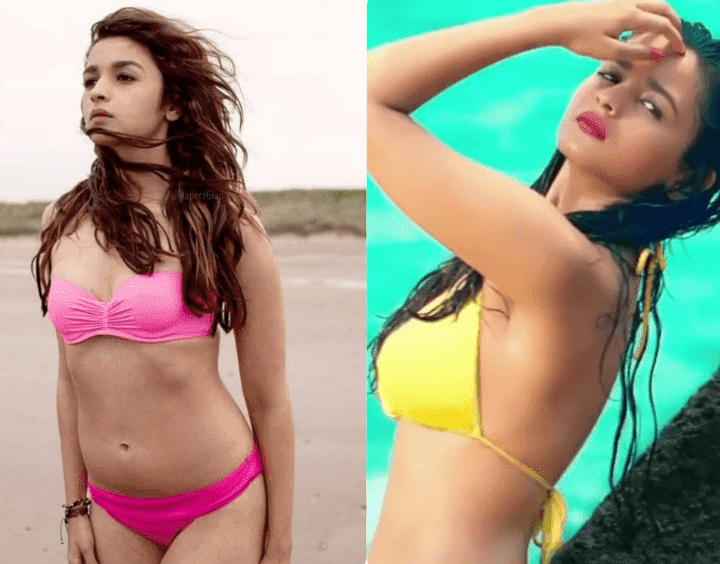 Smart, fashion-forward and monochromatic – Alia oozes the cool-girl vibe in this editorial bikini look! A bright yet distressed jacket thrown over a jewel toned two-piece is exactly what the fashion doctors ordered and we live for a fabulous denim moment!
2. Jungle Jamboree With Shraddha Kapoor in Bikini!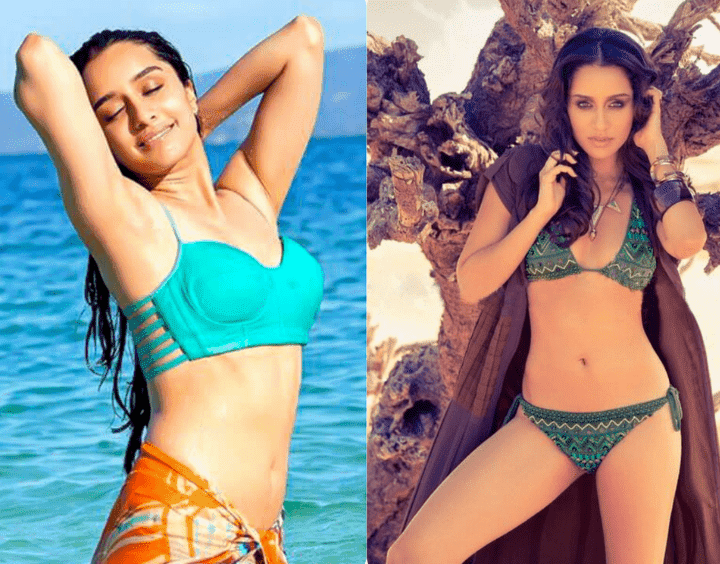 Shraddha kapoor in bikini  is earthy chic! The long brown organic pull-over, dramatic tribal accessories and the smoldering smokey eye-makeup work together to create a perfect balance.
3. Urvashi Rautela in Bikini is Pretty in Pink!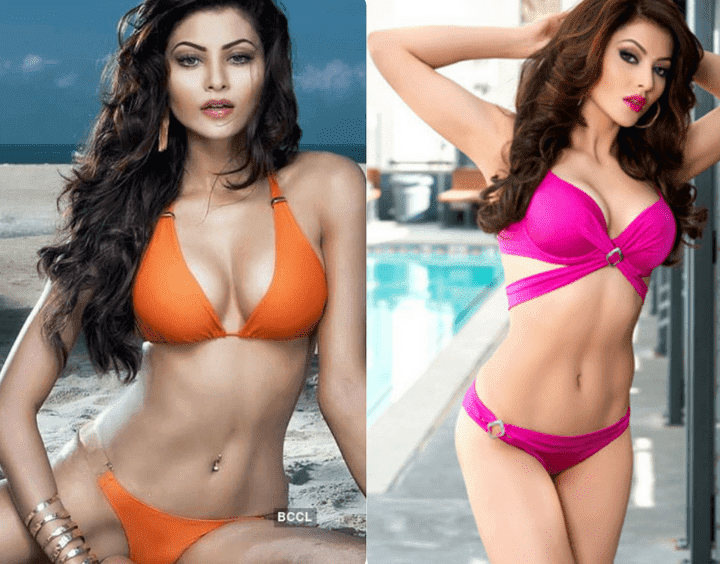 Light, bright and refreshing – Urvashi Rautela exudes a delicate loveliness in this bikini look. The casual white-shirt throw-on and golden armband elevate this simple, yet striking outfit!
4. Get Tied-Up With Jacqueline Fernandez Bikini Vibes
Stunning, on trend for the season and super relaxed, Jaqueline looks like she is vibing hard with the vacay mood. Serving us stunning lewks and shots on her Instagram, against a backdrop of purple-pink skies and ocean waves, she hits it out of the park with this swimwear look! Few women manage to look as effortlessly chic as jacqueline fernandez in bikini. The striped belt, denim shorts and white shirt tied up in the front give the outfit a casual, fashion-forward aura for ultra-chilled beach time lounging! Make it your own: Printed swimsuits with a straw hat is a great way to style your next vacay look! Straw hats go great with beachy hair, a chill atmosphere and a minty mojito – just saying.
5. Neon Signs With Tamanna Bhatia In Bikini!
This hot Indian actress radiates a pop of freshness in this wrap-bikini outfit! The twist detail in the bikini top manages to add a glamorous flair to an otherwise casual ensemble. Shades of petal pink paired up with stark white shorts is a trend that is an absolute favorite with millennials and we are here for it!
6. Get Poncho Crazy With Kareena Kapoor In Bikini!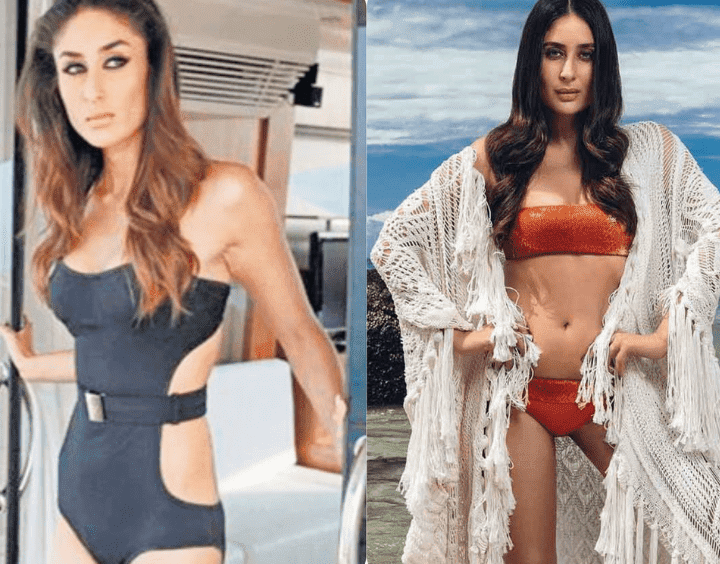 Glamorous and dramatic, kareena kapoor in bikini  is a goddess! The pairing of an oversized crochet-knitted shrug throw on with that rich burnt-orange two piece is super stunning and editorial ready. This is the perfect beach look for those who want to stand out from the crowd of casuals and yet give off a relaxed vibe!
7. Ileana D'cruz In Bikini Is All About Frilly Charm!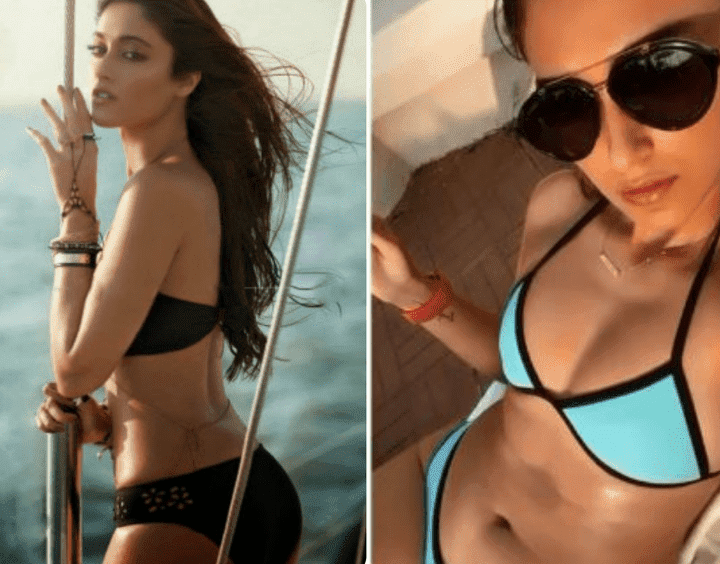 A baseball cap and a striped cover-up with a ruffled black bikini? Who knew all these patterns, textures and accessories could come together to create such a chill, easy-going and uber-stylish swimwear look? Well, Ileana certainly did! Make it your own: Exude a tom-boy charm like Ileana by finding ways to pair athleisure elements like baseball caps to up-style your black bikinis. This one will have your Instagram buzzing in no time.
8. Nargis Fakhri In Bikini Is Giving Vacation Vibes!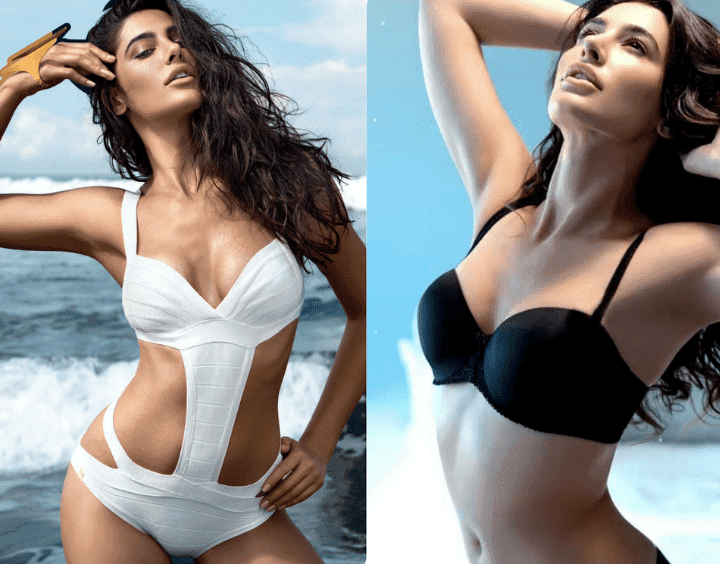 Oversized totes, peach-hued cover ups and private yachts? Yes, please! Skip the frills and the drama and go for a chic yet comfortable look like Nargis in this chilled out resort-wear bikini look.
9. Street-Chic With Priyanka Chopra In Bikini!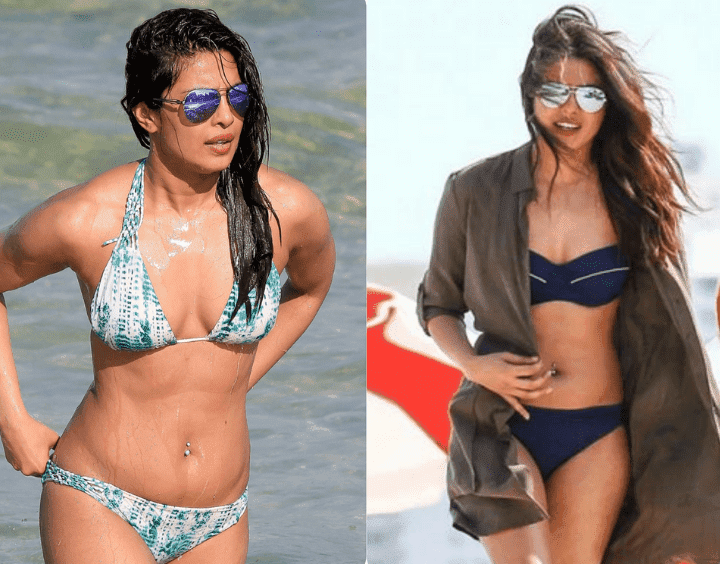 Priyanka Chopra is a definite new-age fashion icon! Effortlessly channeling the latest trends in the world of fashion, she channels the street-wear stylization in this bikini outfit. The sharpness of the dark khaki hued oversized shirt with a simple navy bikini and those holographic glasses is a perfect combination of major style inspos from the latest seasons. Girls, take notes!
10. A Sun Kissed Goddess – Sunny Leone In Bikini!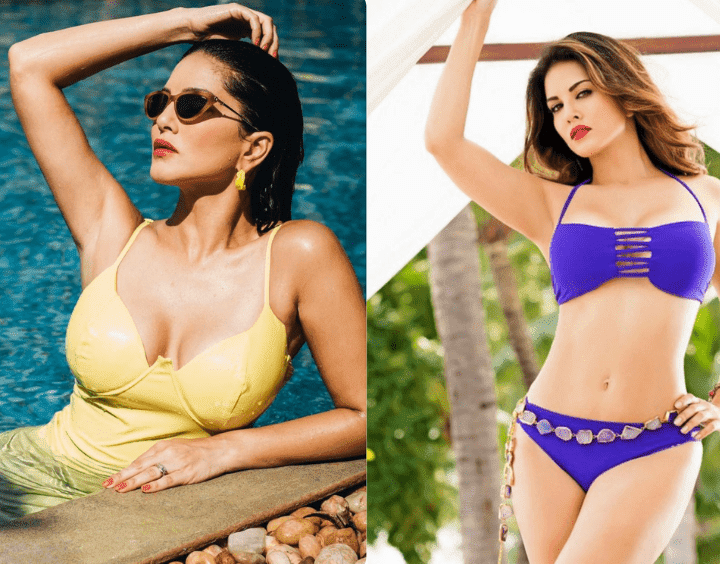 Sultry and sun-kissed, Sunny Leone in a bikini looks like the perfect girl next-door in this sweet and natural look! Hit the beach in a toned-down look with a combination of pastel colors, a white swimsuit, and a perfect cutesy accessory! We are digging the starfish!
11. Bronzed Like A Peach With Poonam Pandey In Bikini!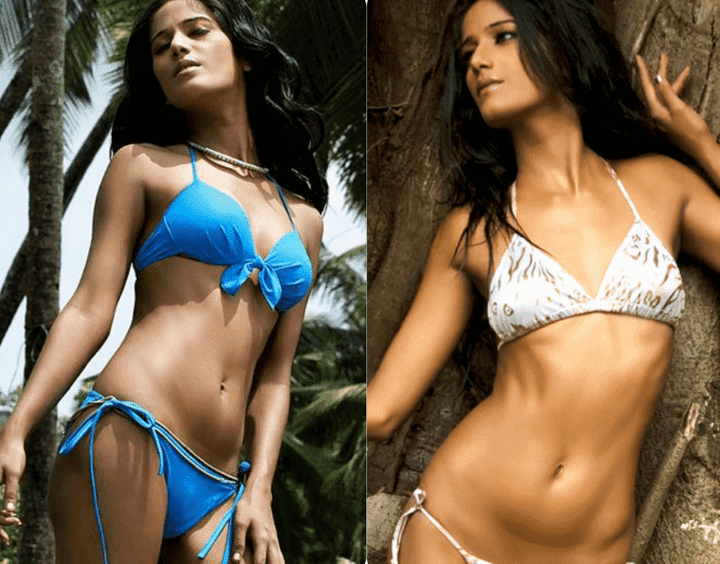 What's the next best thing to gold on Indian skin tones? Peach! This beautiful peach colored bikini brings out the best in Poonam Pandey's caramel complexion. Adding to that, those fringed gladiator-esque sandals and the simple printed throw-on give us some serious beachy goals!
12. Nora Fatehi In Bikini – Perfect Beach Body Goals!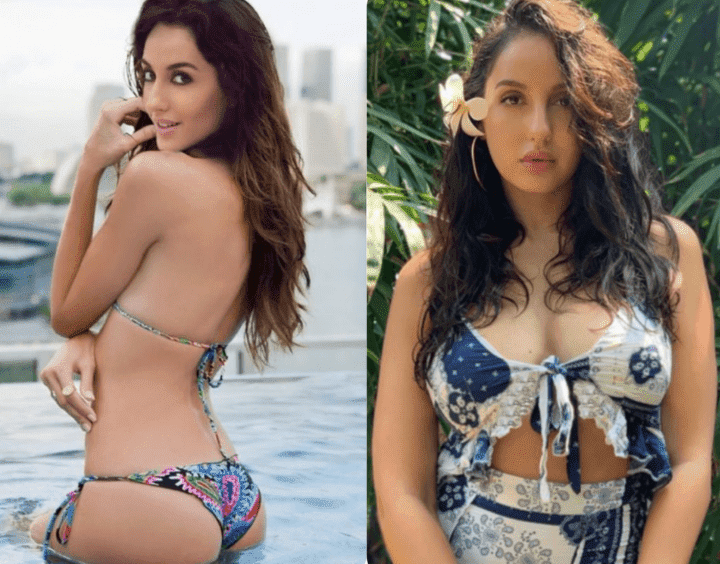 Nora Fatehi looks stunning in a blue bikini look. Flaunt your beach look with a blue and white bikini this season.
13. Shilpa Shetty In Bikini Is Rocking The Stripes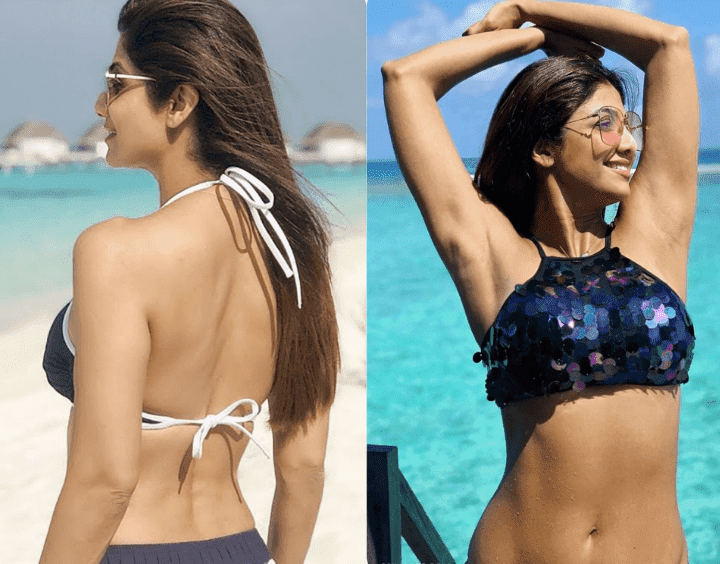 We can always depend on Shilpa Shetty to deliver simple, yet undeniably sexy looks! Out of all the Bollywood actresses in the bikini photos we have reviewed so far, this is the most relaxed, lounge-appropriate, and versatile resort look! Also – can we all just agree that halter tie-ups are perfect for basking in the sea-side sun?
14. Retro Vibing With Deepika Padukone Bikini Throwback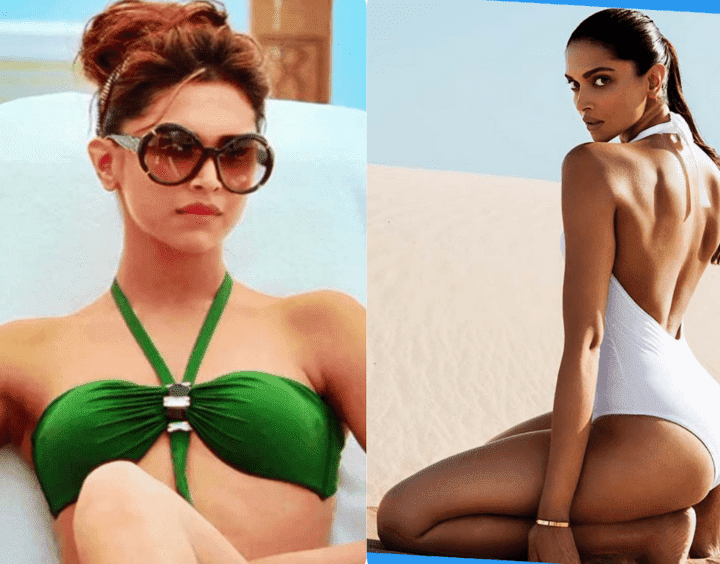 Oh, don't we just love a good denim-fuelled, white-laced retro moment? Deepika manages to look like a billion dollars in this casual beach outfit! The beaded necklace is the perfect throwback accessory and gives her look an added oomph.
15. Flirty In Florals – Taapsee Pannu In Bikini Is #Love!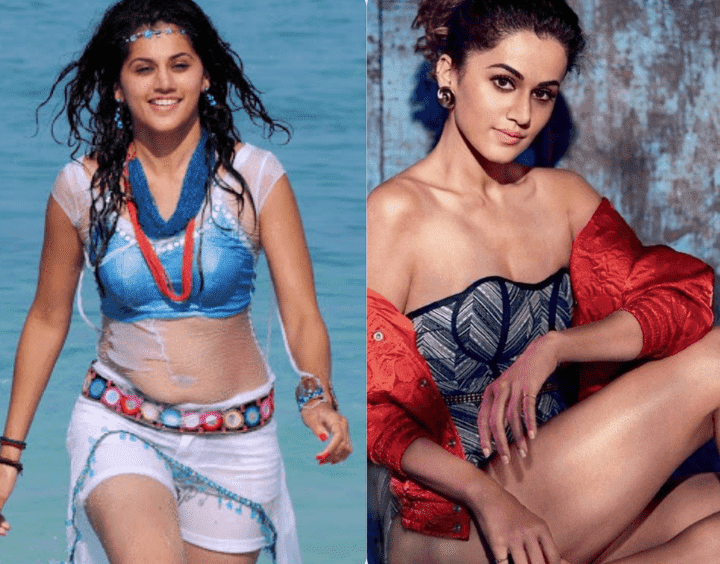 Bows, florals, and colorful earrings – say no more! Surf the flirty and feminine wave like Taapsee in this lingerie inspired bikini outfit!
16. Photoshoot Ready With Anushka Sharma In Bikini!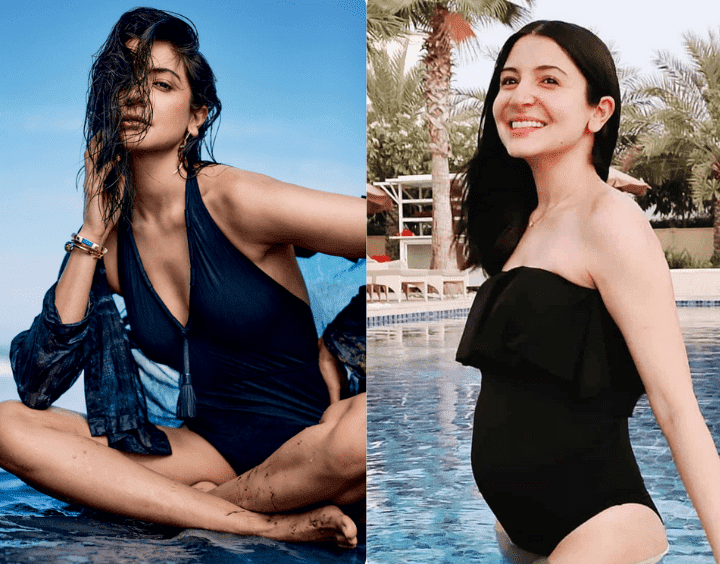 Always true to her personal style – Anushka looks stylish and conservative in this lovely blue cover-up. The asymmetric high-slit, tube bikini, and gold dangling earrings combine to create a well-balanced allure!
17. Katrina Kaif In Bikini Is A Rock Babe!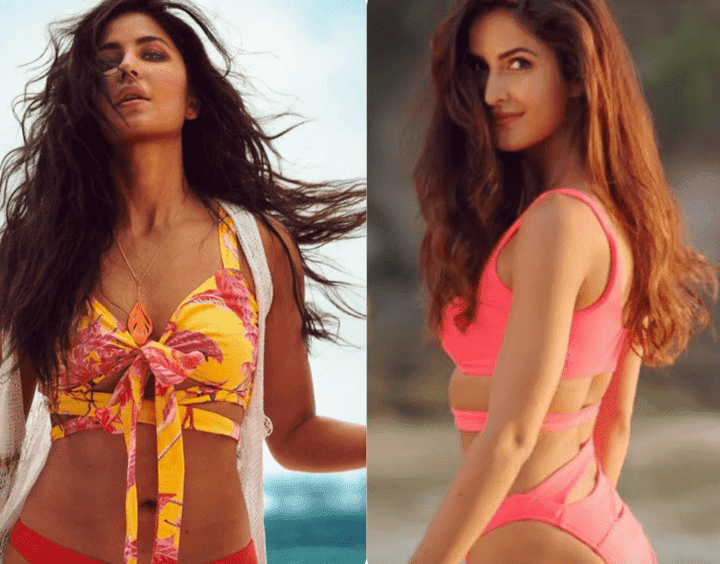 Yes, to put it very simply – Katrina is just a rockstar. Each element in this maximalist bikini look blends to create a stunning, music-video worthy moment! The mesh cover-up over this perfectly structured two-piece and the dangling single-ear accessory are highlighted that elevate this outfit to legendary status.
18. Bipasha Basu In Bikini Is Retreat Ready!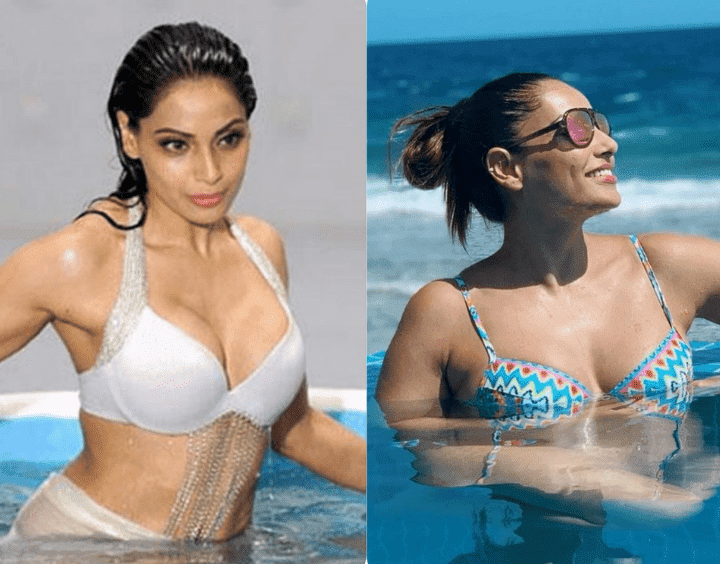 Bipasha has always been the quintessential Bollywood bikini poster child. The trailblazer of so many Bollywood actress bikini trends, she scorches the camera with her razor-sharp gaze and even sharper panache. Effortlessly retro, we love this calendar look in a printed red bikini. Her sizzling persona is balanced by a soothing background – this one's a winner! Chill with your boo on your next seaside holiday in a bright neoprene bikini like Bipasha! Add a pop of color, keeping the rest of the elements neutral to create a subtly striking impression! Make it your own: Junk silver jewelry with printed bikinis in bold colors? Yes, please!
19. Ain't Nobody Like Radhika Apte In Bikini!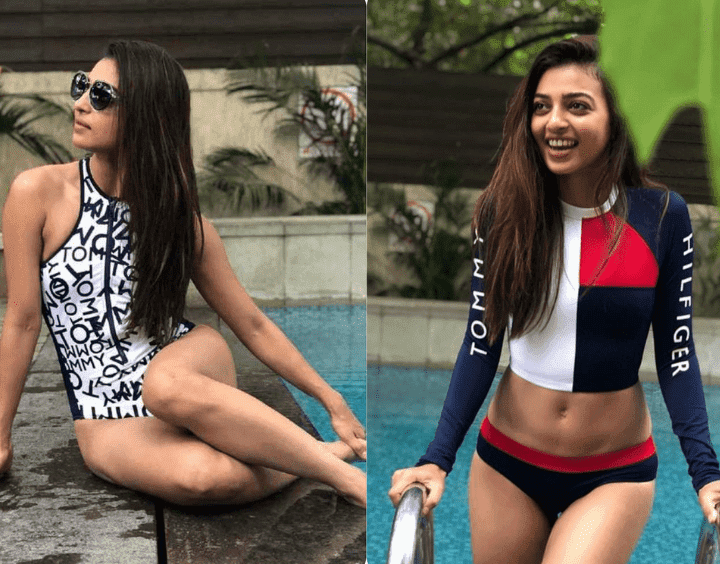 This color-blocked, active-wear inspired Tommy Hilfiger two-piece gives us enough goals and inspirations to last all season. Perfect for showing off your toned muscles and beach ready abs, this long sleeved bikini is modern, fashion forward and absolutely on trend – plus the comfort level is off the charts!
20. Athleisure Chic With Disha Patani In Bikini!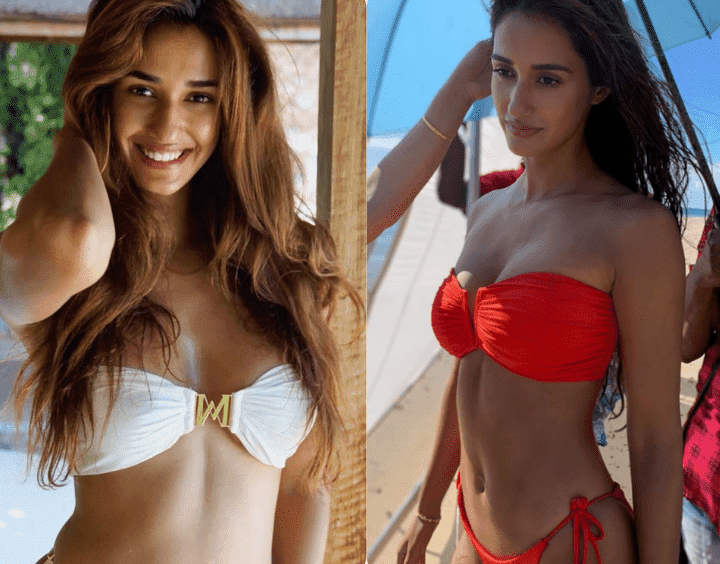 Athleisure is one trend that isn't going away anytime soon and the Bollywood Actresses in Bikini brigade knows how to channel it like pros! Showing off her fit and fab body, Disha looks ready to hit the gym and then go for some yoga by the beach – you go, girl! #bodygoals
21. Pooja Hegde In Bikini – Cosy In Crochet!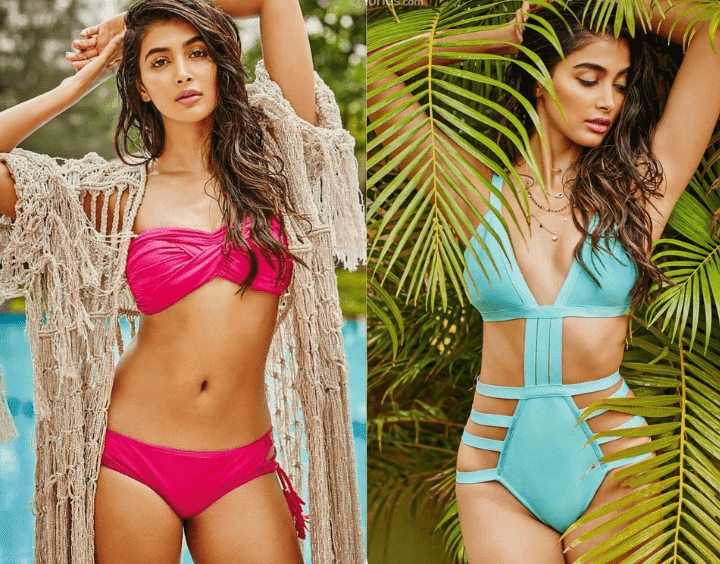 This is a popping look that is just perfect for all those hip pool parties! Fuchsia pink is a major trend in swimwear this season and its pairing with this chic and stylish crochet throw takes it to a new level. Cocktails, please!
22. Lisa Haydon In Bikini- Hail The Editorial Queen!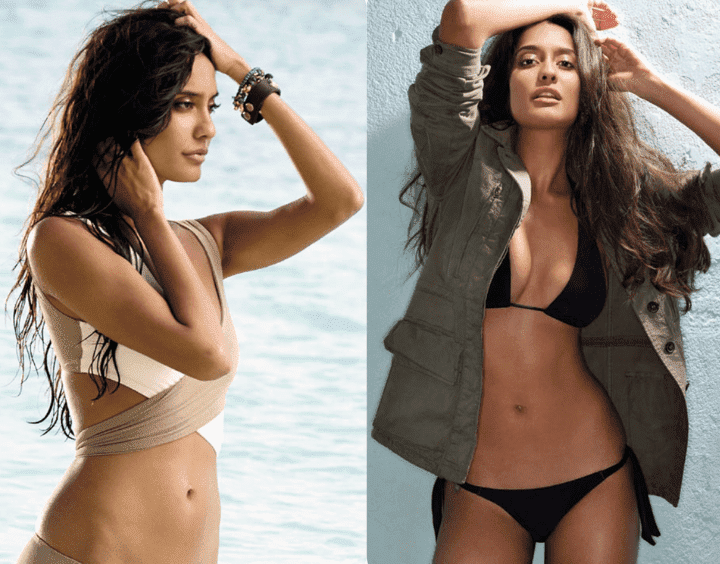 Whoever thought of pairing a safari inspired utility jacket with a slinky, well fitted black halter bikini is an editorial genius! Lisa exudes sophistication and balance in this beautiful ensemble and shows off her washboard abs with a classy elegance – we stan!
23. Flaunt Your Curves Like Parineeti Chopra In Bikini!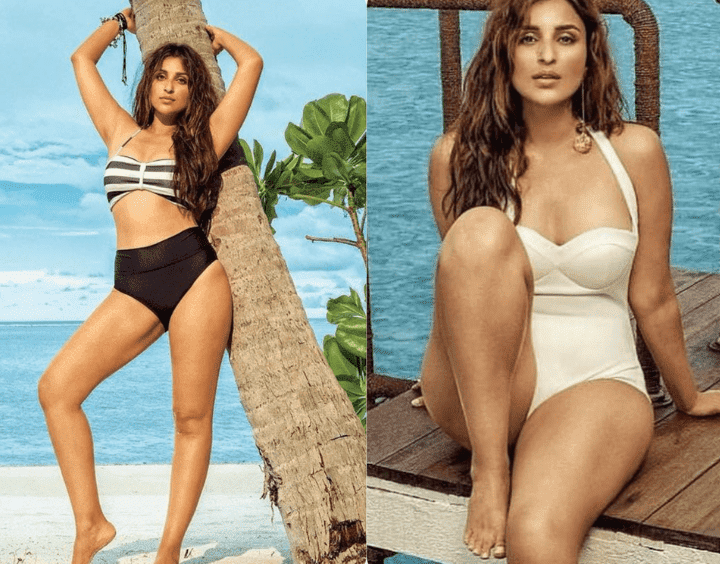 Parineeti flaunts her newly minted beach-bod curves in this trendy two-piece bikini! The high-waisted bottom hugs her curves in all the right places and the striped top is silhouetted to perfection. If you got it, flaunt it! If you don't have it – well, join the rest of us mortals as we #goals our life away!
24. Sonam Kapoor In Bikini Is Pure Sophistication!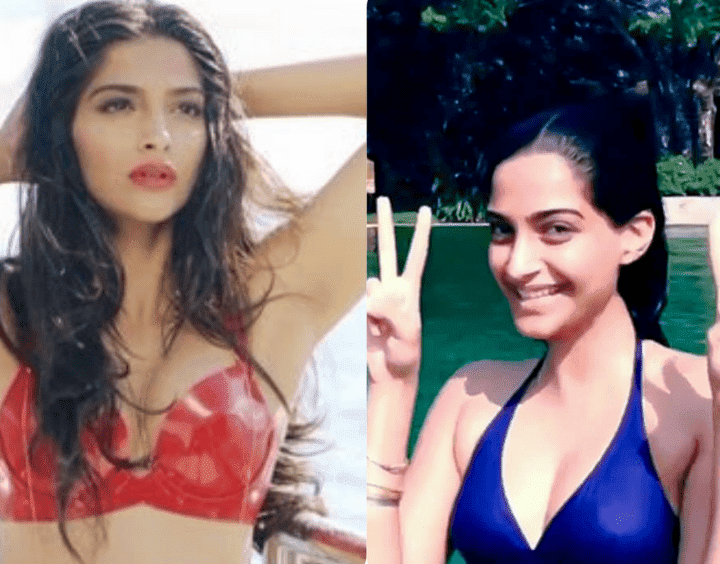 Iconic, classic, and just the right amount of extra – Sonam looks arresting as she gives off a major girl-boss vibe! The touch of colors manages to freshen up the beautifully cut long overcoat while keeping the sharpness of the overall look intact. Meetings by the poolside, anyone?
25. Neha Dhupia In Bikini Is A Stunner!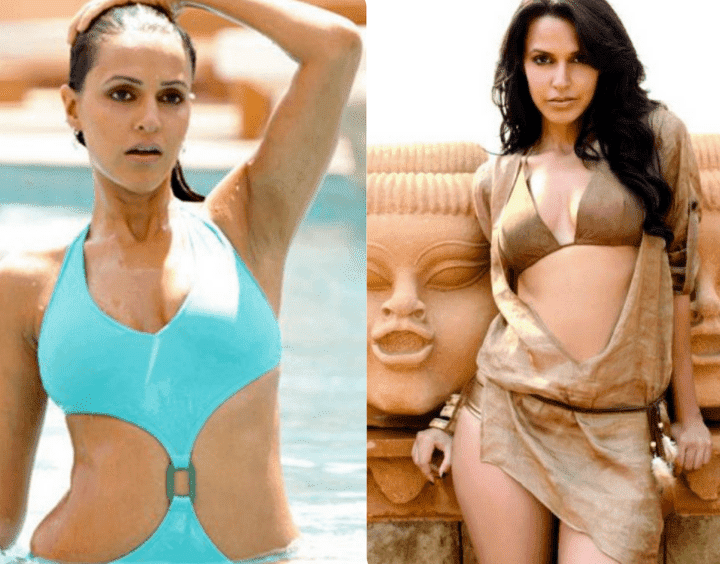 This is one bikini look that has oodles and oodles of oomph! Neha looks smoldering in this bralette bikini and pearl drop earrings. Channel her look and go for a bikini in an edgier fabric like pleather or satin for maximum impact!
26. Esha Gupta In Bikini Is Quirky n' Fun!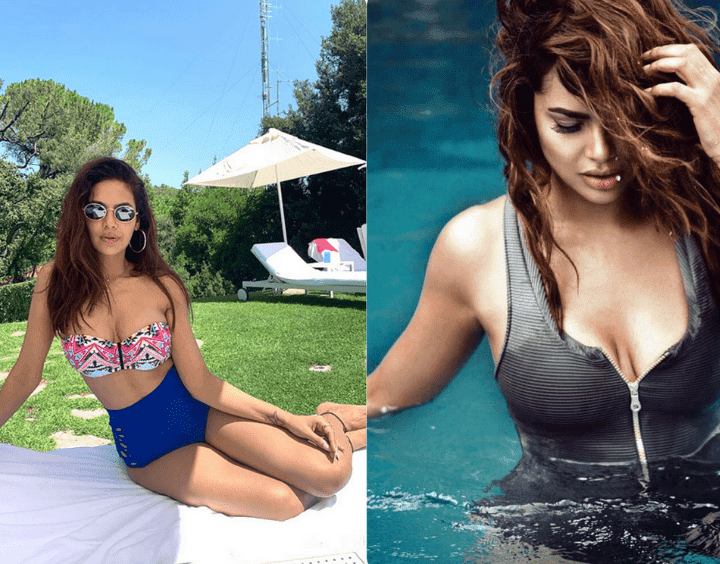 Oh, how fun coordinated graphic prints are! Esha looks quirky and coordinated in this tailored swimwear outfit and radiates an undeniable cool-girl vibe. We totally love the unique aura that this blazer collared throw-on adds!
27. Neha Sharma In Bikini #InstagramWorthy!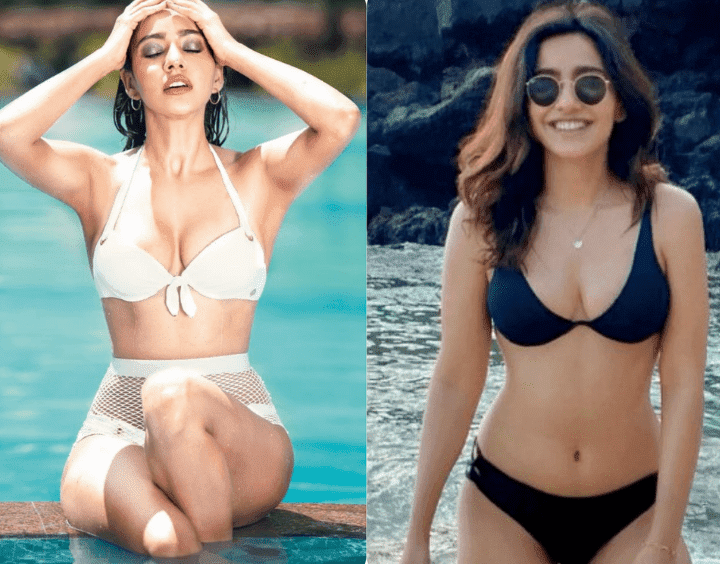 Nothing looks fresher than a beautiful white bikini with a couple of key trend details. Neha wears a striking mesh bottom with a simple halter bikini top with a fun tie-up detail in the front. Just an Instagram filter away!
28. Aditi Rao Hydari In Bikini Is The Ultimate Girl-Next-Door!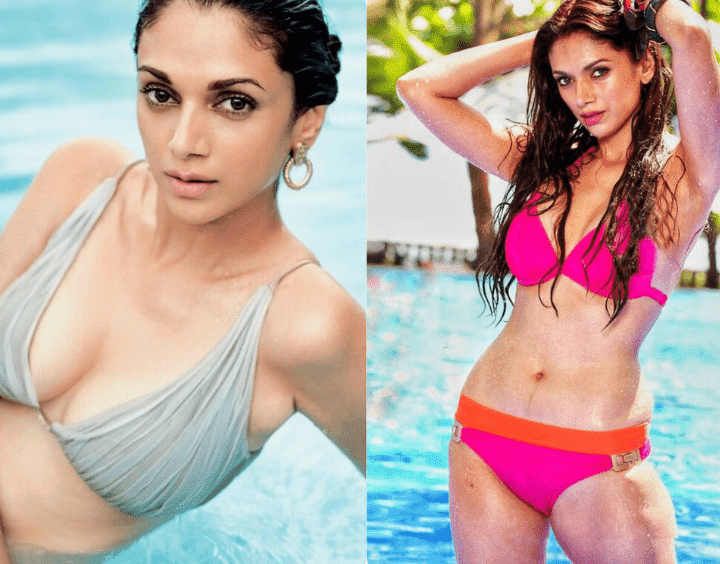 Aditi rao hydari has the classic girl next-door persona and she shows it off naturally in this knitted two-piece. It is simple but flaunts a stylish vibe as it is not matchy-matchy at all and is graceful in its approach. Perfect for those backyard parties and sunning on the porch, this is a cute and comfy look!
29. Rainbow Diaries With Riya Sen Bikini!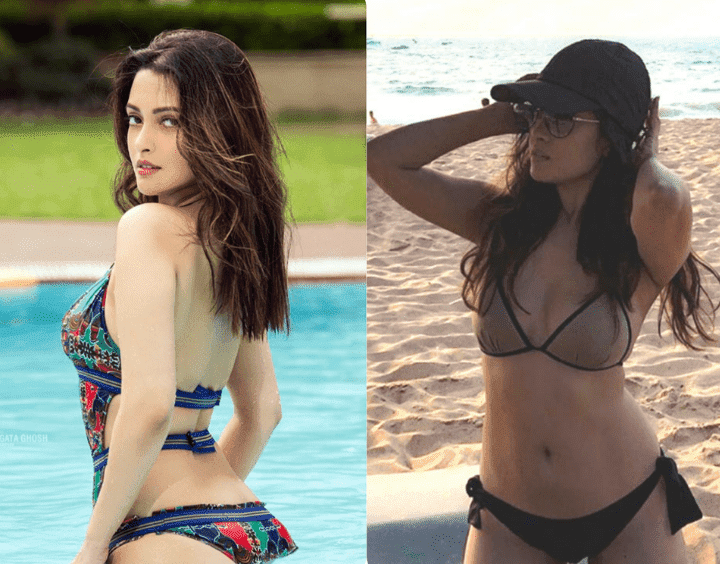 While most Bollywood bikini looks are mostly casual or glamourous, Riya's OTT rainbow knitted two-piece is refreshingly unique! Channel these extravagant actresses in bikini options by styling your bikini bottoms in tribal waistbands or dangling rainbow hued accessories like Riya for an unabashed bohemian vibe.
30) Sara Ali Khan in Bikini is pure Print Party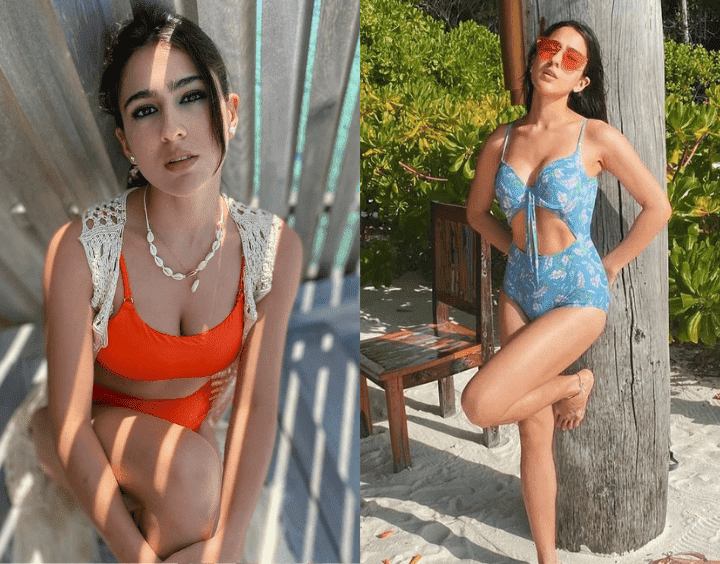 Bollywood's very own "Namaste Girl " is often spotted taking a vacay to the Maldives with her brother or friends and has always made it a point to make her fans go gaga over her beach looks. One such remarkable look is of this printed monokini that features hand-painted floral patterns and a front-knot detail with a spaghetti strap. Sara styled it with tinted red shades, thereby keeping it super caszh.
31) Ananya Pandey in bikini is a Glamingo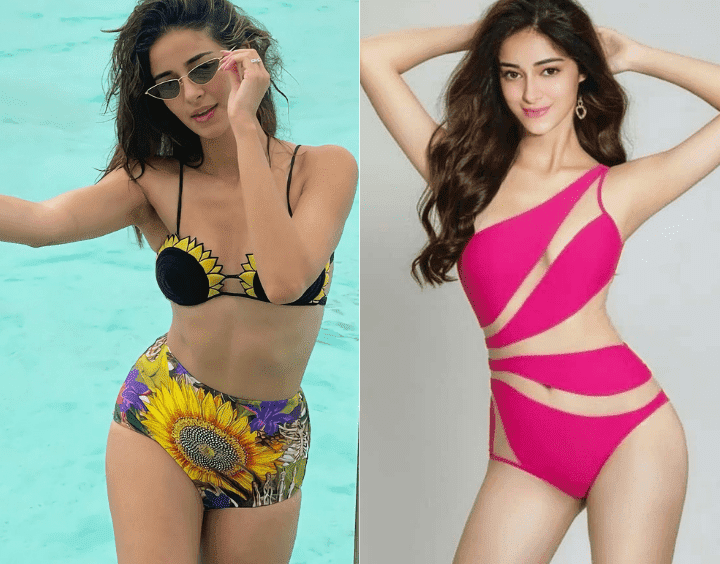 The Student Of The Year 2 actress is no less when it comes to donning hot bikinis on her trips. Ananya looks stunning in this chic orange and white mesh pattern bikini with a matching shrug and stylish sunglasses. Uff the temperature is rising in the Maldives.
32) Kiara Advani in a bikini is adding glamour to beachwear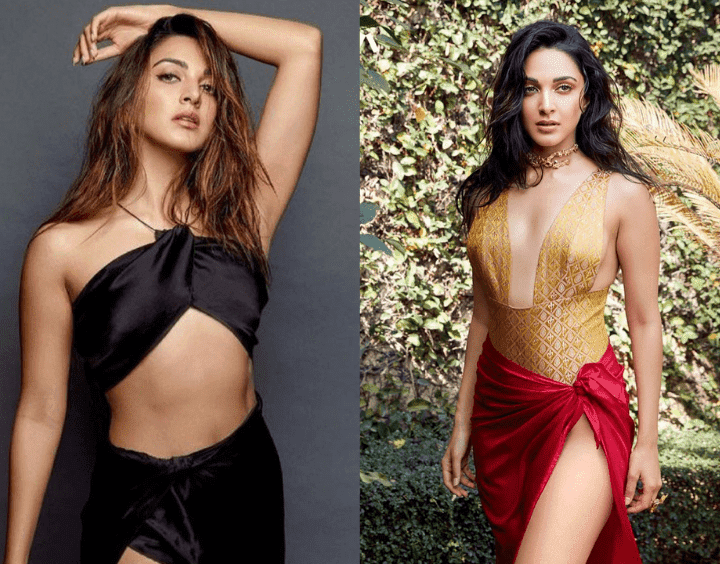 From on-screen performances to off-screen hot looks, Kiara Advani has been impressing us over and over again. Flexing her hot-toned body in a yellow simple front-twist bandeau bikini, Kiara follows the" less is more" mantra. She has styled this cute sunny bikini with a straw hat and a diaphanous gauze shrug.
33) Kriti Sanon in a bikini is will help you overcome Monday blues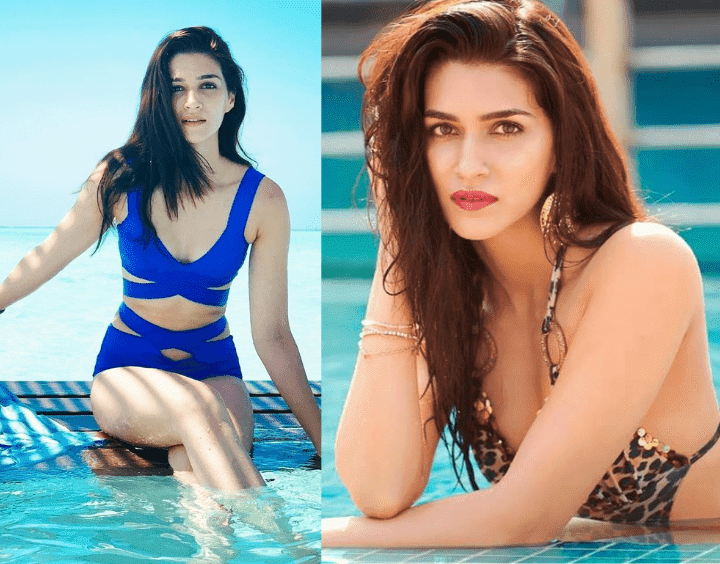 B Town's Engineer/ Actress, Kriti Sanon has stunned everyone by delivering hits after hits in the industry. Soon after a packed schedule, she was on a seen vacay with her tribe. A water baby at heart, Kriti shared a throwback pic from her vacation flaunting a royal blue monokini styled with classic sunnies. We bet the fans were in for the treat.
34) Jahnvi Kapoor in a sizzling hot bikini sets the temperature soaring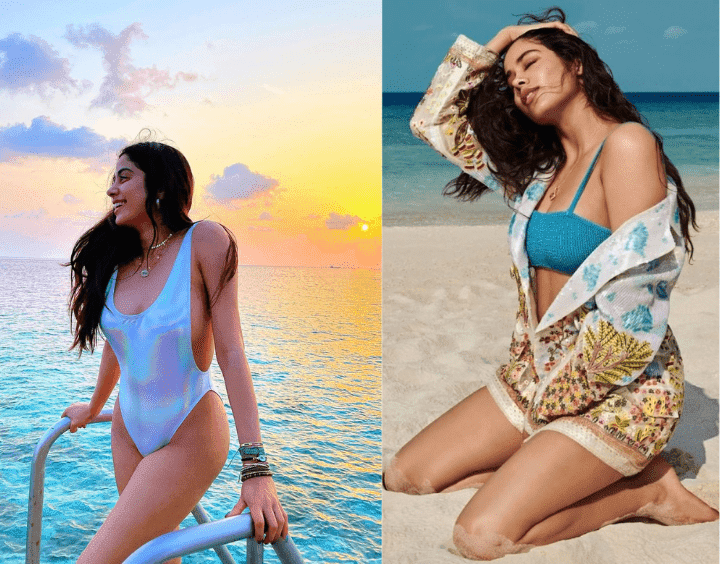 Sridevi's daughter and the famous B town kid, Jahnvi set the internet on fire with a stunning photoshoot she did for a travel magazine. She shared the cover photo on Instagram wearing a shimmery silver bikini top and wrap-around setting the bar high for beach looks. The fans couldn't resist the hotness and commented "uff " on her pic.
35) Suhana Khan in bikini- casually cool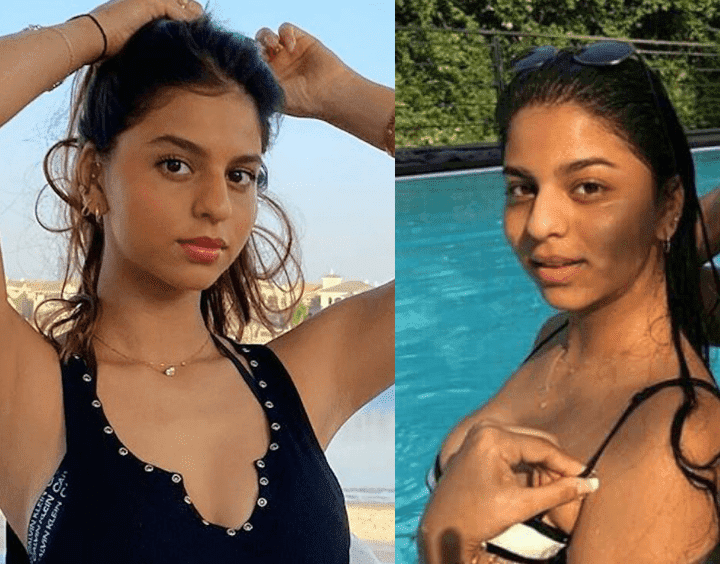 Among the popular star kids, Suhana Khan is a well-known name in the industry even before her acting debut. Superstar Shahrukh Khan & Gauri Khan's daughter, Suhana was seen celebrating her birthday with her buddies donning a black bikini in a jacuzzi.
36) Sunset & Sakshi in bikini, a breathtaking combo!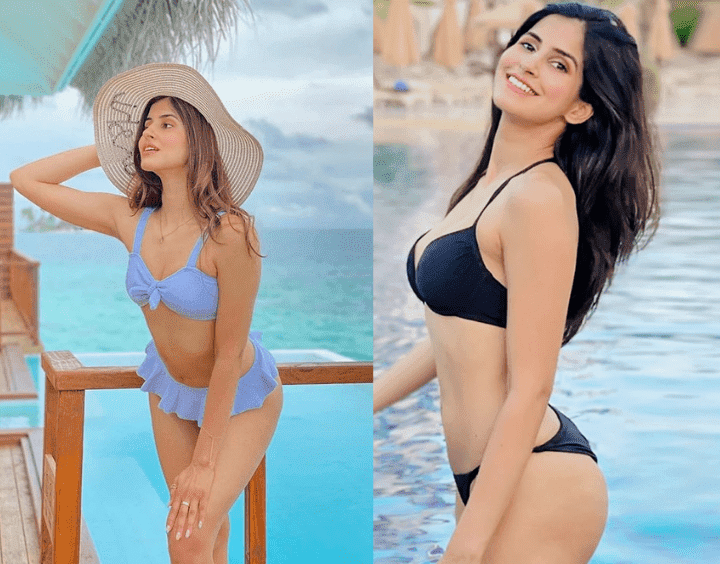 Model turned actress, Sakshi Malik is known for her amazing performance in Bollywood's famous song "Bum Diggy Diggy" along with Kartik Aryan. The stunner was seen having a gala time on her vacation with her bae and was spotted in a blue bikini. The fans surely had a hard time deciding who looked more breathtaking, Sakshi or the sunset 😛 Let your beachside wild child shine through! Check out types of bikini here. That's it, peeps! We are sure that you enjoyed our archive of Bollywood actresses in bikinis hot and sexy photos.  After all – its sun, sand, surf, and style – all of the things that make us want to prop our feet up and get just as sun-kissed as these Bollywood beauties!
Image credits: The copyrights of the images used in this post belong to their respective owners. The credits where known are specified under the image - if you're the owner of an image and want it removed, please contact us.