Swimwear and bikini trends in Bollywood are as gorgeous, as they are statement making moments through the industry's years. While indian actress bikini photo-shoots have often been shrouded in controversy and a good dose of toxic reactions from the Indian media in the past, times are changing – fast.
As women increasingly continue to reclaim their body autonomy and their right to wear whatever they choose, without societal judgement and censorship, bollywood actress bikini trends have become all the more iconic. Dating all the way back to the yesteryears of Parveen Babi, Sharmila Tagore & Zeenat Aman's impeccable grace, bollywood actresses have been acing the swimwear trends with a vibrant panache.
The one theme that reflects in all images of bikini bollywood latest as well as oldest trends, is 'fun'. Every lady looks radiant, relaxed, adventurous and on her A-game when donning swimwear with a flair. So, we've put together an absolutely unmissable archive for you – scroll on and take a look!
Sunset vibes with Jacqueline Fernandez: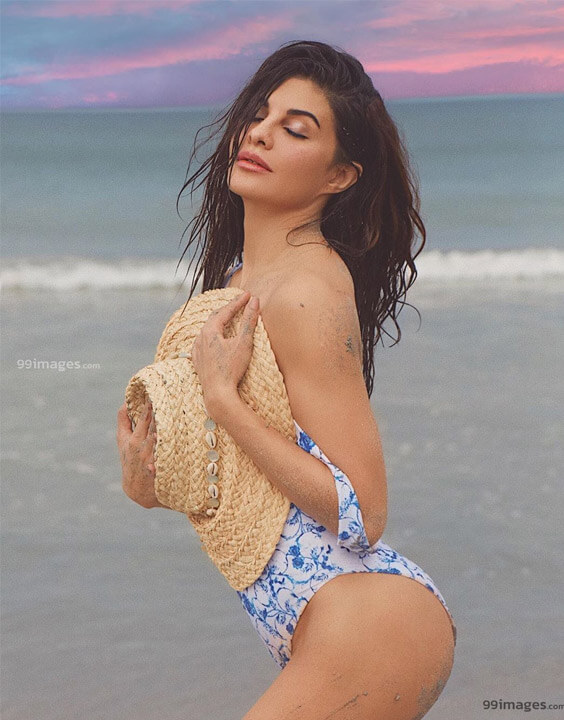 Stunning, on trend for the season and super relaxed, Jaqueline looks like she is vibing hard with the vacay mood. Serving us stunning lewks and shots on her Instagram, against a backdrop of purple-pink skies and ocean waves, she hits it out of the park with this swimwear look!
Make it your own: Printed swimsuits with a straw hat is a great way to style your next vacay look! Straw hats go great with beachy hair, a chill atmosphere and a minty mojito – just saying.
Bold red and on-point with Bipasha Basu: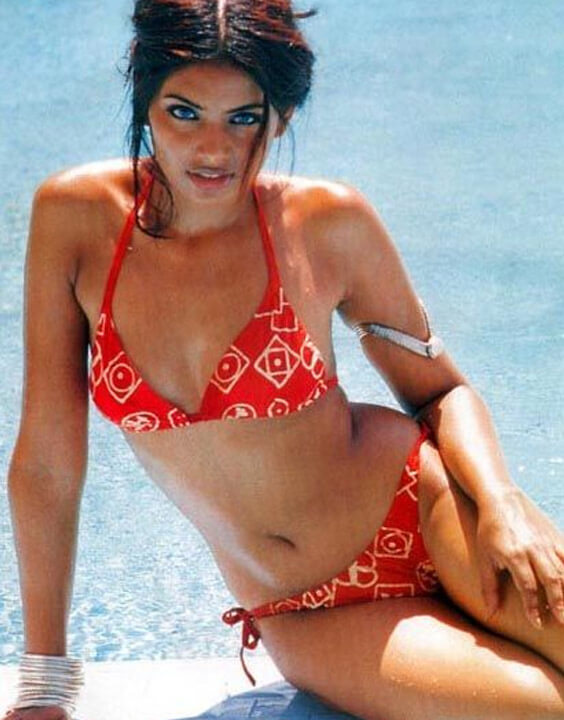 Bipasha has always been the quintessential bollywood bikini poster-child. The trailblazer of so many bollywood actress bikini trends, she scorches the camera with her razor-sharp gaze and even sharper panache. Effortlessly retro, we love this calendar look in a printed red bikini. Her sizzling persona is balanced by a soothing background – this one's a winner!
Make it your own: Junk silver jewellery with printed bikinis in bold colors? Yes, please!
Too-cool-for school with Ileana D'cruz: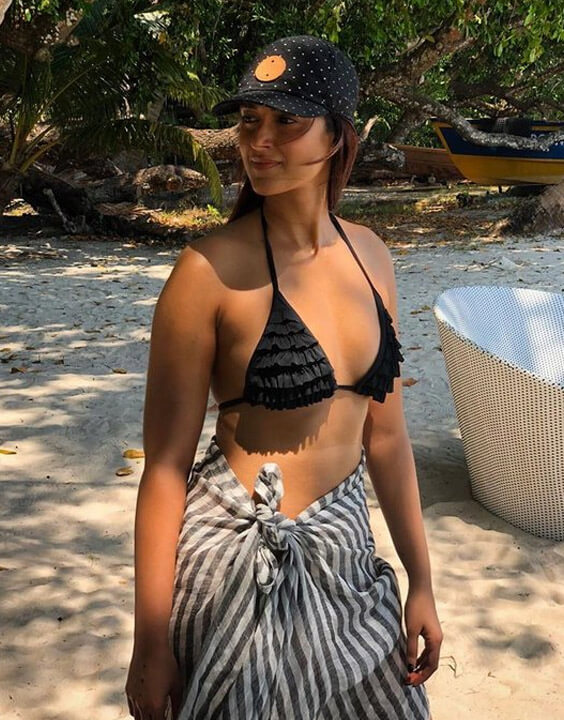 A baseball cap and a striped cover-up with a ruffled black bikini? Who knew all these patterns, textures and accessories could come together to create such a chill, easy-going and uber-stylish swimwear look? Well, Ileana certainly did!
Make it your own: Exude a tom-boy charm like Ileana by finding ways to pair athleisure elements like baseball caps to up-style your black bikinis. This one will have your Instagram buzzing in no time.
Vintage bombshell – Parveen Babi: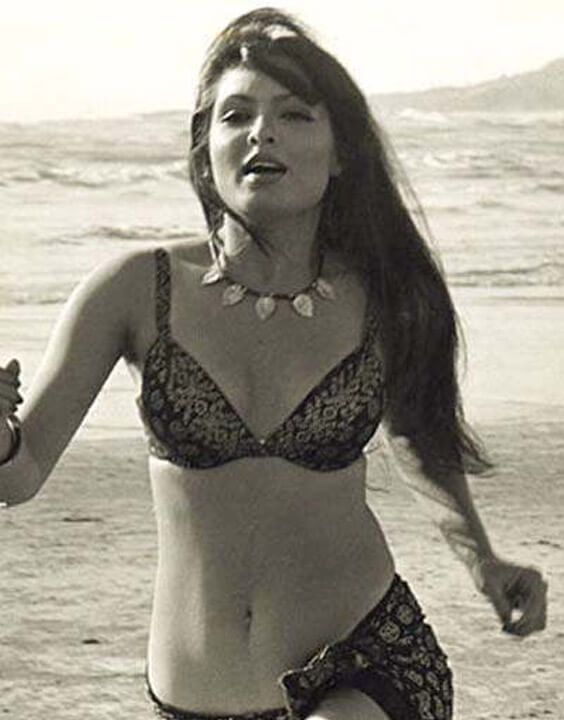 The OG bollywood bikini babe, Parveen Babi knew how to exude a charming and sensual vibe like the back of her hand. The best part of it all – her looks, persona and style was always effortless – these things came naturally to her. It shows in this amazing vintage photo we pulled from our archive of her donning a bikini. Lovely and iconic.
Make it your own: We love how Parveen paired her simple bikini with a statement neckpiece. Get one in mother-of-pearl or shell materials to match her look.
Vibrantly optimistic with Taapasee Pannu: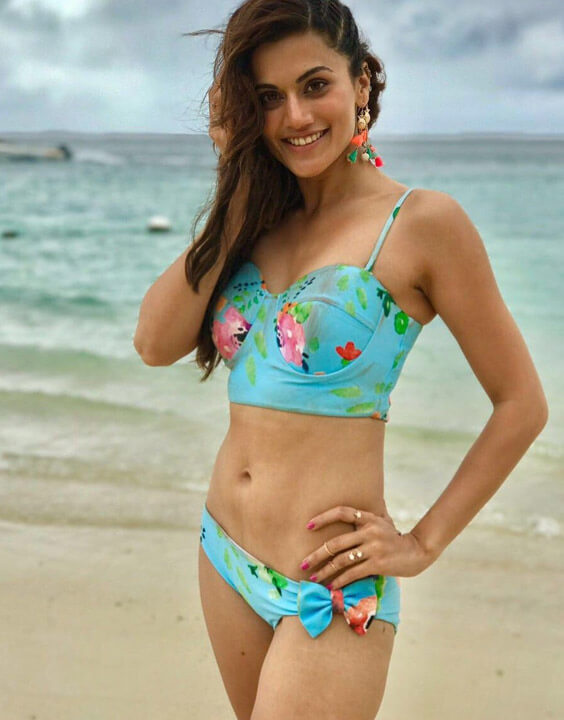 Taapasee's vibrant, chic and unapologetically girly turquoise swimsuit puts a smile on our faces! While many indian actress bikini shots are in studios and produced with airbrushing; there is something undeniably more charming and exuberant about candid pictures of the women having fun in their swimwear. Taapsee displays this with a bright smile in her printed bikini. Also that bow on the bottom? We're living for this one!
Make it your own: Go for a bikini with a top that is constructed in a more corset or bralette pattern silhouette. It will lend a great shape, good support and freedom of movement. Plus, this type of bikini looks awesome on camera.
Lush in cobalt blue- Kriti Sanon:
Okay, this cobalt blue swimwear outfit worn by Kriti Sanon is visually stunning, to put it simply. Her cobalt blue bikini has a killer fit, a striking criss-cross pattern, and the light turquoise of the surrounding water only works to emphasise the gorgeousness of this look.
Make it your own: Keep the rest of your styling super simple with a statement bikini in a bright color like cobalt blue to steal this kriti sanon bikini look. If you like warmer colors, try a similar outfit in coral peach or orange-red hues instead.
Joyfully retro with Zeenat Aman: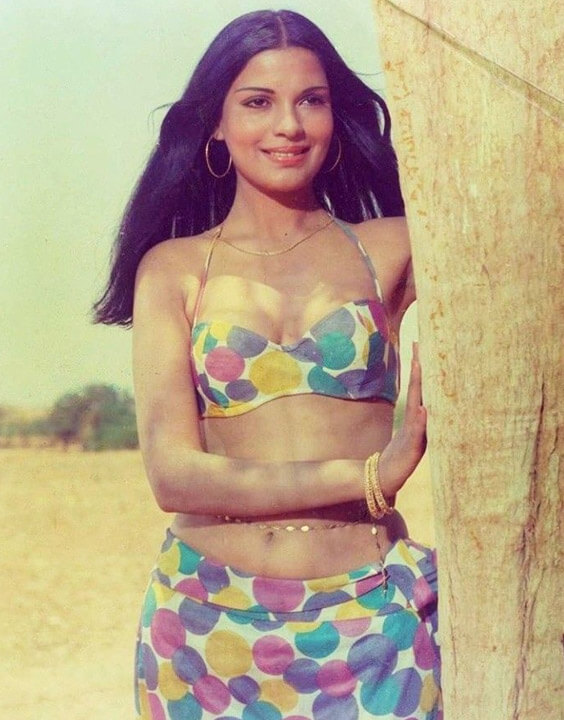 Zeenat Aman has been stealing the nation's heart and making statements in stunning bollywood actress bikini trends before most of us were even born. This particular gem of a look has her retro charm on high with a colorful polka dot pattern. We are stan!
Make it your own: Hoop earrings with a polka print in vibrant colors? It doesn't get more retro-cool than that!
BnW chic in a bikini – Sara Ali Khan: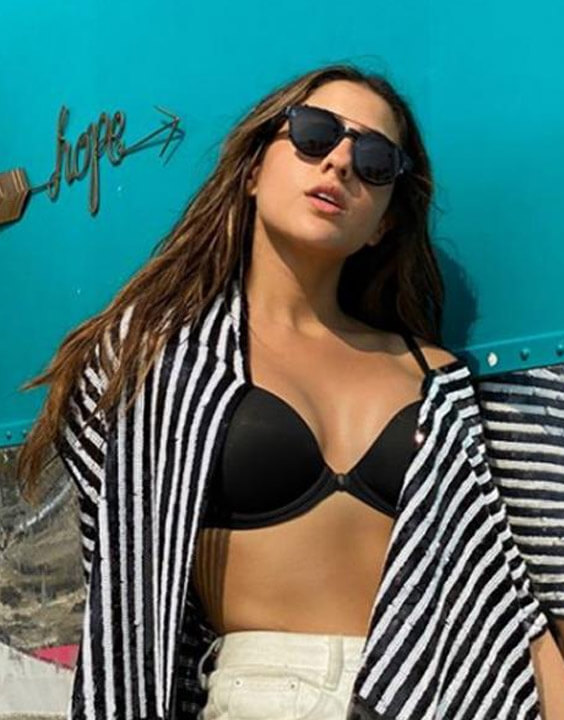 Looking ultra-chic, chill and on vacay-mode, Sara Ali Khan gives us all holiday goals in this classic black bikini. The striped cover-up and white denim shorts only add to the effortlessness of this stunning look.
Make it your own: Needless to say, a classic pair of sunglasses, preferably Ray-Bans, take any swimwear look from zero to hero! Get a pair and elevate your bollywood bikini style.
French-inspired style with Karishma Kapoor: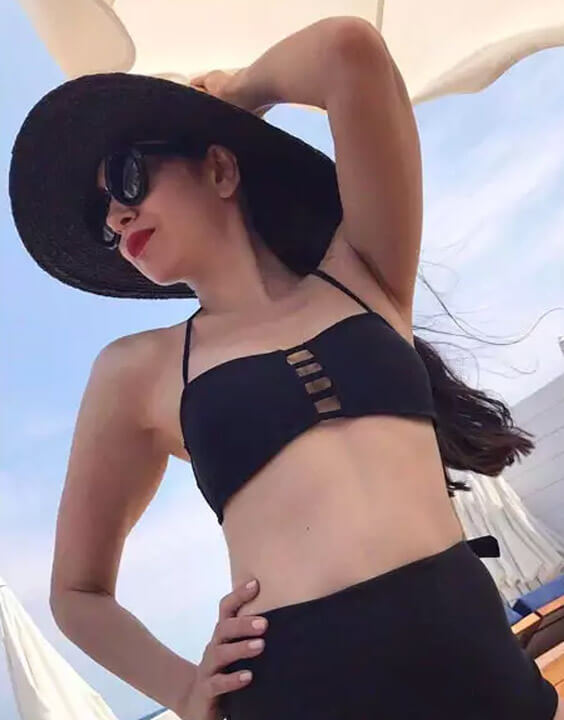 Would you like to look as though you're sunning on the stunning coasts of southern France on your next trip? Take cues from this charming bikini look by Karishma Kapoor. A rouge red lip, high-waisted bikini bottom and thick-framed sunnies work to add a certain 'je ne sais quoi' to Karishma's effortless bollywood actress bikini style.
Make it your own: If you would like to steal this indian actress bikini style, go all black with your swimwear outfit. The only pop of color you need to look French-chic is a bold red lip.
Flaunting that baby bump – Kalki Koechlin: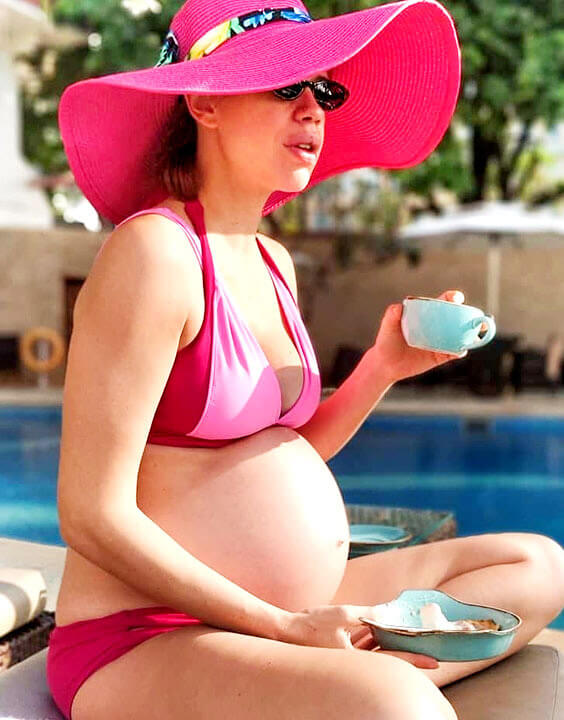 Who said hot actress bikini trends cannot be real, candid and inclusive of joyous life events? We love how Kalki turned all bollywood actress hot bikini trends on their heads by donning one stunning swimwear look after another at the heights of her pregnancy. This particular look, in lively, monochromatic shades of pink is our absolute fave. After all – we're sure there is nothing more comfortable and relaxing for a mom-to-be than lounging pool-side with her fave snack and a cup of tea. The Instagrammable appeal of this look is just the add-on!
Make it your own: Going monochromatic with lighter-darker variations of the same hue is a great way to put together a radiant and striking bikini look.
Riding the tie-dye wave with Priyanka Chopra: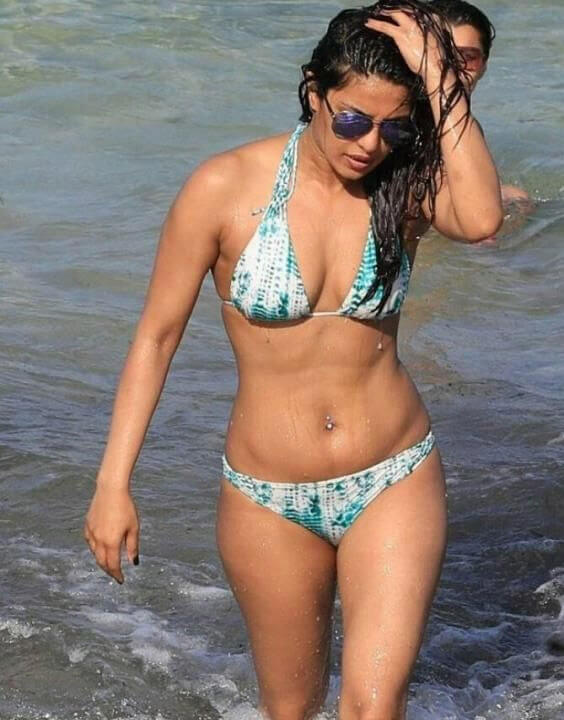 Here it is – the 'tie-dye' print trend that has made itself ubiquitous in 2020 fashion. Flaunted effortlessly by Priyanka Chopra during a chill outing by the beach – we can't help but be fans of this look. The halter-top silhouette and understated sunnies add to its casual-chic appeal.
Make it your own: A tie-dye print is never more at home than on a bikini. Exude those chill, hippie vibes with this one. Keep the styling super simple & let the print be the star of your look.
Blazing in neon with Ananya Pandey: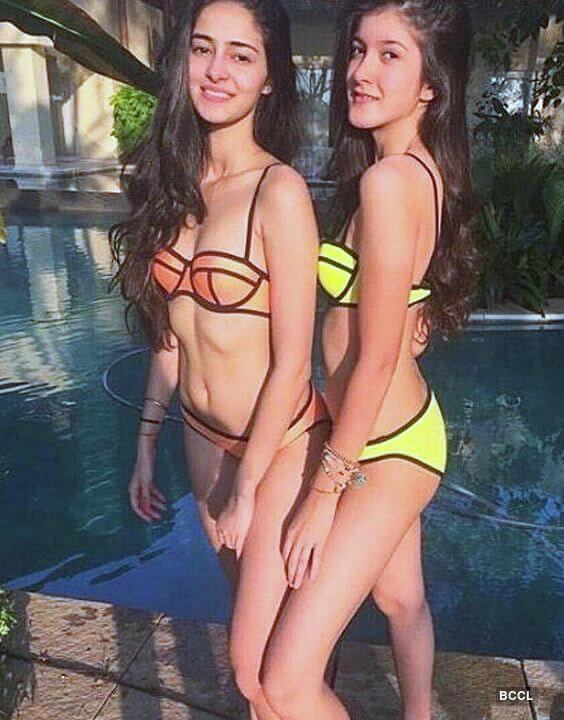 Chilling with your friends and family by the poolside has never been this chic and high-fashion! Twinning and winning with her friend Shanaya, in matching neon bikinis, she oozes vacay vibes with a relaxed poise.
Make it your own: If you'd like to truly make a bollywood bikini statement on the gram, there's nothing better than a neon bikini. Also, you can color coordinate with your BFF for some poolside fun!
Poised and graceful with Sharmila Tagore: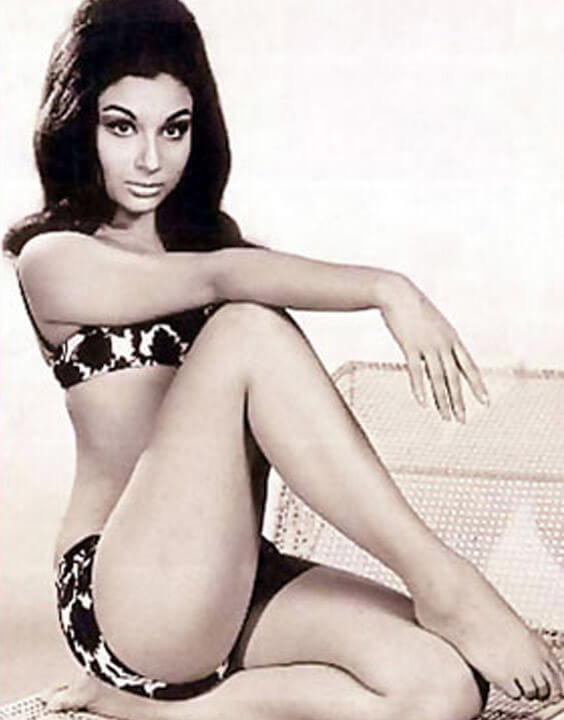 Sharmila Tagore exudes stately grace, poise and charisma in her yesteryear indian actress bikini look. Lovely as ever in a statement making black and white printed bikini, she takes it up a notch with the bee-hive hairstyle that was all the rage back then. It doesn't get more stunning than this one, folks!
Make it your own: Try your own bee-hive hairstyle paired with a retro printed bikini during your next trip to emulate Sharmila's timelessness.
Nonchalantly hip with Disha Patani: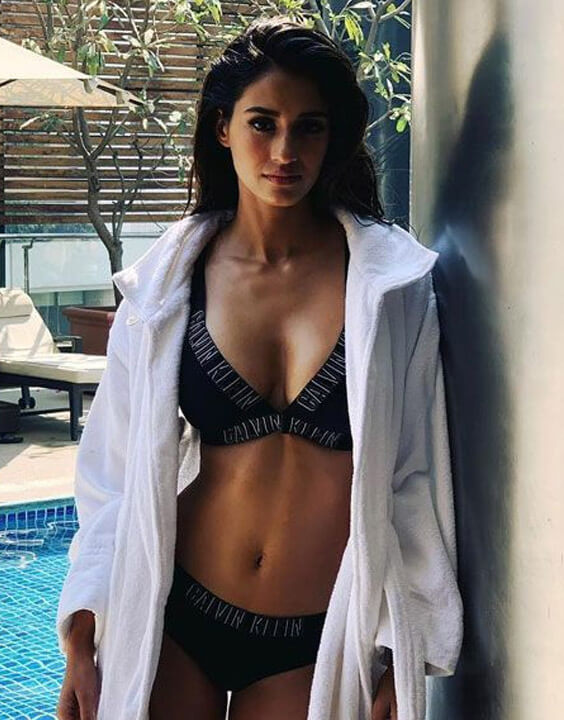 Accentuating her figure beautifully, this CK bikini makes a luxe and striking statement like no other. The pushed back hair and fuzzy white robe add to the nonchalantly hip and current vibe of Disha's look. We're starry eyed over this outfit!
Make it your own: The right cover-up makes all the difference. Match your minimalistic style with a luxe and minimal cover-up to copy Disha's effortless style.
Early 2000s vibes with Deepika Padukone: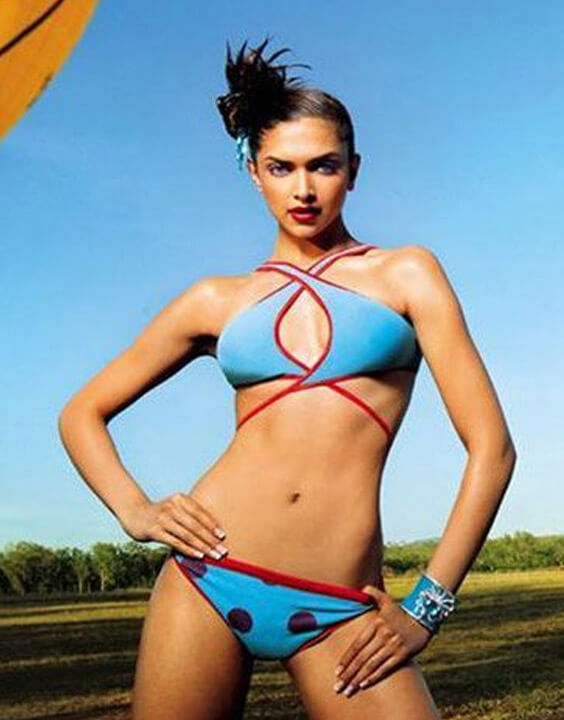 Remember this stunning shot of Deepika in a whimsical bikini look back when Kingfisher calendars were a thing? Showing off her ultra-fit physique in a stand-out swimwear look, Deepika spearheaded hot actress bikini trends in the early 2000s.
Make it your own: Mix and match top & bottom separates to come up with a mixed bag bikini look that is just as whimsical as Deepika's. Coordinate colors to match patterns and team the look with just one statement accessory.
Bohemian glam with Kareena Kapoor: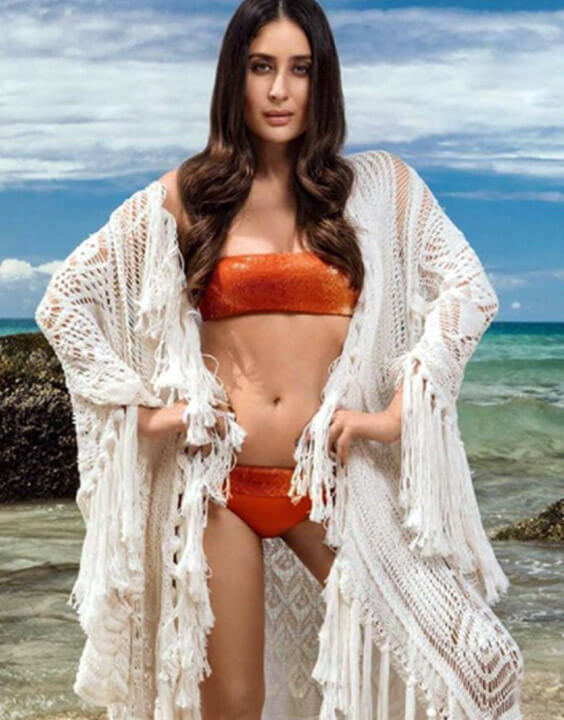 Startling the audience in a stunning Vogue spread, Kareena made heads turn with this ultra-glam, boho-chic bikini outfit. Stylized, editorial and high-fashion, this is a look for the brave-hearted who don't wish to blend in with the crowd. The stunning texture and fringe of her off-white overall highlights her sparkly burnt-orange bikini against an oceanic landscape. After all, bollywood actress bikini trends are bound to come with a side of drama, right?
Make it your own: Go for a sequined bikini under a larger-than-life and flamboyant cover-up to steal Kareena's style. A touch of waterproof make-up and stone-rings with embellished sandals will complete your soft-glam bohemian beach-side fantasy.
Neutral and natural – Esha Gupta: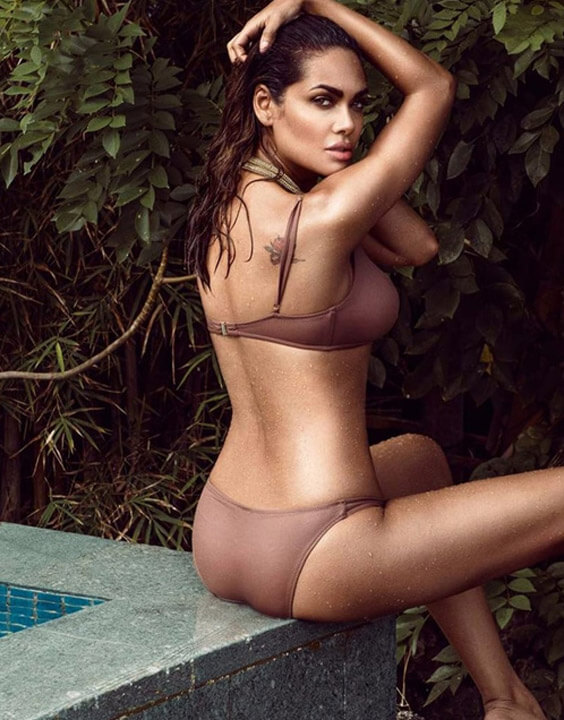 If you would like to go for a very simple, yet sultry bikini outfit, look no further than Esha's stunning bollywood bikini style. Simple and elegant, a classic bikini in nude colors such as beige and brownish mauve shades, makes for an effortless statement.
Make it your own: Do not wear any extra accents or accessories with this look. Keep it super simple and minimal. Picking the right neutral color for this look is important. Go for a shade of nude that is either 2-3 shades darker or 2-3 shades lighter than your skin tone, so that it stands out on your skin-tone just the right amount.
Chilled out in millennial pink – Alia Bhatt: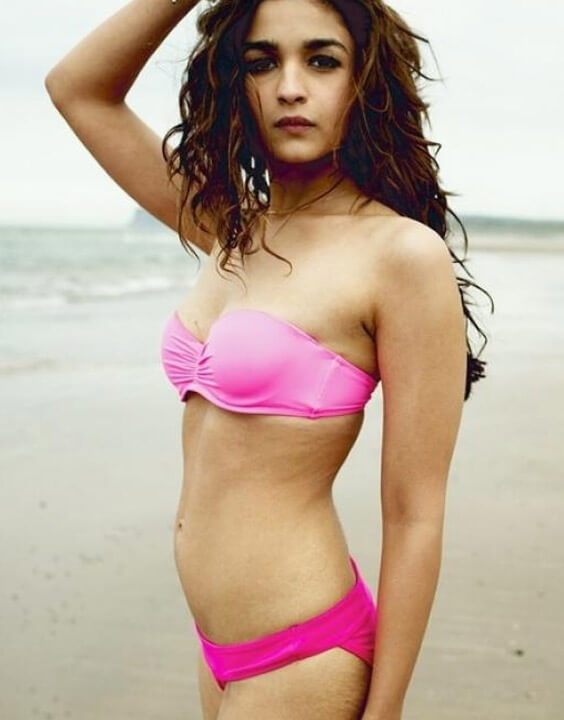 A tube bikini in millennial pink is an enduring swimwear trend for the 21st century. Who better to have worn a style so on-point for the zeitgeist than Alia Bhatt? Flaunting bikini bollywood latest fashion on the gram with ease, Alia shows us why she is one of the most followed Indian celebrities with this look.
Make it your own: Go for millennial pink on your next vacation no matter what the silhouette or pattern of your swimsuit is. You can' go wrong with this youthful classic!
We hope you enjoyed our lowdown on the oldest and latest bollywood actress bikini trends. Remember – the best thing about swimwear is how fun and adventurous it is! Go forth boldly and style yourself in a lively swimsuit style with inspiration from this comprehensive bollywood archive. See ya!