DIY Christmas Decorations Ideas & Tips
It is the season to be merry, it is the season to be jolly, it is the season of love, laughter, warmth, lights and everything nice. Yes, you guessed it right, it's Christmas!!! December is not just a month but an emotion. With the city beaming with cheer, beautifully lit, looking like a party in itself, how could one not make their homes look equally enchanting?! Sway to "Deck the halls" and find yourself decking up your hall with boughs of holly
Fa la la la la, la la la la (fa la la la la, la la la la)..
Most of us may not be fortunate enough to enjoy White Christmas, but that shouldn't keep you from incorporating gorgeous Christmas Decoration Ideas into your home decor this season. The internet is full of gorgeous DIY Christmas Decorations, and you're sure to have enough inspiration to keep you going, should you ever lose interest for whatever reason!/p>
Here are some traditionally modern Christmas Decoration Ideas & Tips to keep you busy this festive season!
Fabricate a Winter Wonderland!
The world swoons over the idea of basking in the beauty of white Christmas. What if we told you that it's now possible to bring that beauty home? We're sure you'd give us all your money! Well, don't worry, as you need not break a bank for it. If you are still asking yourself, How can I decorate my house for Christmas? Then you're on the right page!
Read the following tips for some foolproof Christmas Decoration Ideas to bring home a winter wonderland this season.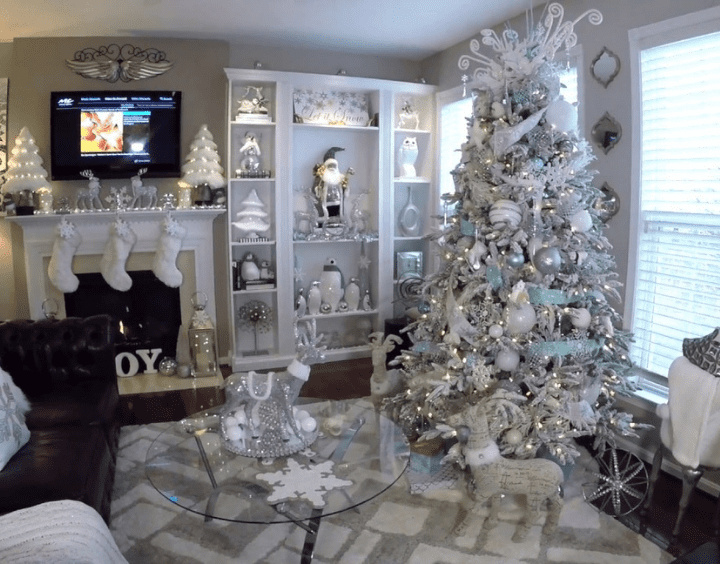 To begin with, you'll need the following items
A Christmas Tree
Being the highlight of the festive season, you must get a lush Christmas tree for your living area. An outstanding Christmas living room is what we are aiming for. If you are blessed with tall ceilings then accommodating a tall tree shouldn't be an issue. The bigger the merrier! A big tree will not just reduce your work of filling your living area with festive decor in half but will also give you the freedom to experiment and use huge ornaments that will be visible even from a distance.
It's the main door and the living room that people usually notice while entering someone's house. So surprise your family and friends with your creativity this festive season. Ensure to stick with the Theme and Winter themed ornaments as mentioned in our next paragraph. 
Spraying your tree with some strings of snow paint will give it a hyper-realistic look. Sprinkle fine pink glitter dust to add a touch of color & magic.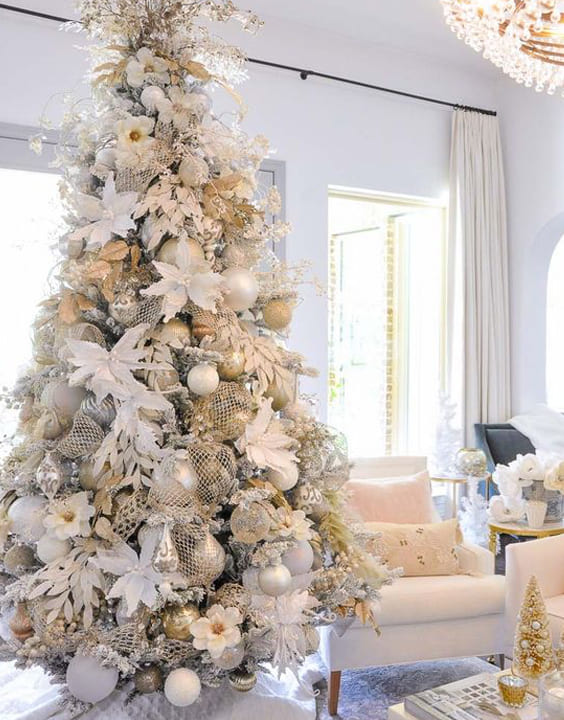 Also read: What Are The Different Types of Christmas Trees One Should Know
DIY Christmas Ornaments
Christmas tree ornaments are everything as they can transform what your tree would look like! This is one aspect you shouldn't compromise on. If you wish to save some bucks, then DIY options are the best. There are several videos on YouTube and Pinterest to help you DIY it. If it's the white wonderland theme that you're considering then snowflakes, cotton balls, silver glitter, bows, metallic balls, angels, snowman, and a beautiful big champagne gold or silver star to complete the entire look.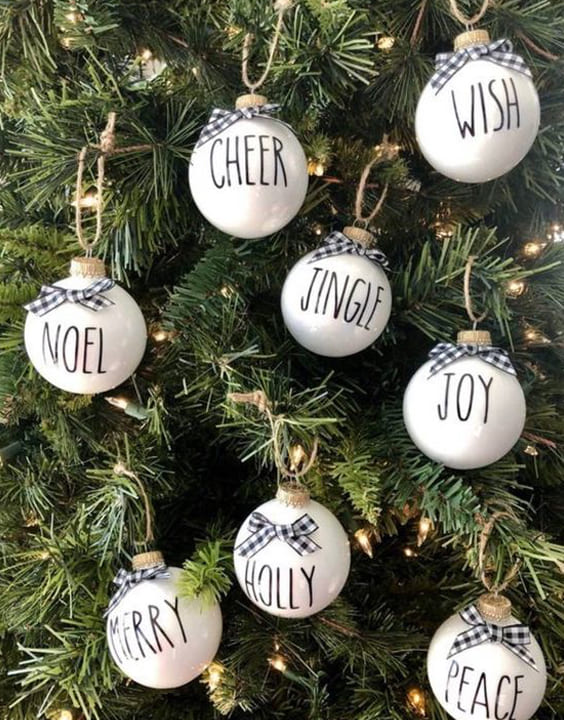 Snowflakes & Snowman
Let it snow in your home using cotton balls, snowflakes, white Christmas wreaths, to give an appearance of it all being covered in snow. Build a snowman made out of sponge and cotton to serve as one of the most distinctive Christmas door decorations for a white Christmas in a tropical country. Place the snowman strategically outside your main door.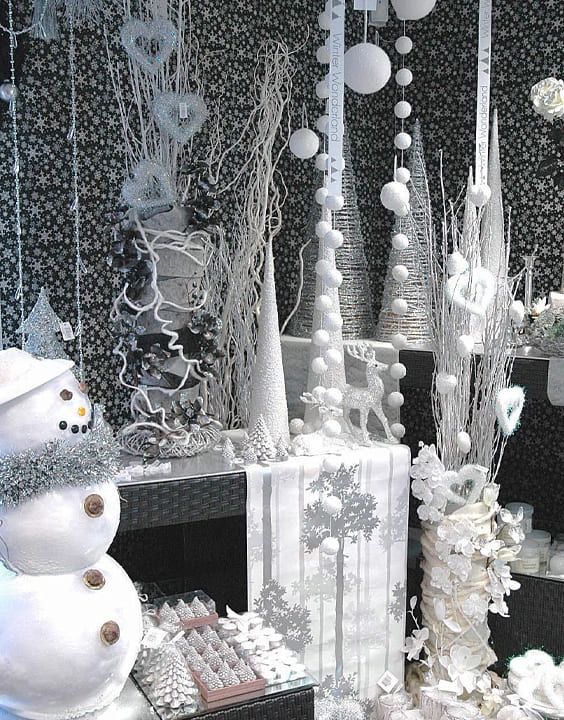 Battery operated lights
Add some magic while also sticking to your white winter theme using delicate rice lights in the hues of sky blue, pastel pink, golden, and white of course. Well-lit living space is best to bring out the beauty of your beautifully decorated living area. Decorate the doors and windows with a unique snowball and snowflake-themed lights. Be sure to opt for battery-operated lights and candles so that you can place them wherever you like, worry-free!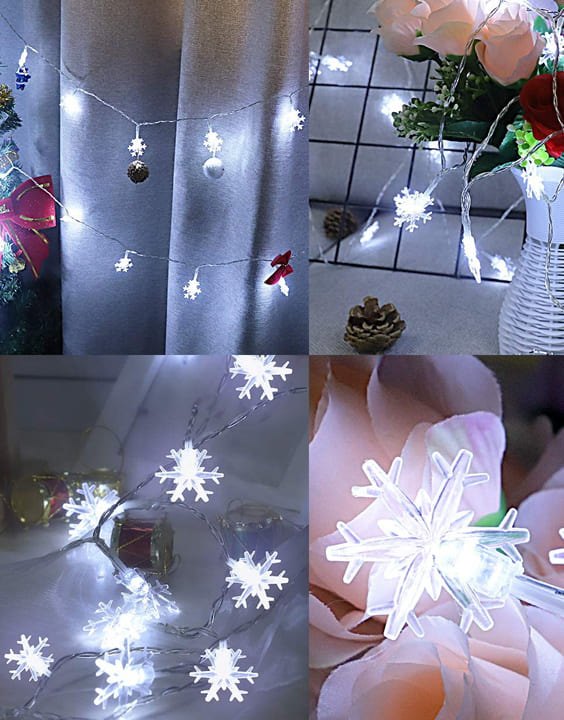 Christmas table decorations
Silver imitation candles, DIY icing cookies, Christmas cupcakes, Macaroons, white napkins with colorful embroideries, Christmas-themed candle stands and crockery are some of the items one can use as accessories to add to the beauty of this seasonal decor. There are special 
Those opting for a White Christmas are undoubtedly in for a beautiful surprise following our detailed Winter Wonderland Christmas Decoration Ideas.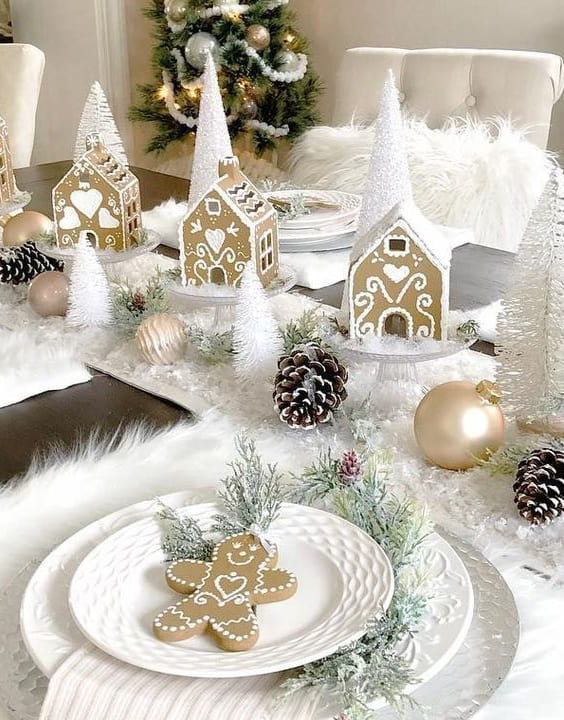 But hey, what about those who love everything colorful? What are the colors for Christmas 2021? Is it more elegant and monochromatically white or do we love having the magic of colour in our lives during this 2021 festive season? Well, the world is surely divided into 2 groups of people when it comes to celebrations. If you find yourself more on the playfully colorful side, then the following Christmas Decoration Ideas are bound to come in handy.
Christmas Living room decor
Most modern homes suffer from a general lack of space and accommodating a big Christmas Tree may not always be a practical option. So what can one do in such a scenario? Heard of minimalist decor? That too can be fun. Shift your focus from heavy-duty Xmas decor to something more light on the eyes but classic at the same time. We call it the modern minimalist festive decor.
Get a short and sparsely filled Christmas tree from IKEA, Amazon, or your local party prop shops like Cheap Jack, Hippity Hop, Party Hunterz. This idea will make your heart happy especially if you are on a budget.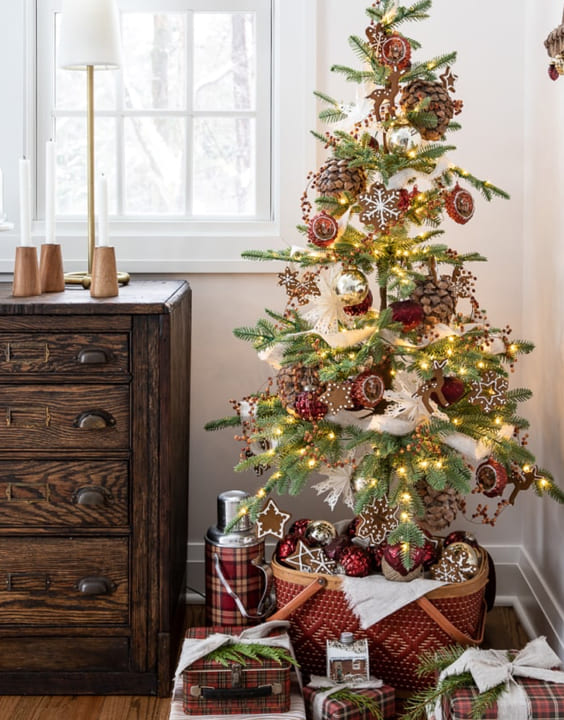 Ornaments
A tree is incomplete without its ornaments. Since it's the colors that we are talking about, it only makes sense to get all possible Christmas-colored tinsels and tassels available out there. Traditional accessories like colorful reindeer, metallic bulbs, sparkly balls, twinkling stars, angels, white & red striped candy sticks, gingerbread man are only going to help you bring home the feeling of a lively, cheerful Christmas.
If you are feeling artsy and eccentric because of all the merry cheer around, you could use offbeat ornaments in different themes, like harry potter based ornaments or 2020 themed ornaments showcasing how toilet paper obsessed the world last year. GOOD RIDDANCE!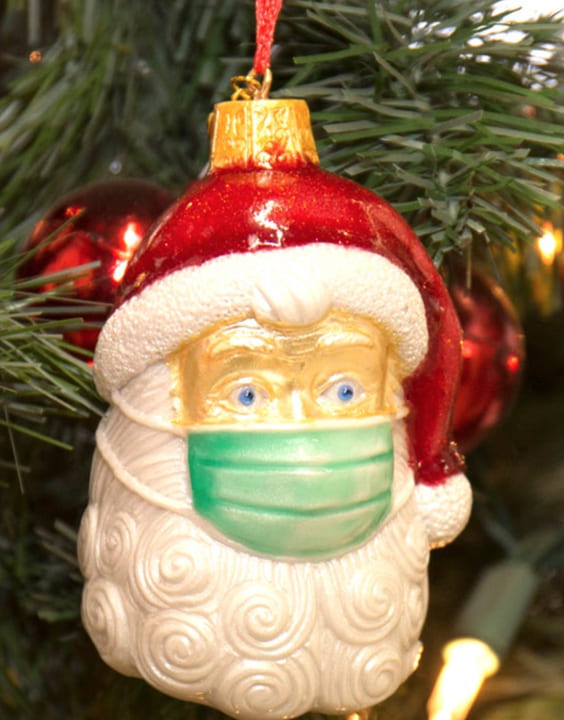 Christmas Wreath Ideas 
Wreaths are usually put on the entry door, the living area, kitchen sometimes and usually by the fireplace. Wreaths come in multiple colors, sizes, shapes but it's the round one that is the most preferred one of it all. You could either DIY it or get a unique one to embody the true spirit of Christmas.
Following are some ideas to put to use.
Pre-lit silver and gold wreath – Ideal for a White Christmas
Jingle Bells Wreath
Mixed berry, pine cones and leaves wreath
Colorful – Vintage inspired ornaments wreath
Traditional Christmas Wreath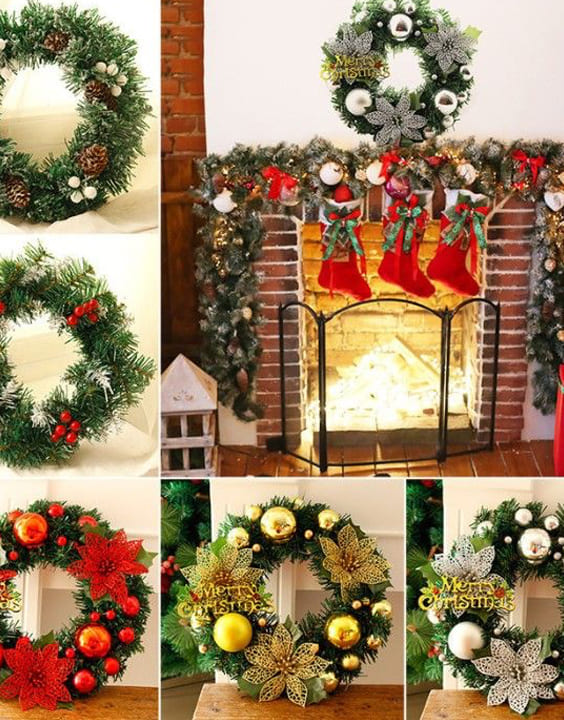 Red stockings 
Christmas decor is incomplete without red stockings. It's the stockings that are filled with gifts that come from our dearest Santa, hence the most important decoration item of all. Stockings need not be only red. Available in many prints, embroideries, colours, designs and sizes, you'll have a sea of options to choose from.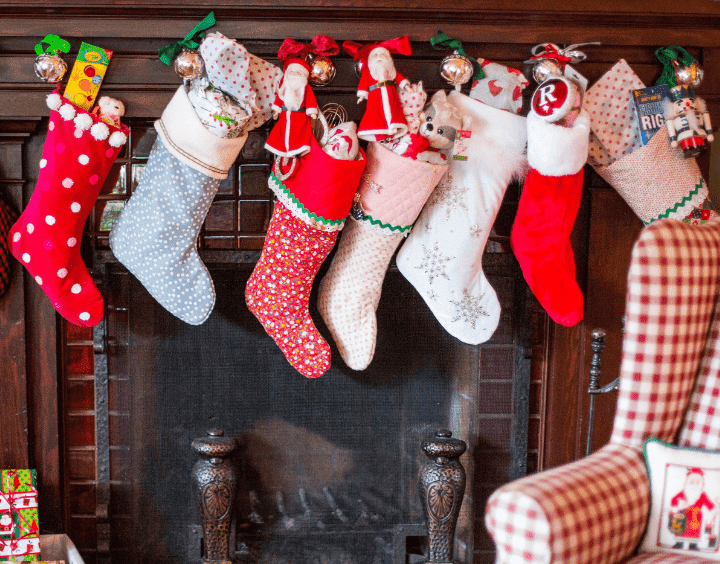 Secret Santa
Just how Christmas decor is incomplete without the many aspects that make it beautiful, the whole festive season is incomplete without surprising gifts that all of us look forward to receiving. Ranging from toys for kids to gifts for adults, be sure to check out our list of 10 best Santa gift ideas for the season.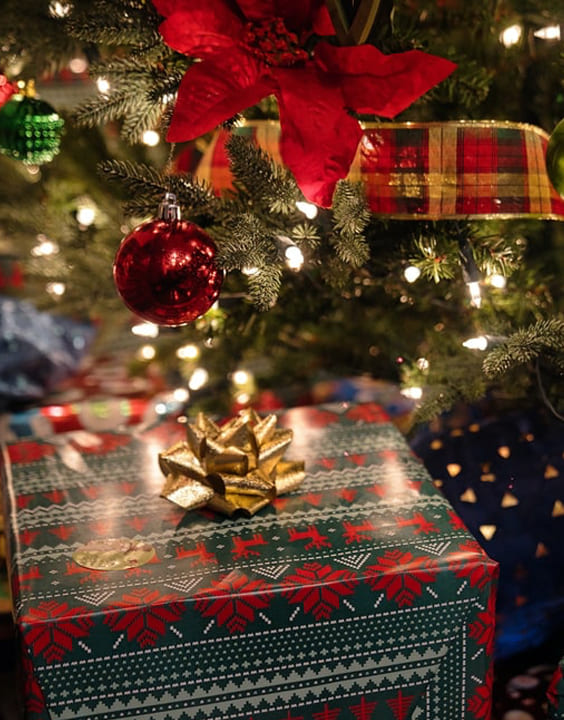 Image credits: The copyrights of the images used in this post belong to their respective owners. The credits where known are specified under the image - if you're the owner of an image and want it removed, please contact us.