Guys, it's officially time to complain about how dark it gets at 5 pm, to give your woolens a sunbath, and to be excited about Christmas! Yeah yeah, November is not over yet but which rule book says we can't talk or start prepping for Christmas yet? None! That's right, none! While we are on the subject, let's talk about the candy cane decorations, secret Santa gift ideas, rum cakes, and of course, the Christmas tree! Decorating your very own Christmas tree is just as fun as lighting your house with diyas on Diwali. Mommies and daddies reading this blog, is a great family bonding activity too. And we bet you were under the impression that only one type of Christmas tree exists- the basic hoe (still a classic) Douglas fir tree. The good guys of Bewakoof are here to spread the Christmas cheer early by educating y'all about the different types of Christmas trees. Get your glasses, notebooks, hot chocolate, and start noting! 
What are the five Christmas trees?
While there are a plethora of options out there, you can bifurcate your different types of Christmas trees into five main categories -firs pine, spruce, cypress, and cedar. You should select a tree based on the fragrance and appearance that appeals to you the most. Go for a fir if you live in colder weather conditions like North India. For our warmer weather friends, your best bet is cedars and cypresses. 
What is the most popular type of Christmas tree?  
The most popular type of Christmas tree has to be firs. Their strong needle retention and sweet fragrance make them quite alluring. Firs are known to thrive in cool and moist conditions so if you reside in Mumbai, say bye-bye to them. You can always go for the plastic version but hey, remember to upcycle it every year. Here at Bewakoof, we promote only eco-friendly options! 
Let's dive into the details about the different types of Christmas trees. 
1. Firs Christmas Tree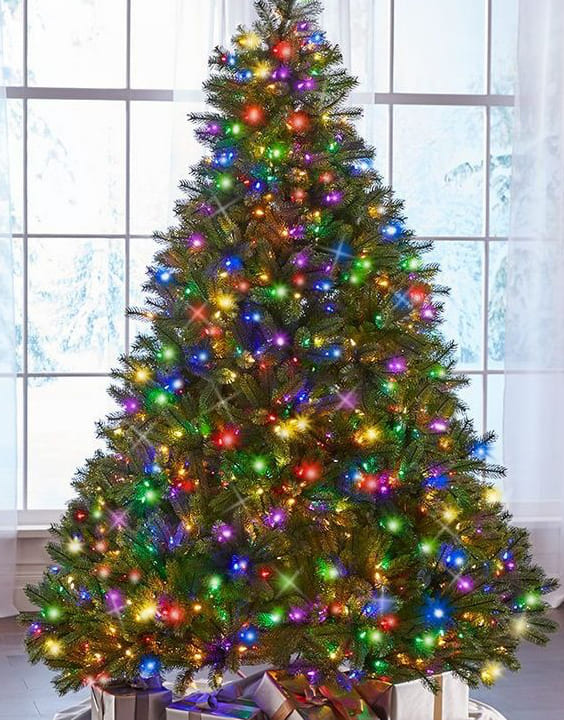 Firs are quite popular not only for the fragrance but also because they are evergreen. They don't shed their leaves throughout the year. Usually, Firs are grown in cold, moist regions. Each fir differs in colour, shape, fragrance and needle retention. Firs can be further branched out to (see what we did there?) to Douglas Fir, Balsam Fir, Noble Fir, Fraser Fir, Grand Fir, Concolour Fir and Canaan Fir. 
a) Douglas Fir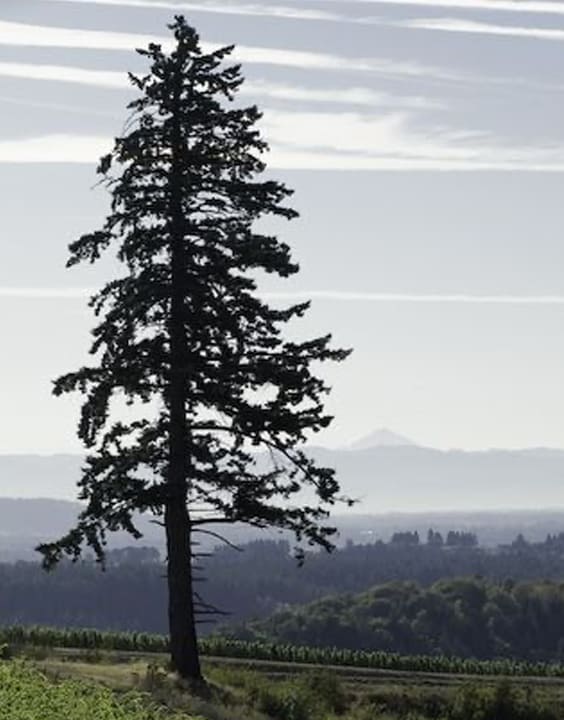 The Douglas Fir easily comes on top of our different types of Christmas trees list. The grand pyramid shape, the blue and green evergreen leaves and the woody fragrance are to be credited for its popularity. More than half of the Christmas trees sold in the United States are Douglas Fir. It would look quite fine in your own home, don't you think?
b) Balsam Fir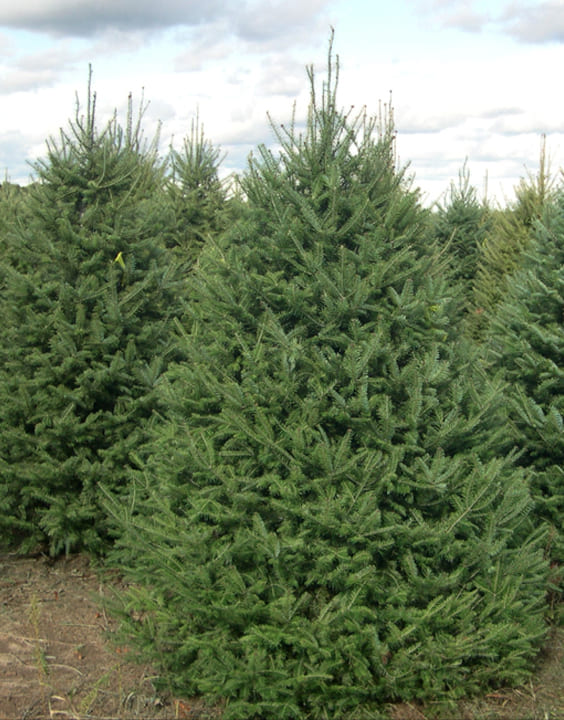 If the Douglas Fir is too huge for your house (cries in a Bombay matchbox), the Balsam Fir is the perfect snug fit for you. The most fragrant of the lot, the cone-shaped Balsam Fir is going to become a holiday favorite addition.  
c) Noble Fir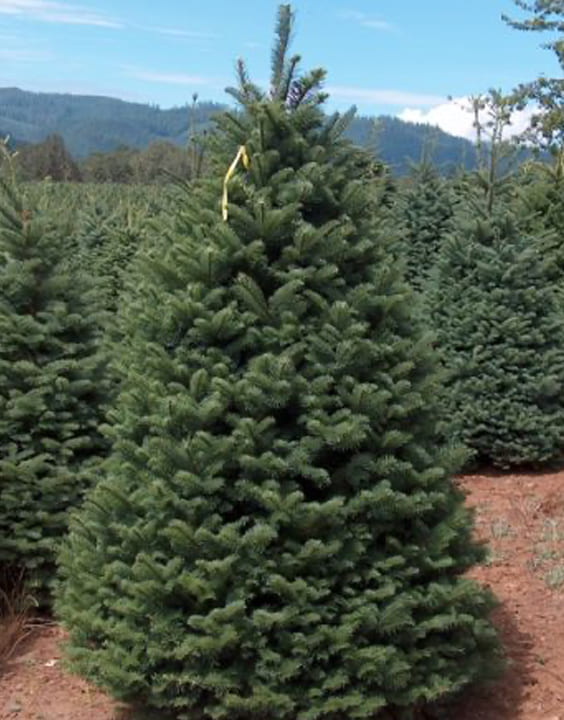 Mighty, sturdy and aptly named, the Noble Fir Christmas tree is a hit all over the globe. The strong fragrance and its upward needle-like leaves gives it all the Christmas-y feeling. It is quite easy to hang the decorations on this dark green coloured tree.
d) Fraser Fir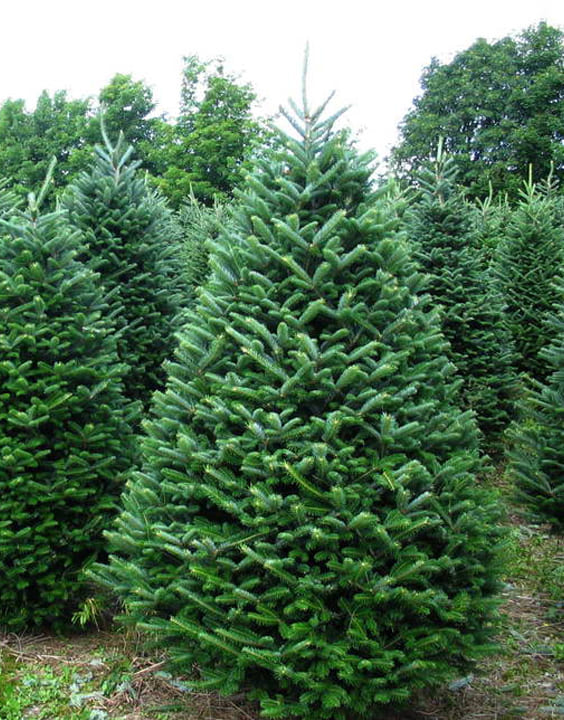 Balsam Fir's first cousin, the Fraser Fir is quite similar to it except for some differences here and there. Fraser Fir is lighter in colour, almost yellowish green. The conical shape and sturdier needles are great for heavier ornaments and Christmas decorations. 
e) Grand Fir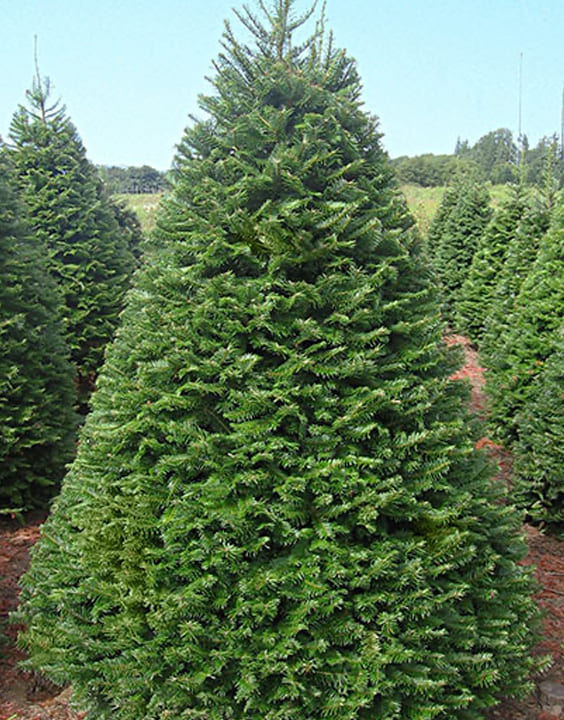 Well, the name says it all. The Grand Fir is known for its thick foliage, yellowish-green needles with white stripes underneath, a strong fragrance and sturdy leaves for heavier decorations.
f) Concolour Fir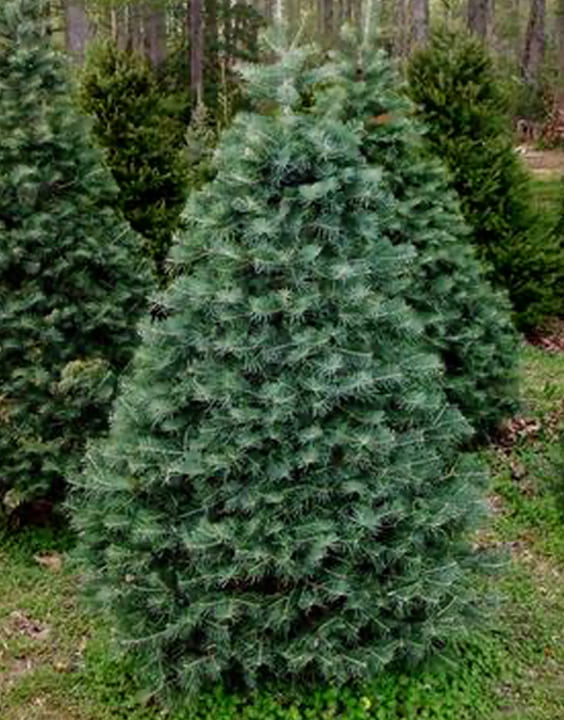 Also known as the white fir, the Concolour has flat bluish-green leaves with a pointed tip.
g) Canaan Fir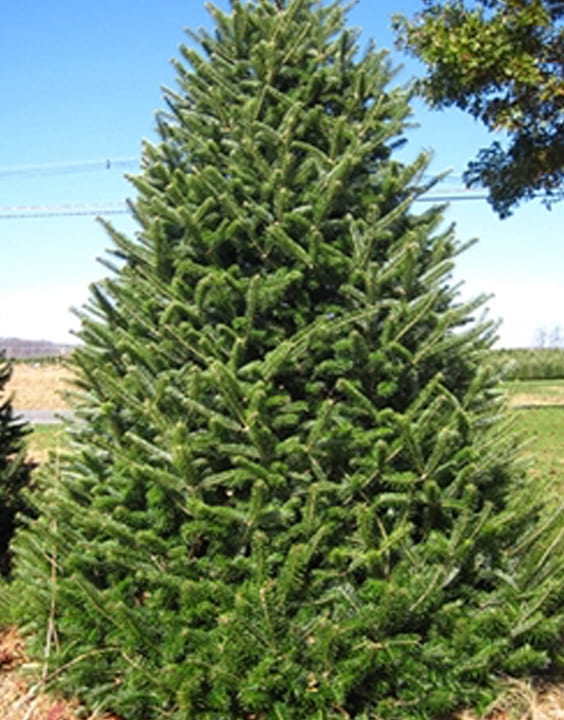 Canaan Fir is a lot like a hybrid between the Fraser Fir and Balsam Fir. It is a medium-growing tree with rich green leaves that have excellent needle retention. If you don't like overpowering woody fragrances, the Canaan Fir is meant for you.
2) Spruce Christmas Tree
The evergreen Spruce trees create a striking image with their hues and sturdy needles. There are around 35 different types of Christmas trees in the Spruce family alone! We shall concern ourselves only with the three main types right now – Blue Spruce, White Spruce and Norway Spruce.
a) Blue Spruce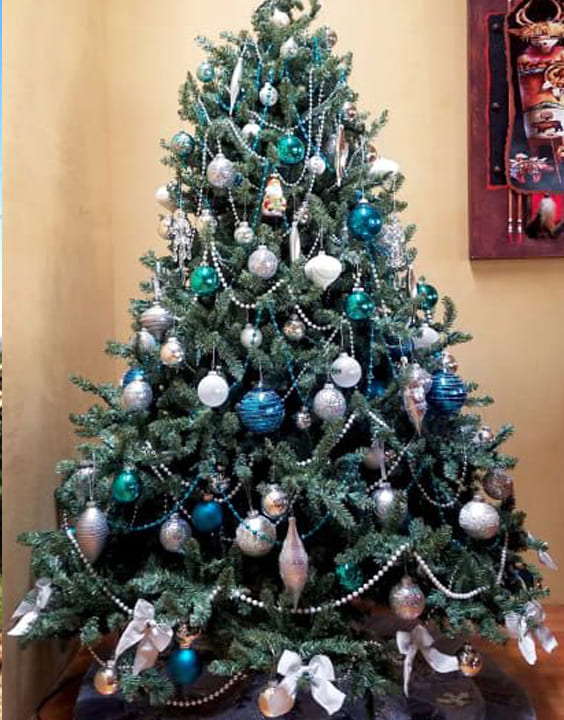 A perfect conical shape, strong fragrance and a dense foliage. In Chandler Bing's words, "could this tree be any better?!" Turns out, it can be! The waxy greyish needles give it a blue look and makes this tree even more striking. Like a lot of its family members, the Blue Spruce's sturdiness makes it the ideal tree for Christmas decorations and ornaments. 
b) White Spruce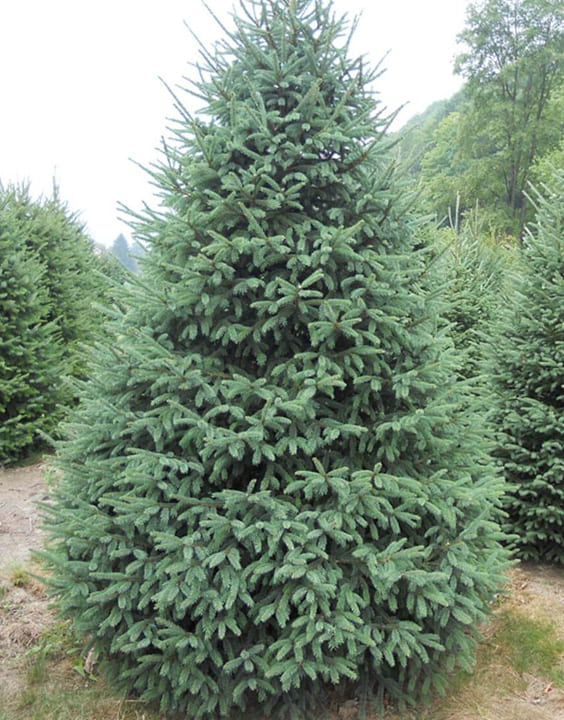 Dupe yourself and your guests by getting the White Spruce Christmas tree this year. How? The frosted leaves of this tree will take y'all closer to the snowy lanes of a Dickens' book. It is large, sturdy and has a light fragrance. 
c) Norway Spruce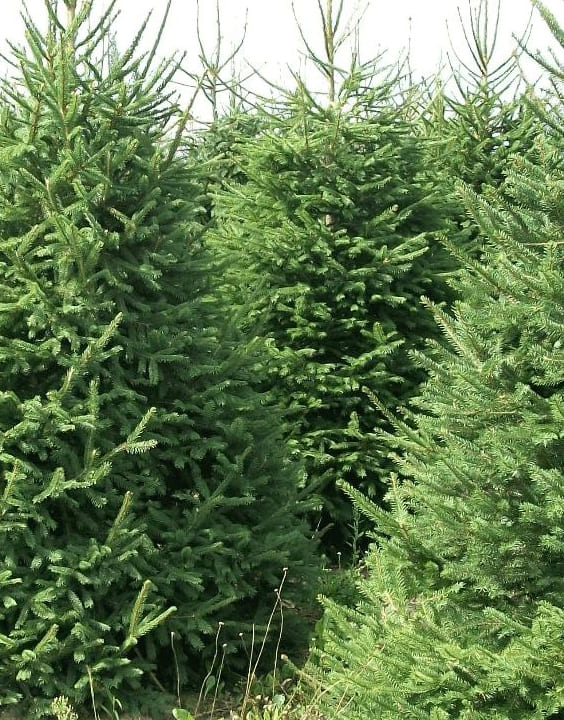 A little difficult to water, the Norway Spruce is a majestic Christmas tree from Europe. It has bluish-green needles and has light to medium fragrance. 
3) Pine Christmas Tree
People often confuse Pine trees for Christmas trees, not knowing about the zillion different types of Christmas trees' existence. This is because pine trees are easily found in most parts of the globe. The classic shape of the Pine trees makes it a crowd favourite. There are about 126 types of pine trees but for you, just for you, we shall focus on only three of them – Scotch Pine, Virginia Pine and White Pine. 
a) Scotch Pine
The national tree of Scotland, the Scotch Pine is a popular choice among Christmas enthusiasts. The dark green hue makes it even more appealing. A rich foliage and strong branches make Scotch Pine a better option for heavier ornaments and lights. It is also easier to clean this Christmas tree so all the lazy bums out there should definitely go for this one. 
b) Virginia Pine
The Virginia Pine has dense foliage but shorter branches. This cutu can be trimmed easily and is also a snug fit for your house. The green, short twisted needles make it easier to identify the Virginia Pine. 
c) White Pine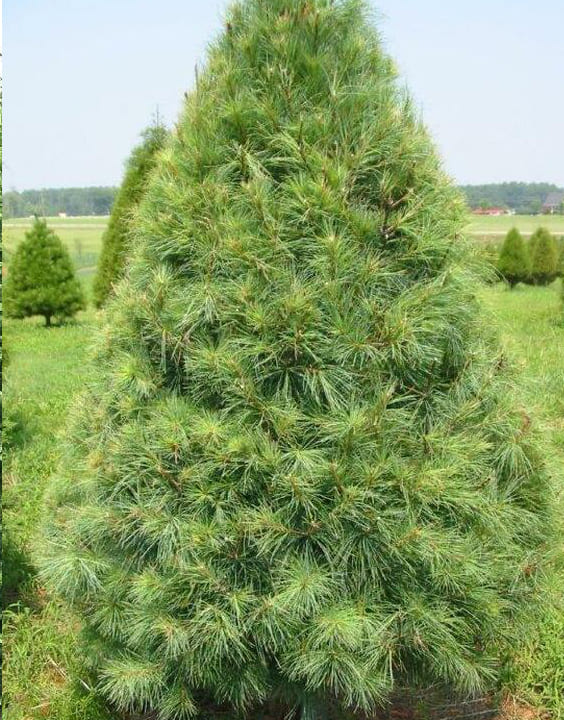 The White Pine gets its name due to its light bluish-green needle leaves. It is tall and stature but has light branches, not meant for heavy ornaments. It has little to no fragrance so if you are looking for a no-nonsense, tall and light Christmas tree, White Pine is your go-to option. 
4) Cedar Christmas Tree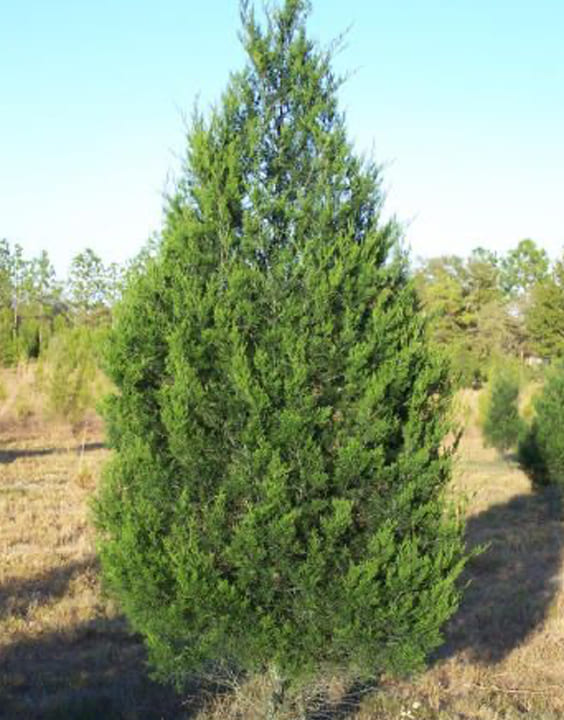 Cedar trees are often used to landscape, which is why these west Himalayan natives make for a unique living room Christmas tree. Cedars are the best for hot climates. Pines can't handle hotter climates but fortunately, Cedars can. There is one flaw though – the Cedar trees dry out quickly. They may not last long as the other different types of Christmas trees. Cedar trees are more popular in Southern America. For the true Christmas spirit, you should consider either the Red Cedar or Deodar Cedar.
a) Red Cedar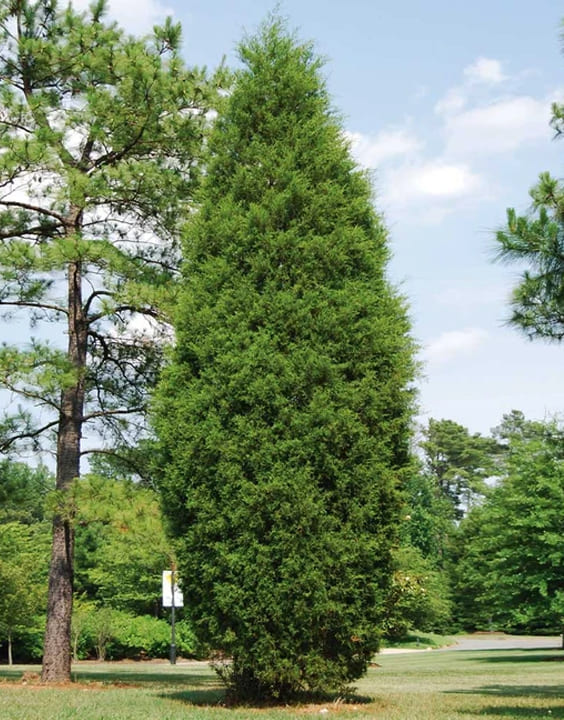 The Red Cedar is known by many names such as the aromatic cedar and pencil cedar. No, the leaves are not red in color, but dark green. The strong fragrance gives it the nickname 'aromatic cedar'. This pencil-shaped tree with upwards jetting leaves will look grand in your house, won't it?
b) Deodar Cedar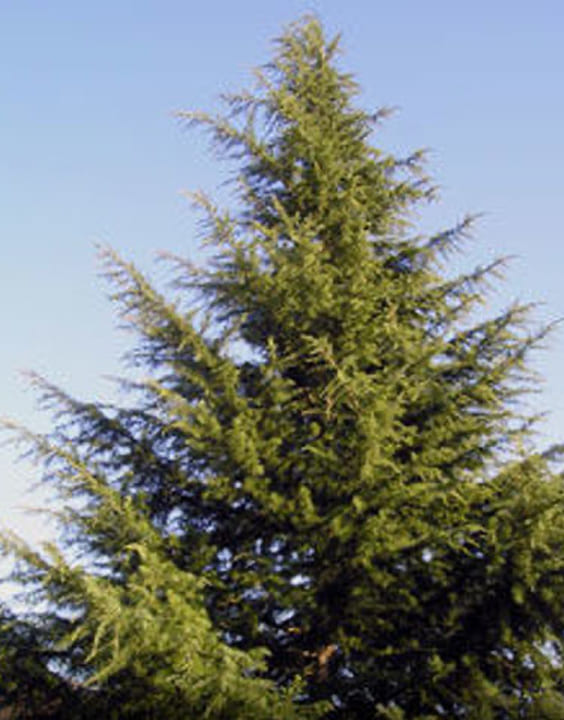 Popularly known as the California Christmas tree, the silver-green colour of the Deodar Cedar has made it a crowd favorite. It has a unique, pyramidal shape. The leaves are soft and have an airy texture. The name Deodar comes from Sanskrit which loosely translates to 'timber of gods'.
5) Cypress Christmas Tree
The Cypress Christmas tree is last on our list of different types of Christmas trees. These flexible trees are meant for lighter ornaments. There are about 24 types of Cypress trees (which seems so less in comparison to the others in this blog!). There are many different Christmas trees, but when it comes to Cypress we will talk about Arizona Cypress and Leyland Cypress. 
a) Arizona Cypress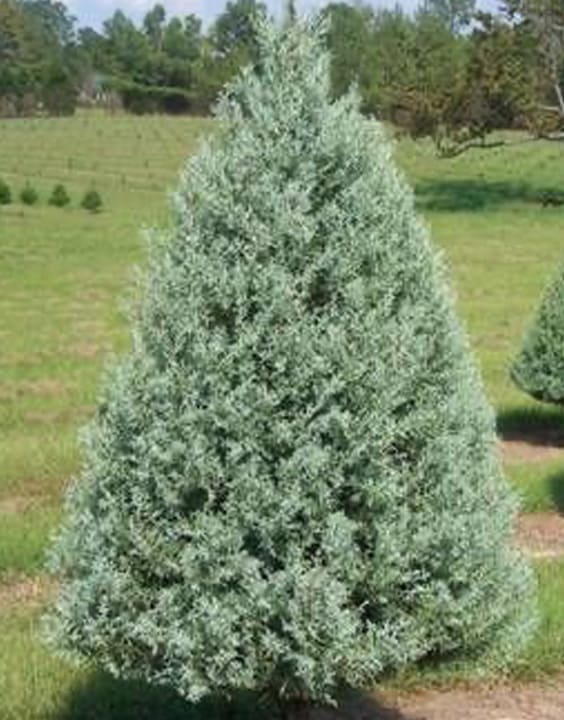 The Arizona Cypress is a medium-sized evergreen conifer with bluish-grey leaves. It is conical in shape and has a medium fragrance. This tree will definitely leave an impression! 
b) Leyland Cypress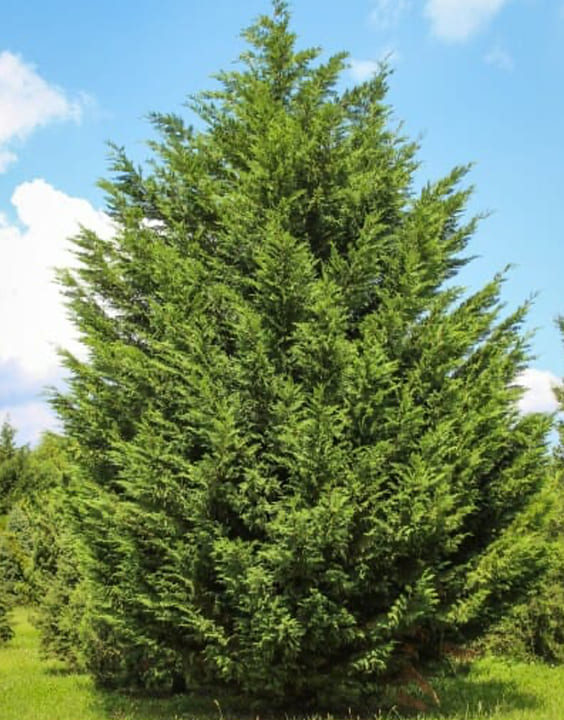 The Leyland Cypress tree is for those who react immediately to strong fragrances. This tree has almost no fragrance so it is perfect for anyone who has allergies. It looks like a Christmas tree but has scanty foliage with feathery leaves. The leaves face upward and the tree has a conical shape. 
Uff, this is too much gyaan for one day na? Is it safe to say that now you are well educated about the different types of Christmas trees? Good. If anyone wakes you up in the middle of the night you should be able to answer all sorts of questions about them. Go ahead and start planning for your tree already! 
Latest Articles- 
Image credits: The copyrights of the images used in this post belong to their respective owners. The credits where known are specified under the image - if you're the owner of an image and want it removed, please contact us.