If you're looking for the perfect bridal makeup for your big day, Ladies you've got a sea of options to choose from.  Read on and find inspiration in the many different types of makeup styles you'll see around the country.
The sweet scent of gajras, elaborate Chandan bindis and stunning Mundavalya – from East to West and North to South; our vibrantly diverse country has an equally varied and OTT wedding culture!
At every step through the nation's culturally diverse landscape different types of bridal makeup, bridal attire and wedding styles shine in their own light.
While our big fat Indian weddings are defined by striking bridal fashions and sumptuous jewellery, bridal makeup is the stellar supporting star that completes a bridal look.
So girls, grab your MAC brushes and bridal makeup kits as we journey to every corner of incredible India and catch up on types of bridal makeup along the way!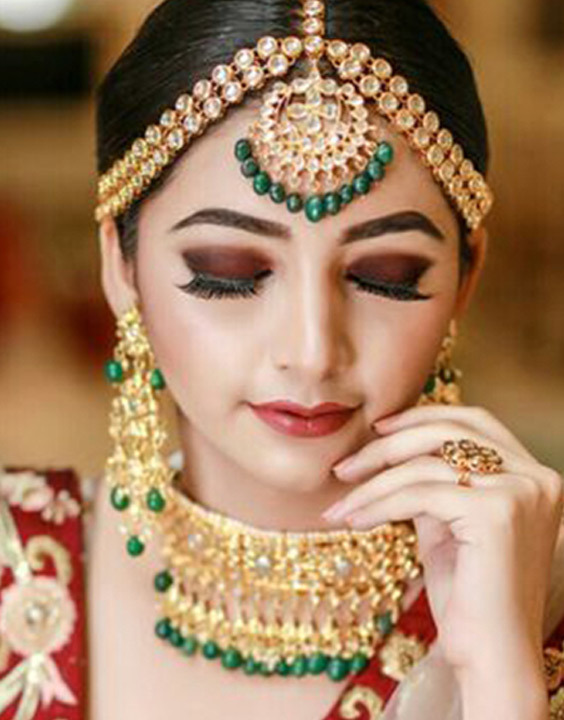 Read On For Styles Of Indian Bridal Makeup To Bless Your Special Day!
Bold, stunning and simple – styles of indian bridal makeup have the nice and the spice nailed down!
We have the ultra-feminine pink hued makeup in the north and the sultry smokey-eyed smoulder in the South – but what truly brings together the types of bridal makeup in India is our dedication to make our blush (and smile) pop for that special someone.
So, get ready and let's begin!
Serenade With Sultry South Indian Bridal Makeup Styles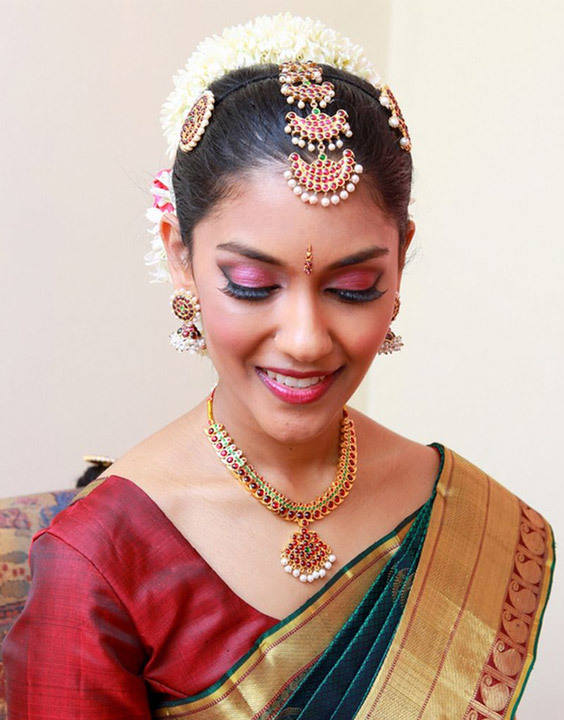 Just like our favourite south Indian cuisine, south indian bridal makeup redefines simplicity and spice all at once.
Bright and freshly hued silks, voluminous garlands of jasmines interlocked in elaborate braids and heavy gold jewellery, may be south indian wedding staples, but the makeup only works to enhance each of the different aspects of feminine beauty in bronzed perfection.
Gold and bold indeed!
Experience Earthy Goodness In Tamil Bridal Makeup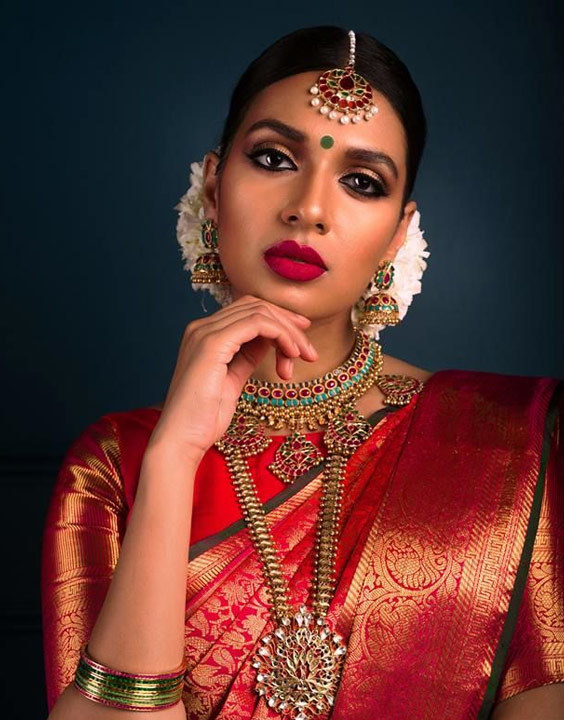 Shimmery golden eyes, lips painted in a peachy nude or warm reds, a small round bindi and a contoured face buffed up to perfection – a bride in tamil bridal makeup is a vision to behold!
Natural and subtle makeup complimenting the bright bridal saris and zari borders is what helps a tamil bride walk that fine balance between bold and understated effortlessly.
Minimalistic Magic With Telugu Bridal Makeup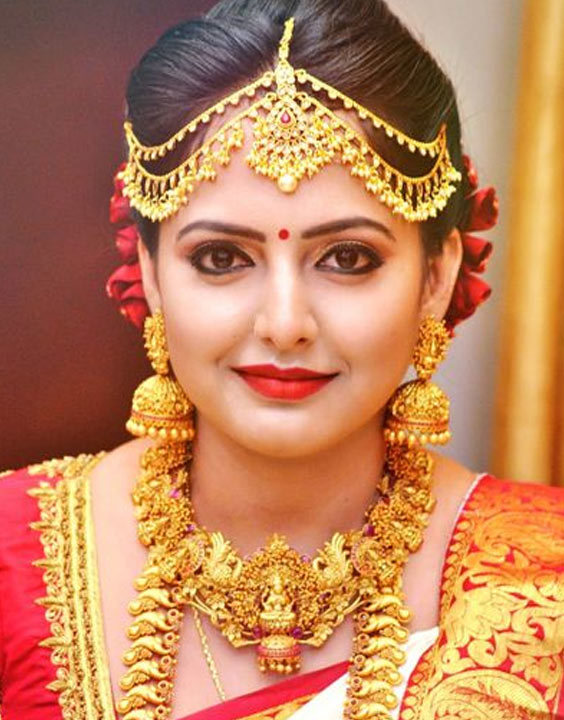 The stars align when these queens get married in their vibrant saris and statement maang-bindis! The telugu bride is lovely, simple and traditional – and telugu bridal makeup style certainly lives up to that appeal.
Eye makeup is key in telugu bridal makeup as the forehead is highlighted with an elaborate maang-tika that blends into the braided hair.
Ombre effect on the eyeshadow, in neutral, gold and copper shades is a modern trend that is popular amongst telugu brides and we sure are catching on!
Traditional Regency In Kerala Bridal Makeup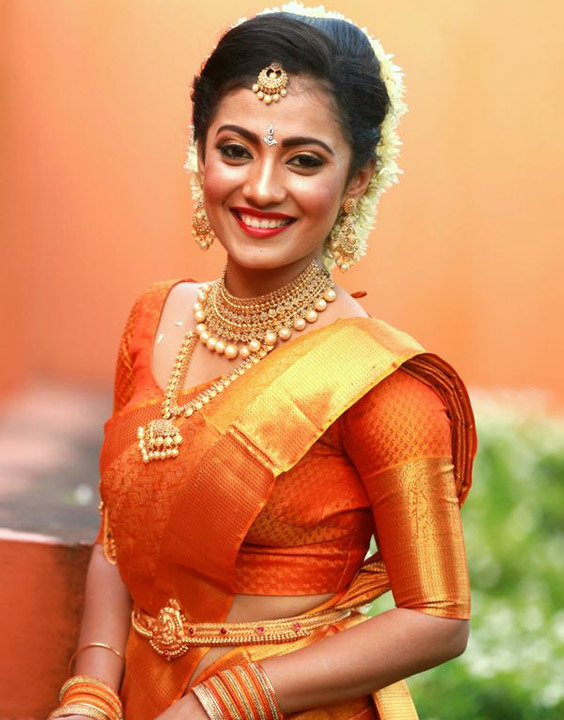 Traditionally a kerala bride looks resplendent in her traditional bridal white sari with striking gold zari border. Bright orange sarees with beautiful golden zari are just as popular.
With hair adorned in white jasmines and a bindi on the forehead to add that bridal spark, the kerala bridal makeup style is similarly simplistic and clean.
The eyes are highlighted in smoky kohl or kajal with at least three to four coats of mascara to give it that special smoulder, while the lips and cheeks are shaded in a light pinkish nude.
Bask In Opulent Bengali Bride Makeup Dramatics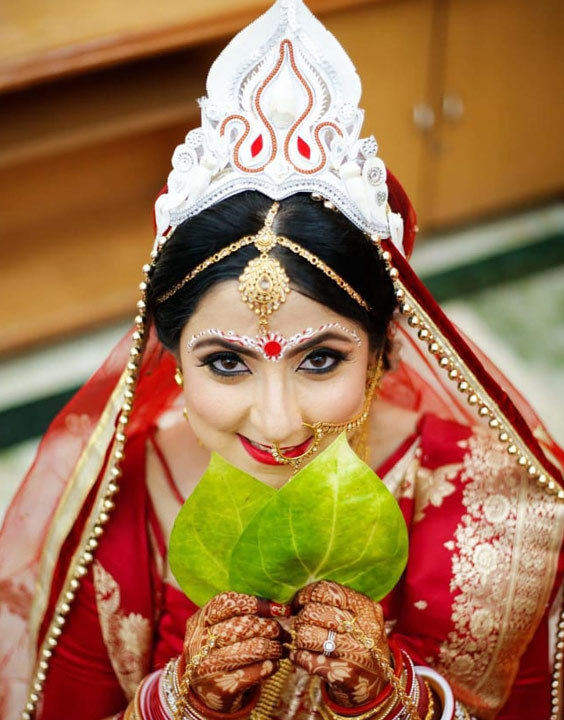 Bold, beautiful and attention grabbing, a Bengali bride is always decked out to perfection!
A bengali bride makeup look features a bold red lip, tons of blush, a sharp winged eyeliner to highlight the bronze hued eyeshadow, strong well-defined eyebrows and heavy, luscious eyelashes to accentuate those famous Bengali almond shaped eyes.
The traditional makeup wonderfully compliments traditional Bengali bridal adornments like the Chandan bindi designs that are intricately drawn on the forehead and the elaborate Mukut – a crown made out of white shola material- worn for prosperity and good luck.
A Bengali bride is never afraid to stand out and shine in her traditional indian bridal makeup and carries her look with unfiltered panache!
Unabashedly Feminine In Punjabi Bridal Makeup Looks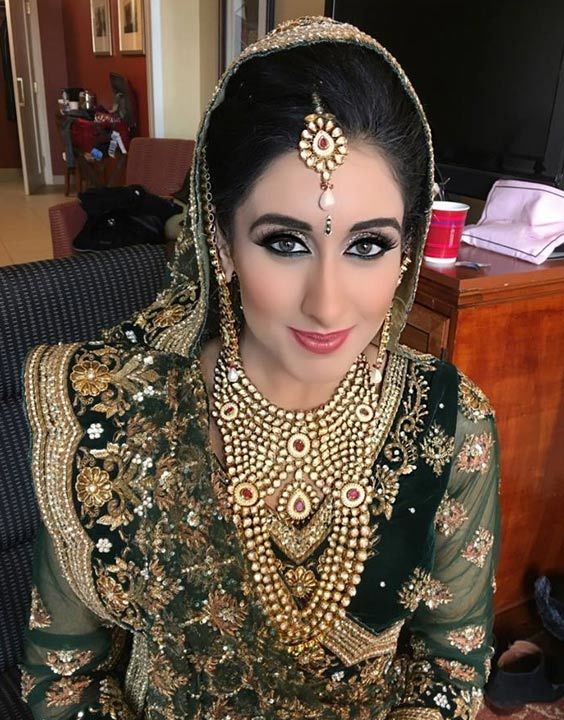 Loud, boisterous and fun – a Punjabi wedding is the embodiment of everything that makes a joyful and extravagant Indian wedding!
Similarly, Punjabi brides, like other north indian brides, are usually dressed up in vibrant hot-pinks, fuschias, dark reds, mustards or velvety greens.
The punjabi bridal makeup look enhances the bride's natural glow and compliments her bright, bold and vivacious bridal attire.
Soft pink lips, shimmery eyes and extra long lashes are Punjabi bridal staples.
Breath-Taking Nazakat With Muslim Bridal Makeup Styles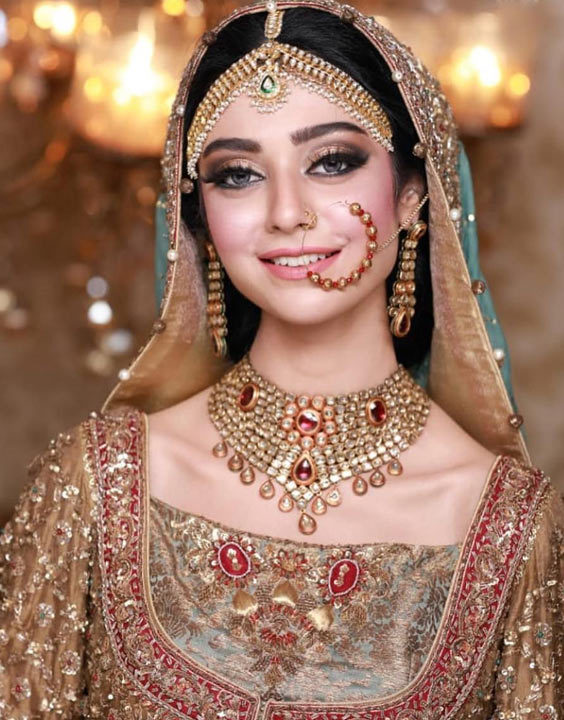 Pretty, sophisticated and seamless makeup is the holy grail of every muslim bride!
While gold eyeshadows and red lips are traditional indian bridal makeup techniques adorned by muslim brides, now-a-days, brides tend to experiment with their lip and eye color.
Muslim brides go for  peachy-coral lips paired with long-winged liner and blushed cheeks. Great emphasis is on the eyes.
Muslim bridal makeup includes heavy contouring & highlighting too.
Maharashtrian Bridal Makeup For A Touch Of Tradition!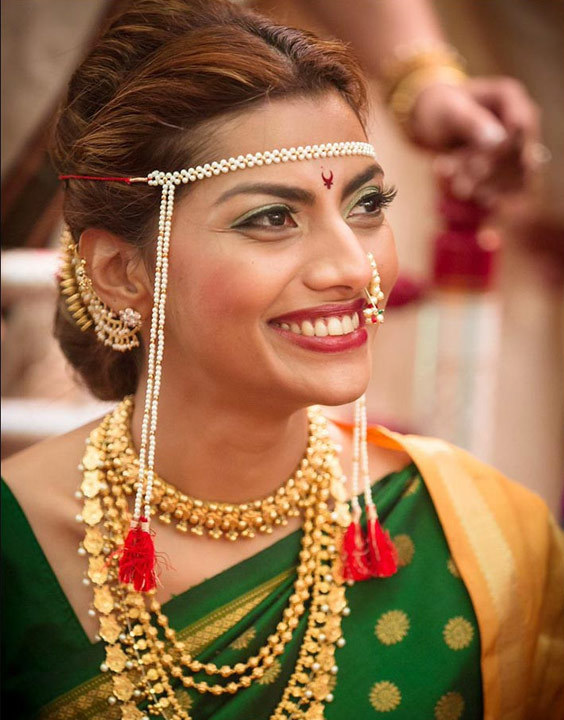 Crescent moon bindis, bottle green nauvaris and striking Mundavalyas framing the face come together to create the classic traditional maharashtrian bride look.
Always one to keep it simple yet effective, maharashtrian bridal makeup echoes this organic philosophy with muted earthy tones and just a very small touch of shimmer.
Natural eyebrows, slightly coloured eyelids, contoured bronzer and a natural lip are buffed out to highlight the bride's natural glow and vivaciousness.
The makeup  beautifully compliments the Mundavalya (head adornment worn  by both groom and bride).
While makeup for brides might seem to be only a second fiddle to the fashion and traditional customs of an Indian wedding; it is indeed the quiet hero – the cape crusader – that works to bring together the entire look and highlight the beauty of our traditionally rich cultural adornments.
Keep it simple like a south indian bride, Sultry like a Bengali bride,  Vibrant like the Punjabi bride or keep things ultra-traditional like a maharashtrian bride – whatever you choose, know that the best bridal makeup is in defining what works best for you!
We hope you enjoyed our list and learnt some fun facts about the many different types of bridal makeup that young brides can follow.
Image credits: The copyrights of the images used in this post belong to their respective owners. The credits where known are specified under the image - if you're the owner of an image and want it removed, please contact us.