Working from home is both a boon and a bane. While you can laze around and enjoy as much as you want, the monotony will get to you. The easiest way to break this monotony is to roll up your pyjamas, fire some popcorn, curl up on the couch and enjoy a classic Bollywood comedy. The great Amjad Khan once said Bollywood movies are very simple. Two people fall in love, usually with a villain ruining their plans. Add some light-hearted humour to it and you've got yourself a blockbuster Bollywood comedy movie. 
Before you break under the pressure of daily routines, resort to some jolly times by watching a rib-tickling light comedy. Allow us to suggest a list of Bollywood comedy movies, specially curated for you!
List of Best Bollywood Comedy Movies
1) Andaz Apna Apna, 1994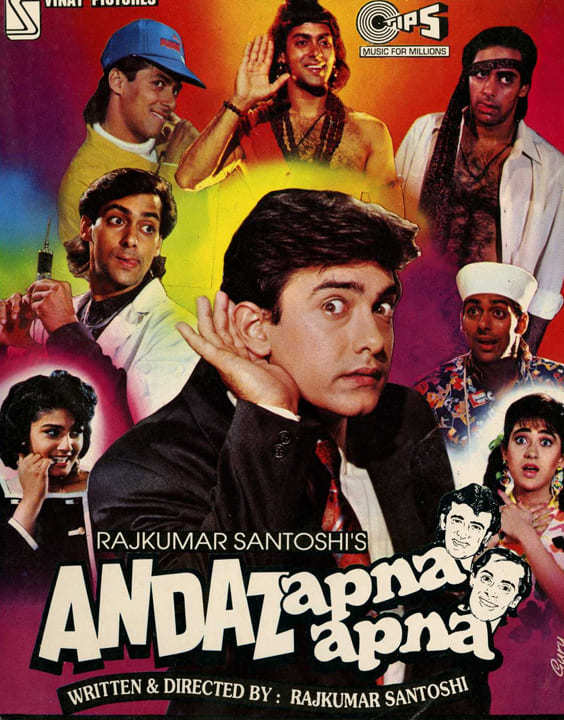 Watch it on: Amazon Prime Video, Netflix
Cast: Aamir Khan, Salman Khan, Karisma Kapoor, Raveena Tandon & Paresh Rawal
Number one on our list had to be the super entertaining Hindi comedy movie, Andaz Apna Apna. Good for nothing duo Amar and Prem seek Raveena, a millionaire's hand for marriage, building air castles as they go. This results in hilarious mishaps and an encounter with the infamous crime master Gogo. If Gogo wasn't enough, there is a massive confusion regarding Raveena's father who happens to have an evil twin. Paresh Rawal's portrayal of the twins is flawless; in fact his dialogue "Teja main hoon, mark idhar hai " has become world famous. Each minute of this movie will have you rolling on the floor! 
2) Welcome, 2007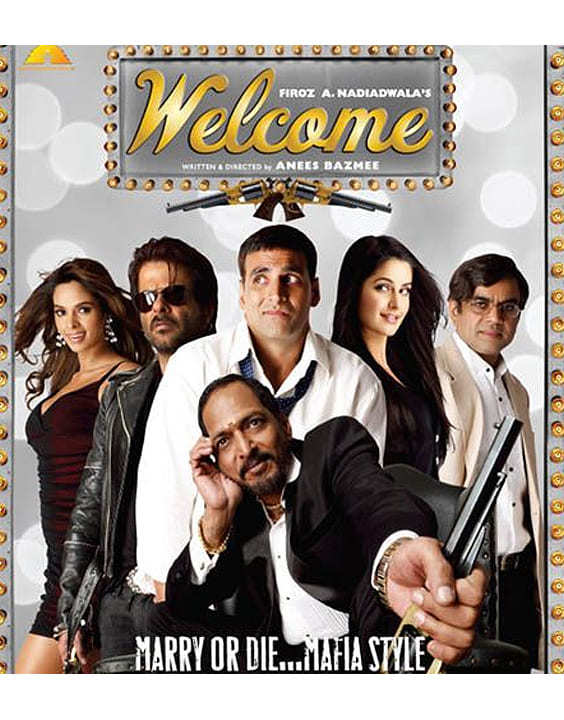 Watch it on: Amazon Prime Video, Netflix
Cast: Akshay Kumar, Katrina Kaif, Paresh Rawal, Nana Patekar & Anil Kapoor
There are certain Bollywood comedy movies that you can watch several times and Welcome happens to be one of them. Underworld don Uday Shetty is desperately looking for a suitable husband for his sister. His right hand man Majnu Bhai (yes, Majnu!) also helps him with this task. Shetty's sister Sanjana falls in love with a decent man, Rajiv and they decide to get married. 
But there is a twist- like every Indian family alliance there are some conditions to be met- the groom's family demands the bride's to let go of their dirty work. Rajiv and Sanjana try their best to bring both families together in a unique and hilarious way. The music is by Himesh Reshammiya so this movie is bound to take you on a nostalgic trip. Welcome is easily one of the best! 
3) Munna Bhai MBBS, 2003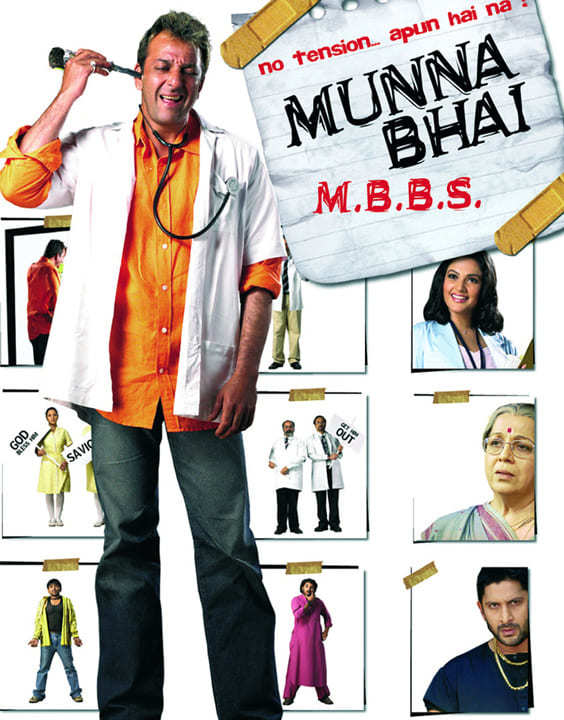 Watch it on: Amazon Prime Video, Netflix
Cast: Sanjay Dutt, Boman Irani, Gracy Singh & Arshad Warsi 
Ah, the delightful medical comedy that introduced us to Boman Irani. After Jai & Veeru, Munna & Circuit's friendship is the most talked about. 
Goon Munna Bhai decides to become a doctor for his parents. Staying true to himself he cheats his way through the exams and manages to stay on the top. To his Dean's dismay, Munna wins over his teachers and peers. The drama unfolds into a beautiful bonding story..it may make you emotional as well! If you are a medical aspirant who wants to cut short on the gruelling NEET exams, just take a leaf out of Munna Bhai's books (just kidding, please don't!) If you are on the lookout for funny Bollywood movies with loads of drama, Munna Bhai would be our suggestion.
4) Hera Pheri, 2000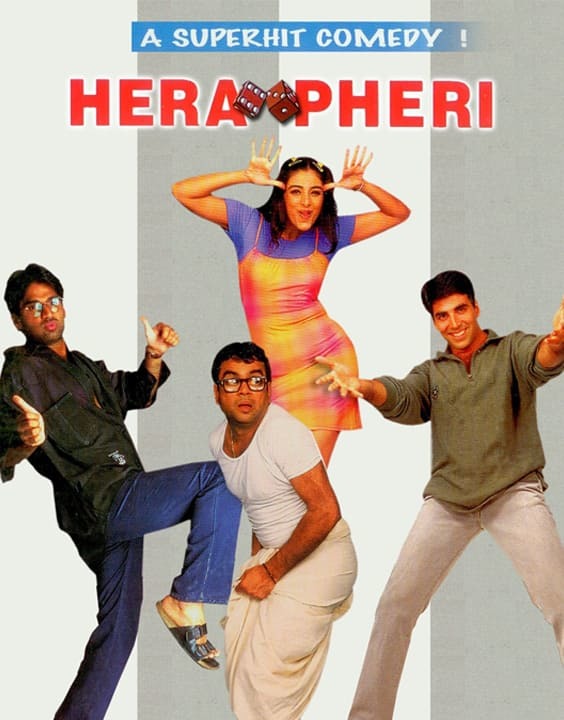 Watch it on: Amazon Prime Video
Cast: Paresh Rawal, Akshay Kumar & Suniel Shetty 
Speaking of the Bollywood comedy movies list, how can we not talk of the iconic Hera Phera?! The movie is based on the life of three men who are trying to make a decent living in Mumbai. One fateful night they receive a call from the infamous goon Kabeera who creates more confusion and problems in their lives. This call ensures a hysterical journey that makes them rich overnight. The dialogue delivery and the dynamic sync between the three is an absolute delight to watch. This classic comedy movie will tickle your bones till the very end!
5) Chupke Chupke, 1975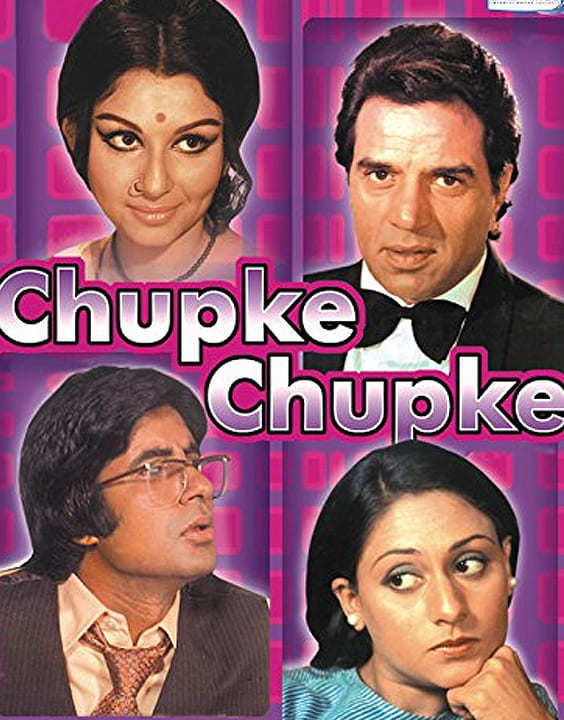 Watch it on: Amazon Prime Video
Cast: Dharmendra, Amitabh Bachchan, Sharmila Tagore, Jaya Bachchan & Om Prakash
Sulekha is in awe of her brother-in-law (Raghvendra) and thinks he is the smartest person to live. Her husband Dr. Parimal Tripathi challenges her belief and makes a fool out of Raghvendra with the help of his friends Sukumar Sinha and P.K Srivastava. Portrayed by veteran actor Om Prakash, Raghvendra is a strict man of principles who believes Hindi is the greatest language of all. Dharmendra and Amitabh Bachchan form an exemplary duo and Chupke Chupke further cements this. Chupke Chupke is clean and light-hearted, the kind of Bollywood comedy movie you can watch with your family. 
6) 3 Idiots, 2009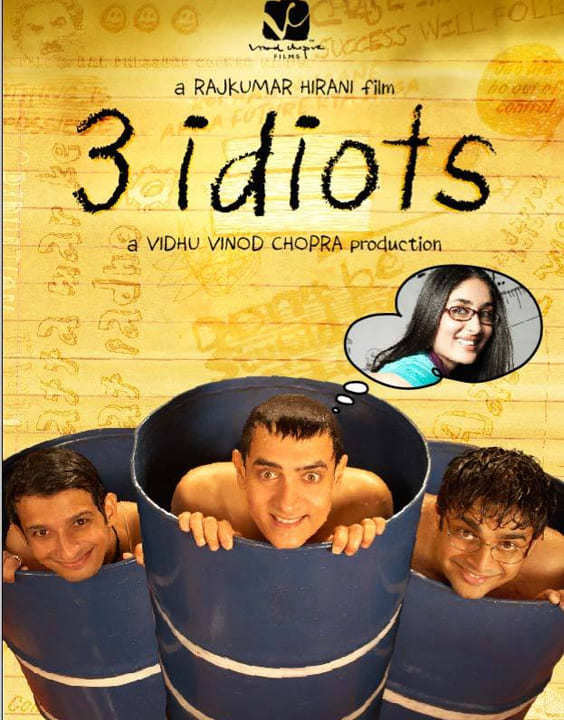 Watch it on: Amazon Prime Video, Netflix
Cast: Aamir Khan, R Madhvan, Sharman Joshi, Boman Irani & Kareena Kapoor
3 Idiots went on to be one of the top comedy movies of Bollywood. Engineering students Raju, Farhan and Rancho study at a premier institute in Delhi. The movie depicts their life at college, the enormous pressure on students and how important it is to choose your own career paths. Boman Irani once again plays the role of a khadoos dean who makes the student's life miserable. Like all Raju Hirani movies it does have a happy ending. He always manages to strike a chord with this light-hearted Bollywood comedy movie.
7) Jaane Bhi Do Yaaro, 1983
Watch it on: YouTube
Cast: Nasiruddin Shah, Ravi Baswani, Satish Shah & Om Puri 
After their startup fails, two unsuccessful photographers work for a publication that exposes the rich. While photographing for the same publication they accidentally uncover a high profile murder. They try to milk the murder but in vain. The Mahabharata enactment has earned them critical acclaim. Jaane Bhi Do Yaaro is a classic comedy of errors and deserves a position on the Bollywood comedy movies list. 
8) Dhamaal, 2007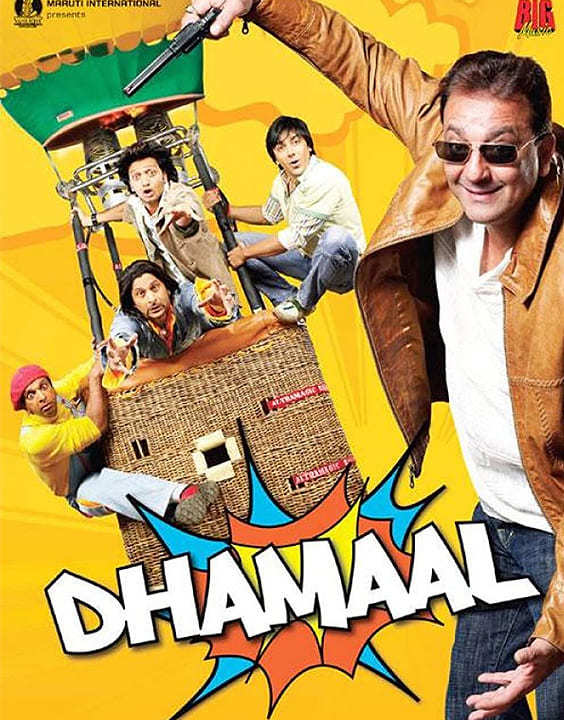 Watch it on: Zee5
Cast: Arshad Warsi, Javed Jaffery, Ritesh Deshmukh, Aashish Chaudhary & Sanjay Dutt
Loafers Roy, Adi, Boman and Manav are desperate to earn money. They steal a couple of paintings and create a series of confusing events. The four of them learn about a hidden treasure in Goa and try to seek it. The journey is hilarious and changes the fate of the friends completely. 
9) Tere Bin Laden, 2010
Watch it on: YouTube
Cast: Pradhuman Singh, Ali Zafar, Piyush Mishra & Sugandha Garg
Easily the most unique Bollywood comedy movie to be made, Tere Bin Laden is a satire based on the most famous terrorist Osama Bin Laden. Small-time reporter Ali Hassan comes across a Bin Laden look alike and uses him to his advantage. The FBI gets involved and creates trouble for Ali and his gang.
10) Haseena Maan Jayegi, 1999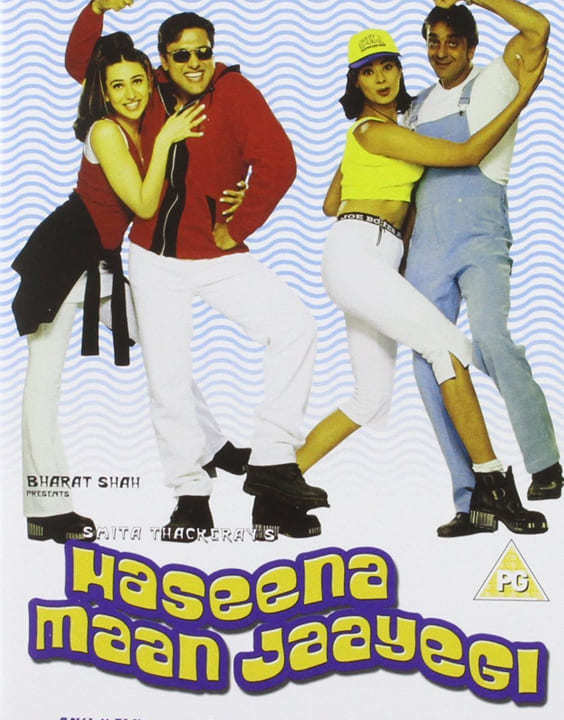 Watch it on: Zee5
Cast: Govinda, Karisma Kapoor, Sanjay Dutt, Pooja Batra
Who is the number one comedian of India? Um, Govinda of course! His movie Haseena Maan Jayegi just proves this. Brothers Sonu and Monu are rich yet lazy. Their father wants them to become serious in life instead all they do is play pranks. In the course of playing pranks, the brothers fall for Ritu and Pooja, who happen to be sisters. The comic timing of the entire cast is impressive. Never a dull moment in this Bollywood comedy movie! Also, if you were not aware, the song What is Mobile Number has proven to be a successful wooing tactic. You can try it yourself! 
11) Gol Maal, 1979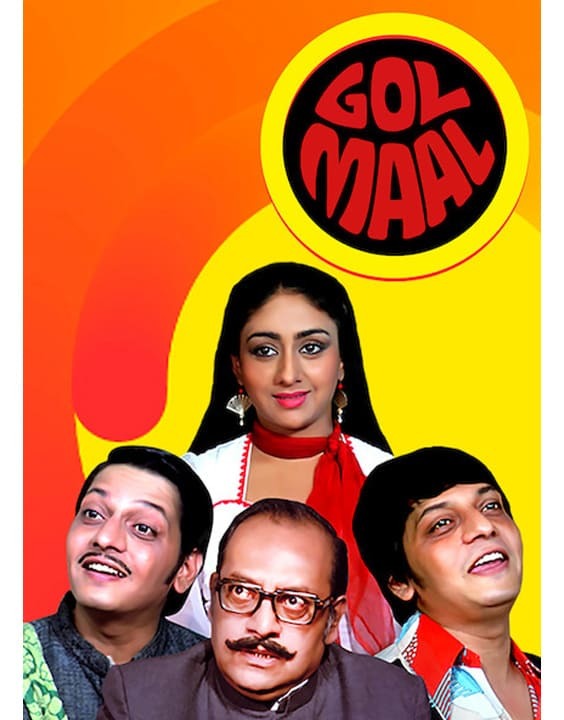 Watch it on: Amazon Prime Video
Cast: Amol Palekar, Utpal Dutt & Bindiya Goswami
You know how we've always thought of conning our bosses just to get one extra holiday? The protagonist of Gol Maal, Ramprasad Sharma actually does that. He convinces his boss that he saw his twin Laxmanprasad at the hockey stadium while he was taking care of his ailing mother. Ramprasad then tries to keep up both the personalities and falls in love with the boss's daughter. Gol Maal easily leaves behind the new Bollywood comedy movies!
12) Chachi 420, 1997
Watch it on: YouTube
Cast: Kamal Haasan, Tabu, Amrish Puri, Om Puri
A remake of Mrs. Doubtfire, Chachi 420 is a mega-hit Bollywood comedy movie. After a nasty divorce Jayprakash loses custody of his daughter to his ex-wife Janki. Jayprakash then dresses up as an old lady and poses as a nanny (Lakshmi Godbole) in order to be close to his daughter. He is instantly hired by Janki's father Durgaprasad. Durgaprasad's secretary Banwarilal Pandit tries to foil Lakshmi's image but is unsuccessful in doing so. Lakshmi wins over Janki and her family, being affectionately called 'Chachi'. Kamal Haasan, Tabu, the Puri brothers under the same roof is a laughter trip you don't want to miss!  
 13) Bheja Fry, 2007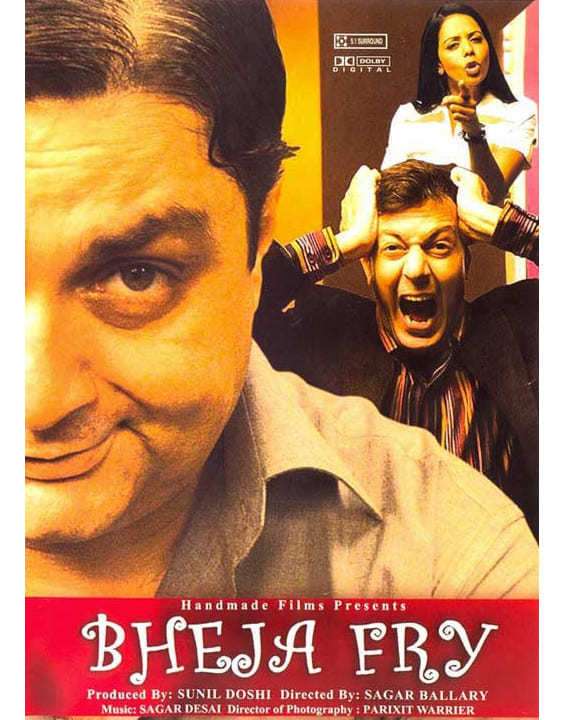 Watch it on: YouTube
Cast: Vinay Pathak & Rajat Kapoor
Music producer Ranjeet invites simpleton Bharat to his house to take the mickey out of him. But tables turn and Ranjeet is exasperated by Bharat. Bharat considers himself to be a singer and loves to help everyone around him. Oh, and he is super talkative. Unfortunately, Bharat creates a mess of Ranjeet's life instead of helping him. We can all relate with Ranjeet- after all, we all have one person in our lives who ensures bheja fry on a daily basis! 
14) Chashme Buddoor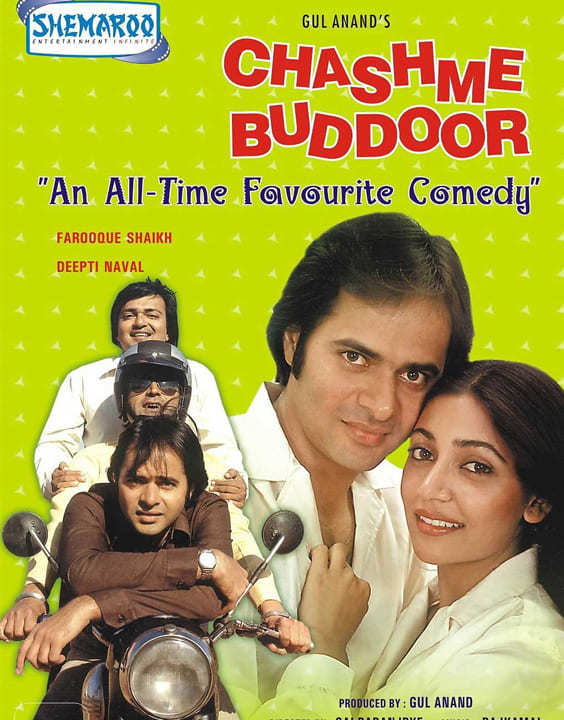 Watch it on: Amazon Prime Video
Cast: Farooq Shaikh, Deepti Naval, Ravi Baswani & Rakesh Bedi
If you ask your parents for a list of their favourite Bollywood comedy movies, we assure you Chashme Buddoor will be on the list.
Chashme Buddoor revolves around roommates Siddharth, Jai and Omkar who study at the Delhi University. Jai and Omkar's romantic advances are turned down by Neha, the new girl next door. She soon meets Siddharth and loves blossoms. Spurned lovers hatch a plan to take revenge and separate Siddharth and Neha. The movie throws light on the carefree lives of students and their nuances.
15) Golmaal: Fun Unlimited, 2006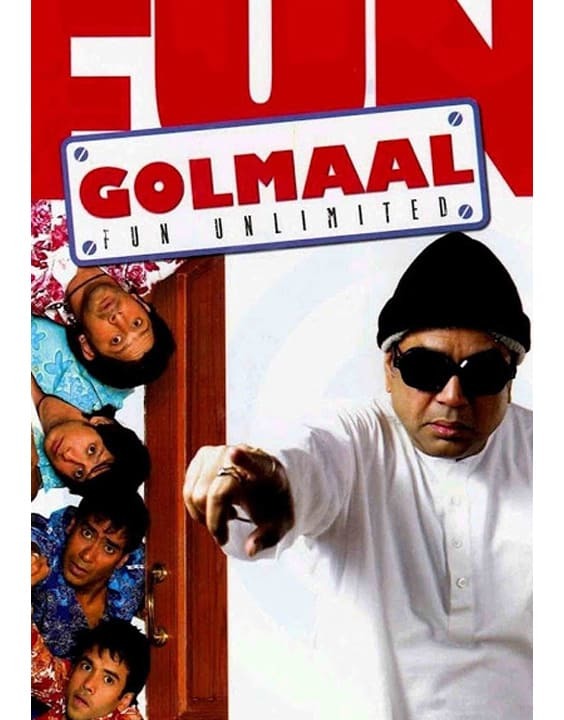 Watch it on: Amazon Prime Video 
Cast: Ajay Devgn, Sharman Joshi, Arshad Warsi, Tusshar Kapoor & Paresh Rawal
90's kids reunite and chant with us- Golmaal: Fun Unlimited is among the best movies! Notorious foursome Gopal, Madhav, Laxman and Lucky are thrown out of the college. They find themselves taking refuge in a blind couple's bungalow. The four are smitten by their neighbour Nirali and try to woo her every chance they get. A gangster, Babli soon reveals that he has hidden diamonds in the house and tries to fight the four. In true Rohit Shetty style, the movie will leave you in peals of laughter and make you wonder about the mechanics of physics! 
Experts say (we, we are the experts) one comedy movie a day keeps stress at bay. Even if you are not stressed, what's the harm in keeping your brain aside and just enjoying yourself? Go ahead and binge-watch these Bollywood comedy movies without any guilt!
Related Articles: 
Image credits: The copyrights of the images used in this post belong to their respective owners. The credits where known are specified under the image - if you're the owner of an image and want it removed, please contact us.