As we focus on maintaining a proportionate body, face care for women plays an equally important role. There's a whole new trend called the Facial Gym that focuses on correcting the overall aesthetic of one's face. Be it, men or women, it is believed that face exercise can benefit people of both genders. Face exercise seem to have become quite the rage of late. So do facial exercises really work? And what exercises slim your face? If you are one of those who often question the efficacy of facial workouts then the following insights are sure to turn you into a believer!
Best Face Exercise to Slim & Tone Your Face
1) Bye Bye Double Chin!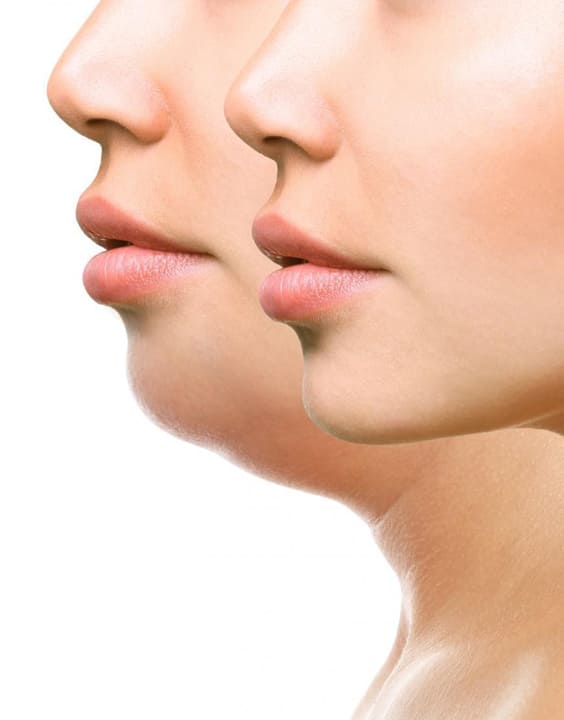 Starting off with the basics, most people suffer from a double chin. A double chin often doesn't discriminate. Whether you are skinny or on the chubbier side, a double chin is a constant problem making most of us conscious about our looks. Hence in the first face exercise, we teach how to tackle submental fat on the chin and the jaw. Here's a set of useful tips and tricks that will help you tackle the double chin for good!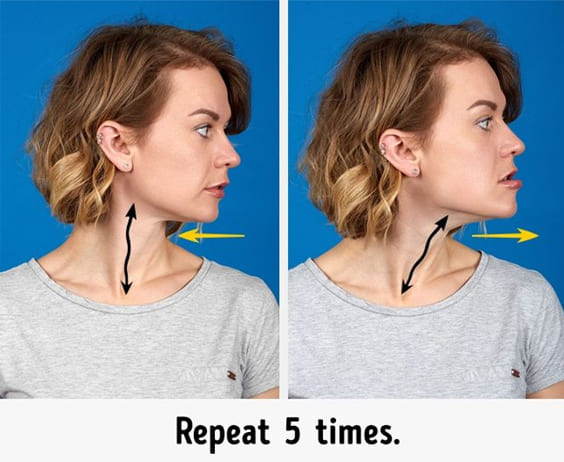 Look straight up & look towards the ceiling by tilting your head backwards.
Push your lower jaw to the front, therefore feeling a stretch under the chin.
Hold the jaw straight & count till 10.
Recline your jaw slowly and return your head to the normal position.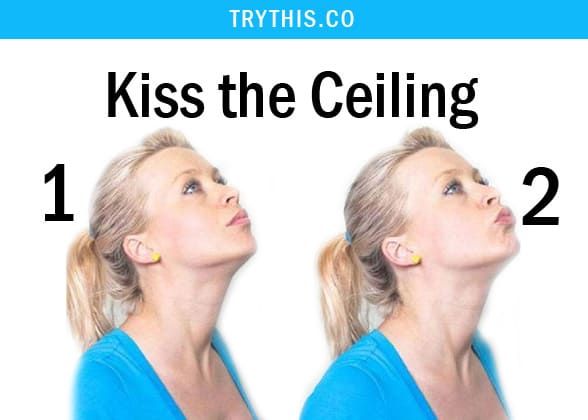 Like in the first one, tilt your head backwards and look at the ceiling.

Bring your lips together as if you're kissing the ceiling thus helping you stretch the area beneath your chin.

Stop puckering and move your head back to its original position.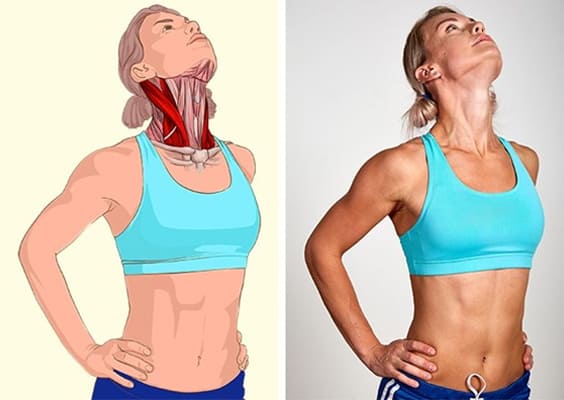 Tilt your head back again to face the ceiling.

Press your tongue against the roof of your mouth.

Hold for a few seconds and let go.

Ensure to not put too much pressure or you'll sprain your neck.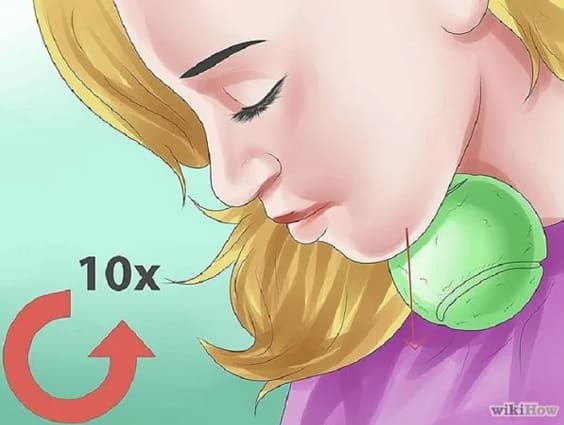 Put a toy ball measuring 8-9 inches under your chin.

Squeeze the ball in between your chin and chest.

Do it 20-30 times every day to get the desired effect.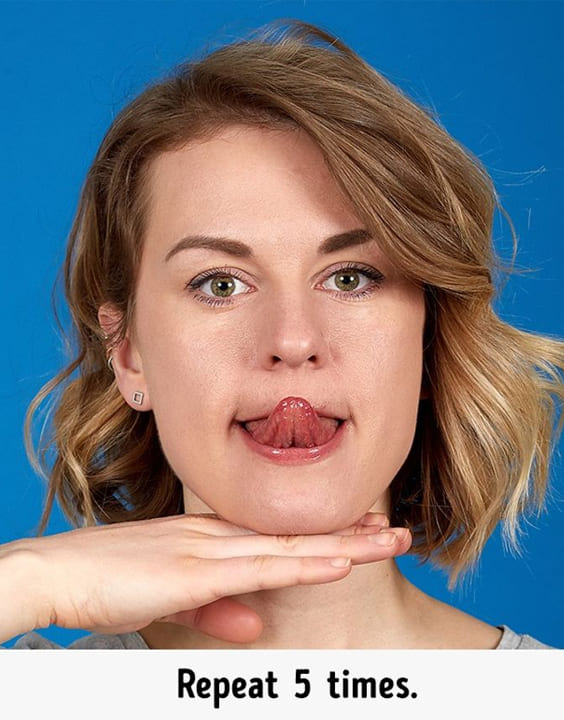 Look straight ahead and stick your tongue out as far as you can.

Stick your tongue out to touch your nose (well almost)

Stay that way for 10-15 seconds and then return to normal 
Try the above jawline exercises and watch your double chin vanish within weeks!
2) Say no to Buccal (cheek) Fat!
If you want to lose facial fat and tone your muscles then keenly observe fishes. Even make them your besties for that matter because some tricks and tips from how they look are going to come in handy while trying out facial exercises for cheeks. Try the below-mentioned face fat reduce exercise and watch your looks transform.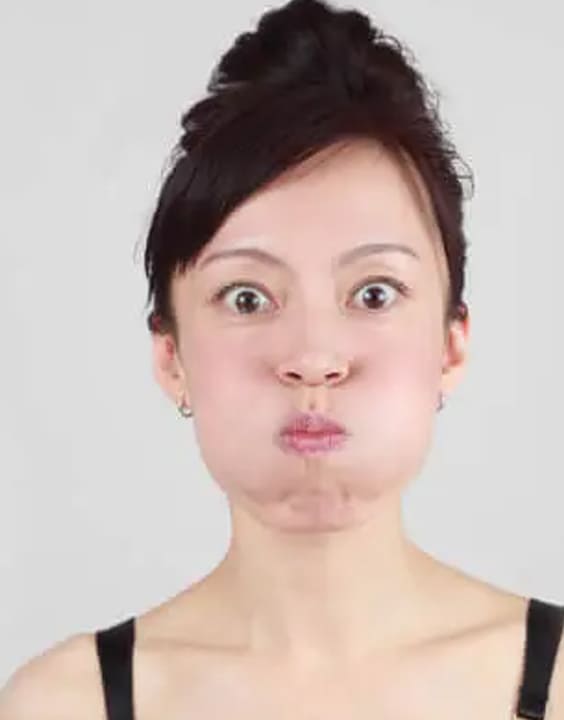 Inhale air to fill your mouth with it to resemble a pufferfish

Alternate the air from left cheek to right cheek at intervals of 10 secs. 

Release the air in order to form a firm O.

The above

face exercise

will help in working out your cheeks leading to

face toning

.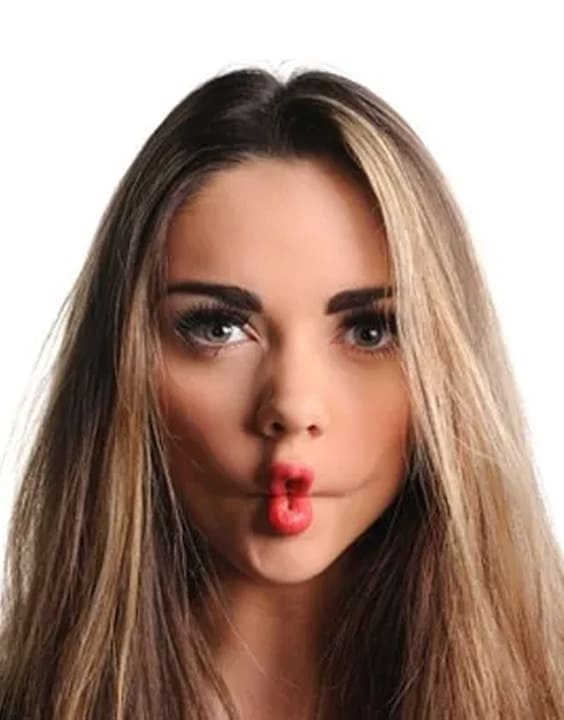 Suck those cheeks in to feel an impact

Now try smiling while still keeping that fish face on

Hold this position for 5 – 10 seconds

Repeat the process for at least 20-25 times daily all at one go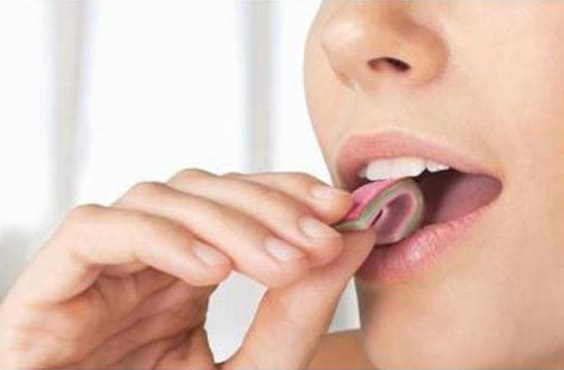 Pretty self-explanatory, this one hardly needs a description.

All you need to do is chew gum regularly to work those buccal muscles

Beware to not overdo it or you'll end up with expanded masseters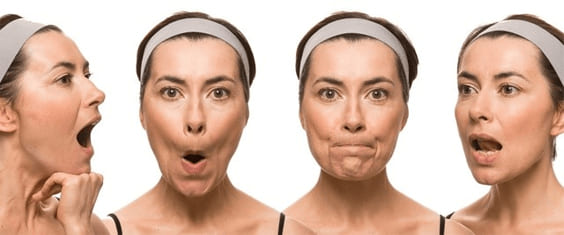 Extend your jaw way down as much as possible to feel a stretch

Bring it back up 

Keep repeating the above 2 steps to effectively work the cheek, chin and jaw muscles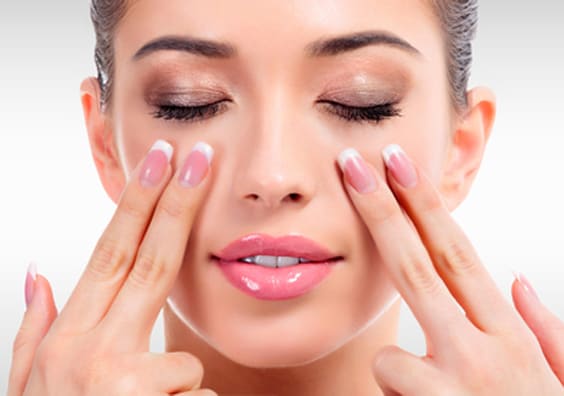 This is one face exercise for women that they enjoy the most. Massaging your skin using facial oils and serums with the help of a jade roller can help you with facial toning to a great extent. Download the Bewakoof Fashion App and explore the cosmos range to find a suitable face oil for massages.
Don't have a jade roller? No worries. Let your fingers work their magic.
Try pinching your jawline in between your index finger and thumb to give it a good massage in an upward motion.

Rub it up massaging gently, thus reducing bloating of the masseters.

With the help of your thumbs massage the cheeks outwards starting from the nose ending towards the temples. 
This helps reduce puffiness to a great extent. 
3) Lifted Brows and Cheekbones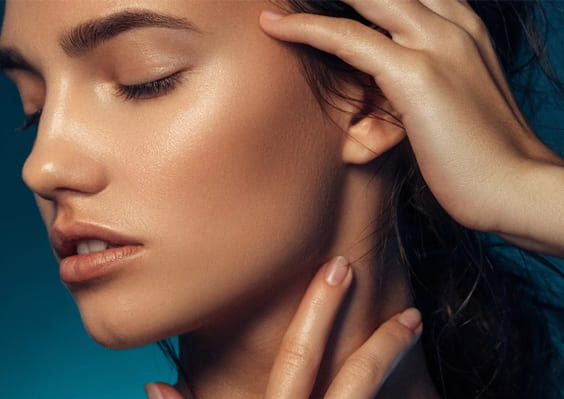 Lifted brows and cheekbones can give your face a more defined and sculpted appearance, thus making you look younger. We live in a day and age where selfies and social media posts mean the world as everything is online these days. If you care for perfect selfies and photos then try the following face exercise for a chiseled look. Read on to combat saggy skin and look more feminine.
The triple finger pressure workout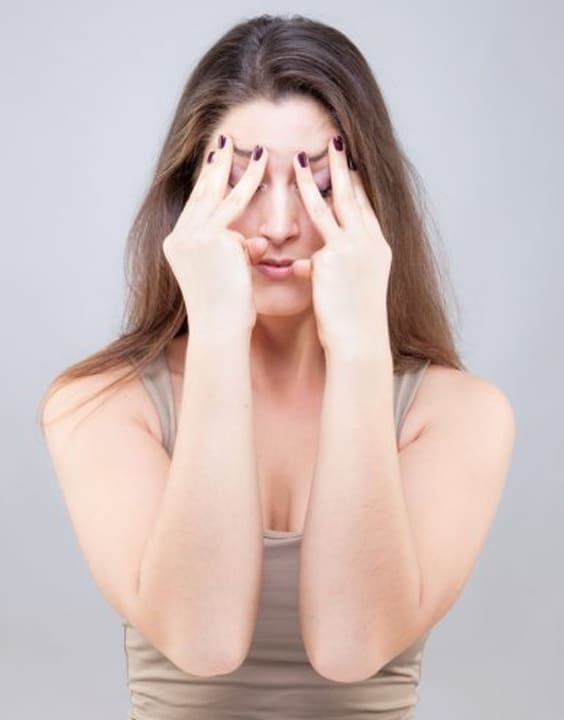 Use your index, middle and ring fingers and push them against your cheeks.
Open your mouth wide open and keep contracting your cheek muscles back and forth.

Resistance from the fingers will help the muscles work out thus toning them and giving them a lift.

On finishing the exercise puff some air in and tap your cheeks as you exhale, this will help your cheeks relax.

Repeat this 15-20 times daily at a stretch to get the desired results.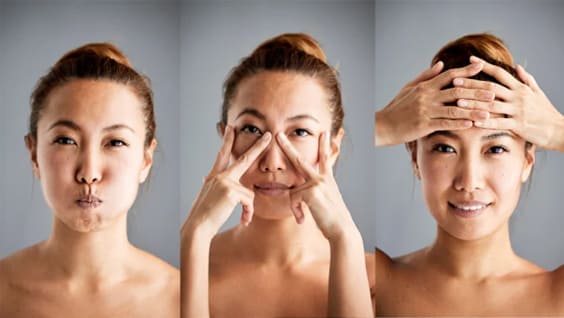 Form a V using your middle and index finger

Push your cheek muscles upward by adding pressure from in between your fingers 

This will not just help you reduce your smile lines, cheek fat & but also help with blood circulation and muscle toning for a youthful appearance. 

Do reps of 15 every day in order to see your face getting a lift.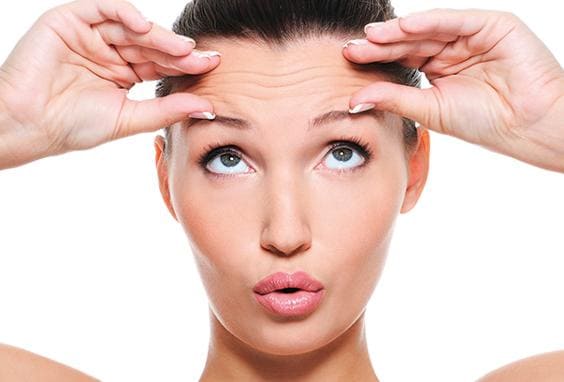 Droopy brow bone can make your face look tired and sleepy. Give yourself a more woken-up look by practicing the brow lift.

Place your palms on each half of the face, making the middle finger touch your brow bone.

Add gentle pressure and push your brow muscle to give it a lift.

Bring your eyebrows upwards and outwards as your eyes stay open.

Observe that position for 5-7 seconds 

Repeat thrice to see optimum results.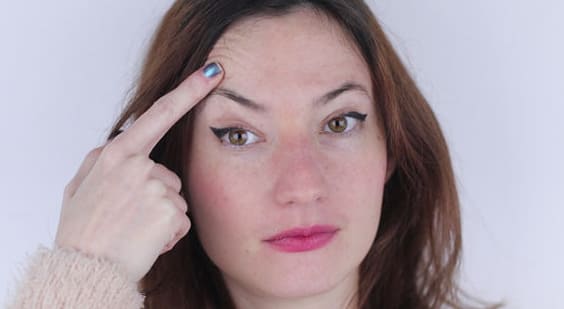 Look straight and keep your eyes wide open

Look up and hold your eye muscles up for a few seconds

Then look down and repeat the same pattern 

Once you're done looking up and down, try the same sideways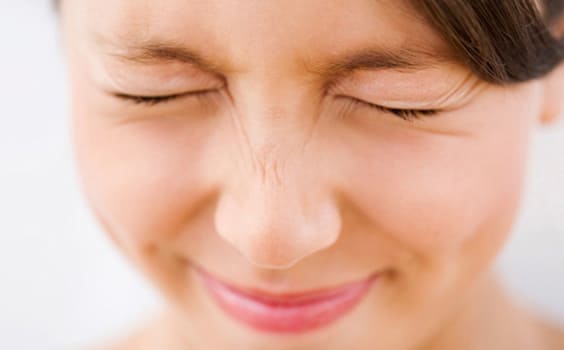 Close your eyes as hard as you can.

Now lift both your eyebrows as far as possible.

Hold for a few seconds but don't open your eyes at all.

Do reps of 10 -15 daily thrice a day for the best results.
These face fat exercises are best followed every day after rising and before going to bed. Just like yoga and gym for the body, it's important to follow facial yoga and face gym as well. A well-proportionate face gives a more healthy and youthful appearance to an individual. So don't keep yourself waiting any longer. Try the above face fat exercises and see the results on your own.
On that note don't forget to check out our collection of face care for men and women only on the best online shopping app in India i.e. Bewakoof. 
Don't waste any more time and get your hands on some guasha stones and jade rollers along with essential oils from our website to achieve the look you've always desired and start doing face exercise. 
Related Articles- 
Image credits: The copyrights of the images used in this post belong to their respective owners. The credits where known are specified under the image - if you're the owner of an image and want it removed, please contact us.