If you've got a cool tattoo then you gotta let it take the centre stage! Read this special piece on Tattoos for men and cash on these cool outfit ideas that'll help you flaunt your statement body art!
While the pain of getting a tattoo might be short-lived, a tattoo is forever. And with the decision of getting a permanent tattoo comes the advantage of showing it off every chance you get! Tattoos for men come in many shapes, sizes, colours and fonts.
There's an ocean full of ideas of unique tattoos for men that you can choose from. It's sad a lot of people just follow the "trend".
Quick Tip–  Get a tattoo that has meaning to you and marks something significant in your life."Trends don't last forever but your tattoo will!"
1.Neat Neck Tattoos Take The Stage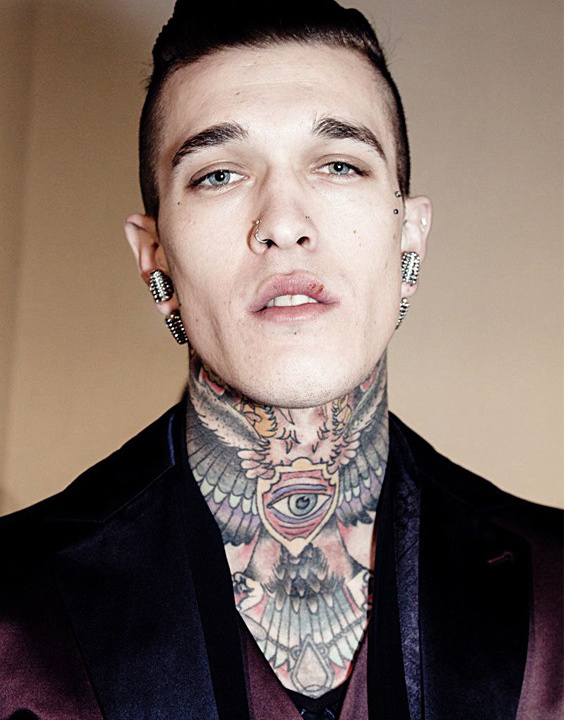 One can hardly miss Neck tattoos they are literally out in the open! Unless you're hiding them underneath bulky overalls!
Wear a normal Round neck or V neck t-shirt depending on the placement of the tattoo. Short collars or round collar shirts like Pique shirts work too.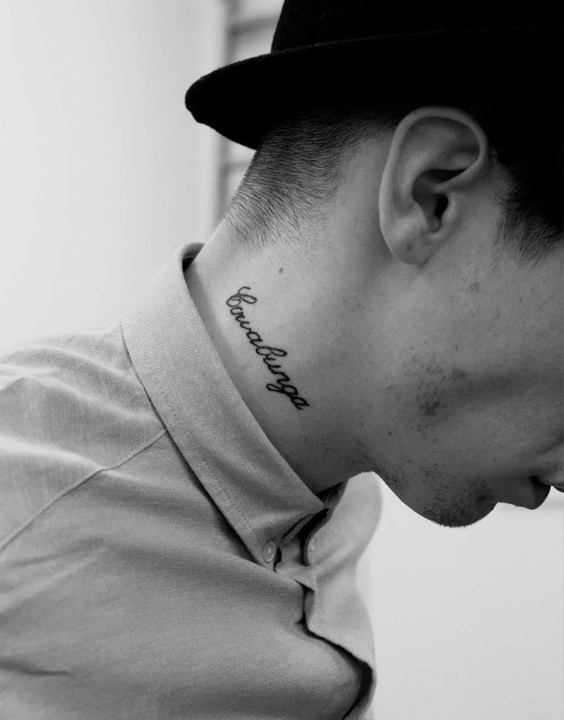 Elaborate tats covering the neck are super manly but minimalistic neck tattoos at the nape are equally charming. Crosses, loved one's name, quirky patterns, fine constellations and script tattoos look simple yet sexy and that's why they make for some of the best tattoos for men, especially when it's the neck we are talking about.
Quick Tip– Wearing a cap will help bring extra attention to the tatoo.
  
2.Putting Those Arm Tattoos For Men On Display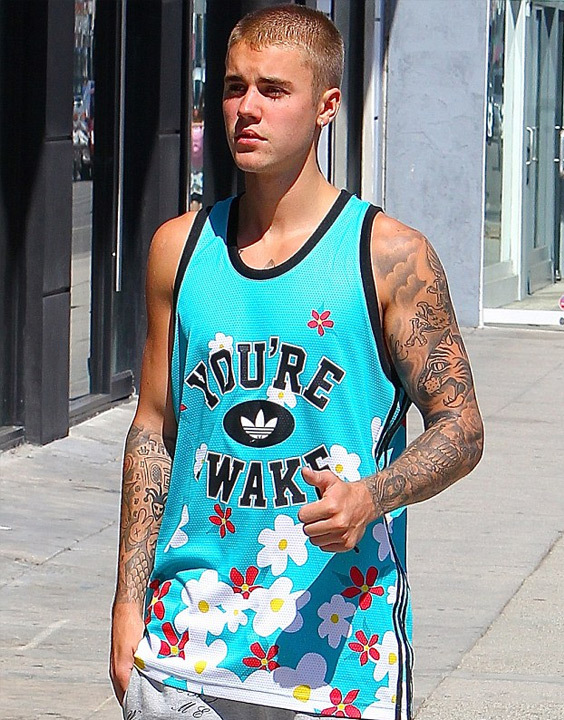 Arm tattoos for men can be anywhere between the shoulder blade till just before the wrist, or it could even be a full sleeve tattoo. Bicep tattoos are a popular choice amongst men!
The right way to show off those upper arm tattoos for men is to show them off in a very subtle manner; almost like a passerby just happens to catch a glimpse as opposed to the tattoo straight up in his or her face.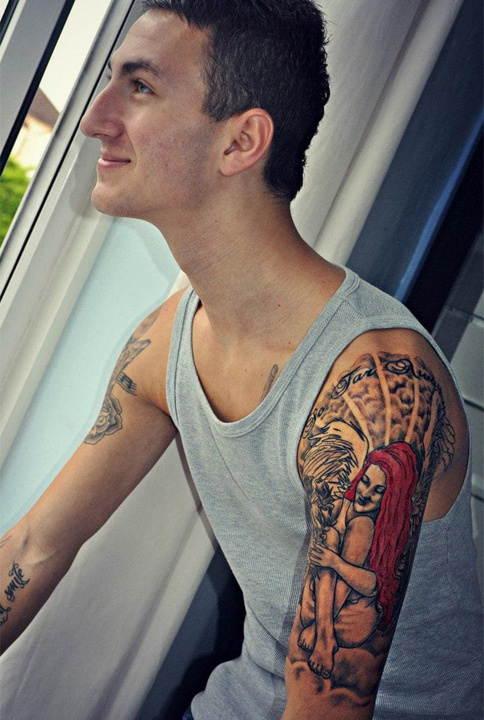 Vests or classic tanks give full freedom to bare all your arm tattoos at once, irrespective of their location on your arm. Half sleeve jerseys help too.
Quick Tip– Tattoos showing through rolled up shirts and cardigans make for a sexy sight. Boys take note!
Show Off Your Bicep Tattoos Subtly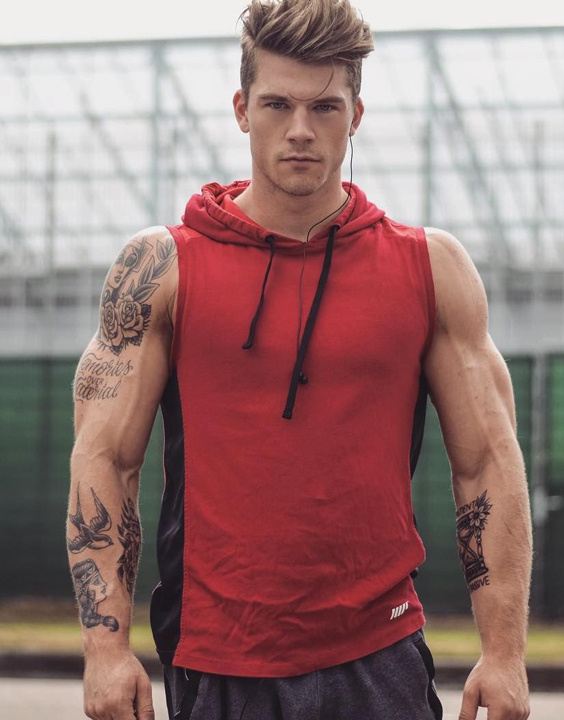 If you're the kind of man who loves to flaunt his big guns then bicep tattoos are a great way of bringing easy attention to those sculpted biceps. You don't really have to do a lot to show of your bicep accessory, just wear a half sleeve fitted T that ends right above your tat or exactly at it!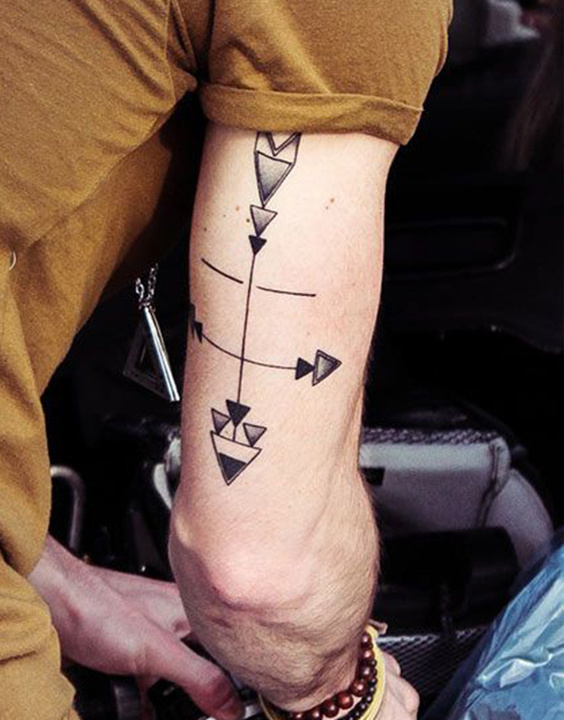 Sleeveless hoodies make for super chill outfit pieces that compliment arm art too.
"We've told you before, Tanks and vests are great for showing of arm tats."
Quick Tip– If you have thin arms and small biceps then opt for sleeker tattoos that compliment you well.
Flaunt Forearm Tattoos For Men Wherever You Go!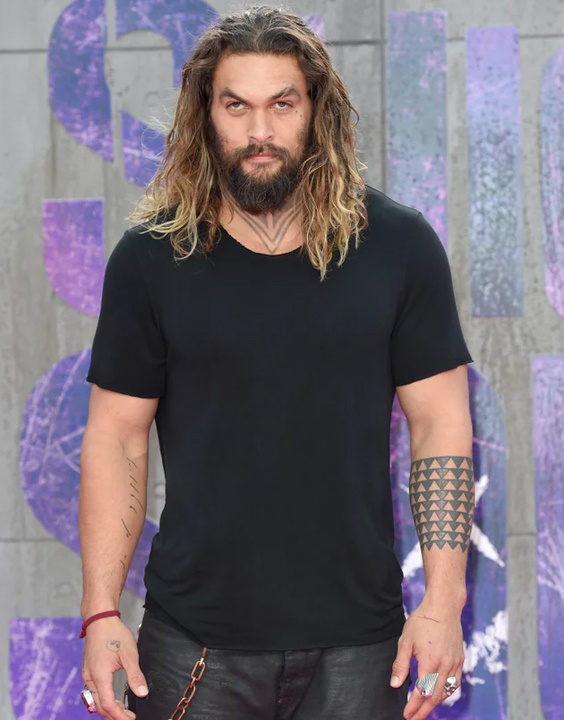 When you think of unique tattoos for men, forearm tattoos are atop the list.
These tattoos have a way of adding a certain sex appeal to the arms, without trying hard at all!
The perfect outfit to show off forearm tattoos  is a shirt with sleeves rolled up the elbow paired with chinos. 3/4th sleeve Knitted sweaters can also do the job. If you just wanna go casual then a half sleeve graphic or plain T-shirt would save your day.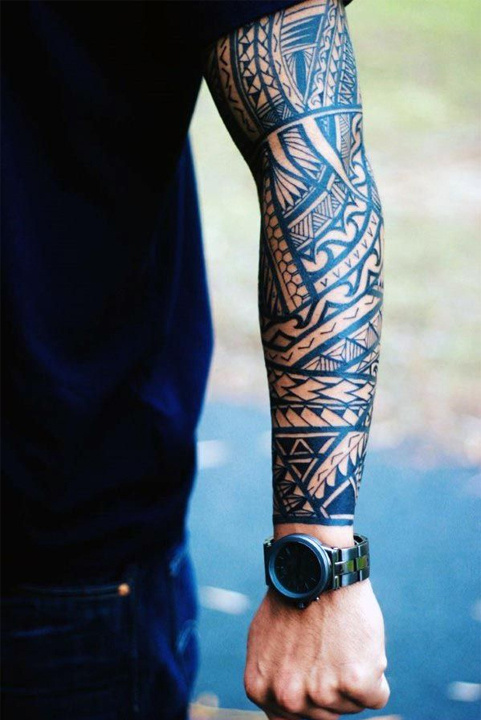 "Forearm tattoos need no subtlety – they need to be appreciated by the world!"
Quick Tip– Wear an elegant watch, for extra drama.
3. Stage? Check! Spotlight? Check! Hand Tattoos For Men Steal The Show!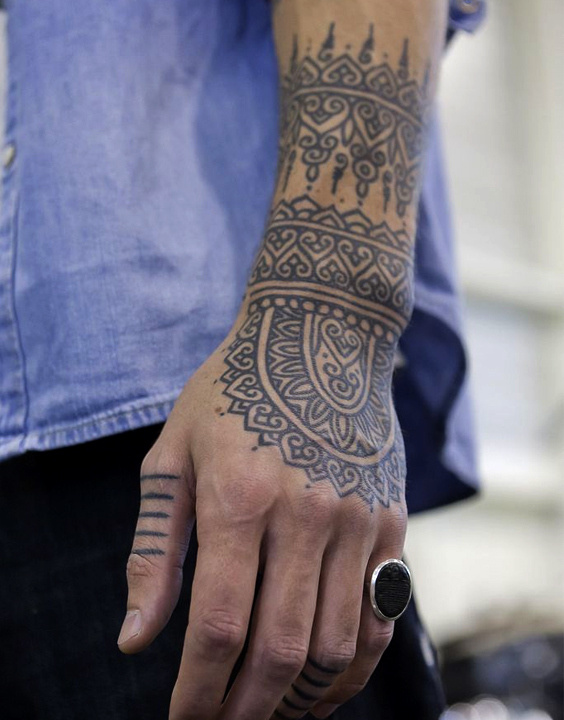 These punk-rock tattoos are hard to miss. They are usually out and about for everyone to see and appreciate. Please DO NOT hide your Hand tattoos under oversized sleeves that are shabby and go beyond your fingers.
Believe us you! Hand tattoos are more handsome with blazers. This combination is as fine as wine. Even if it's winter, tattoo gloves are all the gloves you need!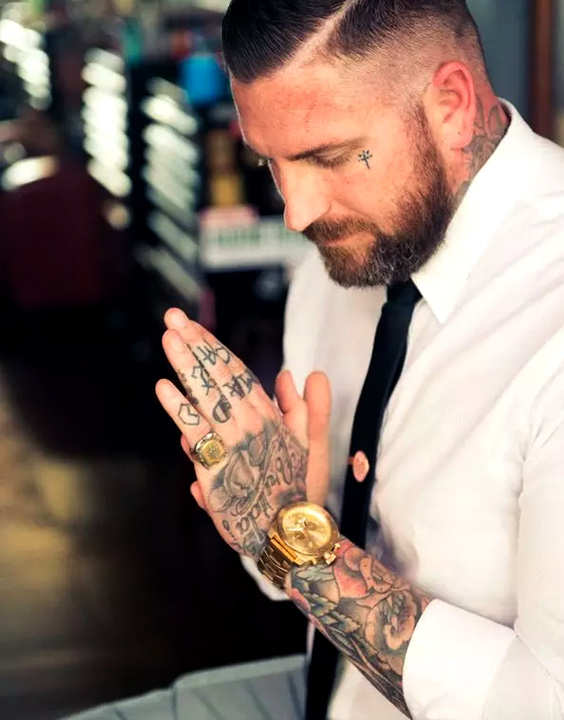 Shirts rolled up work fine too but then you know that already! Don't ya?
"Hand tattoos for men are a tough choice since they are always in the open and if you decide to get one you better do everything you can to show them off!"
Quick Tip– Trimmed hand hair or shaved hands provide more room for hand tats to shine.
Wrist Tattoos For Men- Don't Make Them Wrestle For Attention!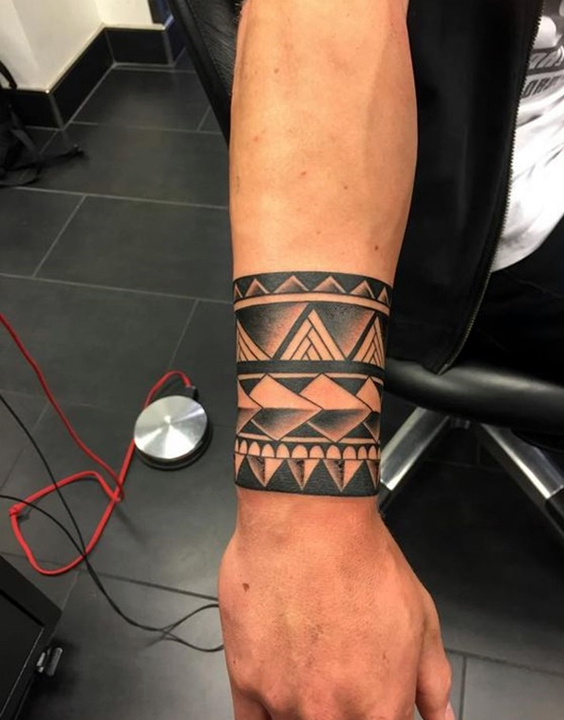 The one and only way to show off your wrist tattoo is by letting it take the centre stage. Wrist tattoos for men normally get hidden by full sleeve shirts, so the best way to get someone to notice these tattoos is by wearing sleeves that end a little before the wrist or no sleeves at all.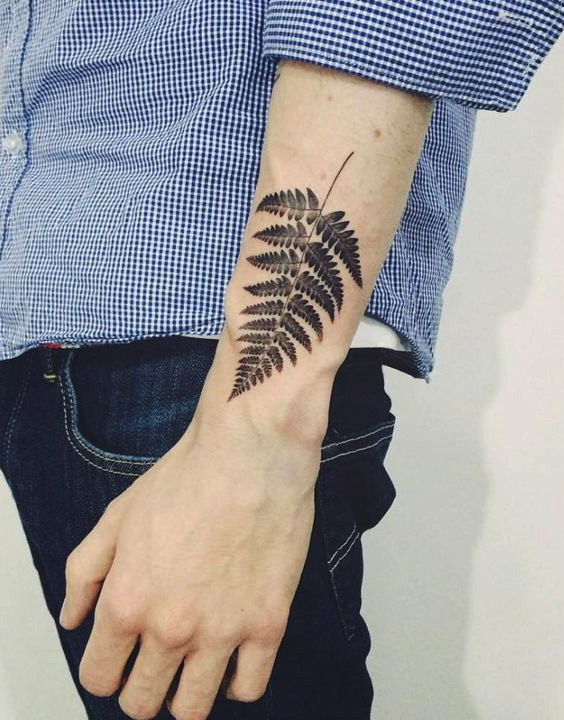 Quick Tip– Don't overshadow your wrist tattoos with bulky watches and bands. Simple is key!
Finger Tattoos For Men-Show That Finger To The World!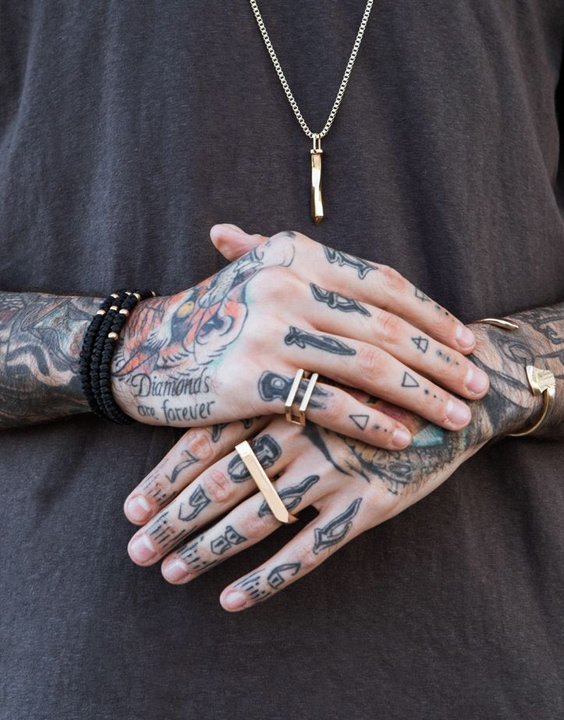 Finger tattoos for men might go unnoticed especially if they are fine and on the inner finger. So, the best way to make someone notice your tattoo is by accessorizing. Wear funky rings or bracelets to draw attention towards your hand and the eyes will automatically notice the tattoo on your finger.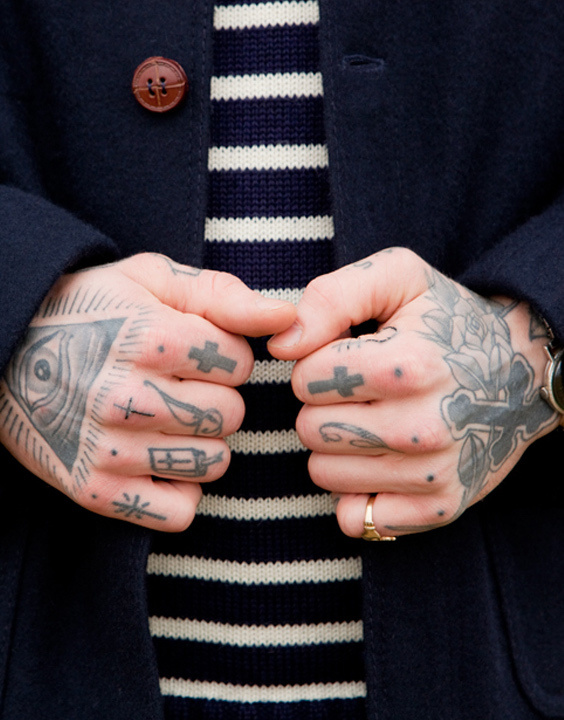 Even if your tattoos are big and bright, a little bling won't hurt!
Quick Tip– Tribal tattoos for men are always a great choice as finger tats.
4. Chest Tattoos For Men- Bare It All Out Or Leave Some To The Imagination!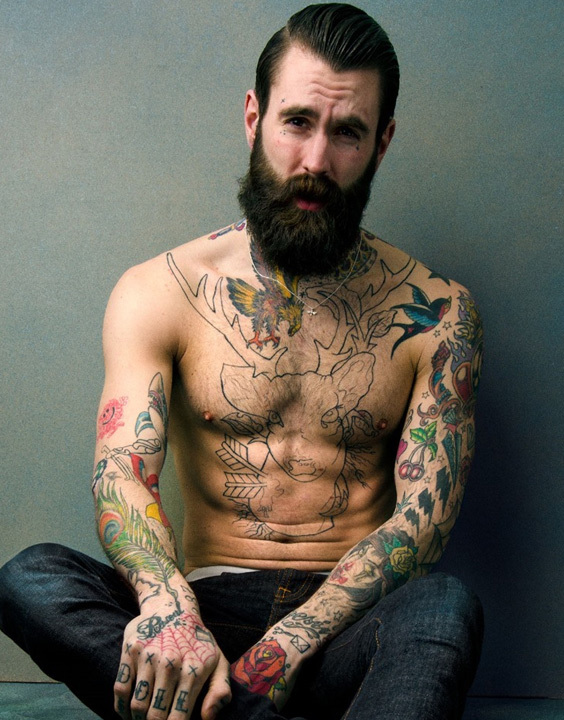 Of all the unique tattoos for men, chest tattoos have to be the most exclusive. We understand showing off chest tattoos, for men can get a little difficult. This will require a lot of confidence but we suggest you bare it all out and let go of you shirt. A pair of denims, geared with branded undies, a belt and a cool boy cap is what would make your supremely sexy OOTD.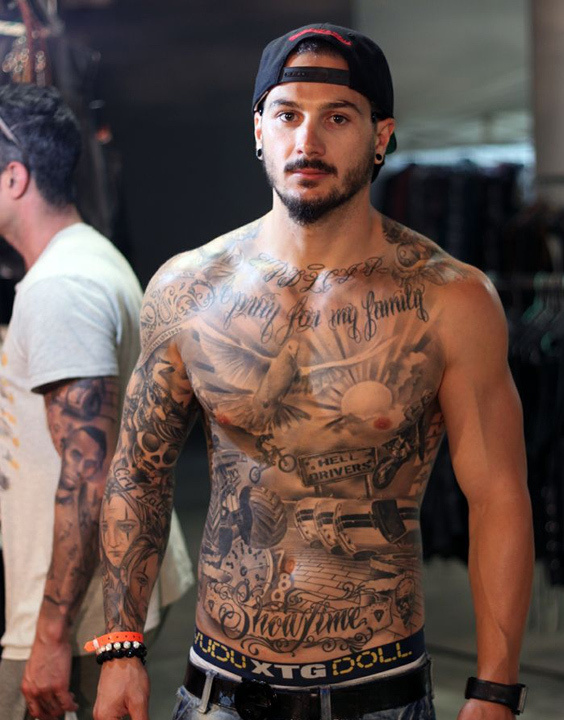 Another option would be leaving your shirt unbuttoned at the top and giving only a sneak peek. Wearing a hoodie or sweatshirt unbuttoned works too.
Quick Tip–  Show enough for onlookers to get curious. Let the rest of it stay a mystery. Mystery is super hot! Just Saying!
5. Back Tattoos For Men- Unleash The Hunk On A Beach Day Out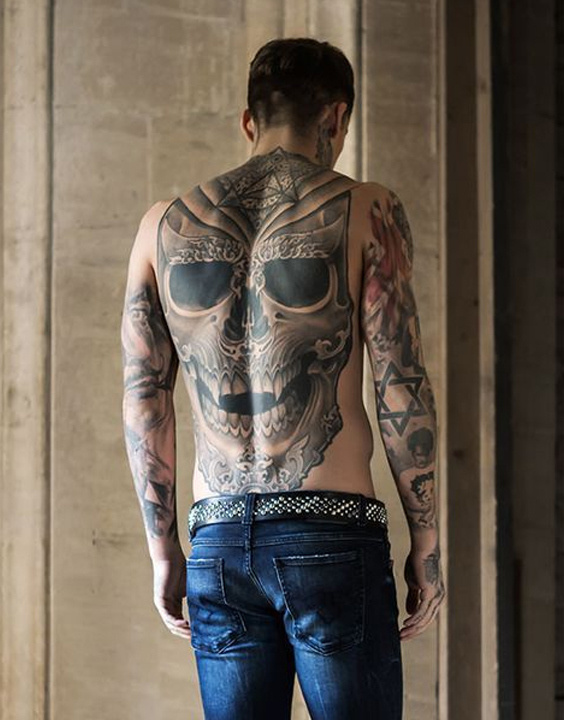 When you think of back tattoos for men, think of big and bulky tattoos. The back provides for a great canvas for trying out larger and more elaborate designs. A popular choice for the back are 3d tattoos for men which are gaining popularity over 2d tats very quickly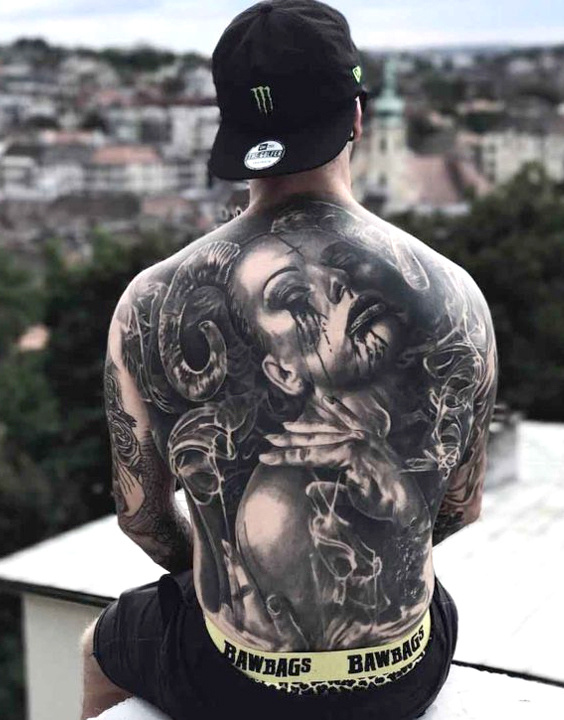 According to us these sexy tats deserve a day out, so to the beach you go! Or maybe while working out at the gym you can put your back art on display.
Quick Tip–  No speedos and tighty whities, please! Be classy and complement your back tattoo by wearing cool boxer shorts.
6. Leg Tattoos For Men – Effortless Head Turner!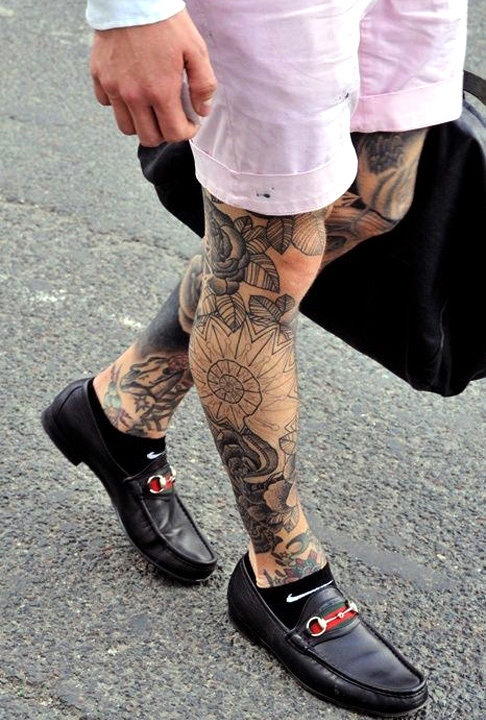 A good pair of shorts like cargo shorts, jersey or oxford shorts is all you need, it's as easy as that. There are so many options of leg tattoos for men, you can choose to have a dainty or a bulky tattoo anywhere on your thigh, calf, ankle or foot.
If your tattoo is on the lower leg then shorts are the best option, wearing ankle length denim joggers or chino pants with loafers would let you show off your ankle tattoo well.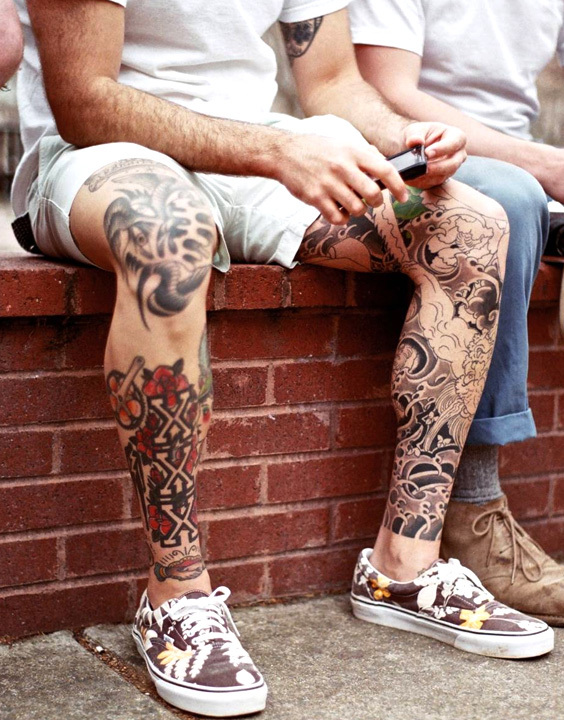 Quick Tip– Displaying foot tattoos for men is not a problem, just replace your loafers with slippers. Although slippers seem plain, they have an unmatched simple charm about them.
Leg tattoos are not everybody's cup of tea but it can certainly be your cup of coffee!
"Don't fear Experimenting Brother! Just do what you like and Own it! Now scoot away. It's time to slay em' tats!"
Image credits: The copyrights of the images used in this post belong to their respective owners. The credits where known are specified under the image - if you're the owner of an image and want it removed, please contact us.