Flamboyantly flared bottom wear, adding a twist to the traditional Indian-style pants, the Sharara is a top choice for many women of today. Not only are they visually appealing, but super comfortable and add a touch of royalty to your attire. The Shararas have been playing peek-a-boo with us all for quite some time now. From Bollywood actresses to the modern Indian woman, you'll see each one carrying a set of their own – and with utmost grace. With the numerous Sharara suit designs and prints available today, a Sharara also adds a dose of contemporary style to your look that can make you the center of attention in any room.
Be it a bride, a bridesmaid, a friend's friend of the bride or any woman in general, a Sharara is a popular choice. You could go subtle or go all-out and you'll look as elegant as ever in a Sharara. Sharara style is of Lebanese origin, but its roots can be traced back to the Hamedan tribe in Yemen. It was introduced in the Indian subcontinent when the Mughal royalty arrived in the 16th century.
Many people get confused about the difference between the Sharara and the gharara designs. Now, although, both of these are quite similar when it comes to the overall look. However, they have unique designs and are tailored differently. The sharara can be paired with a long or short kurta in length, along with a dupatta. The pant is the highlight of the ensemble which has multiple layers of flared fabric falling in ruffles. Each layer is bordered with zari or embellished gotas.
Garara suit, on the other hand, is a subtle version of the same. Usually, ghararas are teamed with a short kurta and a dupatta. The garara pants are pinched at the knees which causes the hemline to the end to flare out dramatically, giving the illusion of wearing a skirt. The gota at the knees is, again, either embellished or zari.
As women, many of us are in love with lehengas and sarees but don't underestimate the value and elegance of a sharara
check out these 15 sharara suit designs that you must try in 2022!
1) The Bridal Suit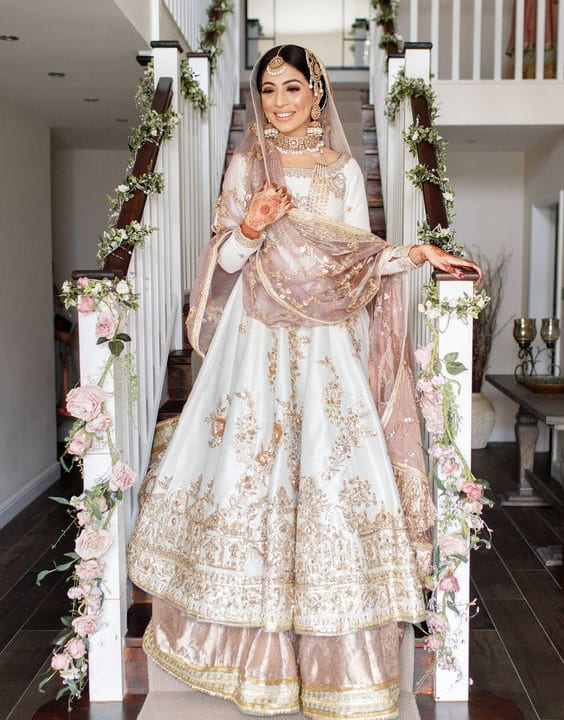 Most women prefer to dress in a saree or lehenga for their wedding. But what many women don't consider are the long hours of rituals to be completed on their big day. From waking up early to getting ready to the matrimonial ceremony, it is truly a big day for the couple. So, if you want something comfortable, a sharara would be a good choice! Zari work, motifs, sequins, embellishments, embroidery and so many more options are at your disposal. You must explore all options before making the final choice. After all, we're sure you plan to get married just once – make sure you have the best attire! 
2) A traditional diva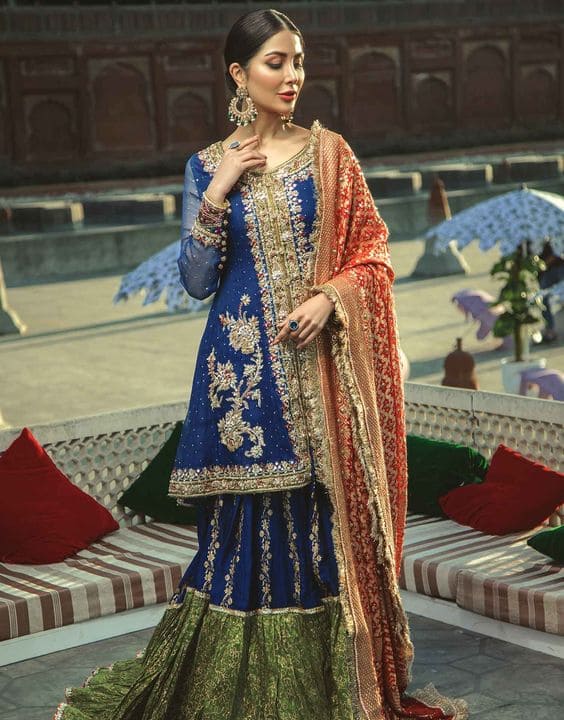 If you're someone who believes that masterpieces are created with the amalgamation of traditions and style, a sharara suit designs like this one is for you! These sharara suits are a treat to the eyes and have a touch of royalty in their fabrics and designs. With fashion moving at such a fast pace, bringing together style and tradition is certainly a fresh look. If you're looking for an idea, pair a multi-hued kurta with a contrasting sharara and add an embellished dupatta for the extra glam. You can also make the most of floral prints, delicate embroideries!
3) Glamorously stylish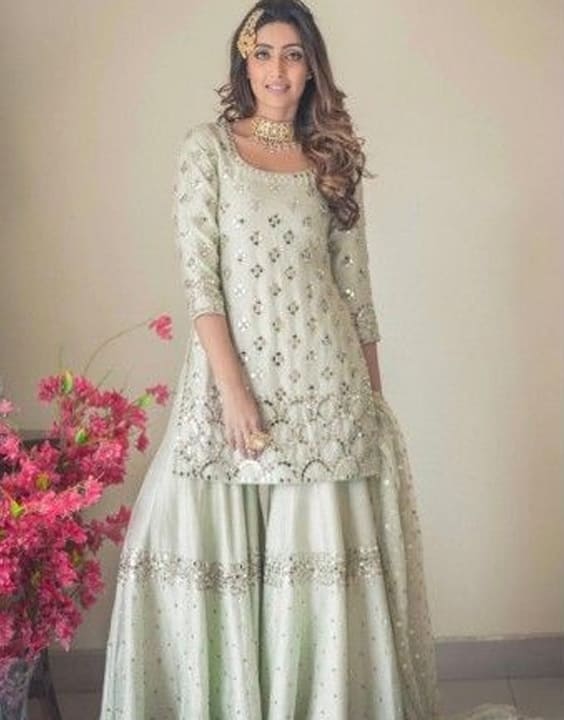 Being in vogue is a dream that everyone strives to live. One of the latest sharara suit designs is this pair of embellished suits teamed with a netted sharara. The exquisite detailing and design work is attractive and eye-pleasing. And this makes this a total game changer! In recent times, we have seen many designers come up with various versions of these trending sharara designs. A perfect ensemble for a friend's mehendi shenanigans, this outfit is sure to grab you a lot of eyeballs. So, if you like attention, you know which design you need to choose!
4) Subdued exuberance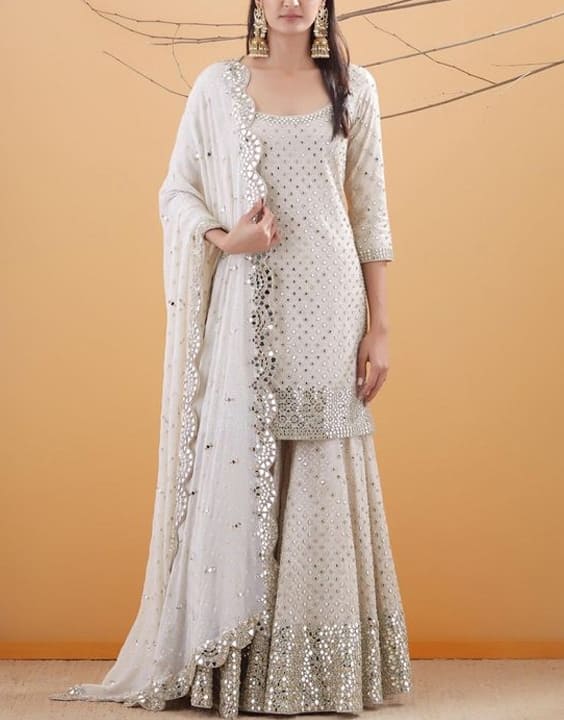 Did you know, you could exude class, elegance and style in one attire? A pastel colored sharara dress with embellished pants of the same hue, paired with some intricate jewelry can make you the showstopper. With the multiple prints, patterns and styles being available in pastel colors, it is no surprise that you can mix and match apparel as well to create your dream look. Well here, we aren't saying you must mix colors but maybe choose a kurti and pants separately to style your sharara suit design exclusively for yourself. Add a maang tikka or the oversized earrings and take your #OOTD to the next level.
5) Minimalist red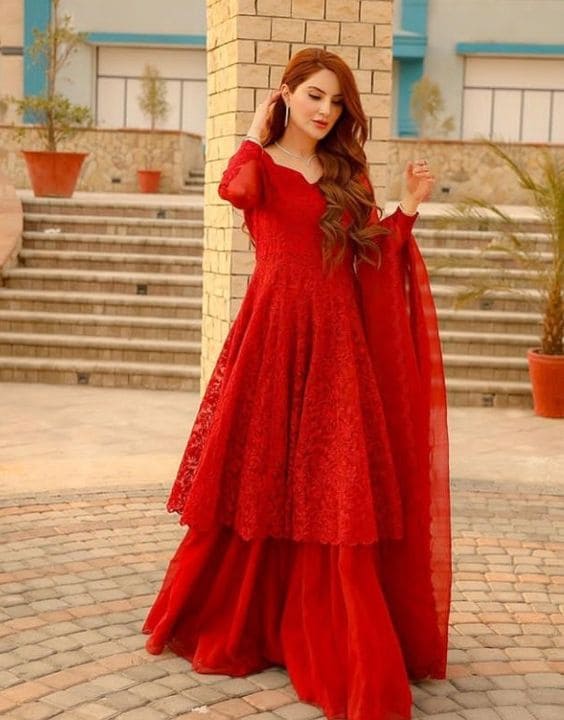 This color instantly brings the bride's image to mind. But you know, there's so much more to the color than just a 'wedding' color. Among all the sharara suit designs, if we had to choose one such design that would steal the show, it would be a simple red sharara with minimalist work and a lot of grace. We don't usually have too many red outfits but you must try this color for your next event, festival or celebration and we're sure you would love the compliments and attention you'll be receiving. After that, a no make-up makeup look, simple jewelry, and this suit will be your go-to outfit!
6) Twirl it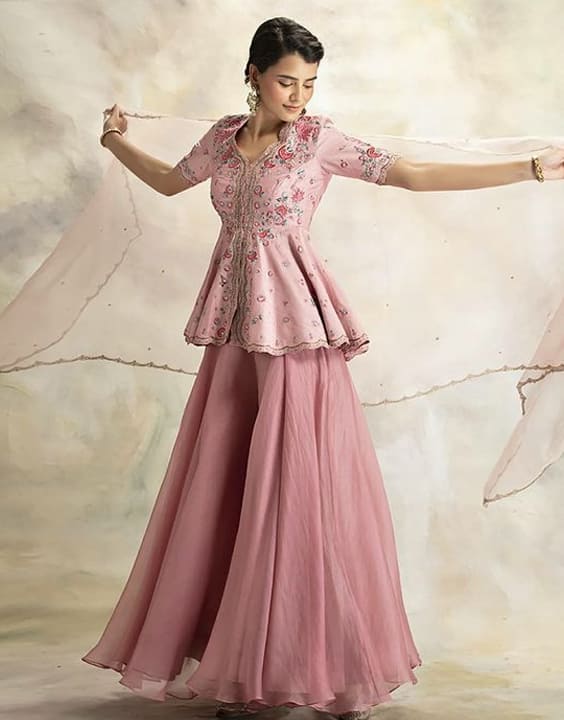 Another one of the most trending sharara suit designs right now is the set where not only do the pants have a flare but so does the kurti for women! If you're a to-be bride who wants to do things differently, keep a note of this design. It can bring a nice touch of fun and frolic to your Mehendi function. Available in numerous designs and colors, this outfit is an instant eye-catcher. Its flared pattern adds the drama needed for a bride's outfit and ensures that all in all, the outfit looks absolutely graceful. A suit stitched to perfection in this hue, brings to life eternal beauty and grace, in the one wearing it. It's time to leave your onlookers mesmerized.
7) A peachy affair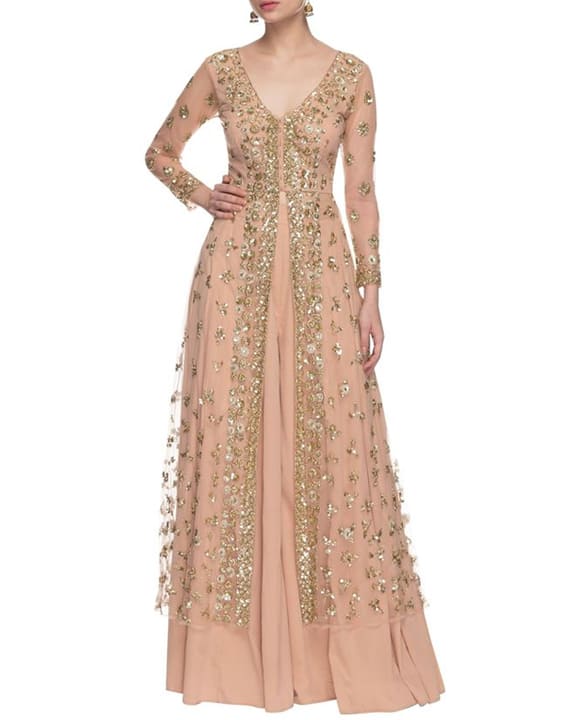 One of the most recent trending colors is peach. Suitable for all skin tones, peach brings out the charm and poise in a person. This sharara suit designed in peach with an all-gold sequins jacket and sharara pants is the perfect ensemble to wear for a grand occasion like your sister's wedding reception or engagement. The sequin on net fabric is quite elegant. Pair this with a set of stone-studded necklace set and you're all set to conquer the world… Well, at least you'll conquer a lot of hearts. Don't forget to add some braids and a nice hair clip to accentuate your look.
8) Simple & subtle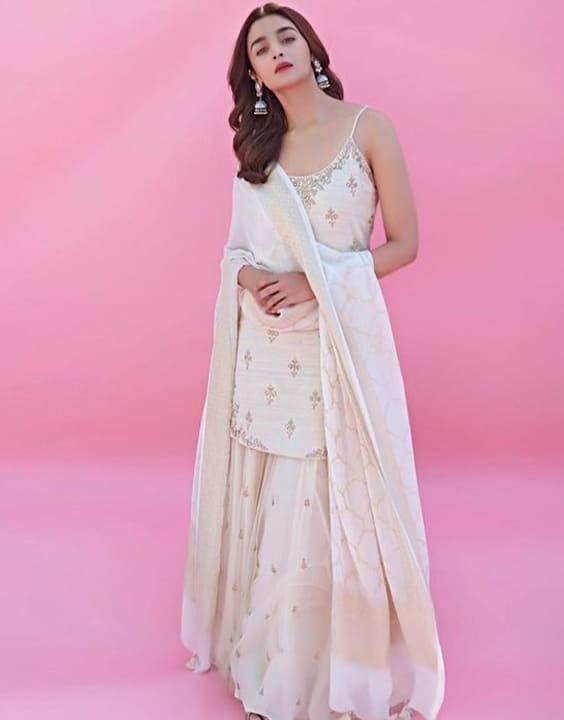 You know, it's often said, there's beauty in simplicity. Many of us believe in adding an oomph factor to a very simple yet elegant dress. We could do this with an embellished dupatta or an extravagant heavy border to the outfit. Or you could pick a simple sharara suit designs that is self-printed or a subtle embroidery that will be glam yet classy. Don't underestimate this design if you're someone who likes to keep it to the minimal. From the numerous color options to the multiple design and print patterns, a simple sharara can be the game-changer you need this wedding season.
9) Gota-Patti style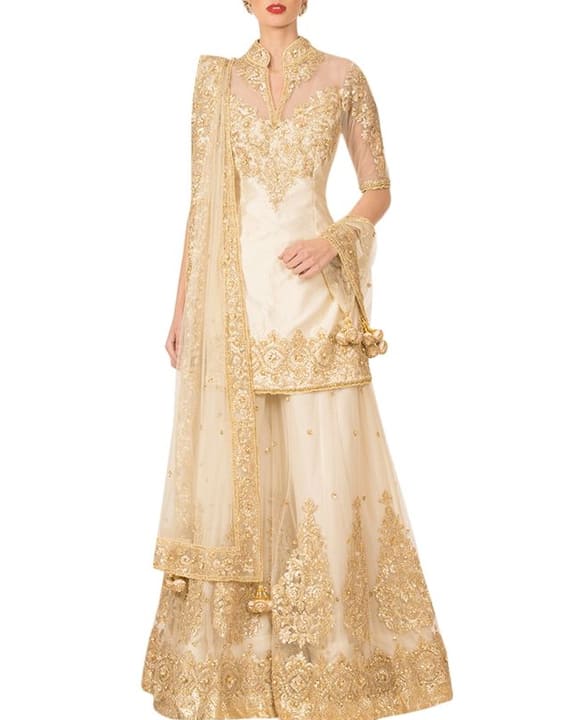 Over the years, there have been many salwar suit designs inspirations that you may have come across. But if you're one of those women who has never tried the sharara, this is your cue. A simple gota patti suit in a classy color like cream, with a high collar and sequin handwork, is an absolute beauty that will get you a lot of attention, at any event. Paired with a short kurta with beads all over, the sheer net details at the neckline are eye-catching. Add to this a golden set, complete with a bracelet or an oversized ring, and you have the perfect outfit for the night!
10) Velvet is back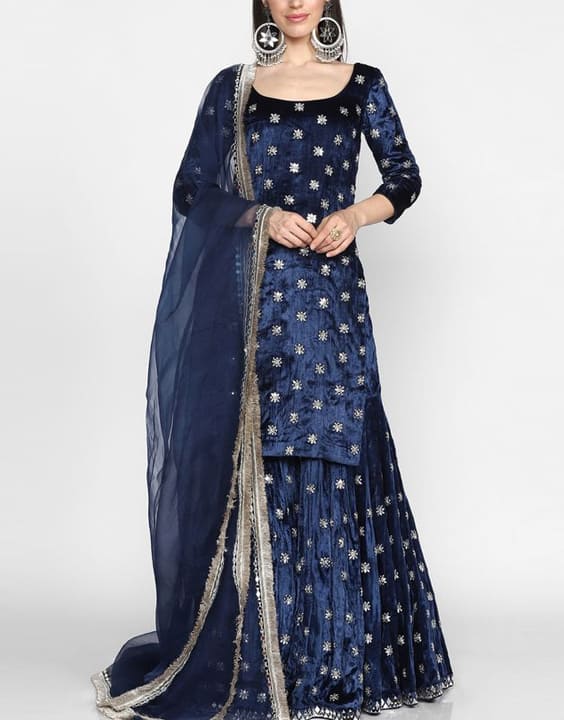 How many of us were absolute fans of velvet back in the day? Over the years, our choices shifted to fabrics like organza and chikankari but let's bring back the royalty of velvet back in action. From the soft material to its deep, beautiful colors, velvet is a masterpiece in itself. You can choose to have a complete solid velvet suit with a dupatta full of work. Or, on the other hand, you can have a simple dupatta but a velvet sharara suit that has work on it. Either way, you're sure to be getting a lot of questions about this sharara suit design.
11) Multi-coloured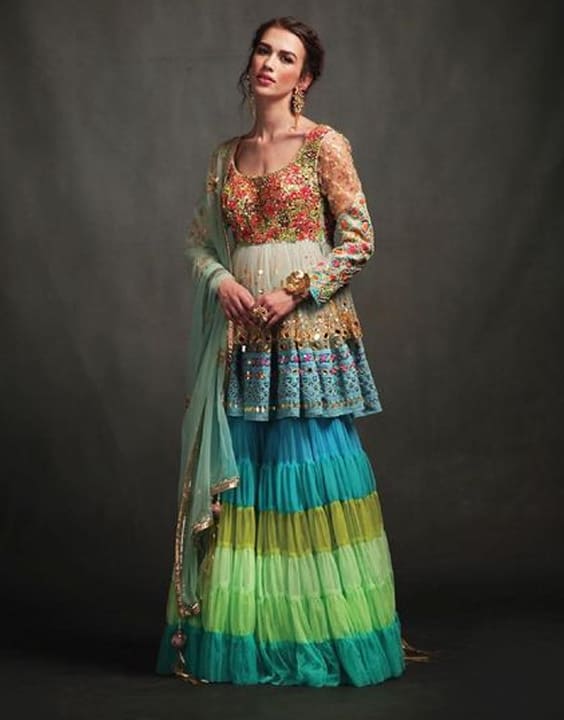 Another one of the most trending suit designs, is the multicolored suit. Mixing colors is not something for everyone. It is essential that all colors compliment each other and thus, we recommend choosing a masterpiece from a designer. How about picking something like this double-layered blue top with floral embroidery and mirror work to accentuate the look. The bottom wear for this outfit is a paneled sharara with multiple colors, matched with a solid color dupatta complete with a simple golden border. Add a pair of fairy heels and enjoy the attention. It's time to take your fashion game to the next level.
12) Chikankari styled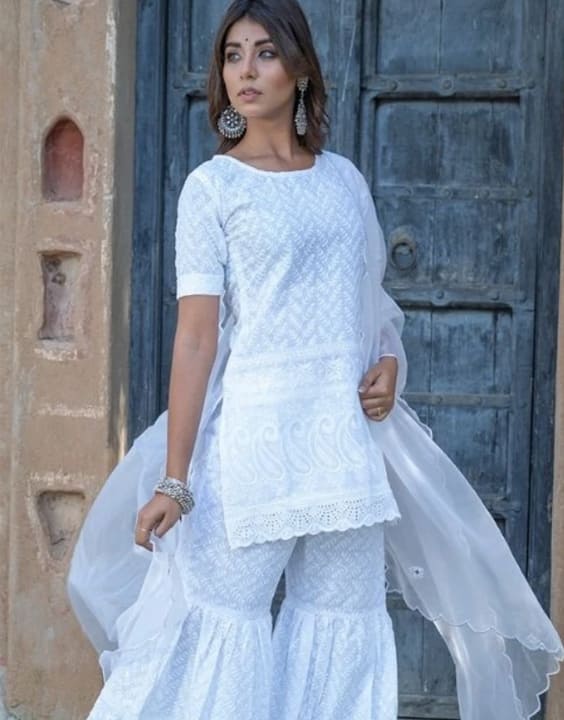 One of the oldest styles in the Indian traditional outfits, the chikankari is a favorite of one and all! From Anarkali suit design to kurtas, palazzos, and dupattas, these are absolutely mesmerizing and elegant looking. Now, imagine a whole sharara suit made up of chikankari work and additional mirror work on it – isn't this the dream outfit? If you answered yes, then it's time to celebrate because this is one of the most recent patterns that has been popularized by modern women. Get inspired by Bollywood actress Aditi Rao Hydari who adorns this simple white chikankari sharara for her meeting and takes comfort fashion very seriously. Also, giving us an idea about how simplicity can add elegance to your daily life.
13) Tiered & how!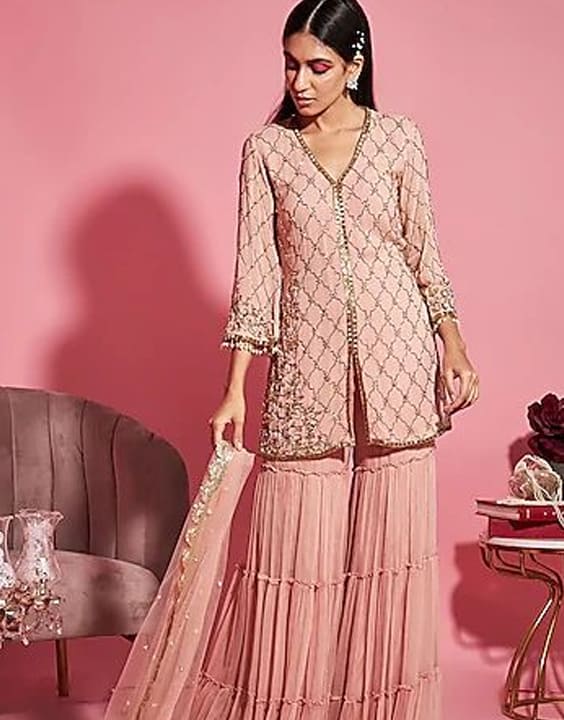 Wedding functions can be tiring but donning a comfortable outfit can be quite helpful. And, over the years, designers have been experimenting with how a simple sharara suit can look different than the rest. Tiered sharara pants are a pair of attractive pants that will not only keep you comfortable at any wedding function, be it Haldi, Mehendi, the matrimonial ceremony itself, but will also keep you at your very best, fashion-wise as well. Pick a neutral or pastel color, add embellishments or borders in gold and get ready to rock the night. Don't forget to pair your outfit with the classic juttis and add some bangles to have the aesthetics on point.
14) Style it up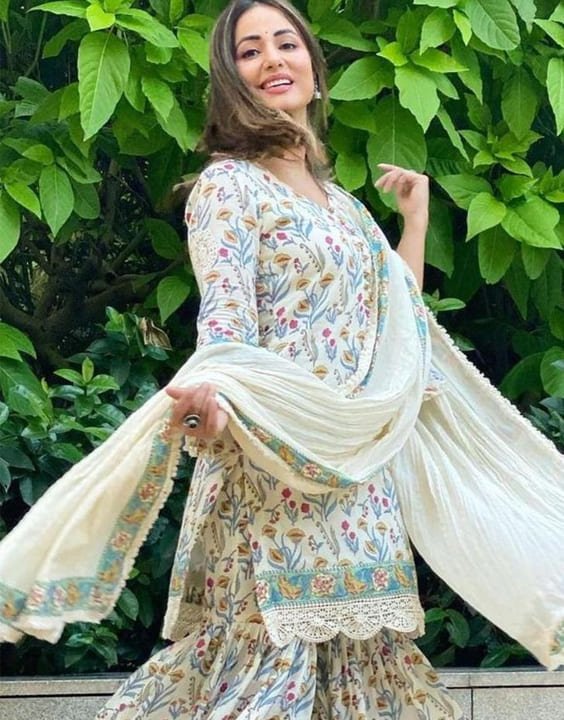 For an everyday look, pick something like Hina Khan – a simple overall printed fabric, made into a suit, enhanced with a crochet border and complete with a net dupatta. Keep your style simple, classy and comfortable with an outfit like this one. There are several options available online to choose from and dress yourself in, in the coming festive season. Don't believe us? Click here to explore the best fashion app and pick your favorites.
15) Sharara romance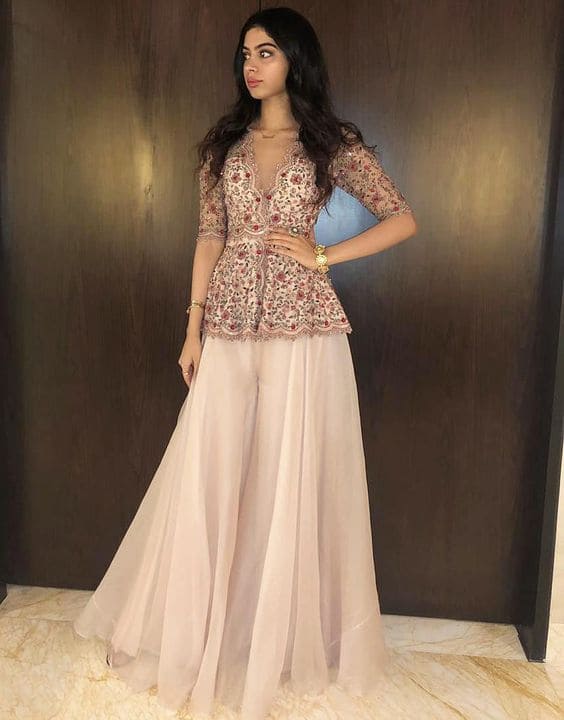 A beautifully designed fabric cut to create a cute top with a gorgeous neckline and an organza sharara pant, this outfit worn by Khushi Kapoor had stolen a lot of hearts a few years back. This easy-breezy outfit can be ours too! If you're looking for a cheaper option, you could either get one stitched or head to your nearest designer store and pick it up for yourself. And, if you're someone who doesn't like stepping out too much, grab this one via the best online shopping in India site.
We can't wait to see your pick of sharara suit designs. Wear your favorite and tag us!
Related Articles: 
Image credits: The copyrights of the images used in this post belong to their respective owners. The credits where known are specified under the image - if you're the owner of an image and want it removed, please contact us.