A Dupatta is not just a beautiful piece of clothing, it's also prominent and essential to the cultural landscape of India. The dupatta is a shawl-like drape, typically worn by women as an accompaniment to their traditional Indian kurtas, lehengas and shararas.
The dupatta doubles as a valuable accessory. It can literally uplift your boring outfit and turn it into something fit for a glam queen.
Worn across the board and in every walk of life, there are always perfect types of dupattas out there, waiting to journey into each and every one's wardrobe!
Read on for a complete low-down on different types of dupattas that you can explore for your next OTT desi outfit this season! Let's dive in!
Different Types of Dupattas:
Liven It Up With A Phulkari Dupatta!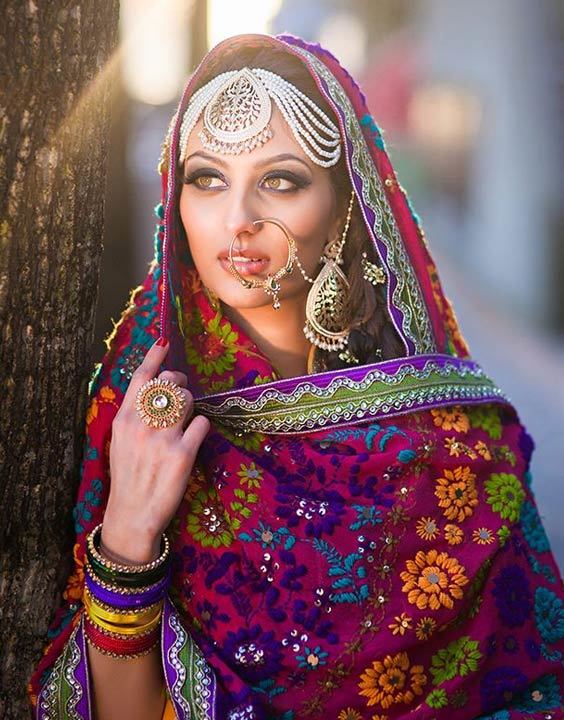 A phulkari dupatta is the very definition of colourful vibrancy! Literally translating into flower (phul) – craft (kari), this unique embroidery technique has its origins in the Punjab region.
A popular wedding and festive regular, Phulkari is beyond just a craft – it is an art of bringing together bright, bold colours & a showcase of intricate embroidery on coarse cotton in soft floss silk thread.
The hues and motifs used in phulkari are representative of daily village life, emotive expressions of the wearer – be it a bride or a participant of the festivities and demonstrated cultural or societal status quo in older times.
Styling tip – Pair your Phulkari dupatta with a pair of traditional mochi-made, camel-coloured juttis for the full-on desi experience!
Banarasi Silk Dupatta – A Regal Drape!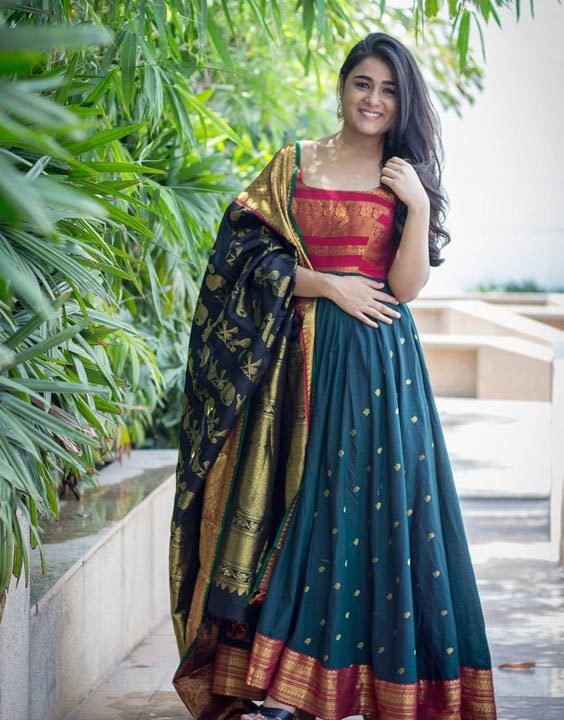 Originally woven with pure gold intermixed with silk, banarasi silk is a cultural icon and a heritage heirloom in India.
Although most popularly purchased in a sari form, banarasi silk dupatta options also form a major chunk of this recently revived economy.
Glamorous, heavy and suitable for all kinds of festivities, this dupatta option can be the absolute star of your outfit!
Styling tip – Buy a banarasi dupatta in an OTT and vibrant colour like fuchsia, lime-green or yellow-gold and wear it with a plain white kurta and churidar for an effortlessly glam look!
Channel Sheer Beauty With A Net Dupatta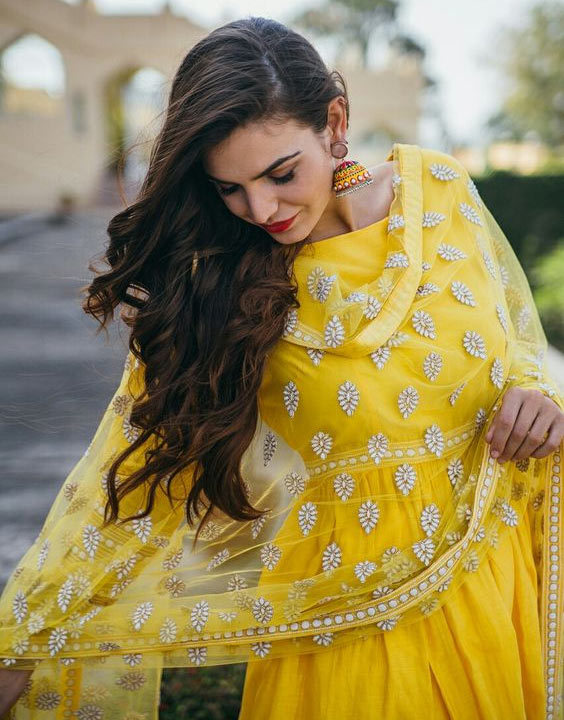 Subtle and versatile, a net dupatta is every girl's best 'wedding season' friend! While others might be shelling out big bucks for heritage handlooms or GI specific crafts, opt for a stunning dupatta in net.
Net is one of the cheapest fabrics out there and it is perfect for dupattas with heavy hand or machine embroideries.
Go for a blingy designer dupatta or a spunky printed or embellished one – you can't go wrong with the wide variety in this trend!
Styling tip – Choose an embellished, tonal dupatta to go with your woven kurtas or lehengas to add a bit of a contemporary flair to your look!
Kalamkari Dupatta – An Invaluable Inheritance!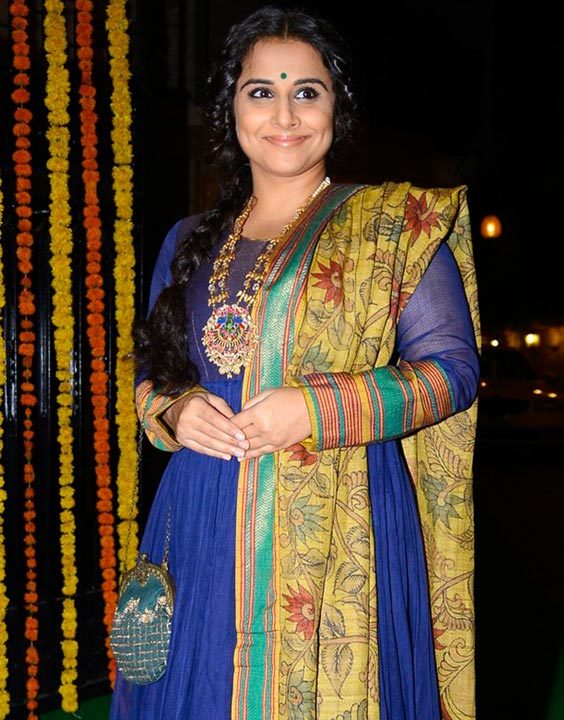 Often painted or block-printed by hand, Kalamkari is a unique textile art-form that originated in the Andhra Pradesh and Telangana states of India.
Kitschy, crafty and bold, this is a south Indian technique of vegetable pigment dyeing that is organic and eco-friendly! Historically, Kalamkari was known as 'Pattachitra', literally translating into 'Cloth-pictures'.
A kalamkari dupatta holds and depicts ancient lore, stories of yore and holds so much more in its folds – even to this day!
Styling tip – Wear this dupatta with a simple white-shirt and blue jeans combination and strut like the Fusion Queen we know you can be!
Nothing's As Soft And Gentle As A Chiffon Dupatta!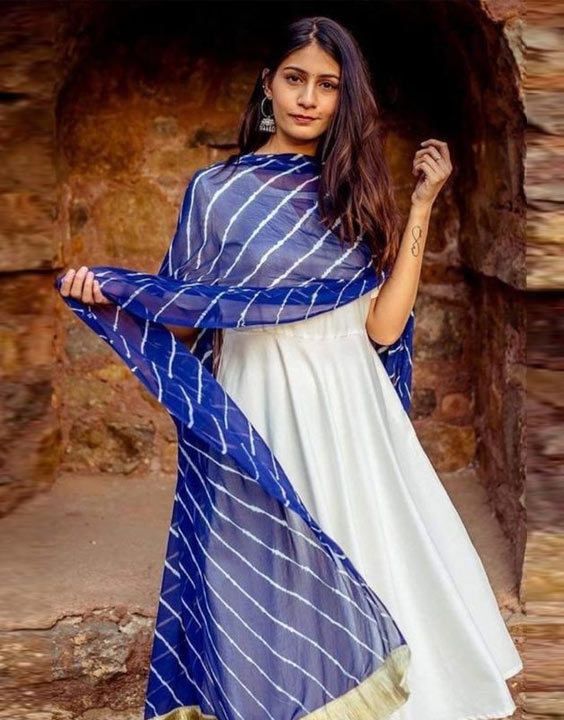 Ideal for lighter embroideries like machine-work or gota patti, stitch line details, fabric manipulations and other surface techniques; chiffon is a lightweight, sheer and beautiful organic fabric that typically screams summer.
Drape friendly and a fertile base for the mystic imaginings of designers, a chiffon dupatta can add to your desi outfit like no other!
Styling tip – Opt for a printed dupatta in chiffon to complement and add dimension to your embellished festive looks!
Chanderi Dupatta, A taste Of Sustainable Luxury!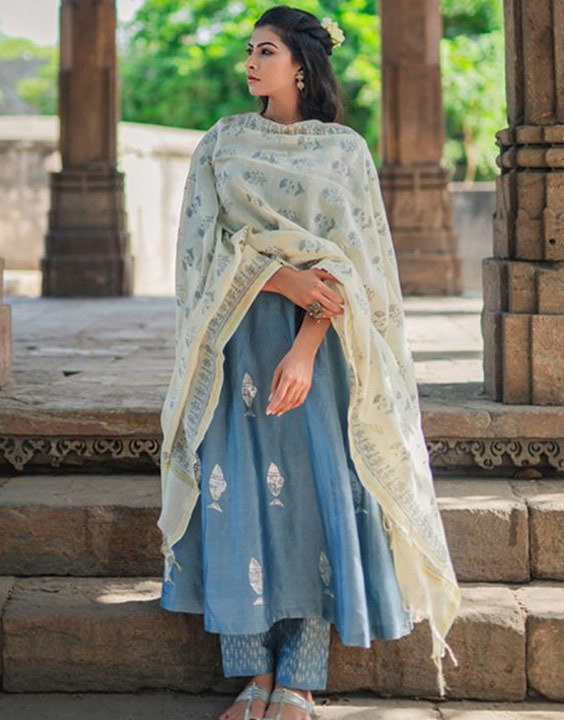 Chanderi dupattas range from semi-sheer to soft-opaque varieties and this silk-cotton blended fabric feels like utter luxury.
Go for one that is blingy and embellished or one that has a traditional kantha or zari embroidery on it – there are so many ways to wear a chanderi dupatta!
Soft, supple and like butter on skin,  this organic fabric is multi-purpose and lush!  
Styling tip – Wear a raw, off-white chanderi fabric dupatta with your pastel ensembles!
See The Metallics Pop In A Gota Patti Dupatta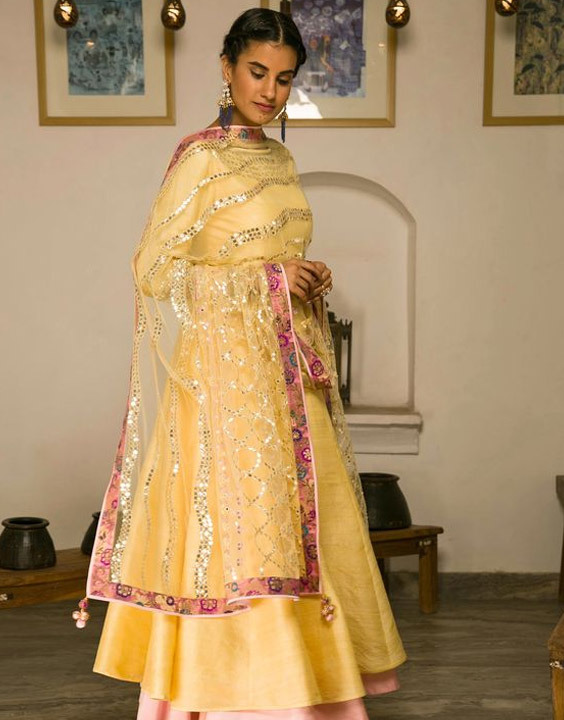 A favourite with Indian designers like Sabyasachi, Anamika Khanna and Anita Dongre; a gota patti dupatta has evolved into a desi-wedding staple.
Available in various metallic shade, 'gota patti' is an old Indian hand-embroidery technique that utilizes mirror-like metallic sequins and material in various shapes of leaves, flowers, diamonds, etc.
Stunning on all kinds of fabrics – from net and chanderi to cotton, silks and weaves – dupattas sporting this technique look striking and traditional!
Styling tip – Pair your gota patti dupatta with a lovely tie-dye or block-printed ensemble to add a bit of that metallic glamour!
Velvet Dupatta, Can You Feel The Lush?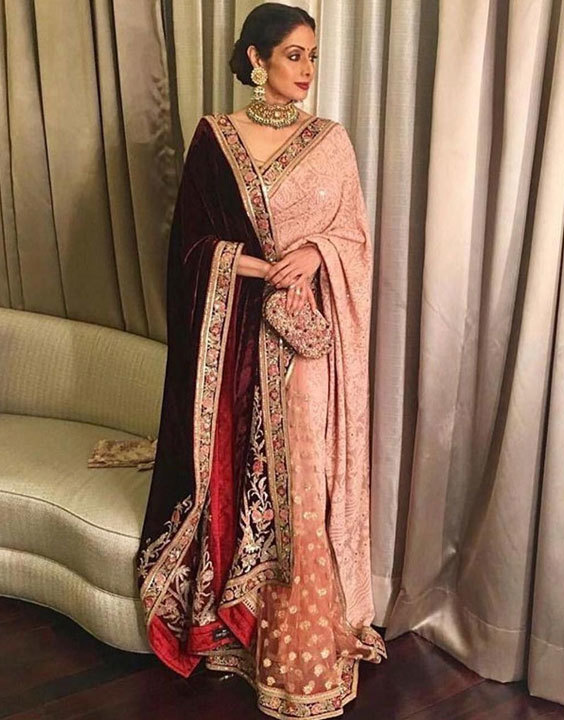 A fundamentally wintry fabric – Velvet is rich, lush and spells opulence!
Soft yet sturdy, velvet feels feathery soft on the skin! Cosier & warmer than your sweater and more luxurious than handloom silks, a velvet dupatta is perfect for your wintery festivities and weddings. They work great as drapes with sarees and salwar kameez alike.
Capable of holding extremely heavy embroideries – techniques like zardozi, stone work, mirror work and Dori look extra glitzy and luxe on velvet – don't miss out on this one!
Styling tip – Branch out and experiment with a pure white and embroidered velvet stole – oh, the possibilities!
Dress Up With A Georgette Dupatta!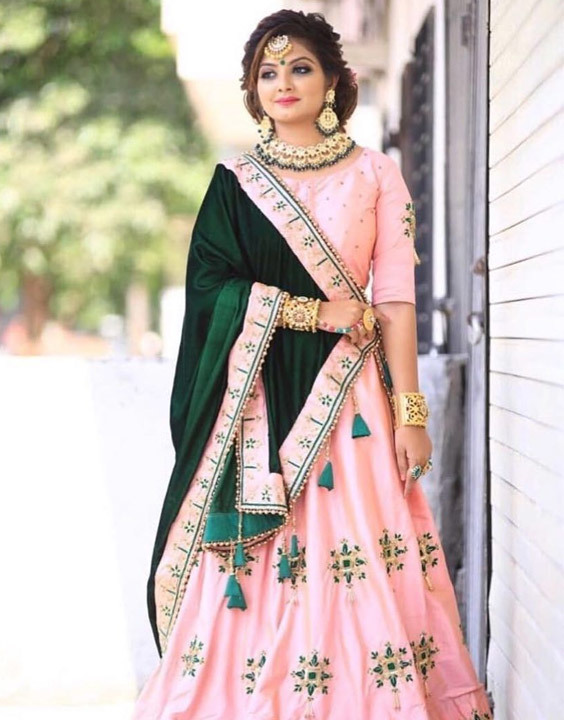 Slated, crinkly in texture and organically breathable, Georgette is a favourite amongst Indian women!
Subtly exuding a distinctive vibe, a georgette dupatta is the way to go for those fun evening events or tea-parties that only get better with the sunset!
While georgette is great for embroideries and prints – a simple solid coloured dupatta in this fabric compliments fully embroidered ensembles beautifully.
Styling tip – Try pastel-coloured georgette dupattas with neutral outfits!
Ikat Dupatta For The Classy And Relaxed!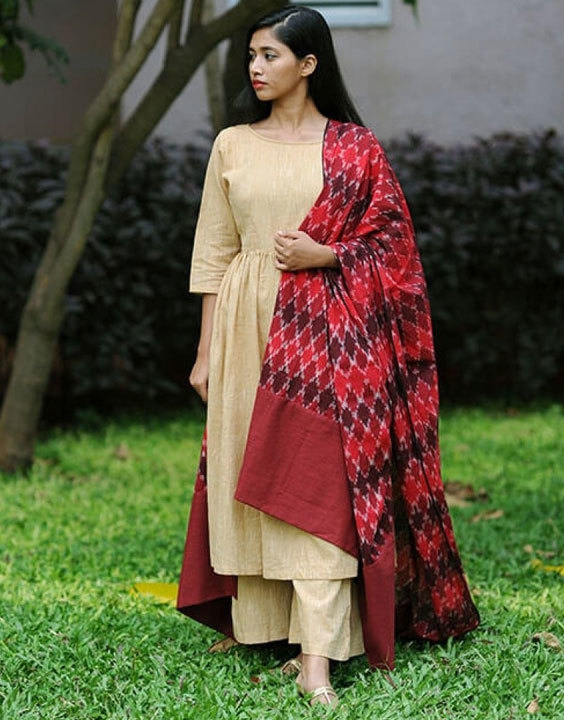 Ikat is a classic Indian woven, resist-dyed textile technique that looks striking in its blurred and wavy patterns! Folksy and traditional, an ikat dupatta is stunning with fusion and indo-western outfits.
Developed independently and widespread, this technique is used throughout south and south-east Asian cultures.
A dupatta made in this stunning fabric is a heritage piece and a valuable souvenir of this ancient craft!
Styling tip – Wear your ikat dupatta with a short-kurta and palazzo combination to radiate boho-vibes!
Buy Into A Little Whimsy With A Pom Pom Dupatta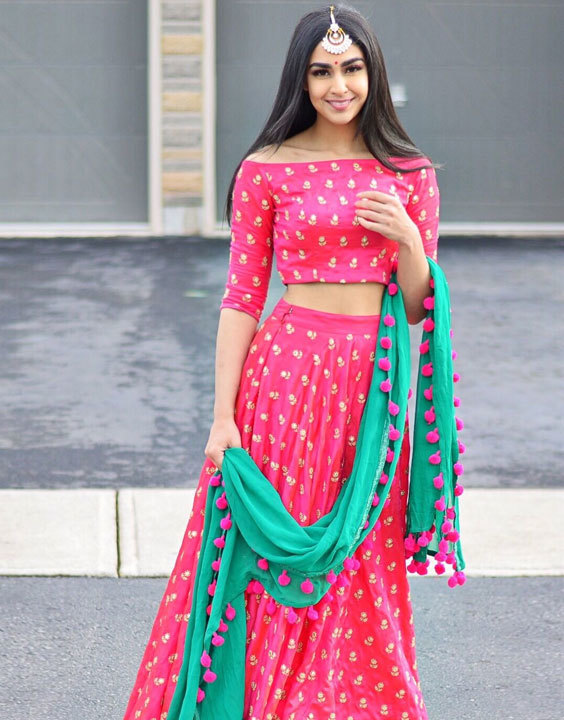 This one is for all the desi-girls who love to get a little quirky and whimsical with their fashion choices!
Usually a style in a solid coloured cotton or voile fabric, every pom pom dupatta is defined by the trim used in its border.
The playful pom-poms in the border come in all kinds of colourful varieties and selections and give a childlike charm to any outfit!
Styling tip – A jeans and short-kurta outfit looks amazing with a pom-pom style dupatta in contrasting colours for some extra college fun!
Madhubani Dupatta – A Mesmerising Spectacle!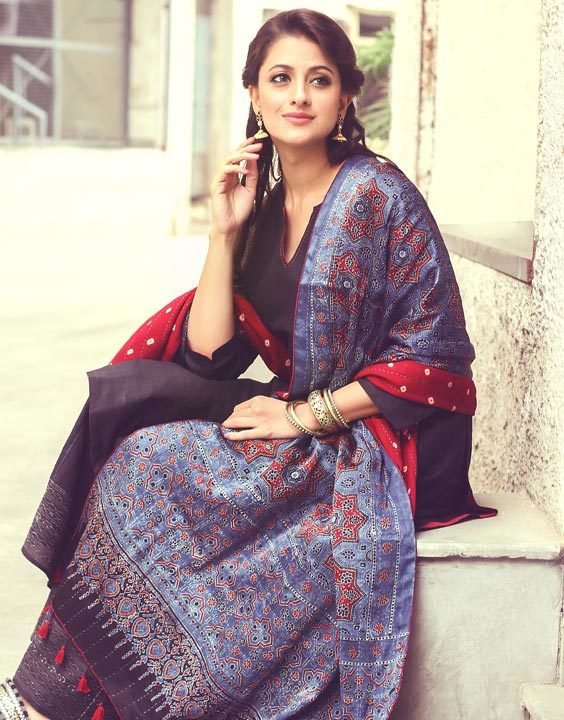 Originating from Mithila, Madhubani is an old and long-standing art form in India.
Typically depicting humans in nature and elaborating on our connection with the natural world, Madhubani motifs are unique and distinctive.
A hand-painted madhubani dupatta is a valuable piece of this artistic form of expression and looks very prolific when paired with traditional attire.
Styling tip – Wear this unique design with a traditional kurta-salwar and stay desi-chic always!
Enrich Your Wardrobe With A Kantha Embroidered Dupatta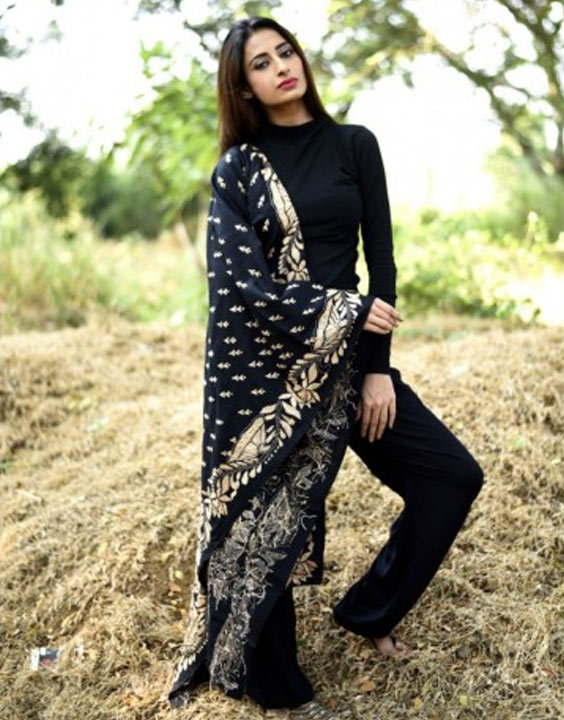 Hailing from the Bengal region of the Indian subcontinent, Kantha is a truly laborious and intricate embroidery technique.
Often practiced by rural women, this technique utilizes a simple yet intricate running stitch to chart out mythological and natural scenes, objects, birds, animals and floral motifs.
Used with quilting or as a simple technique, a kantha embroidered dupatta is one to be cherished and well-preserved!
Styling tip – Do justice to this dupatta by sporting it on an important occasion in your life – this dupatta pairs well with hand-me-down heirloom jewellery!
A Soft Pashmina Dupatta- For Extra Comfort!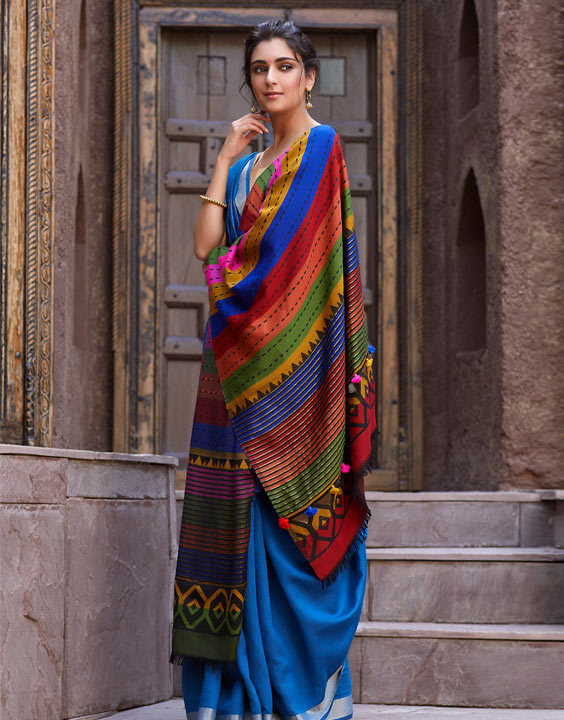 Made in the beautiful havens of Kashmir, a pashmina is a premium and ultra-luxe cashmere wool that feels light as a feather, yet keeps the body warm and comfortable.
A soft and stunning pashmina dupatta is usually on every Indian woman's 'must have' list!
Pashmina is as ancient and as relevant as they come.
Styling tip – Go for a feather-soft pashmina shawl in a powdery-blue or lavender and wear it with a trench coat to bring this historic material into the 21st century!
Shine Bright In A Zardosi Work Dupatta!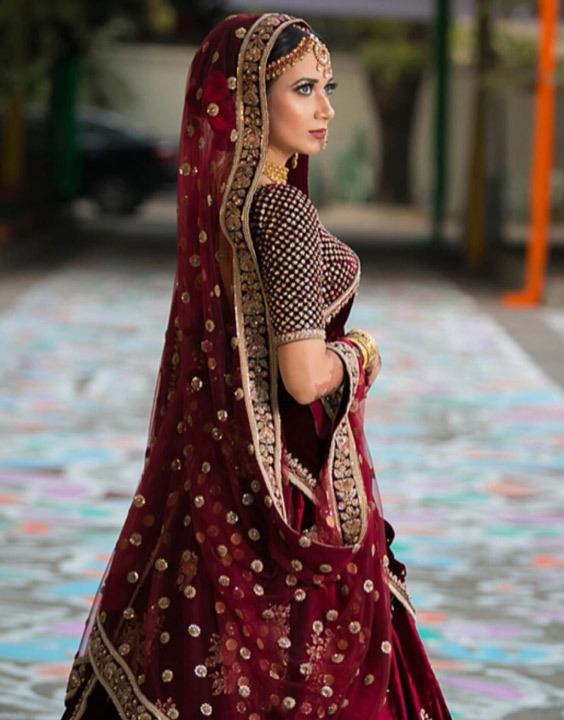 Perfect for weddings and festive ceremonies, zardozi is a very heavy embroidery technique that is sure to out-bling all its rivals!
Intricate, hand-done and expensive, a zardosi work dupatta has all the bridal qualities a girl could ask for. This is an embroidery that works best on cottons, silks and velvets!
Zardosi work is the heart of the Indian bridal and couture industry as it elevates and compliments every other embroidery technique at the same time. This one's perfect for the bling lovers.
Styling tip – Wear a dupatta in this style with a solid coloured silk straight kurta and pyjama set for your next Diwali party – finish the look with a bold dash of red lipstick!
Well, that's it for now! We hope you enjoyed this countdown of our favourite types of dupattas!
Which technique or style is your personal favourite? Speaking from experience – that's one tough choice to make!
Image credits: The copyrights of the images used in this post belong to their respective owners. The credits where known are specified under the image - if you're the owner of an image and want it removed, please contact us.