Sleek. Suave. Nonchalant. The classic polo t-shirt is a casual-chic menswear essential that simply cannot be ignored! Worn universally by men from all walks of life & styled in uber-chic ways; the polo neck has made its way into every menswear wardrobe today.
Polo neck t-shirts are identified by typical collars that usually feature slightly rounded corner-tips and a placket with two or three buttons. They generally come in cosy, stretchy fabrics like pique, jersey knit and ponte fabric. They are also sometimes called 'golf' or 'tennis' shirts when worn in that context.
Originating from polo (as the name suggests) and tennis courts, eventually evolving into the everyday must-have for men that it is today; polo t-shirts have an interesting history with no shortage of ultra iconic moments. Here are some fascinating instances of polo neck t-shirt moments in the 20th century:
1920 – In 1920, Argentine-Irish haberdasher and polo player Lewis Lacey, began selling polo t-shirts for men at a store in Buenos Aires. His shirts featured embroidery with the image of a polo player – a design element that has been adopted and interpreted by contemporary designers such as Ralph Lauren and Louis Phillipe.
1926 – A key moment for the polo t-shirt in menswear – one that truly made it mainstream in that era, is the re-invention and adoption of the polo neck by French tennis legend Jean Rene Lacoste. Chosen as an alternative by him over the impractical tennis-wear at the time, Lacoste became legendary for his full sleeved polo t-shirts that lent him the edge and agility to move more effectively. Eventually, he emblazoned his polo shirts with his very own crocodile logo, because a 'crocodile' had sort of become a moniker for him due to the shape of his nose and a penchant for croco-dile skin suitcases. These formed the origins of the classic menswear 'Lacoste' brand that is well known for its polo neck t-shirts.
1972 – The Polo neck became an American staple and a classic globally thanks to Ralph Lauren launching his own menswear company with a brand name that aimed to portray sophistication and timelessness. He named it after the sport of Polo, which was played by the wealthy and the Royals, and still stands as a status symbol even today. He coined the 'polo-shirt' as an integral aspect of the Polo collection, boosting it to new heights and visibility in the menswear sphere.
Now that we have an in-depth and a compelling understanding of how significant the polo neck t-shirt has been for mens clothing, it is not surprising that this comfortable and versatile piece of clothing dominates the menswear market like no other.
Toying impeccably on the lines between casual and formal wear, there are many interesting and engaging ways for men to style and wear a polo neck t-shirt. Read on for insights into how one can style these in 5 sleek and varied ways:
Workwear Classic – The Business Casual Vibe:
Polo t-shirts are the perfect way to balance workwear while keeping it chill, cosy and in the realm of smart casuals. Mix and match your extremely formal pieces with a classic polo neck t-shirt and give off an ultra-sophisticated, man-of-the-world kind of vibe at work.
Trust us, styling one in a way that all the other elements are formal and ultra sleek, is a sure-fire way to get noticed for that upper-level job or promotion! Here are some uber-stylish ways to inculcate a classic polo-neck t-shirt into your work wardrobe:
Layer your classic polo neck with a crisp and complimentary blazer. Go for a complete suit ensemble, just replace your rigid button-down undershirt with a quietly confident and super comfortable polo neck shirt. The key to pulling this look off is to ensure that you are buttoning up the two-three buttons in the placket of your polo neck t-shirt to maintain a formal demeanour. Don't worry – the knit and stretch fabrics that these are usually made in will ensure maximum comfort in the neck area in spite of being all buttoned up.

Source – he spoke style

Wear your Polo neck t-shirts with formal men's vests that come in a similar stretch material. Try going for a mild color blocking effect to make your look seem more thought out and well put-together. For example, wear a powder-blue polo neck t-shirt with a navy blue vest and black trousers for a color-blocked look that is still chic, complementary and work appropriate.
Pair a long sleeved polo-neck t-shirt with a pair of formal trousers or tapered chinos and classic oxford shoes for a preppy, back-to-work vibe! Don't forget to roll the sleeves to elbow level, tuck it in and belt it up for a sharp, yet effortless appeal. This one is perfect for those casual Saturdays!

Source – PinImg

In a WFH scenario, which is one we all find ourselves in at the moment, go for polo t-shirts for your zoom calls and meetings. Ideal for its formal appeal and being a cosy option, this one is a no-brainer. Look for a color-blocked collar or one with interesting collar and placket details – such as a hidden bright color within the placket – to add a visual element of interest in the neckline area.

Source – Peter England
Millennial Must-Have – Casual, Suave, Individualistic:
Thanks to all the social media trends and being made even more popular than it already is because of influencers styling a polo t-shirt in interesting ways; this garment has become a millennial obsession!
Blending in effortlessly with sweat pants and denim alike, polo t-shirts have lent a versatility to menswear that few other styles have ever managed & the younger generations have also taken note of the same. Finding newer, edgier and increasingly more creative ways to wear a polo-neck classic, here are some ahead-of-the-curve ways in which millennials are bringing this iconic piece into modern-day styling:
Layer, layer and layer some more! Wear a simple polo neck t-shirt and layer it with another shirt for maximum impact. A polo neck also looks great when layered with a t-shirt or an inner-tank that gives it a mildly contrasting appeal. Go for slightly oversized fits for that youthful, devil-may-care demeanour.

Source – Shopee

Pair your polo neck t-shirts with loose track-pants or sweats and pair it with classic norm-core essentials like a baseball cap, sneakers and a puffer-jacket too if required!

Source – ASOS
All In The Details – Piping, Prints, Color-blocked Trims:
Polo t-shirts for men are so popular and mainstream today, that they are available in a plethora of styles, prints and details. Truly, a customer is spoilt for choice with all that is available in the market today in a wide range of pricing. You can go as affordable as ever, or pricey and brand affiliated. You could do a solid mono-tone style or pick one in an interesting print or contrasting buttons that feature a pop color. The sky's the limit!
Here are some of our fave details in polo neck styles and pairings we envision them in:
Go for the kill in an unconventional color like a bright orange or a muted pastel pink. The polo neck t-shirt is such a menswear staple, that it looks great in any color and lends the same level of sophistication to all profiles. We love to see unconventional colors that shake up the menswear space.

Source – Big Commerce

Pipings are our absolute fave. A sleek, minimal and striking detail, a piping often highlights the collar, neck, placket or sleeve of the shirt and gives it a definition that sharpens its look. With so many options available, one can go for an extreme contrast – such as black and white or a more subtle one, such as beige and off-white. The choice depends on your taste level.

Source – Looks Gud

Jersey knit printed polo t-shirts are not only super popular, but when paired with a pair of jeans; can afford the wearer a very classic yet laid back appeal. A frequent favorite with travellers, it elevates a look from having casual vibes, to a chilled out vacay feel.
Chequers and stripes are go-to classic menswear prints that are well loved when it comes to polo shirt choices for men. Paired with chino shorts or trousers, these lend a mature sophistication to any men's wardrobe.
Details such as logo embroidery, buttons or insides of the plackets in starkly contrasting colors to the main fabric are really popular styles that are well-known for their chic and casual appeal. Pair these up with interesting sneakers or lace-up shoes – perhaps with contrasting laces – to take things a notch higher!
Dashing In Denim – Retro Nostalgia:
We all know the irresistible uber-cool retro vibes that denim lends to any & every outfit! Styling a polo-neck with denim garments and elements is a sure-fire way to give off retro 80s and 90s feels that'll up the suave appeal in no time.
Live like they do in the movies in your denims and polo necks with some of our go-to styling tips:
Layer a denim jacket with your polo neck t-shirts to give off a cooler-than-thou allure that's hard to beat! We love classic white, black or grey polo-necks with blue denims that feature a stone or light acid wash for a summery 80s style. We can just feel the classic rock beats coming on in the background!
A simple way to go about this style is to just pair it with your fave pair of jeans and put on a classic pair of sneakers. Amp it up with a cool pair of sunglasses like aviators or staple ray-bans for that retro appeal.

Source – Jack Jones

Denim is as interesting and versatile an element as your polo neck t-shirts themselves. You can layer it up as you like or keep it simple and even use denim merely as an accent. Wear a denim cap or a pair of shoes made in denim material instead of using clothing separates. Get creative and have fun with it!
If you are looking for the maximum comfort and familiarity that a polo neck t-shirt and a pair of denims can give, but want to tone down how casual the two garments are; opt for ones in dark colors. Go for dark jewel tones for the polo t-shirts, such as deep burgundy, midnight navy or deep forest green. Pair these with black denims for a slightly less casual look. All comfort, no compromise!
Always A Good Sport – The Activewear Hybrid:
A polo neck t-shirt is most obviously worn in various sports – tennis, polo and golf being the most prominent of the lot. Many sporting jerseys are also in polo t-shirt styles and we love the appeal of a good team jersey!
Cheer on and keep the team spirits high with the following pointers:
By now, we all know that athleisure is here to stay! Give your jersey styles a new dimension by pairing it up with joggers and chill bomber jackets that exude a sophisticated athleisure vibe.
Pairing up a sports jersey with shorts seems like an obvious choice, but is even more so one when buttoned up and worn with equally cool sneakers and ankle socks. Ready, set, match!
Silently cheer on your fave team by wearing its polo-neck jersey underneath a work blazer & carry the torch of team spirit under your vest. Shhh – we won't tell if you don't.
Go tennis chic with a polo neck t-shirt that features just one or two prominent stripes that are strategically placed to give it a cool color-blocked effect. Go for a rubber print or a print with some 3-D elements for a slightly different experience than normal.
Whew – those are quite a few ways to wear polo t-shirts for men and we hope you got some cool ideas that you can implement with your own unique style, wardrobe & requirements!
A versatile and evergreen piece in the menswear space, we're sure there are even more ways to style this one. What is your fave style for a polo neck t-shirt – oversized, striped or formal? Either way, we know & now so do you – that this one's a timeless hit.
Check out our coolest customised tshirt collection, and get your own personalised tshirt now! click on the below image to know more: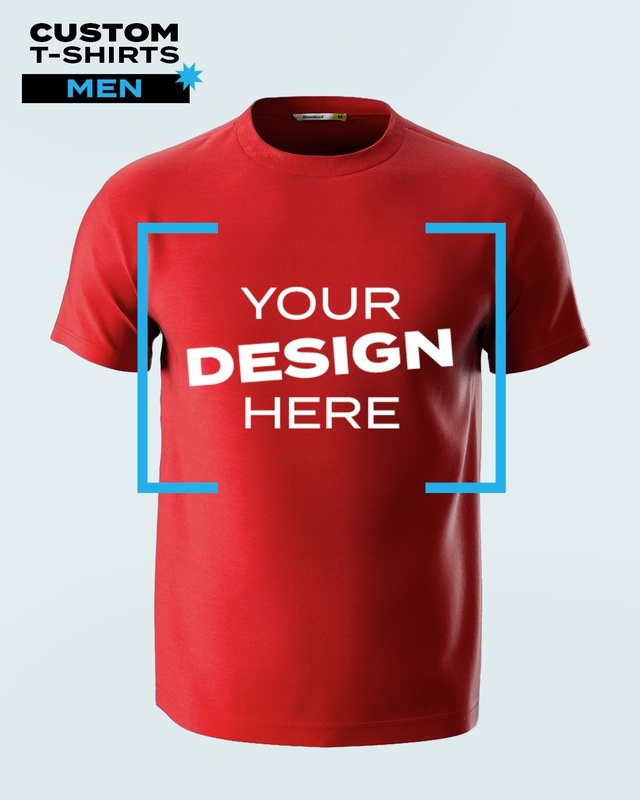 Image credits: The copyrights of the images used in this post belong to their respective owners. The credits where known are specified under the image - if you're the owner of an image and want it removed, please contact us.