Haven't read up yet about the sherwani styles that you could try out for your wedding!?  Well, don't let that get you down! We'll give you the ultimate tips to rock the sherwani look!
Yet another wedding season is around the corner, and it is time you decide your wedding look. Like any other women, men also find it difficult to land their perfect attire. No matter where the wedding destination is, you ought to look your best. Your family, relatives, and friends will surround you, and thus it is on this day that you must dress like a prince.
There is no lack of attires but when it comes to the wedding what is better than a Sherwani to sport that ethnic look? Sherwani styles do throw up a lot of options for enthusiastic shoppers.
The bold colours, intricate golden designs, and the stylish Bandhgala, all help men look sophisticated and wedding ready. If you're someone who doesn't like the boldness of gold, probably black sherwani styles would suit your fancy! However, with different dulha sherwani styles lining the boutique, it might be a hard task at hand to find the one that suits your right. Well, we know this difficulty and have brought together this article to help you with your pre-Sherwani shopping blues.
Put your elegant foot forward with the trendiest sherwani styles.
Sherwani isn't just meant to be worn by the groom. In fact, it is made for every man who would like to look traditional and indigenous during a wedding. With the passage of time, the traditional Sherwanis have gone out of fashion, and men are on the lookout for the different types of Sherwani designs.
Sherwani types with elaborate thread work and striking colour combinations are available in the market these days. Thus, no matter what your style, there is one made right for you among the different types of Sherwani.
1. Jodhpuri Sherwani for the Royals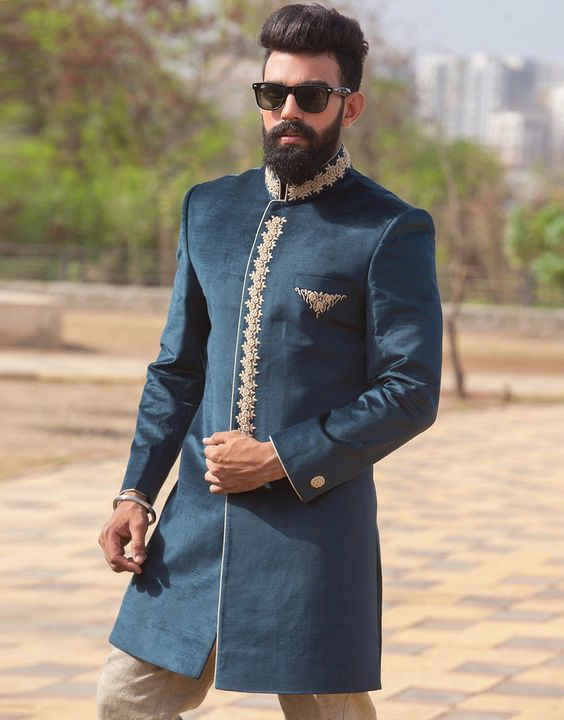 Jodhpuri designs are the best among Sherwanis. The jodhpuri pattern is often considered to be a lovely add-on to a man's royal outfit ideal for royal weddings. Nonetheless, the vibrancy and refined look imparted by the jodhpuri style have made it a favourite attire of almost every man. A royal jodhpuri sherwani is often crafted by experienced designers to make the end product look marvellous.
Due to this reason, a Jodhpuri Sherwani for groom or a Jodhpuri Sherwani for wedding is prepared as limited editions pieces which are quite expensive. To add an extra edge to the Jodhpuri sherwani, you can pair it up with Jackets, stoles, and cufflinks. In fact, put on every accessory that will make you look like a royal.
2. Pakistani Sherwani-  Borrowing elegance from the other side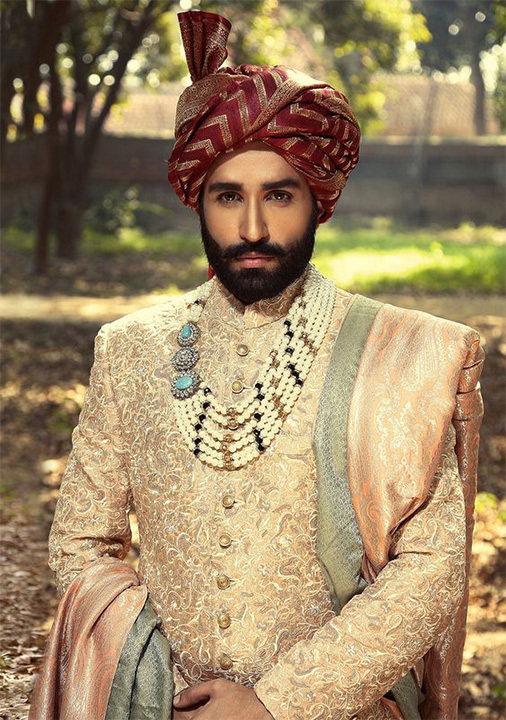 Would you want to look like the Prince Charming at the wedding? Then don't divert your attention because Pakistani Sherwani designs are the right fit for you. This exceptional Sherwani has finally made its entry into the Indian weddings with its colours, bodywork, and of course the charm.
Mehendi, Haldi, Sangeeth, Reception, you name it; Pakistani Sherwani for men can be worn on all occasions related to the wedding. Unlike the other types of Sherwani, Churidars are the best match for Pakistani Sherwani. So, stay away from any other type of bottom wear if you don't want to look drab.
3. Achkan Sherwani for an amazing and effortless wedding look!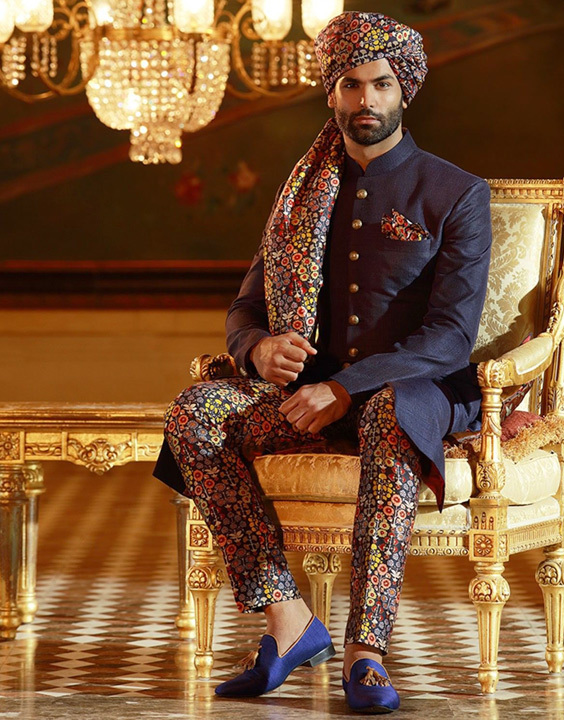 To look your best and to wear the finest that fashion has to offer, Achkan style dresses are what you must wear. Achkan designs are always a style that stays close to the fashion world. Thus, Achkan dress for man and Achkan suit for man became an attire that no man could resist wearing during a wedding.
Achkan Sherwani can be paired up with Jackets, Dhoti Pajama, and Churidars to build a splendid style statement. While choosing from the wide range of achkan for men, you need to be sure that you're going to be the star of the event.
Achkan style dresses could be a great choice because this sherwani might make you look quite dapper on the day of wedding. Achkan for groom? Yes, it definitely would be a smart choice!
4. Sherwani Jacket- Princely add-on to the sophisticated sherwani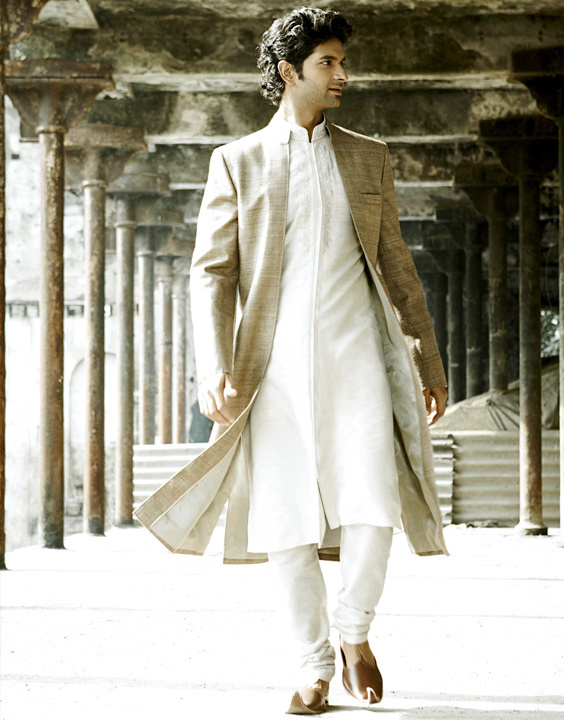 Jacket Style Sherwanis or Sherwani with jacket is made for men who would love to sport the gentlemanly style. Often times, the jacket Sherwani is made from classic materials including raw silk, Jamwar, Banarasi and tusser. Additionally, the Sherwanis are embellished with antique looking motifs, sequins, and matte gold finish.
The Sherwani jacket looks best when matched up with long pyjamas, and a pair of modern juttis.
5. Indo Western Sherwani-  Modern with Indian appeal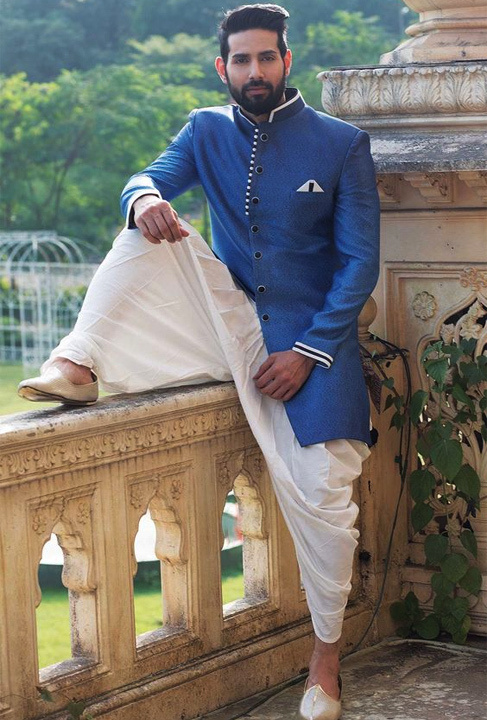 What if you don't like the intricate thread works and exceptionally traditional look? Would you still be able to wear a Sherwani? Ever thought about checking out indo western sherwani designs for the big occasion?
You absolutely can! The indo western sherwani for marriage is adorned with a touch of modernity. Wearing this attire, you will be able to look balanced, and would be wearing something like a trendsetter. Moreover, the indo western Sherwani for wedding is embellished with contrasting shades, colours, and hues.
Choosing an indo western sherwani for marriage might be an unconventional choice, but if you're bored of traditional designs, there might just be an indo western sherwani for groom out there that you might set your heart on!
To satisfy you to the very extent, indo western Sherwani designs are festooned with buttons, gems, cuffs, stones, beads, and royal styled motifs. To let the essence of these types of Sherwani flow, slip into a stylish bottom wear.
6. Angrakha Sherwani- There is elegance in drape!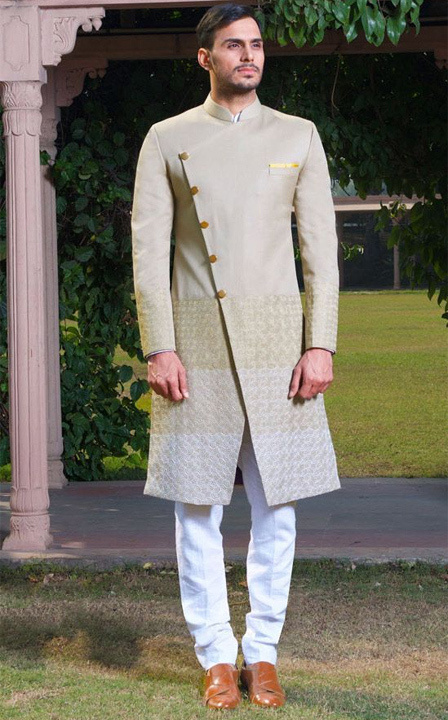 If you have a toned upper body then you would definitely want to highlight it when attending a wedding. Look like the Angrakha men wearing the Angrakha Sherwani. This Sherwani is high on demand and you might have to surf through a couple of boutiques to grab the right fit.
Furthermore, fashion experts state that the Angrakha Sherwani holds an element that provides a magical aura which other accessories fail to provide. This Sherwani covers almost everything from collars, neckline, cuffs, and even the mirror work.
You don't necessarily have to worry about finding the right bottom wear for Angrakha Sherwani because almost every bottom will look good with it. Nonetheless, to enrich the look, put on a pair of royal juttis.
Wearing an attire isn't just a formality; rather it is a way to showcase your personality. When it is a wedding function, then it is a must that your dress style adds to your character and compliments your personality.
When choosing an ensemble from the different Sherwani styles , make sure that you opt for something comfortable. Don't go overboard but put on accessories just enough to bring in a little bit of elegance and style. Be confident, style your hair accordingly, and get ready to impress every person at the event. If your choices are mild and classic then you will surely invite all the eyes towards you.
Image credits: The copyrights of the images used in this post belong to their respective owners. The credits where known are specified under the image - if you're the owner of an image and want it removed, please contact us.