Update your work wardrobe with these types of pants for mens formal wear styles. Read on to find out various pant shirt combinations to get the most desirable looks!
Trousers have one job, to look straight and sleek at all times – it doesn't matter if the wearer is sitting, standing, walking or standing perfectly still. For a working man, formal pants are probably one of the most common pants in his wardrobe because that is what he wears to work 6 days out of a week unless he's an extremely lucky man who only works 5 days a week – in which case… did I mention extremely lucky? All the various types of formal pants for men which are available in any store in any market, need to fit a certain way and here is the checklist which will make your shopping experience to buying formal trousers quick and easy! The perfect pair of pants does exist – they just need to follow the shape of the man's body which means these pants need to be wide at the waist, tapered till the ankles, with enough room for movement but no extra fabric hanging around.
What exactly are Formal Pants
First, let us consider the various types of pants for men which come to mind when we think 'formal pants'. The first pants which we can think of when someone says formal are usually dress pants or pleated pants. Though now a day, pleated pants are not often chosen by the younger generation because of their loose fit, which is why the younger generation prefers to look in the slim fit formals for men section. This comprises of flat front pants and well fitted blazers. Khaki's don't really scream "men's formal clothing" but they are a great option for casual business meetings due to their style and fit. Chinos are another type of pants which can be worn in an informal work environment! Last but not the least, corduroys and cargo pants are also available in the pants section, but there most definitely don't make the cut for men's formal wear styles.
Types of formal pants for men and the perfect occasion to wear these pants.
Now that we have the different types of pants available for men all organized into different departments, let us focus on the fit, overall look and the perfect occasion to wear these pants.
Dress pants

What are Dress pants?

More commonly known as suit pants are supposed to fit perfectly around the waist. The aim is to be able to wear a tucked in shirt without having to wear a belt.

Best Dress Pants for Your Body Type

If these pants pull around the hips, pockets or groin area that means they are too tight and you need a bigger size – pulling your gut in isn't going to help!

Essential Coloured Dress Pants Every Man should have

The universally common pant shirt combination when it comes to dress pants is a black pant with a crisp white shirt and a checkered tie aka the corporate look. To make this classic look a little different, choose a bold tie or a statement tie pin! Going a step further, opting for a brown pant matching shirt combination will really make your stand out during business meetings.

Pleated pants

What are Pleated pants and how they different from flat pants

Those suit pants which are styled and ironed in a manner to have a pleat running across the front of both legs from the hip to the ankle. As mentioned above, pleated pants are not very common among the younger generation so they opt for flat front pants. These create a formal look for men whilst being a straighter snugger fit which allows a slimming effect.

How It Should Fit – Pleated Pants

These types of formal pants for men have a silhouette which is straight and fitted, which is great for slimmer figures. Keeping this in mind, men who are heavy bottomed or have big thighs should opt for pleated pants because those types of pants will keep the passerby's eyes away from a man's fatter regions. While pairing with a blazer, slim to average sized men should always opt for flat front pants whereas bigger men should choose pleated pants for a slimmer effect.

What colour pleated pants look good with suits

A black pant and blazer with a white or black shirt always make it to the top of the list of men's formal wear color combinations, with a grey suit and a blue suit not far behind!

Khaki and Chinos –

Chinos vs Khaki

People have argued about the difference between chinos and khaki's since the beginning of time. To clear the air, chino's are slightly more formal and well fitted whereas khaki's are considered to be more rugged and loosely fitted..

what are chinos pants?

To get more technical, chinos are streamlined while khaki's are blocky – or so the fashion experts say. However both of these pants come under the category of semi formal pants for mens, design may vary. Chinos are also commonly known as oxford pants, which are by far the best slim fit formal pants for men. Usually, chinos and khaki's are both worn lower than dress pants, usually where you'd wear your jeans. They drape along your legs, creating a slimmer effect especially due to the bottoms being hemmed and narrow fitted. These pants are best paired with linen shirts or casual blazers since they look best in a casual work environment.

Two colours that works best for Chinos

The black shirt grey pants combination looks stellar when dressing for work! Another great pant shirt combination is pairing dirt brown or beige pants with a pastel coloured shirt such as mint green or ivory cream.
How to Find the Best formal Pants for Your Body Shape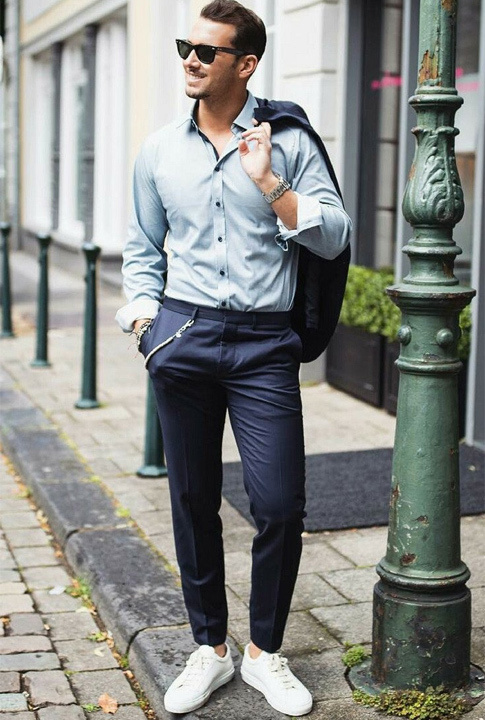 It is essential to buy pants depending on your body type because you need your trousers to flatter you as opposed to drawing the eye right above and below the belt. If you have lean or toned legs, chinos are the best option. If you've got long muscular legs, opt for slim fit formals for men such as flat front pants or oxfords. Someone on the heavier side should choose straight dress pants so that the weight on the thighs and rear gets hidden.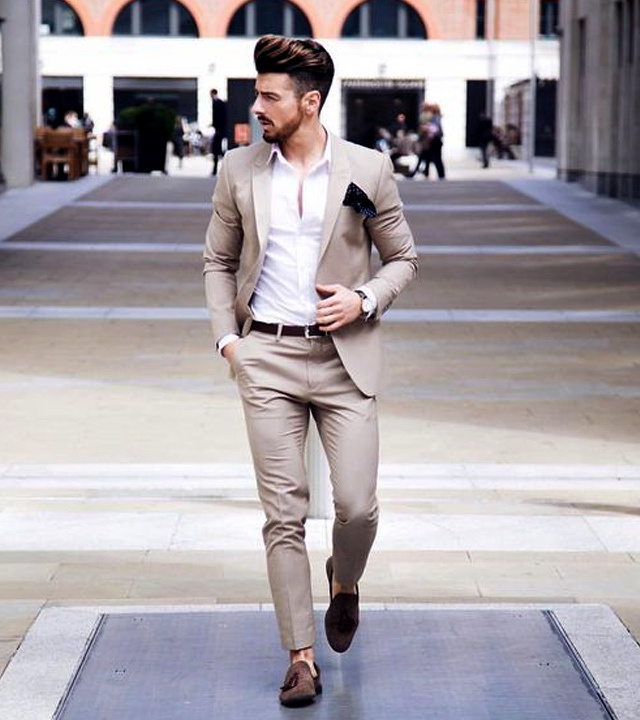 Apart from this, all pants need to have the right length because nothing says shabby like a pair of pants which are too long from the bottom. Always ensure that your pants do not tighten around the groin area or have any creases near the pockets. Opt for materials that do not crinkle easily as that looks really bad from behind – especially when your blazer is off! And always remember, suit up!