We've seen fashion trends change in a blink of an eye. One day it is crop tops and mini skirts, the other day it is mom jeans and boyfriend t-shirts. One thing that has remained common over the years is a pair of shorts. Of course, they've revolutionized and have received multiple makeovers. You have the full freedom to wear as many shorts as you want till November arrives. If you are lucky and live by the coast, you can wear them all year long! You can't deny that shorts are one of the most comfortable (after pajamas) bottom wears to exist.
Today there are a gazillion types of shorts available in the market. We were sweet enough to capsulize it and make a list of 12 shorts for women to flaunt on a sunny day.
Types of Shorts for Women and Girls:
1. Denim Shorts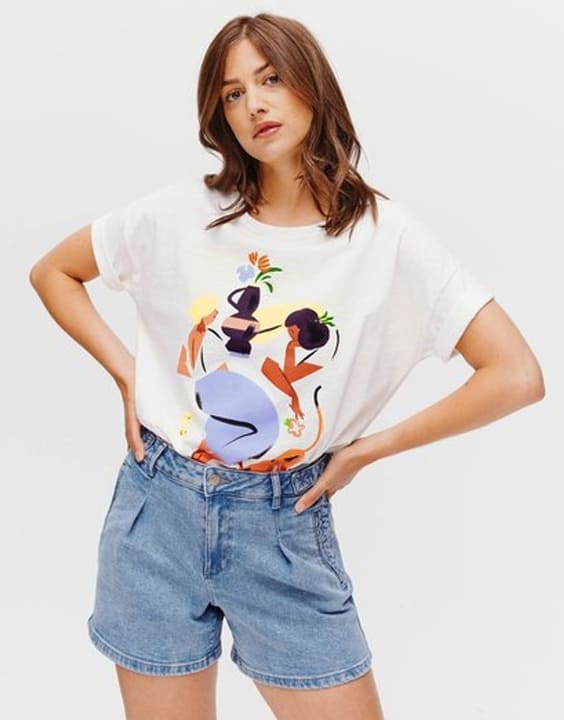 Denim, the ever-stylish fabric. It's the water equivalent of fabrics if you ask us- easily molds into anything. And that stays true for denim shorts as well. Denim shorts are classy, bougie, and ratchet (borrowing words from Meghan Thee Stallion.) You don't have to think twice when it comes to this type of shorts.
Evening out with girlfriends? Denim shorts. Date with your partner? Denim shorts. Want to piss off some family member at a gathering? Denim shorts. It is literally the answer to everything.
Complete The Look: We suggest you wear a loose white shirt or a basic t-shirt on a pair of versatile denim shorts. Tan footwear or sneakers would be our go to options. Maybe a shiny pair of sunglasses and a cane hat if you are feeling adventurous! Finally, wear your hair in a high ponytail and you are ready to look like a fashionista!
Pair these denim shorts with customised tshirt with your favorite print on it, check out the personalised tshirt collection and get your own tee today!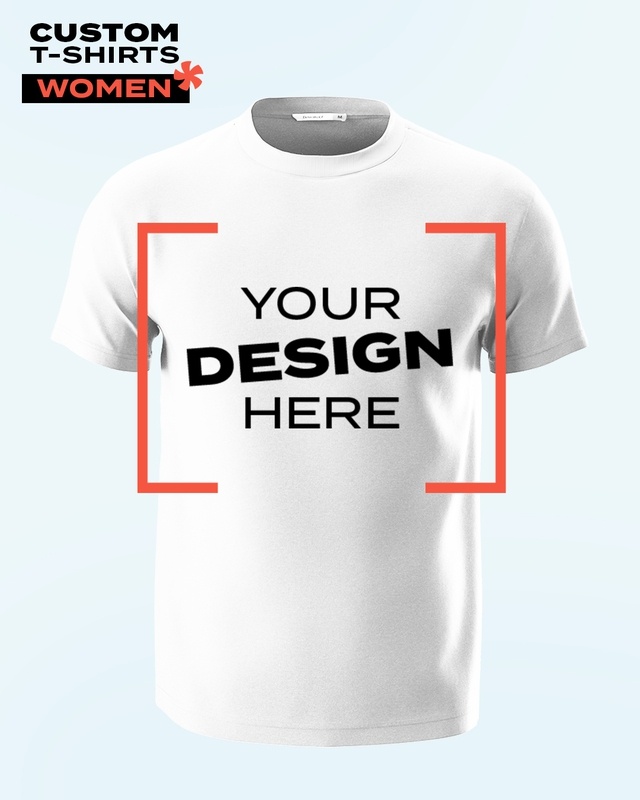 2. Feline Print Silk Shorts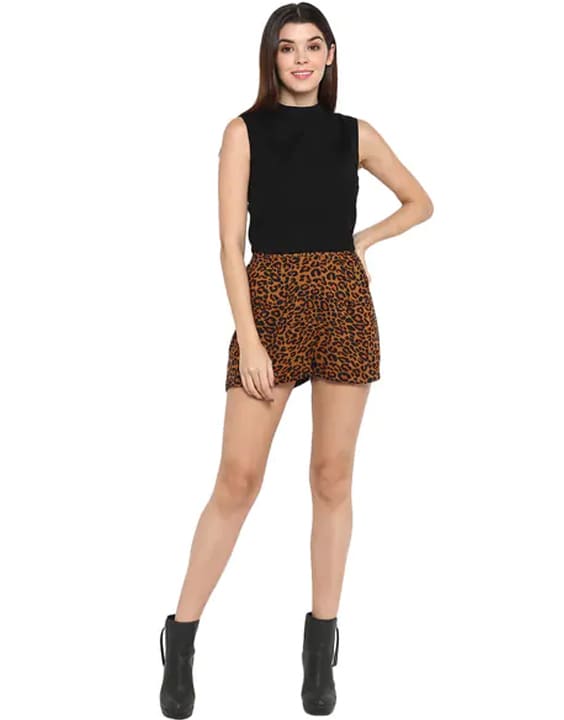 Feline prints are largely popular amongst youngsters. Honestly, your age doesn't matter. Let loose your sexy mama side with a pair of feline silk shorts. Both the print and the fabric are sultry and will instantly put you in a mood (don't ask which mood!) Jokes apart, these types of shorts are quite trendy and can be worn for a shopping date with yourself.
They are comfy and no fuss which is exactly what you need while juggling through bags and outfits. Women often hesitate to wear feline print silk shorts but trust us, you'll be the talk of the town once you do!
Complete The Look: Wear a satin cream camisole top or a red cotton shirt with your feline print silk shorts. Amp up the look with a chunky gold necklace and gold hoops, red lipstick, and oversized sunglasses. We suggest wearing stilettos for an utter chique look.
3. Skorts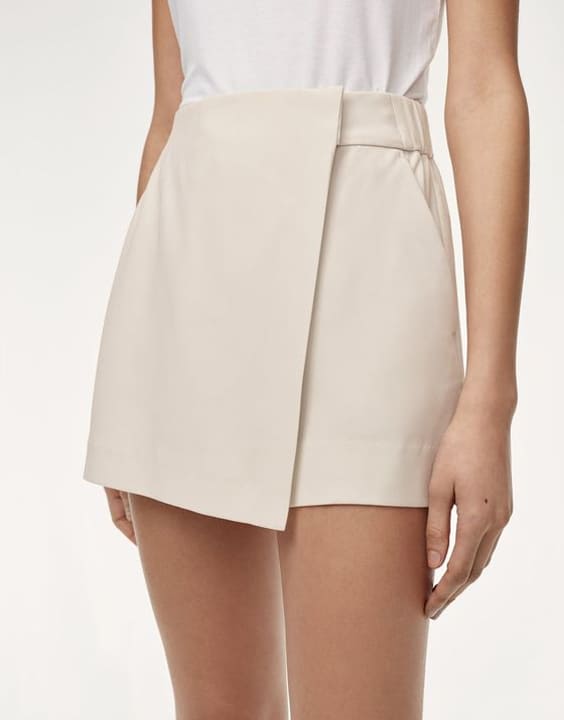 Oh, no no, not the ugly skorts we used to wear for P.E in school. These are quite edgy, actually. Skorts stand for a mix or a hybrid between a skirt and shorts. Skorts were the most popular type of shorts in the late 90's and early 2000's. The fabric can vary from cotton to polyester but damn, are skorts comfortable! They reduce the chances of embarrassment one might face while wearing skirts and also reduce the chaffing of thighs. Skorts are making a comeback and we are here for it!
Complete The Look: Ideally, we would say find yourself a pair of red and black checkered skorts and team it with a full-sleeved black bodysuit. Wear your hair in a french braid, some chunky rings on your fingers and of course, you have to wear chunky white sneakers. We can already imagine you in the next edition of Cosmopolitan in this attire!
4. Printed Cotton Shorts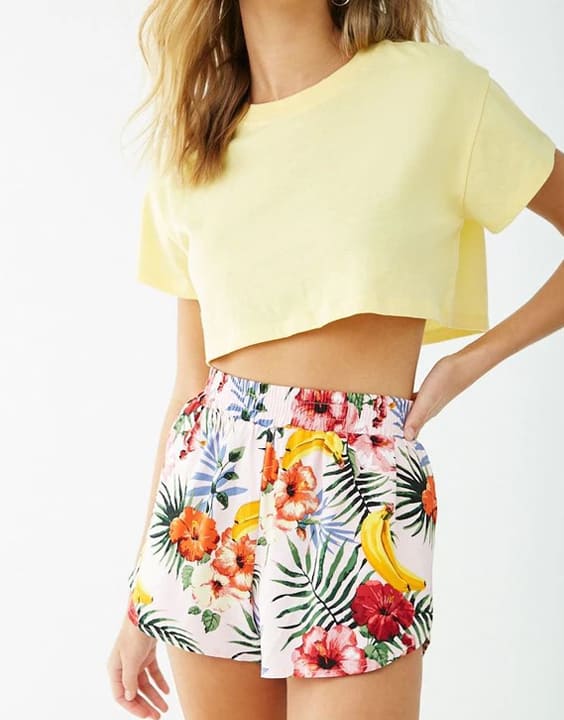 When you want to vacation in Goa but that seems like a distant reality, pull out a pair of printed shorts from your wardrobe and sip a cocktail on your balcony. These types of shorts will take you closest to Goa, honey! The colorful printed cotton shorts will remind you of the beach and make you feel like living in a matter of minutes. They come in so many colors and prints – floral, tribal, Aztec, polka dots, stripes, and much more. Your heart won't be able to settle on one!
Complete the Look: Print on print is in vogue so yes, go ahead and match crazy prints together. A printed silk shirt will look like a bomb on printed shorts. Yes, you'll give tough competition to Ranveer Singh but who cares? In an attempt to balance everything out try not to wear loud jewellery. Dainty jewellery with sliders will make your print on print work like a charm!
5. Linen Shorts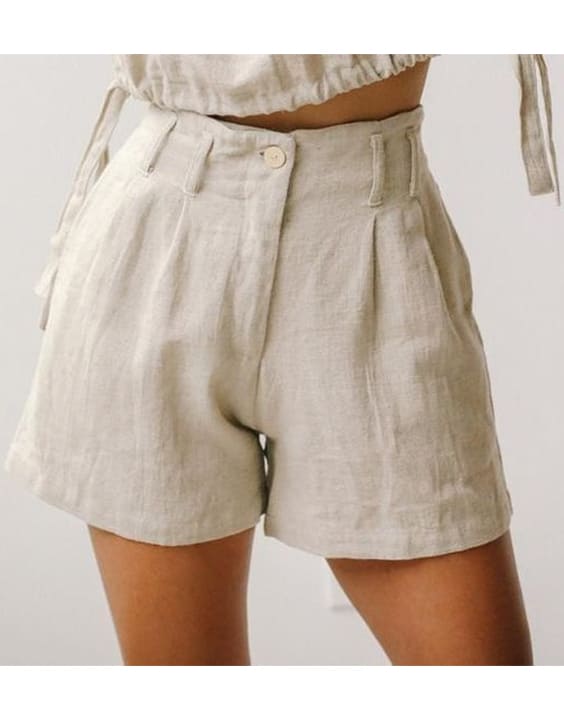 While talking about types of shorts for women we can't leave linen shorts behind. Linen is a soft fabric and very similar to cotton. When it is hot and sultry outside and you don't know what type of shorts to wear, just wear your linens! Linen shorts come in great pastel colors and pair well with anything and everything.
Complete the Look: We recommend wearing pastel linen shorts and team it with the same colored pastel shirt. If not a pastel shirt, wear a basic white t-shirt and a pastel colored blazer for that vogue look. Block heels or sneakers will go well with the outfit. Carry a sling bag instead of a tote and wear a slim watch on your wrist. Girl, you're ready to take over the town!
6. Scalloped Shorts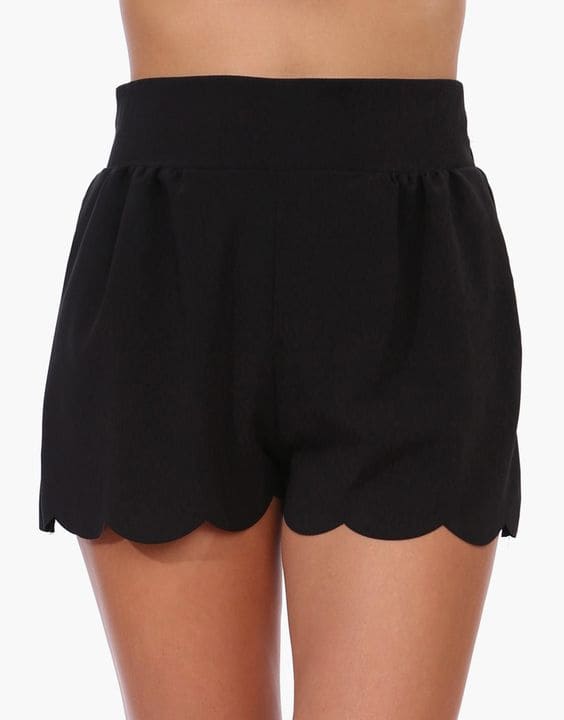 Scalloped shorts scream 'fun and cute'- two things that define you the best. Essentially they are normal shorts with scalloped edges. They are above the average womens' hot pants sold across streets of every fashion capital. They often come in fun prints or with laced edges and make for a great all girl sleepover outfit. Lounge in them and shop all day long on the best online shopping destinations of India.
Complete the Look: A snug blouse or a crop top would look the best with scalloped shorts. Wear your hair in a loose bun, dress your feet in flip flops, and a coat of sheer lip gloss to complete the look. Yes of course you're allowed to dress up even if you decide not to step out of the house, dear child!
7. Booty Shorts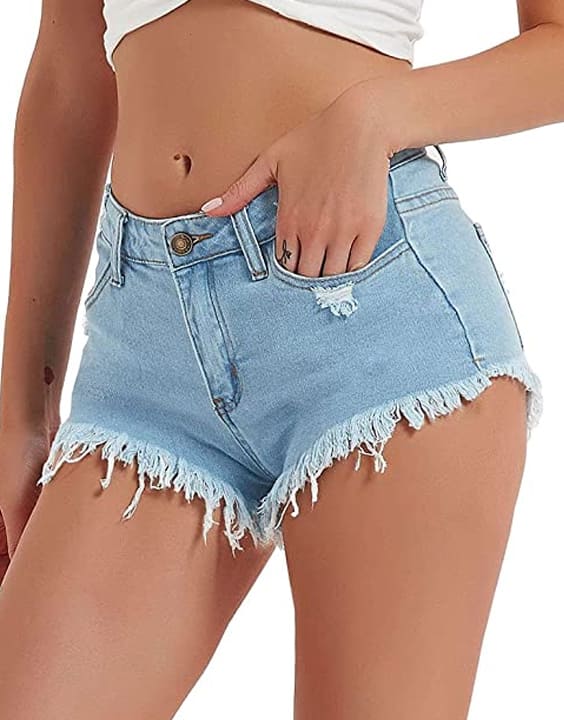 Ah, the nightmare of every Indian parent- the booty shorts. By definition booty shorts are sexy shorts for girls, but hey! We don't discriminate. Please feel free to wear booty shorts even if you are a 61 year old. Booty shorts are long enough just to cover your booty and nothing else. They look hot and yes they look hot even when worn by girls with thick thighs!
Complete the Look: Wear any damn thing with booty shorts, you'll still end up looking sexy. Maybe a tank top or even a sports bra would look good. Knee high boots, a shade of chocolate brown lipstick, and white pearl hoops. Badshah ne 'Garmi' tumhare liye hi toh likha hai!
8. Lounge Shorts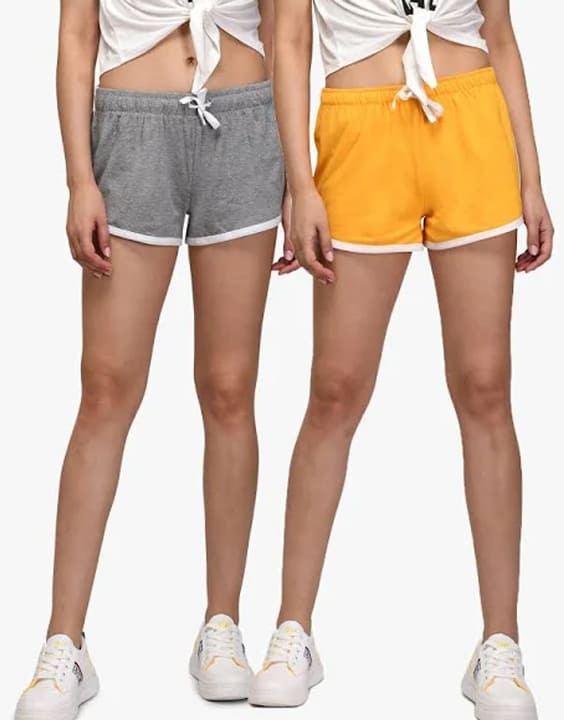 The Covid pandemic has given us plenty of time to chill at home (way too much if you ask us) While pajamas and track pants fit the dress code, it isn't a bad idea to wear some lounge shorts here, and then. The best part about lounge shorts is that they are not conformed to any definition.
Lounge shorts are ultra comfortable when it comes to fit and fabric. You can choose cotton or silk, plain or printed or even scalloped for that matter. Lounge shorts are the right kind of hot shorts for women!
Complete the Look: To make your work from home and chill scenes extra comfortable you should slip a pair of lounge shorts with your favorite t-shirt and flip flops while sipping on some pina Coladas.
9. Roll-Up Shorts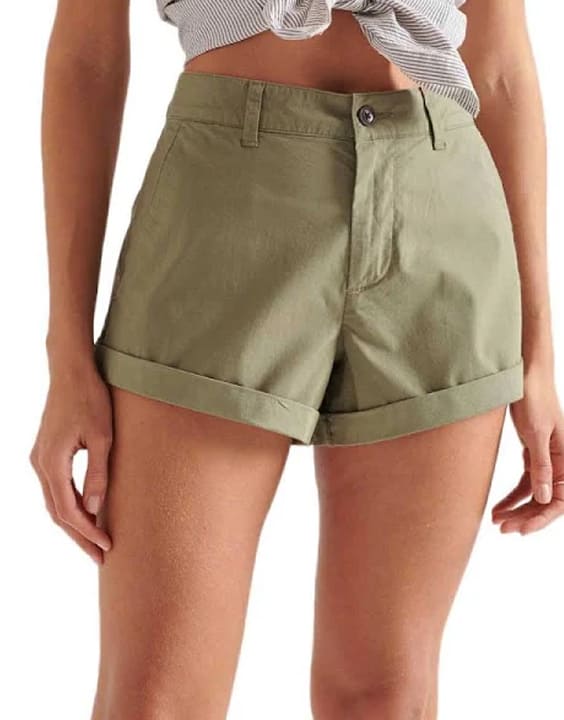 Which shorts are the most flattering? Roll-up shorts! As the name suggests roll-up shorts are rolled in one or two inches from the cuff. Denim, cotton, linen, chinos- any kind of shorts can become roll-ups. You can do it yourself if you are in that artsy mood. This classy type of shorts is likely to go out of fashion any time soon. So make most of this season and wear those roll up shorts, girl!
Complete the Look: Roll-up shorts pair well with anything and everything. Just to put a spin on things, get yourself high-waisted roll up shorts and wear it with a bikini top or a puffed sleeve crop top. Go easy on the makeup. As for the hairstyle you can either wear it like Ariana Grande or let them curl loose. Kitten heels, a cane bag, and classic John Lennon sunglasses attached to a chain are all you need to look like a Parisian in India!
10. Pleated Shorts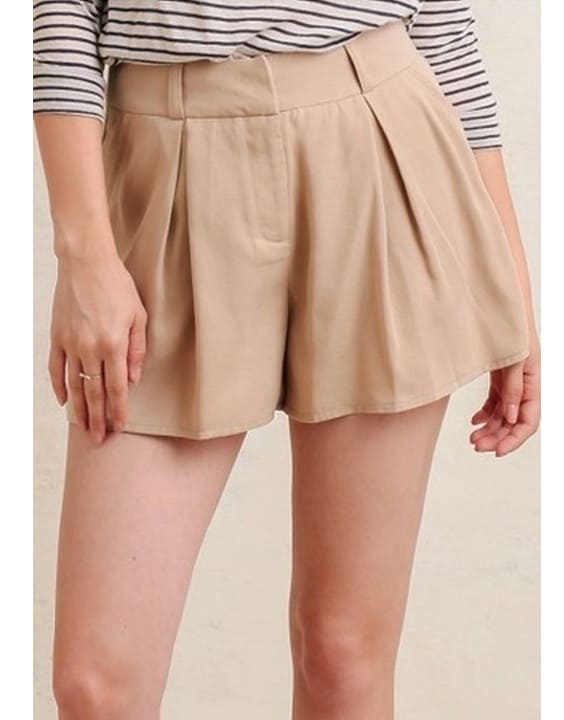 According to fashion magazine GQ, pleated shorts were once considered a fashion offense. Well, thankfully the fashion police updated their laws for pleated shorts are all the rage right now. These types of shorts can be worn to professional meetings as well- only when paired and accessorized well.
Pleated shorts usually provide more coverage than any type of hot pants and also have a wider leg. They are meant for meetings, a day at the mall, just wine and dine Saturday, and lazy Sunday brunches.
Complete the Look: Pleated shorts are a bit tricky to pair with. Your entire look can downslide if you team up with the wrong topwear and accessories. To start with- select a ribbed jumper or a white t-shirt with an oversized blazer that almost covers the shorts (make sure the color of the blazer matches with the blazer) Avoid wearing a shirt with pleated shorts, but if you really want to, just tuck it in. Danglers, cat eye sunglasses, and kitten heels. You're good to go!
11. Paper Bag Shorts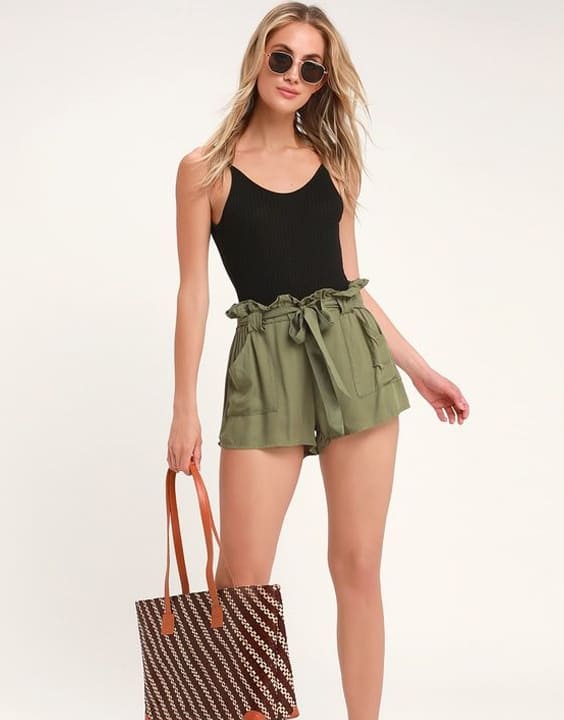 By far our favorite type of shorts, paper bag shorts are so in vogue right now. Typically paper bag shorts have wide leg space and are cinched at the waist. They come with a tie-it-yourself detachable belt. We love corduroy and cotton paper bag shorts. They are the perfect pair of ladies hot pants for date night.
Complete the Look: As a rule of thumb, you have to tuck in your shirt or your fashionable tops when wearing paper bag shorts. Ribbed tops look the best, brownie points if they are turtlenecks! Wear layered, dainty gold necklaces, smoke up the eye make up and complete the look with a pair of wedges.
12. Cut Off Shorts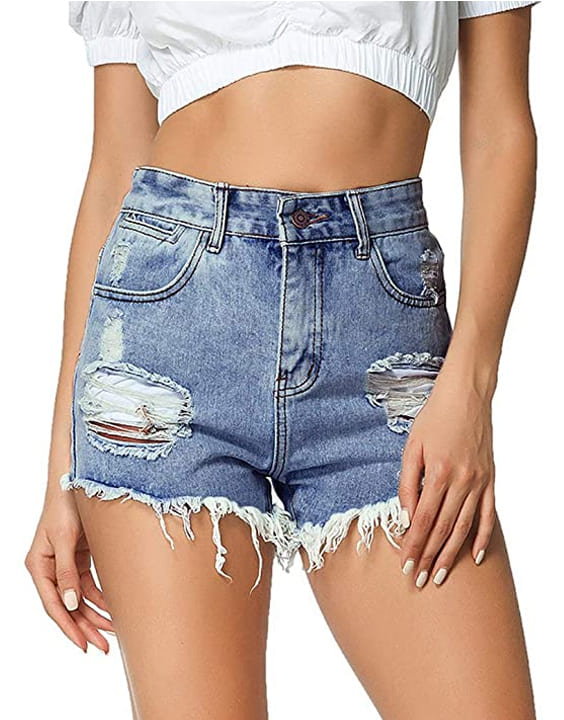 Cut-off shorts are just an extension of humble denim shorts. Okay, the extension may be the wrong term as cut-off shorts are literally a pair of jeans that has been cut off to turn into shorts. It has a frayed hemline to give it a trendy look and just like denim shorts can be worn whenever and wherever! While making a checklist of types of shorts in your wardrobe, you have to include cut-off shorts. It's non negotiable.
Complete the Look: For that ultimate Instagram fashion influencer look pair your cut-off shorts with a snug t-shirt and an oversized boyfriend denim jacket. Wear ankle length boots or Converse and a big showy belt. Aviators, glossy lips, and hoop earrings. Wow, we can already picture you walking down the road in this killer outfit!
​​We aren't the fashion police so feel free to wear your shorts the way you want. Don't give two hoots about your age or weight- these things don't matter. You're going to look like a runway model no matter what! So go ahead and rock your shorts, ladies! Let us know how you would accessorize and complete your looks with each type of shorts for women!
Most Viewed Articles-
Image credits: The copyrights of the images used in this post belong to their respective owners. The credits where known are specified under the image - if you're the owner of an image and want it removed, please contact us.