Can't decide how to pair brown blazer with pants? Need new outerwear ideas?  Read our style post to know more about how to rock the classic brown blazer combinations in style.
The blazer is a pick of the bunch, versatile item in a man's wardrobe which has myriad benefits. To mention a few of them, a brown pants combination can augment a man's figure by widening and enhancing the shoulders. They create an illusion of slimmer midsection and giving a masculine touch to the whole outfit. In a practical sense, you can be benefited with number of pockets which will be sharing the weight of your carry-ons with trousers or jeans. Dark brown blazer combinations also give you a gentleman's appearance with lots of practical and comfortable features. We can safely argue that brown colour combination dresses are one of the best pieces of clothing that add value to get a complete outfit. They can be paired with jeans or pants but as long as you are following the basic rules of matching the fabrics and color scheme. Among all the blazer combinations, brown blazer combination with jeans or pants is extraordinarily popular among people.
How about a stylish brown blazer shirt combination? Modelling a blazer and jeans combination has been criticized by few fashion critics from time to time due to its classic semi-formal appearance, however, if matched properly it can be called as a gentleman's attire with all its glory. The primary rule to match brown blazer combination with jeans or pants is simply to choose the right kind of jeans or pant fabric and we will be covering all these criterias in detail in this article.
Brown Blazer Combinations for Men with Jeans- Casual yet Cool!
Most men fear to pair blazers with jeans mostly because they fail to match these extremely opposite looks correctly. Brown blazer with jeans can be considered out of the ordinary but they can be matched perfectly if they complement each other, for example, less casual jeans will go perfectly with a less formal blazer. You can try to pair mens casual blazers to wear with jeans which are not ripped or anything to avoid any weird combinations.
For brown blazer shirt combination, choose fine, dark-shaded and well-fitted jeans to go with a deep-blue shirt or red shirt, whatever suits your mood!  When you get a matching shirt for brown pant that truly compliments your style, things become markedly easier and more stylish. With brown colour combination dresses,  you can be well turned out at all important social or professional gatherings.
Lighter shades also work if you are able to match the color with the blazer color tone. As an amateur, you might want to stick with darker denim shade. It's almost impossible to look inappropriate with this look. Brown blazers with jeans combinations are a great example of a casual but chic look for any kind of event.
Brown blazer with black jeans- black never goes out of style!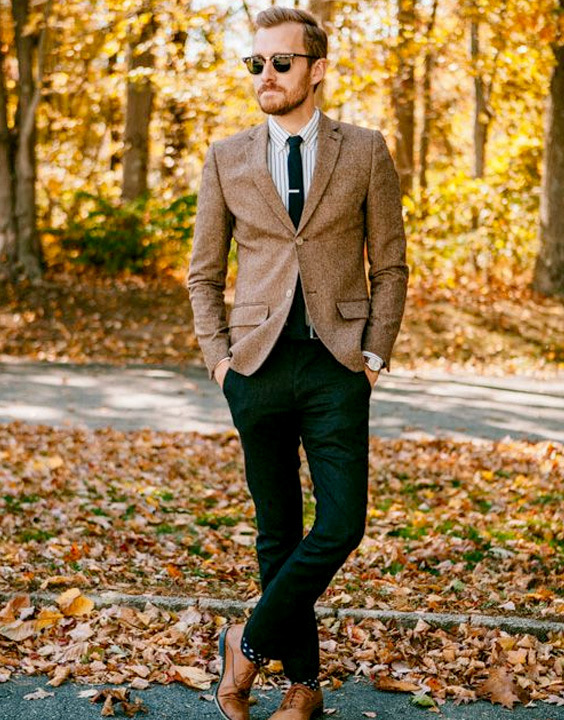 Many men are now in favor of styling casually in a dark brown blazer as it gives them a refined and textured style in the crowd. When it comes to selecting the right color jeans to pair with your brown blazer, it is true when they say – "when in doubt, go with black." Even though you are not planning to wear a blazer, a pair of skinny slim black pants combination is an essential piece of clothing for every man's wardrobe.
Black jeans mens style with brown blazer is a common outfit to feel confident in every social or professional setting. For a modern and on-point fashion game, black jeans combination being of a dark colour palette is perfect for colder seasons. Settle in on colors that go with brown clothes! You can pair this look with a plain white T-Shirt or short-sleeved shirt for casual settings. For a more professional or formal attire, combine it with a neutral light brown color shirt.  What we are trying to imply is that black being the neutral color can work with any color combination of whatever personal taste you want to add in the mix.
These Men's jeans are your answer to looking good while feeling comfortable in all your day-to-day activities. The black washed style is a popular choice for those looking for a clean, dark wash with a hint of vintage look.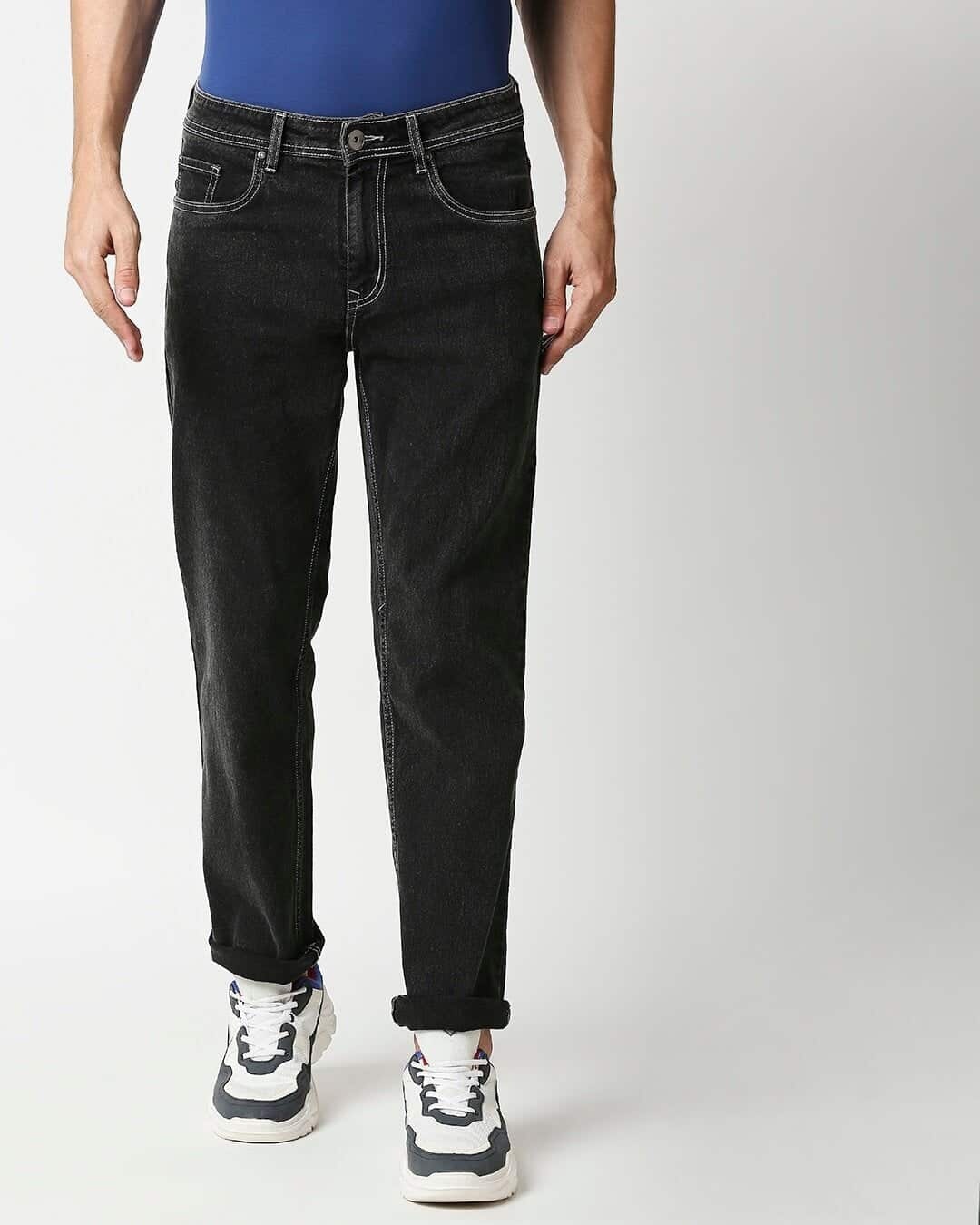 Brown Blazer with Blue Jeans- Master the elegance of this blazer!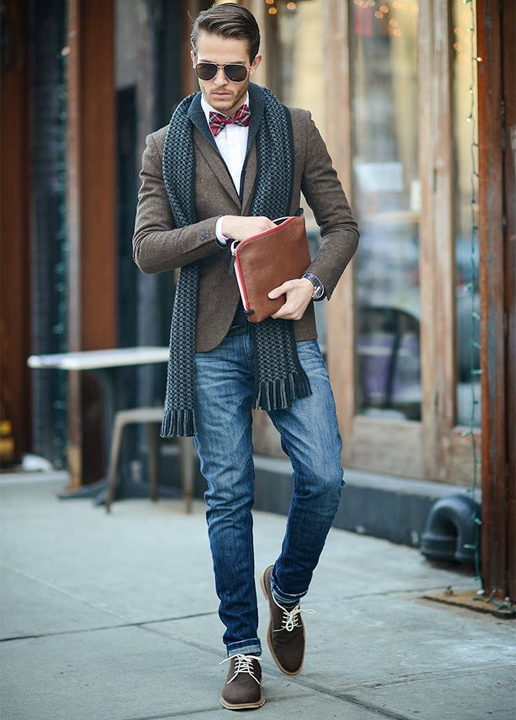 Brown is a very fashionable color to match with timeless blue denim. While brown shirt blue jeans go together and are a famous combination, you could also try brown blazer with jeans to ace this look.
We will advise using fitted jeans with a well-defined blazer rather than going for baggy or distressed jeans to avoid the risk of sporting a poor ensemble. Similarly while selecting t-shirts, try solids or stripped plain t-shirt instead of highly-patterned designs as they might give, this otherwise elegant brown shirt with blue jeans outfit, an awkward look. The secret to honing a brown pants combination is to pair it with other natural and neutral color tones, for example, khaki or beige.  For starters, this tip can come in very handy, as warm palette tends to offer a more classic and conservative appearance.
If you're looking to add a unique look to your favorite outfit, then this Brown Diagonal Slash Pattern Printed mobile case is the perfect way to bring your style on the road.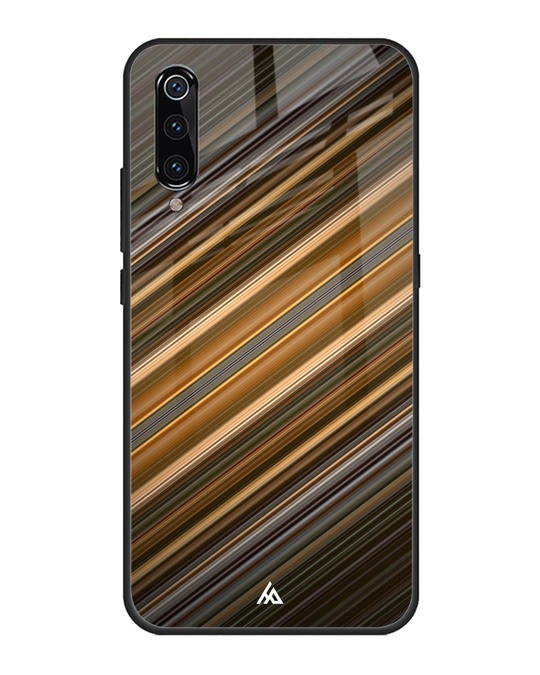 Brown Blazer  with Pants – lowers that won't let you down!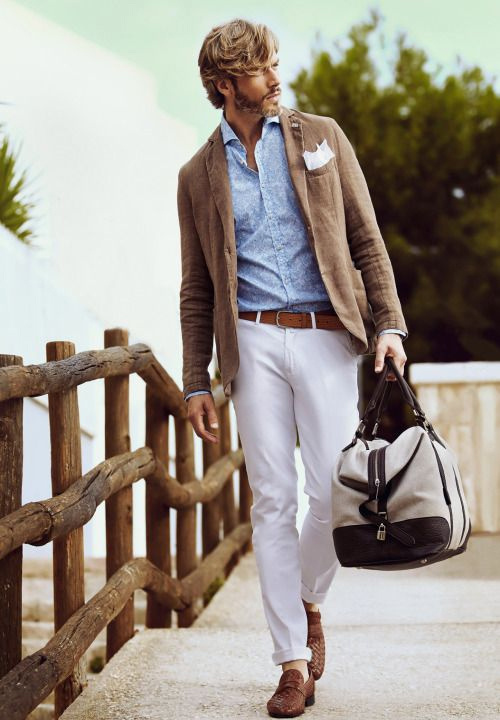 Men's brown blazer combinations can indicate a great sense of grace and class when matched with perfect separates. Brown blazer with pants are considered more rustic but they can still qualify as a fashionable and debonair when matched well. A simple pattern brown blazer pants color combinations can be your go-to choice as neutral color combinations are known to be free from any bias related to skin or hair color or body type.
Men's Brown Lace Up Casual Shoes online store, buy your ruff and tuff shoes at Bewakoof.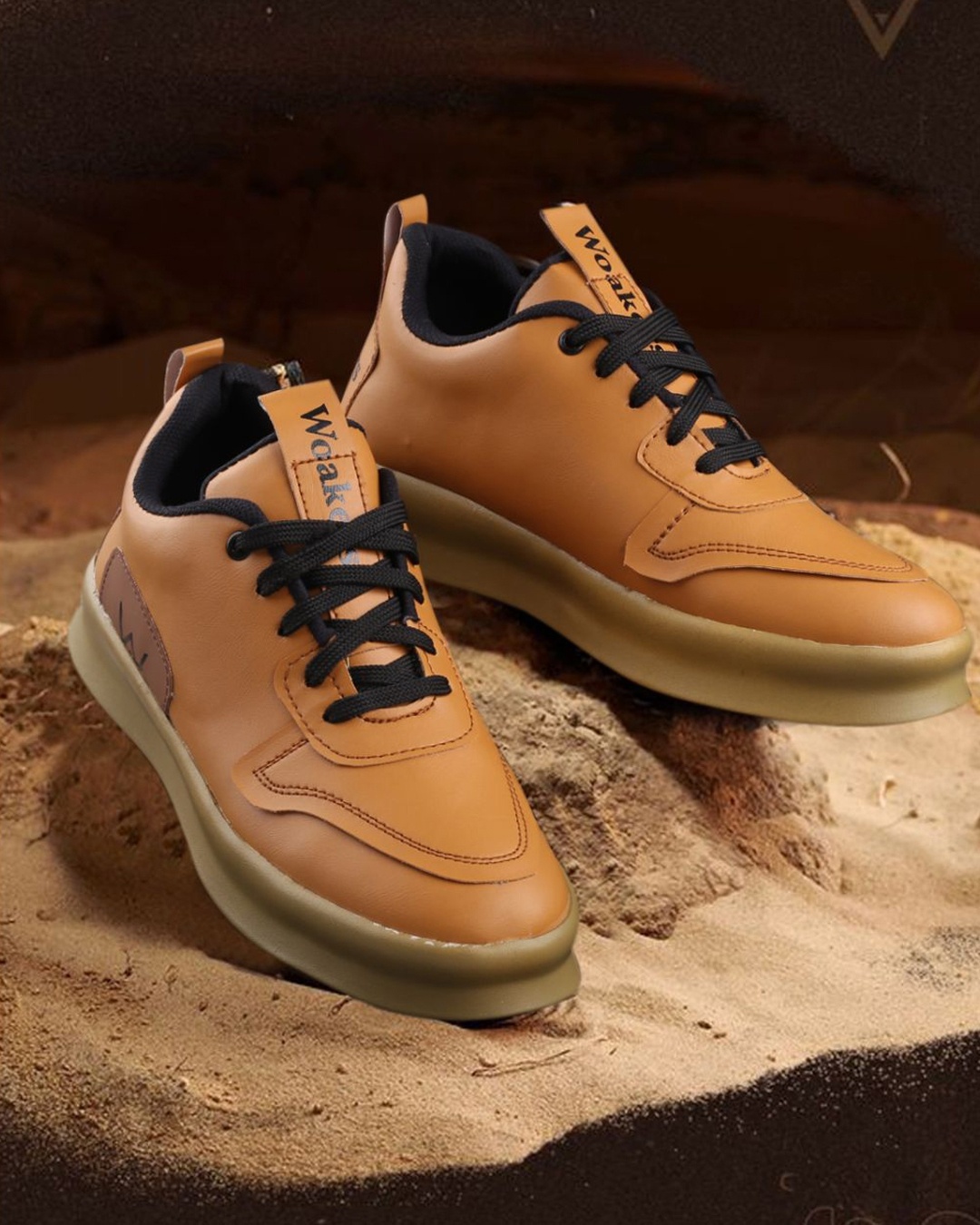 Brown Pants Combination with brown blazer- for the brave heart!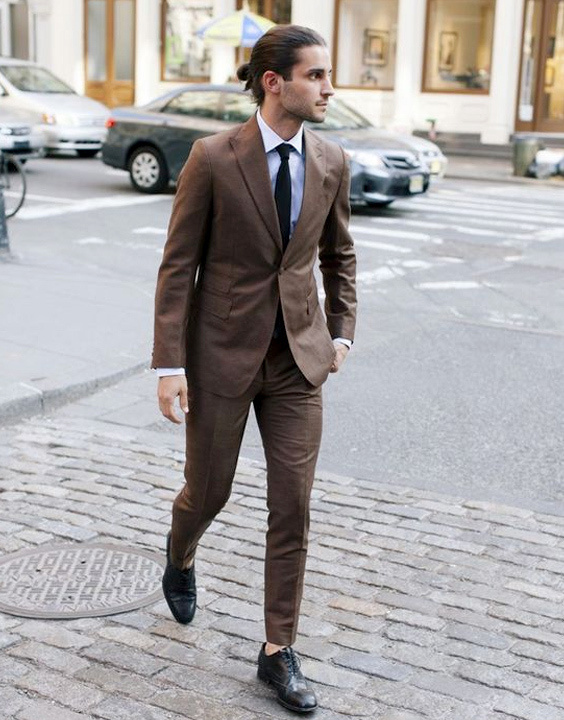 A general rule of opting correct color combinations is that the colors should complement each other and not always necessary to be in contrast or of the same color.  A matching shirt for brown pant could be a brave choice. Wondering what color shirt goes with dark brown pants? An Easy and best combination could be a white shirt brown pants duo. This will give you a balanced uni-color look. Also, The subtle neutral color code is proved to work for all types of skin or hair variants.
Blue Pant Combination with brown blazer – keep up the flair!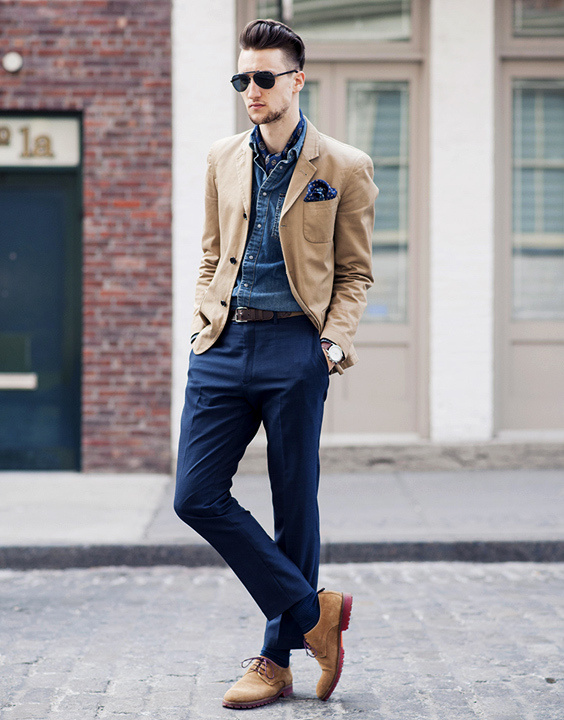 If you're wondering what to wear with dark brown pants or other darker tones like a dark blue, you can work with the dark brown blazer. If you are comfortable playing with patterns then no need to stick to solids. Brown pant combination can be complemented with crafty patterns either on pants or blazer to add extra flair to this look. Patterns offer additional color choices to match your blue pants while sporting a stylish brown blazer. Mixing various colors to brown blazer combination is not at all complicated but deciding different colors that complete this look is equally important. While making this choice always consider the factors like fabric, patterns and seasons.
Keep your brown blazer combination suitably equipped for any occasion using the above tips!!
Image credits: The copyrights of the images used in this post belong to their respective owners. The credits where known are specified under the image - if you're the owner of an image and want it removed, please contact us.