In an exclusive style post, we've coined unmissable fashion advice on how to experiment with outfits for mens casual wear with jeans. Learn how to wear jeans with blazers, waistcoats, ties and loafers. Read further to know how to pair the best casual shoes for men with jeans, to make your style statement stronger!
Denim jeans have become a wardrobe staple that men just cannot do without. From being the ultimate symbol of youth rebellion to becoming an indispensable fashion statement, indeed the denim jean has come a long way! Jeans have become more mainstream in the recent past with the latest trends always showcasing the item in a new light. Additionally, its universal appeal has made styling mens casual wear with jeans a fail-safe option for last minute outfit decisions. What started out as a casual attire known for its durability and comfortable wear has segued into a fashionable item of clothing that has gone through many alterations along the way. Be it the different styles, cut, fit, and accessories that adorn this piece of garment it has indeed emerged as a timeless piece of garment. You can unleash its versatility by learning how to wear jeans in combination with other outfits that will make your ensemble shine every time.
Denim jeans are versatile, to say the least. It can be teamed with most items of clothing and footwear creating better combinations than the regular ones. Many gents get befuddled with how to wear jeans the right way. Below are some of the classic items that can make wearing men's casual wear with jeans a redefined experience.
Let's learn how to wear jeans with fashionable separates from your closet-
How to wear waistcoat and jeans with tie for men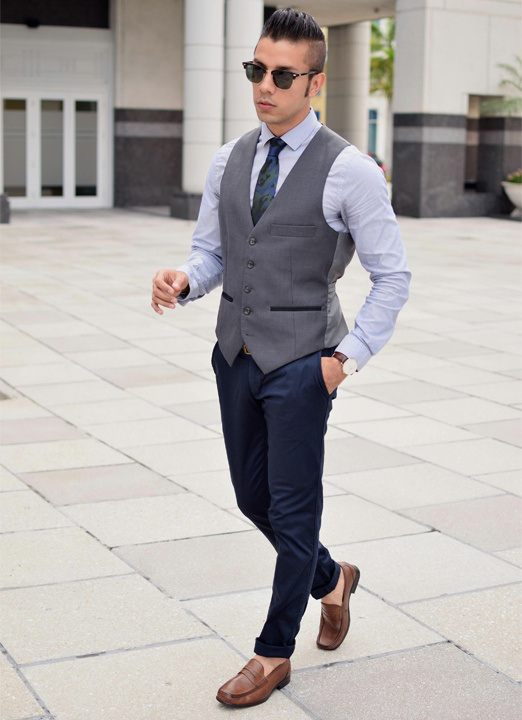 The seemingly formal waistcoat has made its way into the urban gent's everyday wardrobe. To pull off a waistcoat with flair, a well-fitted skinny or slim jeans should be your choice of denim preferably in indigo or black as it will give you a clean cut. Additionally, a crisp white Oxford shirt will do wonders when layered with a waistcoat of a darker hue. Or else, you don't have to look further than Grandad collars which offer a finished look.
However, when going for a collared shirt, you can trade in your striped tie for a bow-tie and add a relaxed vibe. Waistcoats and ties are an inseparable combo, and wardrobe staples like a charcoal waistcoat and jeans with tie for men can go never wrong. However, if you are a gent who walks on the road less traveled, then you can ditch the traditional tie for a more vibing bow tie. A charcoal waistcoat and a striped red bow tie may be a little out there, but if you can pull it off, you can make any outfit work.
How to wear casual blazers for men with jeans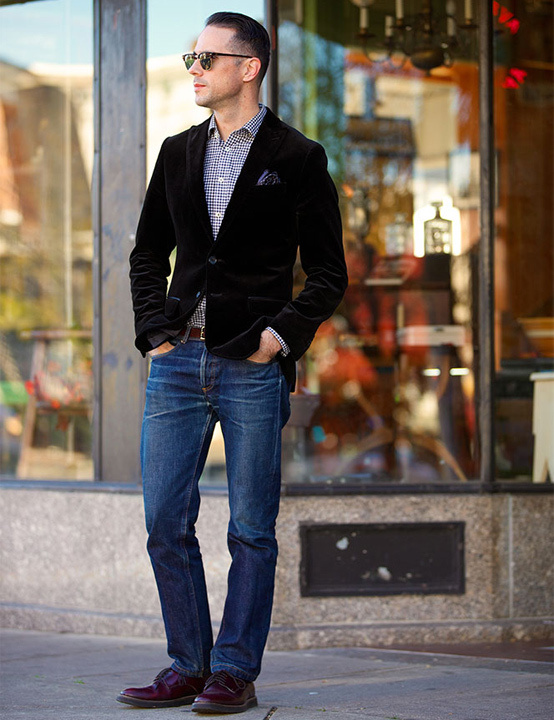 Blazers are one of those iconic pieces of menswear that are versatile and can be accommodated in every color. The smart casual look, which is the most sought-after, cannot be done in a better way than by pairing casual blazers for men with jeans. The trick is to know how to wear a blazer with jeans that give you a standout appeal, one that sets you apart from the rest. For gents with a slimmer silhouette, a slim fitting blazer will fit snugly without bulging from the sides. Just throw on a well-fitting pair of jeans and a color-coordinated blazer and your last-minute outfit can still be a head-turner. Sometimes, the many classic colored velvet blazers for men with jeans combination is all you need to look dapper without looking like you are trying too hard.
Choose the most fashionable jeans jackets for men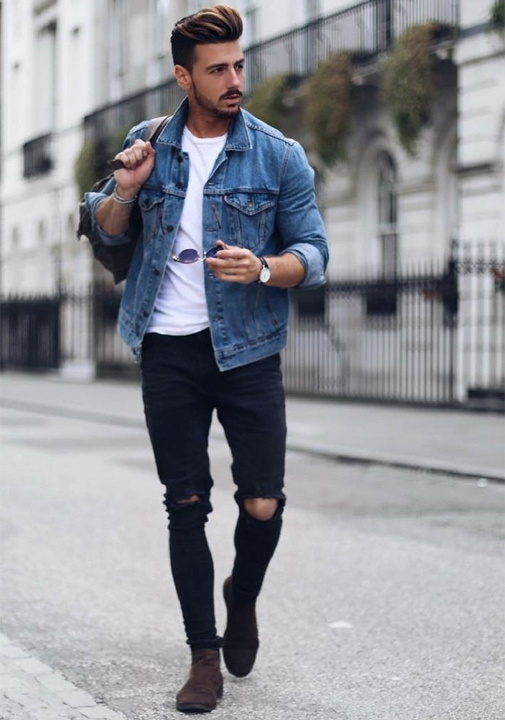 It's easy to see how denim has monopolized men's fashion choices considering the many denim inspired items found in a given man's wardrobe. Jeans jacket for men is a wardrobe staple, and while many may flounder the rules while wearing double denim, if done right it has the power to elevate your outfit and style to new heights. With a few pointers from our end, we are sure that you can get your double denim look on point.
As you are basically going for the same fabric and material, break the outfit by contrasting the top and bottom either with different colors or effects like distressed, washed or ripped. A good fit has the potential to make or break any ensemble so ensure that you invest time and money in finding a jacket that flatters your body type. A slim fit always works well for a lean body while gents who are on the heavier side of the scale can find jackets that create a more streamlined effect. A useful tip is to select a lighter shade of denim on the top (jackets) and work with a dark shade or black denim from the waist down.
Also, a shearling denim jacket will lend you a smarter appeal than your regular ones. The color range for jeans jacket for men is very extensive, but its reserved appeal makes it a classic nonetheless. From the classic light blue to black and the in-between grey, all denim jackets have become a style statement in itself.
Look at jeans and shirt combination to upgrade your attire!
Denim jeans and shirt combinations are the ultimate choices when opting for a casual look, but when teamed with an Oxford shirt, it can create an impeccable smart-casual attire. Something simple like a well-ironed white Oxford and black denim with the right accessories like a leather watch can speak volumes about your personal style. While talking about dress shirts, which have a fitted design, they can complement your overall look well when paired with a skinny fit jean. Wear dark colors like navy, grey, and black with the sleeves rolled up, and you will be urban look exemplified.
Guys can also flaunt their love for checked shirts by pairing it with a plain monotone t-shirt underneath. Men's casual wear with jeans does not get any better than this! This look has garnered a lot of praise for its laid-back and relaxed vibe. Whether you go for a buttoned-up look which screams preppy style or with the buttons undone, there is not much room for error with this combination, and hence it is loved by gents all over.
Wear Trendy loafers with jeans for men this season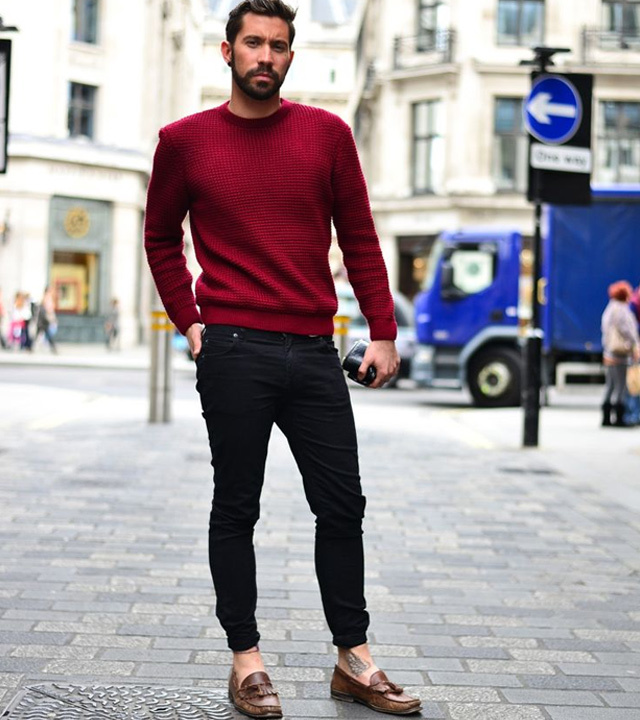 While you have your dress checklist all worked out, do not forget to get your footwear right. What should be the choice of blazer for men with jeans and shoes you may ask?
It is the cornerstone of a stylish man's wardrobe essentials. Shoes like loafers have slowly escalated to become the best casual shoes for men with jeans.
To start off, the fit of the denim jeans should be streamlined so opt for skinny or slim fit jeans that give you a classier effect than those baggy ones which are way too casual. Such jeans taper at the ankle allowing for your shoes to shine without being masked with denim all around. Alternatives to the classic blue denim are black denim which has a more formal appeal. Grey denim also works when matched with a darker shade up top.
Men's black casual shoes are the perfect way to make a statement.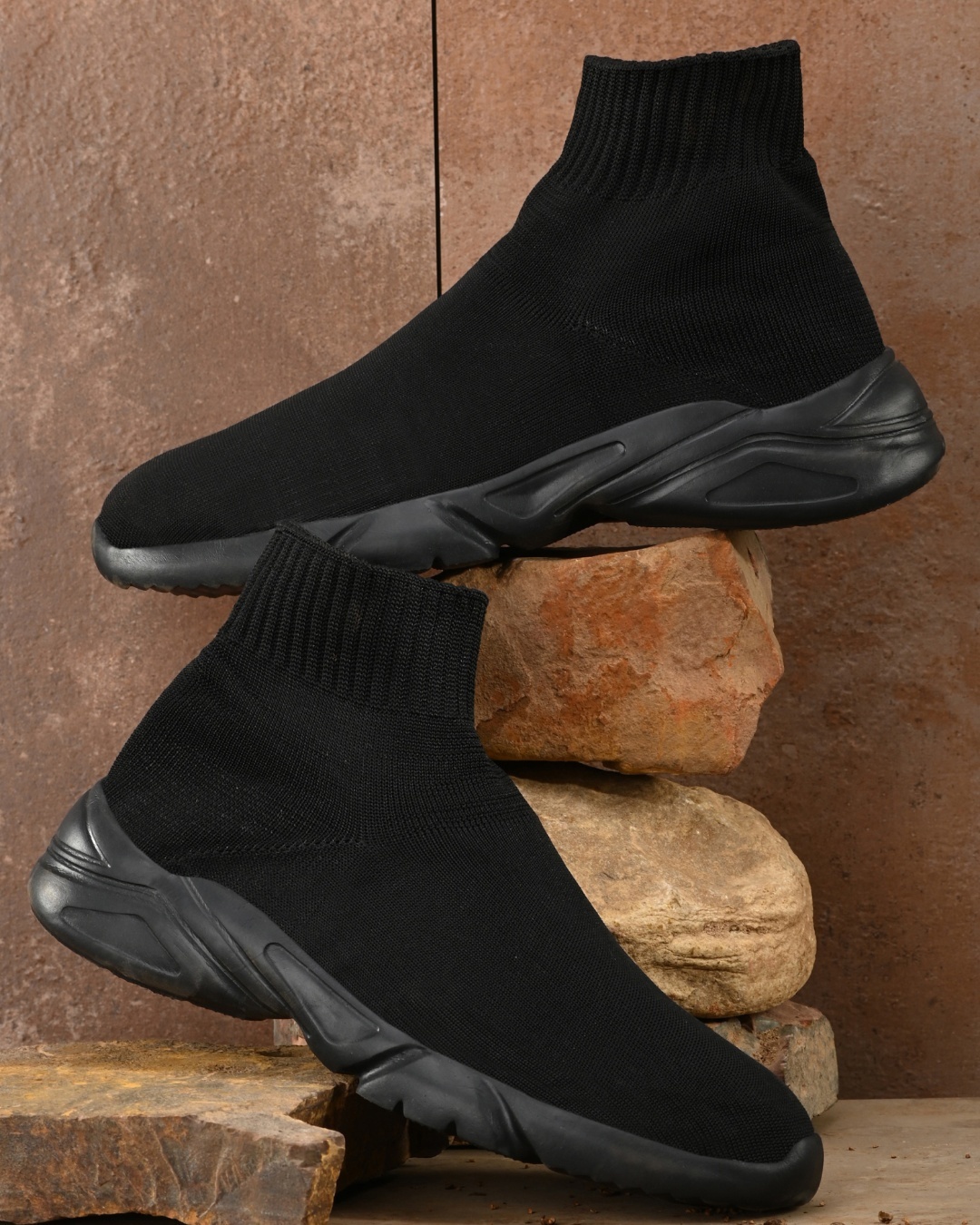 The best way to wear loafers with jeans for men who want to break from the cookie cutter ensemble is to experiment with different materials, colors and designs of loafers. Leather loafers have been a man's best friend for generations, and they work perfectly with the casualness of the jeans to balance out the entire look. Another favourite style in loafers is the suede tassel loafers that are supremely comfortable and come in trendy colors like grey, tan, brown and blue. Suede loafers complement a blazer or a jacket well for the ultimate smart casual attire.
With the help of this extensive guide on pairing mens casual wear with jeans, there is no stopping your fashion fancy. So be creative, go wild, and make the most what the denim jeans have to offer.
Image credits: The copyrights of the images used in this post belong to their respective owners. The credits where known are specified under the image - if you're the owner of an image and want it removed, please contact us.