There are  various types of boots that can save your overall outfit, and help you put your best foot forward. Boot with jeans can look awesome together! Here is your guide for mens casual boots to wear with jeans for the contemporary man.
Boots create the very foundation of man's ensemble. Though boots constitute just five percent of your ensemble, it makes-up up to 30% of your dapper impression. Boots are one of the major factors considered while making a visual judgment. A good pair of boots is two things, super comfortable and stylish. We suggest that to make a flawless impression, it is necessary you sport different pairs of boots for different occasions depending on the purpose. However, considering an array of different styles and types of boots mens wear can make choosing the right pair of boots a hassle.
Types of boots
Chelsea boots – absolutely versatile!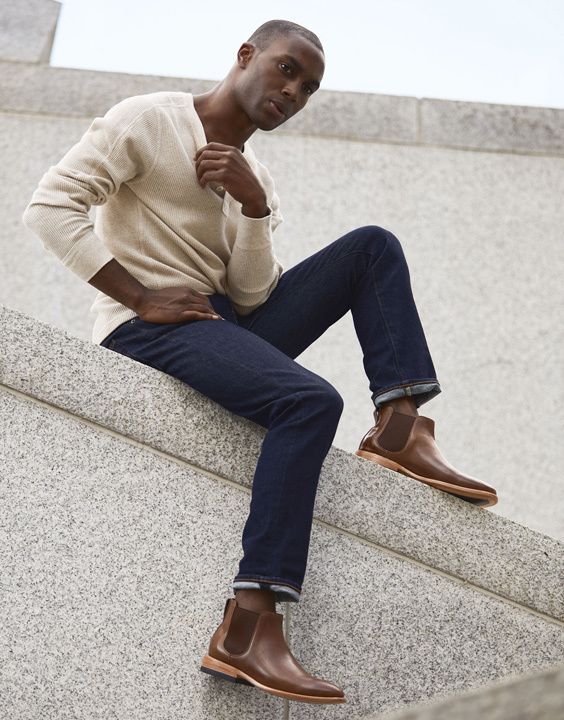 Chelsea boots are the boots with Victorian roots. The first vulcanized or elastic-sided ankle boots are an easy to wear pair for every man. They are usually characterized by rounded toes and low heels. The vamp and the quarter are the two parts made from a single piece of leather. The dapper appeal of Chelsea boot goes with almost everything and will never leave you wondering how to wear Chelsea boots.
Cowboy boots never go out of style!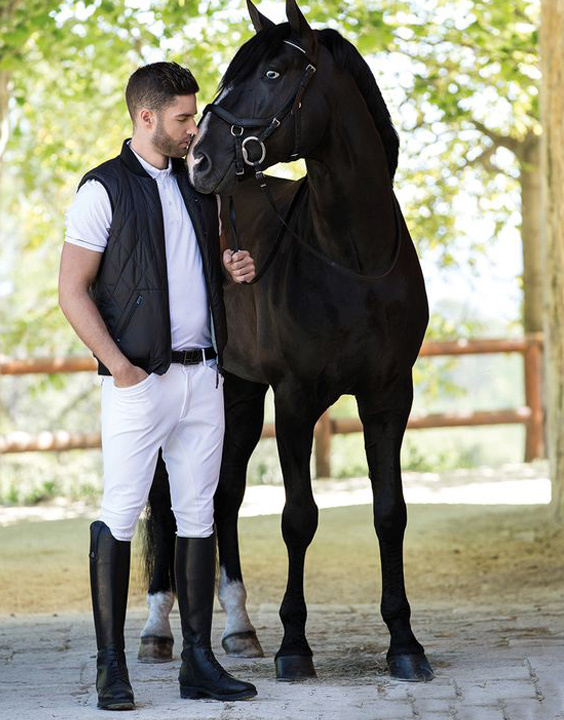 Stylish and comfortable, cowboy boots are a must-have in every man's wardrobe. Originated from western side, cowboy boots for men fashion style elevated from being utility boots to a classic style. The history of cowboy boots adds to the many factors of these fashion boots. Traditionally cowboy boots were tall, angles and horse-riding heel. The modern cowboy boots are available in both short as well as large versions. It eliminates the riding heel as it is meant for walking.
Chukka boots – essential for your shoe-rack!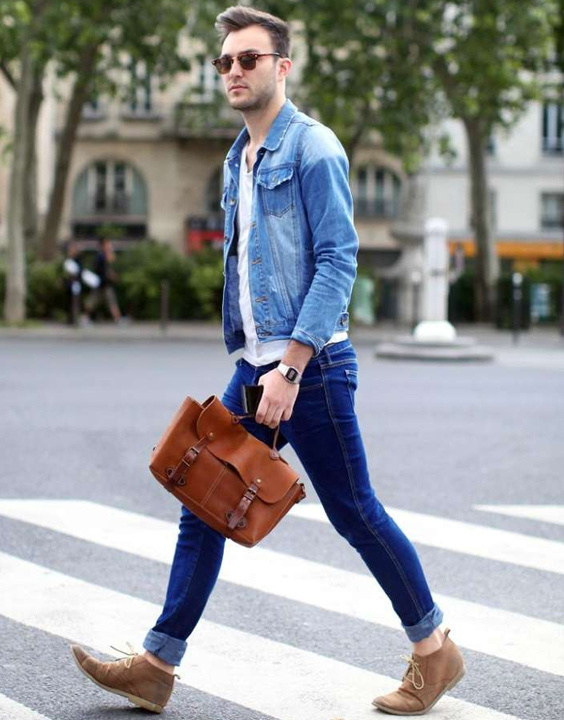 Chukka boots are ankle length boots that make an ideal option for both casual and formal wear. It comes with a rounded tip, minimal stitching and open lacing which makes it look similar to the derby boots. Traditionally chukka boots were crafted out of soft suede leather and were worn by both male as well as females in the Victorian era. Although, owing to its use in men's formal wear, it is now available in polished leather. One of the best answer to how to wear chukka boots is to pair it with rolled-up jeans.
Work boots – most sturdy of the lot!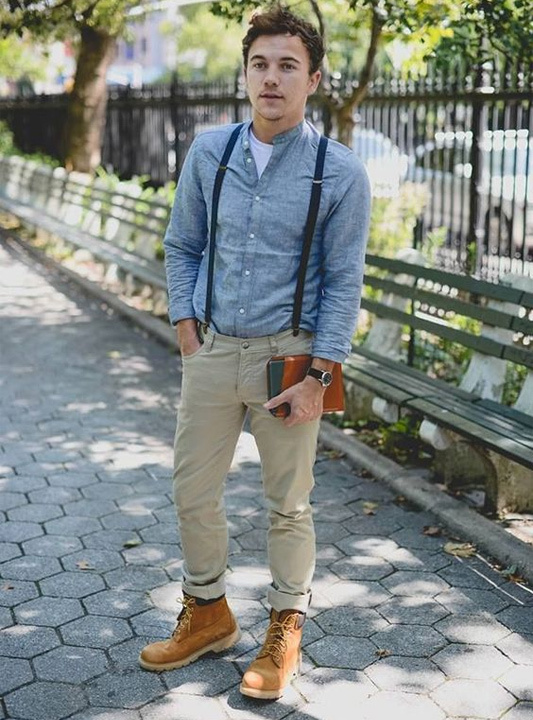 As the name suggests, work boots are crafted to be the most functional types of boots. Its weatherproof structure enables you to wear it at work irrespective of the extreme climate. Besides weather liners, trade outsoles and insulated uppers are some other special features of work boots. The special sturdy material protects your feet from injuries. Work boots and jeans look can do wonders if co-ordinated aptly.
4 Fundamental Rules of boots fashion: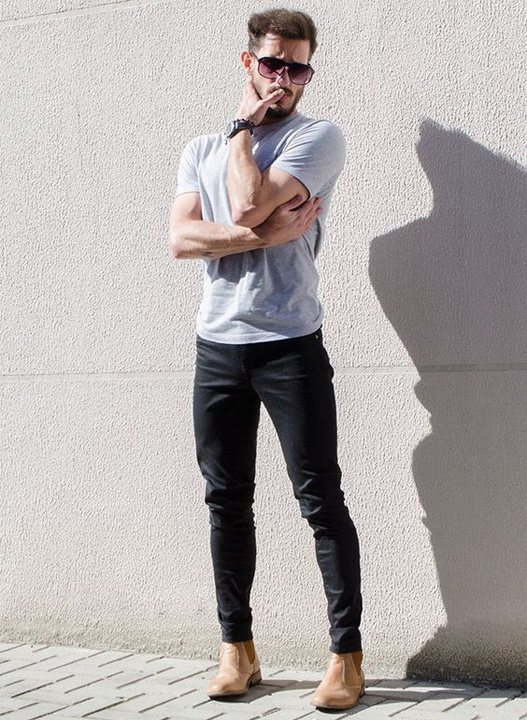 From style to comfort and quality to material there are number of things one must know while choosing a right pair of stylish boots for men. Here are four fundamental rules one must follow to be assured with a right choice of boots.
Quality:
Quality is one of the main aspects one must look out for while choosing a pair of stylish boots for mens ensemble. As all your weight falls on the boot, it is important that the boots are sturdy enough to absorb the force. Low quality of boots can make the sole fall apart. Also, not to forget that there are different materials of boots needed for different season. Wearing a wrong pair of boots in a particular season can cause both discomfort as well as damage to the boots.
Comfort:
Invest in a right size of boots even if it costs you more. You must have noticed that a wrong size of boots can cause a discomfort to an extent by affecting your style of walking. Whereas a right size of boots can boost your confidence. The width of the boots depends largely on the style of the boots. Arch structure and toe structure are other important points to pay attention to while choosing a right pair of stylish boots for men.
Occasion:
Each boot is crafted with a purpose and it is necessary to abide by the rule of using appropriate types of boots for the occasion it has been designed for. Often men make a mistake of wearing wrong type of shoes or experimenting by wearing running shoes for a casual day wear. Each boot has its special function and such experimentations can not only make your ensemble look out of balance but can also cause discomfort.
Care:
Taking proper care of boots is quite often neglected by men. If the boots aren't waterproof be careful around water as it can damage the leather. There are special types of leather polish available for different types of leathers and should be used accordingly. Also, be careful while using leather not all materials soak perspiration and can cause damage to both boots and your skin. To avoid this make sure you keep rotating through a few pair by wearing them alternately.
Boots on jeans for men – a perfect combination
Boots for men fashion constitute an important part. Both jeans and boots have a rugged appearance, which makes boots with jeans combination complement each other. From dark wash to faded ones, boots complement all styles of jeans without leaving you worried how to wear boots with jeans. We know that a lot of guys love wearing skinny fit jeans but when it comes to pairing up with boots we suggest to opt for a slim fit over to skinny ones. There is no doubt that boots on jeans for men is a must-have combination.
How to wear Ankle boots with jeans?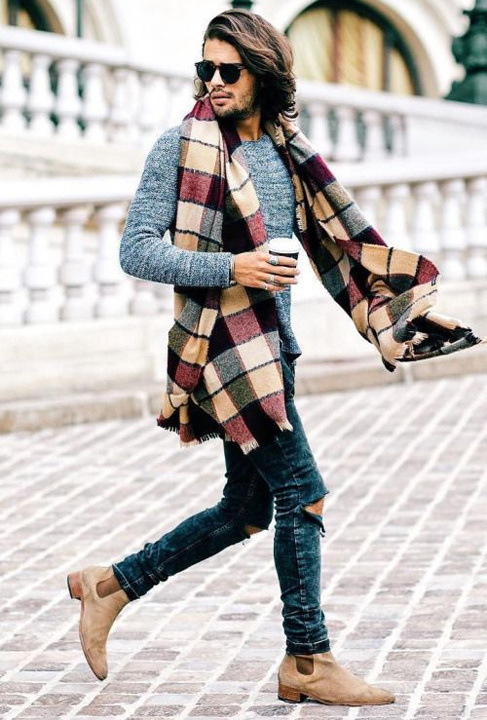 For a stylish casual look, pair your favourite jeans with ankle length boots having open lace structure like chukkas or work boots. These ankle length boots for mens fashion have an urban charm that will complete your dapper look. It is important to know how to wear ankle boots to make them complement your ensemble. For a chic appeal avoid tucking in hems of your jeans and cuff them. A cuffed hem look with ankle length will lend a comfort quotient to the look. Ankle boots with jeans is a perfect boots with jeans combination for Friday dressing.
How to wear Long boots with jeans?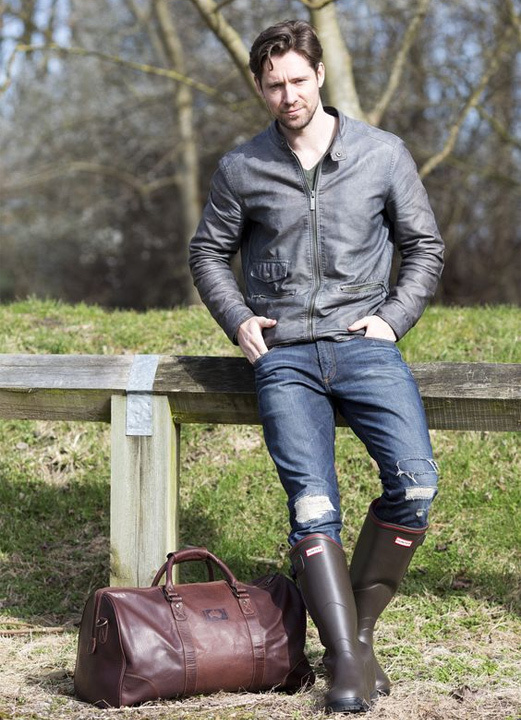 If you are a fan of Lumberjack and want to create a rugged ensemble opt for long boots for mens ensemble. To create dramatic appearance with long boots mens fashion opt for long cowboy boots that will fit over the jeans. The tucked in look also completes the rough and tough look with a dash of style. These are the types of boots we assure are a must-have in every man's wardrobe. Mens blazer with jeans and boots combination will complement your dandy look elevating its elegance quotient.
Mens boots fashion has a long history and has evolved with time. There are different types of boots for men for different occasions and that is what makes this footwear so special. We hope this article helped you understand different types of boots and style them efficiently. Stay tuned to Bewakoof.com for more such fashion insights.
Image credits: The copyrights of the images used in this post belong to their respective owners. The credits where known are specified under the image - if you're the owner of an image and want it removed, please contact us.