Are you absolutely enamoured by the bollywood fashion brigade?  Read about our compilation of the top 5 fashion icons who've given men serious fashion goals!
Bollywood – you can't keep up with the everchanging and constantly evolving industry, but you also cannot give up the admiration you have for your favourite stars! You can live and breathe Bollywood, but you'll never be able to keep track of the innumerable trends that our much loved celebs introduce into the fashion world with every passing day. Each time you refresh your social media pages, more celebrities turn into fashion icons.
We are left wanting more than just great movies and even better acting; we all want to see a new Bollywood fashion statement now. For years we have seen women ruling the two coinciding industries, but that wave has taken a different course in the recent years with the penetration of social media into our everyday lives.
Right from workout looks to airport looks, and casual outings which include celeb spotting, every star regardless of being an A-lister or not has his/her own signature look now. But, we're not afraid to say that the men of Bollywood are the new fashion icons you need to watch out for! They have reached the bar that women have been setting for years now. How, you ask? Let's take a look at the Bollywood fashion favourites that the youth can't stop raving about!
5 male style icons who rule the industry and our hearts!
There are a few faces that have been really famous among the masses not just for the amazing actors that they are, but also for their sense of fashion that has made bollywood style admirable.
These stars and their dress sense is like a breath of fresh air in the world of mainstream fashion and celebrity style. Becoming a style icon or an influencer is not an easy journey. It consists of a lot of experimenting and even more wardrobe malfunctions to know what works best among the people who love you. Actors like Farhan Akhtar, Hrithik Roshan, Ranbir Kapoor, etc. have left us wide eyed with their choice of clothing in movies and otherwise. If you want to know the faces & looks that got to us the most, then read on!
1. Farhan Akhtar dressing style- Master of Ease!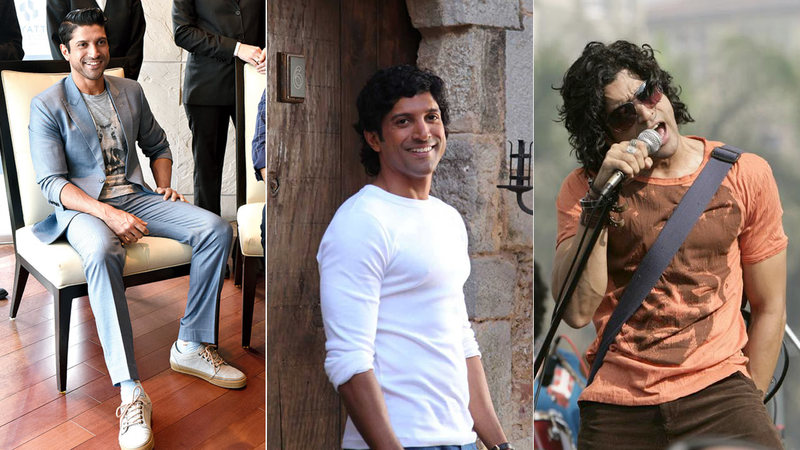 This manly, tame mess of a man never fails to make an impression when it comes to his personal style. We can always see a glimpse of it even in the costumes of famous movies he's starred in. Smart casuals were the way to go for Farhan Akhtar Gallan Goodiyaan look.
Farhan Akhtar Rock On look and Farhan Akhtar Rock On 2 look were extremely adored by the audience. Moving away from the long tresses we've all come to love, Farhan Akhtar in Wazir who sported a smart cop look with a moustache to die for.
Farhan Akhtar concert look is usually one with a bandana to go with a super cool vest! Farhan Akhtar Zindagi Na Milegi Dobara was our personal favourite because of how hot he looked in the whole Italian-Mexican style he sported! Farhan Akhtar new look is another one to look out for, with the half bun and the very masculine beard on an even more masculine physique!
2. Hrithik Roshan dressing style- Bold & Brazen!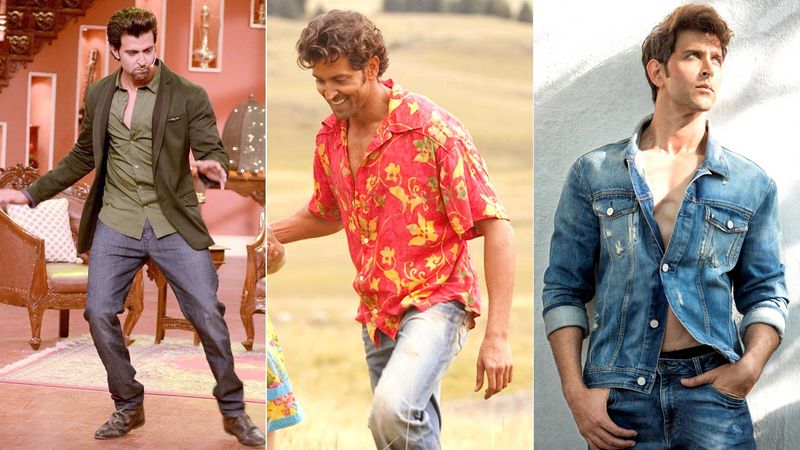 Hrithik Roshan has been a heartthrob for boys and girls alike! Why wouldn't he be? His mesmerizing blue-grey eyes, and a body sculpted so perfectly is all the reason we need to drool. Starring Hrithik Roshan Mohenjo Daro, fans saw him in period dressing, still looking suave and that's a look not all can carry!
Hrithik Roshan in Dhoom 2 was what a teenage girl's dreams are made of. He was seen wearing ripped clothing in the typical bad boy look! Hrithik Roshan Kaabil look was an everyday guy, with polos and denims, or shirt on t-shirt looks.
This made his character all the more relatable! Hrithik Roshan Bang Bang look resembled an all American look that resonated with his own personal style. Hrithik Roshan Zindagi Na Milegi Dobara, he sported a smart casual approach to dressing. HRX by Hrithik Roshan is a new brand which is in collaboration with retail giant Myntra that sells active wear and casual wear for men and women. If you want to try on Hrithik Roshan style of dressing, you can start by gaining inspiration from his everyday looks which never disappoint!
3. Ranveer Singh dressing style-totally experimental!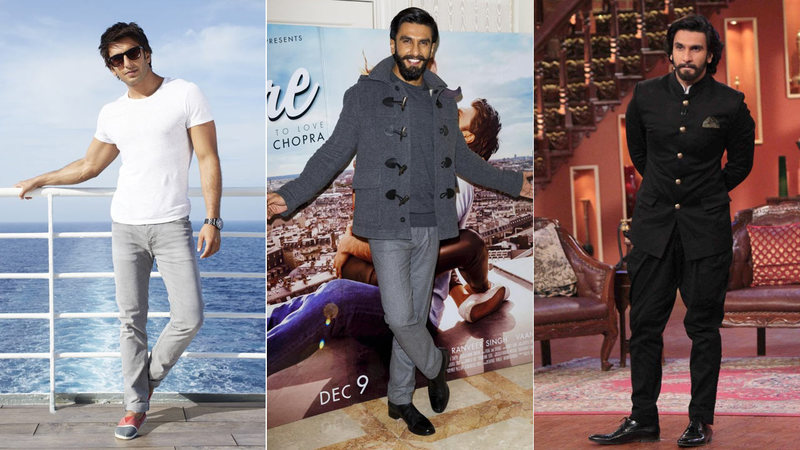 There is much to be said about Ranveer Singh dressing style who is an eccentric ball of energy. As crazy as his roles are, so is his dressing. But do we love it? Absolutely! Ranveer Singh Padmavati look and Ranveer Singh Ram Leela look had one thing in common; period dressing.
What they didn't have in common though, was the type of period dressing they consisted of. While Padmavati required Mughal dressing because of his role that was Ranveer Singh Alauddin Khilji, Ram Leela made him a traditional Gujarati boy. Another movie with him in period costumes was Bajirao Mastani Ranveer Singh look. Everyone adored the Maratha version of their favourite actor, wearing kilts and a shaved head.
Ranveer Singh Befikre was a normal, everyday guy wearing basics and attracting women regardless. Ranveer Singh in Dil Dhadakne Do was another look that was relatable because of his sharp but casual dress sense. Ranveer Singh in white shirt in Gunday was a typical modern Bengali guy ensemble with a long hair and beard on loose fitting pants. Jodhpuri suits Ranveer Singh are best mates, and he is seen wearing this bandhgala outfit quite often.  Ranveer singh suits attire is very classy and we can't help but drool when we see him in a tux.
Ranveer's sleek hair never fails to impress us! Ranveer singh is hair in ladies vs ricky bahl, and other movies truly serves as an inspiration to impress all his fans.
4. Ranbir Kapoor dressing style -Bollywood's Cool Dude!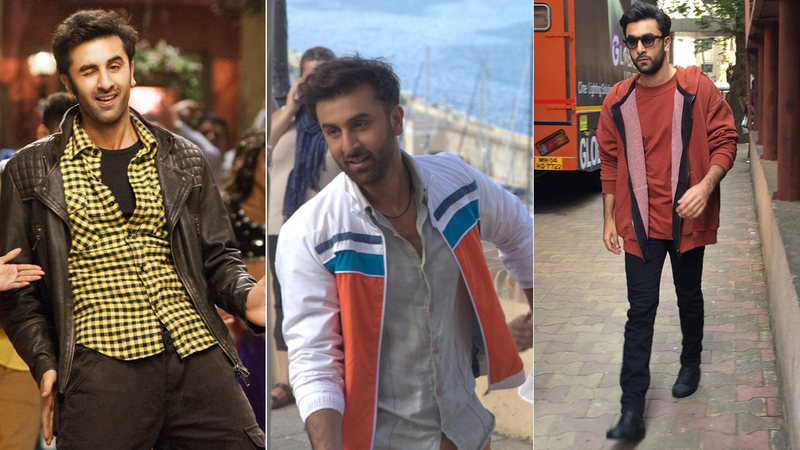 He's the chocolate boy of Bollywood fashion, regardless of how old he is! Ranbir Kapoor in Yeh Jawani Hai Deewani made us all fall in love with the effortless, journalist look that the cool kids follow ardently. Indo western Ranbir Kapoor look is seen on a lot of reality shows, and talk shows as well.
Ranbir Kapoor in Roy was pretty intense, and even sported a trimmed beard. In contrast to Roy, Ranbir Kapoor Ae Dil Hai Mushkil had a clean shaven look that made him look way younger than he really is.
Rockstar Ranbir Kapoor was dishevelled and boyish, something everyone with a mid-life crisis would relate to. Ranbir Kapoor Tamasha look was playful and casual, with colourful sweaters and jackets in focus. Safe to say, this chocolate boy looks pretty darn cool no matter what he's wearing!
5. Shahid Kapoor dressing style- choosing to be 'chic'!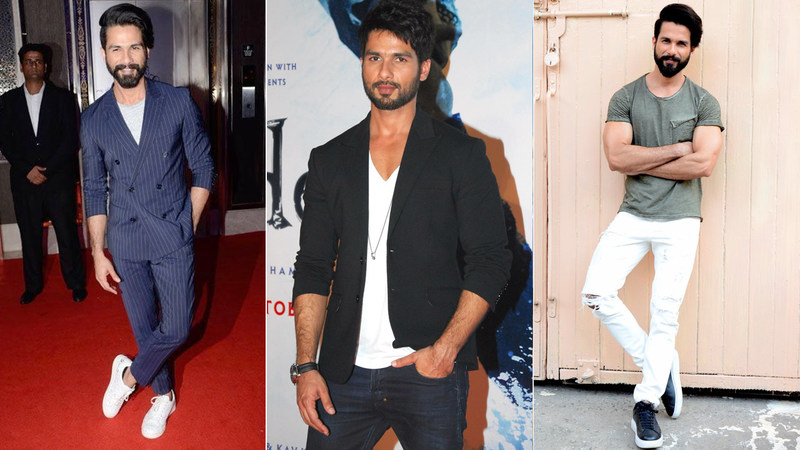 Shahid Kapoor has always been the low-key hottie of Bollywood, with a really cool eye for fashion. He's our favourite Punjabi star, who can go from good boy to bad boy real quick! Shahid Kapoor Udta Punjab look earned him a lot of appreciation from everyone around the globe. The long deadlocks and ripped, quirky t-shirts became an unexpected favourite real quick.
Shahid Kapoor Haider look with a shaved head, loose, layered clothing was inspired by traditional Kashmiri dressing & the oversized clothing trend. Shahid Kapoor Padmavati look was him in period dressing for the first time, sporting a typical Rajasthani outfit. Shahid Kapoor Shaandaar look had a fringed hairstyle which was adorable as hell. Moving away from his boyish charms, Shahid Kapoor new look has a full beard and ripped clothing. The Shahid kapoor style is for all the contemporary men. Can't say we don't love each one more than the last Shahid Kapoor look!
We've got to thank all these men and other upcoming Bollywood fashion icons for inspiring us to look nothing but our best, every day. With constant change in trends or fads, it is difficult to keep up with the fashion industry but relatively easier to keep up with the stars we love! Follow these fashion icons ardently, and then create a signature style of your own. Who knows, you might just become the next talk of the town!
Image credits: The copyrights of the images used in this post belong to their respective owners. The credits where known are specified under the image - if you're the owner of an image and want it removed, please contact us.