Check how you can style your graphic t shirt style outfits in the best ways possible with our guide.  We bet you haven't tried a blazer t shirt style or jacket style!
Every individual wants to make a first impression that lasts. To ensure this, he or she has to dress in a manner which stands out or which silently gives any passer-by a clear idea of his or her personality. For women, this task comparatively easier because of the various clothing options available in every single department! For men, at best, they can experiment with the types of tshirts or shirts that they can buy! In order to dress better, men have to revolve their fashion statement around top t shirt trends, well simply because let's face it shirts haven't changed since they were invented! Every man wants to look like the best version of himself – well it is a well known fact that every guy looks dapper in a suit but it's impossible to wear a suit all the time right? Even if you work in the corporate sector, once you leave the office there's no chance you want to put on yet another suit! Here comes the real task – how to style a tshirt to make yourself stand out from the crowd whilst creating your own style statement.
T-shirt styles – It's all about the sayings: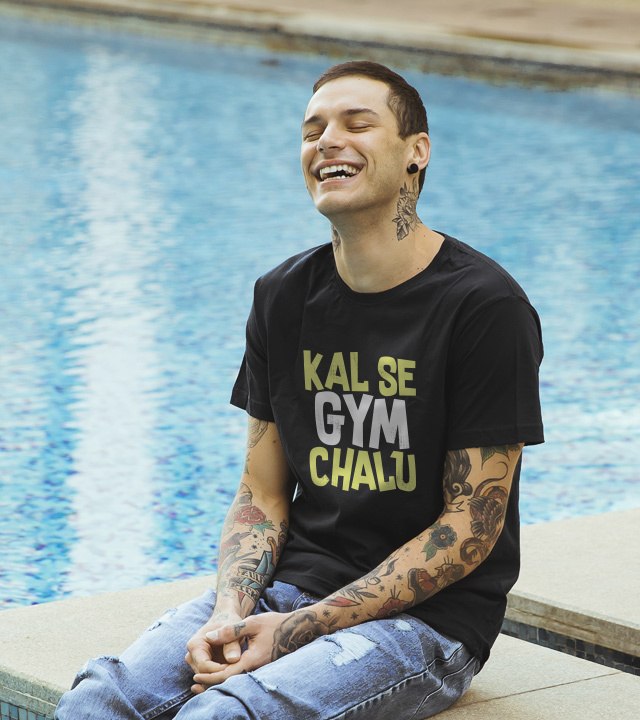 The kind of tshirt you choose is what speaks the most about your personality. The great thing about graphic tees is that they are a clear depiction of you and your personality. If you're the funny guy, choose t shirts which have some humour or a funny quote. If you're a TV show fanatic, choose a tee which represents your favourite show, "You're in my spot" (The Big Bang Theory) or "How you doin?" (Friends). Such tshirt quotes styles can be a great conversation starter, especially if the person you're chatting up is into the same shows. Even though your 18 inch biceps will let everyone know you love hitting the gym, if you're a gym lover you can always opt for some really funky tshirts with attitude which clearly show how much you love the gym, an all time favourite being "Your workout is my warm up" – probably one of the biggest graphic t-shirt trends of 2017 when it came to gym wear!
We can also print your own personalised design on our t-shirts, click on the below image and get your custom t-shirt today!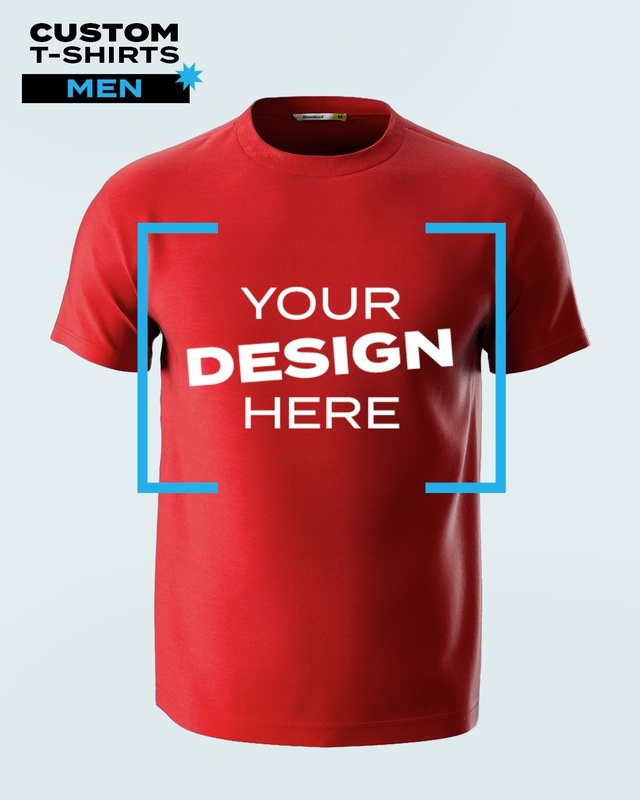 Matching colours the right way to create contrasts.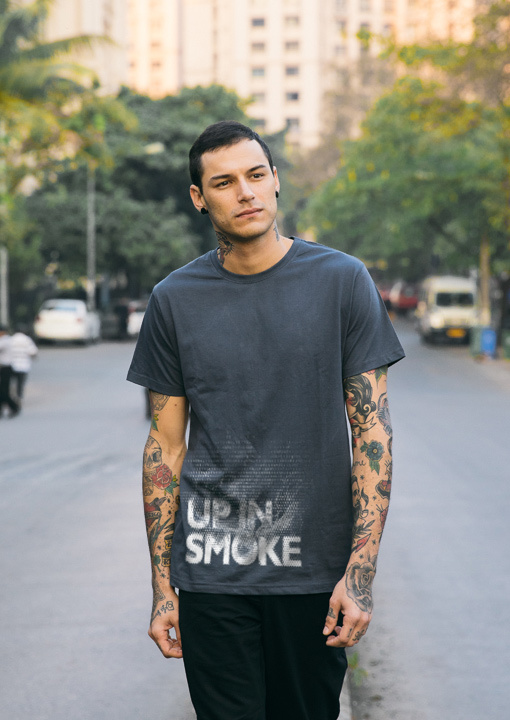 Apart from quotes and slogans, colours also play a big role when it comes to picking the right tshirt. You want something that is either safe or something that is currently trending such as pastel shades! Choose a colour that will stand, or choose a simple base colour with a statement print. The bolder, the better.
Out of all the best tshirts for men available, you will definitely find something to suit your personality type.  You get the drift, right?
Layering clothes on top of your graphic tees.
Shirt on t-shirt or t-shirt on shirt: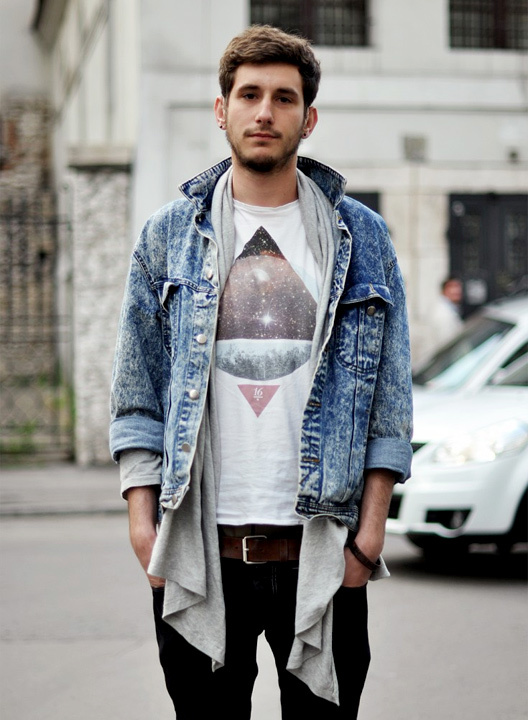 Take some inspiration from Sheldon and wear your cool graphic tee over a shirt. If you're not into that look, then you can choose from your all time favourite printed tshirts and team them with a shirt on top. This look is actually great for extra skinny guys as the layer effect creates volume. This will make your arms, waist and rib cage look much bigger than they actually are. Now you can choose from all the tshirts for men which you weren't sure you could pull off, and show off these stylish tshirts without having to worry about looking too thin!
Blazer on t shirt style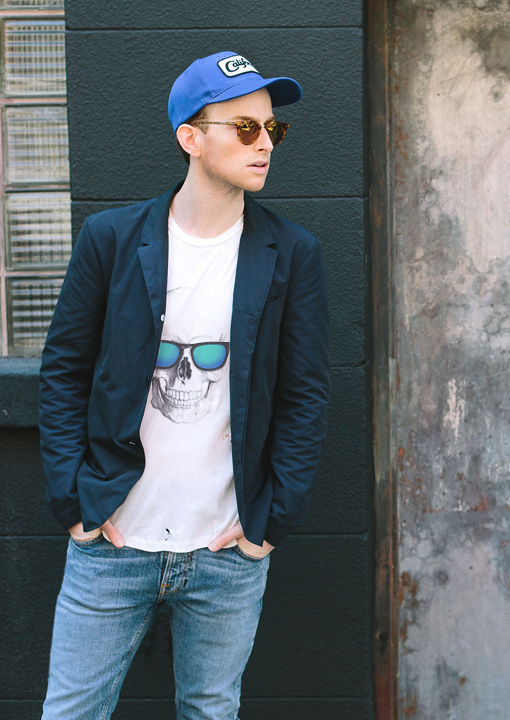 All the printed tshirts online will look great with a blazer, and that is a guarantee. This was actually one of the t shirt trends of 2017! When you're trying to look semi-formal, maybe at lunch with a colleague or on your first dinner date it is safe to pair one of your favorite graphic tshirts with a blazer. This look has been supported by Ranveer Kapoor, Siddharth Malhotra and even Ranveer Singh – so it is definitely one of the top t shirt trends in the industry. The best look for the blazer and t shirt outfits are pairing a grey or black blazer with your graphic tee of choice and a pair of jeans!
Jacket style outfit ideas with Tees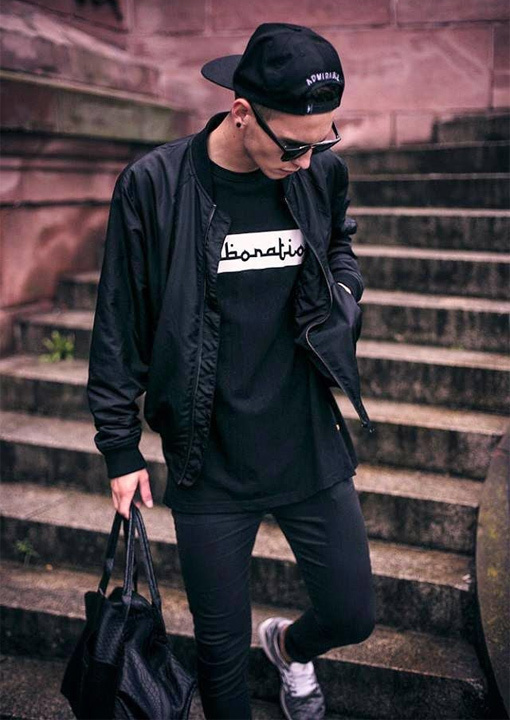 On the runway, even the best tshirt brands cover their models up with jackets. Take a leaf from their book and make full use of your jackets, for both casual and formal tshirt types. Another benefit of the jacket layer is that you can experiment with shirt collar style – in this department most men prefer to stick with tried and tested. Though it goes without saying, in peak summer when the temperature is nothing less than 35 degrees please don't wear a jacket because those underarm sweat stains are just going to get bigger and stickier! In such weather just choose from one of the many trending shirt designs or pick a basic graphic style tshirt to ensure you look your best.
Where should you wear a graphic t shirt style outfit?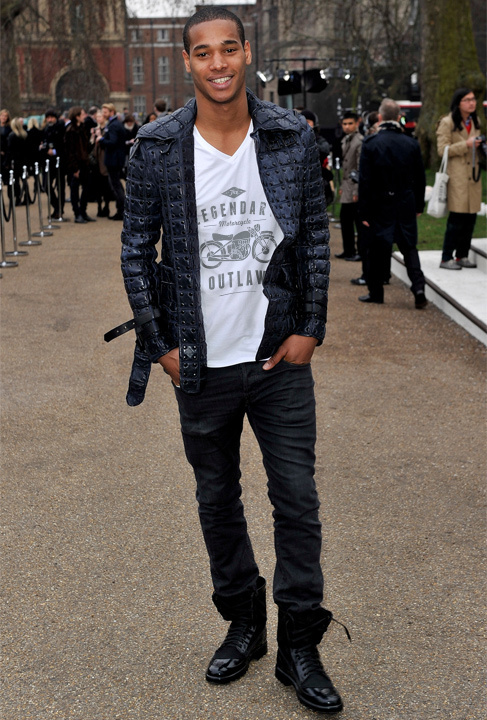 It's pretty obvious that the outfit you'd wear for a concert isn't something that you'll wear on a first date. And if that wasn't obvious before, consider this as a golden rule. You could buy a tee form the best tshirt brands available out there, but unless you're dressing for the occasion it really doesn't matter. If you're dressing for a first date, choose a tshirt logo which will work as an icebreaker or a conversation starter. If you can't decide what to wear during a night out with the boys, just type trending t shirts 2017 on your search engine and mimic a look you like best. And if you're going to a concert, you have to look absolutely baller – so buy one of those graphic tshirts online which is a combination of funky and sarcastic. Of all the t-shirts for men available out there, you need to buy something which catches your eye and speaks to you.
T shirt trends – Look for what's in and what's out.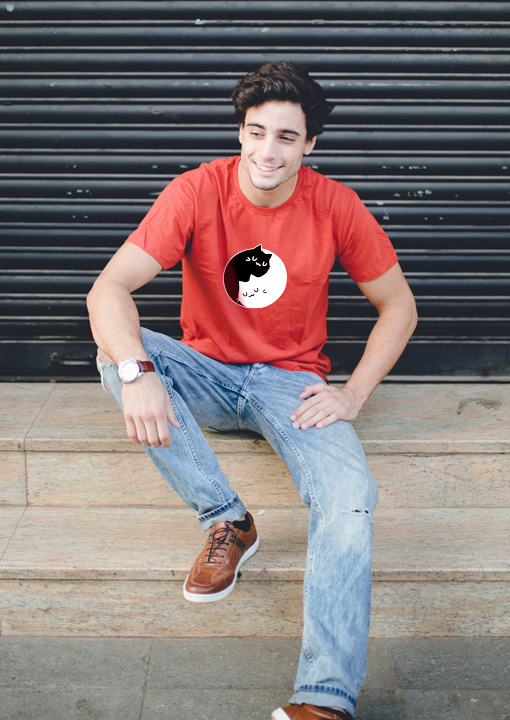 This is pretty easy thanks to the advancement in technology. You can just simply Google 'popular t shirts 2017' and you'll know exactly what is in by what the celebrities are wearing. And don't be surprised when you'll see your Google search results filled with graphic tshirts! More often than not, trending t shirt designs are in tune with the shows that are doing really well. In 2011, Game of Thrones tees were the biggest thing (and are still trending t-shirts), hence everyone was and still is wearing them. It doesn't really matter what the trending shirt designs are because those depend on personality type, but as long as you've got the latest trends (be it colour or the area covered in writing) in your mind you can play around with the designs.
Printed tshirts for mens are all the rage, which is why they come under the t shirt design trends 2017 category. So when in doubt, pick up a graphic tee which speaks to your soul and own it! So the next time you're feeling down and out, or you just need a reason to pamper yourself, simply type in graphic tees India and get busy shopping!
Image credits: The copyrights of the images used in this post belong to their respective owners. The credits where known are specified under the image - if you're the owner of an image and want it removed, please contact us.