Find out which women's top wear item are you according to the types of personality attributes you possess!
The trends in the fashion world are quite dynamic. What might be trending two days back can suddenly become outdated and something that you might have bought months back may suddenly trend again. The social media and fashion blogs, magazines and news are your windows into the fashion world.
Your type of personality decides what you wear
The different types of tops you flaunt are more than just a piece of cloth covering your body. What you pick and to which style do you stick to have a lot to say about your personality. You spend hours in searching for an apparel of your choice and that too in the particular shade you want. You shop from among the various types of tops available, a single piece of top-wear. This is not just a fluke or an impulsive buy. Your choices reflect your thoughts and your thoughts reflect your personality.
Trends keep switching on and off making the fashion cycle roll in the loop. But style on other hand is a way to express yourself. It is something each of us possesses. Unlike trends, your personal style doesn't depend on what a film star adorned or what glammed up the ramp in a fashion week. Each one of us has an individual personality which is reflected in the minute details in your apparel. Knowing what your choices say about your personality will help you express yourself better.Also, there will be days when you will want to hide certain characteristics of your personality and at such times you can wisely choose your apparel. Be the one difficult to read through or just be that open book written in invisible ink. Know your style better than others.
Find out which top wear item are you based on types of personality.
Bohemian style tops – The boho chic

If you are one of those who love to flaunt their gipsy soul amidst the corporate world of neutrals, you surely belong to this category. The flowy silhouette, vibrant patterns, tasseled embellishments are the main characteristics of Bohemian Tops. The floral and paisley patterns stand for your free spirit soul. Whereas the abstract hems and loose silhouettes embrace the easy going person you are. Although, all together its charming appearance makes your approachable and friendly persona standout from the rest.

T shirt style is yours if you are a girl who…..

The T-shirt has become a crucial part of our daily wardrobe and right now a lot of you are thinking if this persona is for you. Nowadays a lot of youth is spotted expressing their moods, thought and icons with the T-shirts sporting funky prints. On the other hand, we also spot individuals sporting plain t-shirts leaving a room to surprise us with their behavior. People with t-shirt persona are tough to crack at first but the buoyant spirit makes a welcoming personality.They are usually rebellious and don't seem to care about being judged for it
Check out our coolest custom T-shirt collection, where you can send us your design and we'll print it for you on our premium quality T-shirt at an unbelievable price. Click on the below image.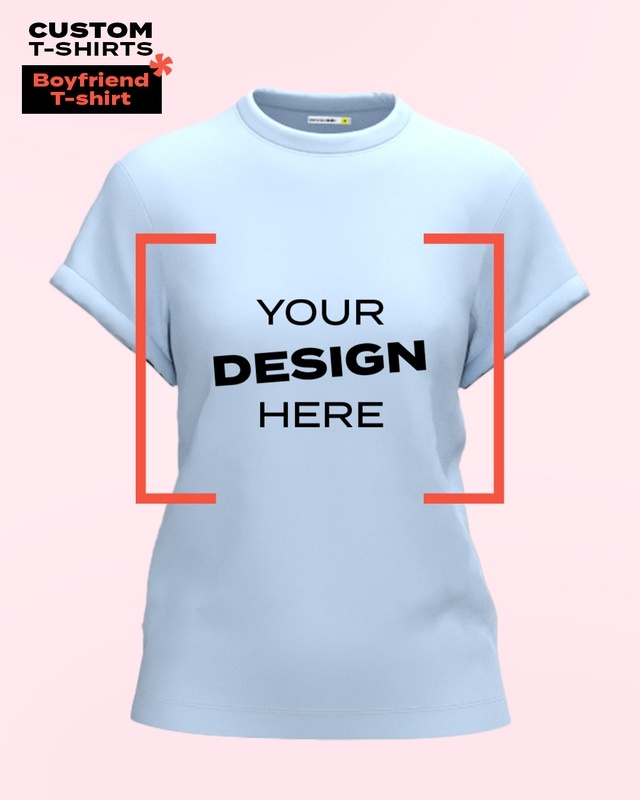 Crop top outfit for the fun seekers

There are people who buy crop top and wait to fit into it. Then there are people who buy crop top and flaunt it. If you are the one in the second example, you know you're a crop top outfit personality. Its bold style reflects a fun and reckless attitude. Whereas, the easy fit silhouette embraces the friendly nature. People with crop top persona are experimental with trying new trends that indicates they do not fear to take chances. If you are a crop top persona then you are usually known to be the fashionista of your squad.

Shirt style personality for crisp and strong headed women

If the smell of a clean shirt makes your day, you know you are a shirt personality. The crisp pattern and the classic style of shirt highlight your sleek personality and elegant taste respectively. For you, the elegance and particularity is everything. People falling in shirt persona are usually well-organized. Moreover, there is further bifurcation in this persona, where there is a classic shirt personal that includes people preferring shirts in neutral shade irrespective of occasions.

Peplum top outfit for the cheerful girls

If you are a perfect combination of trend and elegance, if you know how to rock your office wear without going for usual formals then you are surely a peplum top personality. The lean pattern with a flair attachment shows a combination of organized personality and an equally fun-loving person you are.The feminine pattern stands for the cheery side of your personality. Your style is usually an epitome of effortless style and polished details. You like to adorn dainty jewellery along with your apparel that embraces your love for details. A peplum persona is definitely the face of a modern woman filled with self – confidence and fearless liveliness.

Turtlenecks mean you have a reserved personality

Some things never go out of fashion and some people can carry them off well at any given point. If you are one such person who loves to find the way out between being stylish and reserved at the same time, you got to be a Turtleneck personality. The high-neck pattern and body-clinging fit embrace the warm and welcoming side of your personality. Turtleneck personality people are a striking balance of reserved behaviour and loud mind.

Openness and experimenting signifies a wrap around top

If you are a summer or a fall person, you got to be a wrap-around persona. The deceptive pattern stands for your experimental curious nature. Whereas the overlapping pattern shows that you are open to new ideas. People belonging to this persona are likely to be more experimental with colours and prints to express their moods.

Sweatshirt – Warm tops for winter and everyday favorites.

We find streets full of various types of sweatshirts and you are thinking if you belong to this persona. Well to make it clear if you are the ones choosing to stay in bed over attending a party, you are a sweatshirt personality. The cosy factor of the sweatshirt pattern symbolizes that such person is usually lazy, a procrastinator and prioritizes comfort over everything else.

You're a cardigan girl if..

People who believe in the old school charm are rare and so is this persona. If you like to hold on to the traditional styles and like to embrace the beauty of simplicity, you definitely belong to the cardigan persona. The simple appearance stands for your undertone personality. Whereas, the tradition pattern embraces the politeness and gratifying attitude in your personality.

Poncho style tops mean you're your own unique self.

This is the one personality where not just you but everyone else too know that you belong to a Poncho personality pertaining to your distinctively unique choice of clothes. The unconventional patterns of poncho tops stand for your out of the box thinking. Ponchos are available in various patterns like knitted, woollen, silk, embroidered and more. These standing out and alluring designs highlight your love for art.
We would say different types of personality have different styles pertaining to his/her age, a way of living, personality traits and other influential factors. You know your choices better and after reading this blog you also know what your choices say about your personal characteristics. Although, many of you are still contemplating minds over having a mixed persona. Yes, it is possible to have mixed personas taking into consideration your mixed personality, peer influences and other factors. What is more important is to fearlessly express what you believe in and embrace what you are.
Image credits: The copyrights of the images used in this post belong to their respective owners. The credits where known are specified under the image - if you're the owner of an image and want it removed, please contact us.