The pencil skirt  on the surface looks like a no-nonsense separate, but in reality there is so much that you can try with pencil skirt outfits. Read our article to know about how to wear pencil skirts and whatCampus Sutra topstops to wear with pencil skirts. Make the coolest fashion statement this season!
What Is Pencil Skirt- Know your Basics!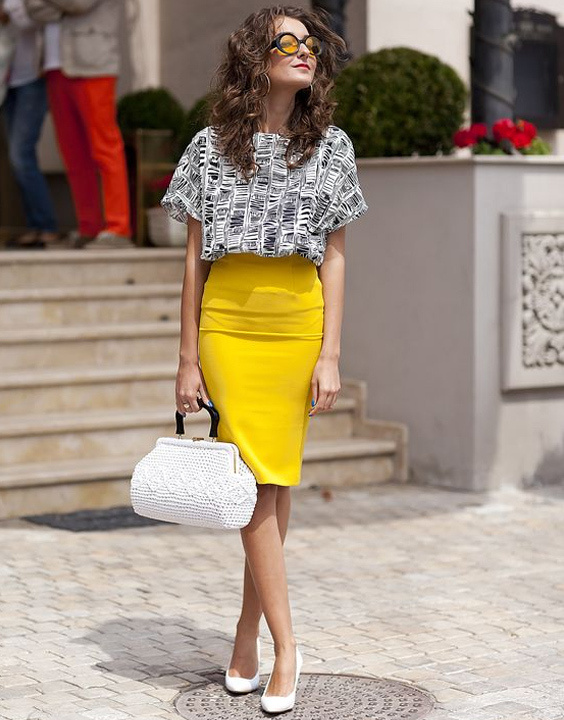 At this point, you may be wondering, "What is a pencil skirt?" That's easy! A pencil skirt is a streamlined skirt that hugs close to the shape of the body. Its straight and narrow cut resembles the long and slender appearance of a pencil, rendering itself the name. The hem of the pencil skirt generally touches the knees, but the longer variation of these skirts have also made a splash this season. You can't challenge the pencil skirt dress! Why challenge it, when you know exactly what to wear with pencil skirt to make you look fab!
Pencil skirts are well received by women across all age groups. Pencil skirt outfits for teenagers turn out to a popular choice, especially when they're hitting college!  The pencil skirt dress has made a comeback giving the wearer a more coy and cocooned appearance. As it closely follows the shape of the legs, pencil skirts are notorious for restricting the movements while walking. Hence, it is usually stitched with a slit at the back known as a vent to create more leg room for movements. However, if the vent is not up your alley, Your best bet in such cases is a pencil skirt made with a stretchy knitted fabric that is easy to move in. Pencil skirt and top combinations are trendy and fun so you must check 'em out!
How to wear a Pencil Skirt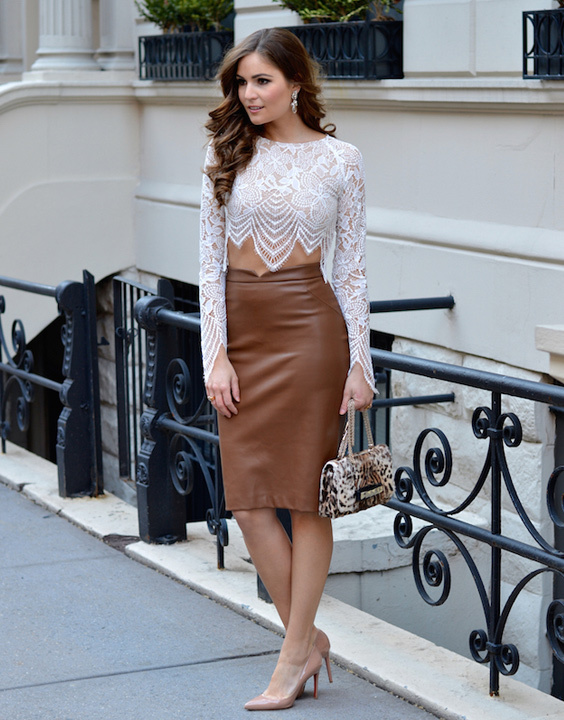 Learning how to wear a pencil skirt is your first step into acing the pencil skirt dress. Traditionally known for its formal appeal, skirts have become more mainstream and have re-emerged with a bang in 2018!
Today, skirts have evolved to suit every girl's fancy and you can have your pick from A-line skirts, pencil skirts, accordion skirts, and bubble skirts to complement your personality. We shall discuss one of the most universal types, that is the pencil skirt.  With the help of this article you will learn how to rock pencil skirt outfits and different tops to wear with pencil skirts without much hassle.
Tops to Wear with Pencil Skirts
Pencil dress designs can be really unique, you know! The pencil skirt outfit in itself is a very young and hip ensemble that you'd love to wear! The great thing about pencil skirts is that it can be adapted from office wear to an evening ensemble by making subtle changes in your outfit. Tops for pencil skirts range from t-shirts to shirts and blazers as they all go well with the formal pencil skirt. Crop tops, peplum tops, blazers are all great options and complement the pencil skirt, when we're reviewing tops to wear with pencil skirts.
The pencil skirt and top are a match made in heaven. A skirt with shirt always works, but the pencil skirt with top is really quite effective, especially in the summers.
Pencil skirt and crop top combination

Source – Pinterest

Crop tops add a layer of fun and sexy to your ensemble and are characterized by the skin show at the midriff region. Hence, the pencil skirt and crop top make a great pair!

Combine a plain white crop top with a body-hugging pencil skirt in black or grey, and you will end up looking sexy and formal in one fell swoop. You can hardly ever go wrong with crop tops and high waisted pencil skirts and can always rely on this failsafe option. Sticking to monochrome colors is a safer bet in case of doubt, you can also break the skirt with shirt outfit by opting for contrasting colors in the top and bottom half. Honestly, the pencil skirt and top combination is not at all an odd choice and works wonders every time.

Formal Pencil Skirt Outfit

Source – Fashion Gum

The corporate dress code can be achieved easily by incorporating the pencil skirt with top combination. The formal pencil skirt can be a force to reckon with. There is a multitude of colors, fabric, and patterns to choose from and so the options are endless. If you're someone who likes to stick with safe colors, a black pencil skirt will come to your rescue.

A skirt with shirt combination is one of the quintessential office looks that can be assembled as a last-minute outfit of choice. Moreover, selecting slim heels with a long pencil skirt and top, will give you an elongated silhouette and make you appear leaner.

Floral Pencil Skirt Outfit

Source – Memo Randum

The floral pencil skirt can give your attire the boost it needs. While florals add a refined touch to what could otherwise be a sober outfit, the bodycon effect of this tight skirt can enhance your curves.

Apart from this, there are so many people who crush on florals! The floral style in tube skirts and fitted skirts can look quite mesmerizing. Bask in the fragrance of florals, and add a pair of daring stilettos to your outfit. The pencil skirt dress is a fantastic choice!

Black Pencil Skirt Outfit

Source – Fashion Diva Design

Nothing screams formal wear like a black pencil skirt outfit. Black pencil skirts are one of the most essential items that every woman should make a part of her wardrobe. You have options ranging from mini-skirts to knee length skirts and long straight skirts to choose from.

Also, leather pencil skirts are a bold choice but unfortunately it is not meant for everyone. However, if you can pull it off, play with patterns for tops like polka dots and stripes to layer your outfit. A black pencil skirt outfit is sure to rock your party look and give you an edge over the others.

If you need an alternative, you'll find a sober combination in a grey skirt outfit. The color grey is not as intense as black, but it'll work just as well for your corporate attire.

White Pencil Skirt Outfit

Source – Lookastic

Your fashion choices should not be limited! The same theory goes for your body type! For an athletic build, a straight skirt would probably be your first choice. But then again, just because you're curvier than other man, you shouldn't let that dictate your choices. You can definitely work the white long pencil skirt look!

Wear a low-neck, halter top in a mellow hue and pair it with a white pencil skirt. Carry a smart accessory in the shape of a stylish clutch and you'll see heads turn!

Denim Pencil Skirt Outfit

Source – meagansmoda

You've probably already seen pencil skirt images, and this particular pencil skirt style you might have stopped by. A denim-on-denim trend for the pencil skirt is totally workable. Maybe a distressed crop top with a button-down denim pencil skirt is the perfect look for you. If not that, grab a torn or ripped denim skirt and pair it with a semi-formal shirt. Tie the ends of the shirt at the waist, wear a pair of sunnies and wear a pair of comfortable wedges and you'd be ready to slay in this ensemble!

This denim attire is really cool when you're looking to choose stylish pencil skirt outfits for teenagers by Campus Sutra.
Image credits: The copyrights of the images used in this post belong to their respective owners. The credits where known are specified under the image - if you're the owner of an image and want it removed, please contact us.