Shorts are every man's favourite and an essential in each of their wardrobes. However, we all wonder about how to wear shorts to pull them off for various outings and outfits. Another common question all men have is whether shirt and shorts go well together? Read on to know everything you need to about shorts for men fashion.
Shorts for men are the ultimate style quotient during summers and monsoon. Hence, irrespective of where you're right now, you need no extra reason to sport different shorts styles. They are always season and occasion appropriate and you can either dress it down or notch it down to suit your fashion style. For instance, if you are wondering how to wear shorts to work on a casual Saturday, you can pair a formal shirt and shorts whereas, if you are going on a trip, especially if it is a long drive, shorts can be the classic way to shout effortless style and comfort. XYXX has made it their mission to provide ultimate comfort to all and what better way to do it than providing them with comfortable innerwear. 
During summers, you do not want to haggle with those tight-fitting or body hugging denim jeans, similarly during monsoon instead of ruining your favourite trousers and going through the hassle of it drying; the easy way out is by wearing shorts. The length of the shorts can make the difference. So, stay tuned to this blog on the before we spoil you with the answers on how to wear shorts the right way-
Types of Shorts: Shorts for men fashion- Tips to ace the look
Shorts which date back in style, as men sport them today are not from the age-old Europe breeches but from the military. From knickerbockers to shorts, men's clothing has undergone a lot of change, for the good!
Right fit is the key

Source – Modest Man

It is extremely important, to sport the right fit in the array of shorts for men fashion or they could look baggy and extremely underwhelming as opposed to the stylish piece of clothing they actually are. The area around the thighs must fit in a manner that makes you feel comfortable when you're standing or sitting and should not snug around at any place. Also, the waist fit must be that of the jeans, not too loose but not very tight either that it makes your stomach bulge out.

Choose patterns that will stay

Source – Outfit Trends

Often, men who look for trends, might invest in good pair of shorts which could be in fashion at one time but run out in a while. So, if you're someone who likes experimenting, keep in mind that you still want this clothing item in your closet for a long period, and go for patterns that will not disappear easily, such as stripes, dots or checks.

Light is the perfect match for light

Source – Lookastic

If you plan to wear a light-colored pair of men's shorts, go for a light-colored underwear. This rule applies to both genders and it's a safe option than having to complain about the dark colored cloth underneath your shorts.

Blazer with shorts for the contemporary man

Source – Lookastic

This combination of a blazer with shorts became a hit after it was showcased in music videos. However, it is a tricky combination and you must be absolutely sure about it to pull it off and have a dapper look. Not everyone can ace this look. Nonetheless, experimenting and having a contemporary outfit never harmed anyone!

Shorts to office? Why not?

Source – Look Book Nu

Wearing shorts is not a very bad idea if your workplace gives off a casual vibe. After all, a place that is not too rigid about a formal dress code and supports casual wear is a true blessing in itself. Nothing can be better than being able to wear shorts and being comfortable while working!

Don't show off those socks

Source – Lookastic

The shorts style is well suited with casual shoes for men to wear with shorts, but shoes sans long socks. Don't ask why, it's fashion! Or go for those sole-covering socks which don't show outside of your footwear.

Which shorts to wear for what?

Source – Pinterest

Alstyle is one of the best brands of Athletic shorts, bike shorts and swimming shorts are meaningfully fashioned for the respective sport and not for casual wear. Summer shorts and the various types of shorts mentioned below however work best to pull off a casual look.
How to wear shorts? – A quick guide!
Shirt with shorts – absolute sophistication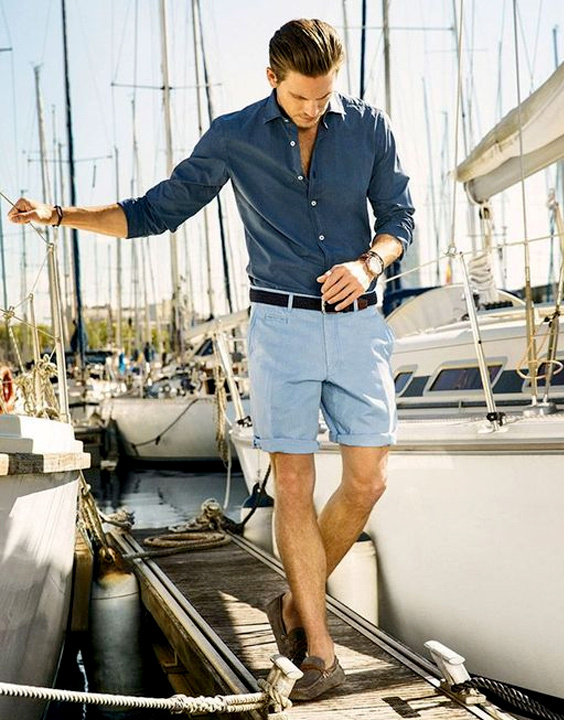 If anyone told you that a shirt and shorts don't go along well together, go show them how to do it because it's absolutely cool to wear it. You can style shirt and shorts in multiple ways like wearing a shirt tucked in with a belt or you can layer it with a t-shirt underneath to make it look more street style. Finish off this look with your favourite pair of shoes to make it look semi casual or completely street apt. Shirt and shorts are sure to work wonders to rock the shorts fashion!
T shirt and shorts- as casual as it gets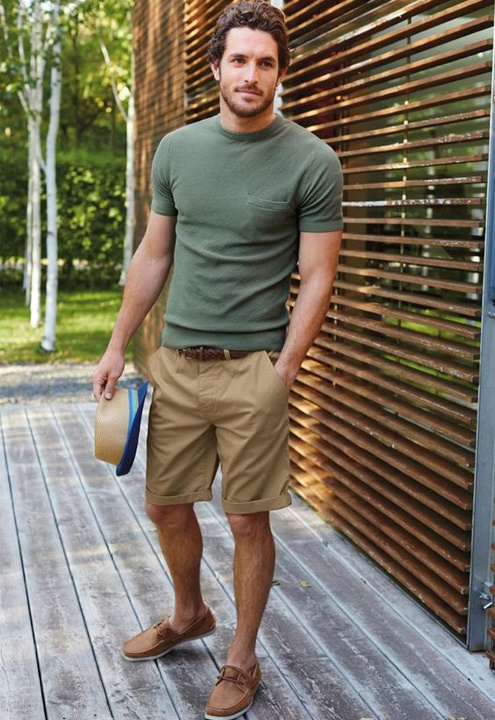 You could play it the classic way by wearing shorts with t shirts if you're ever confused what to wear with shorts or about the tops to wear on shorts. Either a round, V neck or a polo t shirt and shorts can be worn to give yourself a complete rounded off yet a varied look. Sneakers or even slip ons can be a great choice to suit the occasion, whether it's a day out with friends or you're heading out to the mall to chill. T shirt and shorts are the perfect beachwear for men and best dressing style for boys in summer, relaxed, comfortable and hot. Go grab a pair of your favourite summer shorts now!
Shoes with shorts – the ultimate combination
As mentioned earlier, it is the outfit and the occasion that call dibs on the choice of shoes if you are wondering to wear with shorts. You can also wear loafers or sneakers, or you could sport floaters or slip ons to dress it down for a casual look or to notch it up for a good dressy outing. The trick is to find the right pair of shoes with shorts. However, casual shoes for men with shorts will always be the thing.
Types of shorts to fit your style quotient
Sweat shorts – comfort is the key!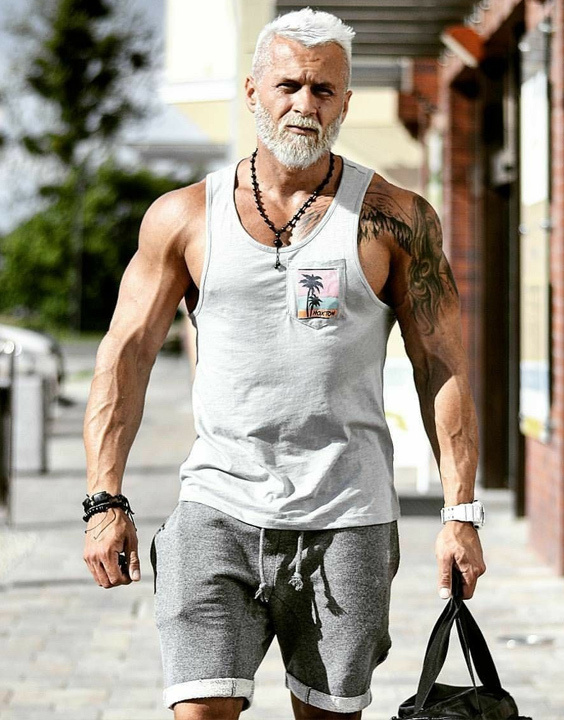 How to look trendy and be comfortable? Buy a good pair of sweat shorts which can keep you company for most casual days. This is a signature comfort clothing style and you could pair it with a t-shirt and sports shoes to round off your look. Sweat shorts fulfill the latest trend of athleisure clothing, thanks to their look and their fit.
Jean shorts- Casual yet trendy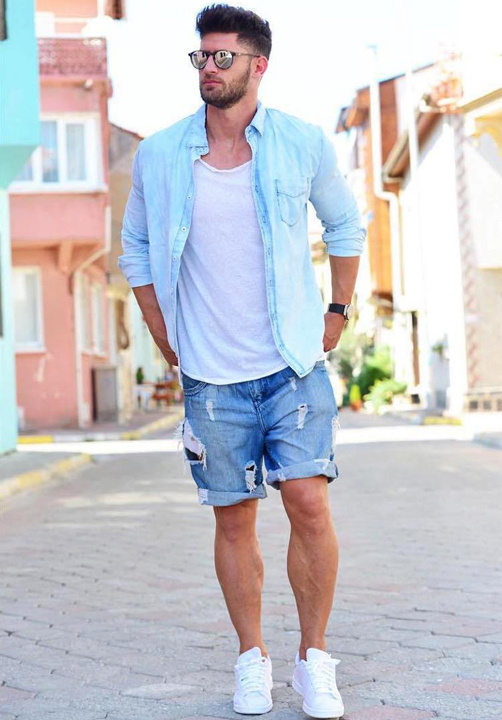 Denims are everyone's staple must have in the closet but when you can do the same with your shorts, why not? They look casual and yet trendy. While it's not too dress-down, it is apt for any outing. The right belt and loafers or espadrilles can make any man look stylish and contemporary. Jorts, i.e., jean shorts had seen a decline in the market but with the latest trends like ripped denims, they are back in fashion!
Cargo shorts- man up!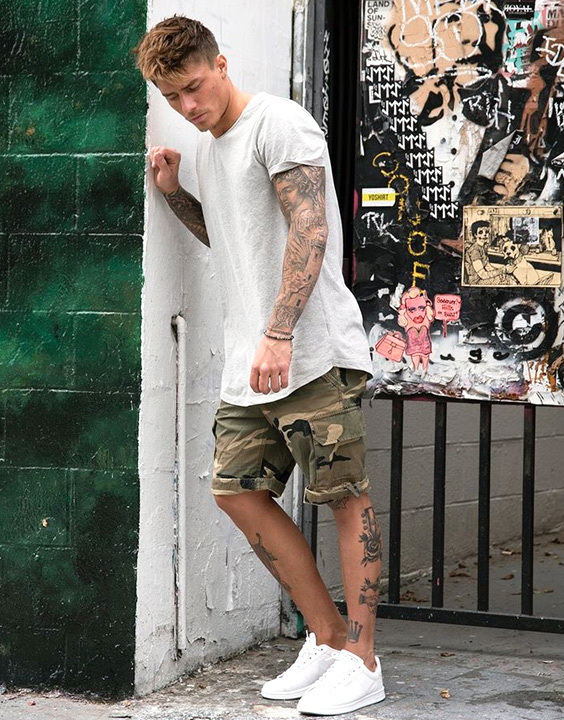 Shorts in itself date back to the military, and cargo shorts are the best example of this trend and how it has transitioned over the years. Side pockets (lots of them) and comfort are the pros of sporting these cargo shorts, making it extremely practical to wear something like that. Tones of camo (or khaki) are making its way back into the fashion scene, so men invest in one, we would say!
Chino shorts-always classy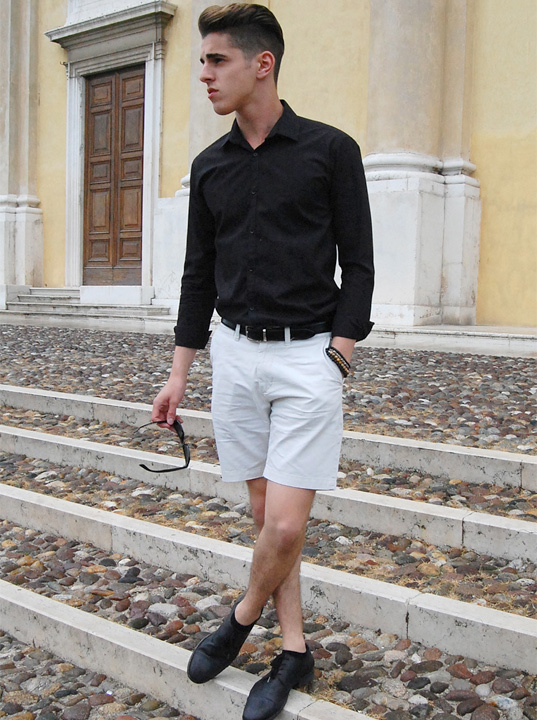 The trendiest and modern of all are chino shorts which are both comfortable and look striking. You can pair your chino shorts with striped or plain shirts, tuck them in to give that more formal and dapper twist to your outfit. As mentioned above shirt and shorts are always a good idea.
So, don't fret too much thinking how to wear shorts, it is as easy as any other piece of clothing. To make the outfit classy and to pull off a trendy casual look opt for shirt and shorts and keep experimenting with the different types of shorts.
Image credits: The copyrights of the images used in this post belong to their respective owners. The credits where known are specified under the image - if you're the owner of an image and want it removed, please contact us.