Clueless about different types of belts and how important they are? Don't fret yet! Read this post to know more about the various belt types and how belt buckles can serve as the perfect adornments when you're making a formal or informal style statement.
If there's one thing you'll find in every sharply dressed man's wardrobe, it's a set of different types of belts for every occasion. The belt started off as a utility item; something that would remain a constant and would hold your bottoms up securely by the waist, irrespective of body changes. But in modern times, varied belt types are available not only for functional use, but as trimmings to make your outfit stand out that much more. The choice you make with your belt types is critical, as they can define who you are, and what your style mantra is. It becomes imperative for you to choose the right piece for your look, whether it's formal or casual, night or day.
The fashion industry has grown leaps and bounds, and the options are endless. When it comes to mens belt styles, the choices range from leather, fabric and woven belts, and cover all kinds of colours and belt buckles. It isn't just the fit and quality, but also the material and colour that matters when picking the right belt types. When donning a belt, ensure that the colour matches your shoes, so that your outfit doesn't end up looking completely mismatched. A woven or fabric belt will work better for a casual look and is a great belt for jeans, whereas leather is a definite formal choice.
So buckle up, as we take you through the different types of belts and belt styles that you can use to become a serious source of style inspiration. Follow this guide to learn about the difference between formal and casual belts and how to wear a belt the correct way.
Choose different types of belts in trendy colors for your formal attire!
There is so much to choose from when we're talking belts! Before you get down to selecting which one would suit your overall attire the best, get your basics right.
How to wear a belt in the right colour can be tricky business, especially if you've got a wide variety to choose from. Black and brown have been around for years, as the trusty staples, but the modern man has expanded his belt vocabulary to include blue, navy, grey, tan, and rust. The colours remain on the earthy end of spectrum, as these tend to work with multiple items of clothing.
Pick a Black leather belt for a nice formal touch!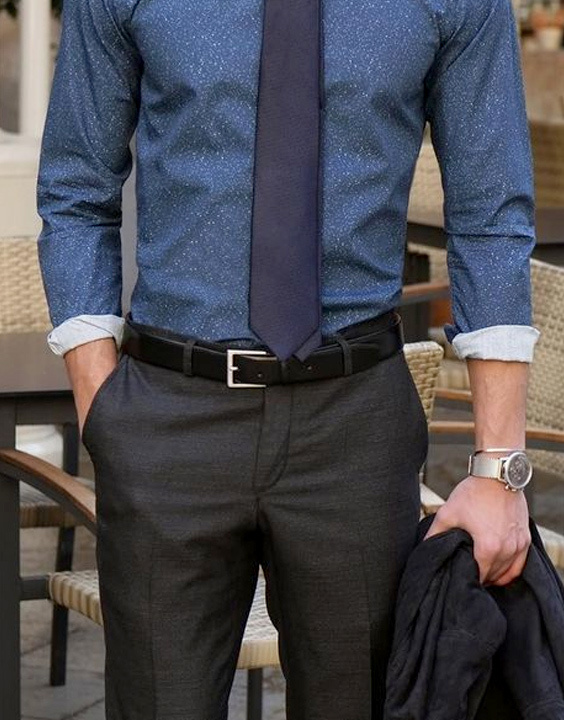 The belt is a fairly simple piece of fashion accessory, and extremely comfortable and easy to wear. Leather is usually suitable as a formal belt with trousers, or as a suit belt. Quite obviously, it isn't meant to dress up your outfit any more than it should, and must only work as a stylish streamlining factor between your top and bottom half. Think of it as something that will smarten up your look, like a tie, in an understated, subtle way.
A Brown formal belt can serve as a sleek add-on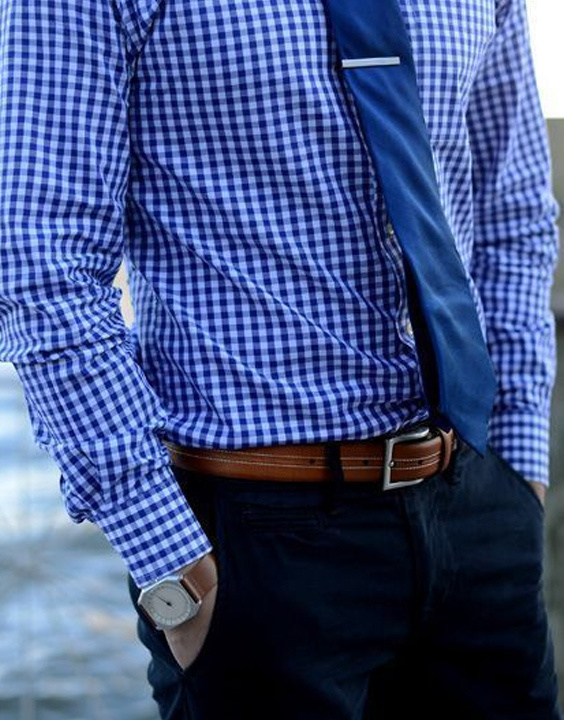 While a black leather belt has a tendency to meld into your outfit quite indiscernibly, a formal brown belt takes a little more work. Having said that, formal belts for mens wear do come with simple buckles and a flexibility that only an earthy colour like brown can offer. When coupled with polished brown leather shoes and almost any combination of shirts and trousers, this is a winning look!
Belt buckles for formal wear- clasp it on real nice!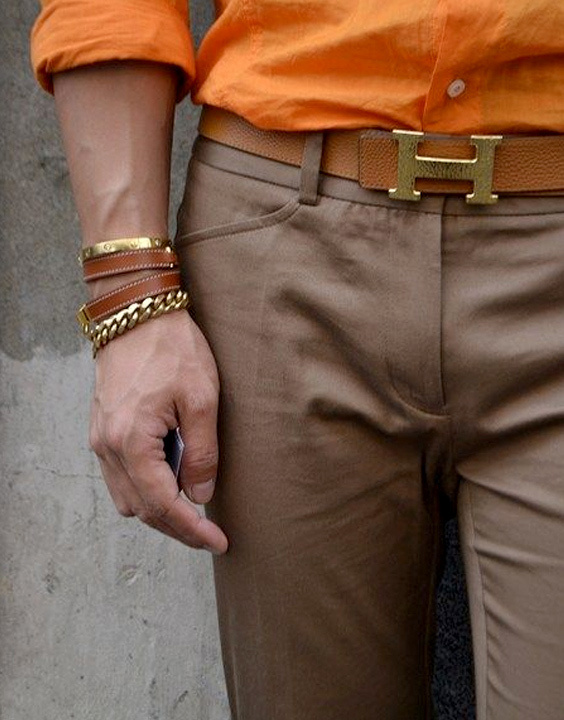 Different types of belts offer different opportunities to show off your personal style, but the one thing that remains constant is the belt buckle. Over the years, with the evolution of fashion in general, the types of belt buckles have undergone some drastic changes, progressing from the plain frame buckle to the modern plate and two-hoop buckle. For formal belt buckles, the classic framed buckle in matte stainless steel keeps it low key, irrespective of the colour of the belt. Just make sure the metal frame colour doesn't clash with the strap of your watch.
Choose cool casual belts for casual outings
Of all the types of belts available in the global fashion arena, it's the casual ones that offer the most opportunities to create bold, layered looks. Non-fussy and easily complementary with almost anything you wear on a daily basis, the casual belt for man comes in all kinds of materials, mainly fabric. These are most suited for casual summer looks, either for a lunch date, an evening with friends or a sunny day by the beach, and work great as a casual belt for jeans or shorts. It imparts a relaxed look and lets you show your experimental streak.
Woven casual belts for jeans and shorts will weave into your fashion statement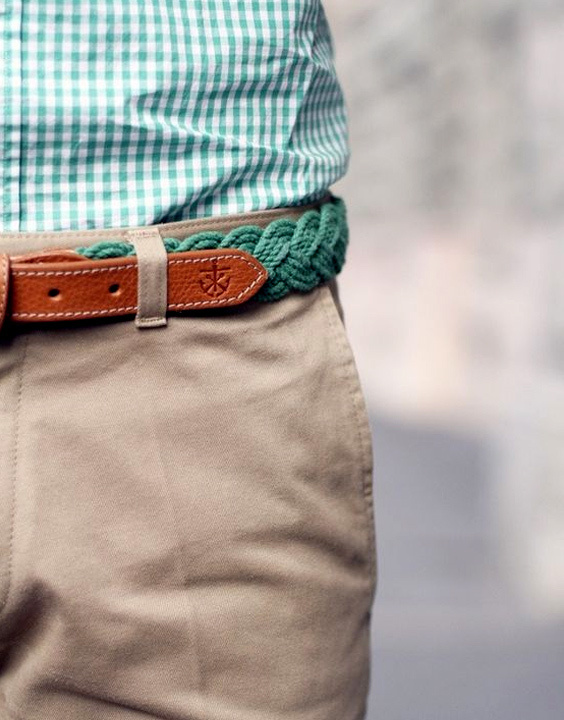 Woven belts are those types of waist belts that are the mark of a man who believes in the classics. The texture of a woven belt is such that even with a pair of chinos or linen shorts, it has the ability to make a big impact. One of the most nifty belt types we have today, woven belts in their traditional zigzag design have become a rage on the runways, especially for their informal, summer vibe. Our ideal choice would be a plain white t-shirt, a pair of khaki shorts, flip flops and a dark brown or rust coloured woven belt for a well-put-together look.
Try Fabric belts! Your belt could use some fabric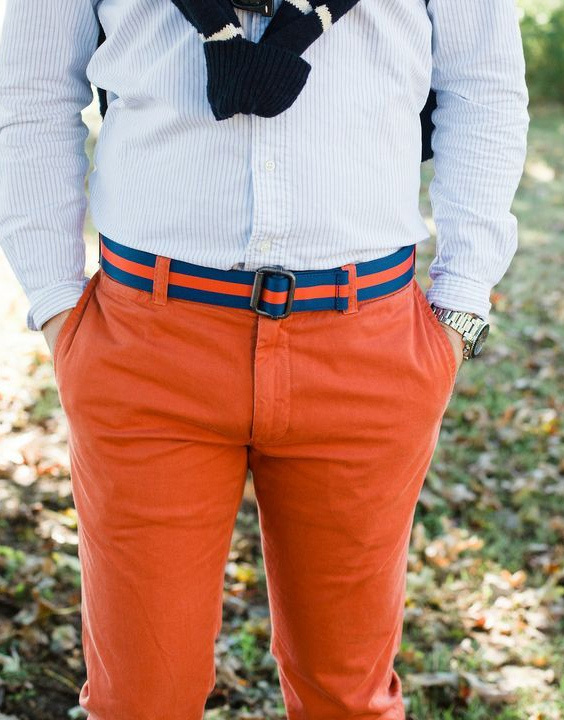 If you're open to experimenting with colours and textures, fabric belts is the way to go. They're easy to use and maintain, and add an element of fun to your outfit. Canvas and cloth belts are the most commonly used fabric belts, available in all forms of patterns. The fabric belt texture is such that it easily wraps around your waist, without the stiffness that leather may have.
Thin belts can amplify your formal attire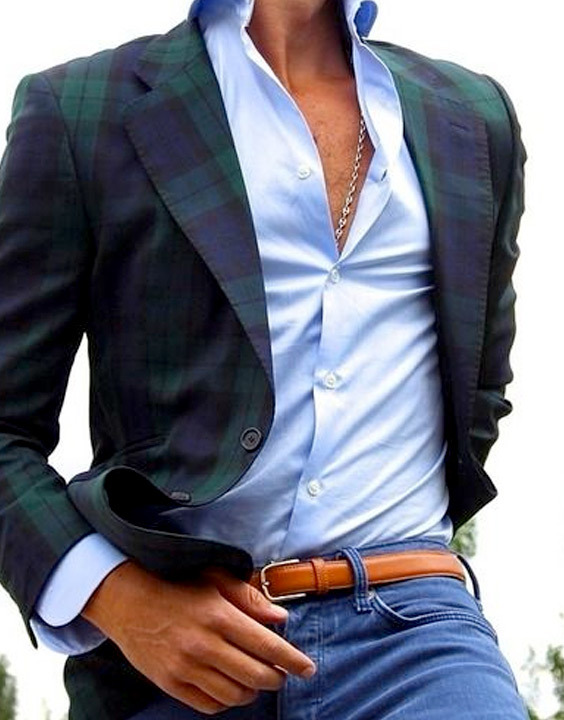 For a lot of people, wearing belts that are thinner than the pant loops and don't manage to fill them in is a serious faux pas. Instead of following the trend, how about you set a new one? Thin belts for men take a little more effort to carry off than regular sized belts, but it all depends on the flair it imparts to your look. Thin belts are usually dressier and more formal than the thick ones. The belt isn't meant to look delicate, so keep your outfit in check by balancing the heaviness with softer materials and colours.
Image credits: The copyrights of the images used in this post belong to their respective owners. The credits where known are specified under the image - if you're the owner of an image and want it removed, please contact us.