Need to know about the types of sunglasses you could wear when you're hitting the streets?  Confused about which one suits you the best? Look no further. Read on to know more about the different types of sunglasses that you might love wearing this season and sunglasses that'll compliment the shape of your face.
Sunglasses are one of those simple accessories whose power we keep underestimating in our overall look. They can make or break the charm of a perfectly planned outfit. Various types of sunglasses are available in today's date and time, so you will never run out of options to choose from. They vary according to face shape, size, occasion and trends. Don't believe us? Follow our guide below that is dedicated to introduce you to the different types of sunglasses that can add an extra zing to your outfits without being too much or too little. Also, we're going to tell you exactly how to choose sunglasses for your face shape, so get reading!
Classic sunglasses that can never go wrong!
If you're wondering what we mean when we say 'classic sunglasses', we're going to answer that for you first. They are sunglasses that are built to last. No matter the sunglasses shape, these will never go out of style and never stop being of great use to your eyes. They protect your eyes against the harmful UV rays of the sun, and they will be your companions for years to come. So if you're into fashion with high utility value, these are made for you. The one thing that stands out in these are the lenses, they do a great deal for your eyes if your job requires you to stay out in the sun for long periods. Make sure you get them in a frame you like. Read till the end to uncover tips for how to select sunglasses!
Wayfarer shades – Sunglasses that never go out of trend!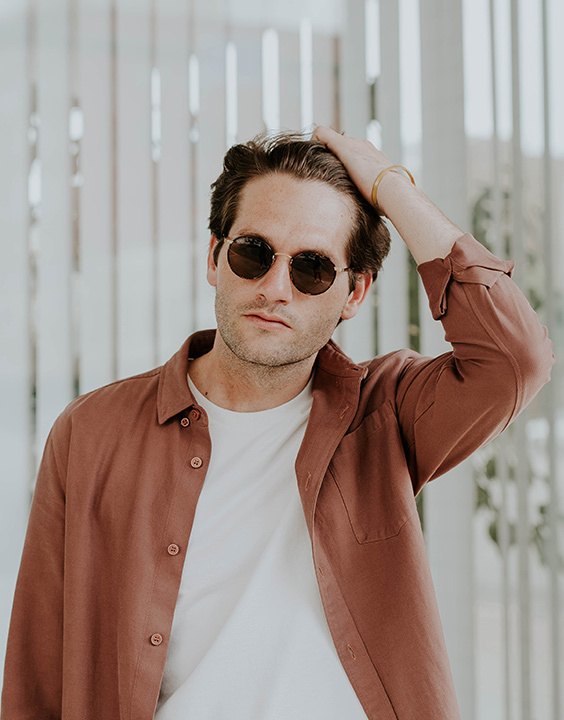 Wayfarer sunglasses are an absolute summer classic. Come summer, you'll see a lot of fashion people wearing wayfarer shades with ease. Why, you ask? Wayfarers have ruled the industry for over 60 years now, and that in it is a huge achievement for this style. Yes, you won't see huge headlines dedicated to how versatile and minimalist these sunnies are, but you'll definitely see them perched behind a well dressed man or woman who wants to stand out while blending into the crowd. It's also safe to say that they go well with almost every outfit, so they are an amazing investment. A lot of retro celebrities like Audrey Hepburn, Bob Dylan, James Dean, etc. have contributed to the classiness of this mens sunglasses style. (Although they go both ways.)
Fun fact; they were the first types of sunglasses to be made in acetate rather than the usual metal. Can't say that they aren't revolutionary now, can you?
Aviator sunglasses – Stylish sunglasses for men that have stuck around the most!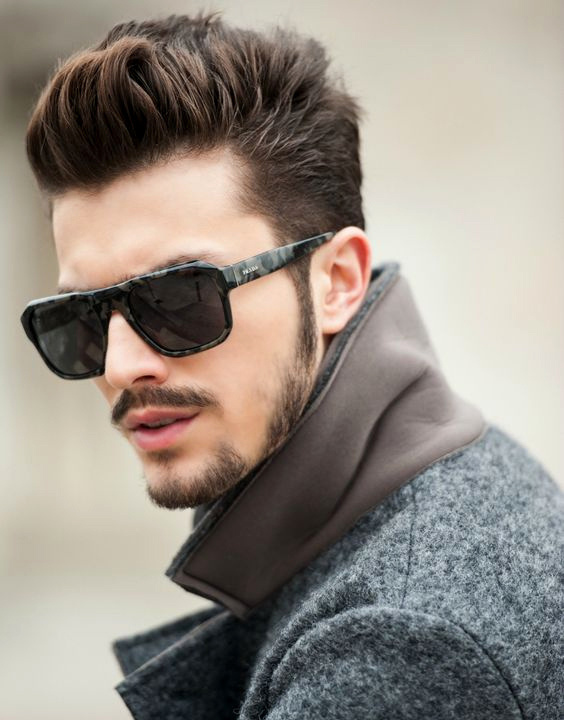 Among the different types of sunglasses available to us, aviators are the ones that are picked by anyone and everyone. The reason for this is simple; they look dressy without having to make too much effort, and the metal frames look as sophisticated as it can get. The first pair was developed by Bausch and Lomb and is now more popularly sold by Ray-Ban. They are known to be dark and have reflective surfaces when it come to lenses and thin plain, textured, or printed metal frames with either one, two, or three nose bridges. They are also characterized for being extremely rigid and comfortable. They easily make it to every list where stylish sunglasses for men is the hot topic. They were a huge hit in the 1950s, 1970s and then again in 2017. They are no wayfarers, but are a pioneer in mens sunglasses style. They also make a great choice of sunglasses for round face male!
How to choose sunglasses according to your face structure!
As we all might be aware, our face shape is often ignored when we shop for frames and sunglasses shape. We come to a decision based on style, color and texture. Sunglasses for men face shape plays a huge role in shaping your look and overall personality as well, so let's not take this lightly anymore. There are different types of sunglasses assigned to different face shapes like square, oval, round, etc. Hence, the number one determinant while choosing the perfect pair of sunglasses should be how your face is structured. Paying attention to details is what will captivate others and give you a huge confidence boost in the long run. Fashion and style go hand in hand with many things, but the commercialization of fashion products bars bloggers and media from talking much about the latest trends in accessories and how to wear them. You got to give people something to praise by getting your accessories right. Let's discover the exact kinds of sunglasses made/suited best for each face and how to pick sunglasses for your face shape.
Round sunglasses – Perfect sunglasses for square face male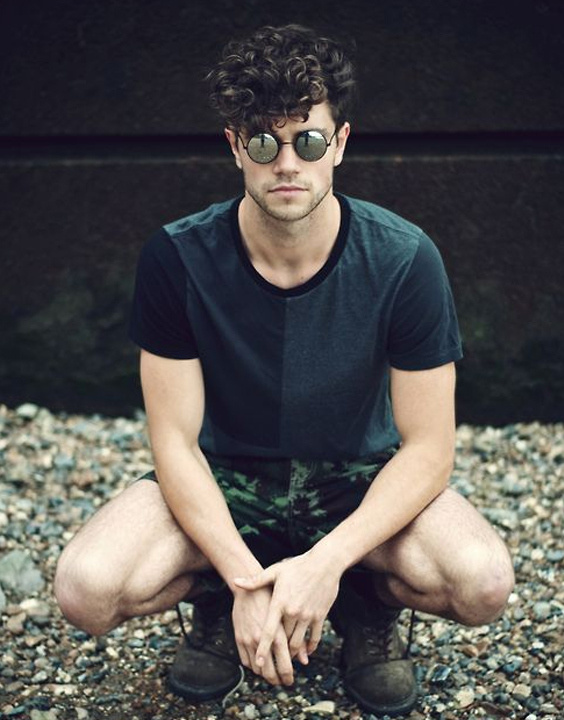 If you have a square face shape, you must have a defined jawline and the length and width of your face should be equal. This is the most popular face shape among young men. The trick is to give an appearance of softened out the edges on the face in order to make it appear less sharp and more toned down. Round sunglasses do the trick; they give an illusion of a perfectly shaped face. Best sunglasses for men face shape when it's square are undoubtedly round frames!
Square sunglasses – Sunglasses for round face man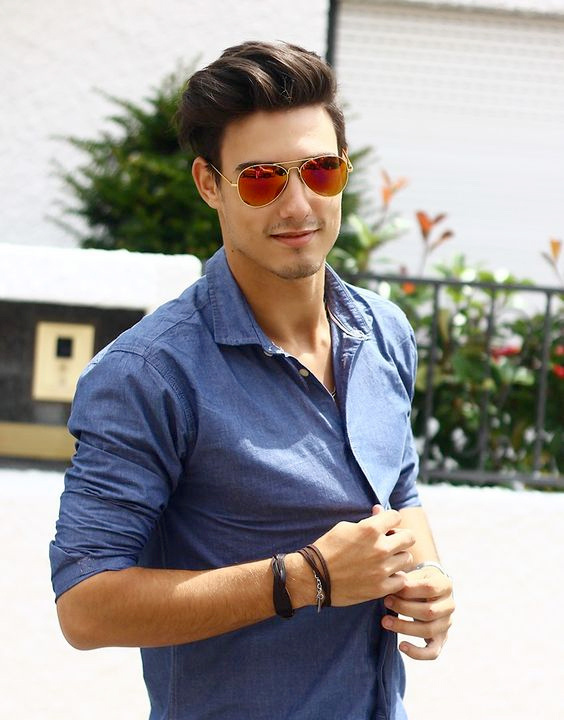 To be called a round or oval face shape, one must have a rounded jaw and no visible edges on his/her face. This is the exact opposite of a square face shape. Hence, the best sunglasses for round face male are square shaped sunnies. They add the much-needed illusions of edges on your face, thus making it look more defined and cutting down on any extra chubbiness. Wayfarers are a great choice for sunglasses for oval face male. Your best bet would be to avoid cat eyeglasses and round glasses no matter how appealing they look and pick a pair of square sunglasses men.
Oval shaped sunglasses – How to select sunglasses for a triangular face.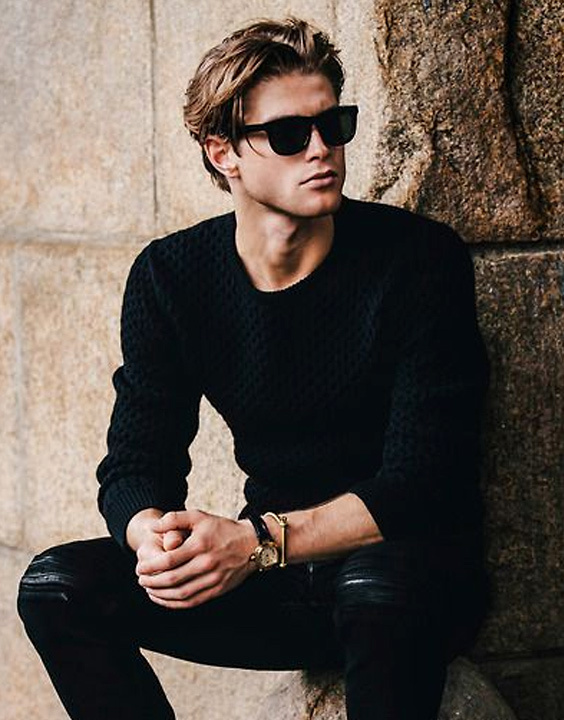 You have a triangle face shape if your forehead or your jawline is the widest part of your face. If you fall into this category, then making your face appear wider is the ultimate goal. For this purpose, oval shaped sunglasses are an ideal choice. Another good choice would be wayfarers. If you're questioning wayfarer sunglasses suit which face shape, then triangle face shape is included among many other. Just like sunglasses for men oval face are square, the same shape can be sued in a triangle face as well.
Now that we've covered maximum sunglasses for face shape male, it's time for you to go on and shop your hearts out. Just another reason to buy something new for your wardrobe, you now have the key to look like a star amongst a crowd that'll have all eyes on you. With so many types of sunglasses to choose from, we're pretty sure you won't have a single dull moment while buying your new pair of sunnies!
Image credits: The copyrights of the images used in this post belong to their respective owners. The credits where known are specified under the image - if you're the owner of an image and want it removed, please contact us.