"Baby, it's cold outside!" – here's your reminder to hit 'refresh' on your wardrobe for the winters!
Undoubtedly, December is the most-awaited month of the year. It's the holiday season, the weather is the best, and we can go into 'incognito' mode between the several layers of winter outfits. Now, who wouldn't love that?
If you plan on defying the ordinary and not giving into old habits of going everywhere in your PJs though, we have rounded up some of our favorite fashion icons and their winter #OOTDs for you to take inspiration from! Go ahead and read right till the end.
1) Gigi Hadid
The Victoria's Secret Angel we all know and love, Gigi Hadid needs no further description but we're still gonna give it a shot (and hope to do justice to it!) Having worked with the top brands of the world and posing for covers of sought-after magazines, Gigi definitely has our heart! You might think that her style game is limited to the camera, but you'd be wrong. Whether she chooses to step out or stay in, Gigi makes it all 'fashion'! We cannot copy her or even come close to being HER, but we sure as heck can get our dose of winter fashion inspiration and pick up an element or two from her highly-loved winter look.
Winter #OOTD Number 1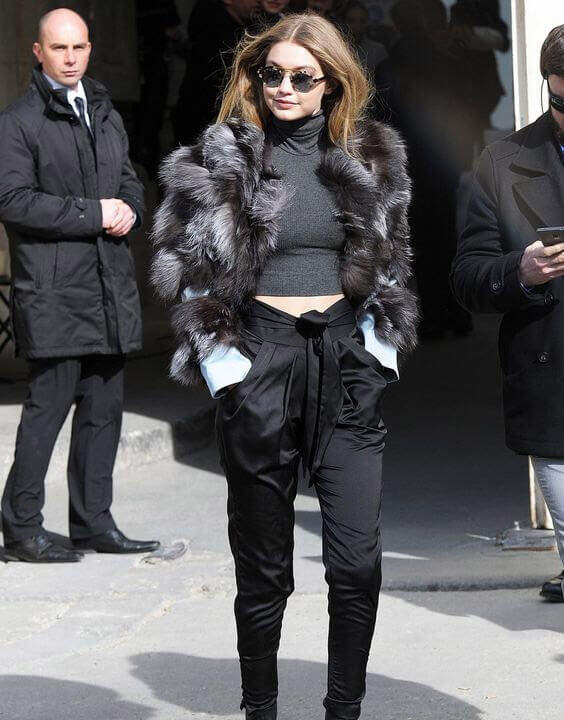 Let's face it – there is hardly anyone who does 'black' as well as Gigi! So, when she stepped out wearing this super cozy, furry & cropped jacket along with a turtleneck top and sleek AF cigarette pants, we couldn't help but stop and stare. She finished the look with booties and we can safely say we're following this one to the T!
Winter #OOTD Number 2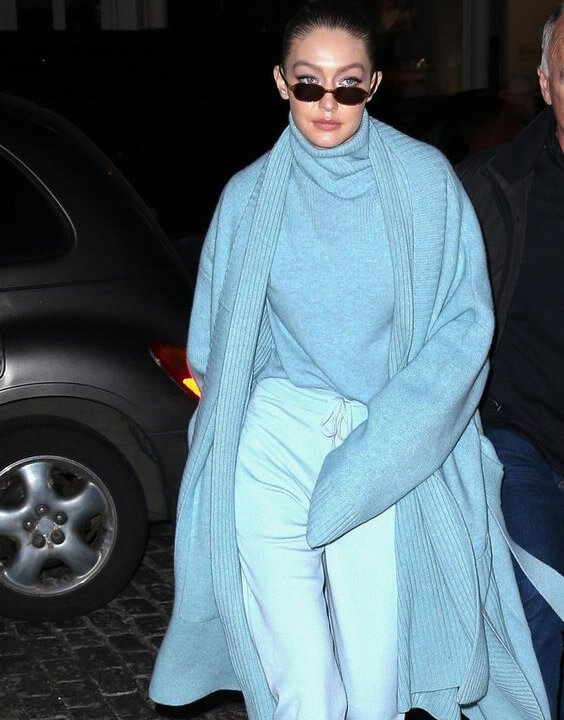 Even when Gigi is throwing major shade, we'd love to be subjected to it – cause she looks oh-so-good while doing it. Seen in a beautiful blue-hued cardigan and turtleneck sweatshirt along with white joggers for women, she was a sight for sore eyes! We love how she's sporting the pastel palette trend for her winter fashion!
2) Selena Gomez
The Wizards Of Waverly Place star with a voice of gold, Selena Gomez is always dropping some of the best winter fashion ideas year after year. Her style is a mix of cute, classy and comfy, and it's NEVER trashy! We love her because of her laid back yet trendy approach to winter looks. Her evolution has been noteworthy, from being associated with Disney to then moving on and becoming a pop sensation! The fashion police are always following her around, in hopes that they'll find something to criticise but they end up loving her game instead!
Winter #OOTD Number 1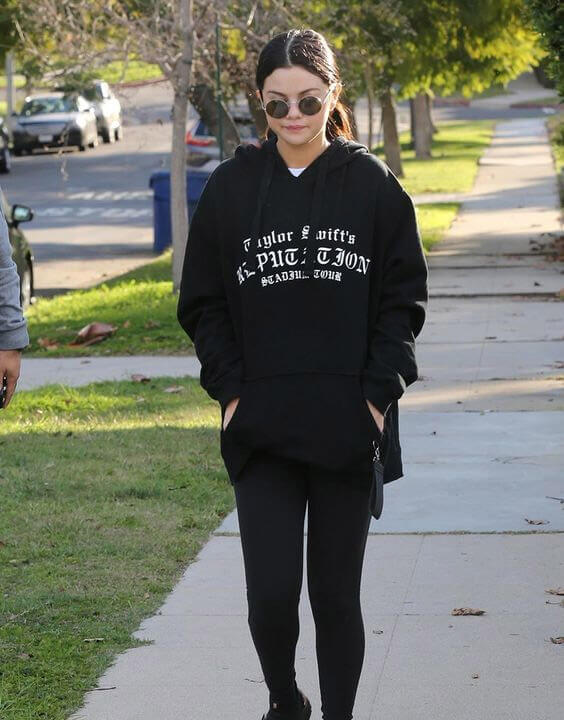 Once again, it's an all black-outfit that has won us over. Maybe it's our love for the edgy and classic color, or maybe it's just the way these fashionistas carry it. Seen on a stroll around the city in a hooded sweatshirt, black leggings and sneakers, Selena's one of the trendiest hoodies for women promoted her BFF's, i.e. Taylor Swift's album Reputation.
Winter #OOTD Number 2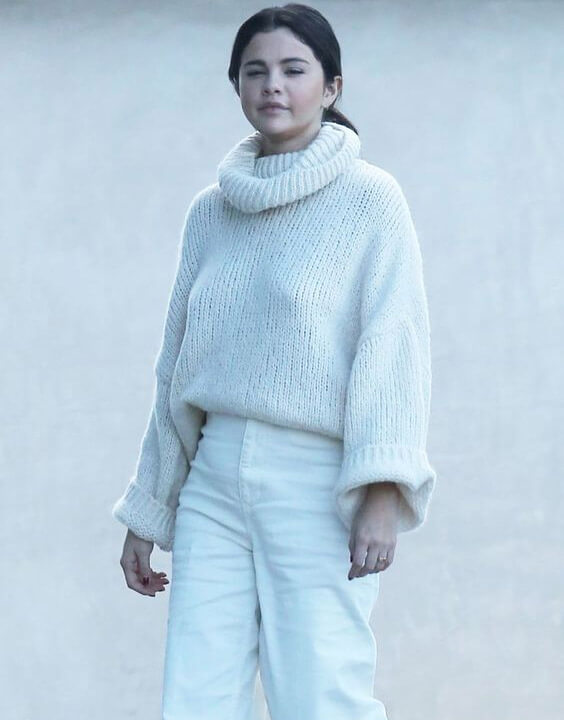 There's nothing we love more than shades of white in the winters, much like the serene atmosphere and amazing climate. Selena's all-white outfit comprising an oversized sweater and white trousers with loafers instantly puts us at ease, and she looks pretty comfy too!
3) Taylor Swift
The go-to artist on our playlist for every time we're in love or every time we're nursing a broken heart, Taylor Swift's country-chic style is no stranger to anyone. Her fashion game went from sweet 16 to blazing 30s, all while carrying bits of her music. She might not be the all-out diva-like Beyonce, Rihanna or Shakira, but she RULES the world stage nonetheless. Needless to say, she also rules our heart and we're looking to her for some winter fashion inspo this season.
Winter #OOTD Number 1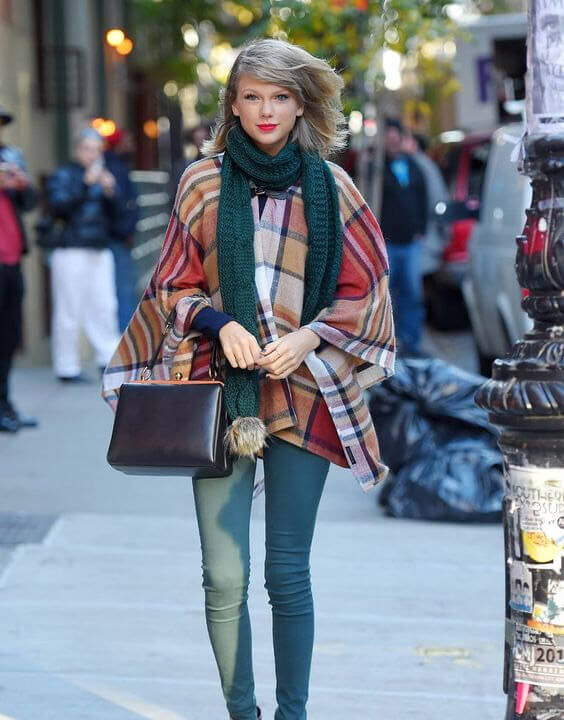 We found this look well in time for Christmas! Trust TSwift to make even plaid look a lot more urban, and a lot less country. Here, she's sporting a plaid poncho and a dark green scarf, skinny jeans and brown boots! With this, she's giving us major Christmas and winter outfit ideas for women. You just can't deny that!
Winter #OOTD Number 2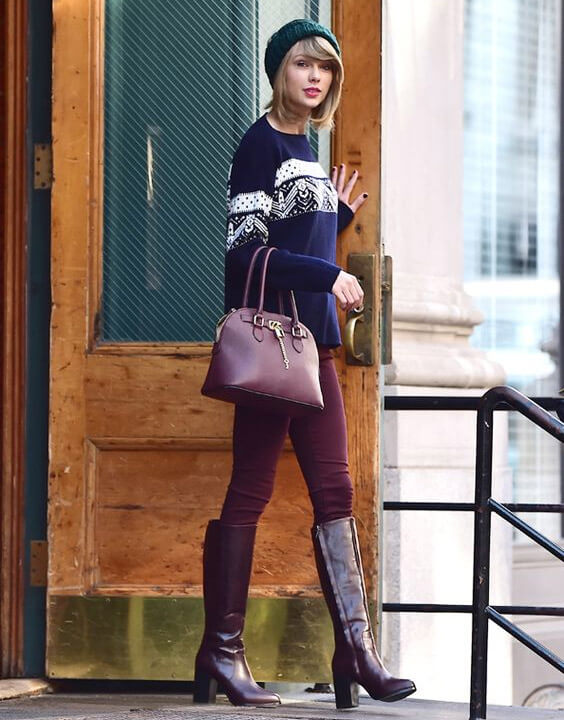 Don't we all love flaunting our sweaters for women around Christmas and then wearing them right until someone tells us we need to STOP now? Or is it just us? Well, whatever it may be, we can't ignore the fact that Tay is an adorable sight in her dark blue sweater, burgundy jeans and boots, along with a cute beanie and an arm candy we're definitely eyeing!
4) David Beckham
We might not know a lot about men, but we do know that if they ever spot David Beckham, just like us women – they also won't stop drooling! That's just how it is. David Beckham makes all of us stare in awe at his Greek-god beauty. But, as much as you try (sorry, boys!), no one does David Beckham as well as David Beckham himself! All we can really do is take inspiration from his stellar style game that keeps getting better every year. For now, we'll be looking at his winter looks!
Winter #OOTD Number 1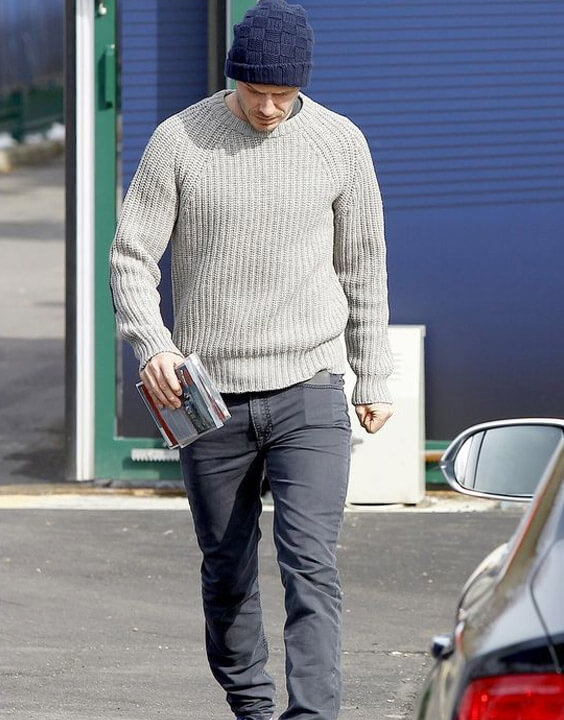 We don't know if it was just a grocery run or David decided to bless us all with an appearance, but we're definitely not complaining! How he can look so dreamy even in the most basic of outfits, we'll never know. He's not even gracing us with his amazing physique here, yet we can't take our eyes off him! He stepped out in a light grey ribbed sweater, a blue beanie, dark grey denims and funky sneakers. You can choose to switch it up with joggers for men, too.
Winter #OOTD Number 2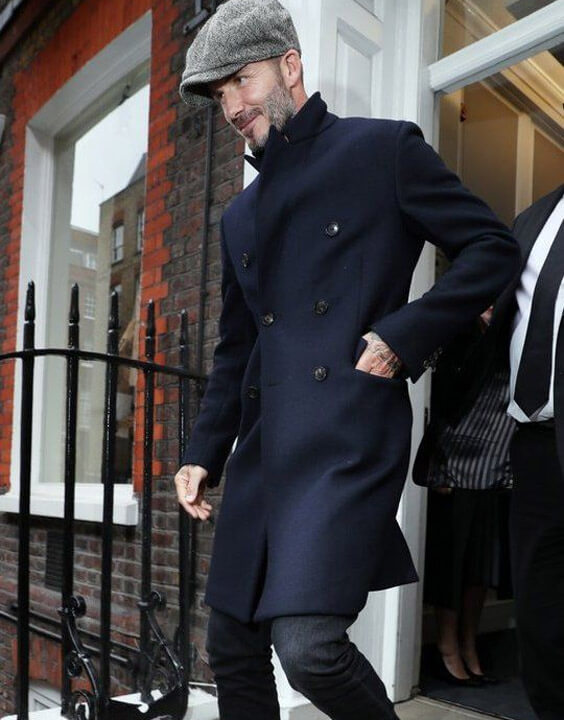 Now here's a look that screams 'gentleman' without overdoing it! Spotted in a beret, a black slim-fit coat, dark blue denims and worn-out shoes, David Beckham is every bit suave and nothing can change our minds about this. Trade the coat with sweaters for men if needed.
5) Blake Lively
Our fondest memories of Blake Lively aren't just limited to Serena van der Woodsen in Gossip Girl but go far beyond it. She is 'goals' in every way! From having the most amazing sense of humor, a bright smile, a figure to die for and a personality that is infectious in the best of ways – there is no one reason to love Blake Lively. Her red carpet style is extremely lauded by critics and enthusiasts alike, and so is her street style. For planning our own winter outfits, we looked up some of her best ones and came across these two.
Winter #OOTD Number 1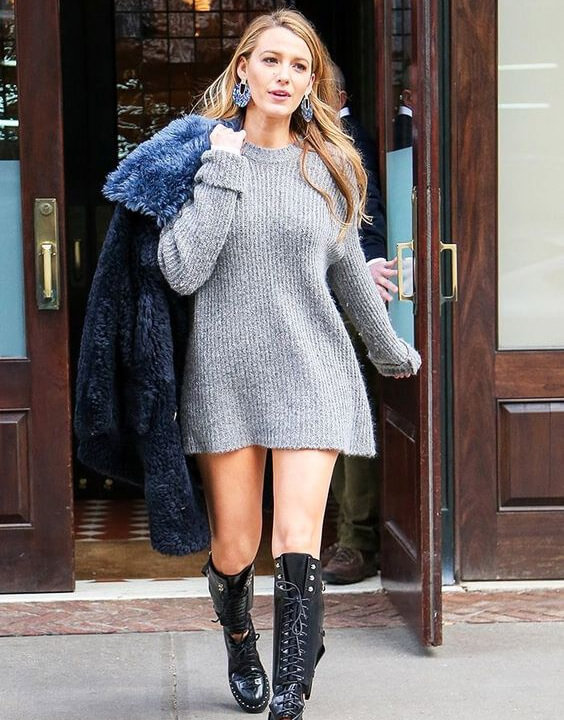 Blake Lively has been forever known for making bold fashion statements that always manage to hit the bull's eye! In another bold move, she dared to try the no-pants trend and stepped out in a grey sweater and knee-high boots. She also had an oversized, furry coat held over her shoulder as she took confident strides on the street.
Winter #OOTD Number 2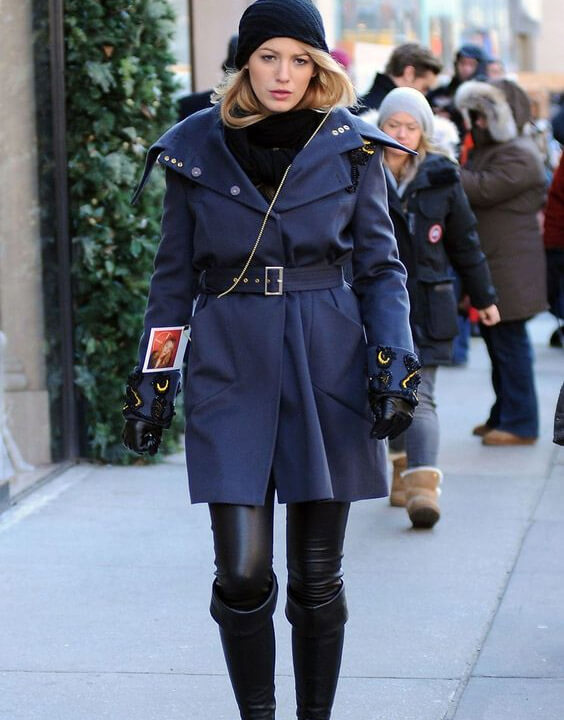 Did you really think we wouldn't find one of the Gossip Girl winter looks? Here's Blake aka Serena from the famous show, in a belted coat along with a beanie, tights, and a beautiful pair of black boots!
6) Bella Hadid
We think it runs in the family – the genes that make you as pretty and sculpted as the Hadid sisters. Just like Gigi, Bella too is an absolute star! Her street style is always on fleek, and there is never a moment when she isn't dressed to perfection without overdoing it. The best part about Bella is that she makes even the basics work together really well, and makes an active effort to style them away from the ordinary. Her winter outfits have always been admired by us, and it's time we put the bookmarked ones to good use.
Winter #OOTD Number 1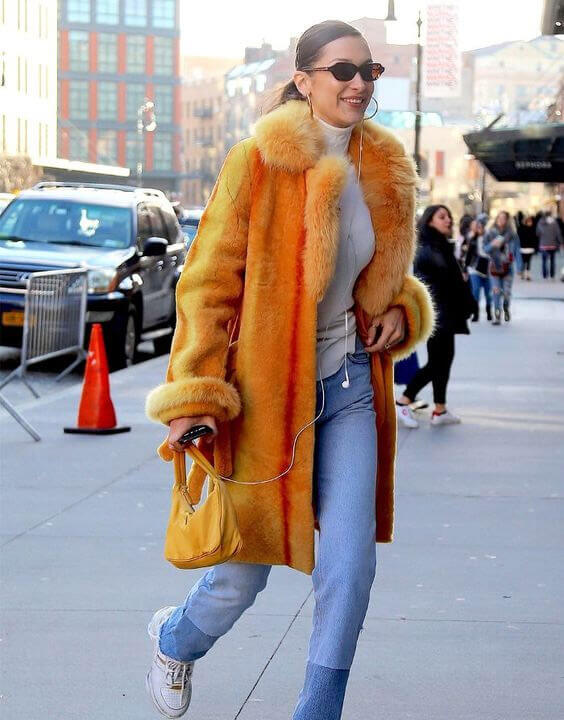 Leave it to Bella to sync a velvet coat with an ordinary straight fit jeans & t-shirt combination. Walking like she owns the street, the model was seen sporting a sleek bun, a pair of shiny hoops and really chunky sneakers.
Winter #OOTD Number 2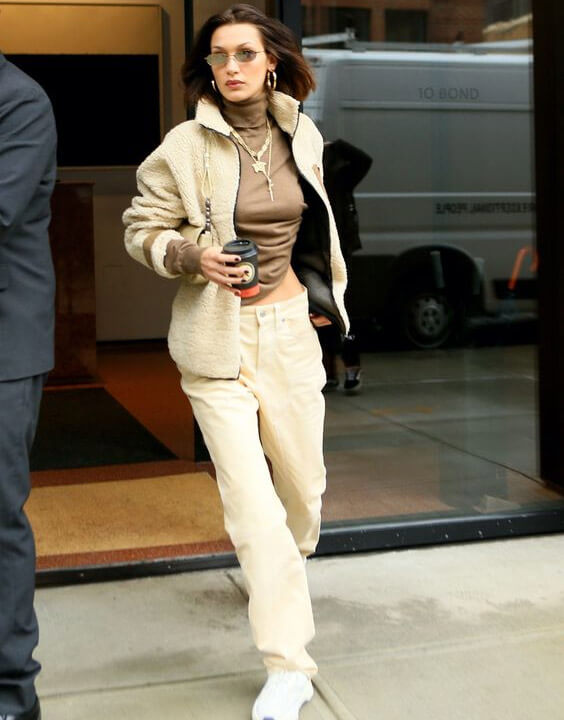 A pop of color is always great, but most days, it's neutrals that really do it for our winter outfits. Going by this rule, Bella chose a fuzzy off white jacket along with a brown turtleneck t-shirt, finishing off with baggy chinos and white sneakers! We can only imagine the level of comfort, and she made it a fashion moment to remember, too.
7) Ryan Gosling
Watching The Notebook at almost every sleepover has become a thing for the gals now, and it's not just because of the crying mess we turn into later. No, it's mainly because of how smokin' Ryan Gosling looks in every scene, and that totally makes our tummies flutter! The man could wear a potato sack and still somehow look totally attractive. Okay, enough about us. If you're a guy reading this, or a girl who really wants her boyfriend to be a little more like Gosling, then you're going to want to bookmark the below couple of winter outfits men.
Winter #OOTD Number 1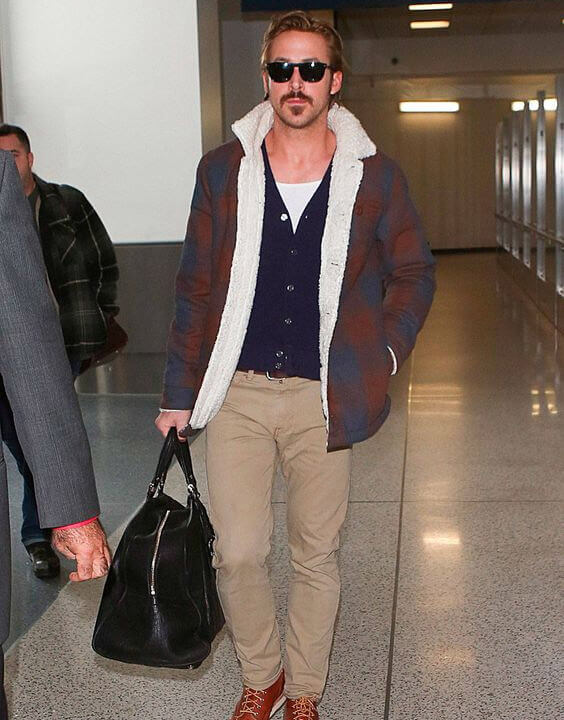 Take layering lessons from Ryan Gosling, and get your airport look right by adding these pieces to your wardrobe. Here, we can see him in a jacket that is smart as well as cozy, layered over a shirt and finished with slightly baggy chinos. His duffle bag and shoes are the perfect accessories, along with the sunnies.
Winter #OOTD Number 2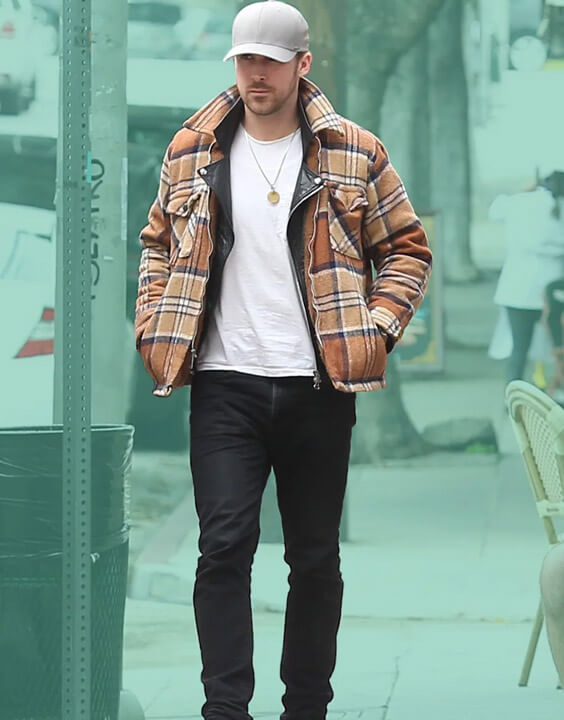 Can anyone really ever get tired of plaid? We don't think so! And it looks like Ryan Gosling agrees too. Making the country staple look cool, and pairing it with a baseball cap along with a classic white tee, he is doing EVERYTHING right. We stan a man who has his basics covered when it comes to fashion, and this one seems to have exceeded our expectations (not that we ever doubted him.)
8) Megan Markle
The real-life princess of a fairy tale that is bold and new-age, Megan Markle first held us captive in Suits and still impresses us every single day. Her style game went from laid back and casual to elegant and chic, and it looks like the entire genre was made just for her! The Duchess of Sussex serves up the most amazing looks from time to time, but what is even more notable are her winter outfits women. From deep palettes to neutral hues, Megan effortlessly pulls off every fashion choice she makes, all while staying true to the riyal dress code. Here are our 2 favorite winter outfits for girls!
Winter #OOTD Number 1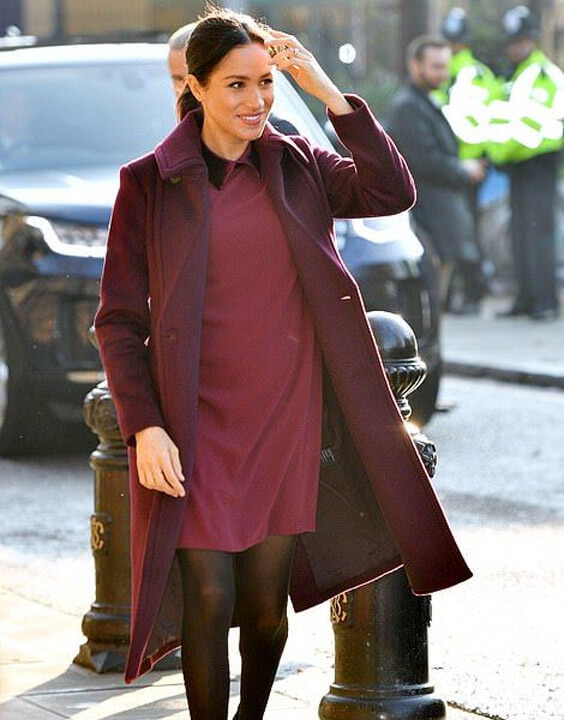 Megan has a million-dollar smile, and every time we see her laugh, we feel a certain warmth take over us because of how genuine it really is. All dressed up in a chic coat and pencil pants, along with a scarf and pumps, Megan looked like she belonged right where she was.
Winter #OOTD Number 2
Now here's a color combination that looks great on most people; maroon and burgundy. When it comes to Megan though, it is better than the rest. Her style is so simple yet so effective, and she never crowds her outfit with unnecessary accessories. 'Understated elegance' is the term that comes to mind when we see her in this collared dress and coat, along with a pair of tights and statement-making boots -perfect for winter fashion for women.
Winters are our favorite time of the year, and we hope they're yours too! Don't shy away from adding a personal touch to any celeb-inspired look you try from our list. We promise you'll soon be giving out style tips yourself.
Image credits: The copyrights of the images used in this post belong to their respective owners. The credits where known are specified under the image - if you're the owner of an image and want it removed, please contact us.