You shouldn't be dressing for where you are, but rather, for where you want to be. How many times have we all heard this from influential figures, mentors, and even peers? Yes, let's not get down to counting.
No matter how much we've ignored this, it doesn't seem to leave us behind and its pull only gets stronger as the years pass! So, it's high time we listen, especially as men.
You may have heard stories from your grandfather, or even your father about how they were the perfect suitors in their early twenties, not because of anything else but due to their panache and suaveness. Confident men don't need words to express it; everything they do screams perfection, and some may even be intimidated by them.
Fast forward to today, there are hardly any people who believe in the art of classy dressing. We've got to keep our laziness at bay because it's not doing anyone any good. You don't just have to open doors and not ask women their age to be a part of the gentlemen's club. You also have to be extremely well-dressed – something that is missing from the likes of this generation.
The usual suits are all very nice, but without the perfect tie, there'll always be something missing. Wondering why? Then read below!
The Impact Of Ties
Remember the school days when you'd most definitely go home with a bad remark if you were spotted with a shabby tie? We've all been there! If anything, it taught us and disciplined us back then, but now – it's time for a refresher. Here are 5 reasons why mens ties are the ultimate wardrobe heroes for men! Later, we'll discuss how to wear a tie in different ways, that are both trendsetting and classic.
They boost your confidence.
When you think about the sharpest items of clothing in your wardrobe, like a tuxedo, dress shoes, blue suits and more, the first thing that comes to your mind is how important you'll look in a room full of people when you're sporting any of these. The same attributes apply to the tie too, as it instantly makes everyone take notice, even if they don't make it obvious. It adds that overall charm to your outfit, whether it's a shirt you're wearing or any other formal dress.
They will make a great impression at work.
You can't deny the fact that with fashion evolving and work hours getting longer, the formal dress codes at most workplaces have been toned down to match the current day & age, and of course the laid backness that comes with it. This is why if your boss or potential employee sees you in a perfectly done tie, they shall instantly know you're a hard worker and will most definitely weave perfection into your work. Expect brownie points to come your way if the tie is: a) in a design or print they love or b) exceptionally tied, and goes beyond the simple knots that are done to death.
They can elevate an otherwise boring outfit.
If we were to get started on the number of hours we sometimes spend in front of the mirror, figuring out the one thing that is missing from our chosen #OOTD, you'd consider us crazy. But hey, you've done this too, especially before heading to an important social event or a job interview. Most times, it's nothing. Other times though, it's probably the absence of a good accessory (re: tie) that's bothering you. Well, we say, this is your cue to add it, and stop being a stranger to it because it does hold the capability to do wonders to your look!
They help you look like a 'man'.
Know how everyone always keeps telling you to act like a man and stuff? It doesn't mean that you can't be emotional or express your feelings freely. It only means that you handle stuff better, take risks, be considerate about yourself and everyone around you, and step up for the people you love. All this, you can't do without a dress code! And that is exactly what Justin Timberlake sings about in his song Suit & Tie. The transition from boy to man needs to be swift – and it needs to be done in every way (including making smart fashion choices.)
They help you stand out!
How many people your age do you see dressing up and dressing well? We bet you can't even give us a ballpark figure, because there really aren't many. Don't you wanna be the one to start a trend, or simply stand out from the rest? Since that is what will make those lasting impressions! Being prim & proper in a tie and a crisp shirt to go with it will not only bag you compliments but also define your style among a sea of other aspirants.
How To Wear A Tie In Different Ways!
If you're new to this, or already know how to go about it but are looking for a new way to knot a tie, then you're at the right place! Below are some of the most time-trusted and trendsetting ways to tie a tie, and you should bookmark all of these for later. Also, if you seem to like something, it's always better to delve deeper and find a step-by-step YouTube video to tide you over no matter the difficulty level.
The Windsor Knot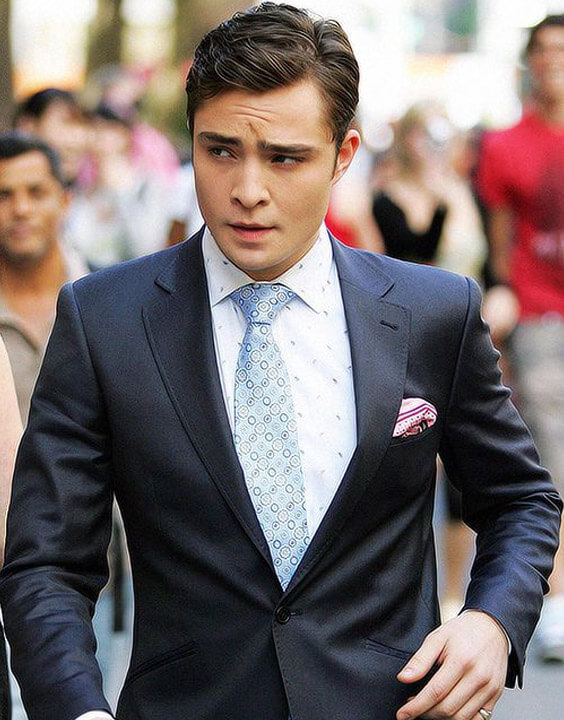 Difficulty Level: Easy
One of the most commonly known ways to tie a tie, the Windsor knot gets its name from the Duke of Windsor, aka King Edward VIII. Since he hugely preferred wide knots and ties made from thicker cloths, he got his ties made especially for him. The Windsor is also called the Full Windsor Knot and is distinguishable from its (half) cousin, the Half Windsor.
It is also the most picked and most appropriate knot for black tie events! It is fairly simple to achieve too. Here's how!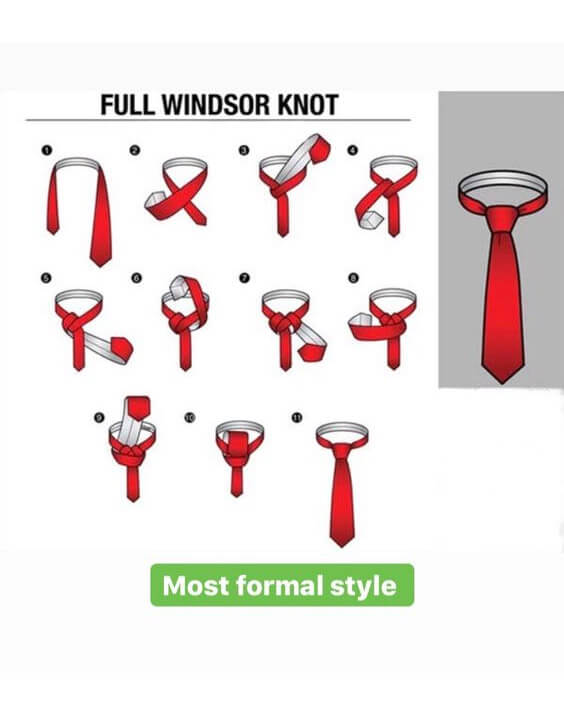 Step 1: Start with the tie draped over both ends of your neck (as any other tie.) Ensure the wider end is towards the right.
Step 2: Now, cross the right end (the wide one) over the narrow end.
Step 3: In one swift motion, bring the wide end inward, and take it up, further passing it through the intersection/hole formed at the center due to the previous crossing-over step. Pull it down, but from under not over.
Step 4: Again, bring the wide end to the right, then inward, then left, so it again passes through the intersection, coming out from or at the left side of your neck.
Step 5: Once again, bring the wider end to the center from the left, and then inward and down again through the intersection. It will now come out to the right.
Step 6: Finally, after once again inserting the wide end through the intersection in the center and then pulling it down, passing it under the neck, insert it carefully between the front horizontal segment. Now, just pull both ends to tighten your tie!
Where to wear it: Formal events & office. Also, wherever there is a need for a strict dress code.
The Bow Tie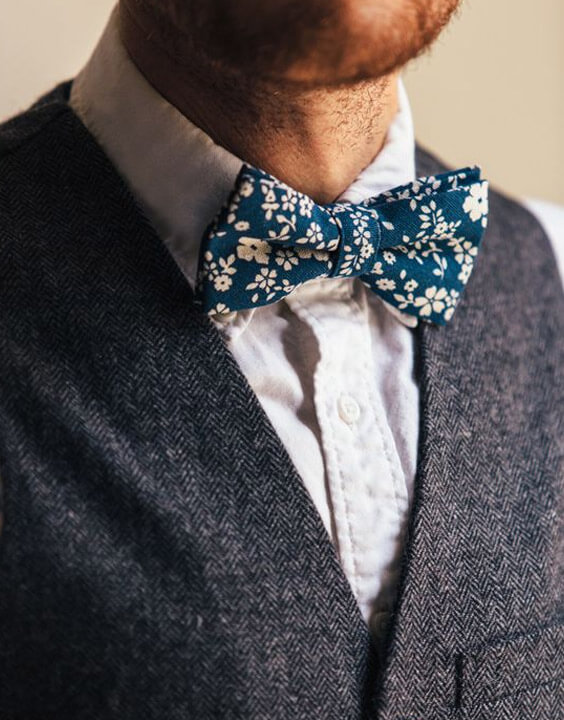 Difficulty Level: Medium
Looking for the perfect match for that really expensive yet dreamy tuxedo you bought or rented? Look no further than bow ties! A man in a bow tie is 10 times more appealing than a man in a simple knotted tie, and this a proven fact. Who proved it? Well, ask the ladies! Stray away from the clip-on ones if you really want to master the art of bow ties.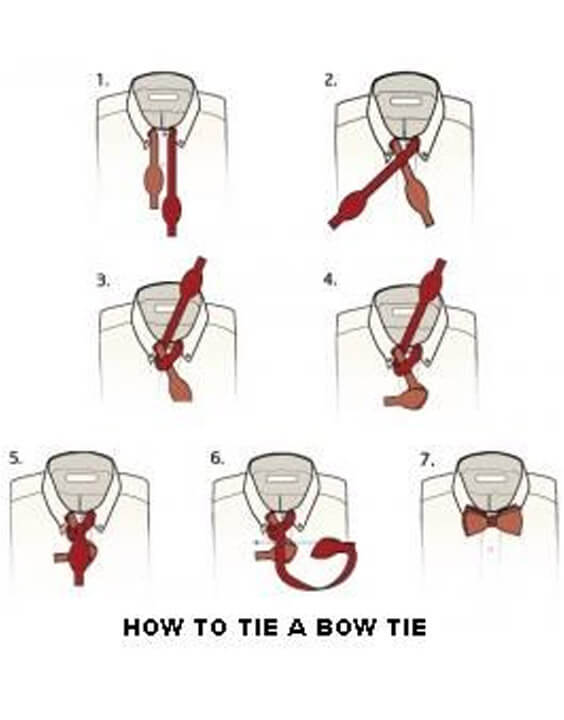 Step 1: You can't tie a bow tie with a normal, uniform one. Firstly, drape it around your neck in a way that it is facing up.
Step 2: The right side should be shorter than the left when it falls on your chest.
Step 3: Cross the left end over the right one properly.
Step 4: Now, the left end should go upwards from the neck loop.
Step 5: Now, the right end needs to be folded to create that bow shape. Keep it at the center. Then bring the left one (that you took up in Step 3) straight down over the bow shape, at the center.
Step 6: Fold this end back towards the chest, further pinching the fold firmly to form a crease.
Step 7: You will now see a loop behind the right end, and you have to push the left end through this loop in a horizontal manner.
Step 8: Now, you have done almost everything to tie a bow tie. All you need to do is pull gently at both ends of the folds to tighten it according to you.
Step 9: Keep adjusting the necktie until you see a balance at both ends.
Where to wear it: Formal dance, prom, date night.
The Trinity Tie Knot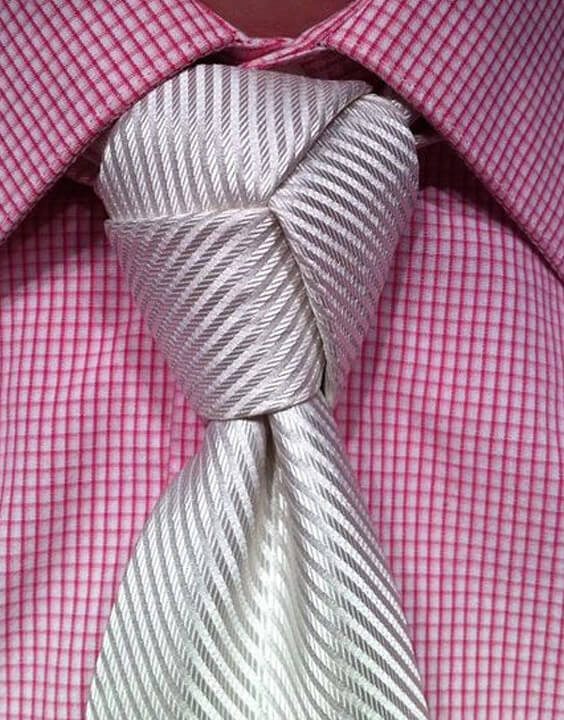 Difficulty Level: Hard
You might not be sold on the idea of an asymmetrical tie knot, even if it's just slightly, but allow the Trinity knot to change your mind! A newcomer in the men's ties scene, this knot is anything but easy. We can tell you for sure though, that it is definitely worth going the extra mile for!
If you find that it has a resemblance to the Celtic Triquetra, the symbol of three life cycles of a woman in a lot of cultures & communities, well, you're not wrong. Although, this way to tie a tie has nothing to do with meaning and a lot to do with an artsy expression. It is also really high on the nerd factor! Wondering how to wear a tie of this type? Read on.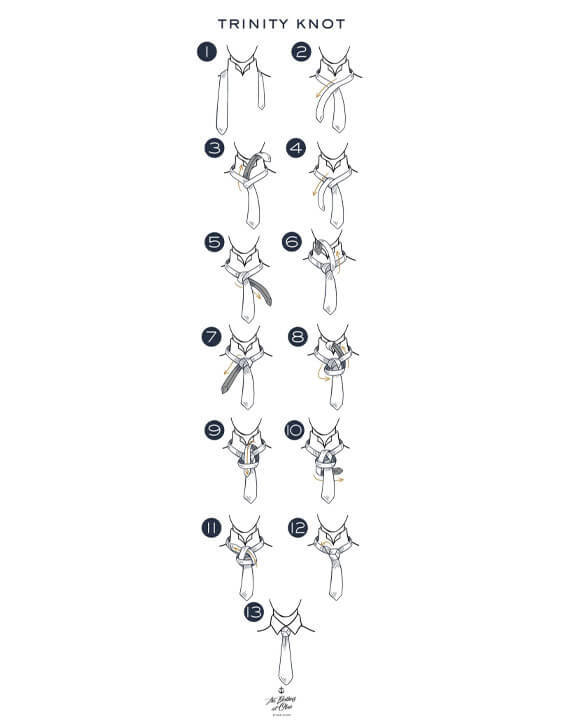 Step 1: Unlike the Windsor, the wide end here will be on the left. The tip of this end should be just a bit on top of or aligned with your belt buckle. Cross the narrow end over the wide end.
Step 2: From underneath, bring it up from the intersection in the center. Then get it down to the left.
Step 3: Bring it around the wide end but at the back, and cross it over to the left. From there, bring it up towards the center, near to the intersection.
Step 4: Now, through the loop of the neck, bring it to the left.
Step 5: You have to get it across to the right by bringing it over from the top side, and then treading it into the neck loop at the upwards.
Step 6: Bring it down again through the loop that was created in the earlier step, then bring it under the wide end and again take it to the right.
Step 7: Now, bring it to the front and thread it into the loop created as a result of Step 6.
Step 8: You should now have a perfect trinity necktie knot, and you can tuck the remainder into the back of your neck loop under the collar.
Where to wear it: Parties (weddings or other celebratory events.)
The path to being a perfect gentleman has already been laid out for you; all you need to do is walk it. We've given you tie knots from all 3 levels; easy, medium, and difficult. Ace them before moving on to the array of knots waiting to be explored!
Image credits: The copyrights of the images used in this post belong to their respective owners. The credits where known are specified under the image - if you're the owner of an image and want it removed, please contact us.