If it took a global pandemic to make you realize the importance of a healthy body, join the club. One look at your Instagram feeds will prove to you that in quarantine, almost everyone adopted a fitness regime.
Now that the gyms are open and the outdoors are comparatively safer, your living room need not be your workout venue anymore! Get that gym membership or give in to a sports activity on a daily. But, MOVE!
To give you a little extra push, what's better than a workout wardrobe that you can flex just as much as your arms?
Here, we've rounded up some workout outfits ideas for you to train in. Don't forget to take a couple of hundred pictures for your feed – they'll be extra useful in impressing your special lady!
The Basics Of Workout Outfits
There are some things that you need to check off the list while building that perfect workout wardrobe for yourself. What are they? Let's have a look!
Make sure your clothing fits perfectly! Slightly loose is alright, but never ever give in to something that feels tight and constricting just because you don't want to go a size up.
Always choose rapid dry fabrics. The last thing you want to wear is a tee or hoodie that fails to absorb sweat. Not only is it extremely bad for your body, but it also causes odour.
Don't just go for 'fashion', but also 'function' as that is what the main purpose of your workout attire is. Sometimes, even if you're a fashion enthusiast, it is alright to compromise on the extra 'oomph' if it means that your clothing won't be a hurdle while you're exercising.
Quality workout outfits do not come cheap but are definitely worth investing in if you're committed enough. Doing this will stop a lot of wardrobe mishaps and save you from some dreaded embarrassment.
One of the most neglected items of clothing when it comes to workout wear has got to be socks! The idea is simple; if you're indulging in outdoor activities that might pose a threat to the flesh on your lower leg, your socks should be long and thick! If you're heading for a normal workout routine, then ankle socks will do just fine.
Don't mix up outfits you wear for indoor workouts with the ones you wear for outdoor workouts. There are certain factors that need to be covered by your clothing such as wind resistance, insulation, etc. Keep these things in mind.
As the seasons change, so should your workout clothes. Always be mindful of the materials you're wearing during summer, winter or monsoon as they will keep your skin healthy and allow your body to breathe.
Before leaving your house for the gym, check for any wear and tear on your workout outfits. This also extends to shoes; never neglect worn-out sneakers or trainers!
Never accessorize for the gym or any kind of workout unless it's a smart band that aids you in tracking your regime! Especially bracelets or pendants.
The Most Dapper Mens Workout Outfit Ideas!
The basics have been more than covered, so now is the time to get creative. These outfit ideas are fashion police AND fitness enthusiast approved, so you know they're foolproof.
Give them a shot, one by one, and stay motivated to continue whatever routine you've started. Alternatively, if you've always been a fitness freak, these stylish gym outfits are sure to up your game!
1) Do It In Co-ords!
No, co-ords aren't just limited to the ladies and go far beyond the quintessential workwear wardrobe. So when we say that they could be THE workout uniform for men who want to use up all their energy exercising and not on deciding workout outfits, these are for them!
Wondering how to make them really work for you? Here's a simple look that you can ALWAYS count on. Bookmark it for days when you can't help being unbothered.
If an outdoor run is on the routine, then all you need to do is pick co-ords that are either all black or dark grey. This prevents the sweat patches from being on display.
Then, just pair the look with white trainers and sprint away!
2) Play It Safe With Camouflage Pants!
The last thing you need is to wear a pair of white pants to the gym and have a sweat patch or dust from the mat or machines place itself all over your lower half.
Yes, they're stylish and yes, you see bloggers or celebrities sporting them all the time – but do you really think they're practical? (The answer is 'no', just in case you were wondering.)
Pave the way for lesser wardrobe mishaps by wearing the next best thing – camouflage track pants or joggers! Here's a very easy way to style them.
Get a sleeveless tee out of the drawer and slip it on.
Next, buy yourself a pair of camouflage print joggers or track pants.
White trainers with this will be definite winners!
Don't forget the duffle bag.
3) Go Incognito In A Hoodie!
We all have days when we just want people to not take notice of us, and do our own thing. Like everything else, this applies to the gym too. You want to finish your workout routine without really having to engage in casual conversation with people and we get that.
This is where hoodies come in as our saving grace! Pull the hood over your head, plug your earphones in and just like that – the world around you vanishes. You can go incognito while looking every bit stylish too – here's showing you how to ace your workout outfits comprising a hoodie!
To do this even more covertly, put on a baseball cap under the hoodie.
Yoga pants for men are all the rage right now, so make sure to clock them in.
You can choose the shoes you want, as long as they are aligned with the activity.
Ditch the duffle bag and walk into the gym with a backpack!
4) Sports Shoes – But Make Them Fun!
White sneakers – move away! Your cooler cousin's in town, and it doesn't look like it'll leave soon. We're talking about quirky sneakers that are either splashed with bright colors or oversized prints and patterns.
It's really hard to miss the plain (but trendy) white or black trainers when you get your hands on something that makes your workout wardrobe all the more fun.
We've seen all the bloggers and influencers sport these lately, and we'd be lying if we said we weren't smitten. There are several ways to style them for your morning run or spin class, but below is one of the best gym outfits for guys.
Let's make this one an all-black outfit, shall we? First, slip into a pair of black training tights.
Layer the tights with a pair of shorts.
Wear a skin-tight, half sleeves tee to show off your cuts.
Finish with bright-hued shoes!
You can even opt for graphic tshirt with your favorite quirky print on it, check out our coolest customised tshirt collection by clicking the below image.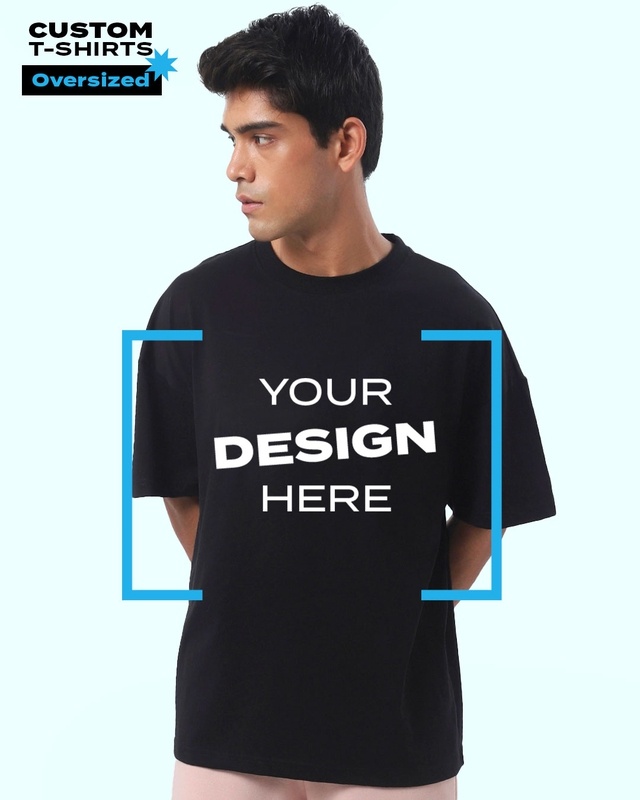 5) Sweatshirts Are Forever!
When we say we can quite literally live out the rest of our days in sweatshirts, we're not lying! Adding a 'cool' factor to your overall look while also being supremely comfortable, sweatshirts are all-rounders.
Apart from all of its other brilliant qualities, a sweatshirt will also be one of the best winter gym outfits, and even for morning runs. It'll keep you feeling warm and looking stylish – and honestly, what else can we demand from our ideal workout outfits?
Go for a sweatshirt with some color! Navy blue, olive green, pastels, etc. are all good options.
Slip into a pair of workout shorts.
Lace-up those sneakers!
Add a baseball cap to the mix.
6) Bright & Radiant Tees!
Everybody can pull off the best gym outfits for guys in neutral palettes but a selective few dare to go all-out and take a risk. What we mean is, you don't spot a lot of men wearing brightly colored t-shirts at the gym, so why don't you set the tone by sporting one
From bold reds to lively yellows, burning orange to calming blues; the color options are endless, so give them a shot! Here's how you can balance out your look with neutral pairings to avoid overdoing it.
Choose a skin-hugging tee in your favorite color. (Black doesn't count.)
Wear joggers in a neutral tone that mutes the impact of the t-shirt's color a little.
Let your shoes and bag also be in the same tone.
7) Shorts For Leg Days!
The days you have to train your legs can be the toughest of all. Especially on these days, you need to wear one of the workout outfits that don't constrict your movement and allow your muscles some freedom. Shorts are perfect for leg workouts.
They're also a no-brainer for the gym! Don't shy away from wearing them just because you haven't shaved your legs – trust us, nobody will notice anything other than the way your calf muscles contract & relax!
Make sure they aren't tight though; it will save you from wardrobe malfunctions that cannot be reversed!
You don't need a lot to style shorts; just a contrasting t-shirt will do.
If you're not convinced with black & white trainers, go for colorful, chunky ones!
8) Muscle Tees For Max-Level Flex!
What's the point of working really hard on your body if you don't show it off every now and then? You've definitely earned some time in the limelight! Muscle tees do just that; put your perfectly sculpted biceps on display, for all to see.
You can choose to act nonchalant as you lift heavier weights, or play it cool by extending your warmup routine a little. We love all there is about muscle tees, and we think you will too. Here's an easy way to don them.
Pick a muscle tee in a dapper shade like black.
For bottom wear, nothing better than training tights! The stretchy spandex will ensure you stay comfy and flexible, while the silhouette will add to your casual flex.
Finish with chunky-soled trainers!
9) Sleeveless Tees For The Win!
On our list of favorite workout outfits, right next to muscle tees, stand the humble sleeveless t-shirts that look good on rookies as well as seasoned body-builders. They're also a great choice for the summer season if you plan on taking your workout regime outdoors, or indulge in other occasional sports like football, basketball, etc.
Another plus point is the fact that they allow your arms to move freely, thus paving the way for a fuss-free upper body workout. Unlike regular t-shirts that can leave sweat patches near the armpits, sleeveless tees avoid doing that altogether. Wondering how to look oh-so-good in them? Read below!
Go for a sleeveless t-shirt in white, black or grey.
Next, get your hands on slim fit, drawstring trousers in a contrasting shade.
Let your duffle bag be cylindrical, and your shoes be black or white!
You can get your favorite design print on our premium quality men's vest with our customized T-shirt collection.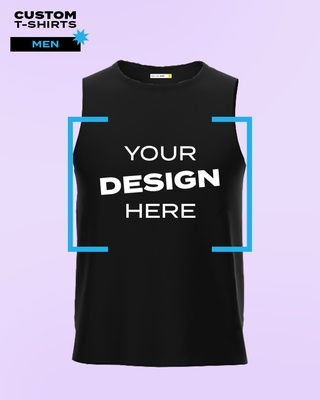 We hope these ideas about workout outfits made you want to get up and go burn some calories already because we sure were motivated while jotting them down.
Image credits: The copyrights of the images used in this post belong to their respective owners. The credits where known are specified under the image - if you're the owner of an image and want it removed, please contact us.