Trouble telling the world who you really are through words? Say it with tattoos! These cool animal tattoos will help unleash the beast in you.
We cannot stress how important it is to get a tattoo that speaks 'YOU'! It should be a reflection of your personality, your emotions and your philosophy.
Let us help you! We've got just what might be of use to you. Here's a curation of some of the best animal tattoos that can be your tattoo inspiration this season.
Just like animal prints, animal tattoo designs are really "in" this season. What's more? Animal tattoos are extremely popular among men and directly relate to your spirit animal. Let's have a look at some examples of the same to get you started on your design inspo!
1.Let Your Spirit Take Flight With A Butterfly Tattoo!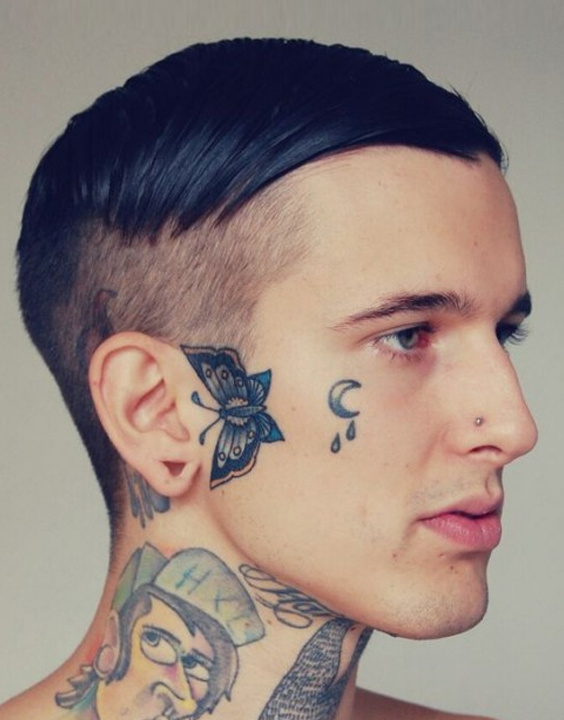 "It's time to stop wrapping yourself in a timely cocoon and let your spirit fly high."
If you're not afraid of stepping out of your comfort zone, and are ready to transform into the best possible version of yourself, then this one's for you!
Although a butterfly tattoo is immensely common among women, it doesn't have to stop you from getting one as well.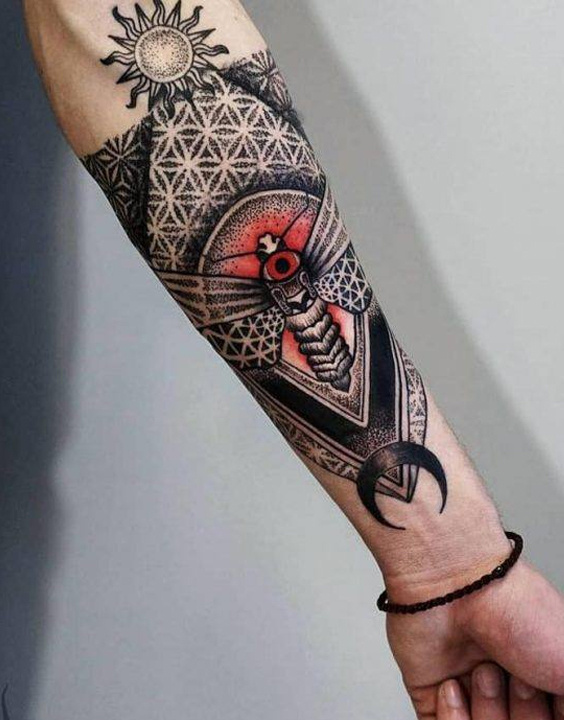 Tattoo Trivia–  Butterflies symbolize rebirth, transformation and new beginnings! So this is the perfect design for somebody that's starting anew.  A set of two butterflies is significant of a strong bond and thus the perfect tattoo for somebody who wants to mark their love for someone.
2.Set Your Soul On Fire With A Dragon Tattoo!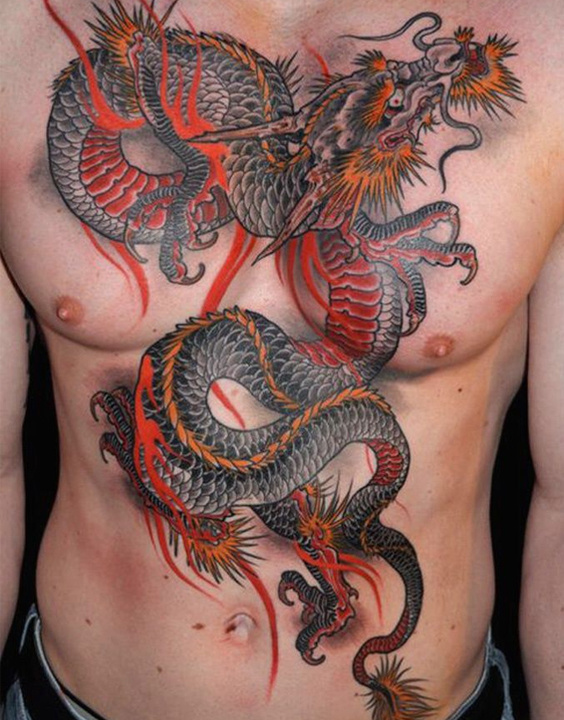 As magical as a dragon may seem, it isn't what should inspire you to get this design. The non-conforming, fierce, wise, and unpredictable nature of a dragon should be your true motivation to get a dragon tattoo.
This powerful tattoo makes a strong statement and is the best tattoo for achievers.
Don't wait for magic, make it happen!
Such animal tattoo designs complement a well-built body the most, but even if you're on the skinnier side of the spectrum, do not hold back!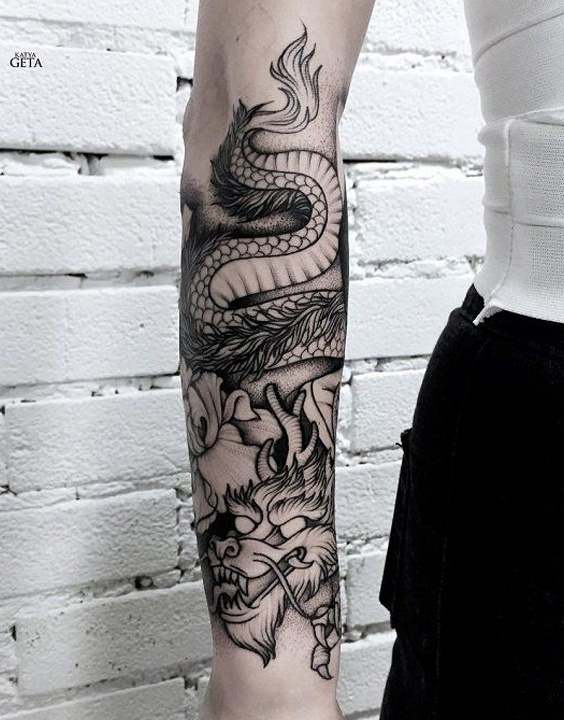 Tattoo Trivia– Dragon tattoo symbolises protection, power and passion. It's great for people who are unafraid to show their love for power.
3.Stride With Pride With A Lion Tattoo!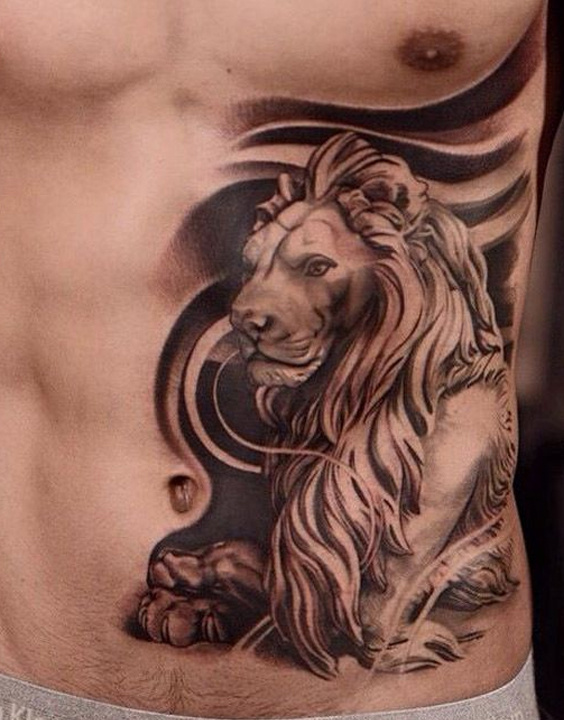 "The king of the jungle takes his place!"
If  you're courageous and proud, respect and care for your tribe just like the mighty lion then a lion tattoo has to make its way onto your list of tattoo's. This tattoo needs to be flaunted let it take the centre stage, so that it's in everyone's eyes.
There's a lion tattoo for every side of you and for everyone. Roaring, pouncing or a resting, a lion's a lion, nomatter!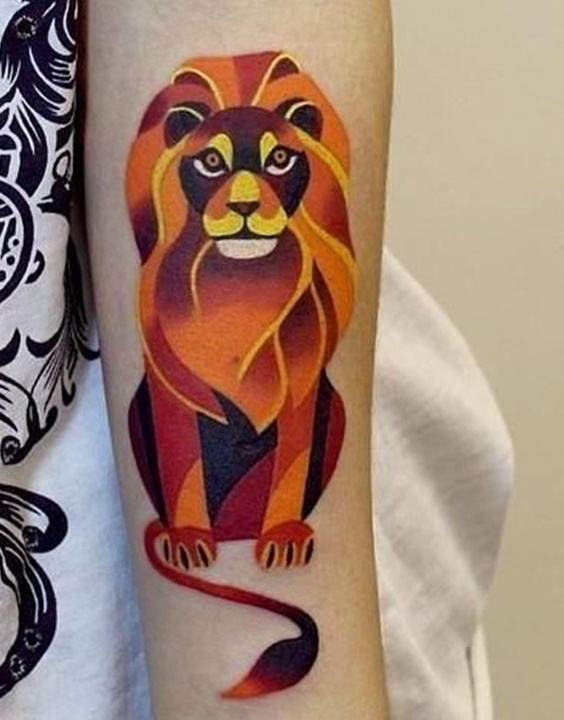 Tattoo Trivia–  A lion tattoo is symbolic of loyalty, integrity and bravery. Perfect for the leader in you.
4.Keep Your Guard Up With A Wolf Tattoo!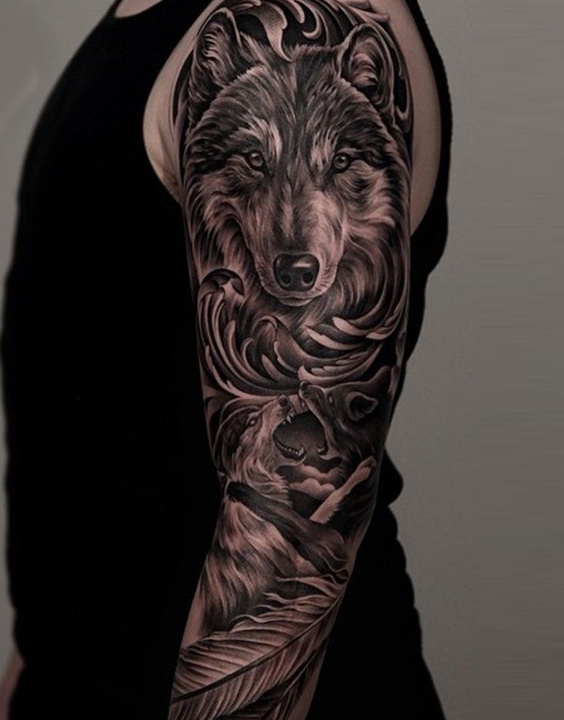 Wolves have forever been known to protect, safeguard, and survive in the wild solely with their strength and intelligence. If you're the protector of your group i.e. someone who absolutely loves looking after his near and dear ones, then this tattoo is for you.
Many options of animal tattoo designs are available but very few people know how much thought should go into selecting a design that fits best. Let yourself be one of those few by catching on to the key traits of every animal.
"Attention to details is key!"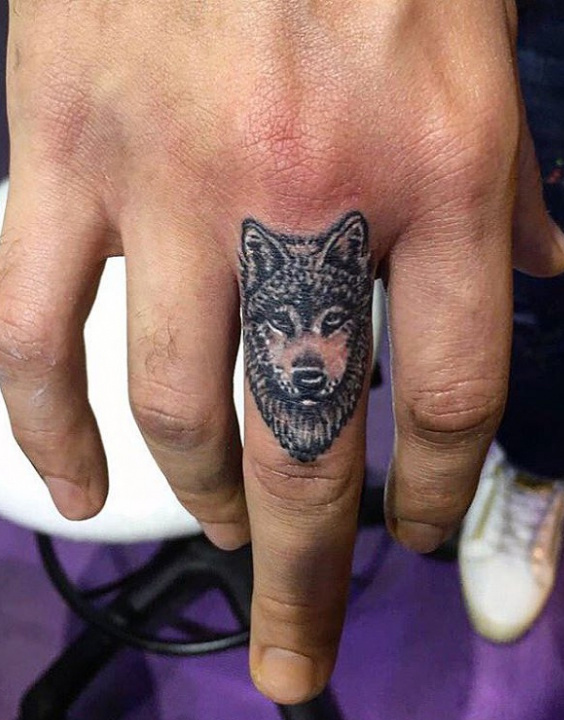 Tattoo Trivia– This ancient beast is respected as a guiding spirit in many folklores. Let the wolf in your wolf tattoo  be the guide in your life too.
5.Slither Your Way Through Life With A Snake Tattoo!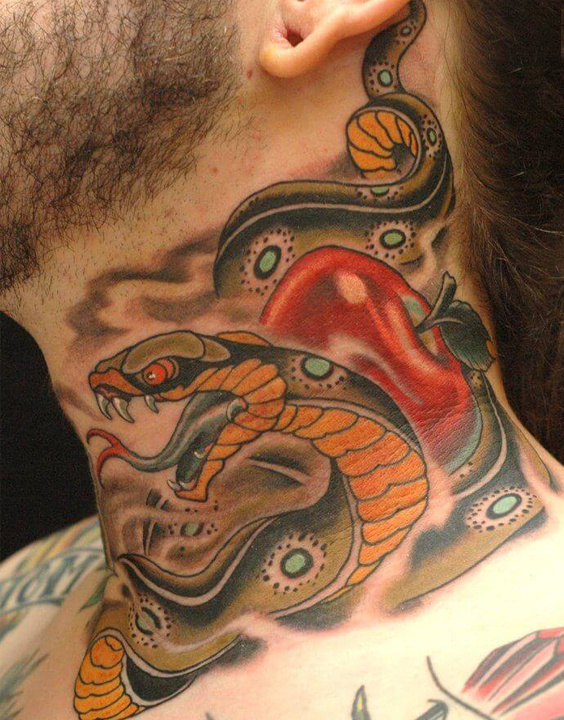 "Love 'em or hate 'em, can't deny the universal fascination with snakes."
Looking forward to a difficult but new page in your life? Slider through the struggles like a snake. The snake tattoo design is known for its healing energy, thus making it perfect for brushing off negativity.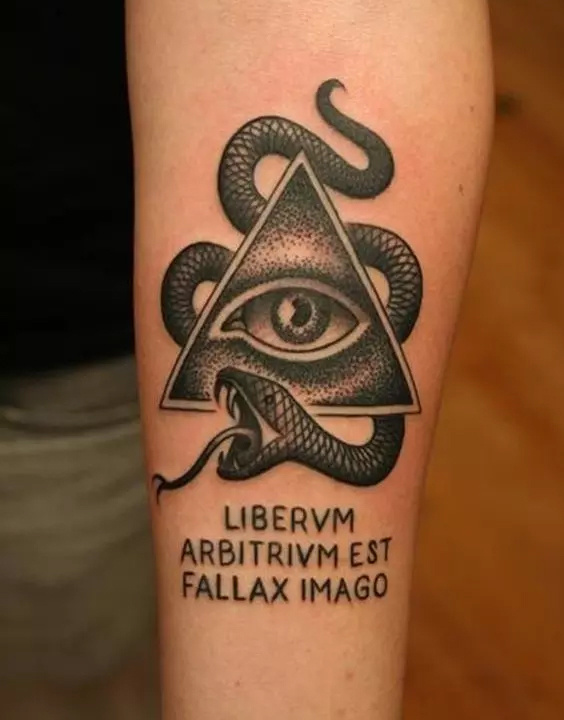 Tattoo Trivia–  Since snakes shed their skin, they are a symbol of transformation and rebirth. So start afresh with a  snake tattoo.
6.Go With The flow!  Get A Fish Tattoo.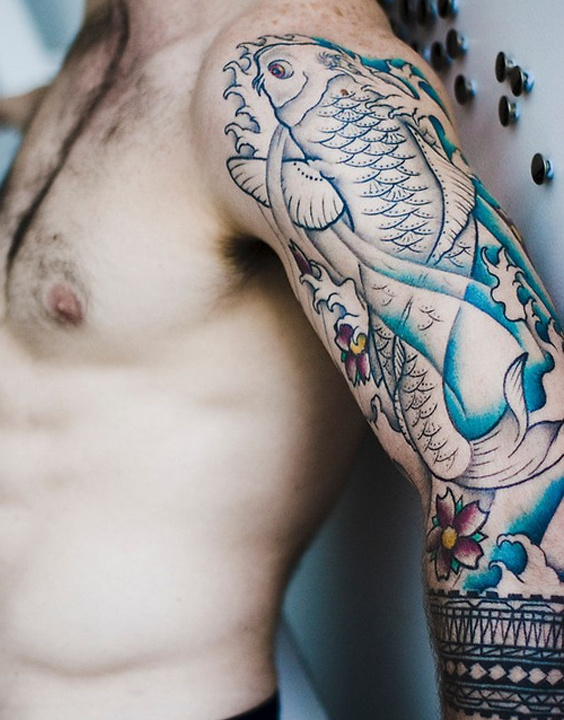 Can you keep calm in the unknown? If your answer is yes, then the fish tattoo is perfect for your soul. It represents calm and composition in a fast pacing and ever changing world.  
The androgenity of the fish beautifully brings out a harmony of the sexes.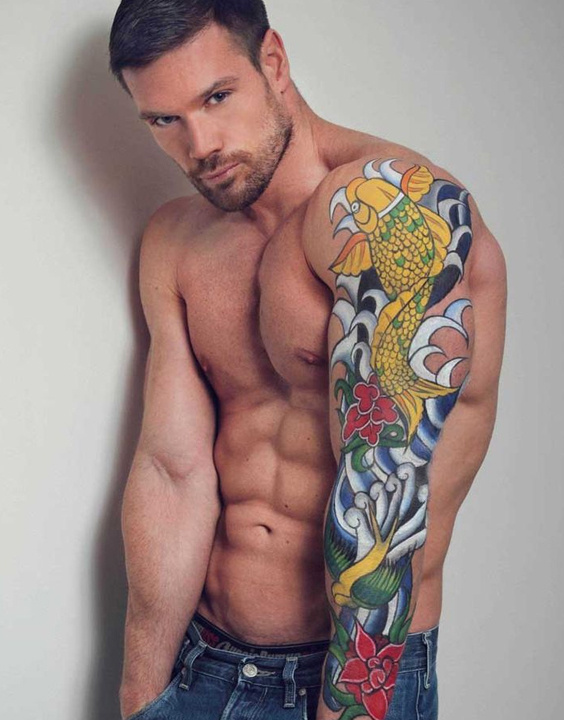 Tattoo Trivia– A symbol of transition, stability, and depth; fish tattoos are great for you if you're a calm, cool and collected person.
7.Embrace The Dark Side With A Cat Tattoo!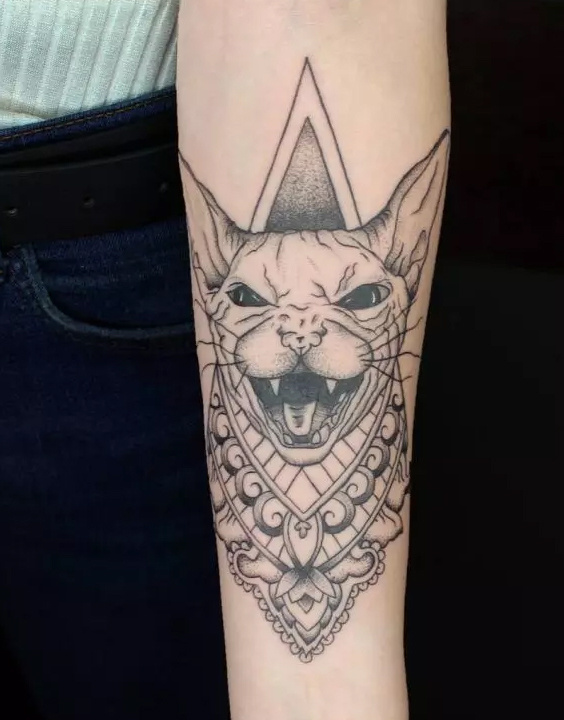 The dog vs. cat debate has been a matter of serious discussion between friends and families  for centuries now. So, let's just say this once and for all; they're both winners in their own way.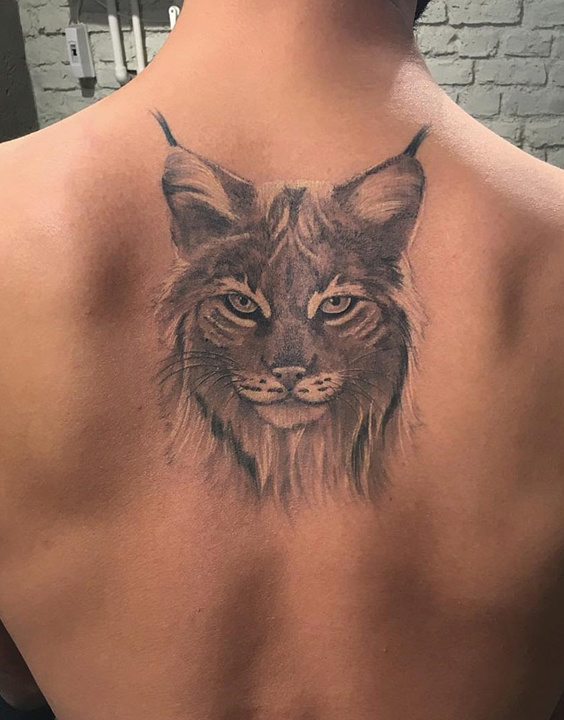 Tattoo Trivia- Although cats are sometimes associated with dark magic in a few subcultures around the world, their association with resurrection and wisdom should be your inspiration for getting a cat tattoo.
8.Honour  Your Loyal Friend With A Dog Tattoo!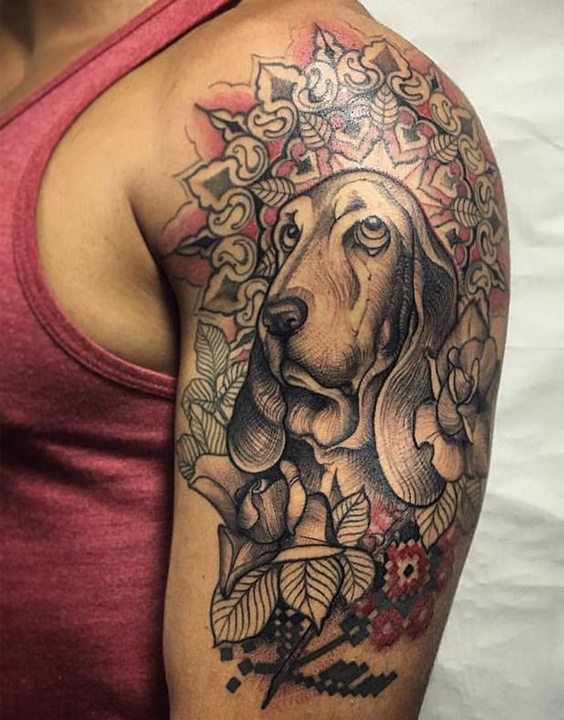 Did you just lose a furry friend? Get a dog tattoo to honour this friendship! Or just get it to show the world how much you love your best companion. You could get a hyper realistic illustration of your pet dog or his pawmark as a tattoo.
If you relate to doggo's and feel you fit better with our furry friends then get a dog tattoo as a representation of your childlike, pure and loyal heart.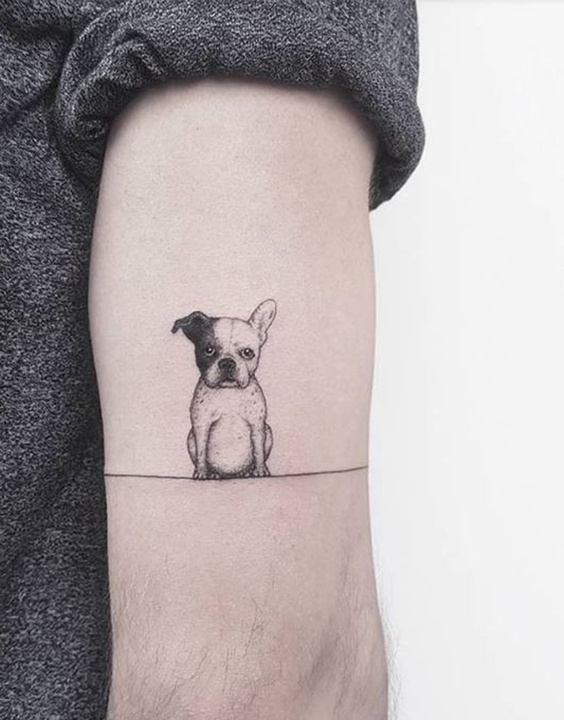 Tattoo Trivia– Apart from being popular as a symbol of loyalty, dogs are also synonymous to prosperity, good luck and happiness, especially in chinese culture.
9.Bring Out Your Inner Strength With An Elephant Tattoo!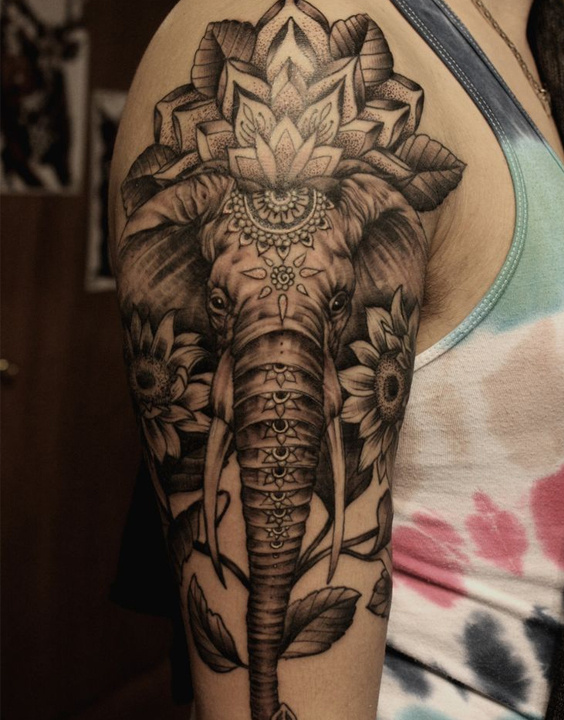 Elephants are a symbol of immense strength and courage so an elephant tattoo might be able to remind you of your own. Accomplish all your goals in life with a constant reminder that nothing is too difficult if you have the power to face it with your head held high.
If you're the kind of person who's aware of his strength and can balance his emotions, then the elephant tattoo should be your way of flaunting your intelligence.
"Owing to the gigantism of elephant tattoos, they are perfect for flaunting your sculpted bod."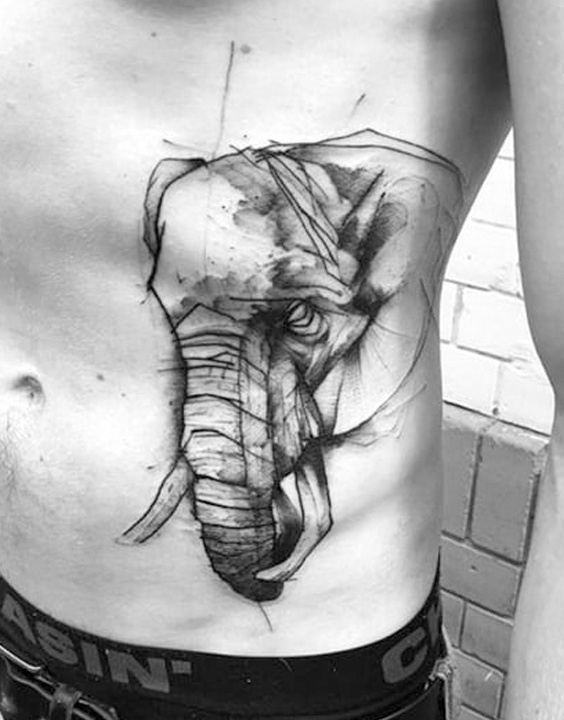 Tattoo Trivia– Apart from being synonymous with strength, elephants also represent emotional intelligence and maturity.
10. Owl Tattoo For The Old Souls!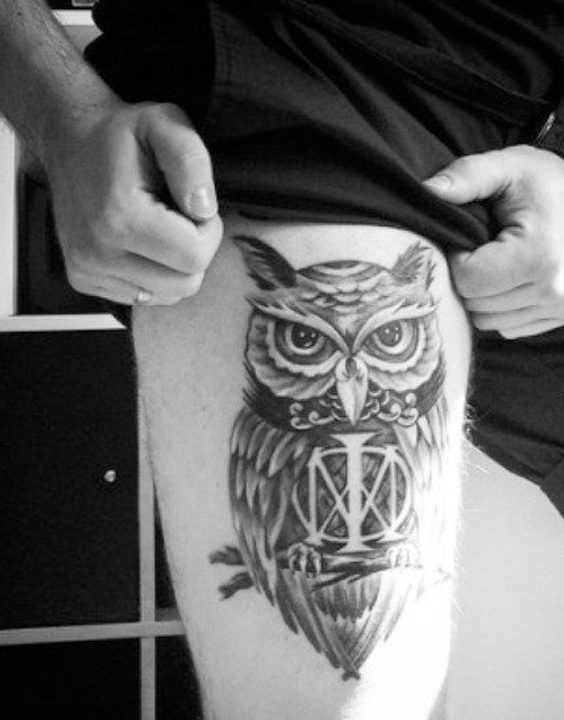 "Being an old soul in this fast-paced world is challenging, but if you have somehow managed to retain your originality no matter what, then this one's your best bet."
Owls are associated with ancient knowledge and wisdom, which makes them a really interesting choice when it comes to animal tattoo designs. One look at the owl tattoo on your body and everyone would know just where they need to go for sound advice.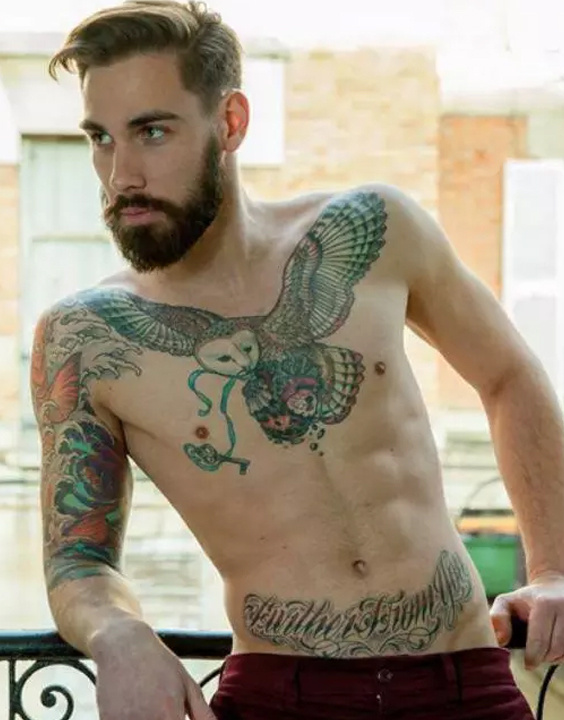 Tattoo Trivia- The owl is representative of transition, wisdom and growth. Thus perfect for somebody who's overcome fears and obstacles in their life.
Tattoos are tricky, but with the right choice of design and enough thought put into it, the chances of it going wrong are zero to none.
"Explore some designs or make one yourself; whatever you do,let your spirit speak through! ''
Image credits: The copyrights of the images used in this post belong to their respective owners. The credits where known are specified under the image - if you're the owner of an image and want it removed, please contact us.