Found your perfect match? Now it's time to find the perfect lehenga poses too, for that most-awaited bridal photoshoot. We've put together some of our most favourite ghagra poses for you to get inspired by.
How to pose in a lehenga?
The charm of a lehenga stays unmatched when it comes to weddings, so it's only fair to do justice to it by making the bridal photoshoot a total hit! These stylish photo poses in lehenga will add that extra 'oomph' to your chosen look. 
1) Bridesmaid on duty!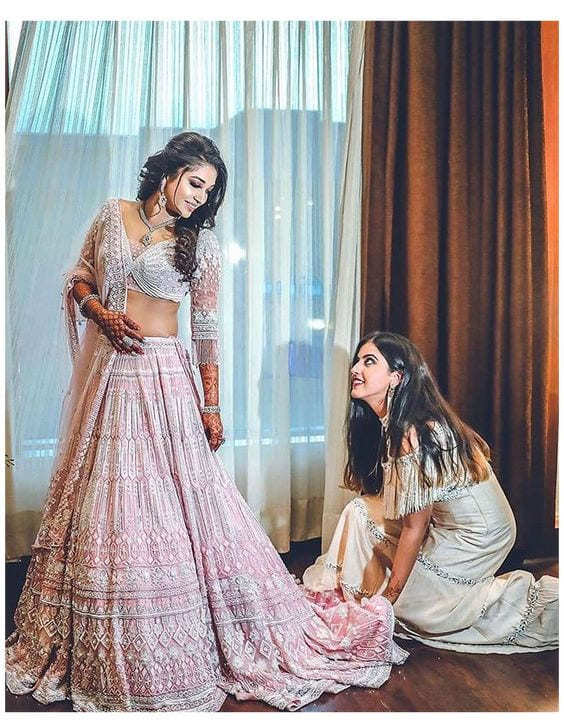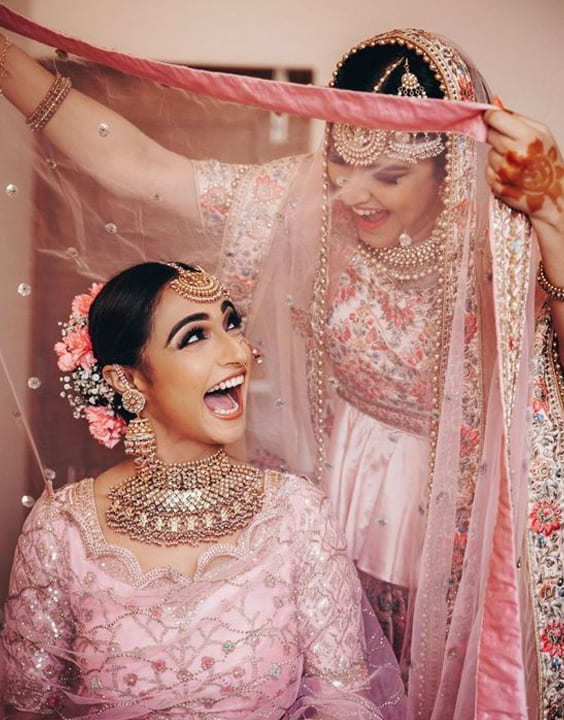 One of the most popular ways to get yourself clicked is while your bridesmaid is fulfilling her duties! From adjusting your lehenga to draping the dupatta, everything is a photo-op. 
2) Lehenga poses ideas with friends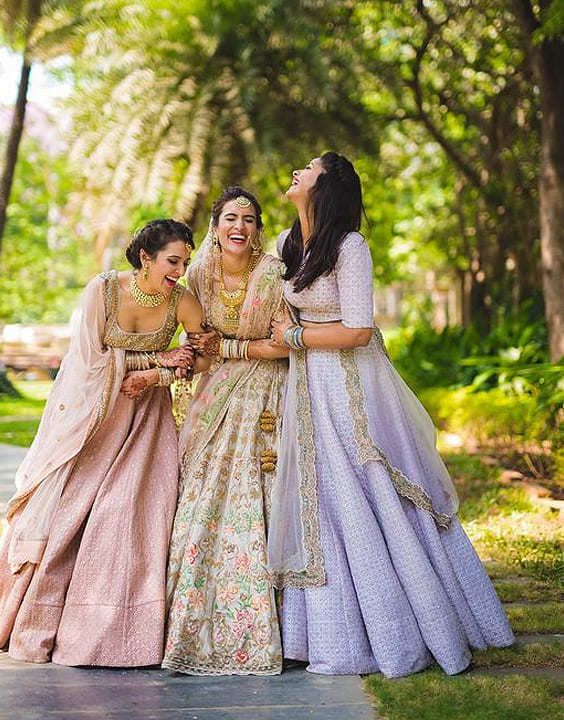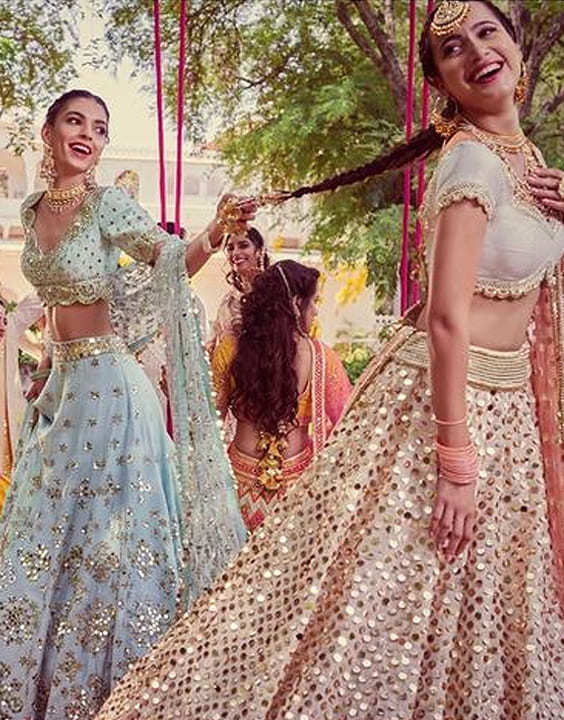 While you're having fun with the girls, have the photographer on standby, or pick something quirky to do like laughing or playing around, and let the photos narrate just that. This is among the most unique and simple lehenga poses.
3) Twirl on!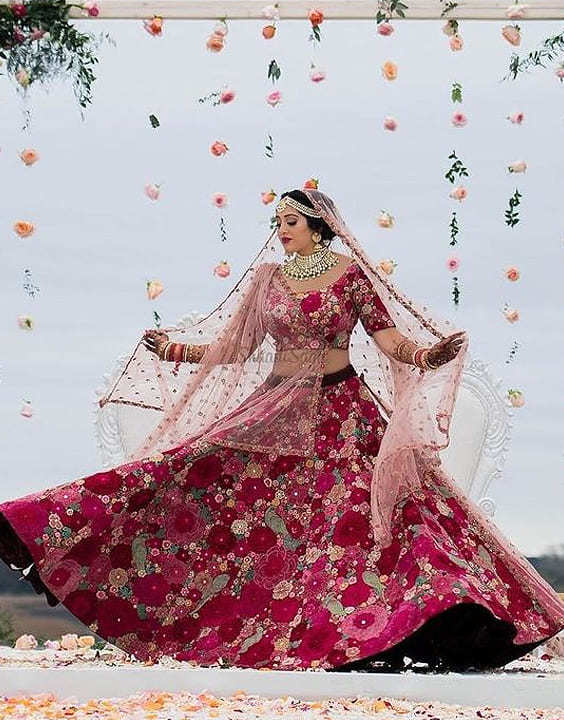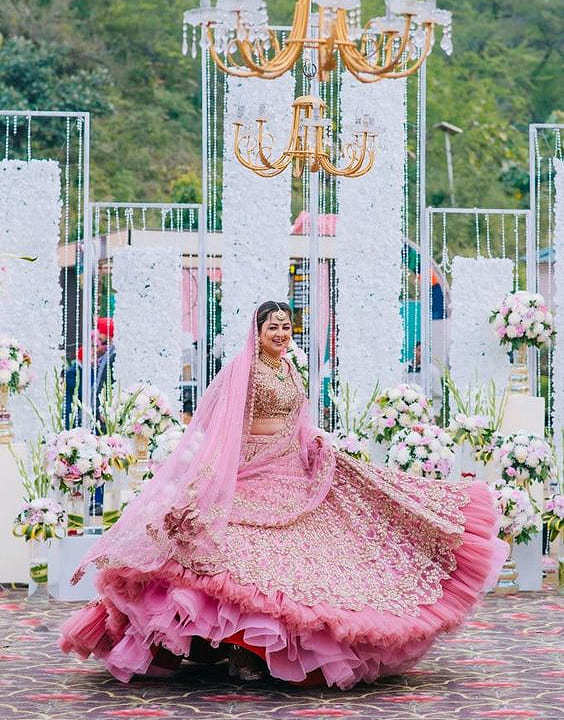 Did you even wear a lehenga if you didn't twirl in it AND have it captured? It's the best part about this silhouette, especially if yours is voluminous.  
4) The back shot!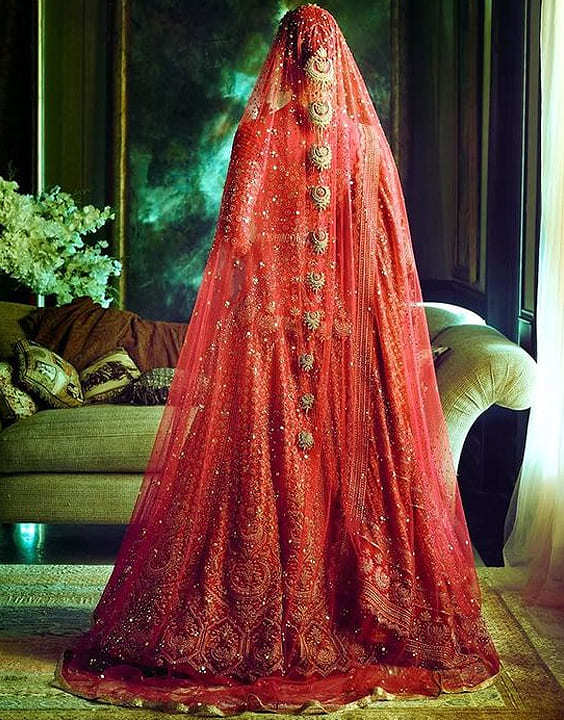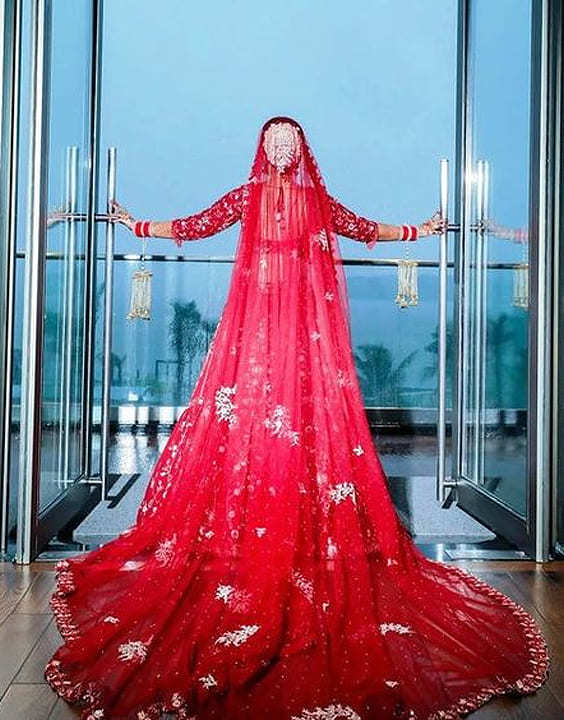 Probably one of the most important poses has got to be the back shot, where the details from the back are on full display, whether it's the dupatta that is flowing perfectly or the hairstyle that you want to flaunt. 
5) The front view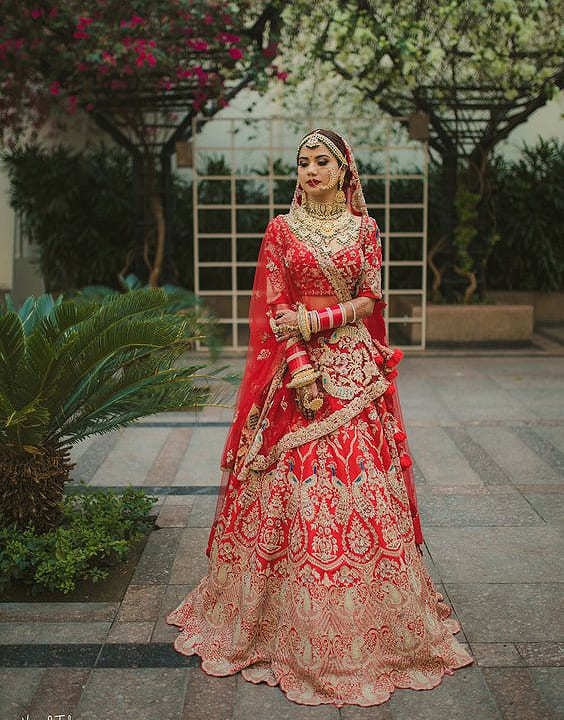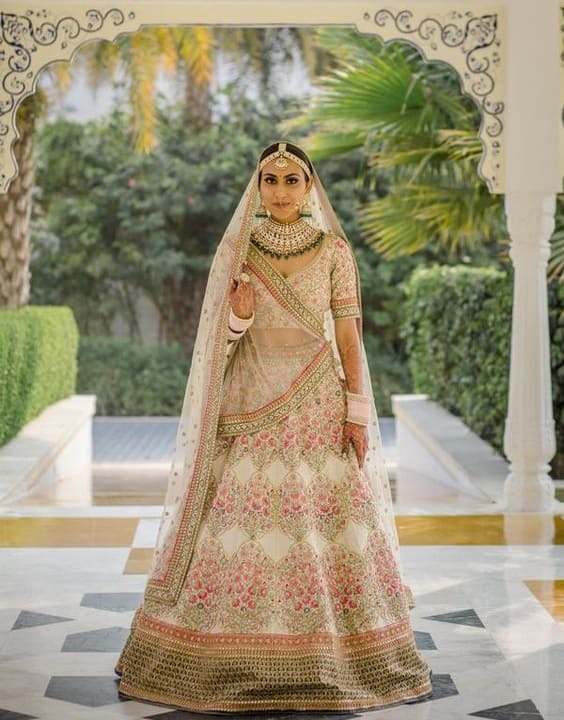 Once the back shot is covered, it's time to let your lehenga take centre stage and let it show perfectly. For this, front and full lehenga poses are your best bet.
6) The top angle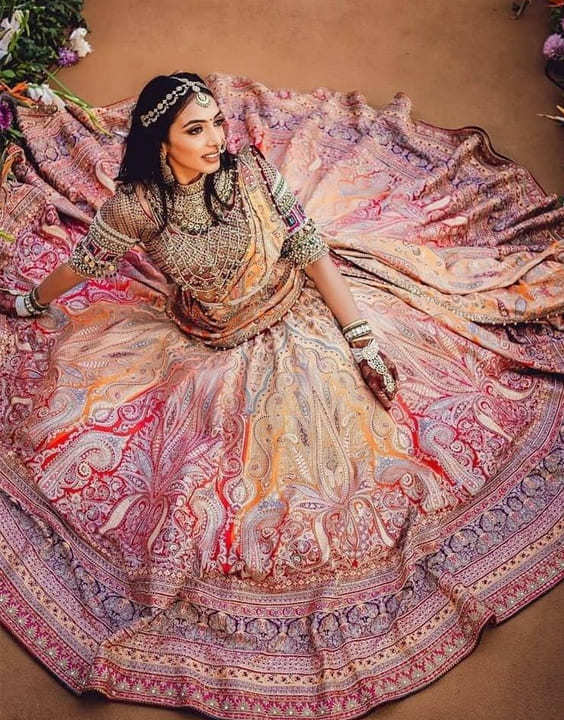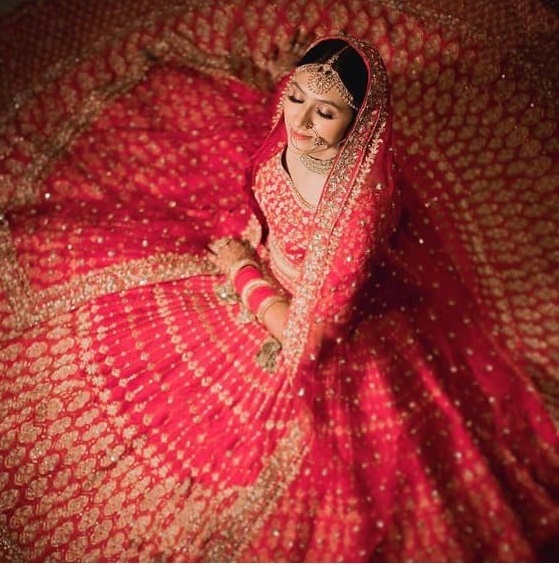 Amazingly popular among millennial brides is the top angle, where they're sitting on the floor with the lehenga spread out at all sides. This simple lehenga guide will tell you which ones to pick to ace this pose. 
7) Poses in lehenga on the staircase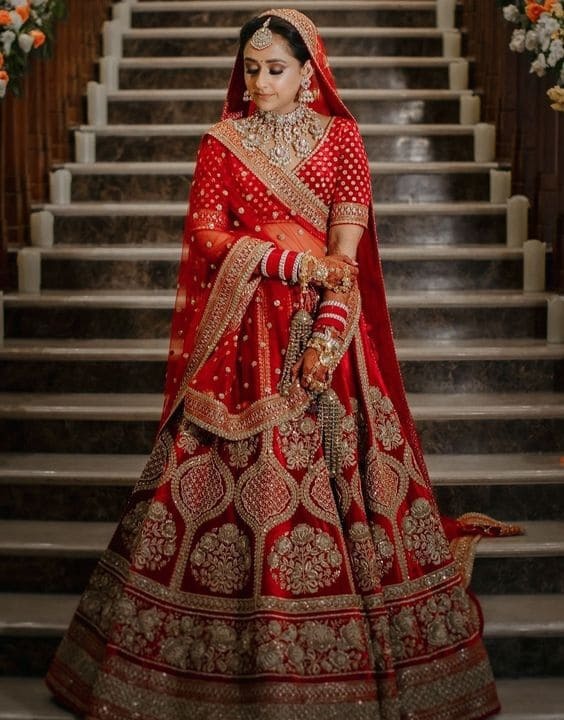 More than a pose, this is a photo venue and you should make full use of it, whether you're sitting down or standing tall. Make sure your lehenga is in focus though.
8) Shake a leg!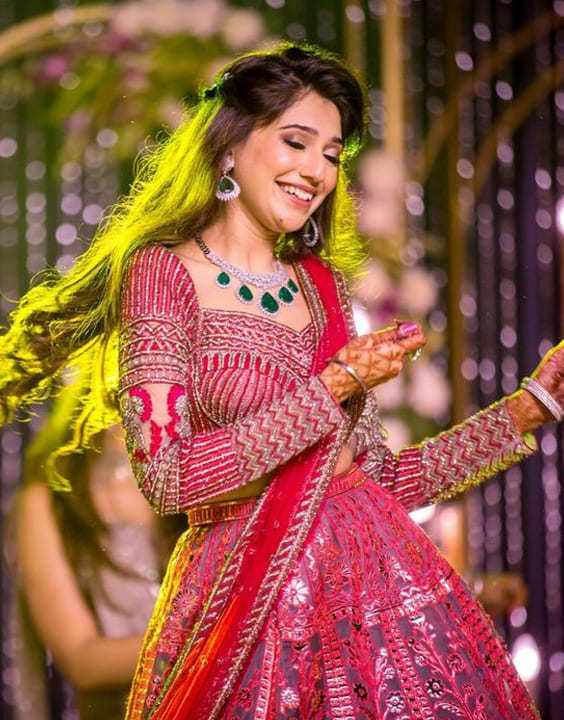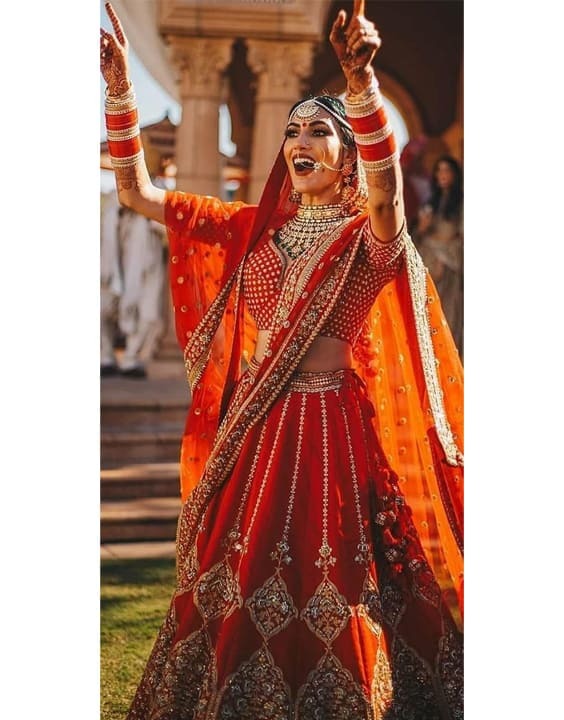 While you're showing off your best moves on the dancefloor and having the time of your life, why not capture it? 
9) Royalty-inspired portraits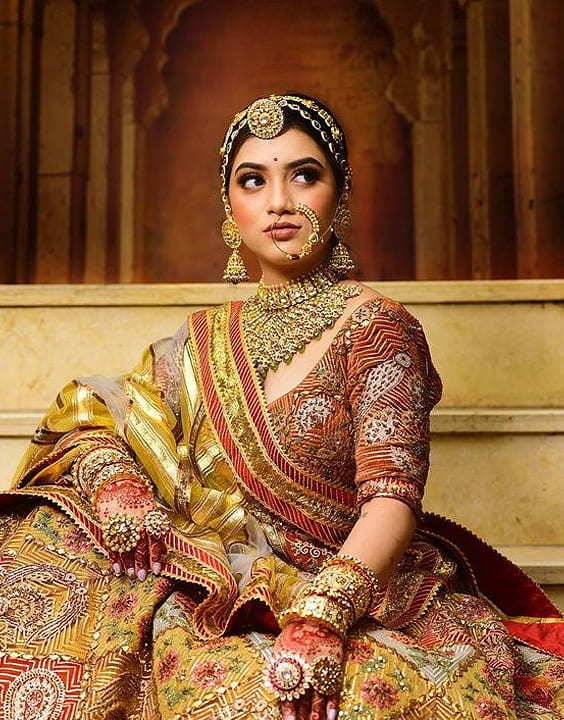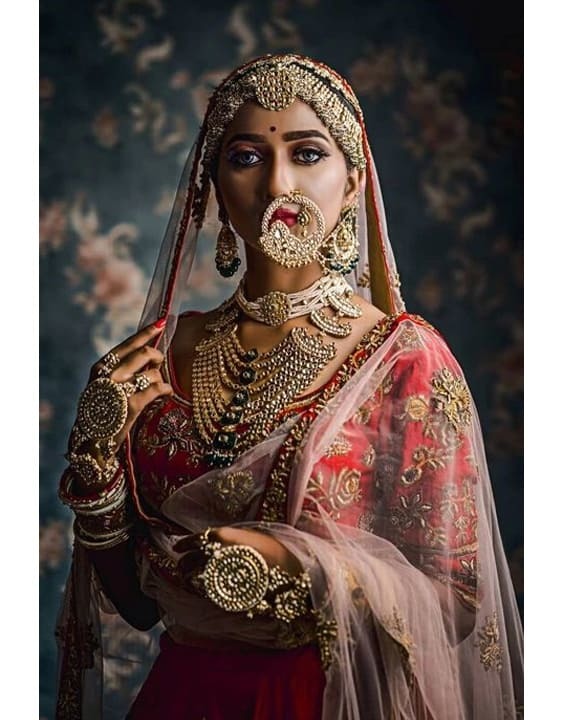 Ever looked at portraits of royal women and wanted to have one of yourself? What better time for this than your wedding, when you're adorned in precious jewels from top to bottom! 
10) One with the dupatta!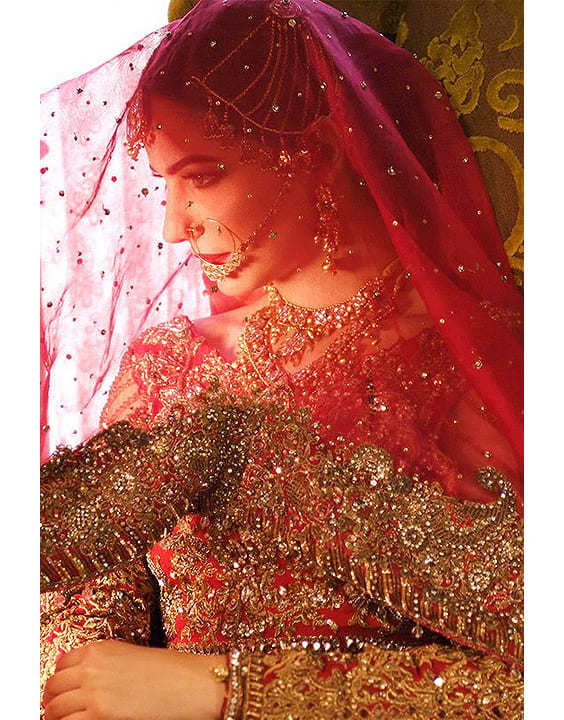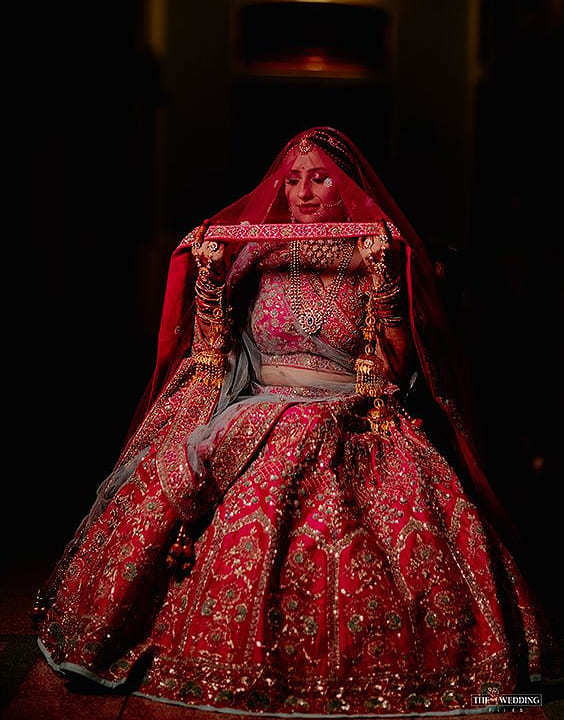 Let your dupatta steal focus in a few shots! You can wear it halfway, peek through it if it's made of tulle or organza, or simply hold it and show off the embellishments on it. 
11) Mirror mirror!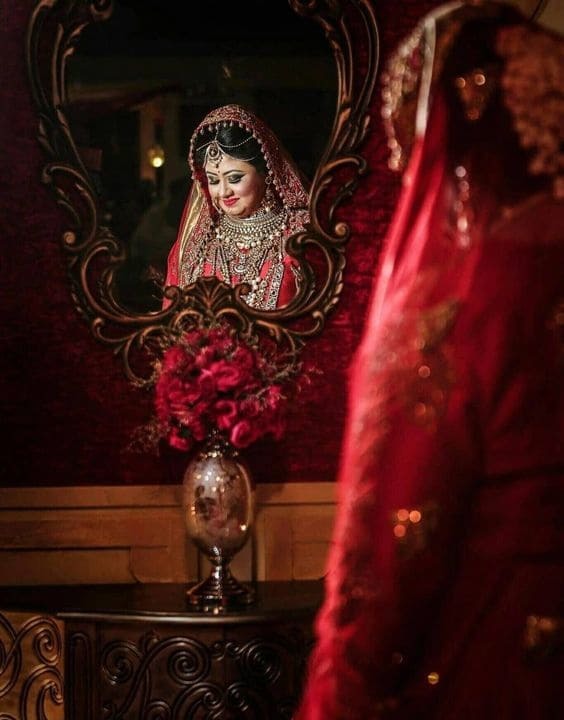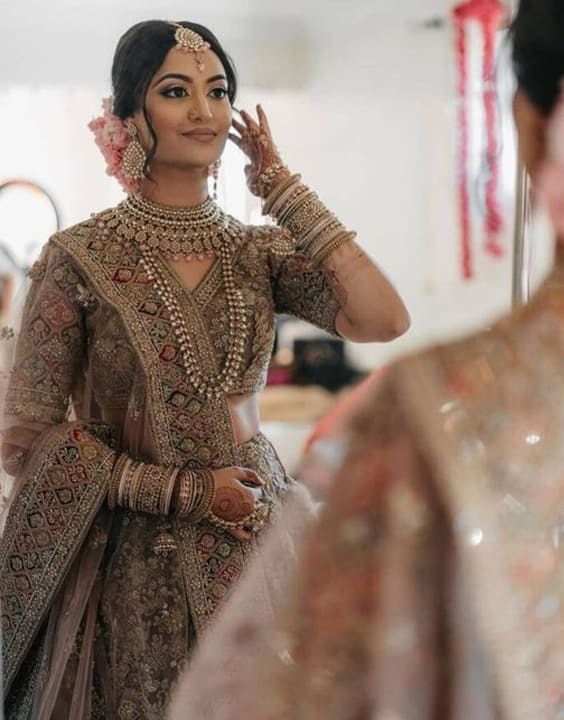 As you mentally ask the mirror who the fairest of them all is on your big day, make sure your photographer is right behind you to capture reflection perfectly! This tops the list of standout lehenga photoshoot ideas.
12) The closeup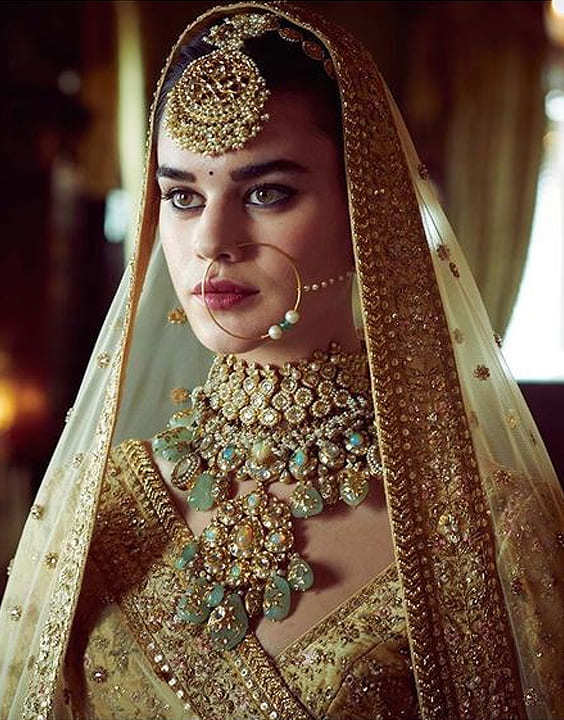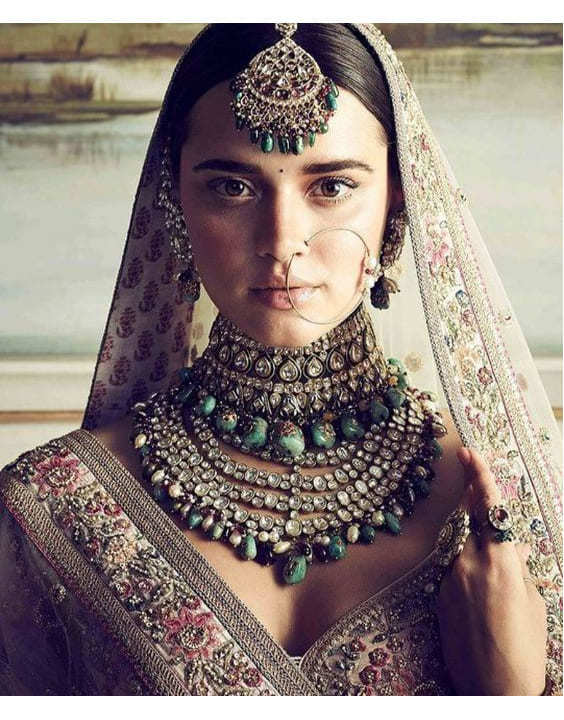 From the makeup to your neckline or other details on your blouse, closeup poses ensure you get everything documented perfectly, even things that can go unnoticed. 
13) The big entry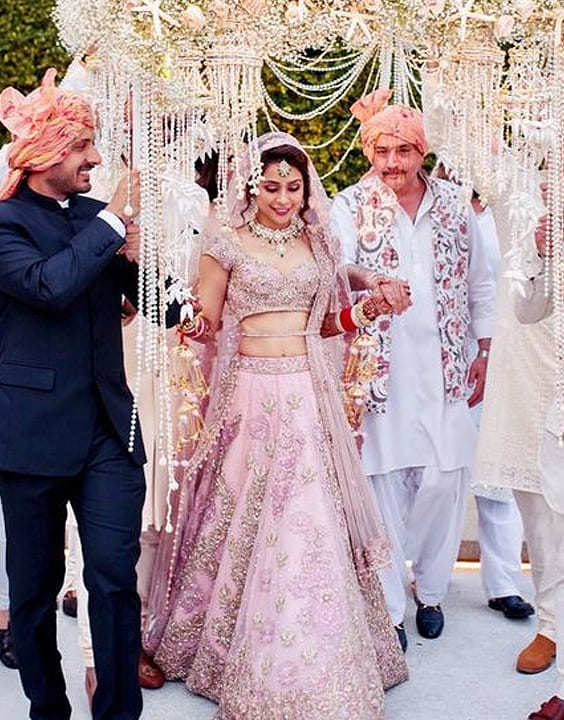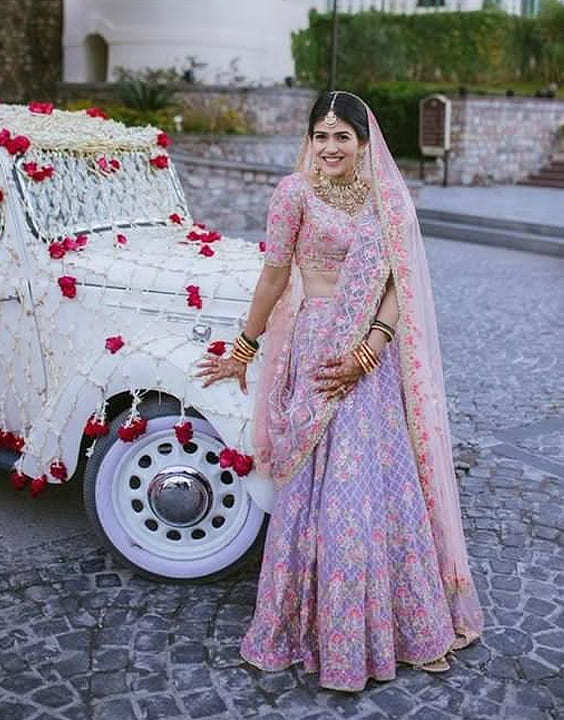 The spotlight is already on you when you walk into the room. Your bridal entry deserves to be remembered forever, so make it a part of your stylish photo poses in lehenga.
14) Deets please!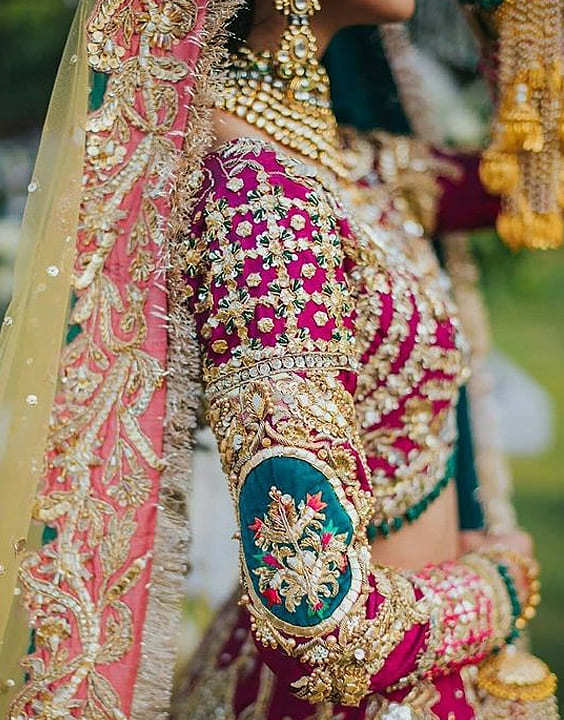 'Details' has been a fashion buzzword on social media, so bring the concept to your bridal photo album! 
15) Looking 'down' lehenga poses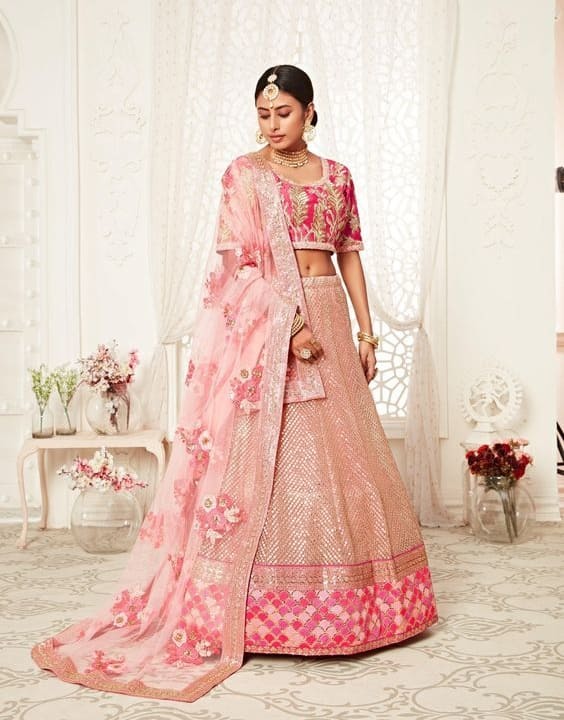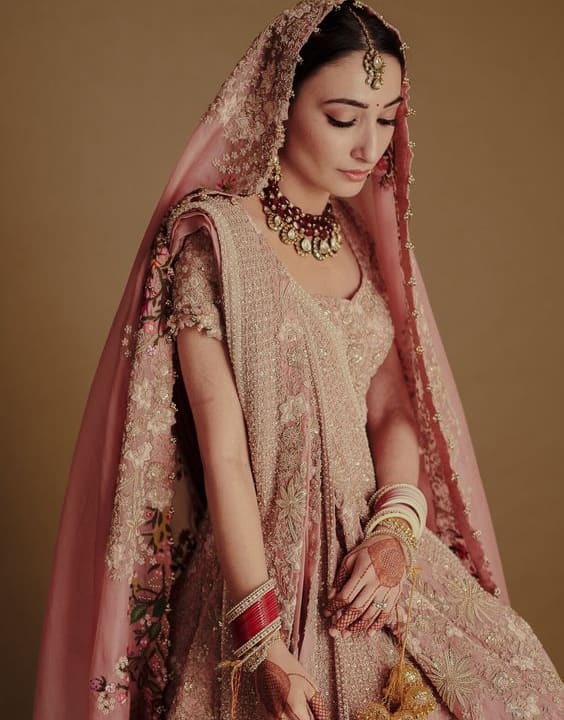 Ah, here's the underdog of lehenga poses for girls! You definitely don't want to miss out on this simple and elegant way to get yourself photographed. 
16) For your crazy side!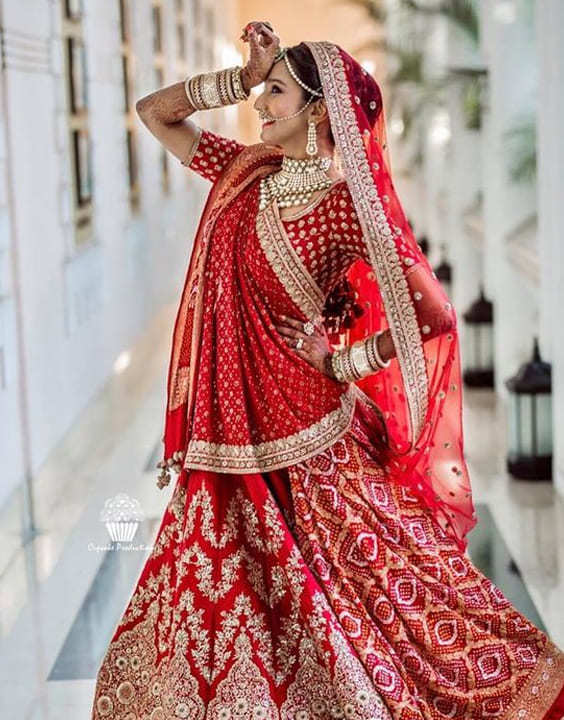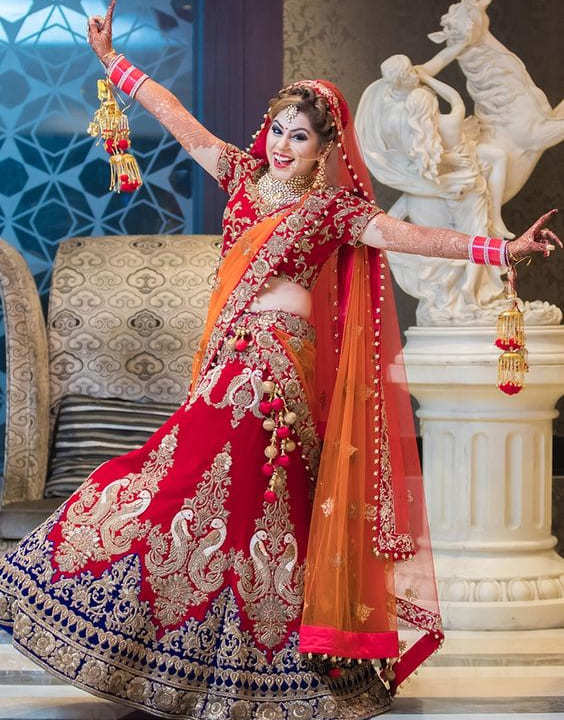 Steer away from the conventional and strike a pose however you please! For this one, you get a free pass. 
17) The perfectly planned photo!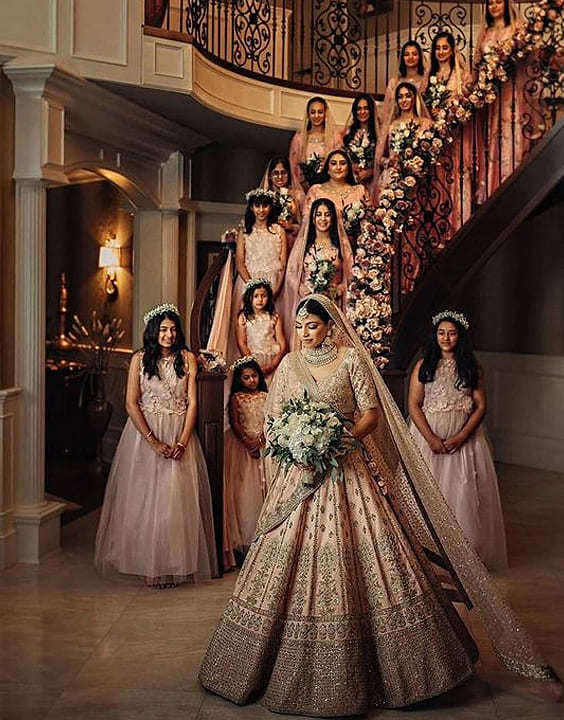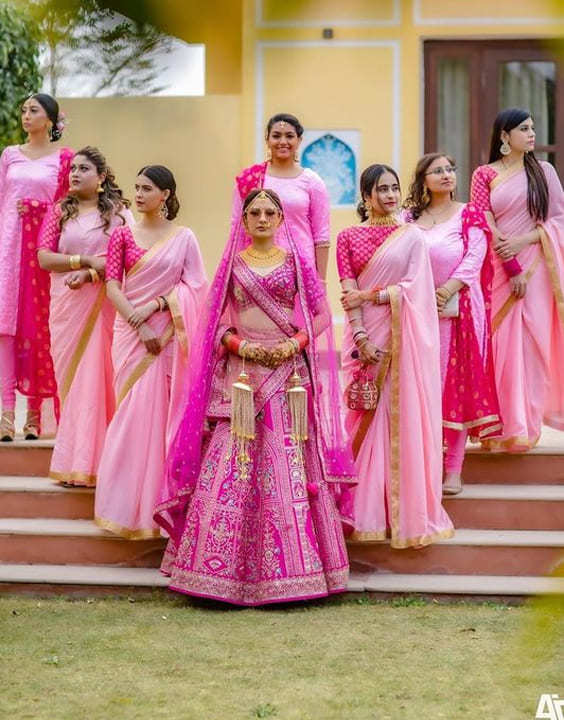 Want to look like the star of a bridal campaign shoot? We say, get into formation.
18) Be carefree!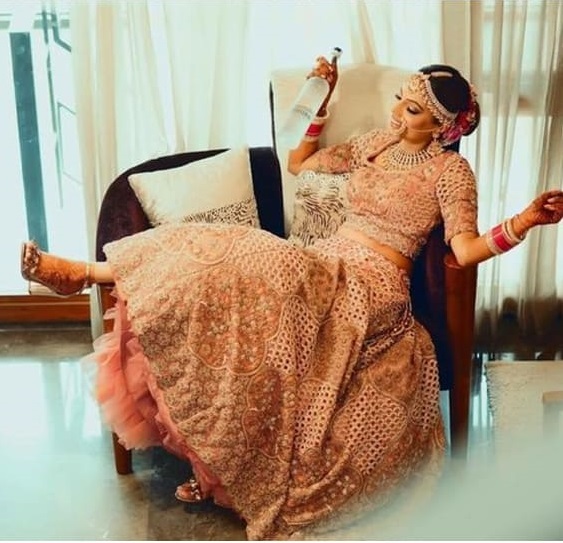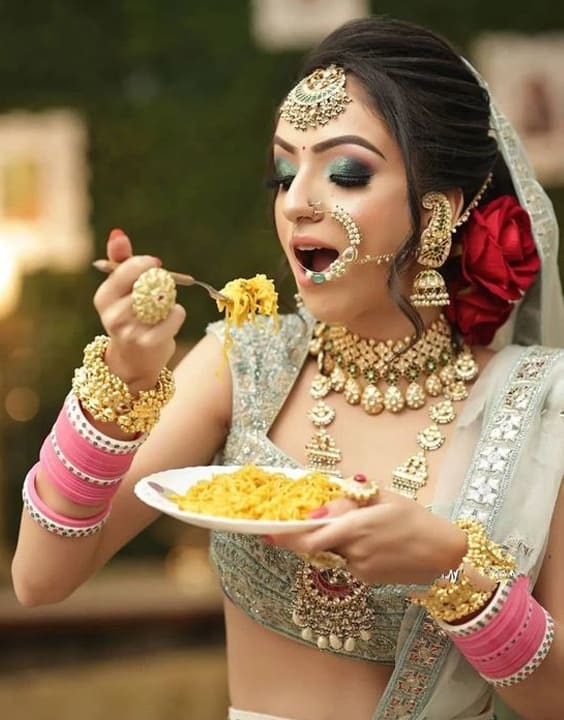 Happy brides are the best brides, but so are the carefree ones! From eating that delicious food to having a glass of wine, everything is photo-worthy because it screams YOU. 
19) The jewellery shot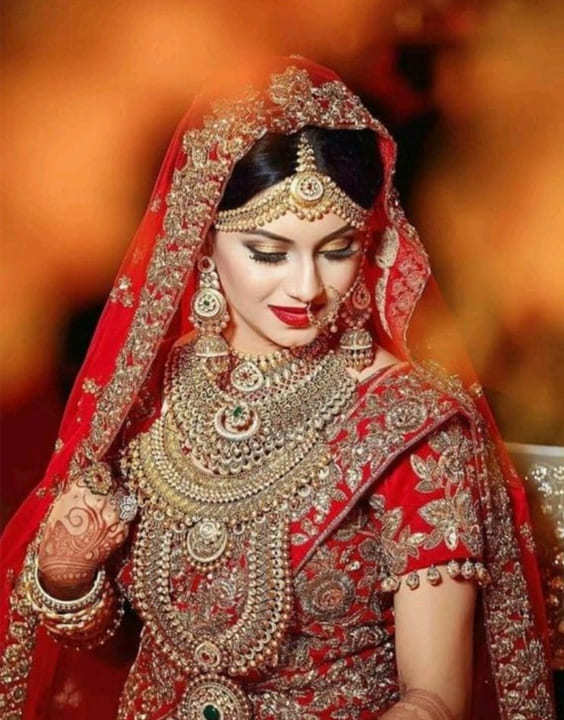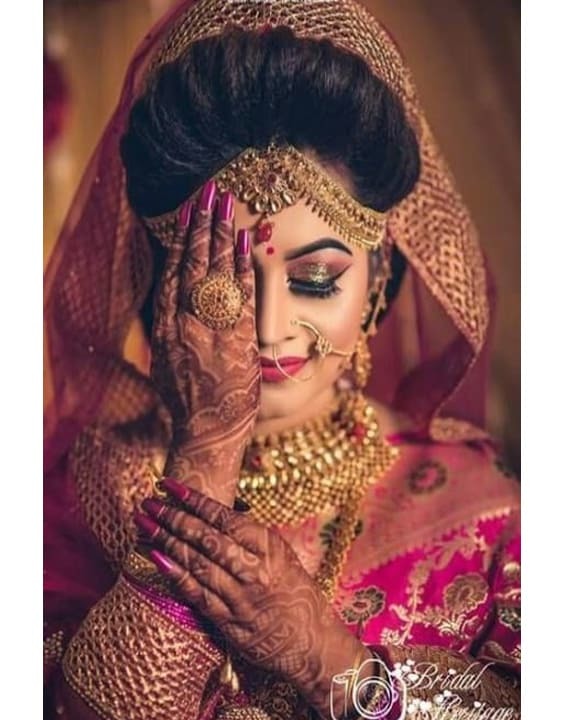 The jewels you wear are just as important as the lehenga itself, and they need their separate moment to shine! Confused about which pieces to pick? Turn to online shopping in India to see what works best. 
20) Bride in-the-making!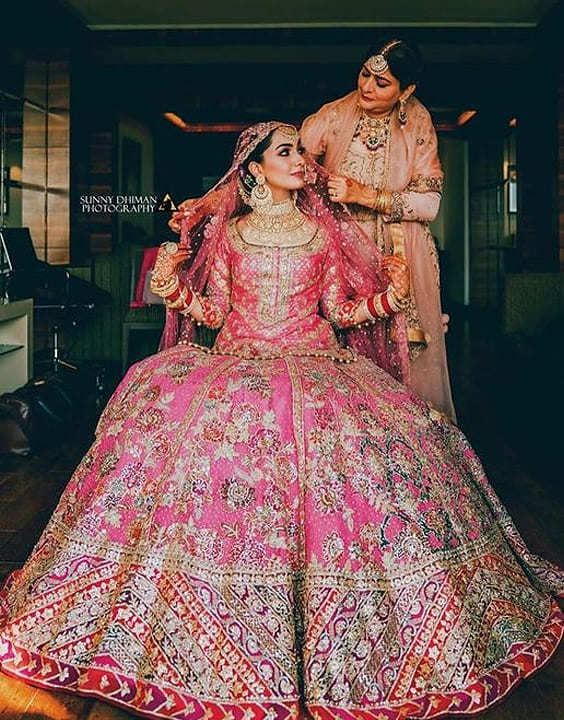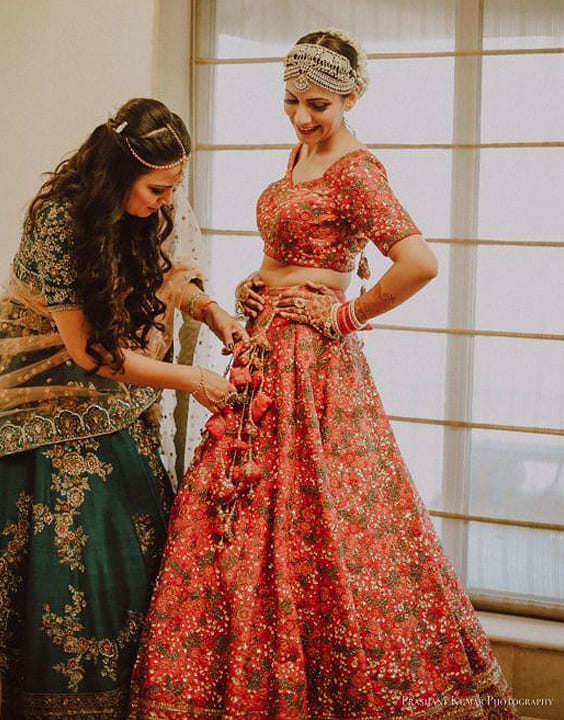 Behind-the-scenes lehenga poses are just as important for your bridal album, as you get to relive the entire process of dressing up to tie the knot once again.
21) Endless love!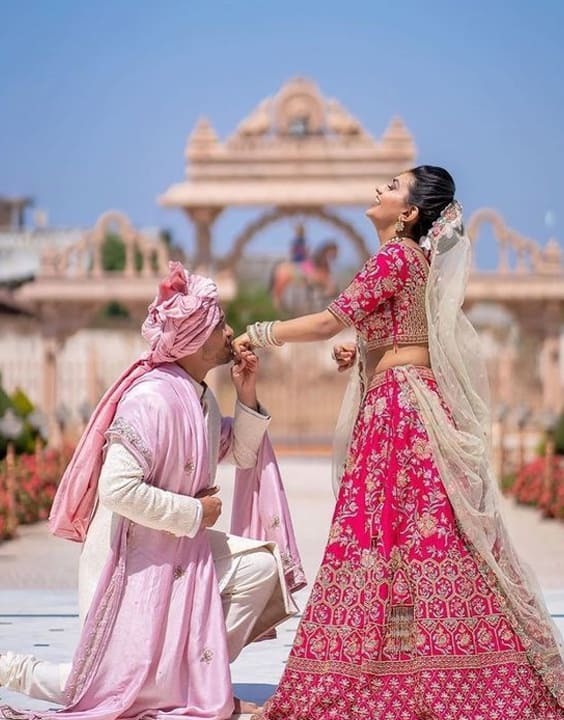 Finally, it's time to strike a pose with your one and only. To make things more interesting, you can look for styles that let you twin on an online shopping app. 
Give these lehenga poses ideas a go and see how your bridal album turns out to be amazing!
Image credits: The copyrights of the images used in this post belong to their respective owners. The credits where known are specified under the image - if you're the owner of an image and want it removed, please contact us.