If you're from India or have an interest in Indian culture, then you're familiar with the humble bindi. The addition of it can spruce up any look instantly. It's a rather important aspect of South Asian cultures and is deemed dignified in every way. A lot of bindi designs now prevail in the market and it is just the age-old dot anymore. 
From simple to complex shapes and intricate details, there's everything available for you to pick from. A lot of women prefer to wear simple dot bindis at home and every day, whereas the fancier versions are saved for special occasions, weddings and festivities. Let's take a closer look at them! 
How do I choose a bindi for my face?
It's always best to keep your face shape in mind when choosing from the latest bindi designs. You can also pick them at random but this is a great hack for when you want the bindi to be on-point. For example, rounded face shapes go well with elongated bindis and not perfect circles. On the other hand, angular faces do well with round or oval shapes and not with bindis that have edges. 
The only way to ace this is by trying out all bindi designs for ladies and examine yourself in the mirror. Whatever you feel looks best should be declared the winner and definitely investment-worthy.
What bindi designs are in fashion? 
Red bindis have always been symbolic of marriage and every married woman has to wear them in a lot of households. But, they are also a fashion statement now and continue to be deeply rooted in culture. Bindi designs with sparkly embellishments often make it to the top of the trend charts but the colorful ones aren't far behind. 
In fact, they're extremely preferred by young women for their understated elegance. Other than that, black bindis are also a common sight among women of all generations and can be seen flaunted at festivities along with contemporary sarees and suits. 
How do I choose a bindi size?
Picking the right-sized bindi can prove to be a feat. It depends on the occasion and your outfit, and sometimes even on the makeup look you've chosen. If you're wearing really heavy bridal makeup that is also bold, then a tiny bindi will be your best friend. If you're going for the no-makeup makeup look then any size should be fine, depending on where you're headed. 
Usually, it doesn't matter if you're overdressed at festivities so if you like oversized bindis then this would be the best time to try them out. Face shapes also come into play over here, so you might want to be mindful of those aspects too. 
What are different types of bindi?
Sometimes, before making a purchase or painting it on your forehead, it's best to know the different ones that exist. Bindi designs in the market are endless. Did you know that you don't just have to go with the stick-on ones but can also make them with a brush and color? You don't need to be an ace artist to do this! 
Our list below not only includes designs that have always been around but also new and trending ones. It'll help you streamline your choices and maybe even aid you in updating your looks regularly! Read on. 
1) Chandan Bindi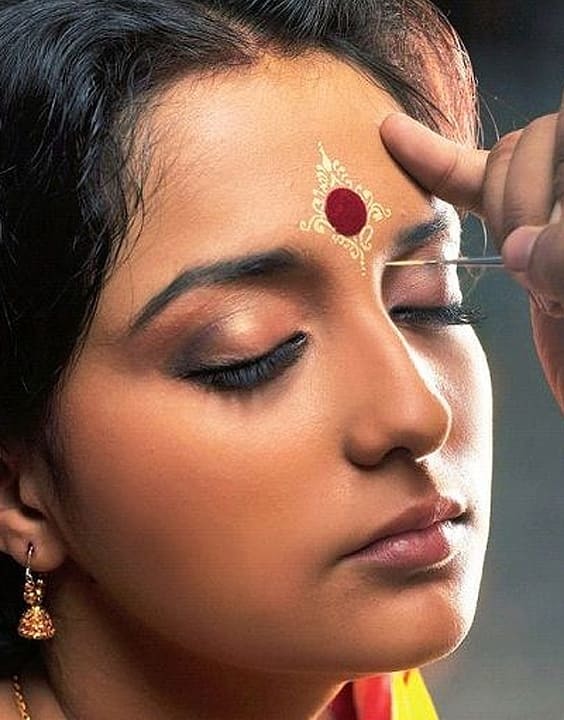 The detailing of these bridal bindi designs will blow your minds! They are so intricately drawn around a big, red bindi that one is compelled to stop and stare. The Chandan bindi, also known as Chondon, plays a very important role in Bengali culture. The eye-catchy motifs are drawn primarily in white and deep red and can go all across the woman's forehead. Truly, this one is a stunning sight when paired with a juda hairstyle! 
If you're a Bengali bride and tying the knot soon, gear up to have your forehead painted with some of the most beautiful shapes, similar to the ones you may have seen on other brides in your family. You can even experiment with a new bridal kolka design.
2) Chandra Bindi Designs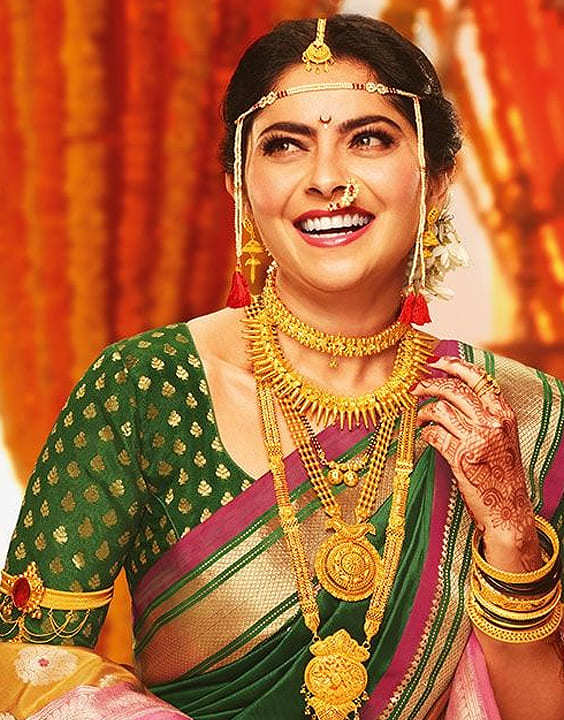 A lot of us are familiar with the crescent-shaped bindi that adorns the forehead of a lot of women during festivals like Ganesh Chaturthi, Gudi Padwa, etc. or for weddings and wedding celebrations, usually with a Nauvari saree. Well, this bindi is popularly known as the Chandra Bindi and originates from Maharashtrian culture. 
It can be embellished with stick-on stones or crystals or can be in solid, radiant colors like red, orange, green, and many more. These bindi designs instantly stand out due to their unusual shape and are loved by a lot of Indian women whether they are Maharashtrian or not. 
3) Bold Red Bindi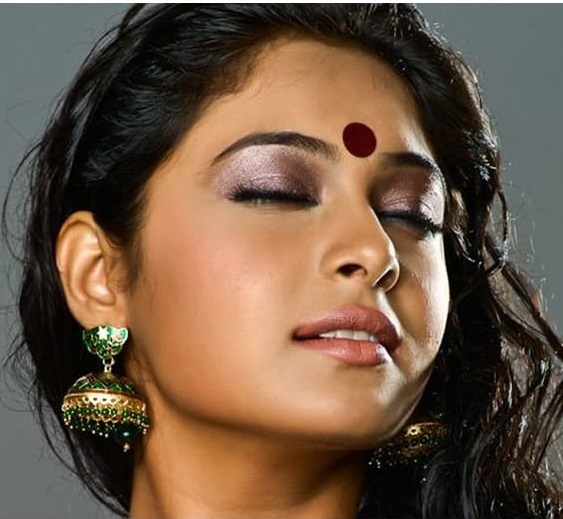 A lot of people already know this, but red bindis are the most traditional ones as opposed to the new-age styles. A bold red bindi is much more than just a style statement. It is timeless, auspicious and a symbol of femininity. 
Oversized and undersized both are just as powerful, but the latter is often considered to be more understated than its larger counterpart. It is also believed that the red bindi brings prosperity after a woman's marriage and that's why she should wear it at all times, much like the sindoor.
4) Teardrop Bindi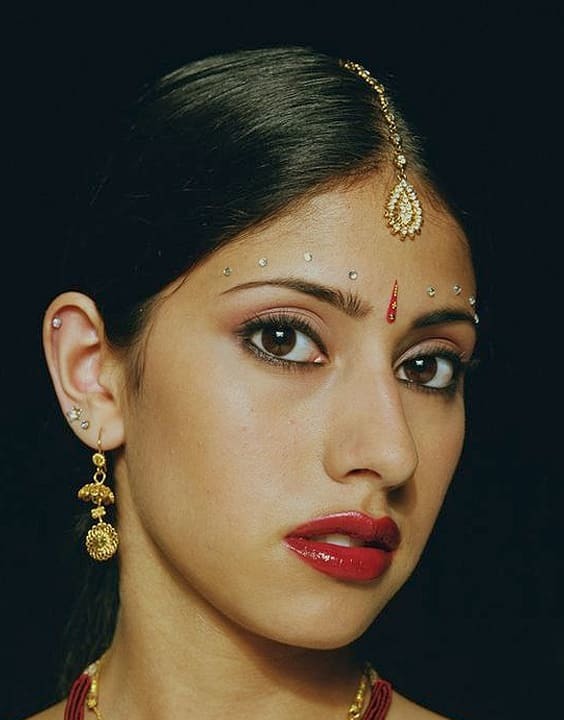 Round face shapes can benefit a lot from these kinds of bindi designs, whether they're being worn for a wedding, a festive occasion, or any other special event. Teardrop-shaped bindis are a fairly common design that suits the chubbier or rounder face shapes perfectly, as they add a certain definition to the overall appearance. 
They can be found in embellished styles or solid colors, but we usually tend to favour the former. Teardrop bindis can also be worn with other tiny stick-ons for extra impact. 
5) Abstract Bindi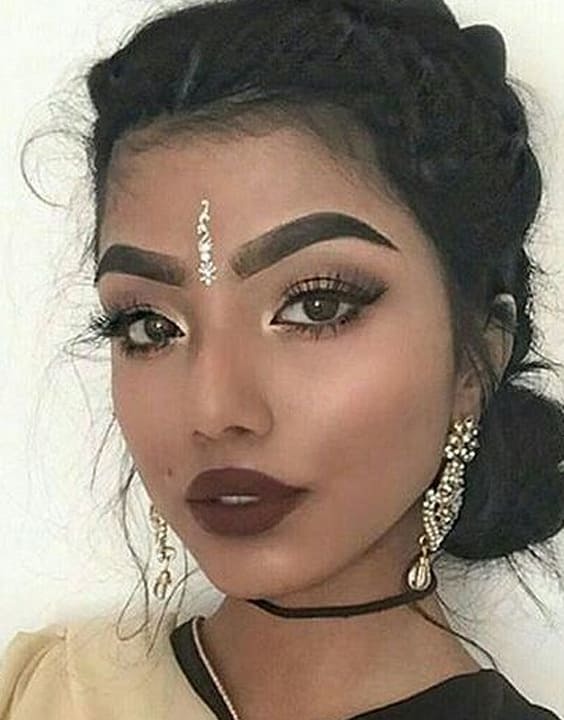 If you don't want to stick to one particular shape or size then these ones are for you! Abstract and often free-flowing patterns come into play to form this fancy bindi design. They are usually made in just one color but the artsier ones can include more than two! 
You can spot them in all kinds of patterns resembling paisleys, certain vegetables, etc. but only if you have the eye for it. People with longer and wider foreheads can don these bindis for more definition. 
6) Embellished Dot Bindi Designs
Subtle glam is 'in' right now and this bindi is perfectly aligned with it! Essentially, it's just a stick-on that either has a reflective faux crystal or a pearl made from plastic, but it has been a huge hit in Bollywood and also on the runways so it's definitely worth a shot! The best part about this bindi is that it goes with almost every outfit and is suitable for all occasions. Its versatility is what makes it our go-to. 
Even when you wear multiple of these, you can't go wrong. In fact, that is what most women do to amp up their look! Give it a shot and see your outfits and beauty looks transform. You can also sport these on your wedding day especially if it's a low-key affair, by wearing them with a simple lehenga design.  
7) Snake-Shaped Bindi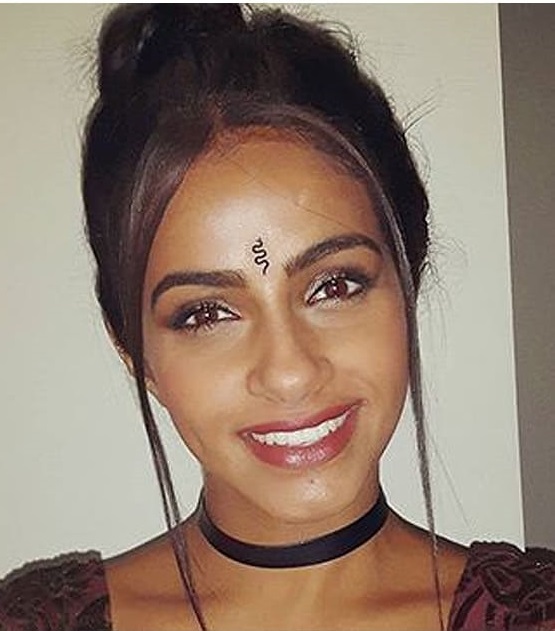 If you want to be more adventurous and give in to something that is a little out of the ordinary then snake-shaped bindi designs are a great option. Firstly, they're unconventional so not everyone can pull them off or even add them to their collection and secondly, they're considered a bold choice as people may perceive you to be the no-bullshit kind. 
They're really just a wavy design that may or may not have an embellishment at the starting or ending point, and can be worn with sarees and your hair up in a bun. They may not be suitable for a lot of bridal hairstyles so you may wanna keep that in mind before giving these a go. 
8) Layered Bindi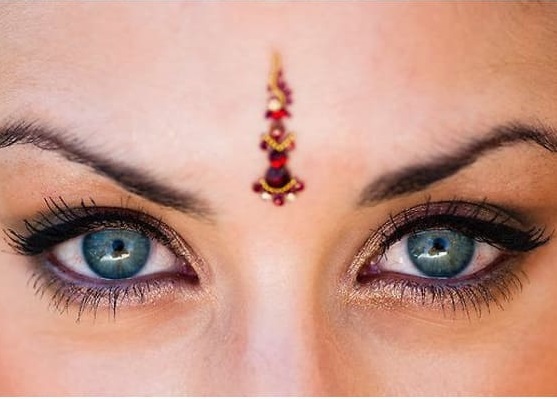 Identify as a maximalist or a little bit 'extra' than the rest? Then the layered bindi is going to seem like it was made just for you! With more than one color in play, you're sure to be spoilt for choice and make a lasting impression on everybody! Besides, who doesn't like a dose of extra glam when it comes to parties and festivities? 
Best worn with fusion as well as traditional ensembles, we're pretty sure that the layered bindi is a must-have for your closet. You can easily find them on any online shopping app in India that deals with beauty, accessories and other fashion products. 
9) Designer Bindis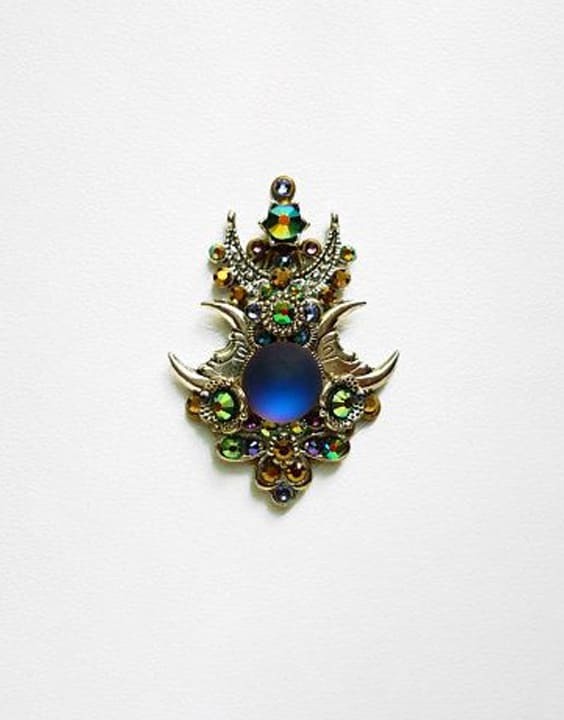 Just as the name suggests, designer bindis are handcrafted and made to perfection by experts in the field. The bindi designs are extremely unique and your best bet if you wish to stand out in a crowd. Often, gemstone-like embellishments are at the core of these, and the designer may even include rhinestones, out-of-the-box shapes and sequins to jazz them up. 
Designer bindis are largely popular with women who are always looking for a fancy bindi design. They are also a mainstay for a lot of closets, thanks to everyone's desire to make an unforgettable statement these days.
10) Pastel Bindis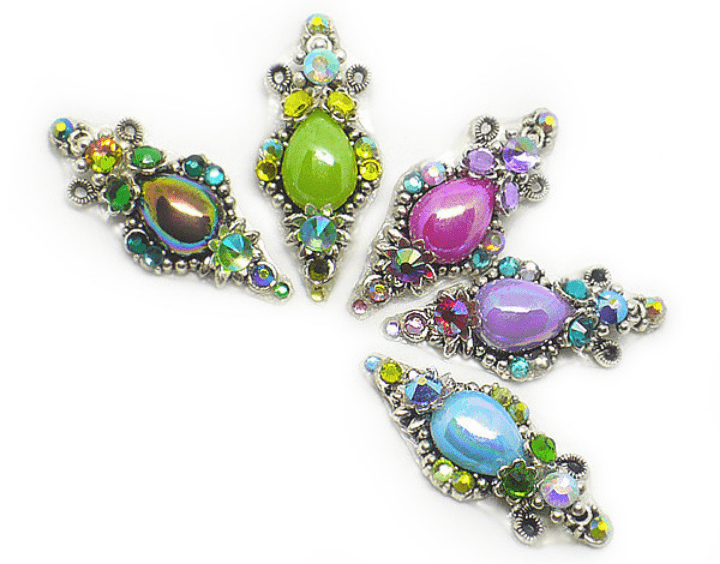 Summertime stunners and loved by young girls, pastel bindis are a total treat to the eyes. To someone who is not fond of pastels, these might seem unnecessary but they do a great job of being perfect matches to pastel dresses and lehengas which are quite famous among brides these days. One simple search while online shopping in India can lead you to the prettiest pastel bindis that you can wear over and over again, tirelessly. 
They can be simple dots, embellished, or even layered, as long as they maintain their subtle and candy-colored attributes. If you ask us, pastel-colored bindis are our absolute favorites and we look forward to various social situations to be able to wear them! 
11) Metallic Bindi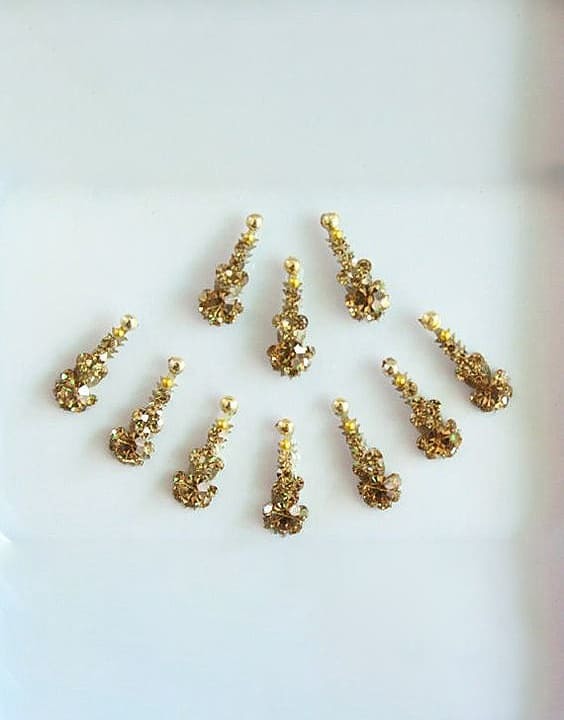 As opposed to pastel bindis which can prove to be fun, fresh and fabulous, metallic bindis are generally more sophisticated, rich and refined. It all depends on the kind of statement you wish to make for any given occasion, and that should guide your choices in bindi designs. But if you're aiming for an appeal that is considered luxe by onlookers then you should give metallic bindis their time to shine. 
Gold bindi design is much more preferred than the silver ones. This doesn't mean that the bindis are made out of real metals, it just means that they're given a sheen in one of these colors to make them sparkle and dazzle. 
Now that we've covered most of the bindi designs that you can check out, go ahead and try them all. We're positive that you'll meet your new favorites in no time, and when you do, don't forget to capture that perfect closeup for your social media feeds. 
Image credits: The copyrights of the images used in this post belong to their respective owners. The credits where known are specified under the image - if you're the owner of an image and want it removed, please contact us.