Don't know what to do with your hair? Are you tired of wearing your hair the same old way every day? We've got just what you need! Explore this style file on bun hairstyle and find the best top knot for you. Gurll everybody loves buns!
The 'Ballet Bellas' in the Italian Renaissance courts popularised the elegant bun hairstyle and we couldn't be anymore grateful to them!
Some of the most common hairstyles on the runway are buns – be it a high messy bun, a tight bun or even the most basic donut bun. In fact, hair buns have become so popular that they have even found a way into men's fashion, queue the sexy Man Bun – this is what a millennial woman's dreams are made of!
After all, tying your hair into a bun hair-do in those scorching hot summers is the best feeling ever. TBH no matter what season the bun hairstyle is the easiest way to style your hair!
Here are some popular and a little less known bun hairstyles for girls and ladies that are sure to brighten up your style even on bad hair days!
1.Messy Bun- Disaster? Never! A Chic Statement.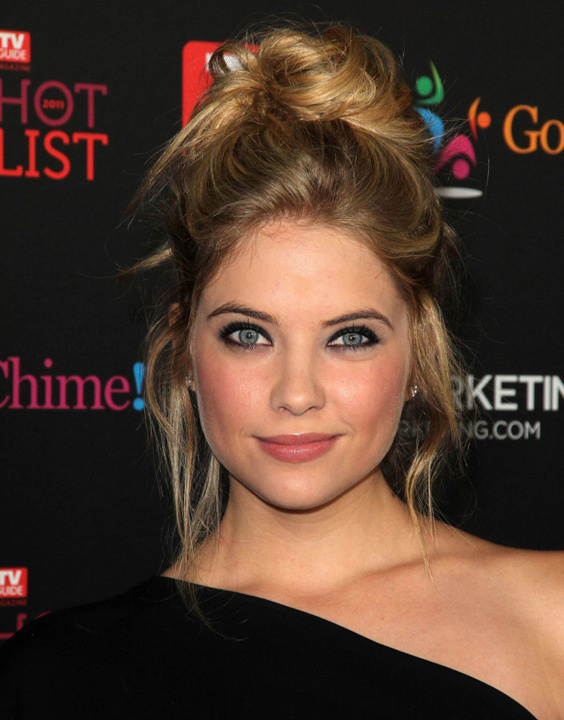 Think Gigi Hadid, Ashley Benson and other fashionistas – that is what you want your messy bun to look like! The messy bun hairstyle is probably the most trending hairstyle on the red carpet, and for obvious reasons.
A messy bun looks good on most occasions, especially for a girls night out or a dinner date. Especially if it is a top bun hairstyle, it goes very well with crop tops, maxi dresses, leather pants and even sarees.
'Tis easy to make and it always looks good! Messy bun for short hair is great, especially with short feather cut hair, the straying strands add a sexy mess to the bun.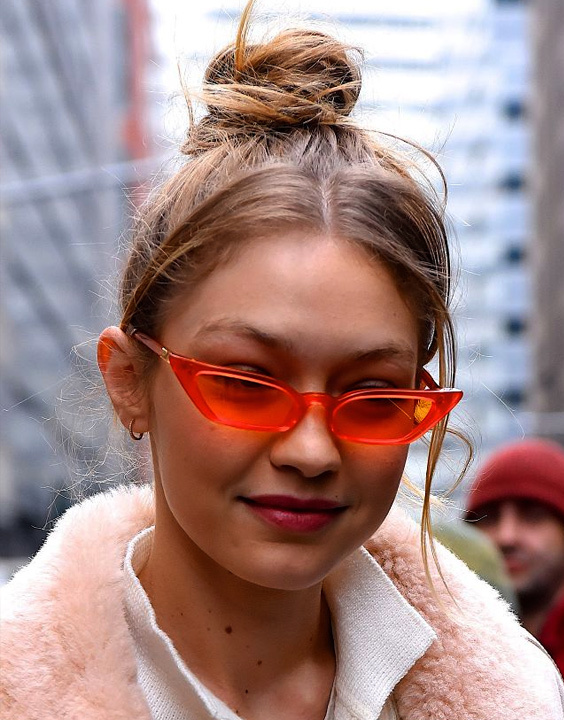 Dress it up: Shades and a messy bun – the ultimate 'I woke up like this' look. You could even wear a bandana to add to the chic vibe.
2. Short Hair Bun Coz The Best Comes In Small Packages!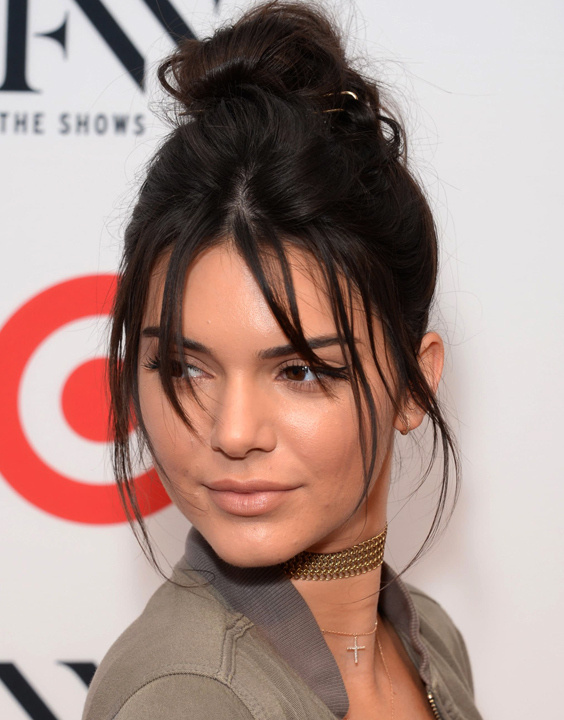 A short bun hairstyle can be a little difficult to achieve if you got short hair but with persistence and a little help from bop pins, you can get it right.
The popular Jenner duo Kendall and Kylie are the biggest patrons of the short hair bun.
You can do up your bun  in a variety of ways! You could either tie all your hair up in a bun style bun, you could tie just the top bit of your hair in a bun and leave the rest loose or you could make two buns on either side.
Hair bun for short hair is easily one of  the best ways to style and play around with shorter locks. It adds a lot of volume to the hair – which is always a good thing.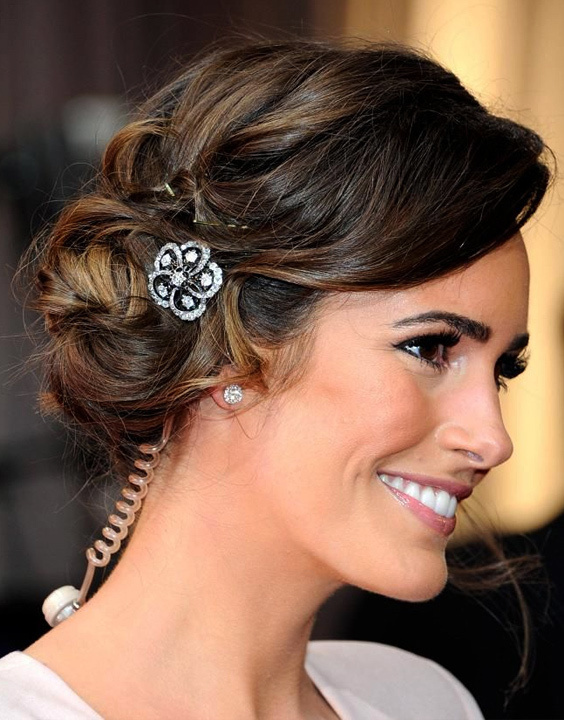 Dress it up: A petite hair band is a great way to show off this bun.  A floral clip just above or below the bun is pretty to the T!
3.Low Bun Hairstyles Will Take You Up The Style Ladder!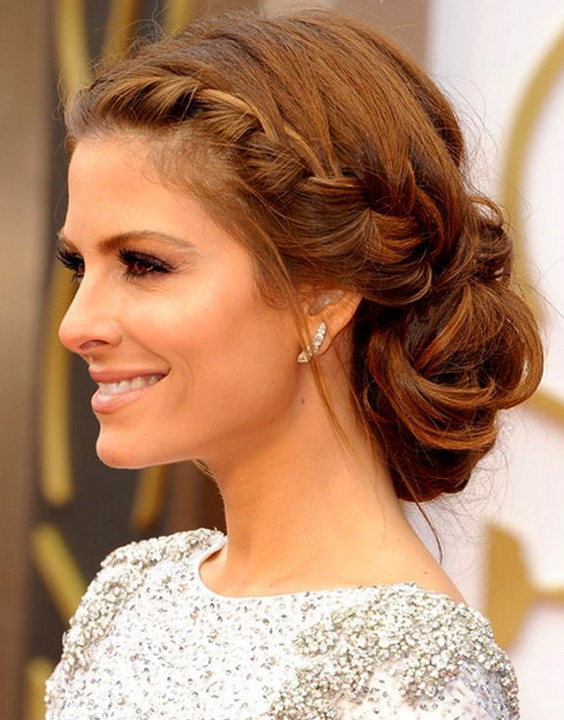 Think about brides all over the world – they usually opt for low bun hairstyles.
If you're going for a really classy vibe, then the low hair bun is the perfect bun hairstyle for you.
The next time you're attending a wedding or any formal function, tie your hair into a low bun style for a chic and elegant look. The beauty of low buns lies in their versatility.  Choose a twisted low bun, a neat – pulled back tight bun or even something different like a fishtail braid low bun hairstyle.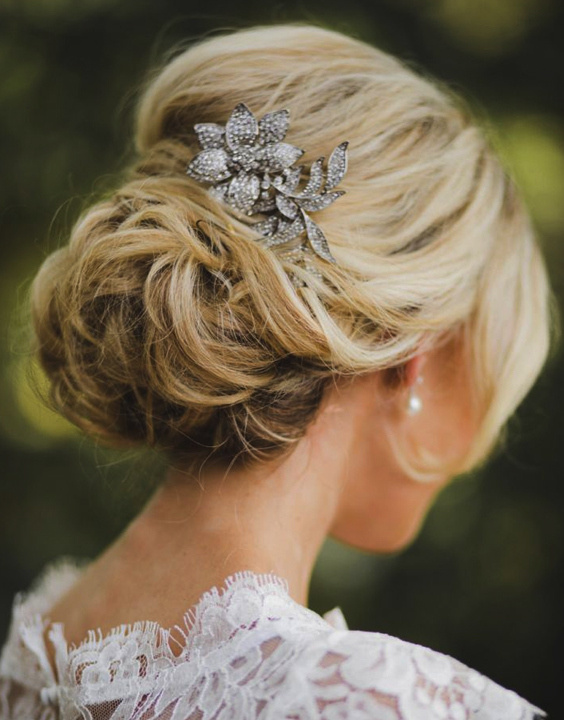 Dress it up: Low bun hairstyles look the best when enhanced using flowers. A boho headband placed around your bun can also look really good.  
4.Grow It Out!  Wear The Long Hair Bun High With Pride!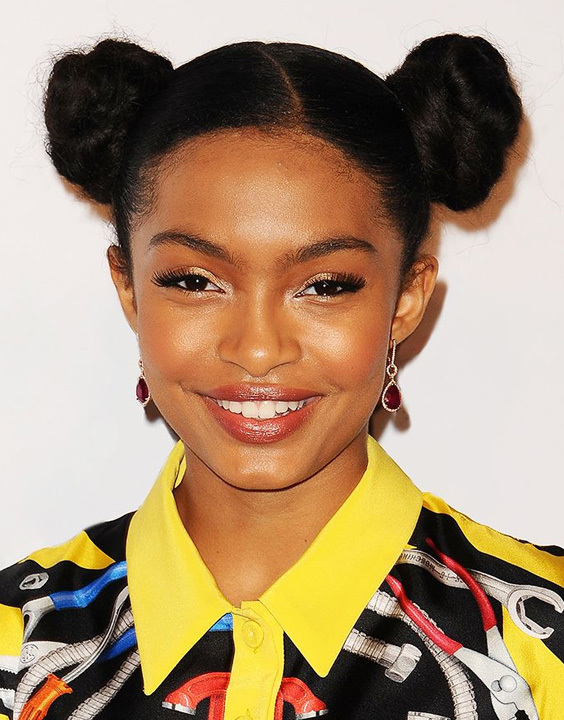 The long hair bun is by far the easiest bun to make, since you can literally just bunch up all your hair and you will have the perfectly effortless high bun hairstyle! One great thing about the long hair bun is that it can be done on all hair textures; so whether you have poker straight hair or dreadlocks or smooth waves a bun  hairstyle is always possible!
Out of all the bun hairstyles of long hair, the bubble bun always looks the most sophisticated and chic. If you have to go for a red-tie event, opt for the bubble bun – you will absolutely love your look!
You can even try a side bun hairstyle like a side French hair-do or semi-braided hair buns for long hair, because the more the volume the better the bun. Even a half bun would look good – tie a messy bun on top and let the rest of your hair fall loose.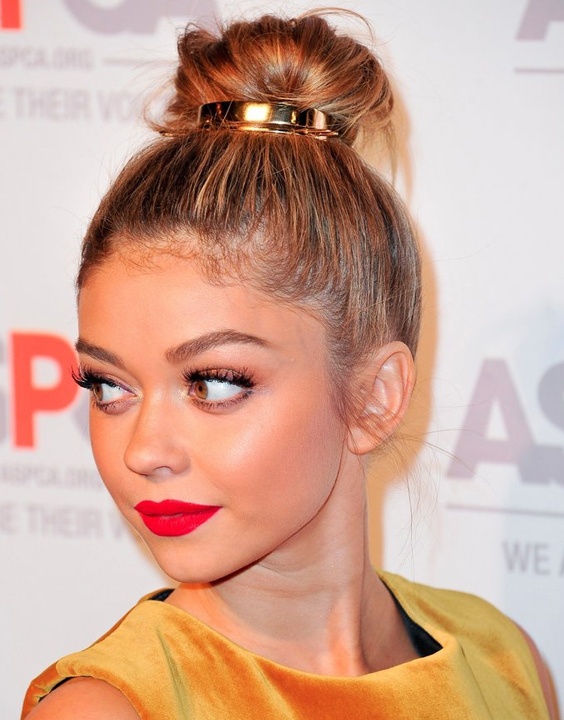 Dress it up:Bring more attention to your top knot wearing Large hoops.  Better even accessorise your long hair bun with a hair ring or bow.
5.Twist Here And A Twirl There For A Perfect Twisted Bun!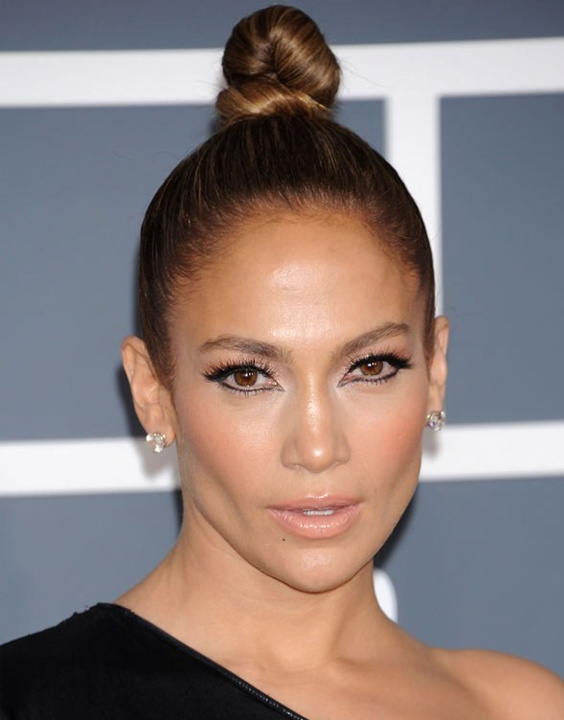 This bun hairstyle for girls is probably the most loved bun hairstyle by hair stylists all over the world!
Not all can pull this off as well as Jennifer Lopez. She's a high twist and twirl knot veteran. She knows how to slay this one like no other!
Don't be fooled! This might look like an easy hair bun  but depending on the intricacies of the twisted bun, some practice will come calling!
You can start braiding from the top and form it into a loose bun, maybe twist your hair to a side and bun it up or you could  just make a simple twist.
Once you've learnt the traits of the trade, you'll know how to bun hairstyle in the easiest way ever! The best part is, everyone has their own version of this  bun hairstyle!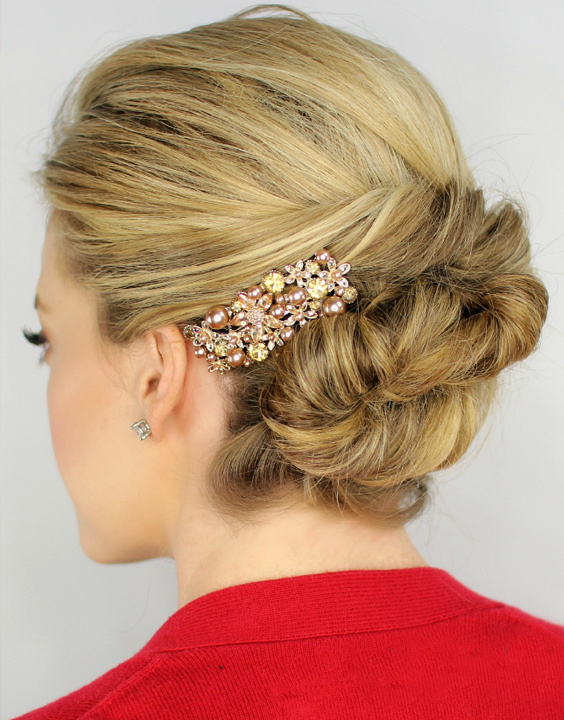 Dress it up: Sometimes, all you need to show off this unique bun is a small hair clip on the side. This could be in the shape a flower, a butterfly, a bow or even something as basic as a small coloured hair clip.
The right knots and twists coupled with beautiful, funky and cute accessories will take your hair game from 0 to 100 in minutes.
6. Puff Hairstyle With Bun Gives Your Hair That Perfect Volume!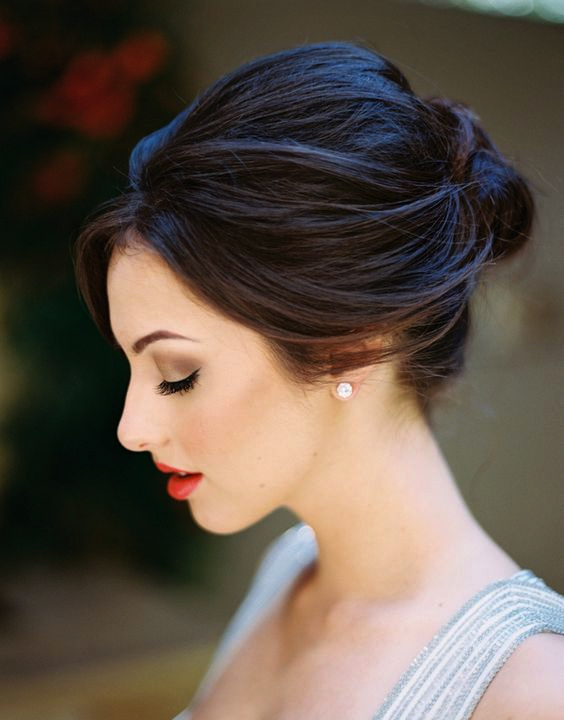 Thinking of pumping up the bun? It might do wonders for your hair, you know! This particular hairstyle is pretty versatile, and if you're walking down the aisle, you might like to try a bun hairstyle for gown.
Wondering how to make bun hairstyle with puff?  You could either puff up the frontal bit of your hair and gather the rest in a bun; or you could pin up the crown of your hair in a bump, and make a neat bun at the back!
Dress it up: You can dress it up or down as you wish. Cute space buns for a casual look or a chic old world front wave with top knot for a classy look.
Don't wait up for good hair days to shine, make the streets your runway and glam up with these bun hairstyles, NOW!  
A little secret from one bun hairstyle aficionado to another- get your hairspray out before you start!  Toodles!
Image credits: The copyrights of the images used in this post belong to their respective owners. The credits where known are specified under the image - if you're the owner of an image and want it removed, please contact us.