We know you love sarees! This post covers not just important pointers on how to wear saree but also talks about different saree wearing styles that you'd love to try out! We start right from how to tie a saree to how to wear a saree for a wedding! Read this post and fall in love with the saree all over again!
How likely are you to ask the question 'how to wear saree' unless there's an occasion?
We at Bewakoof believe that sarees are trendy, gorgeous and modern and can be worn on both casual and formal occasions. Wearing a saree is quite uncomplicated! You just need to know the correct saree wearing method to drape any type of saree. This article will help you understand 'how to wear a saree.' We also go on to discuss how to wear a saree to look slim and tall, which is an essential section for all saree lovers.
How to Wear a Saree- Step by Step Tutorial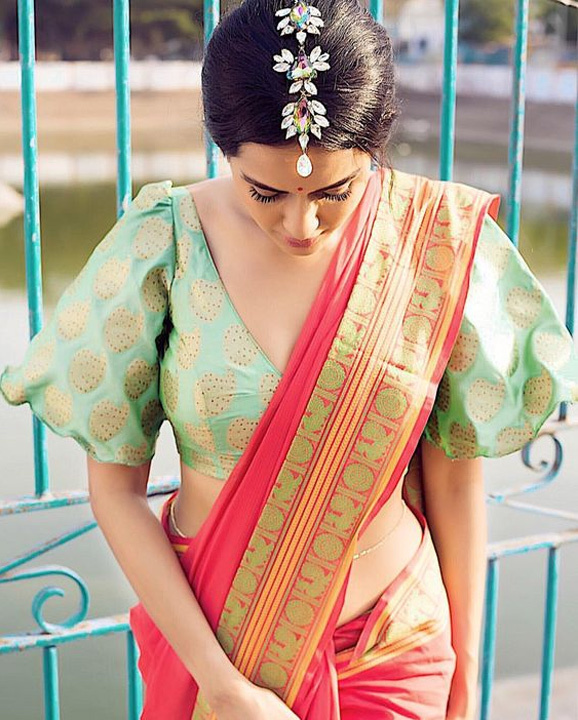 The first step to acing any saree style is understanding different styles and drapes. Which is why, you need to know how to wear saree step by step. Each step is important! We understand that saree wearing might not be as easy as slipping into a pair of denims or pulling over a trendy t-shirt, but trust us; everyday practice can make it easier than it looks. Plus, a win-win for the Indian beauty that you'll look.
Breaking it down, with this guide, you will learn how to wear saree perfectly and how to wear saree step by step –
Arrange all that you need to begin before you start wearing a saree- safety pins, accessories, petticoat, footwear (preferably, heels), blouse and of course, the saree. When you're figuring out how to wear saree neatly, these little things become important.
When you have all of this, start of by first wearing your blouse and petticoat. Among tips to wear saree perfectly, you must keep this in mind. Ensure that your petticoat or underskirt matches the color of your saree especially if it is lace, raw cotton or sheer. For more glam sarees, you could also go for a shimmer petticoat.
We come to the third saree wearing step. Once you have your petticoat on, tie it firmly because your saree is going to be tucked onto the skirt and you do not want to be in a difficult position, adjusting it if your skirt is loose. Wear your heels. Figure out the fall on the saree and from the other end; begin to twist it around the waist, slowly tucking it into the petticoat. Maintain the right length so that at any point the saree does not get stuck under your footwear.
Once you've twisted it around once and tucked it in, with the extra fabric start making pleats using your thumb and forefinger, one pleat at a time. How to wear saree neatly with pleats? Try and gather as many pleats without disturbing the tucked in saree and tuck the pleats neatly into the petticoat on the right side of your navel.
Once you have your pleats in place, ensure they are in place by making it even and straight. Tip: If you are wondering how to wear a saree neatly with pleats, just pin those pleats together and they won't budge.
With the rest of the length of the saree, twist it around your waist again from left to right. When the saree comes to your front, bring it over your shoulder and adjust the size of the pallu in a way that it reaches the back of your knee. Firmly secure the pallu with a safety pin on your shoulder to ensure it doesn't fall.
For your pallu, you could either pleat it the way you pleated your saree or you can leave it open according to your liking.
Wear your makeup, accessories and do your hair.
That's not a step! You look gorgeous! You've answered your question of 'how to wear saree'! We're sure these saree wearing tips will help you immensely!
From different saree styles wear what suits you best!
The different types of wearing saree and the fabric can also make a lot of difference such as wearing a kanjeevaram saree to office on a casual day won't be appropriate, similarly wearing a simple cotton saree for a wedding also might not work.
Here is where you need to know which saree to pick for different occasions.
There are also various saree wearing styles like the Mumtaz style of draping, Marathi style of draping, Kerala style saree drape, lehenga style saree draping which suits different occasions.
Every drape serves a different purpose, and looks different and thus is fashion forward. Here is a low-down on how to wear saree in different style step by step.
Marathi Style Saree-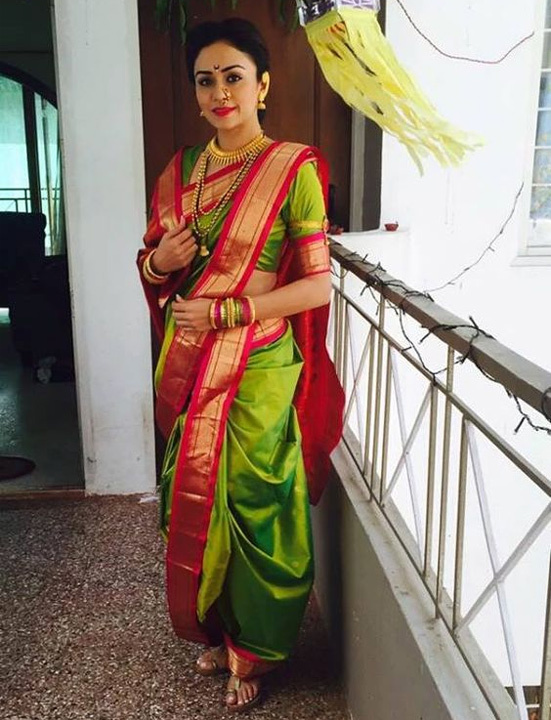 Learn How to Wear Marathi Style Saree: Step by Step
Want to know how our peeps in Maharashtra style the saree in India? This awesome Marathi  style saree is also known as the Nauvari saree drape. Among regional dresses, this dress highlights a lady's curves. If you've seen Vidya Balan dancing on 'Mala Jau De', you'd have an idea about what this dress looks like.
These are few steps you should follow to wear the Marathi Style Saree correctly-
Take around one meter fabric in your hand and loop it around your back, while the rest of the length lies on your right.  The bordered edges of the fabric are to be tied securely at the waist.
Gather your pallu and bring it over to the front from the back, and fix it over the left side of your shoulder, like for any normal saree style. In the next step, we'll take care of the loose length that needs to be out of the way.
Start pleating with the loose fabric! Make 4-inch pleats. Settle in on around 8 to 9 pleats. Tuck these in at the navel.
Thee pleats now need to be taken from between the legs to be tucked in at the back.  There'll be a double borderline at the back.
The last step is to drape the pallu elegantly. Take it from the back to cover the shoulder and then it has to be strategically tucked in at the waist on the left side.
Gujarati Style Saree-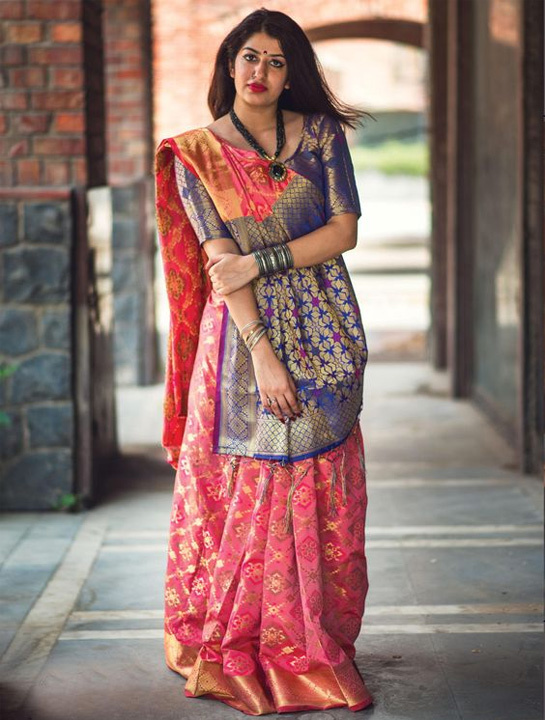 Learn How to Wear Gujarati Style Saree: Step by Step
Ever seen Gujarati saree draping styles? If you're familiar with bright colors and gota embroidery, you would know plenty about Gujarati sarees as well. Read on to know how to style the gujarati saree-
Tuck the end of the saree at the right side of waist and from there, take the loose length of the fabric around the waist to the back side. Tuck it in fully.
Tuck on the left and the remaining fabric should be taken around and brought to the front.
Take the pallu and make pleats. The pallu should flow from back to front. That is basically the Gujarati style. Secure with pins on blouse.
Remove the tuck and make box pleats. These pleats need to be tucked firmly at the waist. Pin it using safety pin.
You can turn your attention to the pallu. Take one of the pleats and drape it over the bust so that the entire area is covered. Keep the fabric tightly stretched and secure it with pins.
South Indian Saree Style-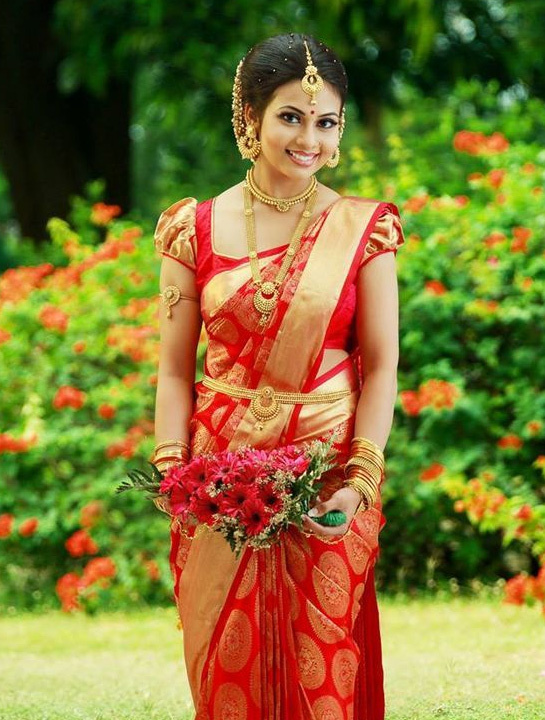 Learn How to Wear South Indian Saree: Step by Step
Your Kanjeevarams will not look good stowed away in your closet. Wear sarees in beautiful south Indian style by following these basic steps-
A 6 yard saree will do for this style. Take 1 meter of the fabric, take it around your frame rest and tie a knot at the centre at your waist.
Take shorter length of fabric and make pleats. Take it between the legs and tuck only one edge of the pleats at the back. The rest of the width should be taken to the left side, and the last pleat should be tucked at the front.
The saree at the front should be bunched again and taken at the back, between the legs. The border edge at the back could be tucked in and the rest of the saree should be brought to the front.
Drape pallu over left shoulder and  drape it across the front from the right so that it could be tucked at the waist. The borders on the right and left side of the saree should be at the same length. And you're done!
Latest style of wearing saree- Modern take on the versatile saree!
With the popularity of sarees,  modern saree draping styles are being looked up now more than ever, and we can safely say that the Indian saree style is continuously evolving.
Butterfly Saree Draping Style-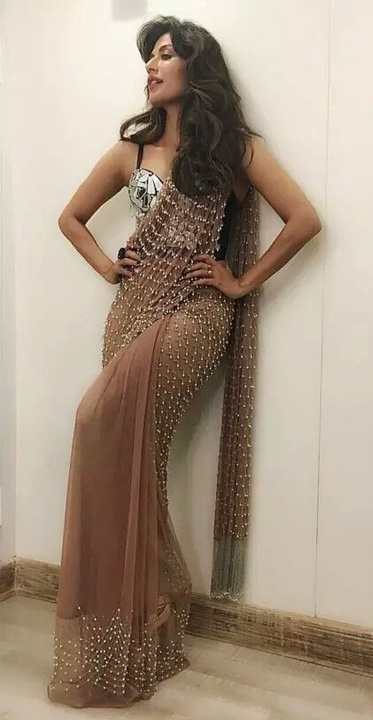 Learn How to Wear Butterfly Style Saree: Step by Step
If you're curvy, the butterfly saree draping style would be an amazing pick. This style would be further complimented if you choose a silky fabric which could define your pleats like the iridescent wings of a butterfly. In this style, the front pallu does half the magic.
Here is how you can ace the butterfly saree draping style in steps-
Wear a petticoat, embellished blouse, and strap on your favourite sandals. Tuck your saree into the petticoat. Make pleats at the waist and fix them at the centre. Wrap the saree around you in one round, and drape it across your chest. Now take it to the back and wrap once again. Pin the sari to your blouse.
Bring the pallu to the front, and start pleating it. Keep its length short.
The portion of the saree that's draped across the chest should be pleated and pinned at the centre. The would result in two front flaps, that would resemble the wings of a butterfly.
Fish Cut Style Saree-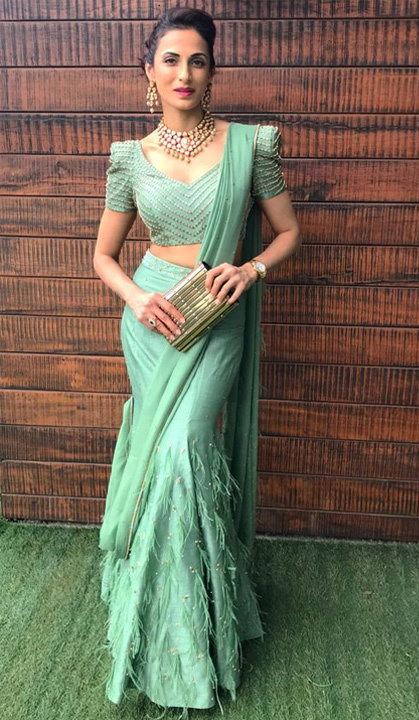 Learn How to Wear Fish Cut Style Saree: Step by Step
The fish cut style saree is distinctive majorly because of its petticoat. This petticoat is fitted at the waist and flares at the bottom, which highlights your shape. As you may have already guessed, it is the petticoat that steals the show.
You could choose fabrics for the petticoat from satin, silk, and cotton. With an adjustable drawstring and no extra frills at the petticoat. This is why the fish cut style will make you look like a pretty mermaid in your alluring chiffon saree.
Indo Western Saree Draping Styles-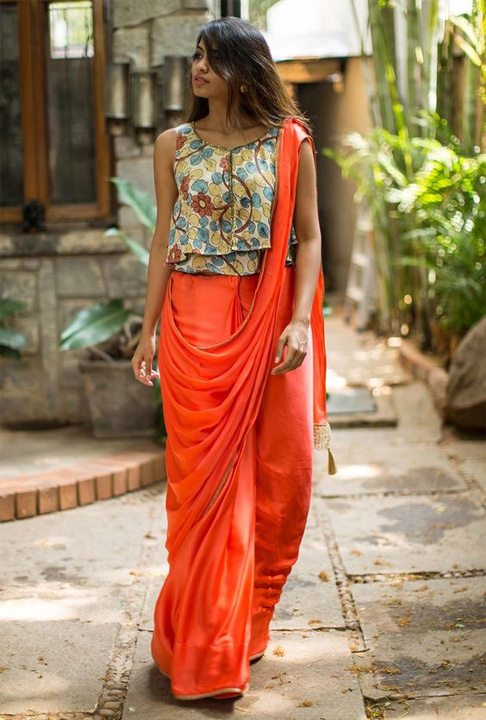 Learn How to Wear Indo Western Style Saree: Step by Step
Off-late, many innovative saree draping styles are coming into focus. That's because the need to reinvent the saree has always been on the mind of fashionistas. For saree styles for farewell, the indo-western saree can be a pretty choice. Check out the above video to learn how to wear saree in modern style.
To make your saree look indo-western, these are tips you could keep in mind-
Wear a shirt blouse. A striped shirt blouse with a smart collar could keep you picture perfect on a great day in the office.
A crop top could be a hip choice to go with your choice of saree fabric.
Your pallu could be placed to the side when you're doing up your saree. The pallu could also be draped around the neck. In another move, you pallu could be draped from the back and can fall vertically on the blouse.
How to Wear Saree to Look Slim in Steps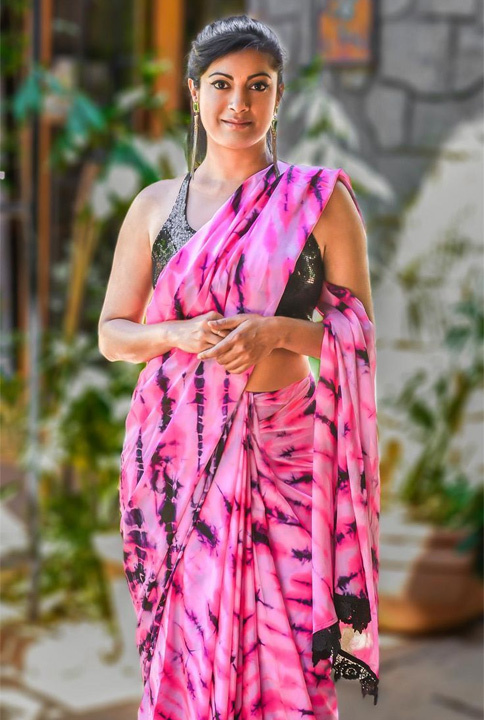 Learn How to Tie a Saree Perfectly to Look Slim-
We're real people and real people have different types of bodies. You really don't need to lose weight or be of the ideal height to look great in a saree. You just need to know how to wear a saree to look slim.
How? Well, there are many saree draping styles to look slim and many saree materials to look slim. We're here to tell you exactly that! Let's get started on how to look slim in saree….
The first and foremost thing to keep in mind is to choose the right fabric. Do not go for fabrics that are difficult to manage.
Tuck the saree neatly and properly at the waist so that it doesn't add up any volume at that part.
Do not go for too many pleats. Remember that you need to to know how to wear saree neatly to look slim! Pleats sure do look good, but it also adds up a lot of unwanted volume to your look.
To achieve a slim and a tall look, drape your saree tightly all over. Moreover, keep the palla of your saree open and let it fall. When you let the palla fall from your shoulders, it hides all the unnecessary bulges and gives an elegant appearance.
You can also go for an all-black look, which never goes out of style. Other ways to understand how to drape a saree to look slim and tall  are putting the pallu on the front, the mermaid styled saree or the double layered pallu.
Saree Draping Styles To Look Slim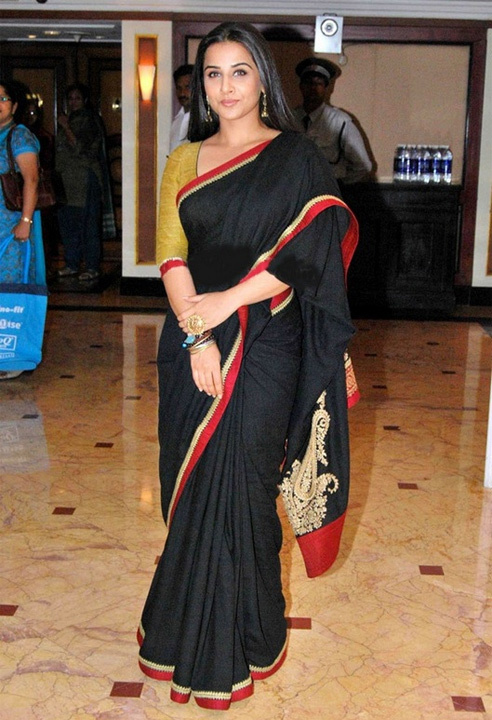 We all know, draping a saree to look slim is not easy. And wearing it with poise is even more difficult. A drape can change the overall look of your saree attire. When we're learning how to drape a saree to look slim, we need to first figure which type of saree can be incorporated in our fashion statement. In this article, we've included a little bit about  saree draping styles to look slim. This will help you understand how to wear a saree to look slim step by step.
If you're someone who's on the heavier side, we suggest you should opt for lighter fabrics such as chiffon, crepe, georgette or a light blend of silk. This an important tip when it comes to learning how to tie a saree to look slim. Choosing a specific saree material to look slim will considerably help matters.
Try avoiding a heavy bordered saree and also a heavily embellished saree, these things only make you look bulky! This is one of the most important saree draping tips to look slim.
Don't give up on prints, rather choose smaller prints or embroideries.
Lighter colors won't do much when you want a slimmer appearance.  Opt for darker colors, as they seem to give a slimmer illusion to those who look at you.
Wear a straight fit petticoat and not the flared ones or the loose ones, for a flattering look. When you're wearing a saree that emphasises your curves or slimness, choosing a fabric that frames your body beautifully is what will help you when you're stuck on how to drape a saree to look slim and tall.
Have you ever wondered hard about what to wear under saree to look slim? It's rather important to decide which blouse style would suit your body type. To understand different saree wearing styles to look slim, you need to know exactly how to look slim in a saree blouse. If you have fuller arms, then a full-sleeve blouse with a deep neckline might work well for you. If you're on the chest is a little on the heavier side, a bandhgala blouse might be a good pick. The bandhgala looks very elegant. If you're conscious of flabby arms, try wearing a blouse with net sleeves. Sounds good, isn't it?
How to Wear Cotton Saree to Look Slim-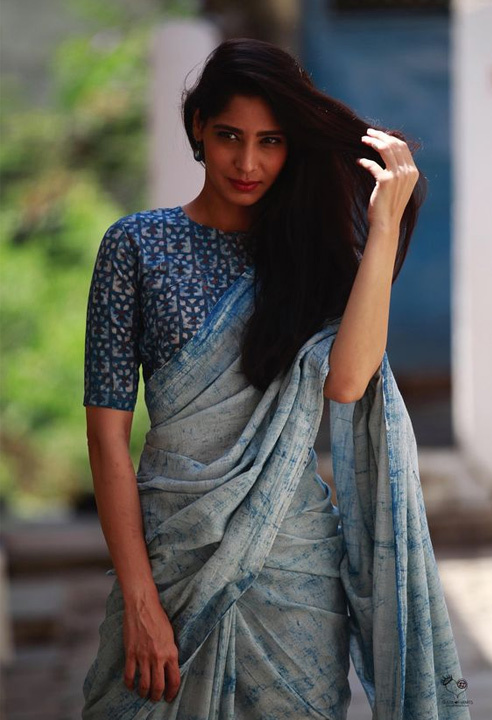 Learn How to Wear Cotton Saree Perfectly: Step by Step
Cotton is one fabric that every woman swears by. Be it the scorching summers, or the chilly winters, cotton can be worn any time of the day with ease.
So, how to wear cotton saree perfectly to look slim?
Try choosing for a lighter cotton fabric that is easy to carry, falls beautifully and doesn't get cramped way too early!
Don't go for the heavy south cotton or pure cotton saree. Instead choose blended cotton fabrics which will help you nail your look and will make you look slim, elegant and breathtaking.
How to Wear a Silk Saree Perfectly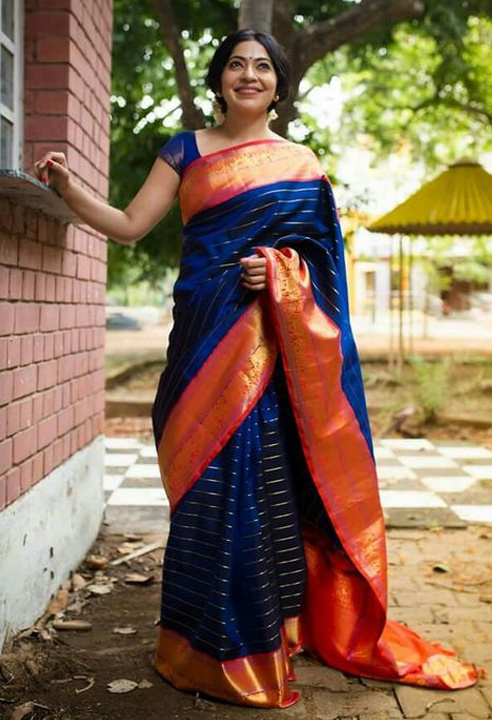 Learn How to Wear Silk Saree Perfectly: Step by Step
Silk does look absolutely stunning for a saree but it is a stiff fabric that adds volume due to the pleats and its stiff fall.
Then, how to wear silk saree to look slim and tall?
If you really are a silk saree lover, wear a cotton-silk saree, a silk-georgette saree or an Italian silk saree. The right silk saree will give your body a balanced shape, and they will draw away the attention of others from your problem areas.
Choosing a darker color and smaller border will also help accentuate your look.
How to Wear a Saree For a Wedding : Saree Draping Guide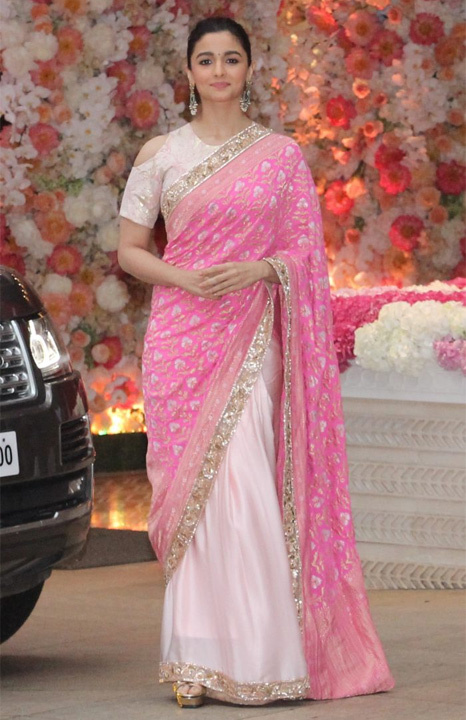 Sarees can be worn everyday, but when you're dolling up for a wedding your saree can be your secret weapon to nailing a great wedding look.
For the main wedding event, it would be valuable for you to know how to wear wedding silk saree. A silk saree can add a lot of glam to any elaborate event. These expensive but gloriously attractive sarees come in handy especially in the wedding season.
Saree Draping Styles for Wedding Reception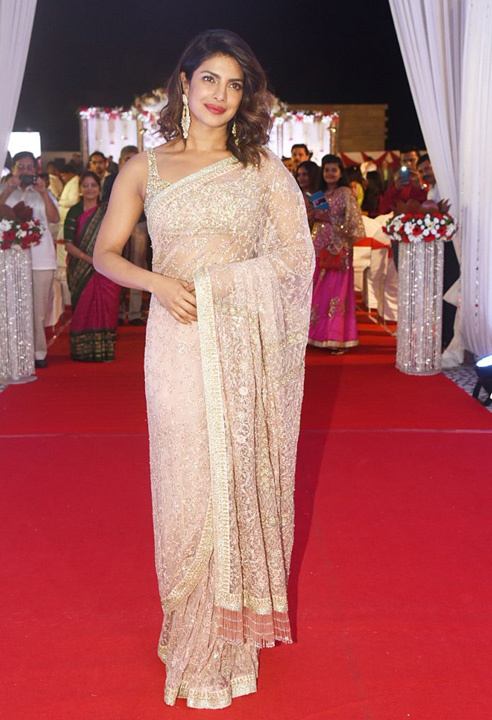 Tips that can add some glitter to a huge wedding affair-
As a wedding guest, you could be rest assured that you needn't play it up as much as the bride! Since the occasion is pretty fancy, make sure you select some rich wedding wear. By rich, we mean rich in details.
Your blouse could be elaborated sequined. That surely looks very refined and sophisticated.
Apart from this, the pallu of your saree could be draped differently across your body for great results. To bring your blouse in view, the pallu could be taken over the back and can be fixed length-wise on your shoulder.
You can add a jeweled belt across your waist to make your saree attire more elaborate. This can lend a fancy touch.
Saree Wearing Styles For Parties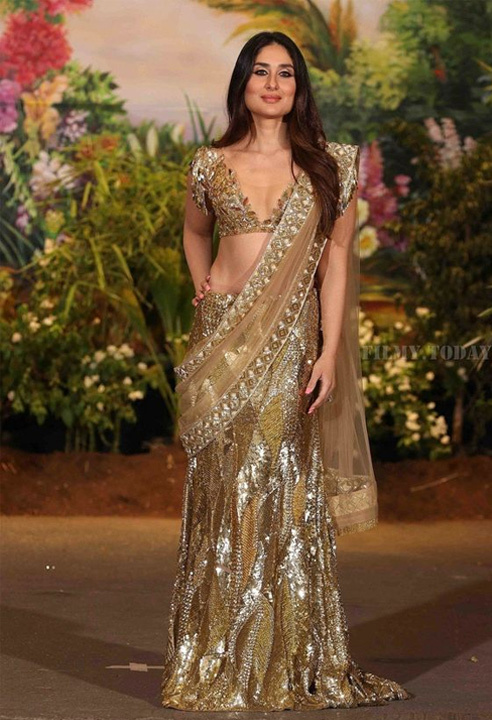 For parties, you could emerge out of the 'safe zone'! Your saree can embolden the diva in you. This is actually effective when you're figuring how to wear saree in different styles for party.
Try the beautiful mermaid saree style. Try a saree fabric that shimmers but is subtle and not loud in terms of colors. Probably you could try net fabric for a translucent effect. Her is where it will help for you to know how to wear a net saree to look slim.
You could try an off shoulder padded blouse, drape your diaphanous saree across your shoulder and you'll love the combination.
If it is an evening event, try smoky eyes! The smoldering look of your eyes could match the boldness of your saree, and it'll surely be a hit!
Hope you love this amazing saree draping guide, visit online shopping sites and shop some sarees, learn how to tie a saree perfectly and slay in any occasion.
Related Articles- 
Image credits: The copyrights of the images used in this post belong to their respective owners. The credits where known are specified under the image - if you're the owner of an image and want it removed, please contact us.