He loves pizza, he hates Mondays and he slays his sarcasm each time! Yes you guessed it right, it is the big fat orange and lazy cat – Garfield!
Don't you feel an instant connection to anyone who hates Mondays as much as you? Loves pizza as much as you? Yes, you guessed it right, it is no one other than the big lazy fat orange cat – Garfield! He is witty, and sarcastic and just like you when you get cranky without caffeine in the morning. So with that amount of kinship, he is as good as a friend don't you think? We do too, and here we are bringing you him and all of his quirks with our Official Merchandise Store. Say hello to the – Garfield Collection.
And man are you going to love these designs just as much as you love him. We've got for you a wide range of options here:
From the classic, "I Hate Mondays"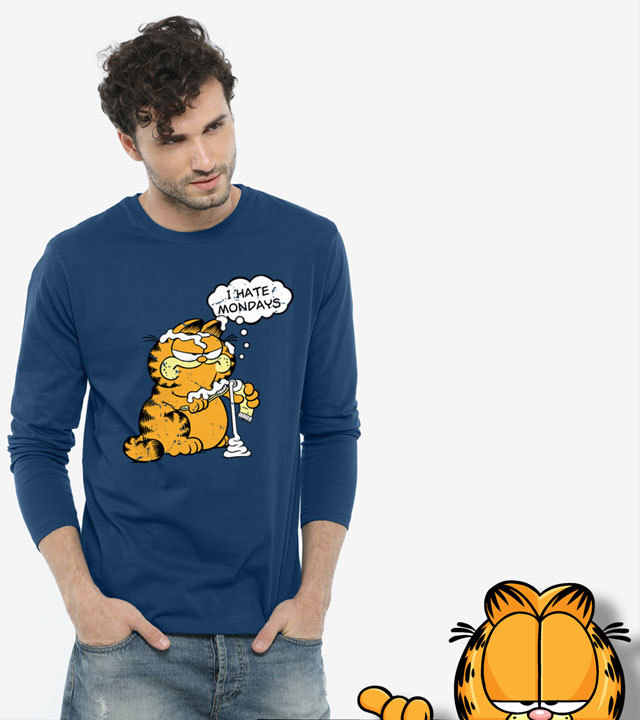 To the foodie favourite, " Donut Garfield"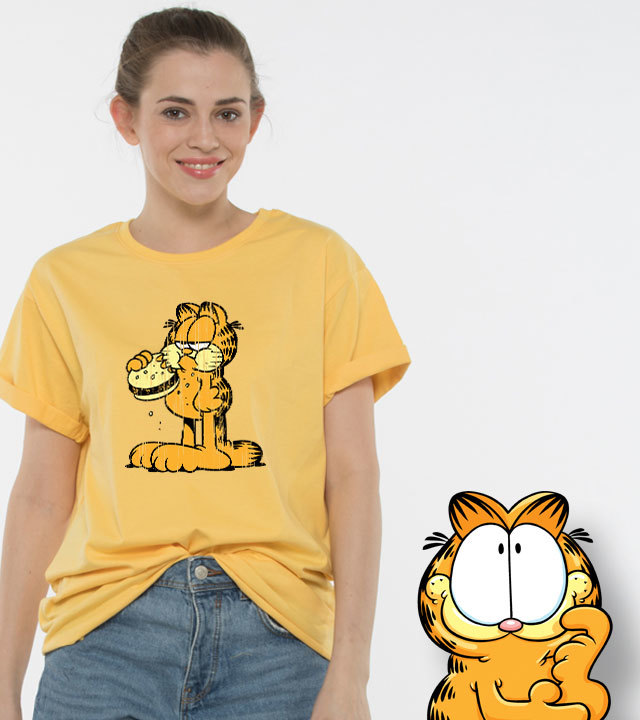 And finally the ever sassy version, " Like a boss"!
These are just the tip of the iceberg, we have a lot more options and they're just as amusing. From "So not Amused" for all those jokes and pranks you don't find funny. To "Hamburger Garfield" cause who doesn't love their burgers(but probably not much as Garfield, also he doesn't need to work off the calories, because he doesn't care), and finally you've got the "Ripped Garfield" design that's just for the days you're feeling the blues.
These designs are available in all of your favourite topwear categories from classic tees and full-sleeves in Men, and 3/4th sleeves, boyfriend tees, and t-shirt dress in Women. They're also available in a range of colours, from pristine whites, dazzling yellow, subtle blue and the ever classy black, all you've got to do is pick your favourite from this laidback and lazy feline's collection!  
These prints are high definition that really bring out the colours. What's more is that these prints are made from skin-friendly chemicals and are tested for being fade free. All of these products are made from 100% cotton, in the single jersey fabric, which is airy, perspire friendly, so you can feel comfortable as your favorite character.
And while you slip into Garfield's crazy moods, do take some time out to check out the other fandoms in our Official Merchandise Store. From Marvel's Superhero diaries, like Ironman, Hulk, and Spiderman to Bollywood bites from Golmaal Again to entertaining toons like Shinchan, we've got an assortment for you to choose your fanlove fashion from!
Image credits: The copyrights of the images used in this post belong to their respective owners. The credits where known are specified under the image - if you're the owner of an image and want it removed, please contact us.