Flowers canoodling in song intros, elaborate dancing in the rain and musical confessions of love – romantic Bollywood movies have an unmatched charm that lives on to this day. Stunning audiences with larger-than-life romances, Bollywood is quintessentially an industry that churns out romantic movies on the regular. Even a thriller, horror, or action movie is often colored with varying shades of romance!
Which is the best love story movie in Bollywood?
There are way too many to pick from! The best Bollywood sagas are about all kinds of love stories that stay stamped in the Indian cultural psyche for posterity. These span time, generations of romantic movies Bollywood star families, and decades of musical genius. 
A trip through the memory lane of the best romantic movies in Bollywood is capable of putting us all in a truly nostalgic mood. Want to give your memory a romantic refresh? We've got quite the list for you – read on!
Best Romantic Movies in Bollywood
1) Dilwale Dhulaniya Le Jayenge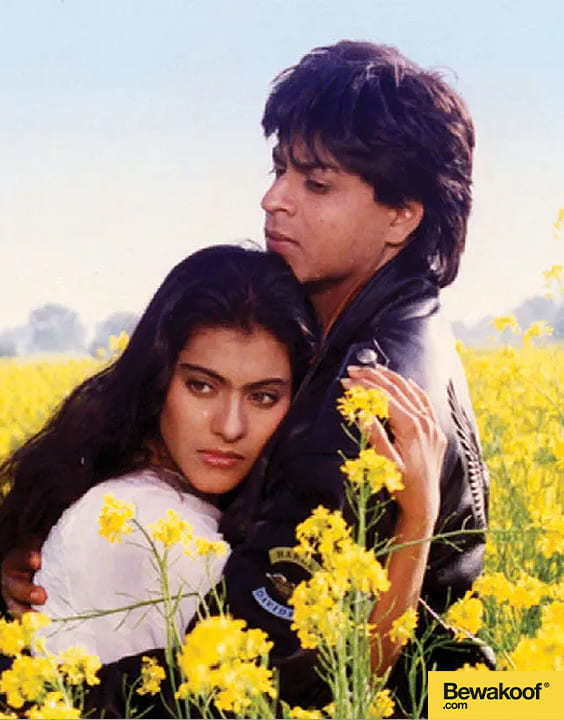 Let's start with a classic, shall we? DDLJ is the most famous, most watched, and certainly, one of the most beloved romantic movies in Bollywood has ever been screened. If you are a millennial, a lot of your ideas, thoughts, and daydreams about Bollywood romance have been heavily influenced by this cult film. It features Raj and Simran (Shah Rukh Khan & Kajol), who cross paths during their vacation in Europe and fall for each other amidst a series of serendipitous happenings. If you haven't seen this classic, you need some serious Bollywood initiation!
Want to bring the DDLJ vibe into your life? Follow these steps:
Book a romantic vacation with your better half to a scenic destination when it is safe to travel again.

Take on a train journey as magnanimous and charming as the Euro rail.

Rock cool y2k fashion while you're at it.

Don't forget to '

Jee lay apni zindagi

' with your

babuji's

blessings!
2) Saathiya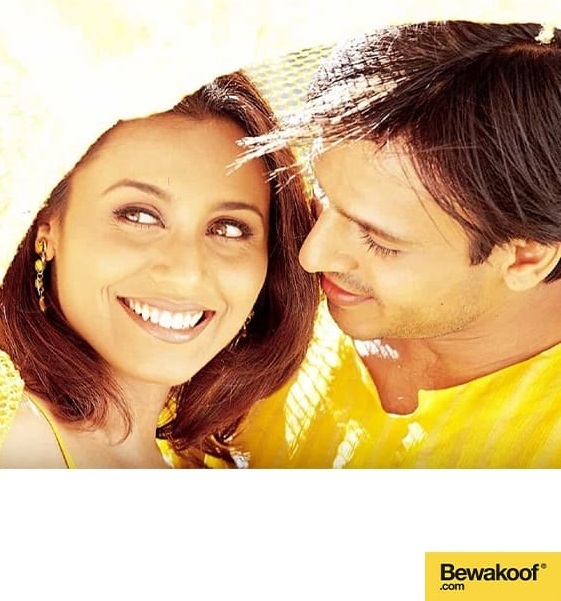 Saathiya is a coming of age movie that explores modern marriages and relationships in romantic movies in Bollywood context. This early-aughts classic features stunning tracks by the maestro himself, Mr. A.R.Rahman and explores themes that were unusual in Bollywood at the time. The story revolves around Aditya and Suhani, a couple who elope to get married because of societal disapproval. Their relationship goes through many ups and downs in the course of their marriage. This is one of the realistic Hindi romantic movies and succeeds in making its point with poignant grace.
Want to bring the Saathiya vibe into your life? Follow these steps:
Wear a lot of bright colors and organic fabrics.

Turn up the volume on A.R.Rahman tracks which make you feel like you're in a valley in Coorg.

Have a cup of steaming tea and an honest conversation with your significant other.

Never stop fighting for yourself and for your freedom to love whomever you choose!
3) Bobby
Produced and directed by the King of romantic movies in Bollywood – Raj Kapoor, Bobby was the Indian film industry's initiation in the currently popular teenage-romance genre. It starred beloved retro filmi icons Rishi Kapoor and Dimple Kapadia in their debut roles. In a classic rich-vs-poor backdrop, Bobby set the course for new kinds of Bollywood love story movies. A trendsetter of its time, this film was wildly popular and imitated many times over after its first screening. 
Want to bring the Bobby vibe into your life? Follow these steps:
Spend a weekend reading up a classic teenage love story.

Wear polka dots, polka dots, and some more polka dots.

Fall in love like a teenager once in a while and go on a long bike ride with your loved one!
4) Jab We Met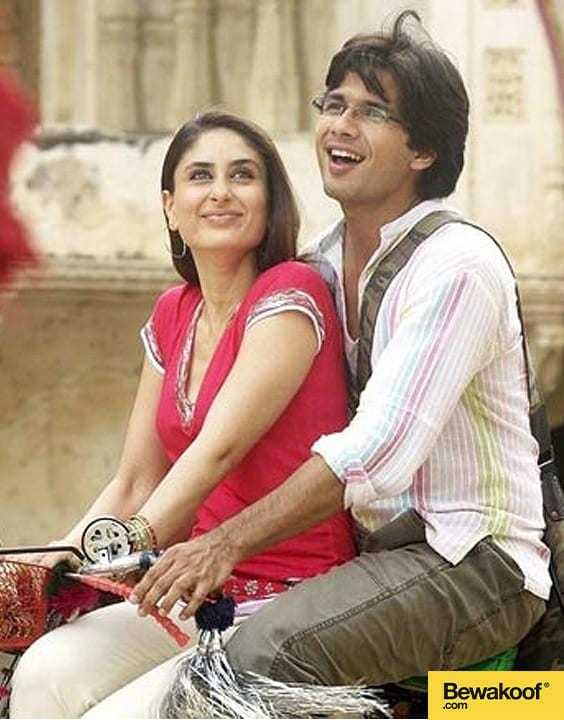 Jab We Met is like the DDLJ for the Gen Z generation when it comes to romantic movies in Bollywood has come up with in recent years. This 2007 romantic comedy features Kareena Kapoor and Shahid Kapoor and is a modern, feel-good flick. Who can resist falling in love with Bebo's character Geet in this movie? The fast-talking, bubbly and cheerful Geet completely transforms Shahid's character, Aditya's perspective on life. Her spontaneity, candor, and faith in herself charm the audience almost as much as the protagonist of this film! Also, can we take a moment to give some love to the musical tracks featured in this movie? Some of these are evergreen hits that will stay with us forever!
Want to bring the JWM vibe into your life? Follow these steps:
Take a long road trip with your partner or your bestie.

Stop at a lake and jump in just for the fun of it – Do check the safety instructions first.

Once in a while, let go of logic and do things for the fun of it all.

Never ever forget to be your own favorite!
5) Dil Toh Pagal Hai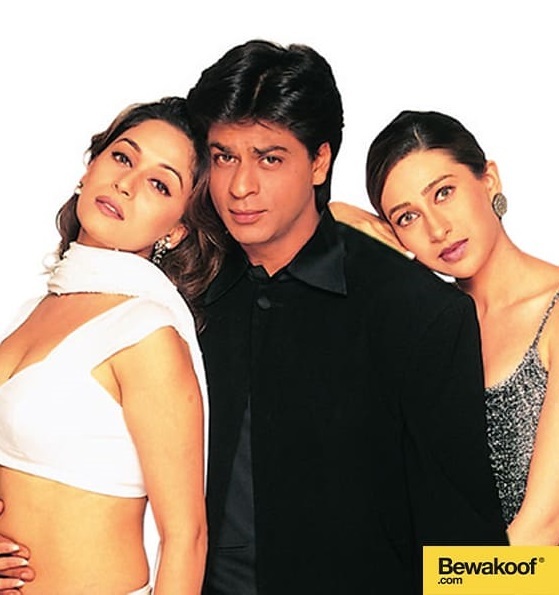 A star-studded cast with an equally glitzy soundtrack is what makes DTPH one of our absolute favorite romantic movies in Bollywood has ever created! This 90s film stars Madhuri Dixit, Shah Rukh Khan and Karishma Kapoor in pivotal roles. Following the love lives of the members of a dancing troupe, this movie features some stunning choreography from Shaimak Davar. This movie redefined coolness for the 90s kids and gave us a bopper of a film to cherish for generations. 
Want to bring the DTPH vibe into your life? Follow these steps:
Sign up for a virtual dance class online.

Wear cool, comfortable and flexible athleisure.

Find your way into an oh-so-filmy love triangle!
6) Chori Chori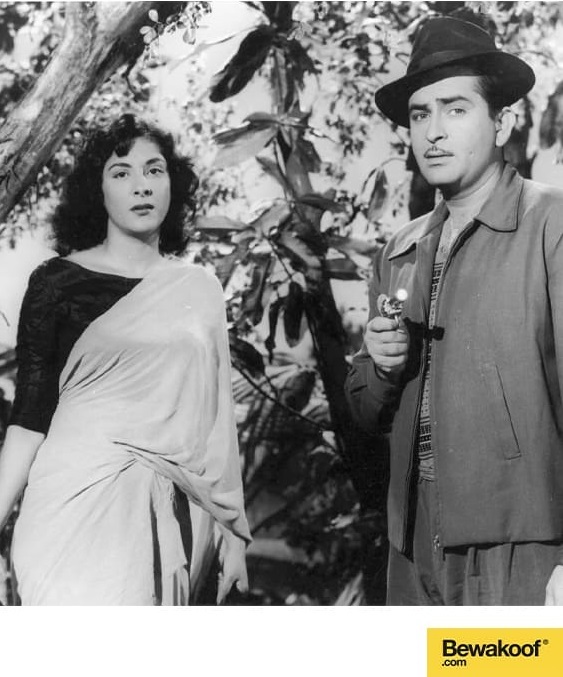 When it comes to romantic movies in Bollywood, there is no on-screen couple that can match up to the sizzling chemistry of Nargis and Raj Kapoor. These legends starred in a romantic comedy film, directed by Arun Thakur called 'Chori Chori' in 1956. Featuring classic tracks like "Aaja Sanam", "Yeh Raat Bheegi Bheegi", and "Jahan Mein Jaati Hoon" in the voices of Lata Mangeshkar and Manna Dey, the romance of this classic Bollywood film is truly timeless. 
Want to bring the Chori Chori vibe into your life? Follow these steps:
Exude old-world charm with some vintage ambience.

Wear retro elements like a boat neck blouse or a fedora hat.

Escape the confines of your home and move somewhere new to start over!
7) Kaho Naa Pyaar Hai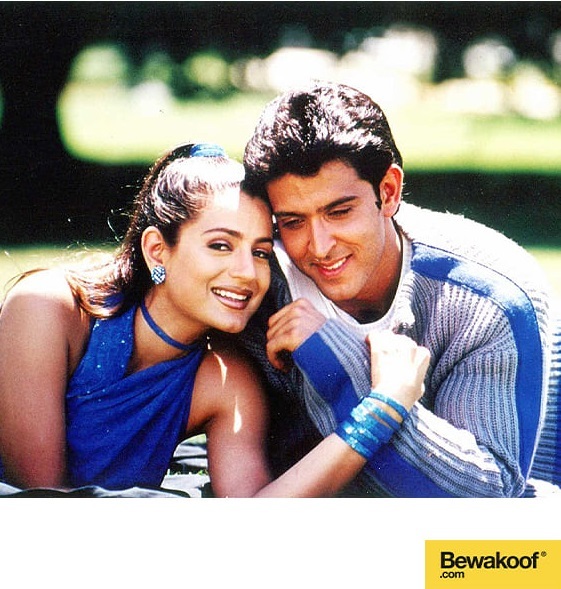 Ameesha Patel and Hritik Roshan's debut was a romantic movies in Bollywood blockbuster! This dynamic duo impressed the crowds with their chemistry and smoothly transitioned between romantic moments and action scenes in this love story slash thriller. One of the best love story movies Bollywood has come up with in the early aughts, Kaho Naa Pyar Hai is a must-watch for those who like a bit of spice in their rom-coms. An interesting story, a dramedy involving doppelgangers and loads of singing by the ocean, this one's a must-watch!
Want to bring the KNPH vibe into your life? Follow these steps:
Book yourself a cruise to take for the future when things open up.

Invest in a pair of stylish sunnies and rock that early 2000s fashion like a pro.

Colour coordinate with your significant other as much as possible.

Escape to the hills for a staycation as you continue to WFH!
8) Hum Aapke Hain Koun
Want to get lost in the big fat Indian wedding land and live out your romantic movies in Bollywood fantasy? Turn back time and revel in some nostalgia with this 90s superhit film by Sooraj Barjatya! Starring Madhuri Dixit's million-dollar smile and Salman Khan's unabashed wit, this family movie is also a romantic classic. With one of the best Hindi romantic movies soundtrack, Hum Aapke Hain Koun is a truckload of fun, drama, Bollywood romance, comedy and tragedy. With all the ingredients needed for a blockbuster at the box office, this is one romantic movie that will be remembered in Bollywood for posterity. 
Want to bring the HAHK vibe into your life? Follow these steps:
Keep a vintage car handy for quick escapades to hill stations. 

Play the 'hide the groom's shoes' game at the next wedding you attend.

Break into song at every given opportunity, wearing the fanciest clothing you own.

Perk up a bad day with chocolate, candy, ice cream and 'toffiyan'!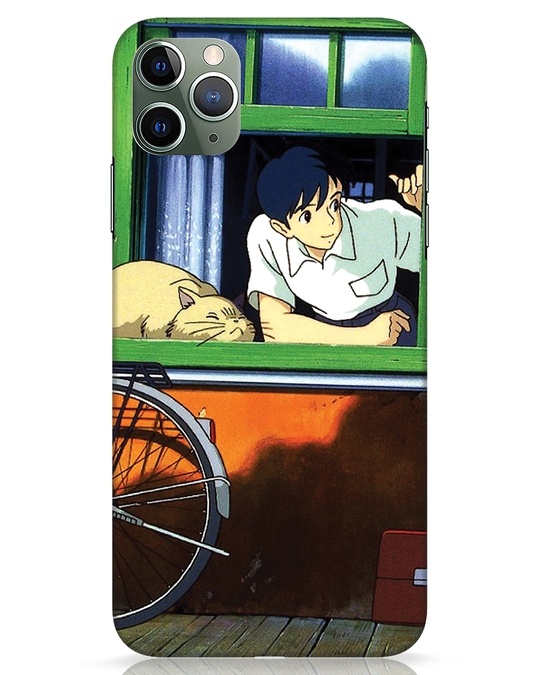 Do you want to make your love relationship with your partner or even your friends stronger? Let True Love Mobile Cover do it for you! Our cover is made of high-quality materials that are able to resist the damages caused by everyday use. It's easy to use with just one hand and ensures a perfect fit on any device
9) Jodhaa Akbar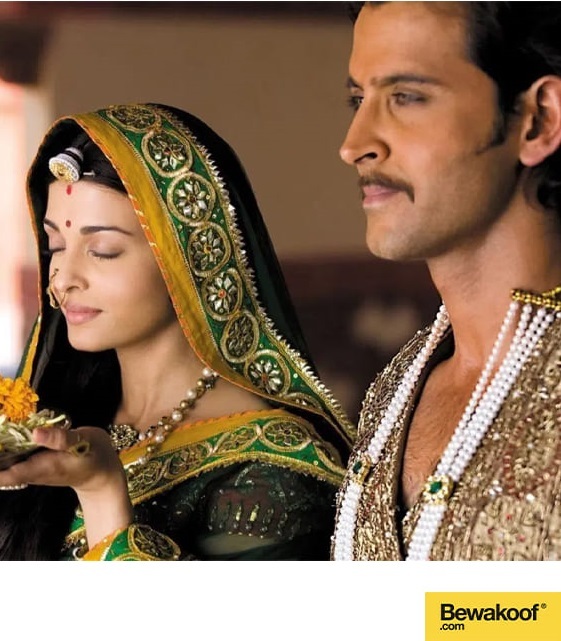 This historic epic had an intense and magnificent take when it comes to romantic movies in Bollywood. One of the new romantic Bollywood movies to capture hearts across the nation, Jodhaa Akbar has given us some serious relationship goals. Not to mention, the musical soundtrack is just as epic as the story of this legendary couple. Aishwarya Rai and Hritik Roshan truly give us a glimpse into Indian royalty with this stunning movie.
Want to bring the Jodhaa Akbar vibe into your life? Follow these steps:
Wear your traditional Indian garb with pride.

Respect your better half's personal beliefs and support their individual interests.

Indulge your senses in some stunning spiritual melodies with Sufi music or old Bhajans.
10) Kuch Kuch Hota Hai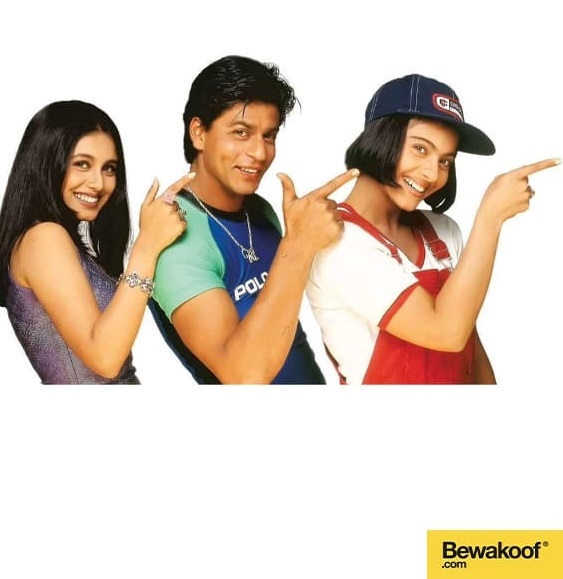 Another Shah Rukh starrer makes the list! What can we say? When it comes to romantic movies in Bollywood style, the Badshah is undeniably the best. Kuch Kuch Hota Hai is a globally beloved Bollywood classic and is a cult movie that's entrenched in Indian pop culture. The love triangle of Tina, Rahul and Anjali lives on in every college campus to this day, and Anjali's legendary transformation in the second half of the film continues to give us the feels. This is a romantic dramedy that will most certainly go down in history as one of the very most romantic Bollywood movies of all time. 
Want to bring the KKHH vibe into your life? Follow these steps:
Learn to strum a guitar and impress your significant other with your talent. 

Go y2k glam desi-style like post-interval Anjali at your next college reunion.

End all arguments with your BFF saying 'But they're my best friend ya!'

Keep faith that love will find you again even after a personal loss or heartbreak!
11) Mughal-E-Azam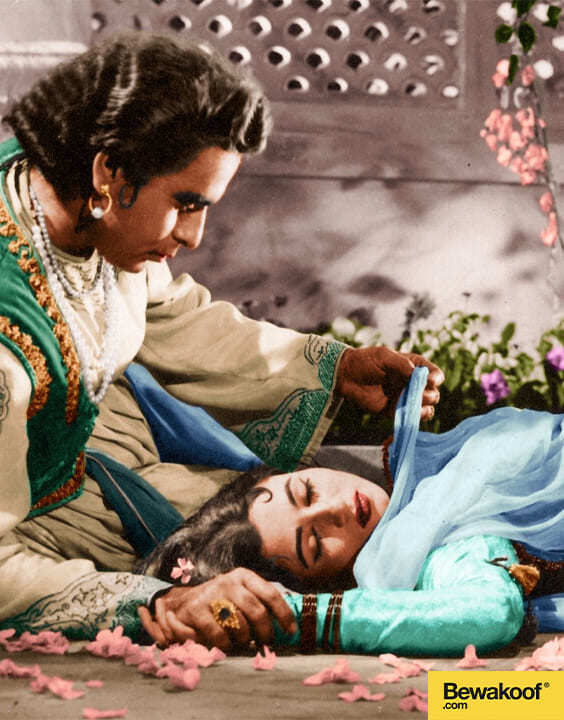 Talking about epic romantic movies in Bollywood has memorialised, Mughal-E-Azam is a truly legendary tale. Madhubala, the undeniable star of this iconic movie, has delivered the best performance of her career in Mughal-E-Azam. Featuring timeless tracks like 'Jab Pyar Kiya Toh Darna Kya', Mughal-E-Azam has managed to set a benchmark in Indian cinema, which no other romantic movie has been able to match up to till today. Remade in color for the 21st Century, Mughal-E-Azam is a classic tale of forbidden love that will live on in every Indian movie-buff's heart forever!
Want to bring the MEA vibe into your life? Follow these steps:
Pine away for that one person you want, but just cannot have.

Rock stunning and elaborate Indian wear like a connoisseur of style. 

Give your life a background track of Indian classical music.

Love fearlessly, freely and express it with your art!
Bollywood is nothing if not for its romanticism and magical realism. The stunning cinematography, superior performances and unique styles of romantic movies in Bollywood continue to have an impact on our culture and make us fall in love with love itself!
Which of these is your favorite? Get set for a Bollywood romantic movie marathon this weekend!
Related Articles:
Image credits: The copyrights of the images used in this post belong to their respective owners. The credits where known are specified under the image - if you're the owner of an image and want it removed, please contact us.