Sarees can be super slimming! Learn how to look slim in saree by following a few points right here. Read more to stop worrying about looking slim in a saree and the various saree draping styles to look slim and tall. Discover the different draping styles and more right here, right now!
Saree is that one Indian traditional element that never fades away, rather this trend is getting hot and hotter with time passing by. Everyone loves a saree, the look and feel of a saree, and every woman loves wearing a saree once in a while. Why is it essential for you to know how to wear a saree to look slim? The answer is right here, folks! While a saree can make you and your body look gorgeous, that same saree can also make you look like you're drowning in heaps of fabrics, if not properly worn. Let's face the truth, ladies! Not everyone is blessed with that perfect figure and not everyone has the right height that we see in the movies or on the mannequins at the shops. We're real people and real people have different types of bodies. You really don't need to lose weight or be of the ideal height to look great in a saree. How? Well, there are many saree draping styles to look slim and many saree materials to look slim. We're here to tell you exactly that! Let's get started on how to wear saree to look slim step by step:
Read about various Saree Draping Styles to Look Slim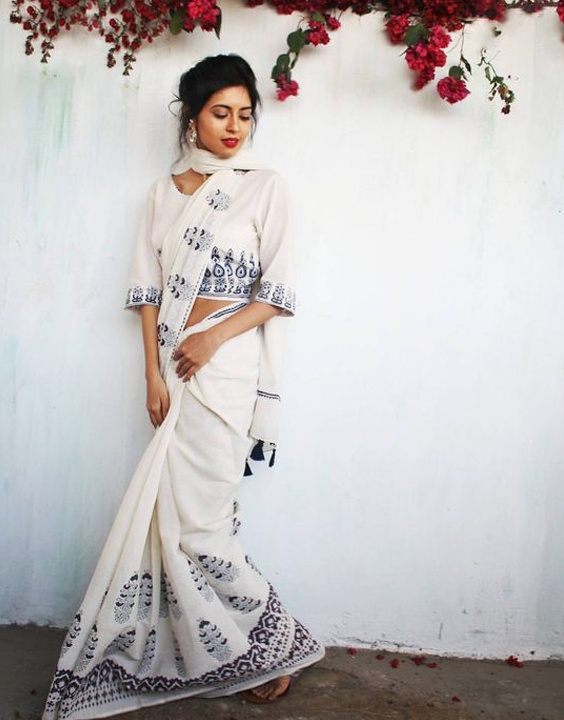 Every now and then, you see people draped in a saree looking effortless and confident, and you think how to look slim in saree? Well, it's all about the way they drape it. While there can be many ways and styles on how to wear saree, there are some pointers that you need to keep in mind while working on how to look slim in saree. Things like pleating it properly, choosing the right fabrics, prints, and colors can be some saree wearing styles to look slim, tall and amazing.
How to drape a saree to look slim- Fashion tips & tricks!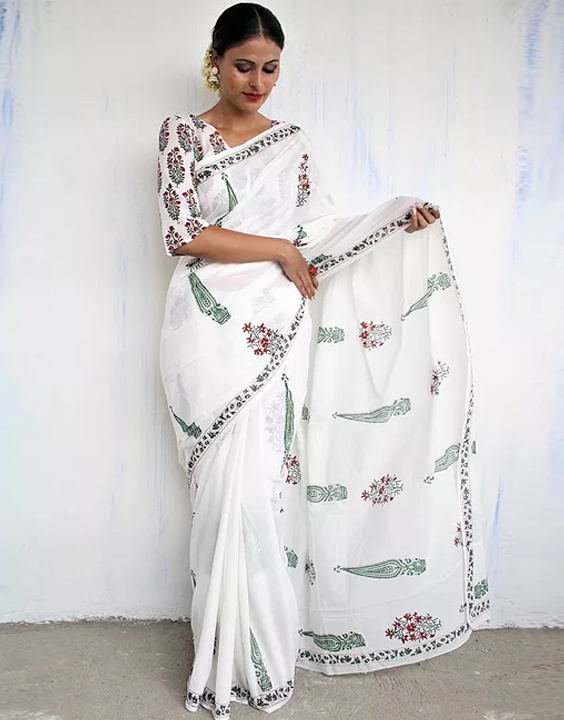 We all know, draping a saree is not easy. And wearing it with poise is even more difficult. Here are some things to keep in mind and some saree draping styles to look slim. To rock a saree style to look slim, the first and foremost thing to keep in mind is to choose the right fabric. Do not go for fabrics that are difficult to manage. The next very intelligent thing to do is to tuck the saree neatly and properly at the waist so that it doesn't add up any volume at that part. Also, do not go for too many pleats. Pleats sure do look good, but it also adds up a lot of unwanted volume to your look. To achieve a slim and a tall look, drape your saree tightly all over. Moreover, keep the palla of your saree open and let it fall. When you let the palla fall from your shoulders, it hides all the unnecessary bulges and gives an elegant appearance. You can also go for an all-black look, which never goes out of style. Other ways to understand how to drape a saree to look slim and tall  are putting the pallu on the front, the mermaid styled saree or the double layered pallu.
Saree Draping Tips to Look Slim-  Love the Slim feeling!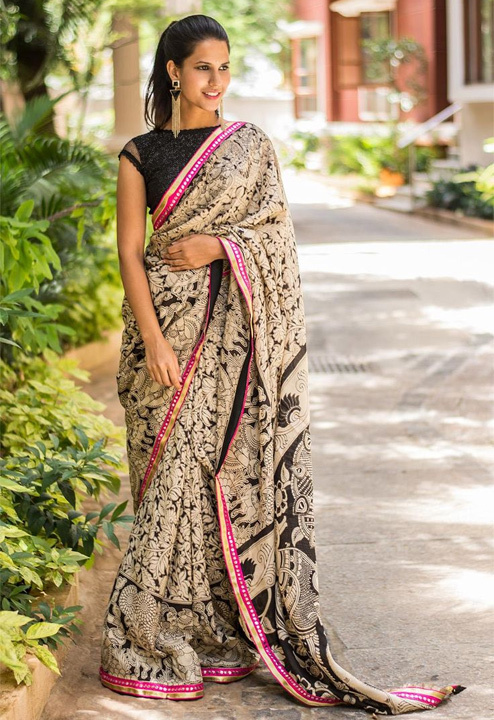 Here are some tips to look slim in saree. If you're someone who's on the heavier side, we suggest you should opt for lighter fabrics such as chiffon, crepe, georgette or a light blend of silk. Try avoiding a heavy bordered saree and also a heavily embellished saree, these things only make you look bulky!
Talking about prints, we all love prints, don't we? Don't give up on prints, rather choose smaller prints or embroideries. Coming to colors, choose your colors wisely. Opt for darker colors, as they seem to give a slimmer illusion to those who look at you. Lighter colors won't do much when you want a slimmer appearance. One more thing that people don't care much about is what to wear under saree to look slim. The answer is- a petticoat of the right fit. Wear a straight fit petticoat, and not the flared ones or the loose ones.
Picking the Right Blouse for a Saree- What Goes Under Is Important!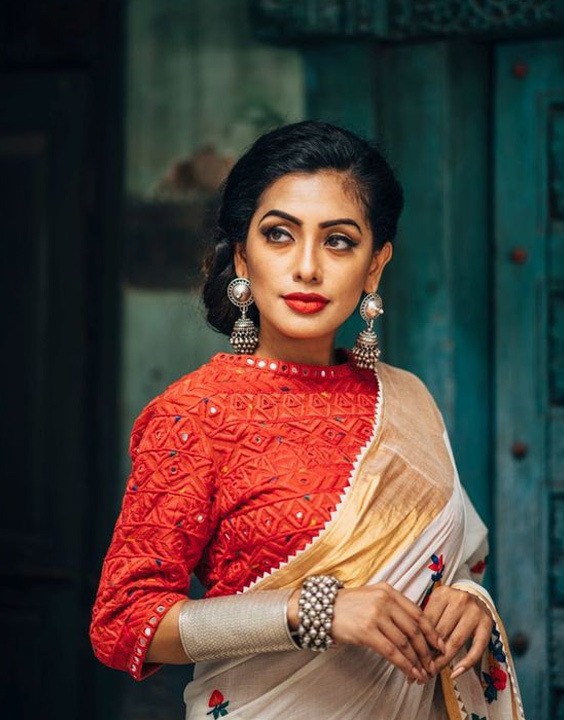 When a saree is matched with the right blouse, it makes a whole lot of difference. Now, how to look slim in saree blouse? Always, always wear a blouse of the right fit. Never be careless about your blouse. A blouse that's too loose will definitely make your body look ill-shaped, and a blouse that's too tight will show off your flabs. We're sure you don't want that to happen. Moreover, avoid sleeveless, halter necks, off shouldered, or a cap-sleeved blouse, since it will highlight the width of your upper body. In case, you have toned up arms and shoulders, then we give you a thumbs up to flaunt these styles. If your problem area is your stomach, go for a longer blouse. With the indo-western trend being on the verge, you can also pair it up with a jacket or a waistcoat to hide your tummy. It also looks super stylish.
Choosing the right Saree Material to Look Slim!
Fabrics play a major role and can be the deciding factor on how you're gonna look. Always be careful about the material that you choose for. There can be various saree materials to look slim. Pick those materials that are not too stiff or uptight, since they do not give a great fall and neither are they easy to drape. Avoid fabrics like organza, south cotton, jacquard, banarasi sarees and more if you really wish to look slimmer. Make fabrics like georgette, chiffon, crepe, and silk your best friends. One thing that you need to be really careful about is, don't choose anything and everything. When we say lighter fabrics, choose wisely. Light fabrics can sometimes be transparent and may look clingy.
How to wear a cotton saree to look slim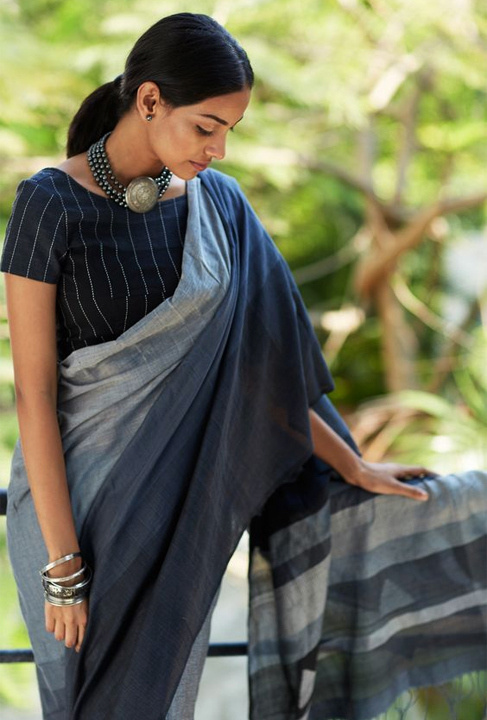 Cotton is one fabric that every woman swears by. Be it the scorching summers, or the chilly winters, cotton can be worn any time of the day with ease. When it comes to cotton sarees, this fabric again emerges as the most loved saree material to look slim. However, to look slimmer, cotton can be a tricky fabric for a saree. So, how to wear a cotton saree to look slim? Try choosing for a lighter cotton fabric that is easy to carry, falls beautifully and doesn't get cramped way too early! While cotton sarees can give you a fuller look, you do not completely need to say no to them, just don't go for the heavy south cotton or pure cotton. Instead choose blended cotton fabrics which will help you nail your look and will make you look slim, elegant and breathtaking.
How To wear Silk Saree to look slim and tall?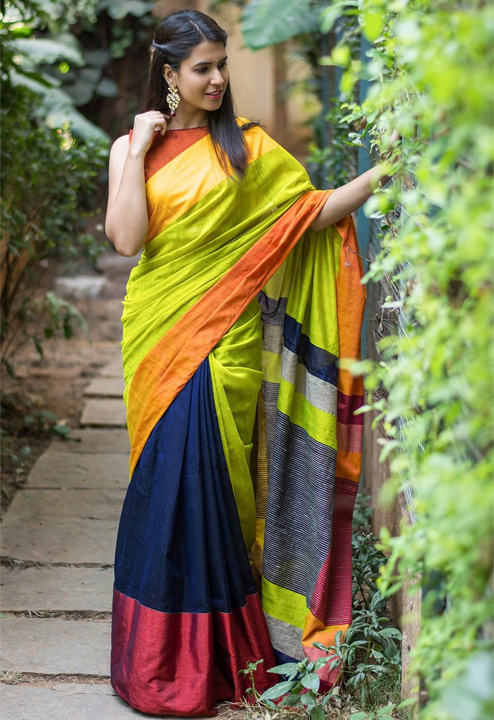 Another favourite fabric of all saree-wearing women is, silk. Silk does look absolutely stunning for a saree but it sure isn't the right saree material to look slim and can definitely make you look plump. Silk is a stiff fabric that adds volume due to the pleats and its stiff fall. Then, how to wear silk saree to look slim and tall? If you really are a silk saree lover, wear a cotton-silk saree, a silk-georgette saree or an Itailian silk saree. The right silk saree will give your body a balanced shape, and they will draw away the attention of others from your problem areas. Choosing a darker color and smaller border will also help accentuate your look.
So keep these tips in mind when you buy a saree next time, and bedazzle everyone with your look the next time you sport a saree. Do let us know if you have any more tips and tricks that can help to accentuate a saree look.
Image credits: The copyrights of the images used in this post belong to their respective owners. The credits where known are specified under the image - if you're the owner of an image and want it removed, please contact us.