Read about the various men's jacket styles and outfit ideas for different kinds of jackets. Read about what jacket style to wear for what occasion and also about creating the perfect ensemble for your OOTD! Read our post to learn to coin the trendiest denim jacket outfits, leather Jacket styles, bomber Jacket style and more!
From time immemorial, jackets have always been man's best apparel. However, there is still a common misconception that exists around the world about jackets. Jackets are commonly considered as a winter wear, but the light jackets are perfect to be introduced into your wardrobe during spring and summer. Moreover, jackets can be your perfect companion when you would like to dress up and prepare for all eventualities.
If you are in search of ways to upgrade your jacket style, scroll down through this guide to discover the best men's jackets styles to wear on every season.
Bomber Jackets – A Versatile Piece Of Clothing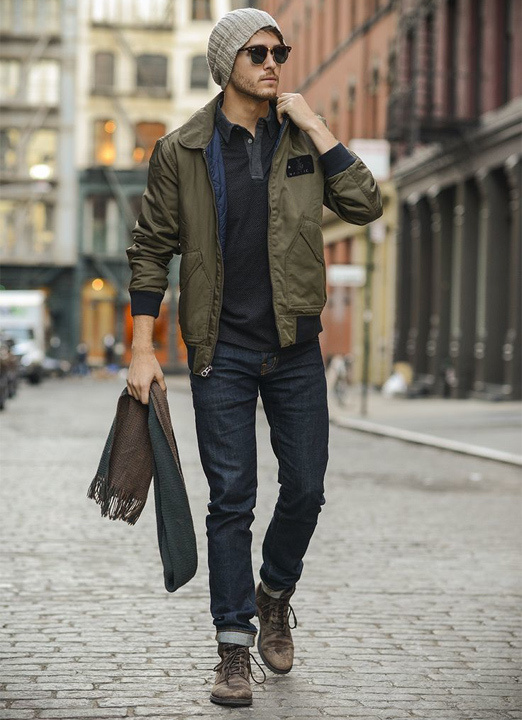 Once a leather jacket made for pilots, Bomber jackets are now essential apparel that finds its way into every man's wardrobe and one of the most versatile mens jacket styles. The bomber jackets come in a variety of materials and colors and this is what makes bomber jackets a versatile piece of clothing for every occasion. To understand the different bomber jacket styles and more, you need a comprehensive guide and we are here to give you that.
What is a bomber jacket?
The simplest answer to 'What is bomber jacket?' would be this: The jacket  was first designed for the pilots from a bulky leather material. Bomber jackets kept on evolving and the Nylon versions came into existence from 1942. Usually, bomber jackets feature ribbed hem and cuffs along with a front zip closure and neckline. Recently, bomber jackets are made available in a variety of styles and fits that includes long line, standard waist length, and some with hoods too. Usually people in India are a bit unaware of what is a bomber jacket exactly.
How To Wear Bomber Jackets
There are a lot of bomber jacket designs available in the market. With that, knowing the right one to buy can be a can be a hard task. However, with a little bit of knowledge, anyone can master the right way to style their bomber jackets.
Casual Jacket Style for men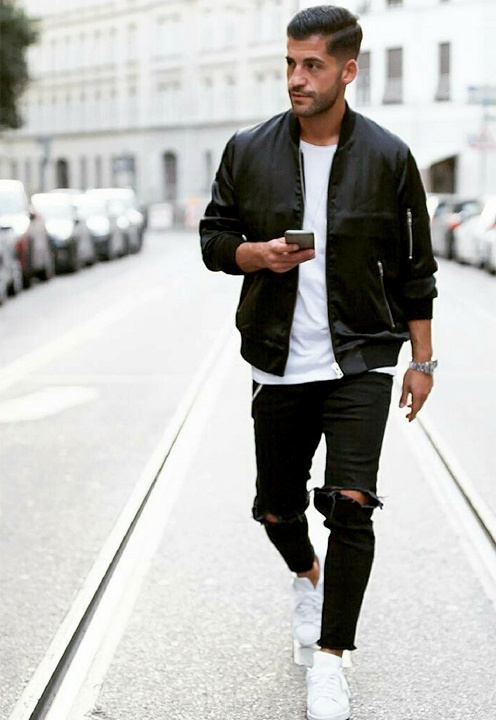 Pairing your black bomber jacket mens with ripped jeans, and a t-shirt will create a casual look. During the colder months of October through January, you could also opt to wear a sweatshirt or checked shirt over the top. Make sure that your jeans are skinny, or else the oversized top half wouldn't compliment the wider bottom half. And when it comes to the last part of your apparel or your footwear, feel free to put on your favorite Converse.
Or else, you can flaunt this jacket with quirky printed t-shirts, we have launched our customised T-shirt collection, where we can print your own favorite design on our quality t-shirts, click on the below image and get your own custom T-shirt today!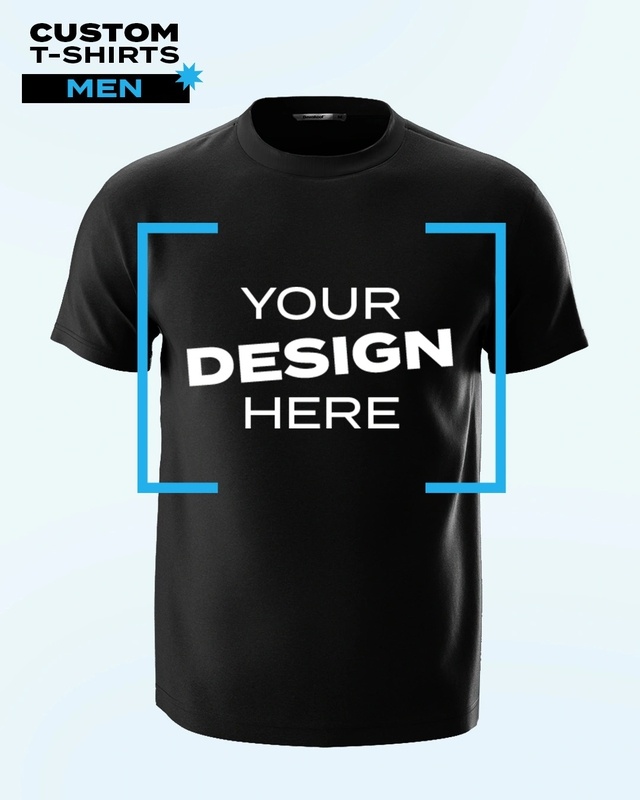 Formal Jacket Style for your office attire!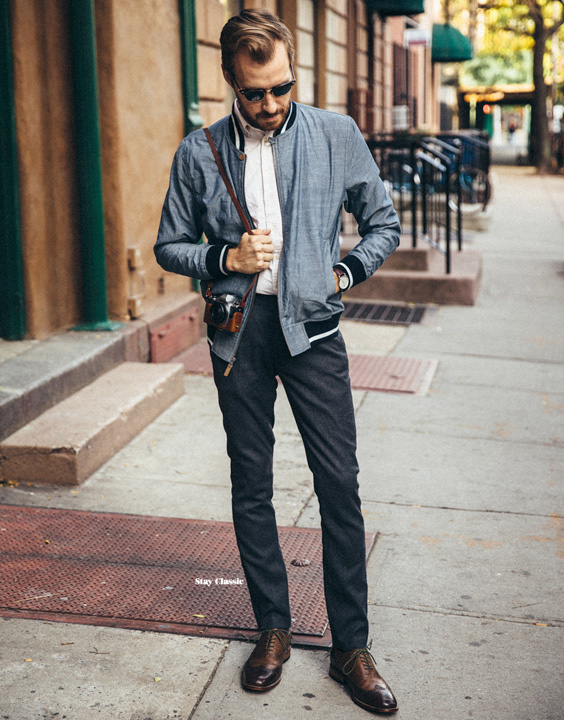 Bomber jackets aren't the first thing that comes to your mind when you are planning on going to a formal outfit. However, what men don't know is that bomber jackets make a great addition to any formal wear but only if you do it right. Bomber jackets, when paired with a smart trouser, cropped at the ankle and a shirt gives you the perfect formal appearance. For add on a little more detail, make sure that you keep the colors neutral.
Smart Jacket Style for men to wear on casual outings!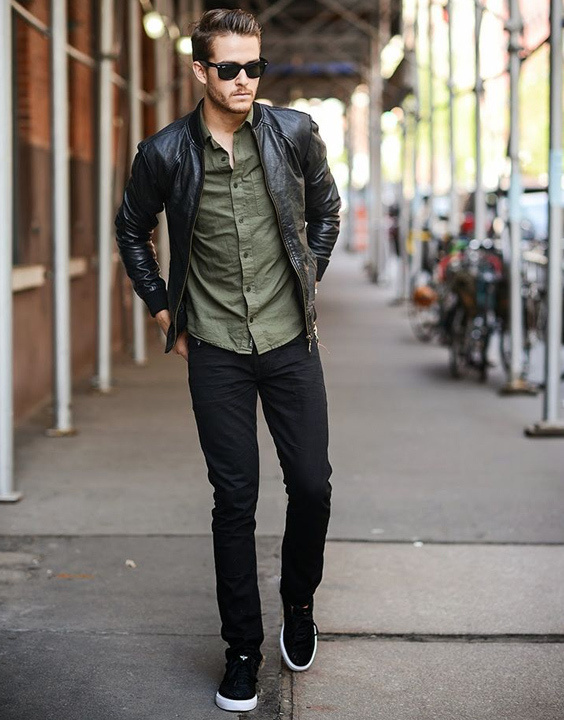 A smart casual look is really hard to achieve and perfect. The bomber jackets are more on the casual side, so pair it up with an oxford shirt and more relaxed trousers which can be chinos of light colors. But keep them slim fit and finish off with a pair of desert shoes for a smart look.
Breaking Down The Denim Jacket Style- The Unmissables!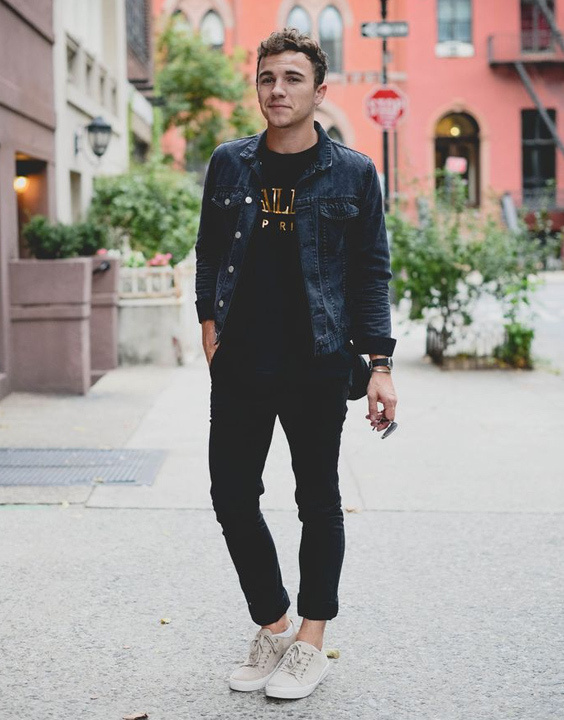 Wearing a denim jacket outfit are a lot easier than you think. Whether you are in search of how to wear denim jackets, a smart denim style or a more casual look, denim jacket outfits offer something for everyone. However, the most common question that pops in front of every man who tries to wear a denim jacket is what to wear with denim jacket. And we have got the perfect answer for you.
Denim Jacket Outfit Ideas for the fashion-savvy male
Here are a few tips for you if you're wondering how to style denim jacket. These are ideas for casual, party or outfits for a date and more. Pick your favorite long or short denim jacket, mix and match and  rock them jackets! These are some awesome combinations that you must try out. Add to your wardrobe and style quotient.
Denim Jackets With Denim Jeans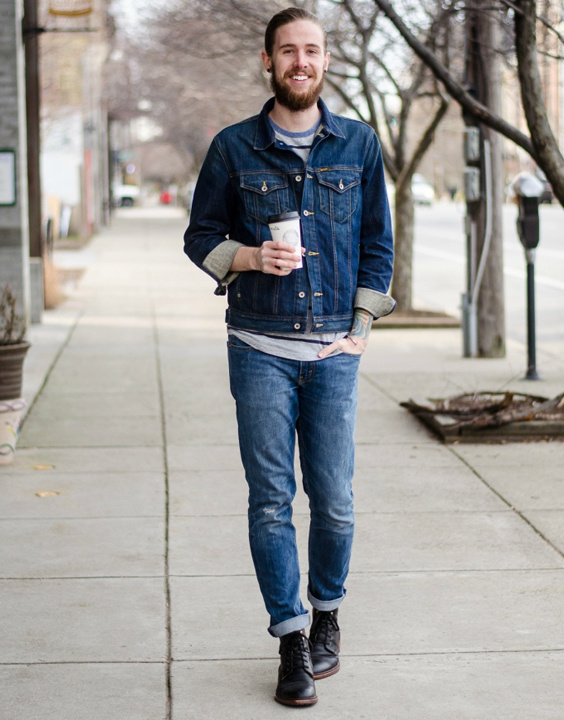 This can probably be the best and the perfect denim jacket style when taking your day off for an adventure. This doesn't necessarily look like the double denim style but it is easier to embrace this style when you would want to wear jeans and also embrace a short denim jacket.
Denim Jackets With A T-Shirt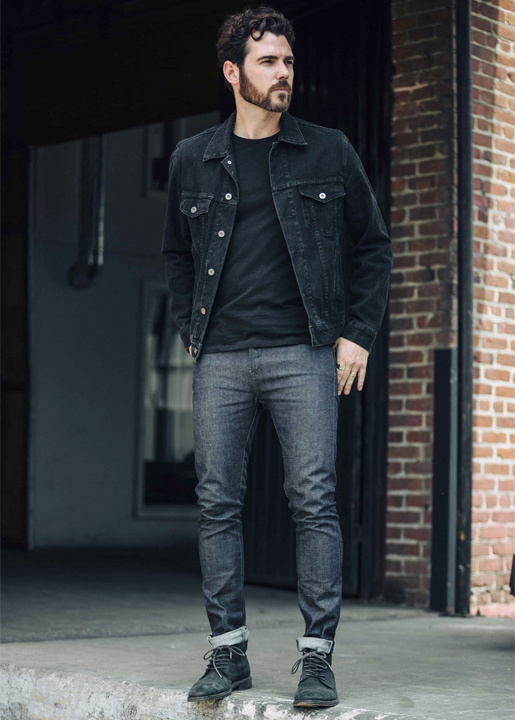 A simple outfit put together, pairing a denim jacket with your t-shirt can prove to be a timeless denim jacket outfit. If you have got a plain t-shirt in your wardrobe then it's the right choice to put it together with the denim jacket. It will give you a clean look and if you have a black denim jacket, try wearing it with black jeans.
Grey Denim Jacket Style- Wear with slim-fit jeans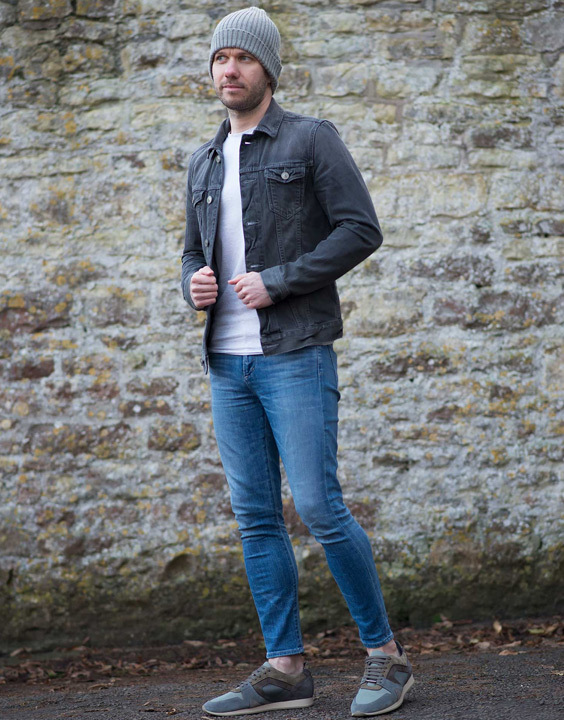 A Grey denim jacket will remain in style for long no matter how old it is. You could pair up a grey denim jacket with almost everything. When you are in a rush to reach some place, then you could definitely rely on grey denim jackets because the color goes well with everyone. One of the best choices would be to pair it up with a white shirt and black slim fit jeans.
Try these outfits for a stylish denim jacket outfit men. These outfits will help you become a fashionista with you rocking them out in  party, a luncheon or a date!
Ideas For Stylish Leather Jacket Outfits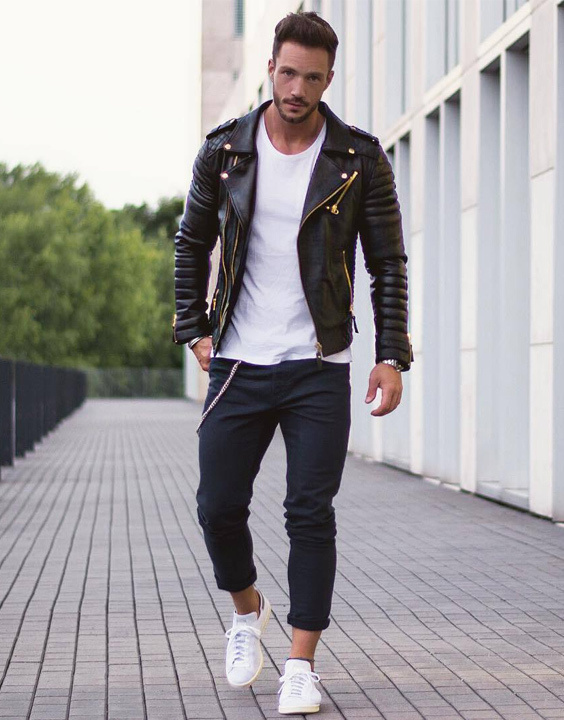 The masculinity, heritage, and attitude that a leather jacket offer is no match to any of the other jackets present in the market. No matter how many jackets you have in your wardrobe, a leather jacket is one perfect attire that you need to get today. Leather jackets first came into existence during the early 1900s and since then how to wear a leather jacket male has been a question to which answers have evolved over the years. And there are almost a variety of price ranges at which you could grab one at the market.
Figuring Out How To Wear Leather Jacket-
Style the Biker Jacket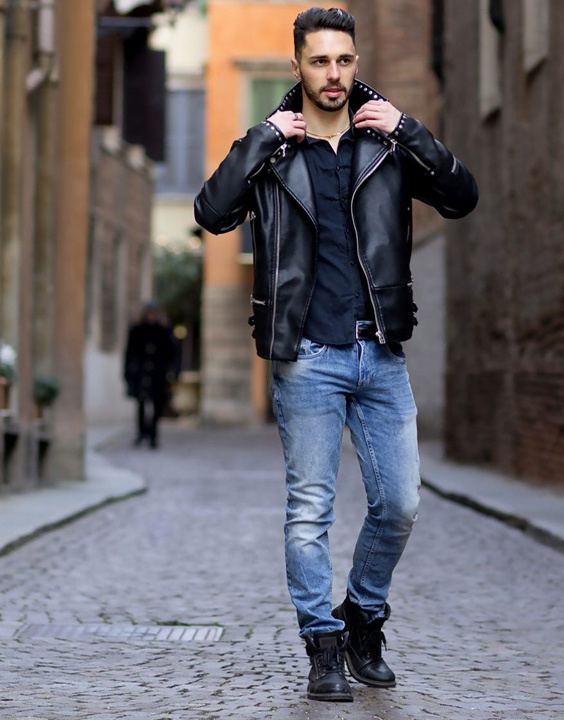 Yes, you might have come across men wearing this often. During the 20th century, black leather jacket outfits became common clothing among the biker rebels. The style is often spotted on the street and it gives quite a stylish look to anyone who wears it. Crack the best mens leather jacket styles looks! Pair the jacket with classic blue denim jeans and a plain white t-shirt. As for the footwear, opt for a pair of boots and it provides a timeless look even when it is easy to pull off.
Style the Varsity Leather Jacket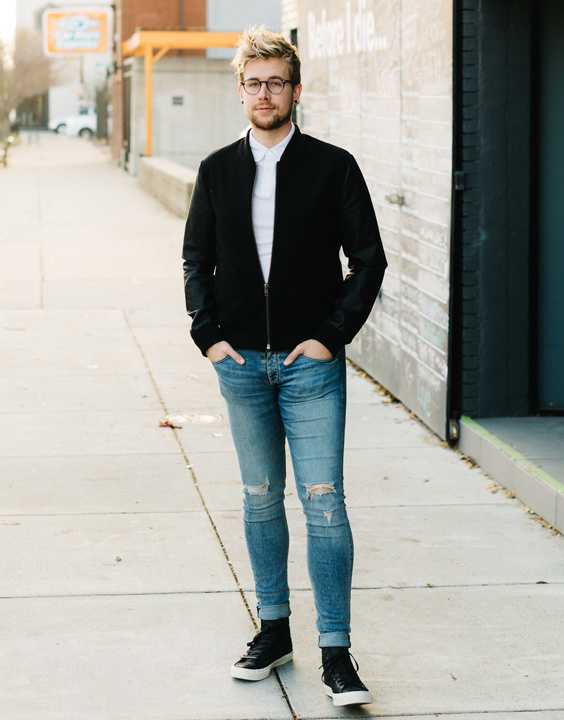 Men's leather jacket fashion has been evolving ever since and varsity jackets are a great way to accentuate your style. The two tome design means that half of the jacket is made of leather whereas the other half of a different material which can sometimes be cotton. Varsity leather jacket styles are baggier so put on some skinny jeans, a plain hoodie, and a pair of trainers.
Style the Brown Leather Jacket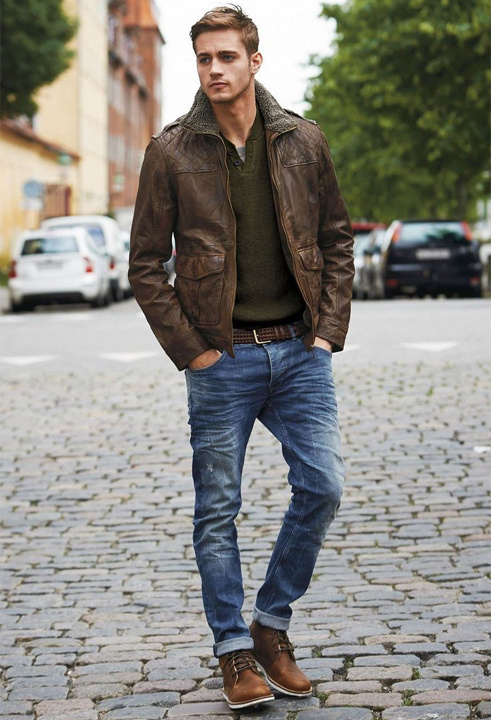 This classic jacket has been historically seen on army pilots. However, you need to keep one rule in mind – never introduce another shade of brown on your brown leather jacket outfit. You can pair it up with light blue jeans and a pair of brown boots or trainers. If brown is not your favourite color, you should know what to wear with black leather jacket, because black always saves the day!
Now that you know the different men's jacket styles, rush to your wardrobe and try something trendy today. If you have been wearing denim jacket outfits for long, grab your bomber jackets for a change. Men's jacket styles have been evolving and it will always keep evolving. Thus stay up to the trend and try something new every day.
Image credits: The copyrights of the images used in this post belong to their respective owners. The credits where known are specified under the image - if you're the owner of an image and want it removed, please contact us.