Still struggling and figuring out how to wear dhoti? Read on and learn more about how to tie dhoti. It's  go-ahead for all the men who love to dress well and try simple experiments with the national dress of India! Wear the dhoti stylishly  for any occasion!
Dhoti is one of the most ancient and traditional styles that men can carry off, and with style. It is undoubtedly an iconic part of the Indian culture and has definitely gained a lot of eyeballs lately. The dhoti styles have evolved, taking many different forms with the changing time and change in trends. It has finally made its way towards being one of the hottest trends that men can wear. These dhotis are now making a statement in all the major runways and also on the streets. It looks fashionable and trendy and yet it's connected to the roots. Today one can easily see so many colors, prints, styles and innovative fabrics in dhoti pants. So, let's take a look at the step by step tips on how to tie dhoti that you can pull off with ease:
How to Wear Dhoti – Step by Step Guide for men
Unlike other readymade and ready to wear clothes, dhoti is a plain 5 yards fabric that you need to drape all over your lower body. There can be various styles of tying a dhoti. Here's a guide on the most common dhoti wearing style that you can follow.
Step 1: To start, hold the fabric horizontally behind you. Make sure the colored bands (if any) are at the top (at your waist) and facing outward.
Step 2: Measure the piece of cloth as to how much of it is required on either side of the body and wrap the fabric from the back to the front so that you're holding the material in front of your body. Arrange the cloth so that you have equal amounts of fabric on the right and left sides.
Step 3: After having divided the cloth evenly, tie a knot near the navel and make a series of folds on the right side. Then tuck the folded parts into the waistband of the cloth.
Step 4: Similarly, grab the fabric from the left side and make a series of the folds on the left side and tuck the folds in.
Step 5: Last but not the least, bring the folded material through your legs, making sure to go underneath the rest of the cloth. Make sure the material hasn't become twisted. The fabric going between your legs should be snug, but not tight or painful.
There you go, your dhoti is draped!
Remember, you do not necessarily need to wear anything under your dhoti but since the fabrics are usually very thin and almost transparent, wearing shorts can save you from the trouble. Wind can make things really embarrassing for you incase you are wearing a dhoti and when you sit down the dhoti may come slightly apart. The more you overlap the fabric in the middle the less of a problem this is. Also, dhotis do not have pockets, but they do have some rolls on the waistline, you may keep small items like cash, keys or your IDs in that roll. Keep these few tips on how to drape dhoti in mind and you're good to go!
If you're still an amateur at understanding how to wear dhoti, don't worry there are other easy-to-wear dhotis in the market with elastic belts and Velcro fastening. This is a cheat code for you.
How to Tie a Dhoti on Kids- Let the Little Ones Learn It The Right Way!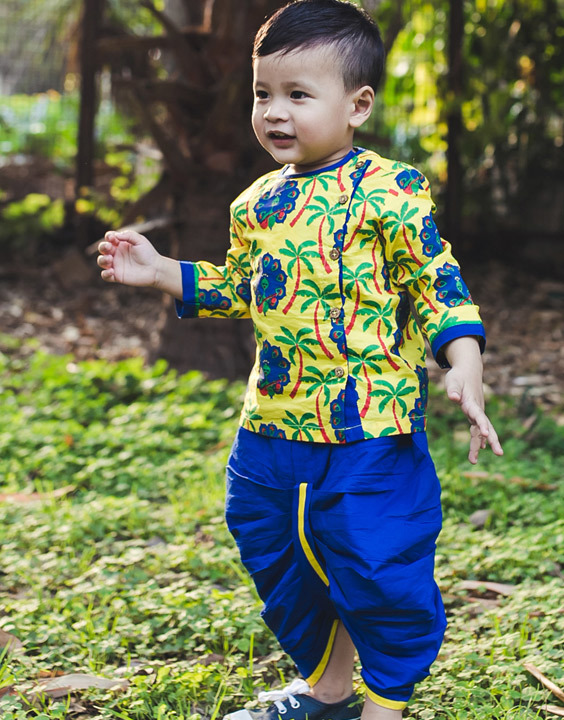 Now, how to tie a dhoti on kids is relatively easier than tying it on yourself as you will be able to see clearly where the fabric needs to go and you'll be able to handle it properly. Also, the fabric for kids will be comparatively smaller in length. Now, how to tie a dhoti on kids? Let's have a look.
Step 1: The first and foremost thing to do again is to fold the cloth in two halves, draping it from behind and making a tight knot on the waist.
Step 2: From the left side, take the excess fabric from between your legs, pleat it and tuck it behind, on the waistline. Make sure that it's not too tight on the legs or at the ankle, otherwise, it would restrict the kid's movement and may even fall out.
Step 3: Now, take the excess fabric from the right side, pleat it and tuck it in on the waist in such a way that some fabric still remains hanging. Also, while pleating it, make sure that the border of the fabric is in the vertical direction.
Step 4: Finally, with the remaining fabric, take it and drape it around the waist and tuck it at the front of the waist. And your kid will be ready in no minutes!
Remember, don't keep the fabric that's pleated on the front too long, as it may hinder the movement.
How to Wear Dhoti like Gandhi- Make An Inspirational Style Statement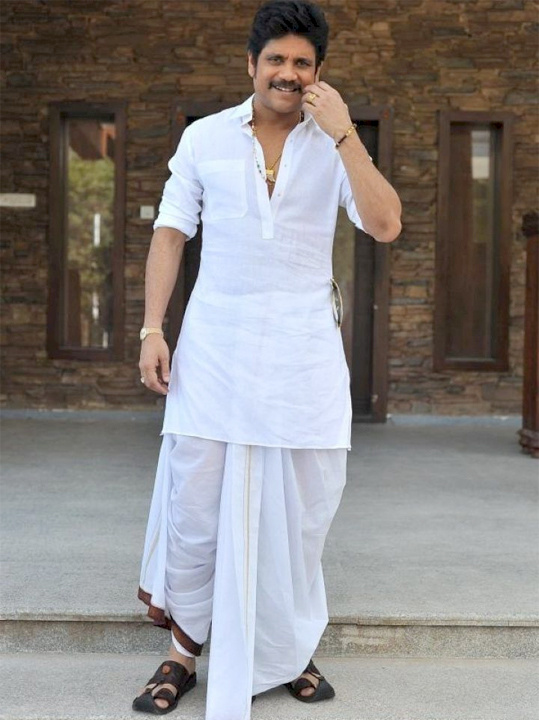 Whenever the word 'dhoti' comes, Mahatma Gandhi is one of the first persons to strike in our minds. This is exactly why we're going to tell you how you can wear a dhoti just like him. Here's a small piece of information – Gandhiji always used to wear a dhoti made of a handmade fabric called khadi. Starting with how to wear dhoti like Gandhi –
Step 1:  Tie the fabric around your waist. Tie it in such a manner that the fabric just touches your ankles.
Step 2: Once tied, take the inside end of the fabric, pull it through the legs and tuck it at the waist from behind.
Step 3: The same has to be done with the outer end of the fabric, and voila, you have your Gandhi style dhoti!
Make sure that the dhoti is tight enough and it doesn't fall out. It should be loose enough so that you can move freely in it. If you want a full Gandhi style look, you can also take another shawl like fabric and wrap it over your torso, just like you do with a shawl. You can drape it whichever way you like. There you go, you know  how to wear dhoti like gandhi.
Understanding Traditional Dhoti Kurta Styles for men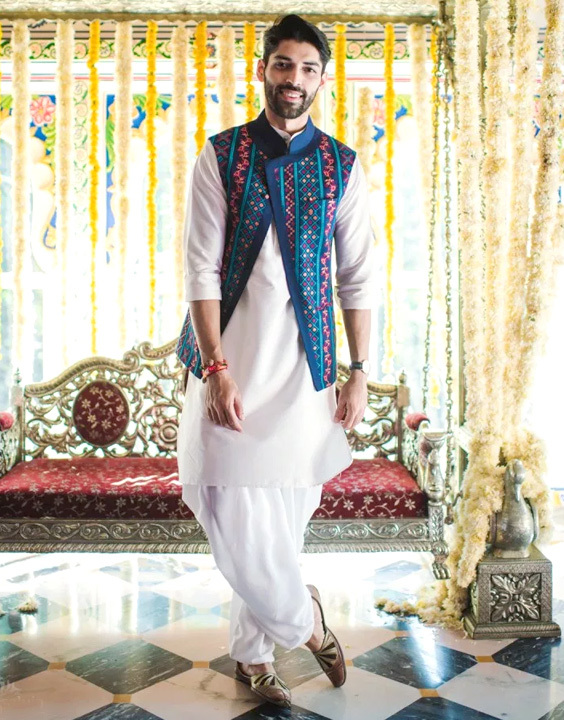 It is good to wear traditional attires on Indian occasions and festivals. The traditional dhoti kurta style is just the right pick for those types of celebrations after you've understood how to wear a dhoti. And, gone are the days when men used to pick only western wear for all occasions. People have again started showing their inclination towards the Indian culture and the Indian attires.
Dhoti as a National Dress of India for men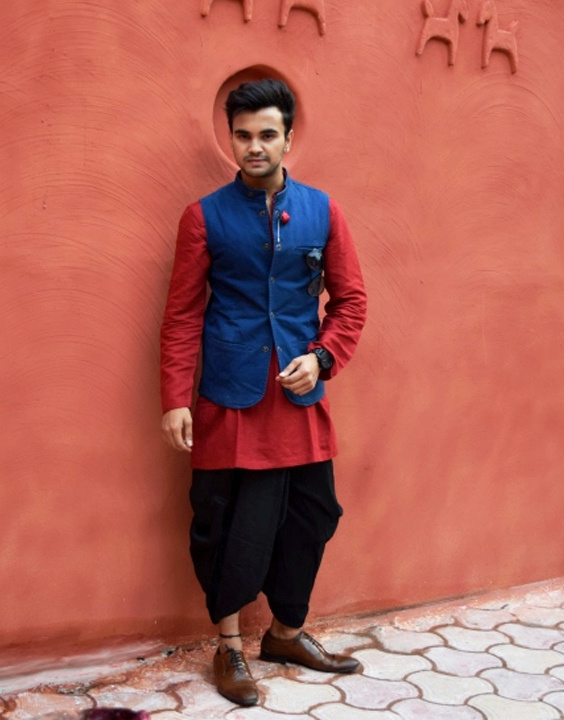 The Indian dhoti is a very traditional drapery that bears the signature of the Indian culture and tradition. And a dhoti is an integral part of the culture, customs, and religion. Now that you know how to wear dhoti, it's time to understand the most iconic indian traditional dress for man and the various styles.
The traditional dhoti kurta is worn in the northern regions of India and this combination is popularly known as the "dhoti kurta" and as "dhuti Panjabi" in the East.
Similarly, in South India, it is worn with an 'Angavastram' that is an unstitched cloth draped over the shoulders in Tamil Nadu, and a 'chokka' or a 'jubba' in Andhra Pradesh.  
Earlier the dhoti used to be a part of daily casual wear for men, but with time it became an occasion wear and is only worn on celebrations and festivities. In many occasions or in temples, the traditional dhoti kurta is a must wear. Dhoti Kurta nowadays is considered a formal wear in India, but hey, if you really think you're made for it, why not wear it whenever and wherever possible!
How to Make Dhoti Salwar Combination- Mix it Up!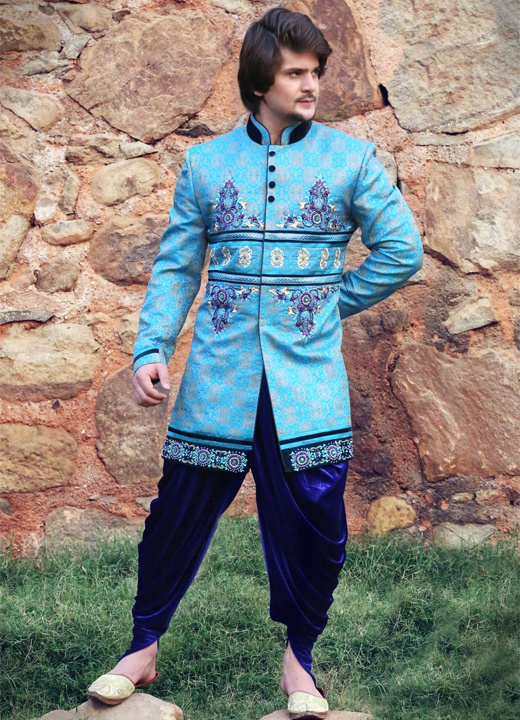 Dhotis are already making their comeback in every way possible. But when it gets combined with a salwar, it gets even more stylish. Everyone absolutely loves wearing a dhoti salwar these days and it is immensely popular in outfits for weddings or any Indian festivals. They come in different colors, various types of fabrics, with embroideries, sequins and so much more. You can pair them up with different types of kurtas, shirts, and t-shirts. One simple trick to flaunt them easily is to buy basic dhoti-salwars and pair them up with whatever you wish them to be teamed with, it will always look good. This combination is one way to ace the question "how to wear a dhoti."
So this was our guide on how to wear dhoti. We hope it was helpful to you. And we also hope that you go ahead and try these styles out. Do let us know if you have any further questions or any more styles that you know of. We'd be happy to know!
Image credits: The copyrights of the images used in this post belong to their respective owners. The credits where known are specified under the image - if you're the owner of an image and want it removed, please contact us.