Ask a girl and she'll tell you that her shoe rack is stacked with various types of footwear, be it heels or outstanding flip-flops by solethreads.! It isn't a surprise that women depend upon a pair of trusty heels for various occasions. Read about various heels types in this post and choose the best high-heeled footwear for your next outerwear look!
Give a girl a pair of heels and she can conquer the world! Heels are a woman's true best friend – because what gives more confidence and comfort than a good pair of heels? Now there might be a little too many types of heels to choose from, so choosing the heel that suits you could be a little daunting. But why settle at just one? With the heel sandal, you've got a chance to explore patterns, styles, colours and more – making sure you turn heads everywhere you go!
So, what is a heel sandal?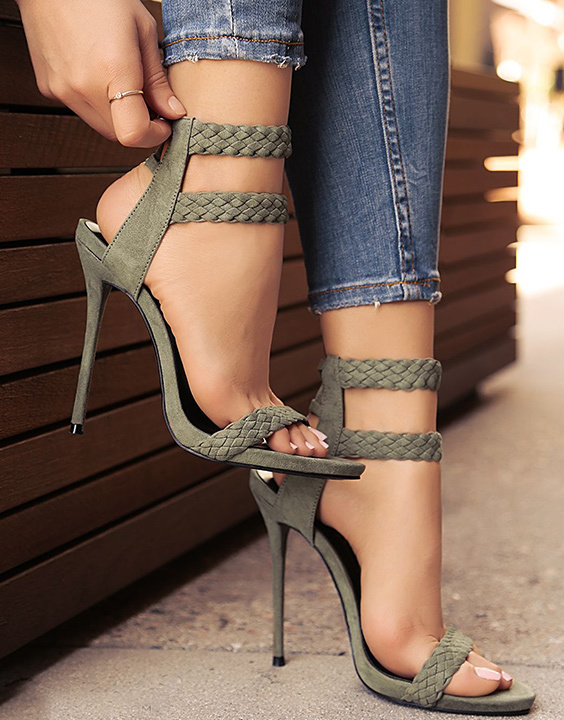 Heel sandals are essentially just sandals with heels. You can put a heel on basically any kind of sandal that exists, to give it a more elevated (pun intended) and glamorous look. Of all the different types of heels available for women, why choose just one? Experiment with all types of heels, and all types of sandals – boots with a kitten heel, moccasins with a wedge heel, and even gladiator tie ups with a block heel. The world is your oyster when it comes to heel types. Let's take a closer look at the types of heels which are always trending (basically the ones that are always seen on the runway) and how to style them depending on the occasion.
Different types of heels that are always on-trend!
As Marilyn Monroe said, "I don't know who invented high heels, but all women owe him a lot." It couldn't be put more aptly! There are definitely more than 30 types of heels which you can buy from any footwear store that you walk into. The best part about having so many heels to choose from is that you can choose depending on your personality and personal style statement. It doesn't matter if you're into metallic shoes, shiny glittery heels, only patent leather or bright neon pink – you can choose from a huge variety. So let's talk about the different types of heels which are always trending no matter what the year, season or designer!
Wedge heels give you that fashionable edge!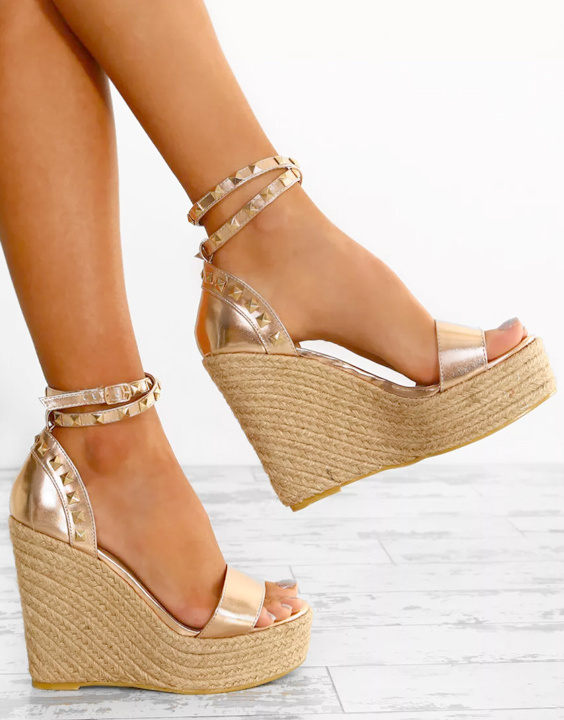 Wedge heels are probably one of the most comfortable pair of heels on the planet. These shoes are perfect for the girl who refuses to go anywhere without her heels on, but also the kind of girl who refuses to wear those stiletto types of heels all day long. High heels wedges are the most comfortable heels because they ensure the body weight is equally distributed – so you no longer have to worry about balancing high up in air! There are various types of wedges – strappy wedges, closed shoe wedges, oxford wedges, boot wedges and many more. Wedge heels also vary with material – they could be made from jute, leather, canvas and even rubber.
Dress to impress: Wedge heels are the perfect types of heels for dresses – they look great with long maxi dresses, short skater dresses and everything in between. You can also pair wedges with bell bottoms and a cute top – it's the ultimate chic casual look.
Spool heels are so dependable!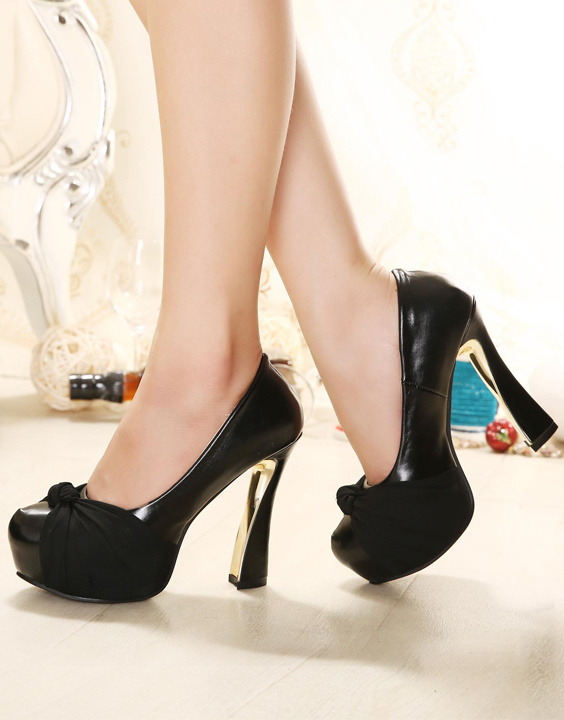 Spool heels, also known as hourglass heels, are heels which are wide at the top and bottom and narrow in the middle. Such heels types are usually shorter heels, no more than one to two inches high. This heel sandal was very popular in Europe in the eighteen hundreds. Spool heels are considered to be the workplace high heeled footwear because of their comfort and height. These are the perfect girls sandals heels when you're trying to balance comfort and fashion.
Dress to impress: The spool heels look great with work outfits. They're the best types of heels when it comes to pant-suits and structured skirts.
Platform heels will add weight to your fashion statement!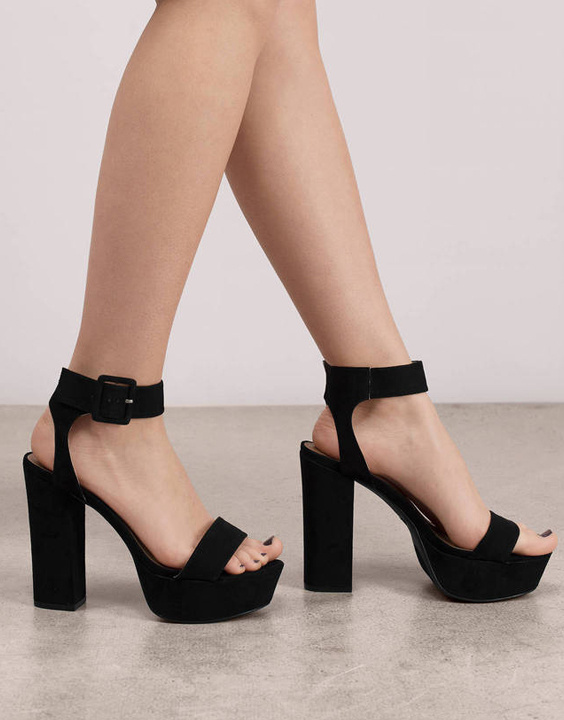 Platform heels are again a very comfortable pair of heels. Of all the different types of high heels available, these ones are probably the most stylish whilst being super comfortable. Platform heels basically have a sort of platform under the front of the shoe for added comfort. Normally these types of heels are between four to six inches, making it absolutely crucial that these high heels are well padded to allow comfort while walking. Because when it comes to heels, here the motto – keep your heels high and your standards higher.
Dress to impress: The platform heel sandal is the perfect shoe for a girls night out. Wear it with jeans, pants, skirts or dresses and it'll make sure your legs look amazing. You can dance the night away knowing your legs look great and your feet won't hurt the next day!
Flat high heels are heels with a sweet advantage!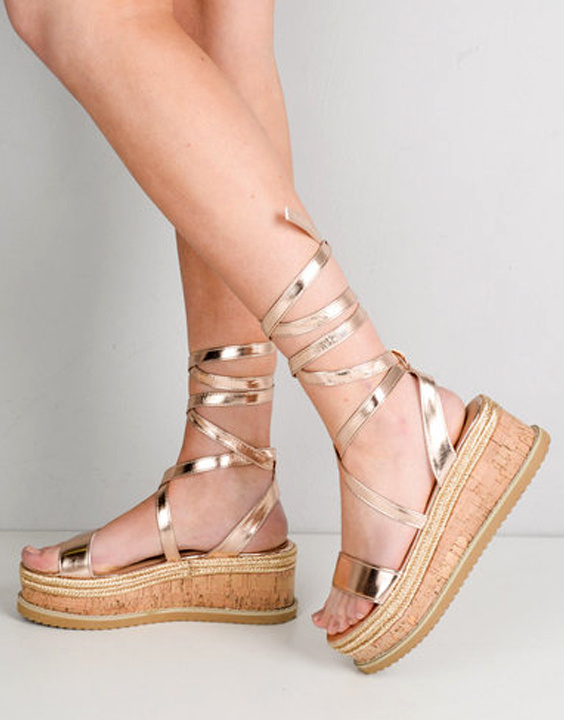 This heel sandal is somewhat similar to wedges, but not exactly. Flat high heels are essentially shoes which have been heightened using flat heels. Basically, when the heel is the same height from the front end of the shoe to the back end, those types of heels are known as flat high heel sandals. The most common type of flat high heels are sliders with heels and sneakers with heels. These flat high heels sandals allow you to look taller without making it very obvious that you're wearing heels. So they're actually a great buy for short girls who don't want to make it too obvious that they're always wearing heels!
Dress to impress: Flat heel sneakers look great for a casual day out or a dinner with friends. Pair them with a pair of shorts with an oversized tee or hoodie for an uber chic casual look. You can even opt for flat heel slippers,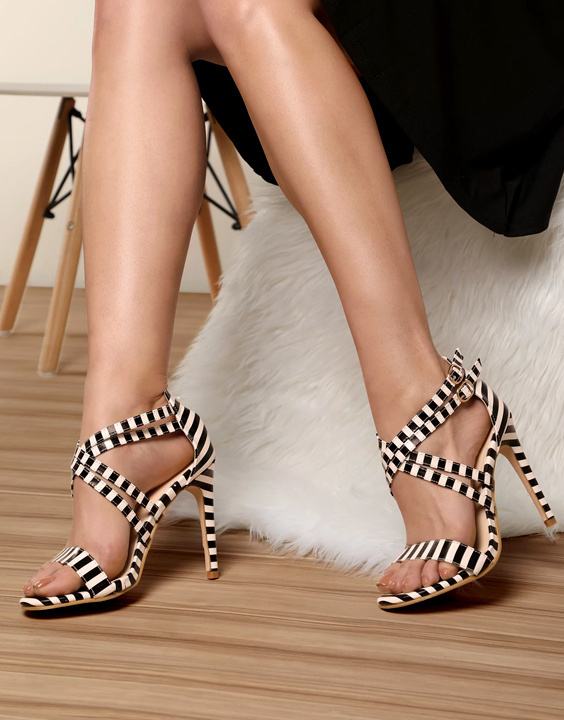 which will look great with your everyday casual wear.
Pumps vs Heels – What is the difference?
The pumps vs heels debate is on-going when we discuss heel types. But what is the difference between pumps and heels? The pumps shoes meaning isn't as the name suggests, pump shoes are basically the type of shoes which are closed from the front and back with a heel. The shape of the pump could be round or pointy and the heel could be on any length, but it is the fact that it is a closed shoe that differentiates it from high heel shoes. On the other hand, high heel shoes could be open, semi-open, strappy or even tie ups. Another key difference between pumps and high heel shoes is that pumps are the types of heels which can easily slide off, where as other high heel shoes could have straps, zips or buckles. In the pumps vs heels debate, pumps usually win for working women as these shoes give off a more formal look. High heel shoes, on the other hand, could be casual, semi-formal or formal depending on the shape and size.
Image credits: The copyrights of the images used in this post belong to their respective owners. The credits where known are specified under the image - if you're the owner of an image and want it removed, please contact us.