Lehenga sarees are beautiful and effortless, and they're definitely your go-to attire for the wedding season! The lehenga saree can be easy to style, which is why it is a gift to womankind. Read on if you want to know how to wear lehenga saree and style it. We promise you'll leave this blog a pro.
So, it's your 'mami ke chacha ke bete ki shaadi' and you can't decide what you're going to wear?
Do you fear becoming a fashion fail story?
All is not lost… Yet!  We've got the answers to all your questions!
Voila! The lehenga saree, a modern cousin of our traditional saree, is an effortless way of looking like a 'Desi Pataka'. It's such a popular choice that our Indian markets are flooded with many types of lehenga. If you're fond of personalizing your outfits, then your local 'darzi' (tailor) can perfect one unique to your taste. A good old saree can be recycled as a lehenga style saree too.
Getting down to how to wear lehenga saree-
It's only two days until the event and you still don't know how to wear it! Hmm, this can be tricky but we weren't lying when we said we had all the answers!
Since we're so kind we'll come to your rescue and teach you how to wear lehenga saree step by step, in different ways.
Draping is super-important!
Lehenga style saree draping involves pleating. How well you pleat a saree defines how well your drape will turn out to be.
Unlike the traditional saree which is wrapped around a petticoat the lehenga style saree is wrapped around a skirt. The following are a few much adored ways of draping the saree or a dupatta.
1. THE CLASSIC DRAPE –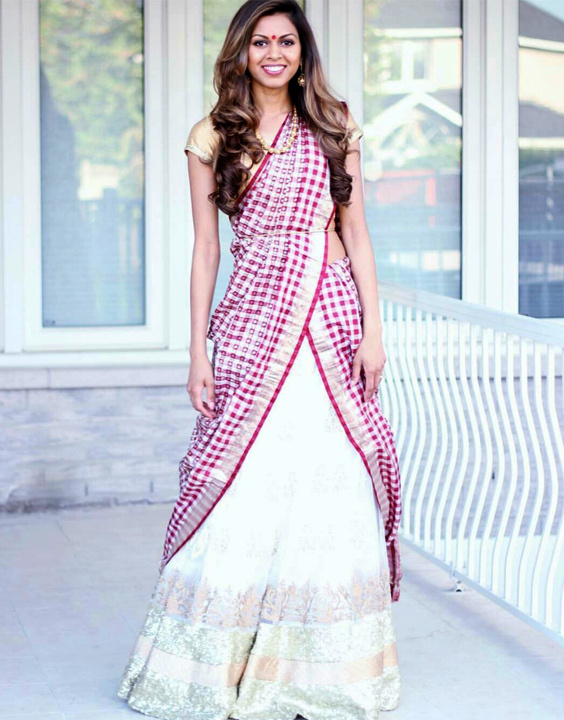 The classic drape is a very common and easy style but pretty nonetheless. For this style, take one end of the saree / lehenga dupatta and pleat it along its entire length. With a pin secure the pleated section on the left shoulder, leaving the longer fabric in the front.
Bring the flowing end from the front all the way to the back wrapping it around your blouse and lehenga. Pull it to your left and tuck it in at your mid-waist.
You can upgrade this style by carrying a more stylish smaller dupatta around your arms or by wearing it on your head. This extension of the classic style is called the double dupatta.
2. THE CASUAL DRAPE –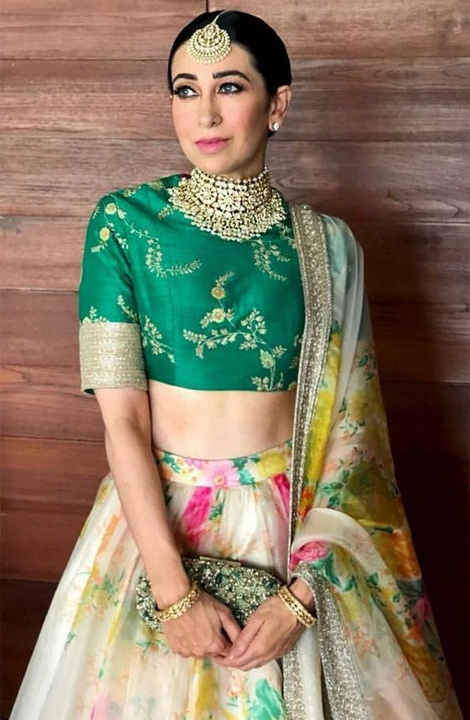 This method of draping your saree is best if you want to flaunt the intricate details and stylish cuts of your blouse.
Tuck one end of the dupatta on the left side of your waist.
Loosen it up, pull it on to your right shoulder from behind.
Secure it with a pin on the shoulder and let it hang in the front on the right.
3. THE BRACELET DRAPE –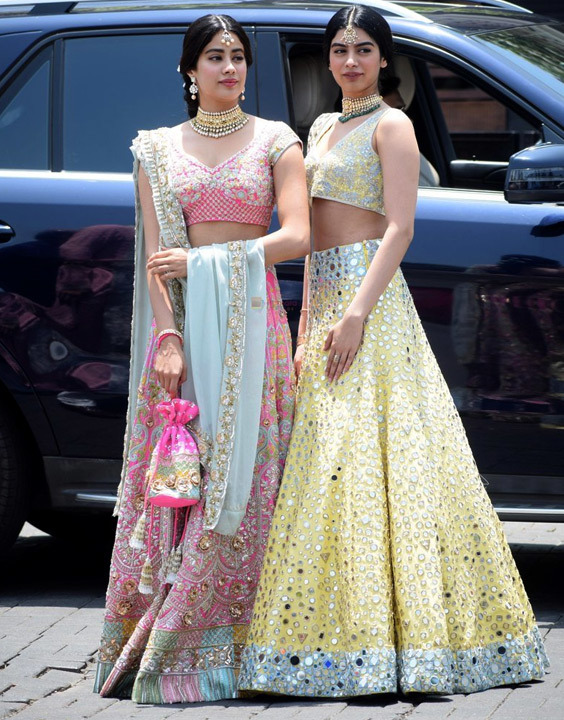 This method is a variation of the casual drape.
Take one end of the lehenga dupatta/ saree, pin it on the right shoulder leaving longer part behind.
Form a single pleat of the longer part, pull it on to the left side and wrap it around the wrist as a bracelet and secure it with a pin.
For a neater look you can secure the fabric hanging in the front on the right to your blouse line with a pin.
4. THE HANGING U DRAPE –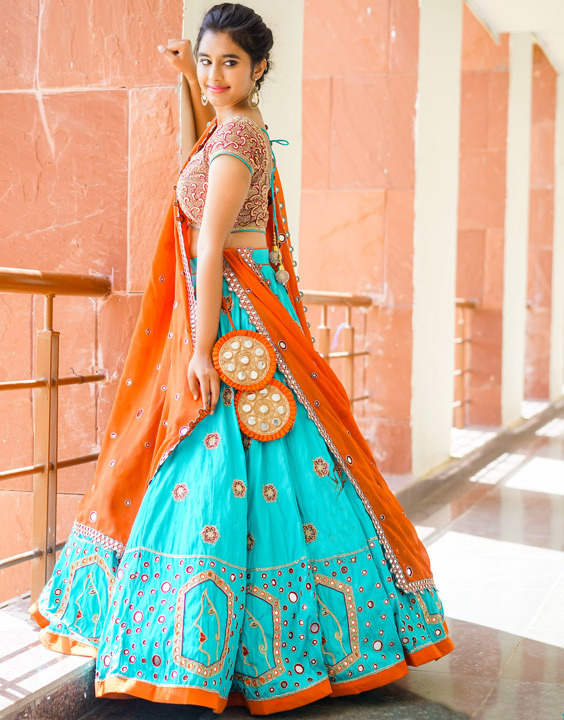 This style is for the ultimate diva look. It's a good way to show off that bare back and also bring focus to the heavily embroidered dupatta.
Pleat one end of the dupatta secure it on left shoulder leaving longer part behind.
Take the front half of the dupatta and pin it to the right side on the waist.
Take the end of the longer part, pleat it tight and secure it on the right at the waist too, forming a U shaped fall at the back, hanging well below the hip.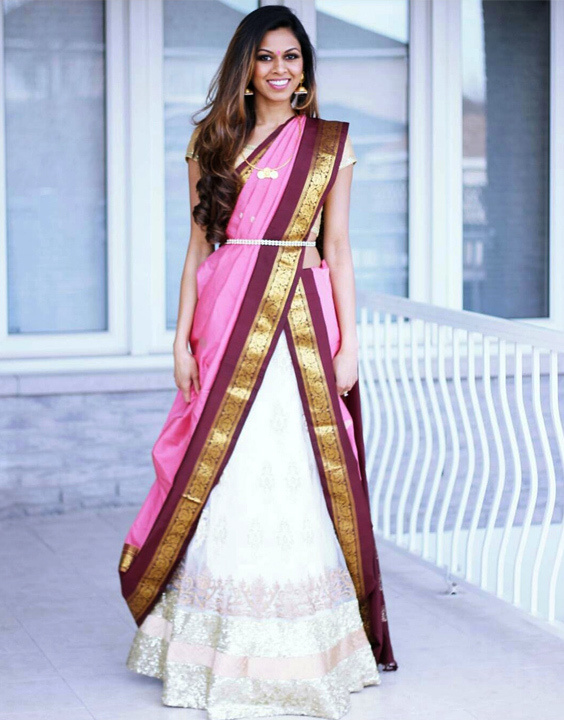 These ways of wearing lehenga style saree work well with most fabrics, however draping a crisp silk saree over your lehenga would require a little extra care. If you plan to use a crisp saree for draping always make sure it's well ironed as it will be much easier to handle. You can also wear a 'kamarband' (waist band) in order to keep the saree neatly in place.
The latest lehenga saree design comes with already made pleats and drapes, making it perfect for the busy boss lady.
Wearing your outfit correctly and styling it according to the mood of the event go hand in hand. Now that you know how to wear lehenga saree, here are some tips to style it for weddings and engagement parties.
The perfect lehenga style saree for a Big Fat Indian wedding
It's a comfortable ensemble that can be worn gracefully at any time in the day or night. Choosing a lehenga saree for wedding that's suitable to fit the mood is priority.
Every occasion has a set tone with which your outfit should be in tune.
Choosing and styling a lehenga saree for engagement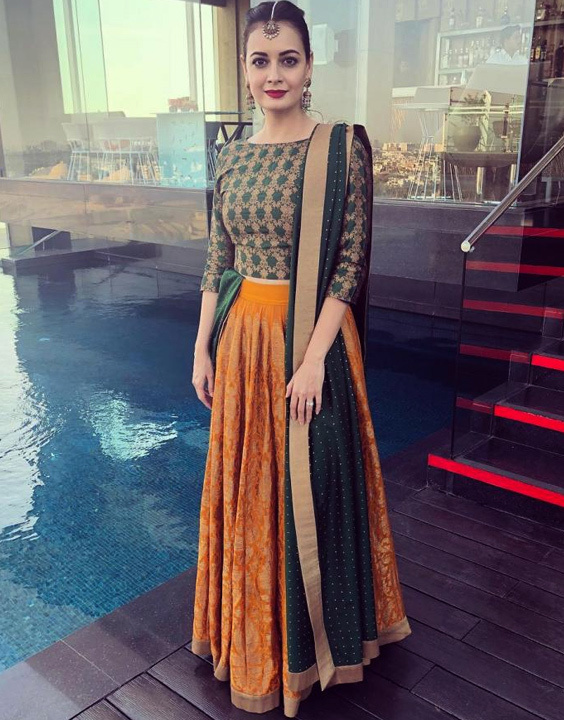 Engagements are close-knit affairs so choose your outfit keeping that in mind, nothing #OTT. Blushing pinks, creams, golds, and sunny oranges in georgette and chiffon are the perfect accompaniment to your special day. A lehenga saree for engagement should be simple yet elegant.
1.Engagement ceremonies are usually held at home or small party halls, so keeping the tight place in mind go for a lighter look. Nothing too heavy, try modern prints like checks and floral instead.
2. Wear clean and light makeup.
3. If your outfit has busy prints or intricate detailing then a nude makeup with accessories like delicate wrist bands, platinum or pearl rings and earrings would be great.
4. Since the engagement ceremony is a pre wedding event go for a minimal look.
Remember less is more!!
Lehenga saree for Wedding Season! Stay prepared for a glittery affair!
Indian weddings are at least a month long affair with events all through the day and night, each ceremony demanding for a new and better look. These celebrations call for the most colourful and vibrant outfits in your closet.
The Day look-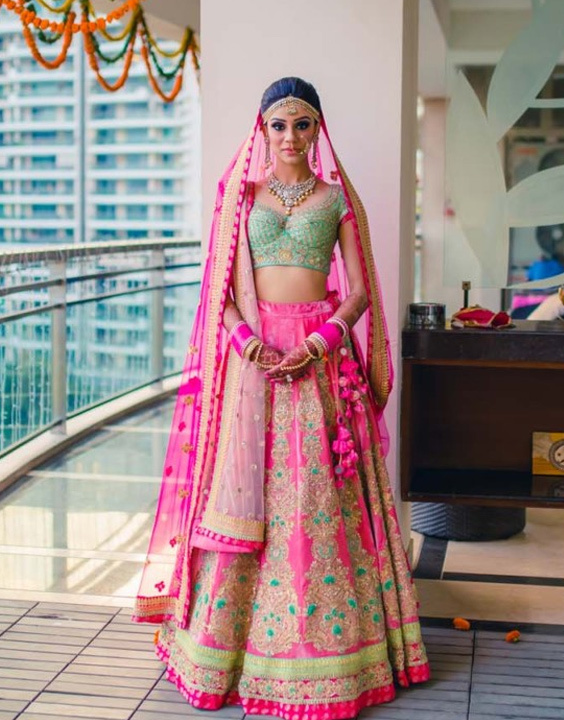 A perfect wedding lehenga saree would be something in juicy reds, light pinks, oranges, peach and pistachio green with rich gold or silver embroideries, borders and trimmings.
Indian weddings call for equally stand out looks so don't be shy to go big on colours, especially if it's a day wedding.
Comfortable gold or silver heeled mules would pair well with the colourful outfits.
The night look-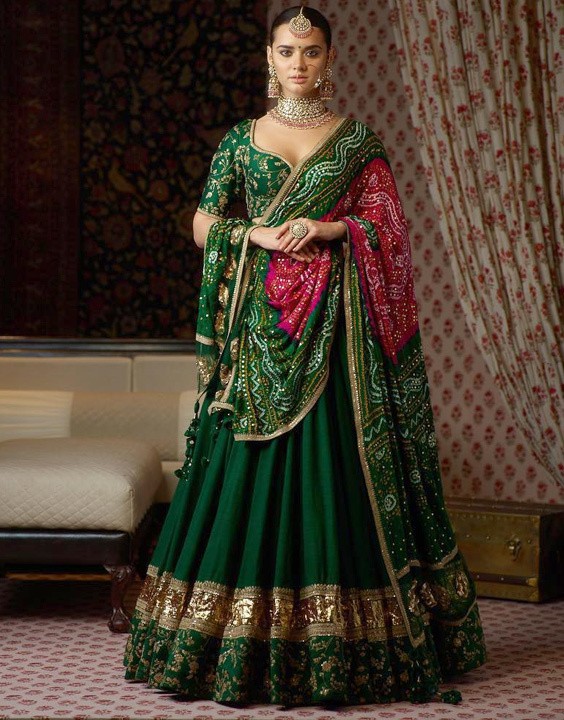 Anything shiny and shimmery usually works for Indian weddings especially if it's a night 'phera' session or a reception party.
But if you're somebody who likes the posh look then warm hues like black, magenta and olive or dark green are good #OOTN options. A statement clutch in hand with a matching Maangtika and high heeled stilettos would be enough accessories.
Imp. Style tip-  Remember not to over accessorise and let your outfit shine!
Ultimate party wear lehenga saree ideas to make everyone envious!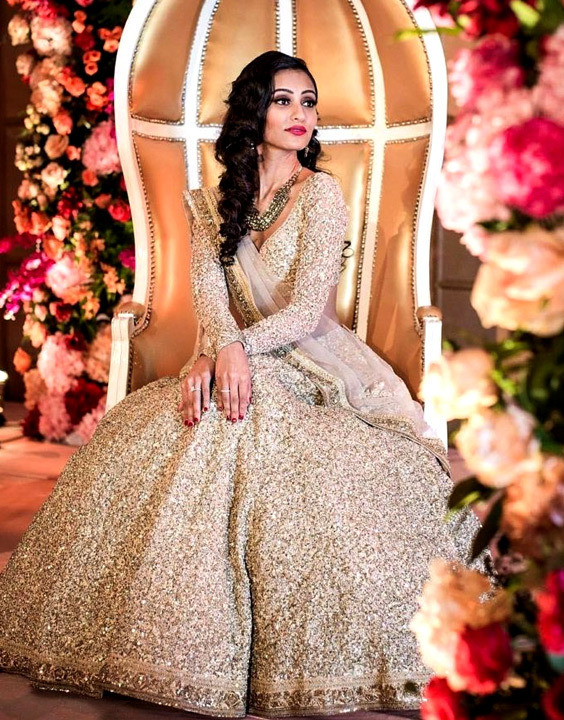 An Indian wedding party is a great excuse to try out some trendy designs. The informality of the occasion gives you an opportunity to experiment with different patterns, prints, cuts and textures. To ace the sleek and chic look for the cocktail party wear a modern monotone lehenga saree without pleats, showing off that slimming A-line lehenga.
Something in colours like navy blue, grey and champagne would make a classy and elegant party wear lehenga saree.  
Don't be shy and put on that off shoulder blouse and sport those sexy smoky eyes. This is the perfect occasion to try that look!
You may be wearing the most sought after designer saree and lehenga but is an outfit even complete if it's not paired with the right hairstyle and jewellery?
Jewellery for lehenga saree? Of course you need 'em! These little gems count for a lot!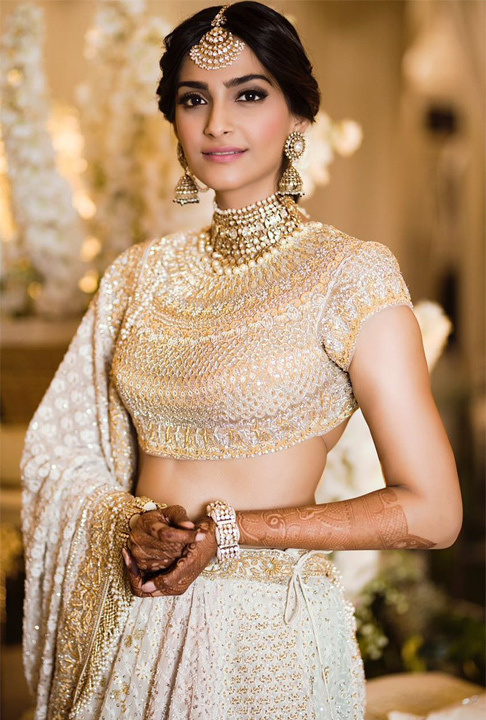 Pairing a heavy wedding lehenga saree with heavy jewellery is a big NO!
Lighter jewellery like pearl or diamond studs, delicate bangles and thin necklaces are the kind of jewellery pieces that would add dimension to the outfit without you overdoing it.
On the other hand, you can go all out on jewellery with simpler lehenga sarees.
When you think of jewellery for lehenga saree, statement earrings like traditional chandbalis, jhumkas, and ear cuffs are what you should be looking for, these look absolutely royal and add an oomph to your look instantly.
Statement earrings are outfits in themselves, they can make or break a look!
Pick the ideal hairstyle for lehenga saree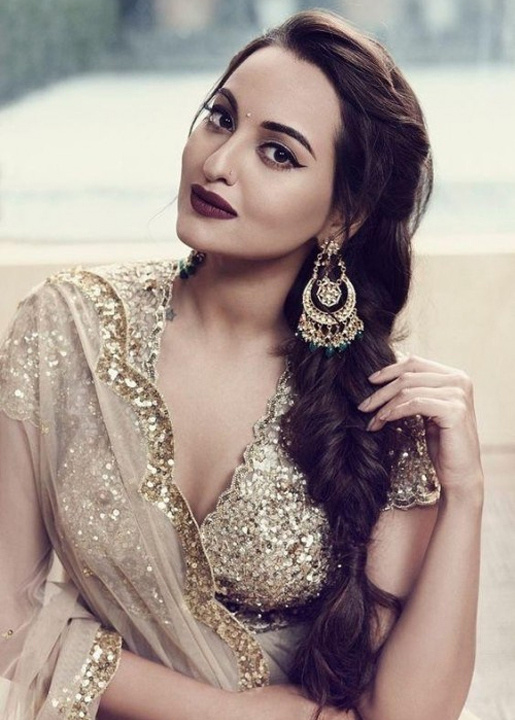 Deciding how to wear your hair can be a tough task. We feel you!
Perhaps the following ideas could help you.
If you've been blessed by the 'great gods of locks' and have good hair, then experiment with a few different styles of braids, buns or even curls and waves.  A side fishtail braid with a mermaid lehenga would look absolutely pretty.
Braids can save a #BadHairDay too. You can try a messy bun for a playful look. Avoid dramatic heavy puff styles as they can make a person look older. Accessorise less if your blouse is heavily detailed.
We think you've learnt all that you needed to about this wedding favourite. So what are you waiting for?
Now that you know how to wear lehenga saree, go slay it sister!
Image credits: The copyrights of the images used in this post belong to their respective owners. The credits where known are specified under the image - if you're the owner of an image and want it removed, please contact us.