Indian bridal hairstyles are trending because we're just a few months away from the wedding season! For different hairstyles there would definitely be an apt Indian bridal hairstyle that you must know about, to look your best on your wedding day!
There are so many varieties and options for the Indian bridal hairstyles that one may get confused. And that is exactly why we have come up with some of the handpicked Indian bridal hairstyles that will help you to create a heavenly bridal look in Indian style. So let's get started.
Indian bridal hairstyles that you'll love to try for your big day!
For all the brides to be, choosing a suitable hairstyle may become a tedious task but here we have some pretty Indian bridal hairstyles to complete your look and make you a picture perfect bride! From picking a hairstyle that'll suit your face cut to finding out everything about the Indian bridal hairstyles, we've got everything for you.
Bengali bridal hairstyle- look like a bong beauty in your hairdo!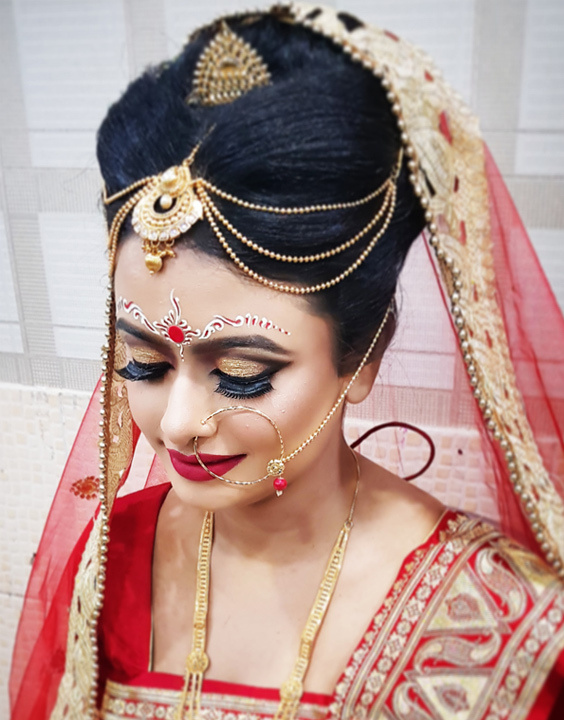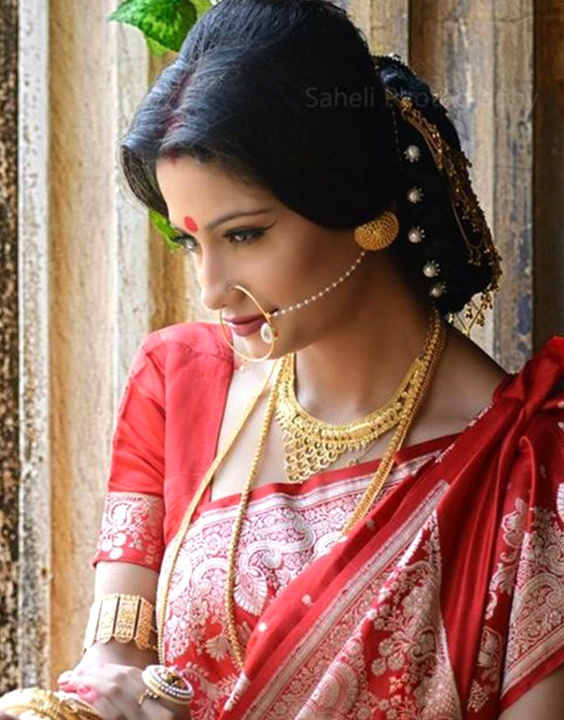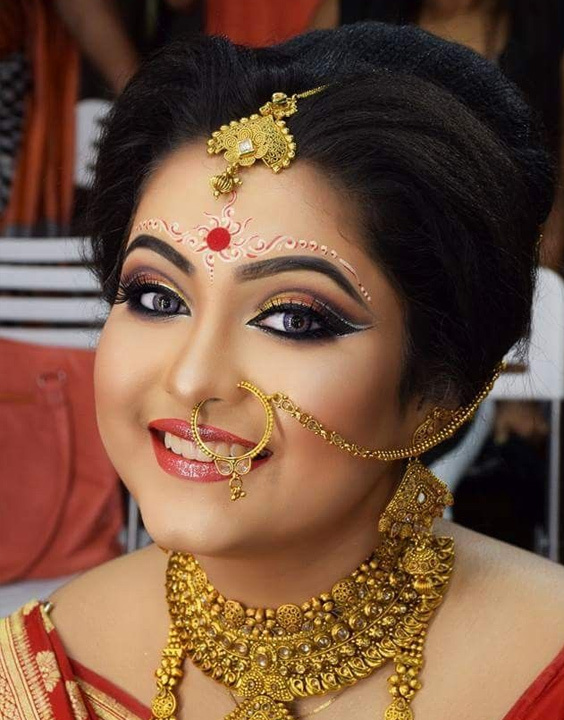 Though the Bengali brides cover their hair and the head under a dupatta on the day of their wedding, we would still like to give you some refreshing Bengali bridal hairstyle ideas that you can flaunt.
Also, to make it look grand, you can add a maang tikka and decorative pins. The second Bengali bridal hairstyle that you can try out is the beautiful embellished braid. Decorated with flowers and hair accessories, these braided Bengali wedding hairstyles look very elegant and classy on women with long hair. Another Bengali wedding hairstyle to look out for is the gorgeous updos. This hairstyle is created with a half updo and half curly drops. You can also accessorize it with intricate jewellery and flowers.
South Indian bridal hairstyles- Wanna be a Southern siren?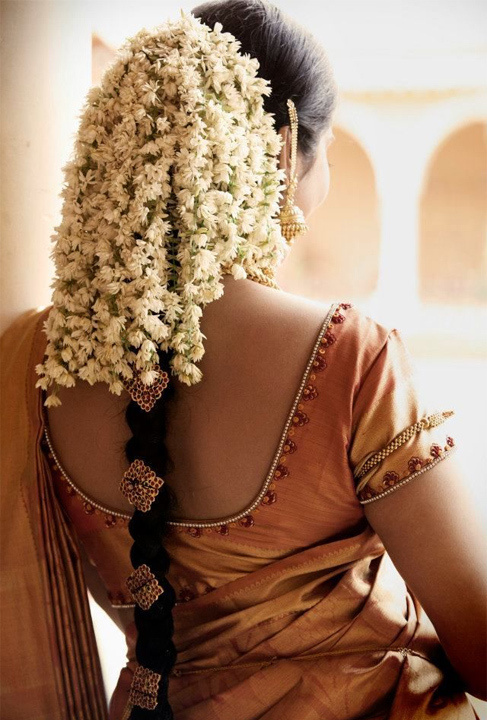 Here are some exquisite south Indian bridal hairstyle ideas that can enhance the South Indian brides' look. The layered rings of flowers for long silky hair that includes a long braid with rings of flowers wrapped around the hair all over and accessorized with gold.
This voluminous braid includes lots and lots of flowers and gold accessories and also complies with the south Indian bridal hairstyles traditions. Another bridal hairstyle for south Indian wedding that looks totally fab is the straight hair with puff hairstyle. This trend continues massively for weddings with long straight hair, which grazes delicately over the shoulders and suits just about everyone. This Indian bridal hairstyle can also be done for south Indian bridal hairstyles for short hair.
Also, the high puff with bun hairstyle is one hairstyle that gives you a polished and a classy look without investing too much time. This hairstyle can be donned with a sari or a lehenga and looks gorgeous and is immensely popular among the tamil wedding hairstyles and the bridal hairstyles for south Indian weddings.
Punjabi bridal hairstyles- Pretty little hair secrets from Punjab!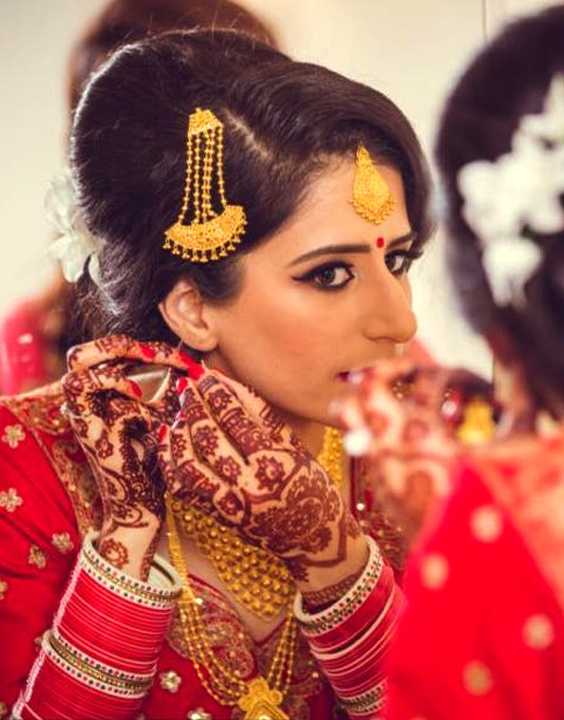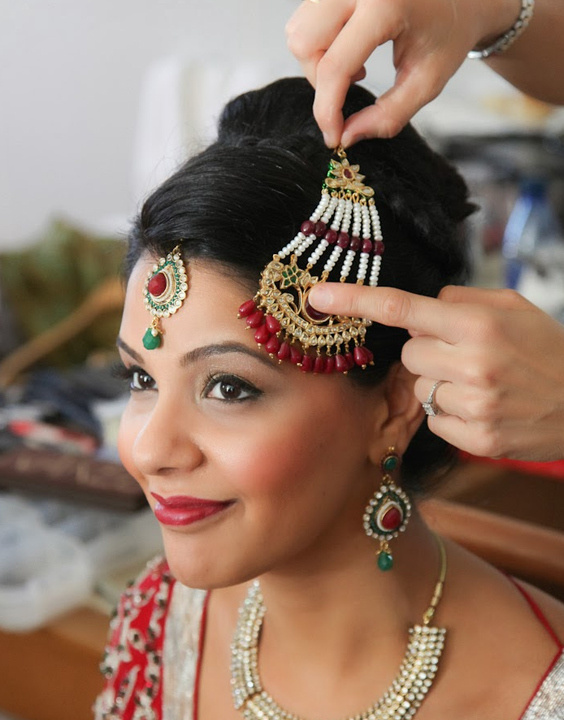 Punjabi bridal hairstyle has grown with time as there are a number of variations available today such as worn up, down, formal, or even relaxed. So the first Punjabi bridal hairstyle that we're going to tell you is the middle parted waves bridal hairstyle.
Since mostly all Punjabi girls have gorgeous lustrous locks, we think it would be best to flaunt them off on your special day. With a simple maang tikka and veil, loose long hair can look very appropriate for your wedding day.
The maang tika can also be balanced delicately on the side of the hair as well. You can also opt for the luscious long hair done up in a beautiful braid.
Another great option for Punjabi wedding hairstyles or the Punjabi bridal hairstyles is the dramatic center-parted bun. This opulent donut bun adds a graceful twist to the basic donut bun. Complete the look with a basic maang tikka and you're good to go.
Ambada hairstyle for wedding- hair ornamentation should be your thing!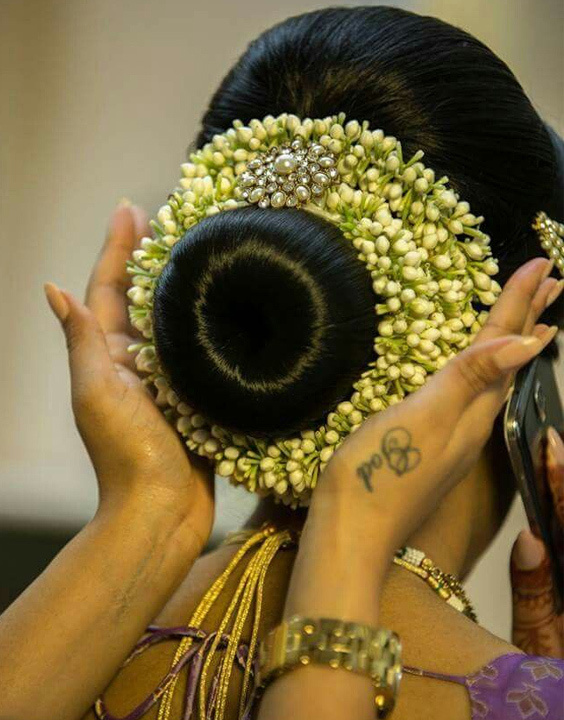 Ambada hairstyle looks beautiful on brides. The ambada hair jewellery will give you that picture perfect traditional Indian look that is minimalist and gorgeous at the same time. If you are looking for simple hairstyles for indian weddings to do yourself then the ambada judas are the best option for you. You can match your juda with a flower wreath with the ambada pattern perfectly.
You can also go for a nice minimalist variation with a small mandala jewelry on the juda hairstyle. Another great ambada hairstyle look is with the chained ambada that goes all around your juda and sometimes also on the sides of your hairdo.
The ambada hairstyle is basically a juda-inspired hairstyle and it is one of the prettiest indian bridal hairstyles with flowers! Try mogra flowers combined with amabada jewelry for the best marriage hairstyle ever.
Indian Bridal Hairstyles for different hair types- Know what you'll suit you!
Indian bridal hairstyles for thin hair- Thin hair don't care!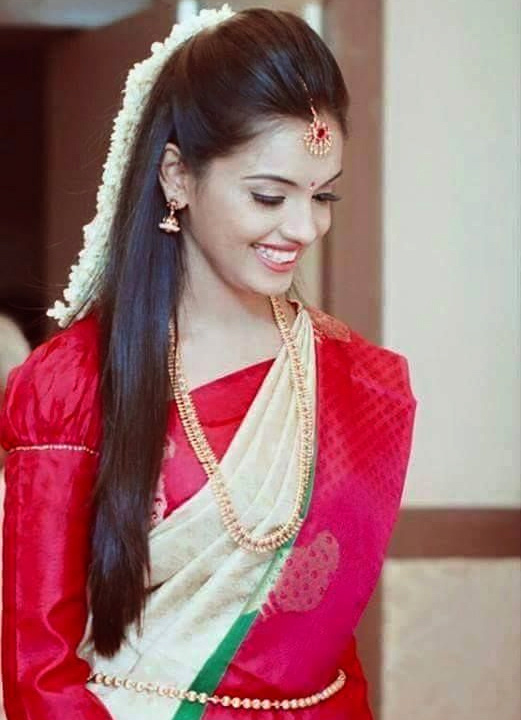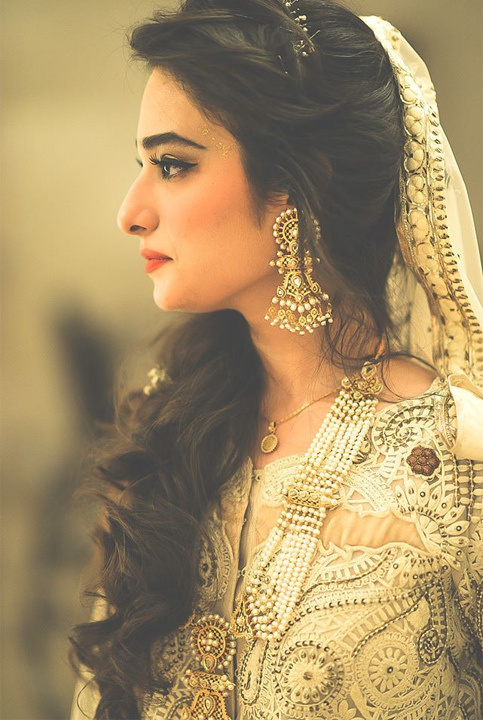 Source- amazonaws

 

Source- amazonaws

 
What should you do when your hair is thinning and you've still got to be well turned out on your big day!? It's quite simple! All you need is volume.
You could create a parting and use a hair ornament that will shift the attention from your hair to the accessory. The hair on the sides could be coiled up for volume, and stray locks could fall loosely on your shoulders. That would look pretty effective and your hair woes would vanish in a poof!
Anushka Sharma's marriage hairstyle is a great lesson on how to take amp your hairstyle with ambada jewelry and mogra flowers.
Indian bridal hairstyles for long hair- Length is strength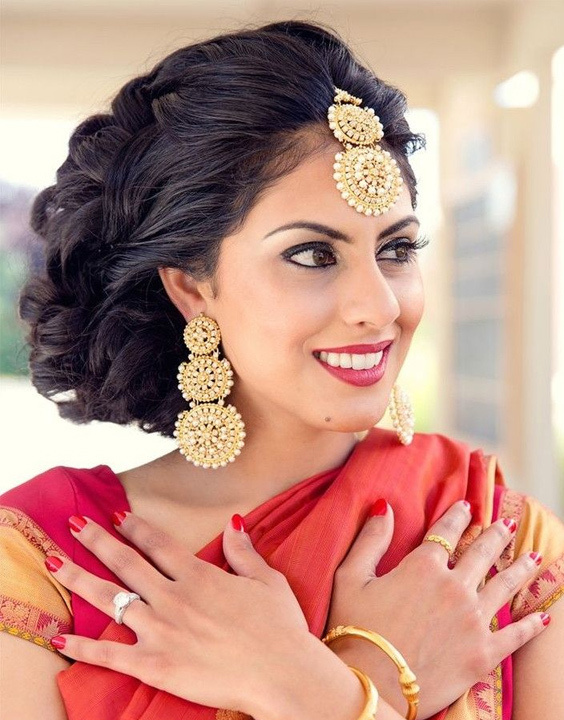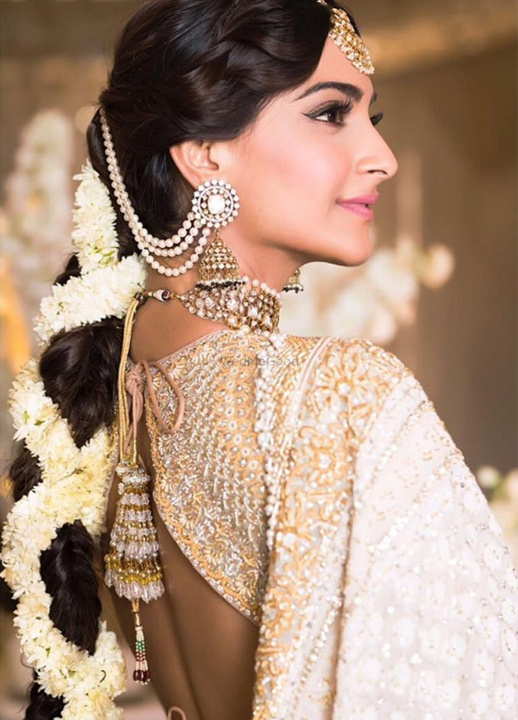 Long hair can be styled in so many creative ways! If you're one of the lucky few souls who can try out variations with your long mane, you should count your blessings.
Play around the plaits! Yes, you heard it right! Long hair means that you have a free reign to experiment with braids! Go all out and coil up your long hair in any way you want. Sonam's Kapoor's marriage hairstyle was so elegant! Flowers were wrapped around her braid and she wore eye-catching accessories to add to the beauty of her mane.
Indian bridal hairstyles for short hair- Short and hot!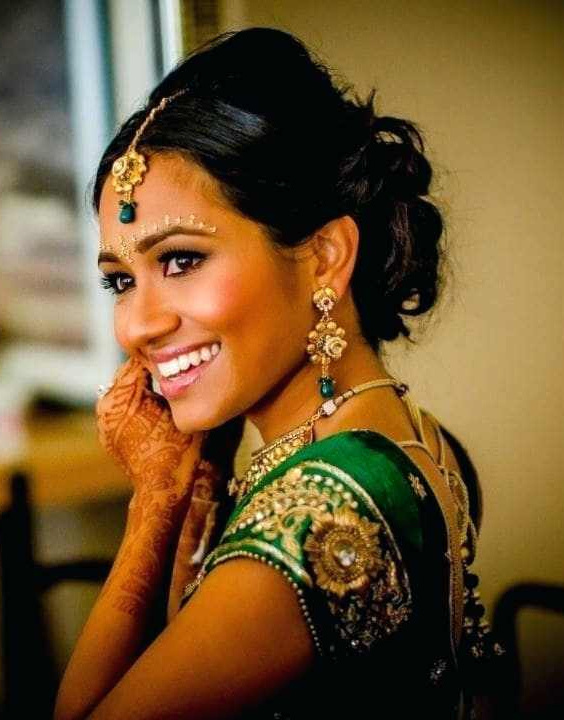 Source- eeyuva

 

Source- eeyuva

 
Short hair can be coiled up on the sides of the head and can be styled loosely tied as a bun or pinned to the side. Kriti Sanon and Sonam Kapoor perfectly describe how to pull off this look. Try a middle parting, and then bunch up your hair behind.
The hair at the back can be plaited and pinned up at the back as well. Try it out!
Indian bridal hairstyles for curly hair- twirl your curls!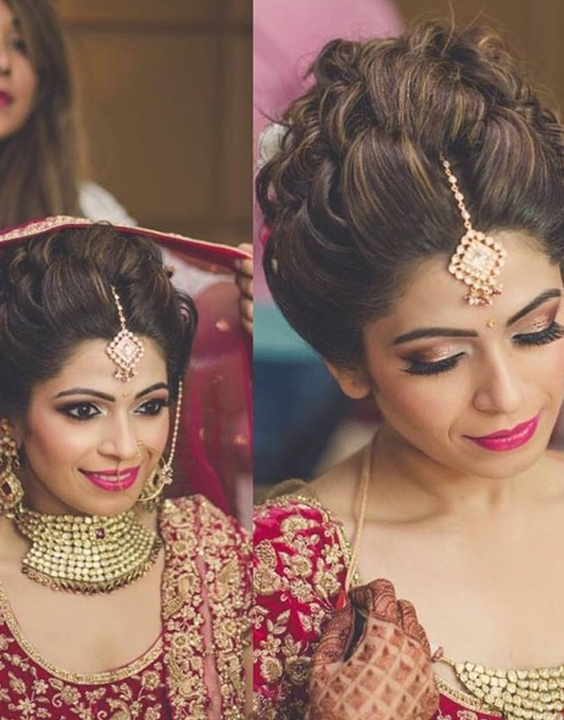 In today's world, curly hair has totally become the ''it'' hair for all the girls. Everyone's ditching that poker straight hair for the lovely curls. So here are some ideas for Indian bridal hairstyles for curly hair that you can sport on your wedding day. So, the first one that we have is the beehive floral chignon – very retro and very easy to achieve. Set it up with some pins and add some flowers to complete the look.
Some more hairstyles that you can try are the ambada hairstyle for wedding, loose romantic braids, dutch braided bun, a gajra covered bun, side-swept curls and more. You could also create a lot of volume with your curls at the top of your hair. The parting in between could be decorated with a maang tika.
Bridal Hairstyles for Indian Wedding- Super tips for the wedding belle!
Simple hairstyle for Indian wedding- Simplicity is always stylish!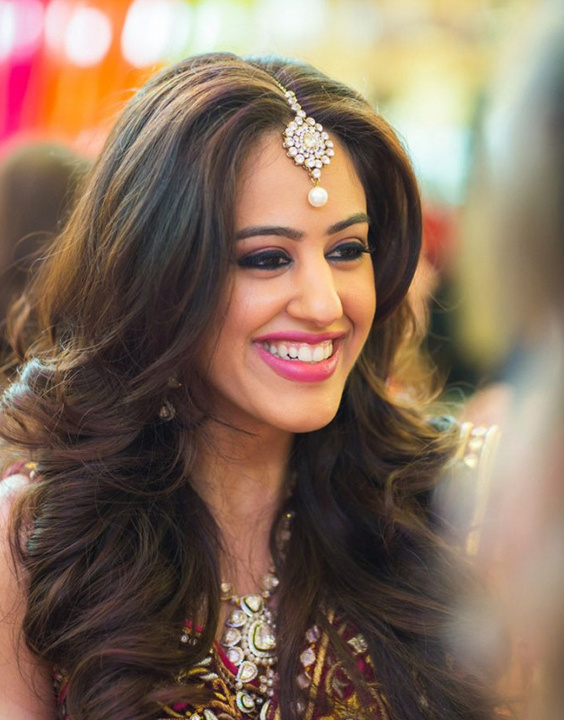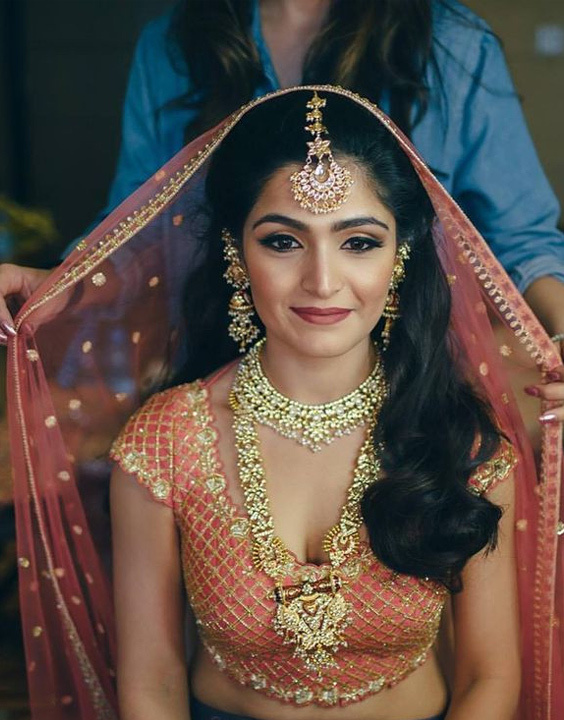 If you're the type of bride who likes to keep it traditional and elegant without going too dramatic, here are some few Indian bridal hairstyles ideas for you. The bumped up curls where your hair falls down freely and you just need a bumpit at the crown of your head.
A simple floral braid and a rosy ringlet bun would also look very subtle and pretty on your wedding attire. You can also cover your parted or combed back bun with gajras or roses or ambada hairstyle which looks very chic and wedding perfect. Some more simple hairstyle for indian wedding party that you can opt for include the poker straight hair, fishtail and basic braids, half updos and also simply a ponytail with some accessories.
Indian Bridal Bun Hairstyles- Buns can be fun!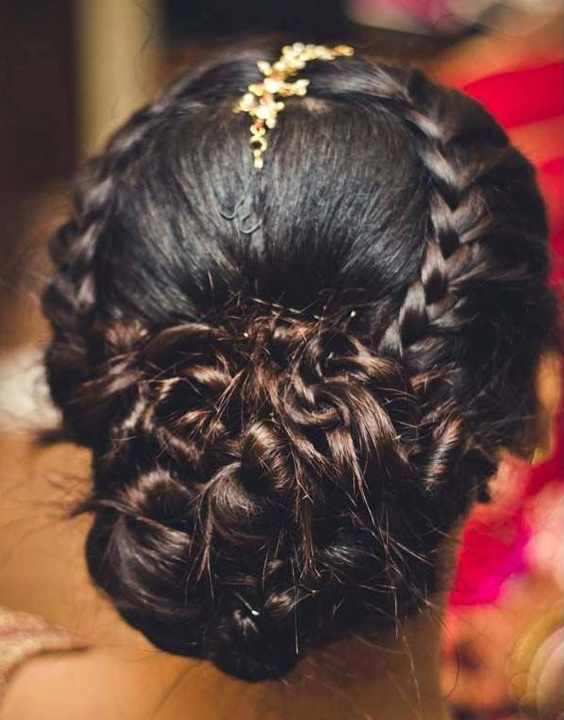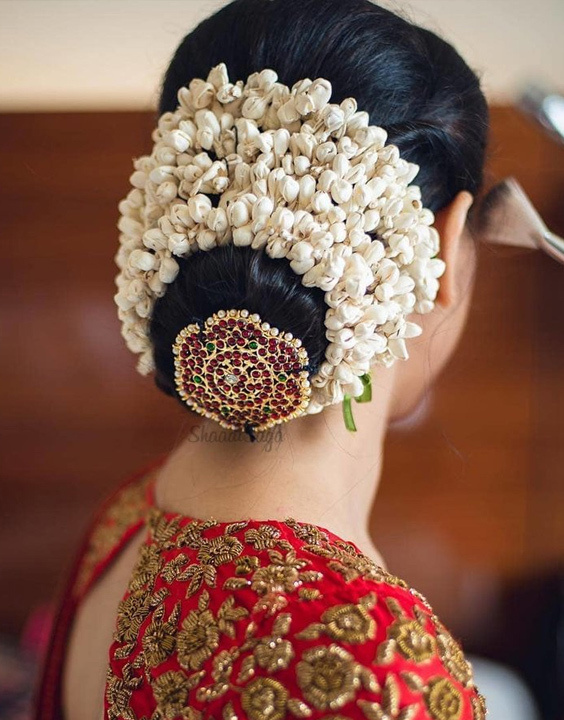 The bun or the juda is not an unusual hairstyle especially when we're talking indian hairstyles. Roll up your hair at the back and make a stylish bun. You could add ornaments and flowers to this hairdo to make it more eye-catching!
Super-cool hairstyles for Indian wedding reception- keep shining!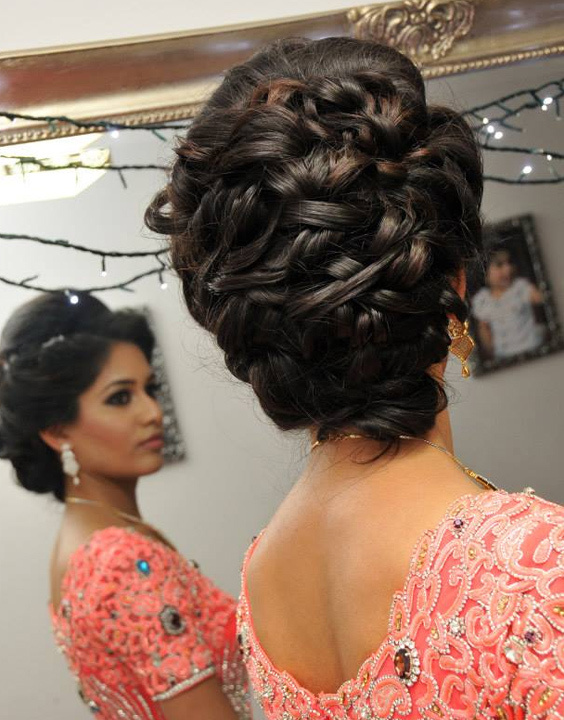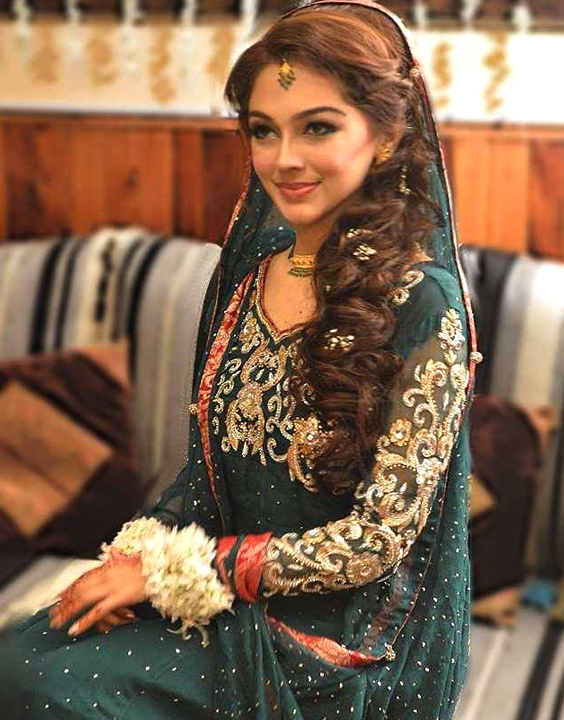 If you're thinking of making a knock-out hairstyle for wedding reception, you need to shine as much as you did at the wedding! Here is where you can dress down your act a bit though.Probably a simple maang tika and your hair coiled up at the back will do the trick.
Few studs as ornamentation on your bun might work. Keep it simpler than your bridal look, though. For something that's between a braid and a bun, you can keep your waves loose and on one side. That might be the best hairstyle for marriage reception.
Image credits: The copyrights of the images used in this post belong to their respective owners. The credits where known are specified under the image - if you're the owner of an image and want it removed, please contact us.