Learning how to style  scarf for men ? You may be new to this, but it won't take you long to figure how scarf for men can be masculine in every way and discover the  scarf style  and various ways to wear it to never go out of style!
When wrapped and knotted in the right way, a scarf can add an enormous lot of charm and dimension to your entire ensemble. Though best suited for the winter season, scarf for men can be equally worn during rainy and windy weather as well. Simply a rectangular piece of fabric, the majority of men are baffled as to how to wear a scarf. If you have bought a new scarf home and are completely unaware of the latest scarf style, then you definitely need to go through this blog. We have brought together a guide of different scarf styles step by step for you to ace the look.
How To Wear A Scarf – Step By Step Guide For Men.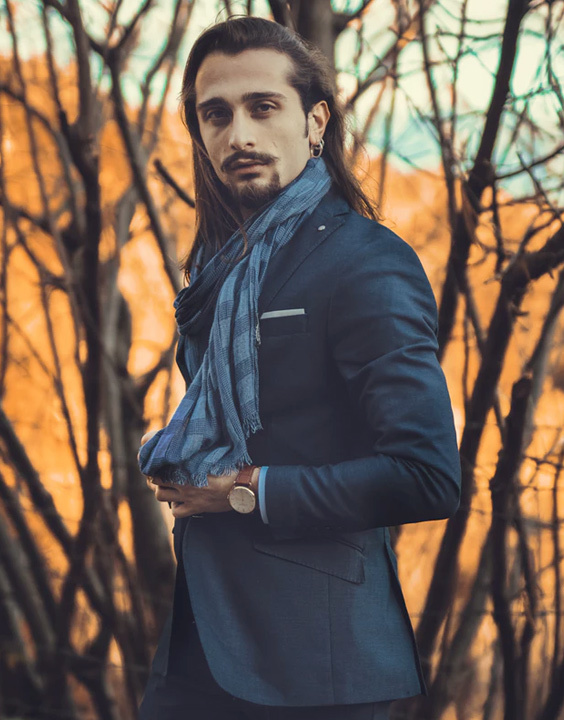 Scarves are more than just a mere fashion accessory. There are different ways to wear a scarf due to which tying a scarf for men can grow a bit trickier. However, the fact that is of importance is scarves can add a sophisticated look to all stylish suit jackets. Here are a few simple tips to choose the right mens scarf styles.
Play with Contrast – Rather than walking with the same scarf over and over as you walk out of your home; keep an eye out for striking combinations.
Layering It Up – Bulkier scarves go with sturdier jackets while silk and cotton scarves are meant for the lighter versions. Never wear a heavy winter scarf over your T-shirt indoors.
The Right Size – Always choose a scarf that doesn't swallow you up. Go for a medium sized scarf and stay away from the big, and small sized ones.
Skip It When Unnecessary – As a man, you should know when and when not to wear a scarf. If you have chosen a perfectly-fitting turtleneck and button-up jacket for the day, then you won't need a scarf to add into it. Scarves are accessories, not your necessity.
Ways To Wear A Scarf – Learning how to wear a scarf men is as important as buying them. Try to learn a few different loops. A casual loop and wrap-and-tuck loops are the very basic that you should definitely know.
Different Ways To Wear A Scarf.
Scarf styles have been evolving ever since the advent of scarves. Thus, there have been many ways to wear a scarf rather than simply looping it around your neck. Additionally, scarves aren't just worn around the neck anymore. They could also be wound around your head or face. No matter how you do it, you ought to learn some basic looping techniques before trying a hand at different scarf styles.
How To Wear Scarf On Neck? Stay classy
Scarves aren't just a woman's thing anymore. Hundreds of years ago, during the age of open cockpits, pilots used to wear a silk scarf around their neck to keep themselves warm and also to prevent chaffing. So what are the different neck scarf mens styles? Before we continue, let us talk about what is a mens neck scarf called. Though scarves used to cover the lower part of face is usually called a muffler scarf, it can be colloquially called the neck-wrap.
Here is the scarf style step by step guide.  
a) The City Slicker.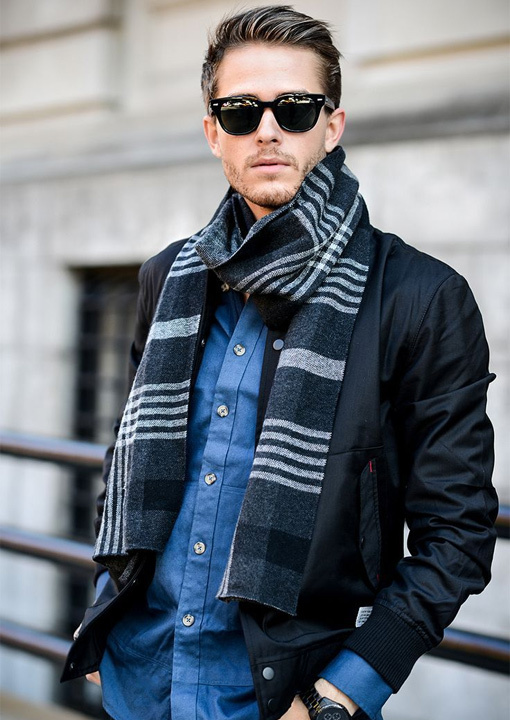 For men who are confused about how to wear scarf on neck, this is a simple and also a classical way of keeping your scarf neat and fuss-free. Fold the scarf in half lengthwise, and place it around your neck. Pull the loose ends through the loop created by the fold and place in neatly over your torso. This knot adds a neat, put-together edge to your attire, and is amble to wear when on the go.
b) The Ivy-Leaguer.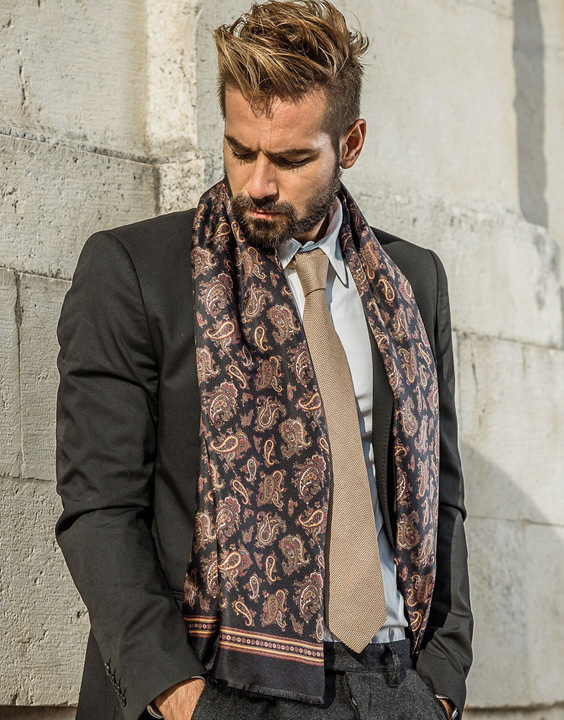 If you are wondering about how to wear a scarf with a suit, then this is your best scarf style option for a formal function. In that case, you could either drape the scarf over your shoulder or tuck it into the buttoned blazer. However, make sure that your scarf doesn't extend beyond the bottom of your jacket, as mens neck scarf with suit is a difficult thing to pair. Additionally, when you are wearing a topcoat, never tuck your scarf under the lapels. Try tucking the scarf inside or opt for other neck scarf styles.
How To Wear Head Scarf For Men and yet be in style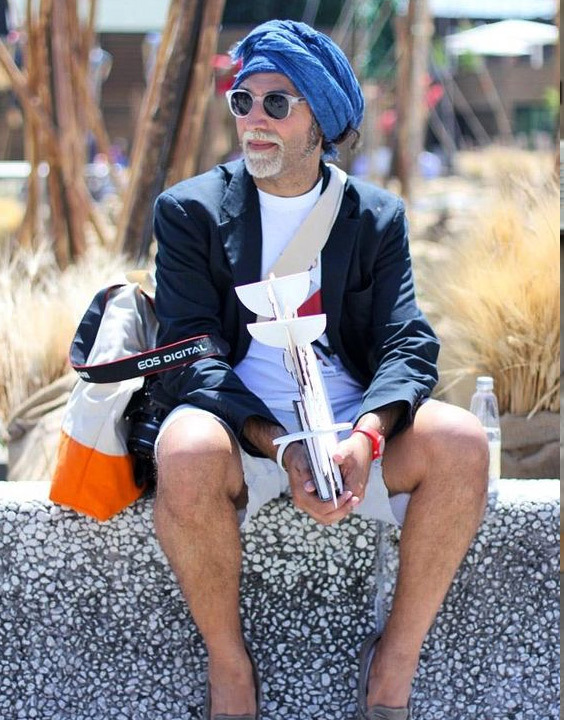 Scarf for men has evolved from neck accessory to a head accessory too. Nevertheless, men aren't actually aware of the head scarf styles, and tend to mess up the head wrap mens fashion. Typically known as mens head wrap, head scarf styles go well with leather jackets, winter boots, jeans, and what not. However, how do you wrap a mens head scarf?
Place the head scarf on the base of your head, and pull the ends to the front, turning it around. Twist the two loose ends, then go all the way back, and tie it. Tuck any remaining loose ends into the knot and adjust it to your liking. There you have your perfect style with a head scarf for men.
How To Cover Face With Scarf – Clever fashion moves!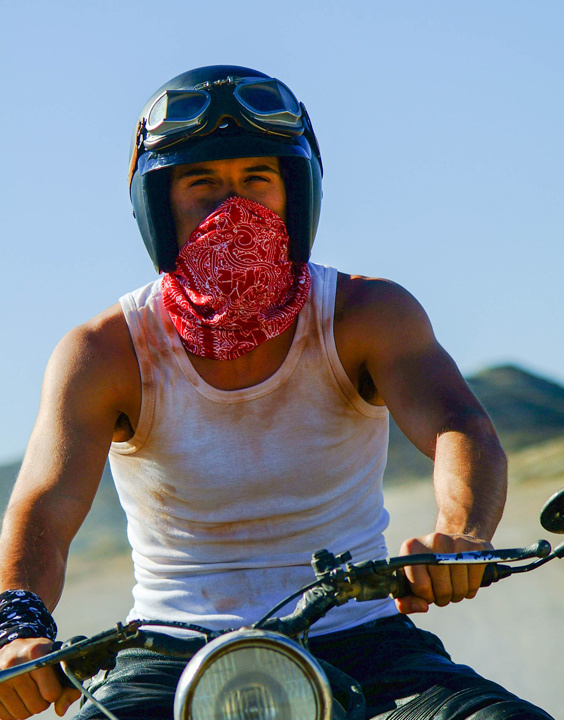 Covering your face with a scarf can be a great way to avoid the dust and dirt during the summer season. Moreover, it adds a classy look to the attire. Men could use a shemagh – a traditional Middle Eastern scarf to cover their face. Here is how to cover face with scarf step by step.
Firstly, fold the shemagh into a triangle and place it over your forehead. Place the folded edge somewhere between your hairline and eyebrows. Grab the right side and pull it under your chin. With the free hand, grab the left side and pull it over your face, covering your nose and mouth. Tie both the ends at the back of your head and make adjustments as needed. This is a simple method as how to cover face with scarf in summer. Now that we have seen how to wear scarf on head and face, it is time to move forward to muffler for men.
How To Wear Muffler and not look like a fool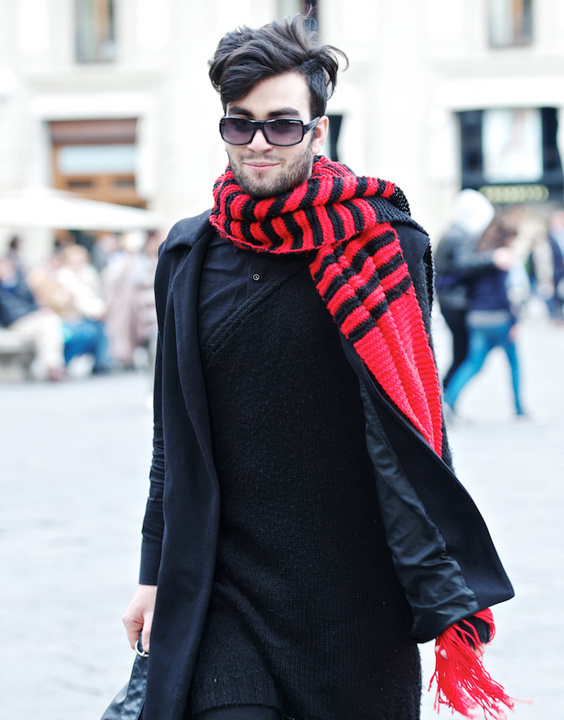 Mens muffler styles are easy to master and it mainly depends on the type of mens muffler that you have at hand. But you might be wondering how to wear a muffler? Long and wide scarves can be wrapped once around your neck with the two loose ends falling loosely down either side of your shoulder. Whereas, scarves that are shorter in width can be wrapped around your face and neck a couple of times. Tie the ends or let it loose, it is your preference. Additionally, the different muffler styles help make even winter muffler look stylish.
Scarf for men is a great way to add an identity to your attire. You won't always have to burn your pockets to grab a good-looking, quality scarf. Thus, they could be seen as an accessory made for every man's wardrobe. If you love scarves, and if you have a notion of how to wear it, then close your eyes and buy it.
Image credits: The copyrights of the images used in this post belong to their respective owners. The credits where known are specified under the image - if you're the owner of an image and want it removed, please contact us.