Are you a devoted fan of Kangana Ranaut fashion looks? This article teach you a little more about the inimitable Kangana Ranaut style, and you'll desire to be as bold and experimental as her!
Been admiring the fashion sense of the bold Bollywood actress, Kangana Ranaut since her debut in 2006 and especially Kangana Ranaut in Fashion? Here we have put together seven of the famous Kangana Ranaut styles that you can look up to for different occasions.
Dauntless, bold, trending and drop-dead gorgeous are the words which come to mind when we think about one of the leading Bollywood ladies. The style looks about Kangana Ranaut have always been on point ever since her debut in the film Gangster. You give her crop tops, sheer outfits, traditional saree or boldly styled gown; she has always been inclined towards the experimental side and has created her own fashion sense. The Kangana Ranaut fashion, which speaks volumes about her experiments, can be seen on her page.
About Kangana Ranaut and her bold fashion moves!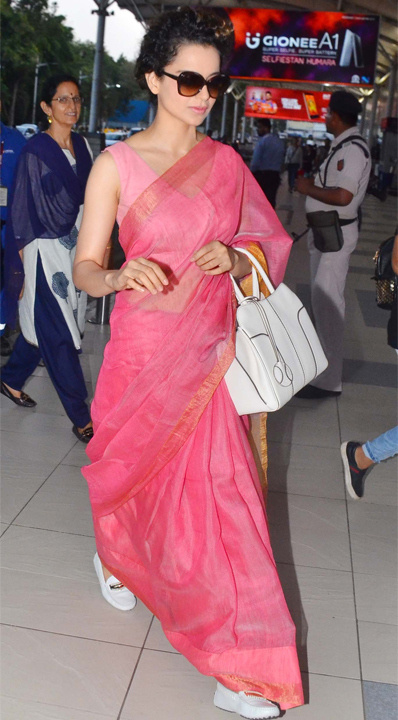 This kick ass woman has come a long way ever since she was a newbie in the Bollywood world. Her power-packed performance in all her films gained as much mileage as her confidence driven style look, which was motivational for all. The main attraction of Kangana Ranaut fashion is that she creates her own individual style look without sticking to the ongoing trend and that is well seen in Kangana Ranaut Instagram pictures. If you want to look like a badass woman, don a bun like a boss or look graceful in an Indian attire, the Kangana Ranaut fashion can inspire you.
Kangana Ranaut fashion statement – Do it like the diva!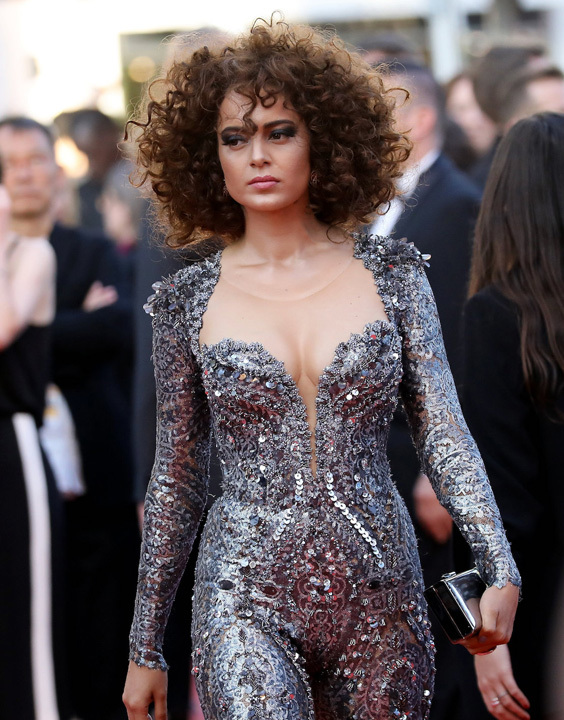 Inspired by the old Hollywood glamour world, Kangana Ranaut fashion style is a mix of vintage looks and hairstyle with winged eyeliner which other Bollywood actress may not try to play safe.
All the pictures on Kangana Ranaut Instagram showcase her free-spirit attitude towards her style look. Kangana Ranaut fashion in casual dresses in Gangster suited her character and she carried it with panache. Showcasing her charismatic personality, her character in Life In A Metro film was well designed with Kangana in saree as well as Kangana Ranaut in jeans.
Her style looks in Fashion was most talked about, along with Kangana Ranaut in fashion show, walking the ramp with not just the assertive attitude but in a bold gown too. Endless experiments with satin, shimmer and color blocks in Kangana Ranaut dress were admired during and after the films like Once Upon A Time In Mumbai and Tanu Weds Manu. The diva style look continued after the success of Kangana Ranaut in Queen addressing her as the 'Queen Kangana' of Bollywood.  
Whether it's Kangana Ranaut in jeans, Kangana in saree or as celebrity airport style, the 'Queen Kangana' has nailed it all. If you are a Fashionista and can try anything offbeat then you can look up to these style looks of Kangana Ranaut Fashion.
Kangana Ranaut Instagram – you can not miss following!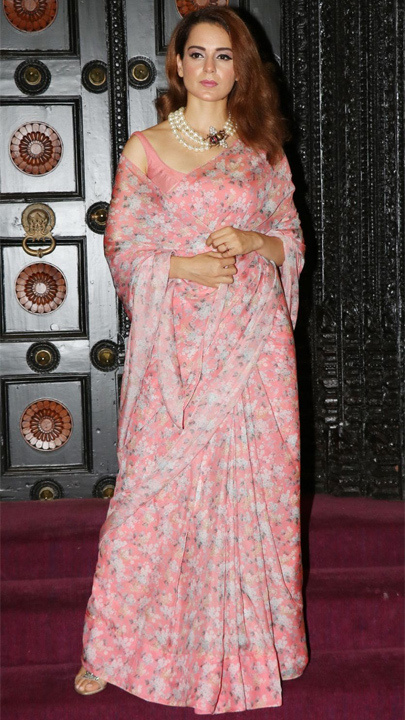 The first glance of Kangana Ranaut Instagram page will make you believe in her common features that she loves. The vintage hairstyle, nude or dark colored lips and stylish outfit paired with the free-spirited attitude.  During the special interview about mysticism, donning the traditional saree with choker set, Kangana Ranaut saree look made her appearance perfect. If you missed the 'Kangana queen' look in the red gown for Vogue Beauty Awards 2018, you are truly missing out on something. With grace personified, Kangana Ranaut style truly makes her the beauty of the year.
Kangana In Saree – Stylish Seductress!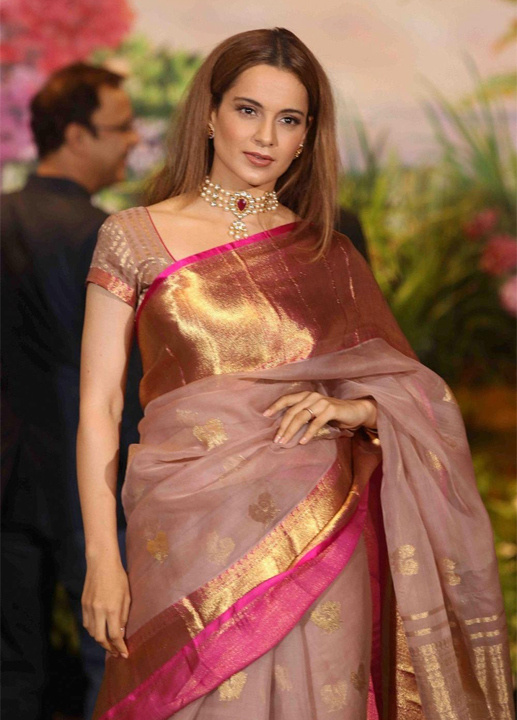 As much as we love Kangana Ranaut Instagram pictures, the curly locks queen Kangana Ranaut, loves donning a saree. She has taken the six-yards to not just weddings but to interviews, formal events and even as airport dressing style.
The Kangana saree look in Sabyasachi Mukherjee's black elegant saree ensemble at the Cannes streets was loved by many like never before. She wore the beautiful kanjeevaram saree at Sonam Kapoor's reception and made heads turn.
Guess what? Kangna Ranaut in saree in her pink romantic handloom piece gave her a flawless look for Alia's film, Raazi's screening. Before you feel it's done, Kangana Ranaut airport style also included grey handwoven linen saree from Anavila and made her look super-stylish.
Kangana Ranaut in jeans – comfort and style go hand in hand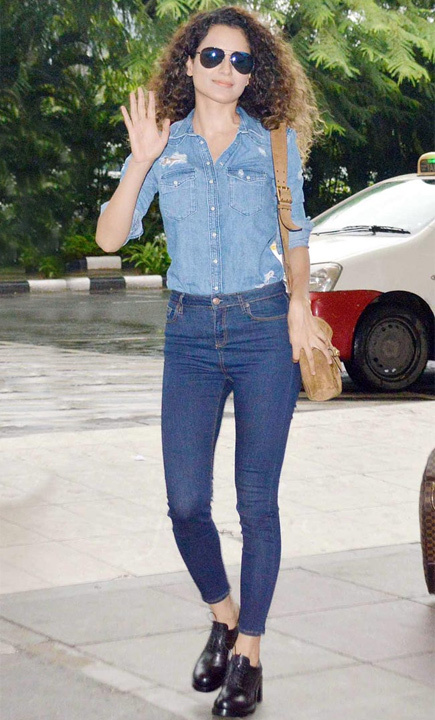 Kangana Ranaut fashion in jeans means comfort and style goes hand in hand. Whether pairing it with a checked shirt, a cool slogan Zara T-shirt or a plain t-shirt with a military print jacket, Kangana Ranaut in jeans proves that she can never go wrong with her style and her curly hair always adds that extra edge to her looks. If you are wondering how to slay a crop top with jeans, Kangana Ranaut in jeans surely knows how to nail the look for a casual evening.
Kangana Ranaut in queen- Behold our quirky queen!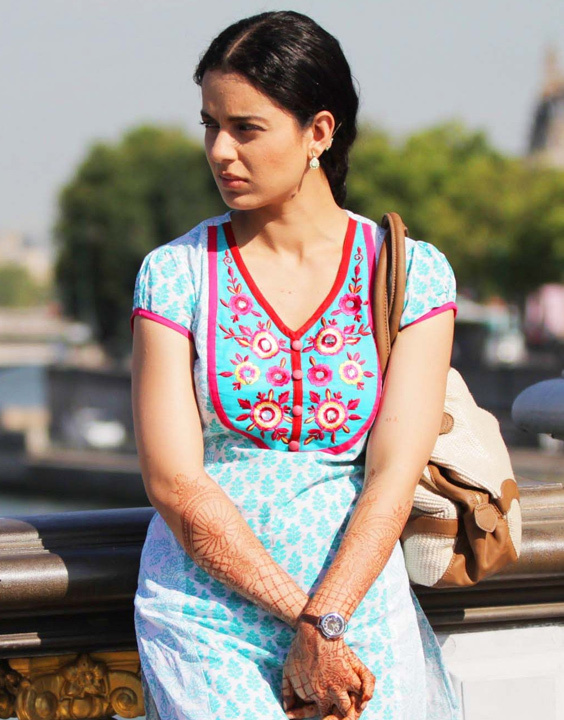 As unique and fresh the movie Queen was, the style look of Kangana Ranaut in Queen was of the same kind. Queen Kangana Ranaut style was not just quirky but fun too. The pastel Salwar Kameez paired with sweaters and her statement curly hair was the pretty start for queen Kangana. Kangana Ranaut in Queen was also seen wearing colorful Kurta, tops with jeans and the cute skirt-blouse combination making her look adorable. Continuing her bold look, Kangana donned a deep neck top with skinny jeans and pink pleated deep neck maxi dresses. Overall, she pulled off different looks all in one movie pretty well and one can replicate them all easily.
Kangana Ranaut airport style – Prepared for the flight!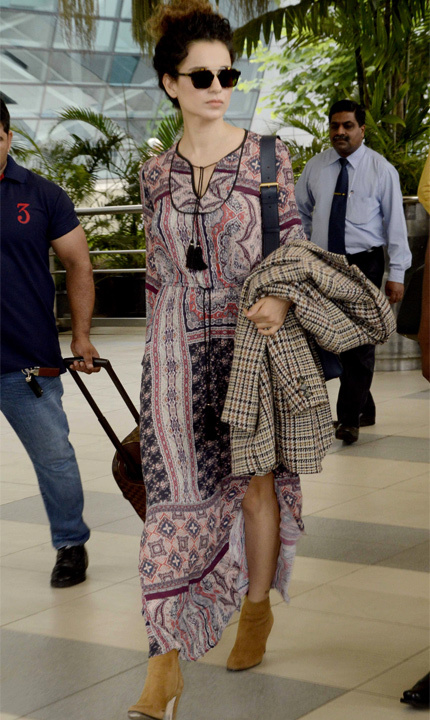 In every airport dressing style, Kangana Ranaut airport look proves that there is a chic, funky way to travel with comfort. Recently, the bold actress was spotted at the airport, wearing blue jeans paired with a bomber LV cropped jacket with patches and pins, which complimented her airport looks Bollywood is known for. One of the famous Kangana Ranaut airport looks is the black over-the-knee boots with the red Gucci backpack. She completely knows how to nail the badass airport looks. Kangana demonstrated that celebrity airport style is a must to notice as she paired a cool Zara T-shirt with the slogan 'less boyfriends more friends' with a pair of pantsuit which gave the Kangana Ranaut airport look attention from the shutterbugs.
Kangana Ranaut in fashion show-The astonishing showstopper!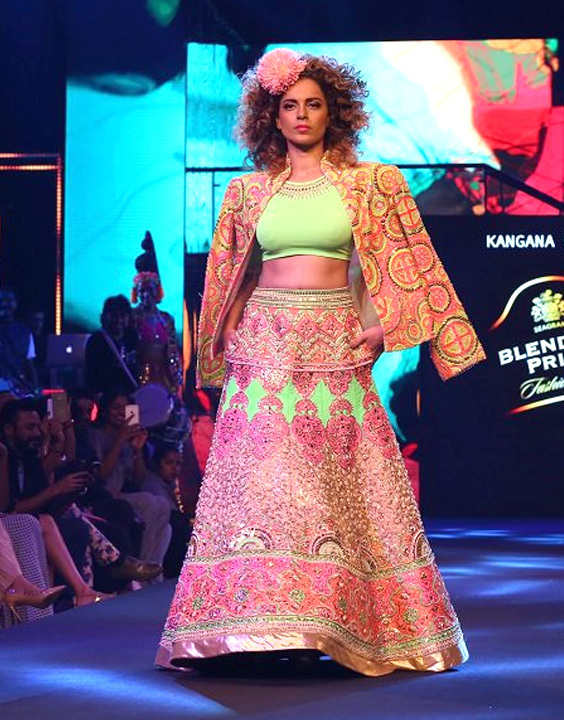 Let's admit since we saw Kangana Ranaut in fashion show in the film Fashion, we love her bold fearless avatar even in her airport looks. She has been seen many a times, scorching the ramp for different top-notch designers as a showstopper. Recently, wearing a cream shimmery outfit with floral embroidery in LFW2018, Kangana Ranaut in fashion show looked fabulous and forward at the same time. Once again, she reminded of her Fashion days with Kangana Ranaut style, which exuberates confidence with finesse.
Kangana Ranaut in Fashion-Headturner!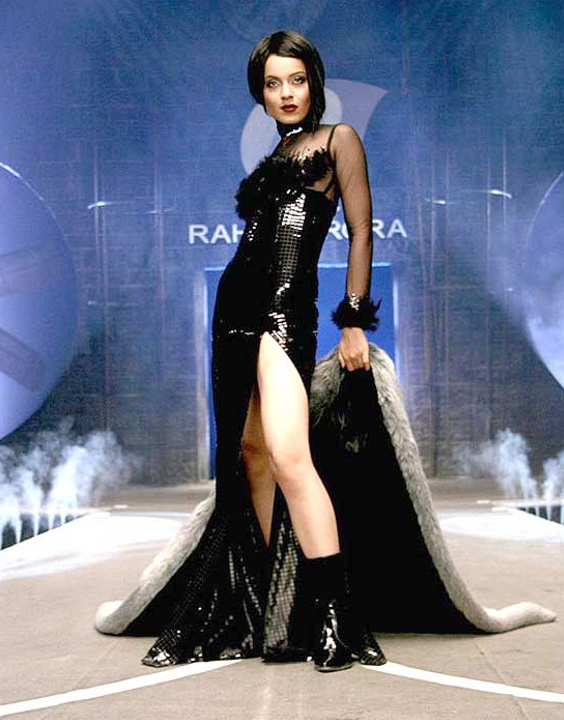 As the image of Kangana Ranaut in Fashion was to make the audience feel sympathetic, she was seen wearing short dresses with low necklines to portray the confident model look. Her 'Kangana Ranaut style' in those tight fitted dresses conveyed the same. Nailing every look as a queen, Kangana won the hearts of many. Overall, from the dashing diva appearance to a traditional dame, Kangana Ranaut in fashion experimented with everything.
With the years of experience, the Kangana Ranaut fashion has become absolutely unique, casual and appealing and the same can be seen in Kangna Ranaut Instagram pictures. Her style has always been the talk of the town.
Image credits: The copyrights of the images used in this post belong to their respective owners. The credits where known are specified under the image - if you're the owner of an image and want it removed, please contact us.