Introducing the latest addition to the Bewakoof Official merchandise Store – Shinchan! Now get your hands on this fun and absolutely entertaining character, loved by kids and adults like.
While back in our day we didn't have the jazz of Netflix and online streaming app, we still had our very own source of fun which came from Cartoons. They were an ocean of entertainment and adventure. Some still happen to be close to our hearts, one of them is Shin Chan. Introducing the all new addition to the Bewakoof Official Merchandise store – the fun, carefree and a little notorious kid! For all of you who loved this very unique cartoon character as a kid (and still do, don't worry your secret is safe with us), here's a treat. What's that saying? Why grow up! That's exactly we believe in.
It's time to indulge in an amazing and amusing range of the Shinchan Merchandise!t From quirky one liners like – "What Diet?"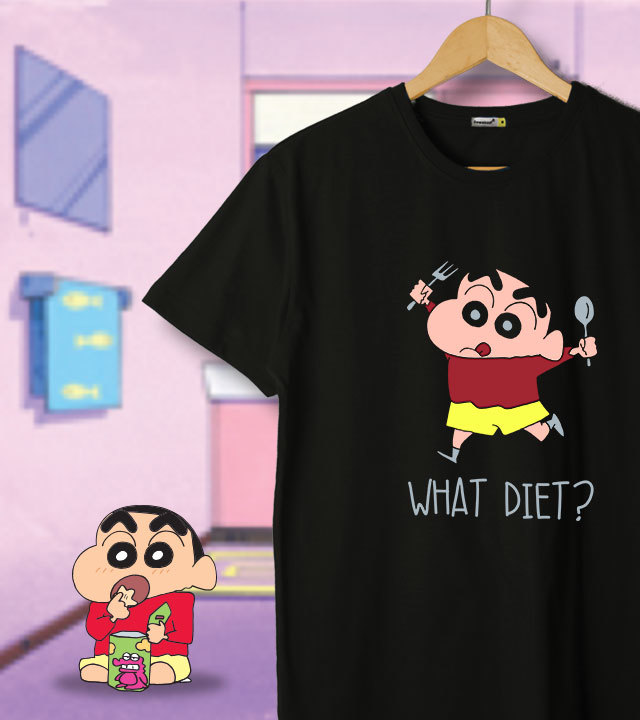 To sassy sayings like "Whassup Baby?"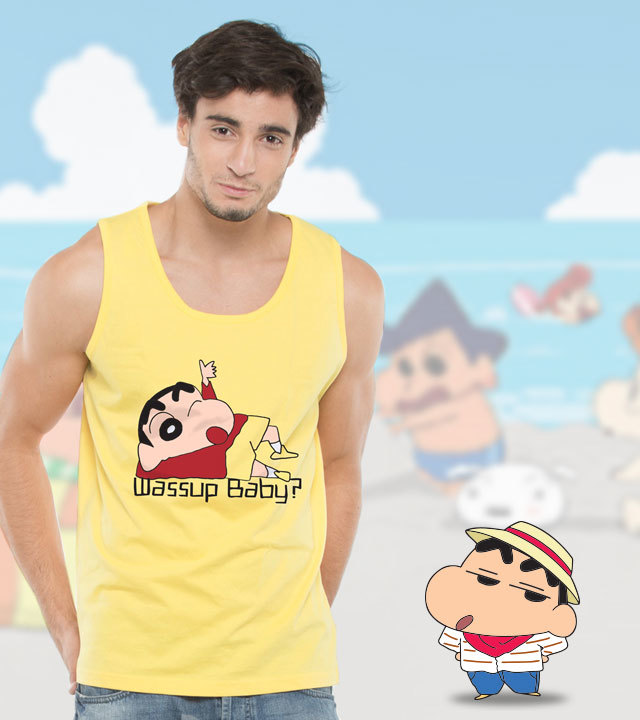 All these designs are available in all of your favourite topwear categories for both Men & Women! From vests, full-sleeves t-shirts and classic tees, to sweatshirts and boyfriend tees. They're also available in a selection of colours, from pristine whites, subtle greys to dazzling yellow and suave millennial pink!  
What's more is that these designs are all available in a wide range of sizes from S to XXXL, because fun and fashion go way beyond the bonds of scales and measures. These will go great for all of your casual adventures, from a cool house party to gamenight with your gang, sport your fandom with these.You can pair these with joggers, denim and even shorts!
These prints are high definition that really bring out the colours. What's more is that these prints are made from skin-friendly chemicals and are tested for being fade free. All of these products are made from 100% cotton, in the single jersey fabric,
which is airy, perspire friendly, so you can feel comfortable as your favorite character.
These will make for a great present for friends and family that you know adore this entertaining character. Get your dose of Shinchan's crazy fun and frolic and rock your fandom style with these.
And while you're at it take a look at some of the other amazing fandoms that we cater to in our Official Merchandise Store – Garfield Collection, our very own lazy and foodie cat who hates mondays as much as any of us, to our Mighty Thor with his latest stints, and last but not the least our favourite gang from Riverdale – Archie's, find them all right here!
Image credits: The copyrights of the images used in this post belong to their respective owners. The credits where known are specified under the image - if you're the owner of an image and want it removed, please contact us.