Sometimes, all you need is not one, but multiple glasses of your favorite drink, some great music and people to chatter nonstop with! This is where cocktail parties come in, giving you that much needed escape from your routine. How can you NOT R.S.V.P. to them? They're different from the usual parties you attend, for example, in the club or at someone's house, and are traditionally more of a formal affair. Although, now that the definition of partying has changed, people are much more chilled out at cocktail parties too, but that doesn't mean that there won't always be a dress code. Men cocktail dress is always premeditated by the host, and you want to make sure you comply! But even when there isn't a set dress code, you still don't want to wear your usual t-shirt and jeans to these, as they don't exactly seem 'classy'. 
This blog is supposed to answer all the questions you might have about cocktail party dress for men and how you can amp up your evening look. Playing by the rules at least a little is important here, so the best thing to do is take notes and follow in on them before getting dressed up and ready to go. 
What is cocktail attire for men?
Cocktail parties involve liquor and a lot of finger food! They're meant to either bring office employees together, or celebrate birthdays, anniversaries or other special occasions. In Indian culture and some western cultures, cocktail parties are also thrown right before the wedding in order to get both families to gel up with each other in a more relaxed and fun environment. They happen post sunset, and are definitely all not-to-miss especially if you're sociable by personality. What's better than a glass of whisky or vodka to get everyone talking and unwinding? 
Depending on the reason for the cocktail party and the nature of the same, the men cocktail dress can differ. Knowing this little detail and being conscious about it is the first step to nailing your #OOTN. Mostly though, you're bound to see people in three-piece suits and ties to complement their attire. This, while classy and sophisticated, is still not set in stone unless the host or hosts want it to be. 
Even then, there is always a way to not blend in and stand out! Experimentation is key, and the next thing is to either be trendy or derive inspiration from your own personality. No one can ignore a well-styled outfit!  
What color suit should I wear to a cocktail event?
When it comes to cocktail parties, black tie events are widely chosen. The guest list is intimate, so the hosts want the cocktail wear for men to be as sharp as possible, and also align with tradition. Black is a classic, but we think that sometimes, it can be very done to death. The hosts should probably keep the color option open so more people can truly make an effort to dress perfectly. 
If you're really wondering what color suit you should wear and there is no color code tying you to any one particular hue, then we say, be true to yourself and opt for whichever color feels more like 'you". It can be one from the neutral palette or one of the primary or secondary colors too. Really, the choices for men cocktail dress are endless but only if you want them to be!

 

A lot of great quality suits are up for grabs on any

fashion app

, and all of them are just a search away! So if you've got a cocktail party on your calendar, we suggest exploring your options right away. If you are the old school kind, forget everything we said about colors. Just blindly pick the classiest black and you'll be good to go! 
What shirt should I wear to a cocktail event? 
A well-fitted shirt is unbeatable, so if you're wondering which kind you should flaunt at a cocktail party, then this is a good starting point for you. Shirts are highly dependent on the kind of trousers you choose and vice versa, so while shopping for them on any platform for best online shopping in India, it is advisable to put them both together and aim to create combinations to understand the pairing better. 
For example, a crisp white shirt looks dashing with black pencil trousers, but also with navy blue slim fit chinos. A colorful shirt will always work best with a contrasting hue or a shade from the same family. 

If you go to see, the process of matching up and mixing may seem tedious but it really isn't. Once you get the hang of it, you'll be able to know better what you look good in and what you need to scrap out. 

Another thing that men often ignore is the buttons. You want them to look classy and not cheap, so if you're gonna go for a shirt with plastic buttons on it, make sure they're not low-quality. Just put some thought into your outfit and soon you'll have a men cocktail dress nailed! 
Do I need to wear a tuxedo jacket with cocktail attire? 
Seems like the word 'cocktail' is synonymous with formal dressing? Well, you're right but only partially. With old norms now evolving into new, more open ones, strict mens formal wear is no longer associated with cocktail attire. This means that the tuxedo you've been eyeing but really aren't sure about can be skipped entirely! Even that double-breasted blazer deserves a pass and instead, consider other unconventional jackets that are more informal but can easily be styled to look suave. 
If you ask us, some of our favorites have got to be bomber jackets, denim ones, and even slim-fit blazers. On the contrary, not wearing a jacket altogether is okay too, as long as you aren't showing up in vacay clothing or cocktail outfits that are too loud and tacky. We've all got to draw the line somewhere!
Standout Styles For Cocktail Parties
Social events are all about blending in yet standing out, and this balance can easily be achieved through clothing that turns the spotlight on you. Want to make sure people remember you even after the fun's over and they've headed home? The right men cocktail dress is exactly what you need to do to ensure this! Also, if you wanted Cupid to strike his arrow at this party, making a grand entry becomes a necessity. It could also be your senior you've been trying to impress at work and bag a promotion, or you may simply want yourself to appear distinguished. 
1) All Black, Everything!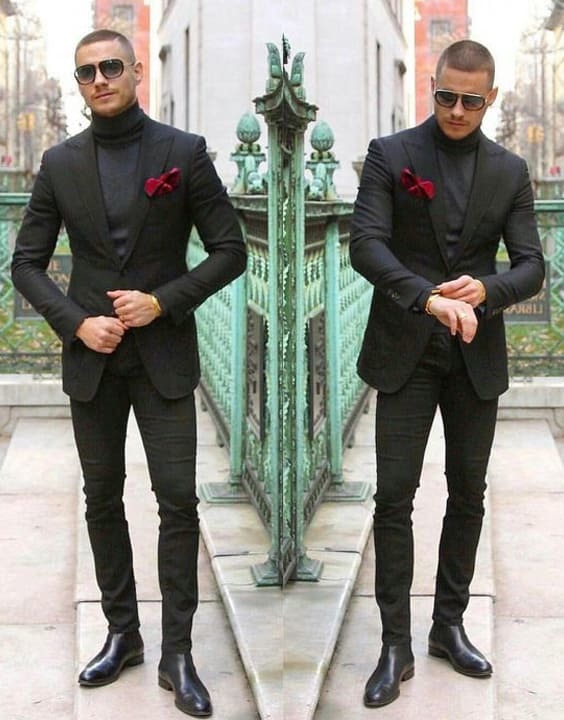 While talking about formal and semi-formal events, it's impossible not to mention black! Mens cocktail outfit ideas have always revolved around this one color in most cultures around the world. We're always in favor of solids but if you want to stir up some fun, prints, embroideries and other embellishments may be some things that will interest you. 
No matter what you choose though, nailing the fit should be your focus. For this, even if you have to get your outfit custom-made, don't shy away from it. Here are 3 styling ideas we absolutely worship and you can too.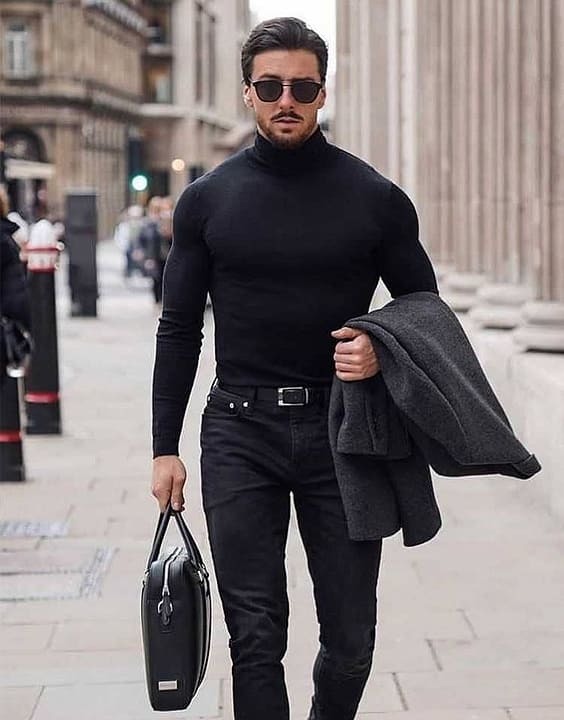 You just can't go wrong in a black button-down

mens shirts

and black pencil pants! To amp it up, nothing like a pair of brown dress shoes and a brown strap watch. It'll add just the right amount of another color.

When in doubt, always go for a turtleneck tee with slim-fit denims in a clean black color. You can then elevate the look with a statement jacket. 

If you are considering a turtleneck tee or sweater, then a sleek blazer will also look great, layered on this. Pair with black skinny chinos and a red pocket square, you will have a total winner!
2) White Out!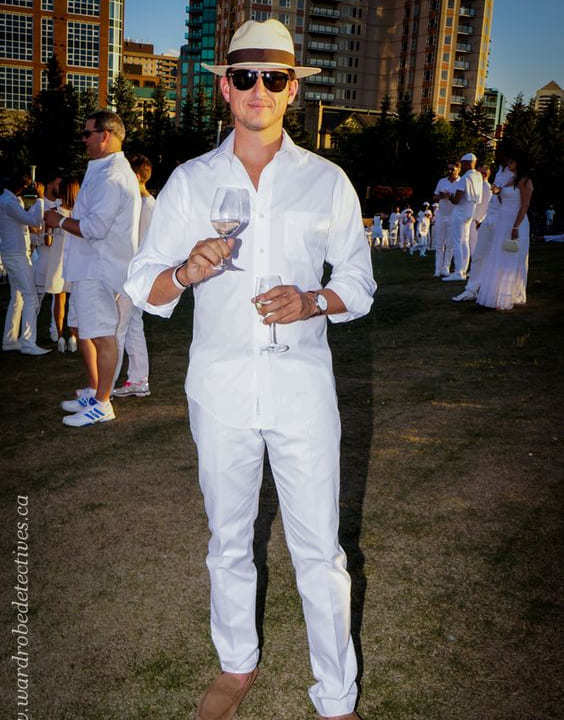 We're big fans of summer soirees and cocktails by the beach, and a lot of people share this feeling. So if the invitation requests your presence at a shack or a restaurant with a view of the ocean, then all-white is what will serve you best, especially if the weather's warm and breezy. 
These kinds of cocktail parties are generally more chilled out and a lot less formal, so you can show up in relaxed yet polished clothing. As long as you don't take the anti-fit route, your men cocktail dress will be good to go! If you're considering white though, make sure you're not among the clumsy folks! That could prove to be a major wardrobe disaster.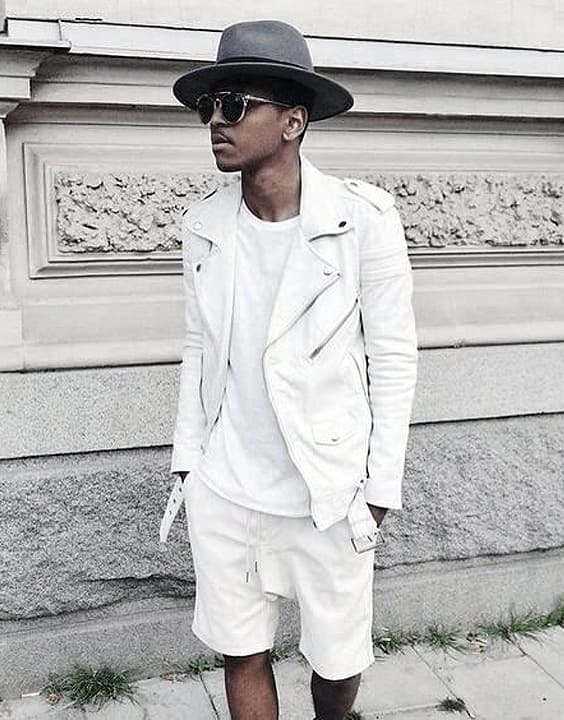 Sometimes, all you need is a well-fitted bomber jacket, a pair of classy shorts and a hat to tide you through!

Now, if the shorts aren't your thing then we suggest trading them for a pair of white trousers. Keep the shirt and the hat! Just make sure this men's dress for cocktail party is pristine white. 

If you're a fan of two-piece outfits, get yourself an ivory blazer and matching pants in a pencil cut. Wear a tee underneath and tuck it in. Finish with white shoes.
3) Kill It In A Kurta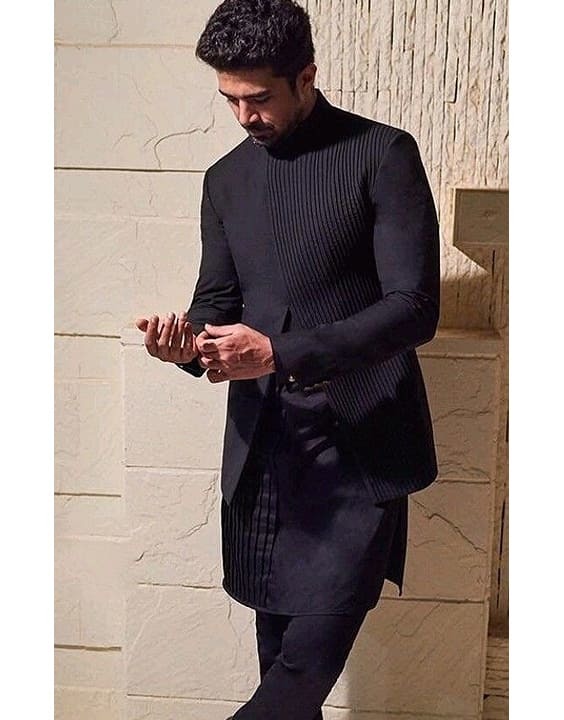 South Asian, more specifically, Indian weddings hold cocktail parties just a day or two before the bride and groom tie the knot. Yes, weddings in our country seem like an endless party anyway, but most other celebrations can be overshadowed by a lot of running around to finish chores and other customs which are just as important. Cocktail parties give the families a chance to socialise in a fun environment. 
With a dedicated DJ and bartender, these are quite memorable affairs. We can bet you've already been to a few and remember what it's like! Right now, they're quite low-key but they're still just as exciting, and even more exciting is the men cocktail dress part. You can let your desi side come out and play while ditching the western suit. Trade it for a kurta that has a contemporary influence. We tell you how!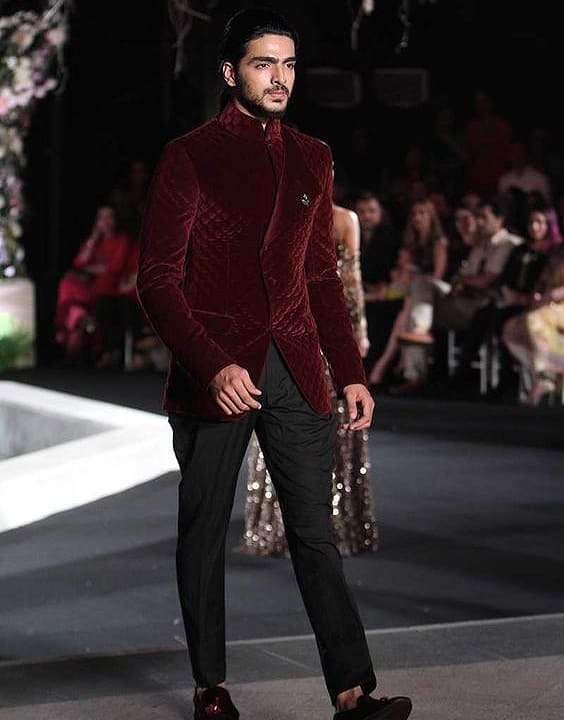 Go all-out in a velvet bandhgala and slim trousers in a contrasting hue! Jewel tones will definitely serve you well.

Feeling experimental? Go for a long kurta with a slit, pair it with a churidaar and white shoes!

Update your ethnic look in a contemporary kurta, topped with

Nehru Jacket

and finished with dress shoes. 
4) Suit Up!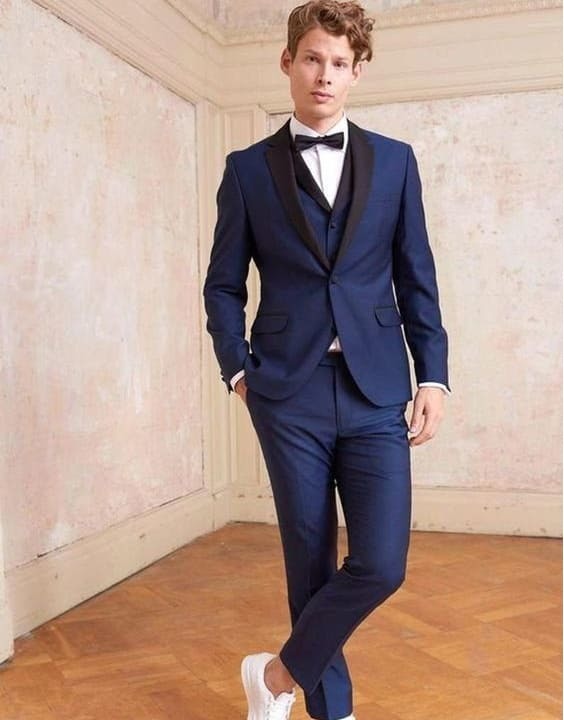 You didn't think we were going to make it to the end of this article without the mention of a suit, did you, especially when it pertains to men cocktail dress? We love trying new things but you've got to give it to men's clothing classics to save the day, always! 
Perfect match for your perfect look white casual shoes By Bewakoof..! Have a look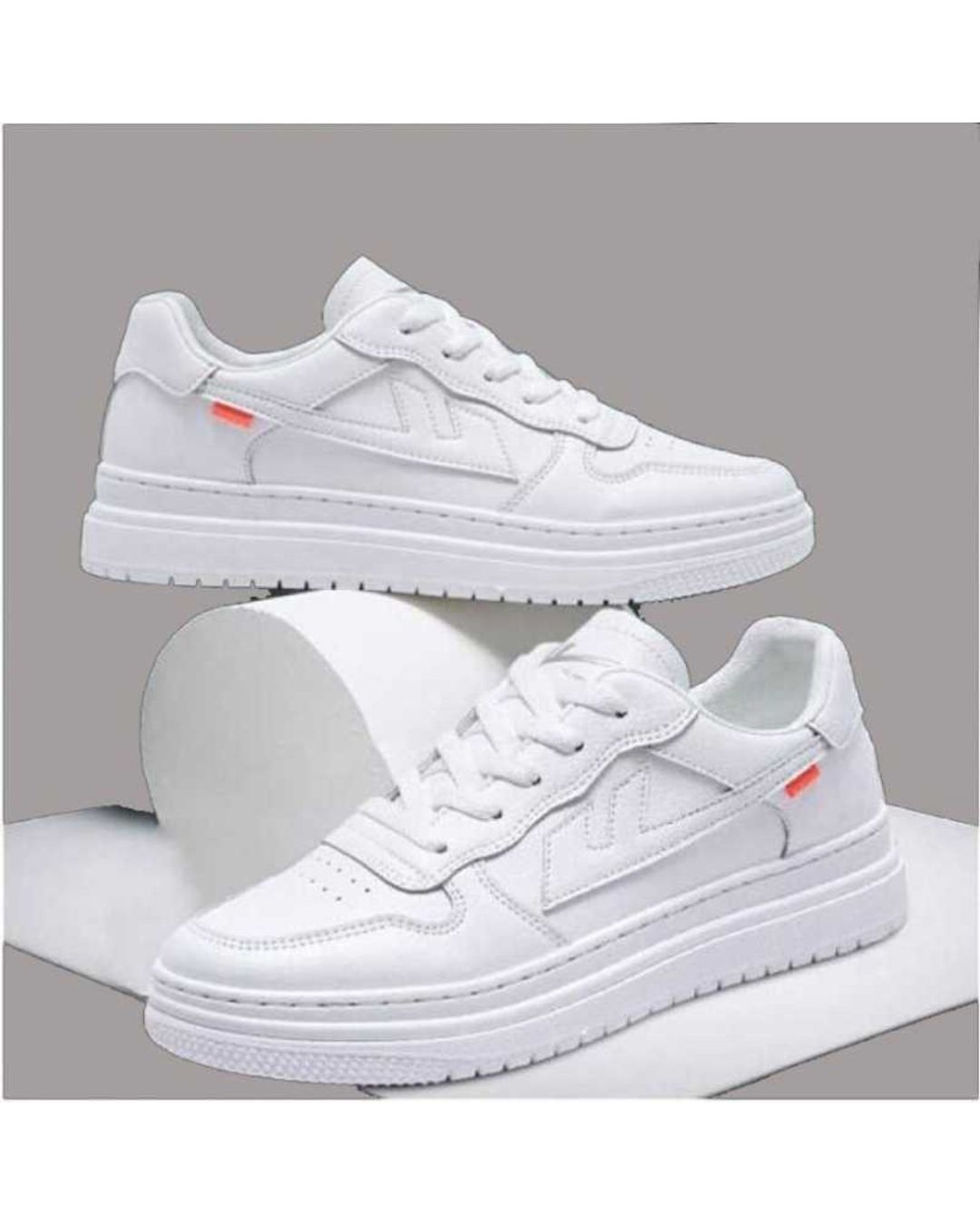 If you're old school and the gentlemanly part of you wishes for nothing but the perfect two or three-piece suit then that should most definitely be your choice of outfit for the party. There are ways to switch it up though, and make it less mainstream. Allow us to let you in on 3 ways to achieve this!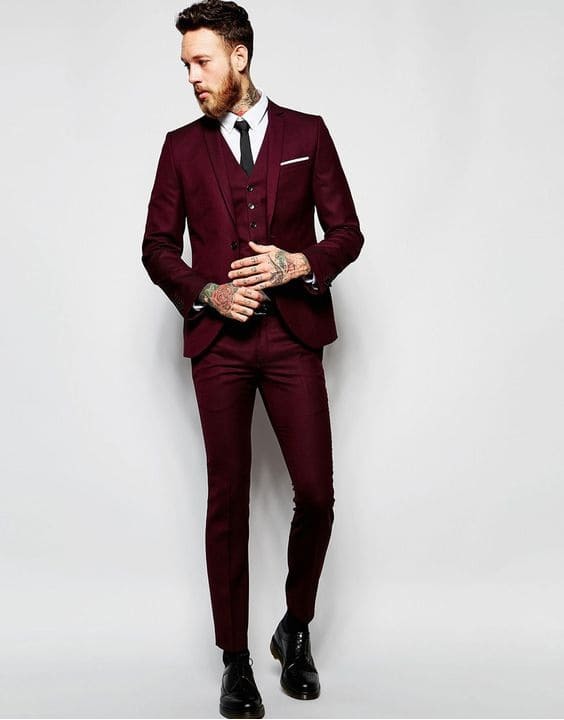 A

grey suit combination

as compared to a typical black one will turn more heads! Take our word on this.

Mastering blue suit combination

can seem like a tough feat but all you need is a bowtie, a white shirt underneath and the sleekest shoes you own!

Pick a bold color for a three-piece suit, like a deep burgundy. Match it with a slim tie and gear up to make a memorable impression.

 
Cocktail parties are all about the fun and the downtime, so we hope our men cocktail dress ideas will allow you to do just that, and also be the reason for some great, celeb-like photographs.
Image credits: The copyrights of the images used in this post belong to their respective owners. The credits where known are specified under the image - if you're the owner of an image and want it removed, please contact us.