An Indian wedding is filled with multiple functions, events, and ceremonies. No other ceremony or event, however, is as fun and popular as the reception. A flamboyant party, usually the last celebration of the wedding sequence, the reception is the time to shine when it comes to flaunting some stylish dresses and Indian or Western cocktail styles. You don't necessarily have to save these till the reception, you can opt for cocktail outfits at other ceremonies too – like the sangeet – but the reception is the most appropriate function for types of cocktail dresses. Want to know why? Read on!
What is a cocktail look?
A 'cocktail party' is typically a party where cocktails are served. This can include more low-key occasions such as after-parties and more high-powered events like wedding receptions. A cocktail party look involves the clothing, make-up, hair worn and one's general presentation at any cocktail event.
What is appropriate for cocktail attire?
Depending on the vibe and type of party cocktail attire ranges from low-key to flamboyant. However, there are a few key things to consider that are commonly considered appropriate for cocktail looks:
Cocktail attire for women usually includes one-piece cocktail dresses or a coordinated set like a 3-piece suit or a semi-formal skirt set.

Cocktail party makeup is similar to evening party make-up, which is beaming, highlighted, freshly bronzed and featuring lush colors on the lip, such as desert brown, berry or red.

Cocktail party hairstyles are also meant to reflect the style of your cocktail attire. More elegant and flamboyant dresses call for an elaborate updo, whereas simpler styles can work with a well-groomed hairstyle with a neat side or middle parting.

The accessories carried with cocktail attire must always be complimentary, statement and used wisely. It does not serve to pile on the accessories. Rather, these are best when picked choosily and when in doubt, going minimal is best.
So with the above in mind, you must be wondering what would be the best cocktail look for a wedding event? We recommend stunning designer cocktail dresses that are sure to get you noticed and give you opportunities to flaunt your eye for Indo-Western and Western fashion in a stylish and put-together manner. Scroll on for 10 stunning cocktail party dress ideas from 10 of the best Indian designers. These are sure to transform your look at any wedding – whether you are a guest or the bride herself!
1) Sculpted Beauty In Gaurav Gupta: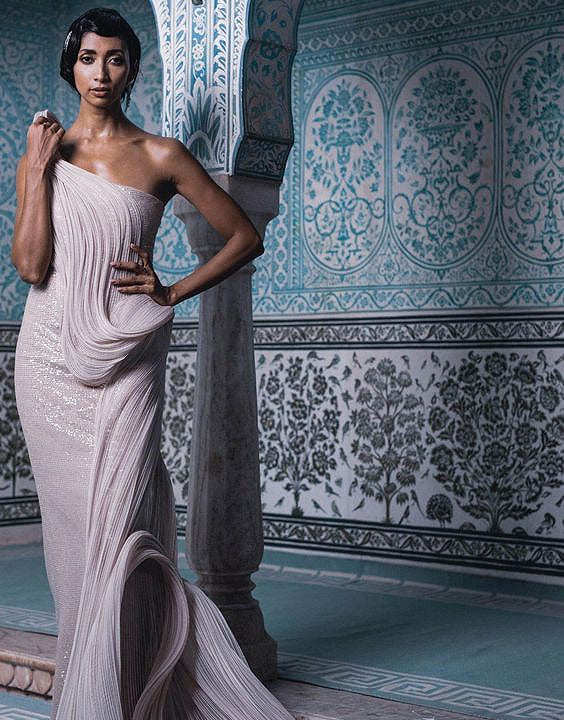 Gaurav Gupta is known for bringing undeniable panache and a sleek sculpted style to the table with his unforgettable designs. Opt for a gown in a sculpted drape like GG's designs and shine bright like a diamond at any cocktail event you attend! Cocktail dresses like these are synonymous with high fashion and are meant for a high-powered reception for a big fat Indian wedding. 
If you are a guest or a bridesmaid and not the bride, be careful to not outshine the lady of importance with this style inspiration! If you are the bride and are looking for a stand-out cocktail look for your wedding reception – this is undoubtedly the one for you!
Styling Tip: A bejewelled clutch, diamonds or other complimentary precious stones as earrings and a statement ring to match are the perfect accents to this magnificent gown for cocktail party events. Go for light make-up, an effortless up-do hairstyle and a pair of slinky stilettos with this one.
2) Printed Tropical Vibe In Anita Dongre: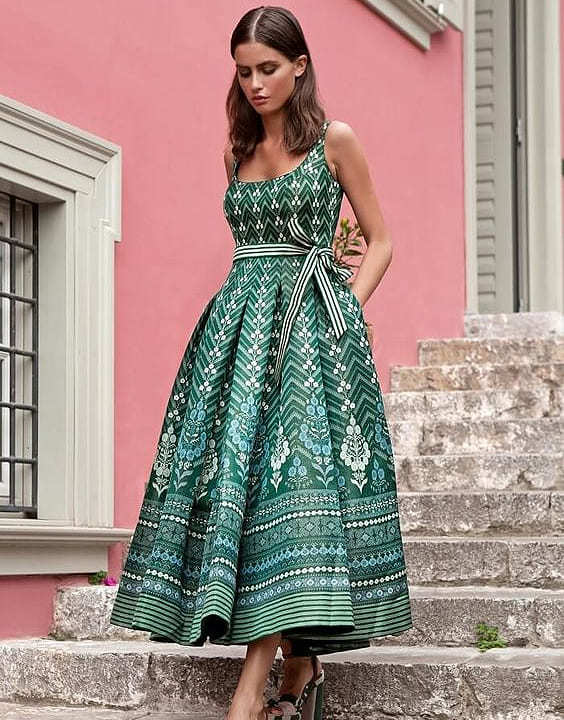 Are you going for a destination wedding or an outdoors party with a beautiful view, stunning sights, jazzy music and low-key fun? This is the style for you! Printed women dresses are quite a hallmark for any Anita Dongre collection, and her effortless designs are the right choice for a breezy wedding party. 
Opt for a dress with an Indian floral print on a deep jewel-toned base – like emerald green, ruby red or cobalt blue. This is a stand-out, yet subtle style of floral cocktail dresses and is sure to get you just the right amount of attention. If you are looking to save money and want a similar style, several websites with the best online shopping in India offer impeccable floral printed styles for cocktail dresses.
Styling Tip: A pair of comfy wedges or platform heels, a simple low-bun or free-flowing hair with a neat centre partition and minimal jewellery is the way to go for this look when it comes to styling. Don't go overboard with the eye makeup, but you can opt for a darker lip that compliments the color of your ensemble for an added flair. These dresses usually come with roomy pockets – so you can forego a purse or clutch and stay free and comfy for all the dancing!
3) Draped Lush In Anamika Khanna: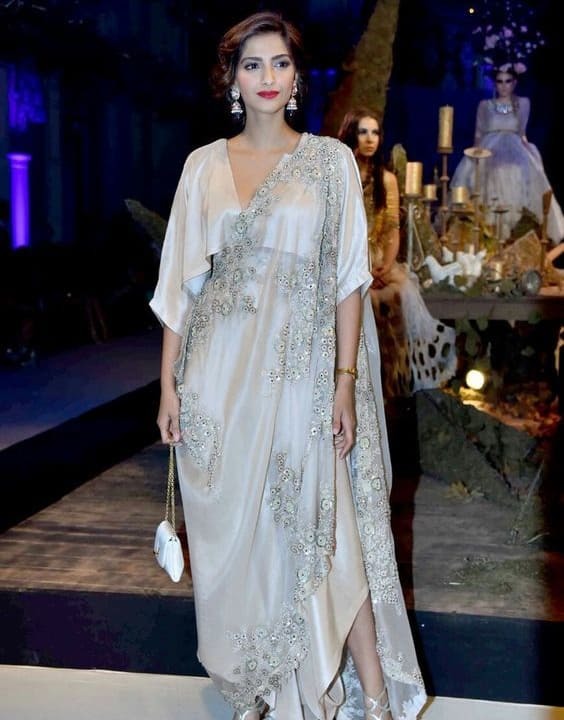 Nobody reinvents the classic saree to a cocktail masterpiece like Anamika Khanna. If you are looking for luxe Indo-western options for satin cocktail dresses, this look is all the inspiration you need! 
Combining the opulence of satin and silk with the diaphanous luxury of organza, Anamika's delicate and innovative drapes make for stunning cocktail dresses that will ensure you look better than the rest without having to be loud or garish. Designs inspired by the saree drape are undeniably elegant, sophisticated and effortless. Go for this one if you wish to channel the best fashionistas of the country! 
Styling Tip: Pick one piece of jewellery – be it a ring, a watch or a pair of earrings and make it a statement. Keep the rest ultra-minimal and bare. Opt for small slinky coin-purses or clutches to complement the delicacy of gorgeous cocktail dresses such as these. Strappy metallic heels, an easy up-do, a matte red lip, and glowy cocktail makeup take this look to the next level. 
4) Ultimate Coolness In Masaba Gupta: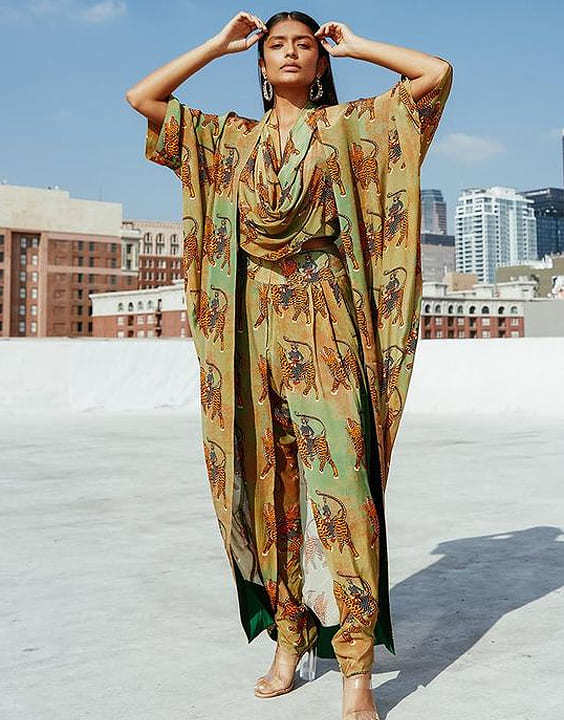 Masaba Gupta is the epitome of cool in the Indian fashion scene, and her designs reflect that attitude. Channel a nonchalant style and extreme individualism at your next cocktail event in Masaba's signature prints and designs. Although not quite a 'dress' in the conventional sense, her head-to-toe graphic printed drapes make for unforgettable cocktail dresses for weddings! 
Styling Tip: Go for boldness and exuberance by picking a striking head-to-toe printed outfit for your cocktail event. Now, cocktail dresses such as these are the star of your outfit, so it is important to keep the rest of the styling minimalistic and sophisticated. Go for modern designs when it comes to shoes like a clear block heel and opt for easy bronzed eyes and a nude lip for the make-up. 
A pair of earrings featuring an unusual design or an everyday object as a trinket would add just the right amount of quirk. You can add your preferred design of sling and tote bags for a destination wedding.
5) Dark Elegance In Sabyasachi Mukherjee: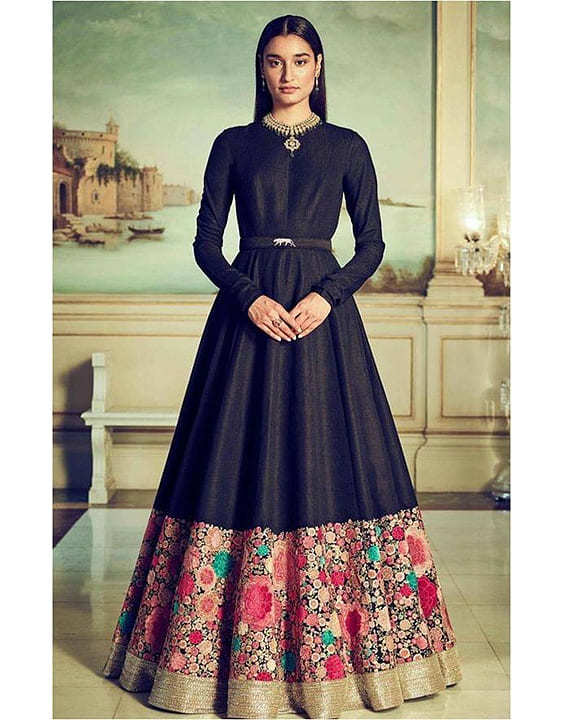 We now come to the king of all wedding events – Mr Sabyasachi Mukherjee. Uber-chic, elegant and every wedding-goer and bride's dream designer; Sabyasachi's style resonates with Indian sensibilities very strongly. Thus, his put-together and sharply designed Indo-Western gowns make for ultra-stylish cocktail dresses for an Indian wedding reception. 
We especially like the dark glamour and elegance of his black gown with the large floral embellished bottom for its signature appeal. This is a cerebral and unforgettable take on black cocktail dresses and can give your style the edge it needs at any event.
Styling Tip: Straight hair or a well-groomed wavy hairstyle with a neat parting and minimal earrings is a staple with this look. Pair this with a matching belt to cinch in the waist and add a statement heirloom Jadau necklace or an imitation necklace in a similar style for Mukherjee's lush styling on shoots. This is a classic look that doesn't need any added glitter or glow, so keep the makeup minimal, matte and neutral.
6) Blinged Glamour In Manish Malhotra: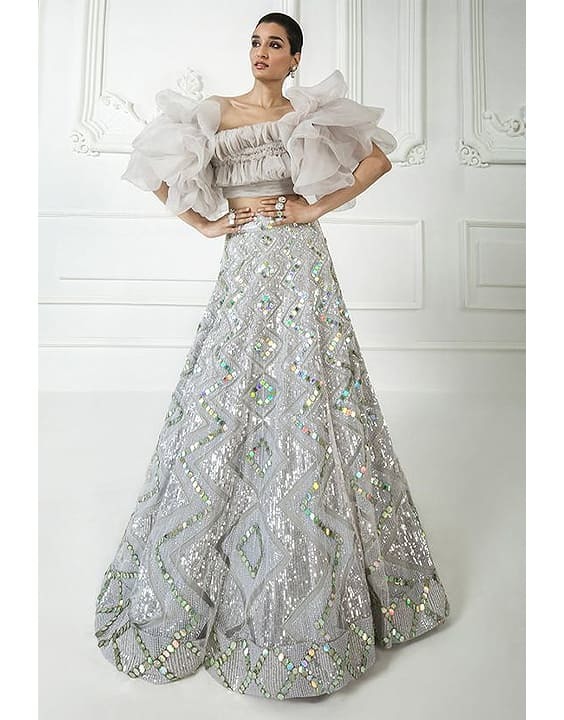 Cocktail dresses take on a glam, blinged-out, Bollywood-inspired avatar with Manish Malhotra's designs. Stunning, flamboyant and super glittery, these are the dresses to rock if you would like to exude star-quality glamour at the next wedding you attend. 
Sparkle like the rising star you are with lehenga-inspired cocktail dresses for Indian weddings. This is certainly not a style for the faint-hearted and you are sure to outshine anyone at the wedding event with this ensemble – even the bride. For brides, these cocktail dresses give you your moment to be the centre of attention at your reception like you rightly deserve!
Styling Tip: Opt for stacked rings, extra bling on the eyes, a seriously glam hair updo, and blushing bridal makeup to ensure you are the star at the event. Wear this look with a sculpted top design to give off a modern, millennial vibe. A contemporary color like glacier grey, blush pink or mint green with matching tonal bling and embellishments, can change the style game at the cocktail event you are at. 
7) Avant-Garde Style In Rahul Mishra: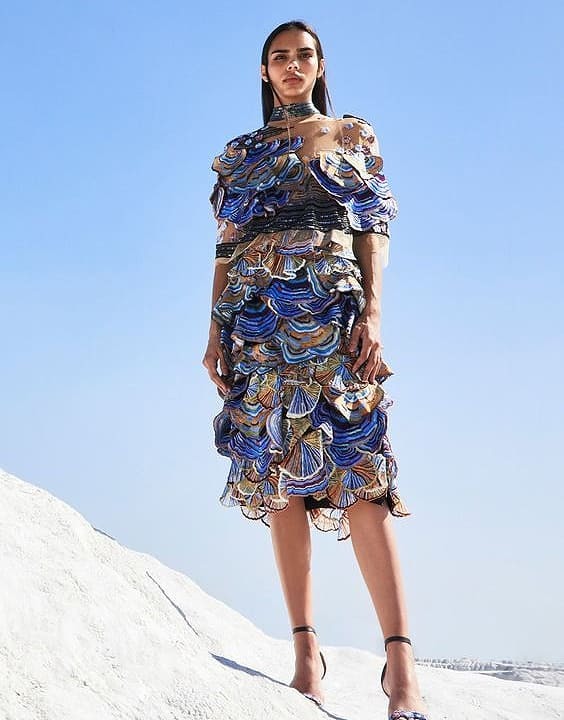 Rahul Mishra is known for his magnanimous style, unusual pairings and avant-garde designs. His style sensibilities are perfect for the fashionistas who want to stand out with their unusual take on cocktail dresses and make a fashion statement in their own right. 
Go for the kill in a stylish avant-garde design of your own or opt for exuberant layered flamboyance to give this look an irresistible spin – the choice is yours!
Styling Tip: To make your look Avant-Garde, ensure that it is the right length and shape, otherwise it may lose the look of a cocktail dress. Then ensure that your style has either a couple of very bright, unusual colors or is vibrantly multi-colored to give it a slightly outlandish vibe. Finally, ensure that you cinch it all in with a sleek broad belt to give your waist definition and add poise to your silhouette. Viola – you've achieved an avant-garde look for cocktail dresses!
8) Indo-Chic Simplicity In Ritu Kumar: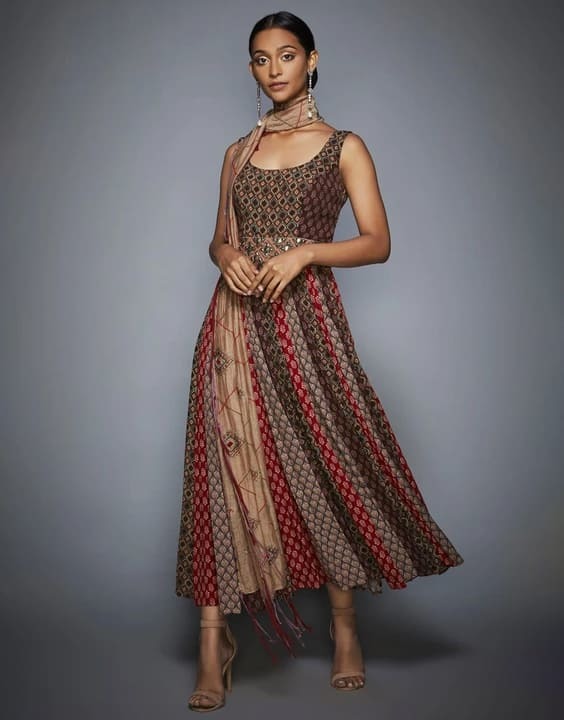 Ritu Kumar is the epitome io Indian wear simplicity. Her stylish, simple and flattering designs make for multi-wearable cocktail dresses that are available on several online shopping app and websites these days. She has truly taken her luxe fashion mainstream and created a design house empire that enables regular people to make style statements on a daily basis. 
Go for her Anarkali-inspired cocktail dresses with a matching scarf in stunning multi-pattern and multi-color prints for a versatile, glamorous look that you can rock at many different cocktail events.
Styling Tip: Go for soft-glam makeup, complete with glossy lips and metallic eyes for an elevated appeal. Delicate long earrings, a classic watch, strappy sandals and a put-together low bun complete this look. Pro tip? Add on a neutral-hued blazer to this look and rock this attire at a work cocktail party as well!
We hope you love these stylish cocktail dresses looks and have gotten the style tips you need via our recommendations. Stay tuned for more such style analysis – see you next time!
Image credits: The copyrights of the images used in this post belong to their respective owners. The credits where known are specified under the image - if you're the owner of an image and want it removed, please contact us.