Navratri colours 2018 are here to brighten your closet this festive season! On the nine days of Navratri, wear fusion outfits that are different from popular traditional styles.
Grand celebration during Navratri calls for everything grand; food, dandiya, sweets and outfits too. Basic…Nada!! The nine days of Navratri call for everything OTT and we are living for this extravaganza.
We love the Navratri 9 colours… Don't you?
The  Navratri days demand for your spirit to be colourful. This colour schedule is more than just a ritual or a trend, the essence lies in how these colours make your spirit feel beautiful. This year too we have a nine colours of Navratri list to follow.
The following are the Navratri colors 2018. Let's give you a little insight into what these colours represent.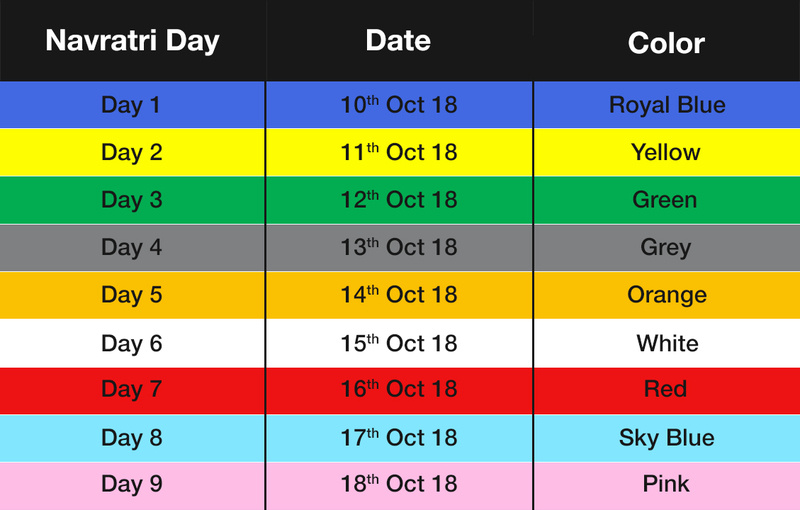 ROYAL BLUE  is the colour of nobility. The colour of calm and superiority.
YELLOW, the colour of sun signifies energy and happiness
GREEN is the colour of earth and represents fertility, vegetation and harmony
GREY symbolises a powerful, cool and calm mind.
ORANGE is the colour for creativity, enthusiasm and courage.

WHITE

the colour of peace and purity, is a versatile colour and is also symbolic of transformation and change.
RED is the colour of vigour.
SKY BLUE stands for trust, loyalty,wisdom and confidence
PINK colour signifies more than just romanticism, it is symbolic of  universal love and great optimism too.
Now that you know what the colours stand for and understand their significance, let's see how you can wear the navratri colours for nine days this festive season-
Your go-to style guide to look absolutely smashing on nine days of Navratri… And Nights!
Learn how to ace the 'hatke' Navratri look!
We understand the authentic Indian look can be a little overwhelming at times and not everybody is a fan of elaborate embroidery. It's breathtakingly beautiful but can be a little too much and uncomfortable, especially in this October heat.
If you're not very keen of this look then a 'Bohemian chic' look can be your style this Navratri season. It's modern, it's ethnic and it's ravishing.
The boho look calls for creativity and originality, gives you full freedom to experiment.
The following is a compilation of outfit ideas for smashing the Boho chic look the next nine days.
1. Fools dig BLUE!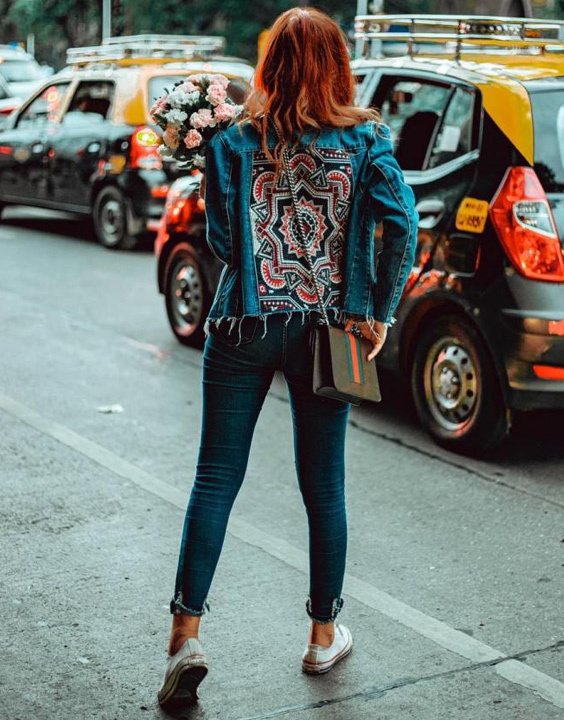 A classic denim jacket gets a hippy make-over. A simple denim on denim look, letting the printed jacket take the centre stage works well for a comfortable look with a bit of celebration reflecting from the jacket.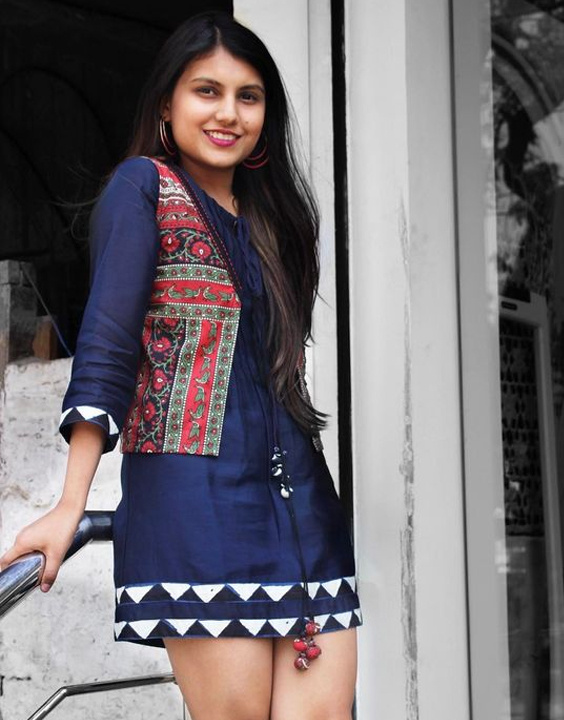 A cute blue mini with geometric print and a gujarati choli jacket, simple slip ons would make a practically stylish ensemble. Hoop earrings or lighter chandbalis can be your choice of accessory.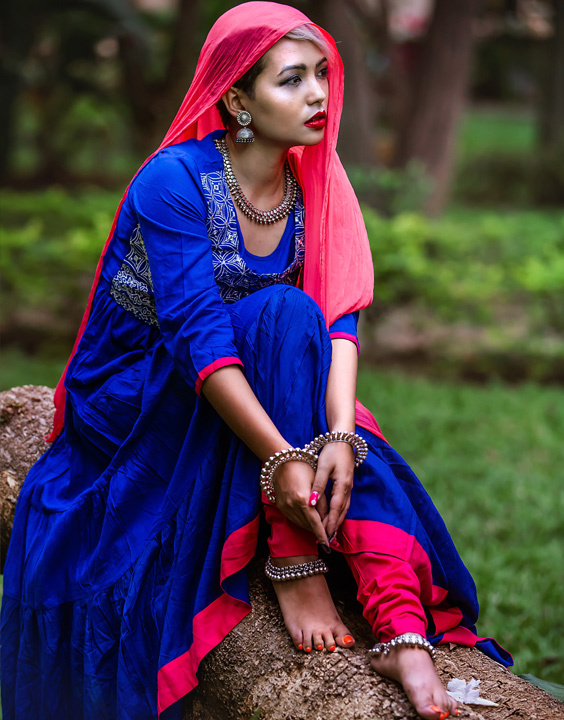 If you don't have a statement jacket to liven up your outfit worry not! An authentic Indian anarkali can be made to look more contemporary by styling it with chunky metallic bangles and earrings.
2. Shine in YELLOW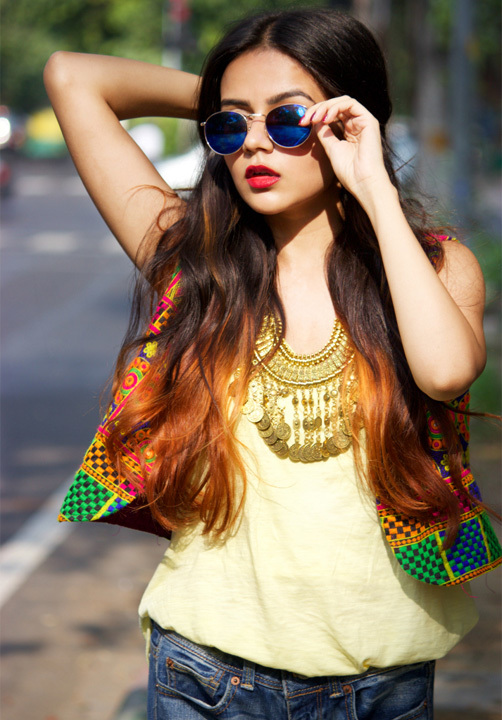 If you want to try a look that fits the Navratri mood a little more, try wearing a sleeveless yellow blouse under a colourful, choli-style cropped jacket. Accessorize with a 'ginni' neck piece and shades for a day out or replace the shades with a ginni mangtika for a celebratory night look.
And if you are into short dresses then this is the outfit for you. Pair a cute and breezy yellow printed mini with tassel earrings and a metallic, fringed sharp geometric neck piece. You can add a festive accent to your look by replacing a plain sling with a colourful, beaded jhola.
This look is modern, chic and can be worn to college or for a fun pandal hop with your friends.
3. Groove in GREEN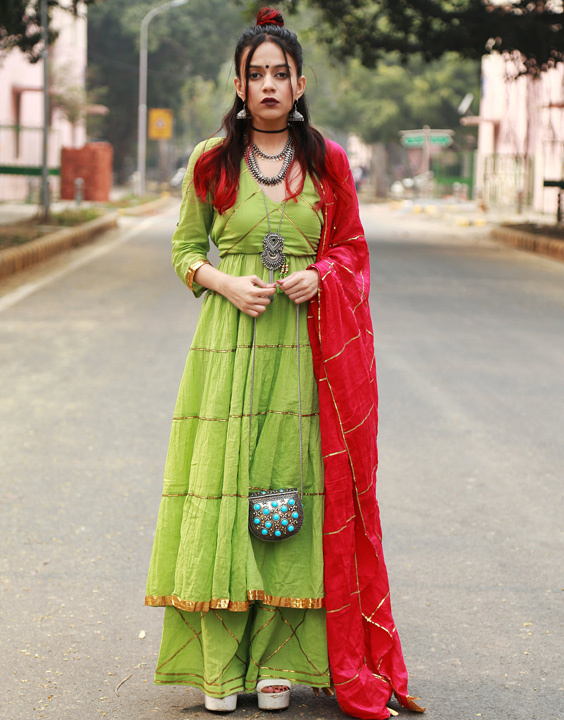 Contemporary Salwar kurta styles are quite the sensation this year. This millennial style is pretty yet edgy without compromising the beauty of the salwar suit.
All you need is an A-line long kurta and a palazzo style salwar. Drape a dupatta of your choice and accentuate this look by wearing silver or copper ethnic jewellery.
With this look hit the right balance between the 'old and new'.
4. Slay with GREY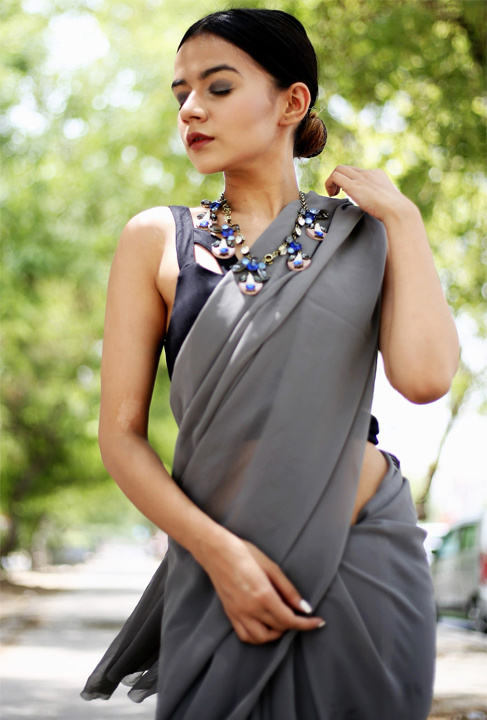 If you love sarees but are petrified by the alluring, heavy details then a modish saree with a stylish blouse like this one is something that would suit your taste better.
Although this look is not very boho you can add that boho element by accessorising with terracotta beads jewellery or some chunky ethnic silver jewellery.
Since the saree is plain it gives you more room to accessorise it as you want.
5. ORANGE takes you to the bright side!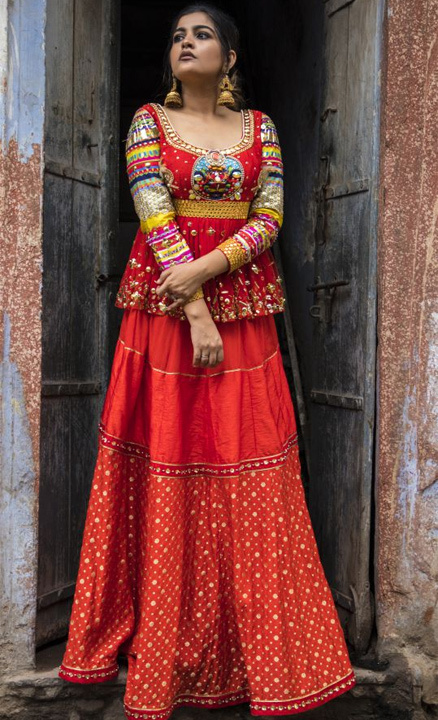 A 'Banjaran' style lehenga choli with the right amount of mirror work and embellishments will make for a classic yet unusual outfit. Remember not to go overboard with the jewellery, keep it simple with dome jhumkas and let the colour of your outfit shine.
6. Be A Vision In WHITE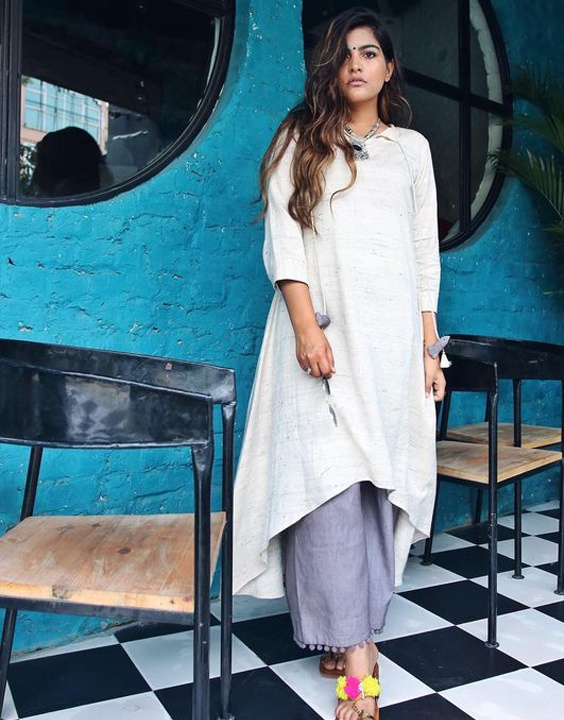 White is usually thought of as a boring colour and may seem a little out of place when put in this list of navratri 9 colours. But believe us you, this is the wild card of all colours.
You can pick any white kurti, top or dress and pair it up with whatever colour and jewellery of your choice for a unique outfit. "Never underestimate the power of White!"
A long-short shirt style kurti with palazzo pants, colorful chappals and ethnic jewellery would sum up your next navratri OOTD.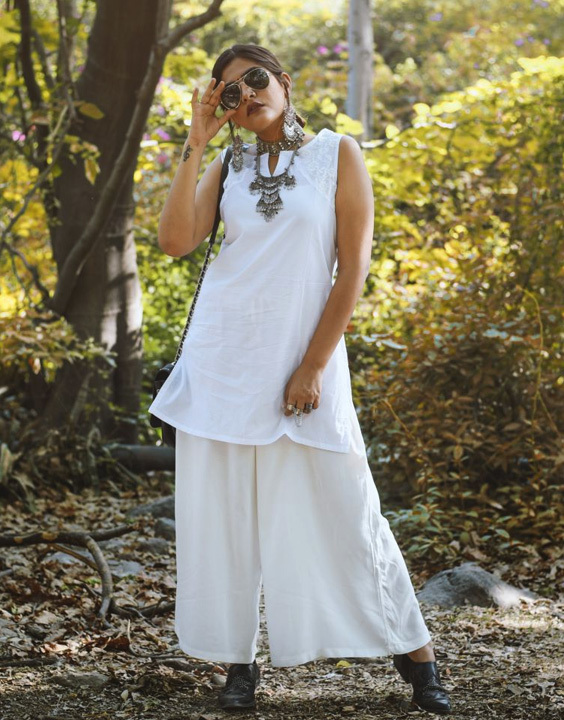 Transform a plain outfit by accessorising with some tribal jewellery.
7. Sucker For RED
A red kurti with ripped jeans, heels and a unique 'naak baali' that's one unusual look but can work well for one of the navratri days.
'Naak baali' is a powerful accessory piece, although unusual to sport casually it is a great medium for elevating from basic to a head turning look. It's a popular piece amongst boho lovers.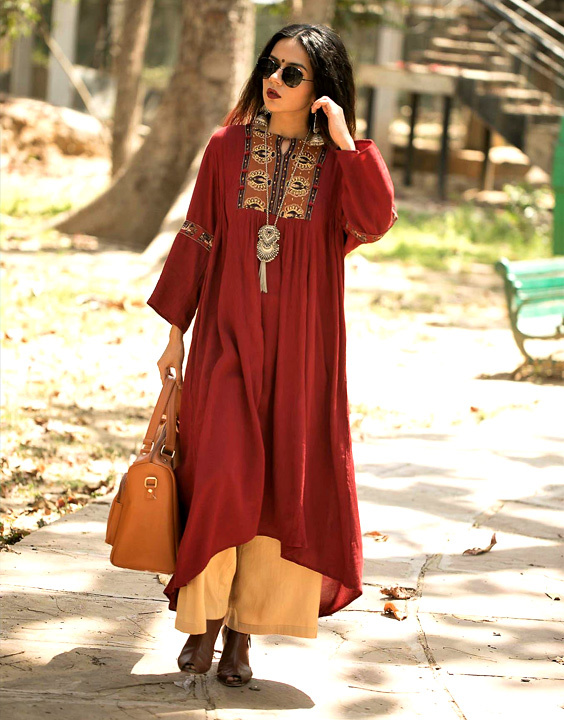 If something more demure is your style then full sleeved long, dark-red kurti worn as a dress or over palazzo pants/skinny jeans paired with warm coloured, heeled mules or peep toes and boho jewellery would make for an upscale, expensive look.
8. Ooze Confidence In Sky-Blue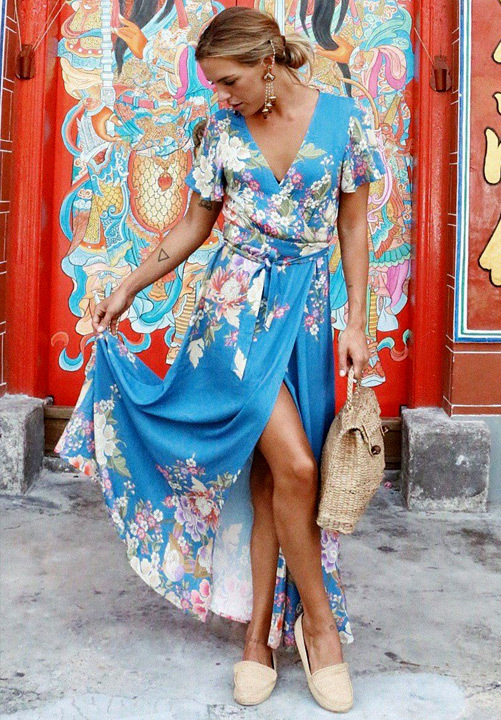 Get creative with this colour. Ditch the kurti and slip into an elegant, printed maxi dress. style it with geometric cut accessories. Danglers and long neck pieces would compliment the dress without distracting attention away from it.
If you're a sucker for the 'fun and quirky' look then we suggest you try pairing a plain sky blue short kurti with printed shorts. Finish the look with some desi jewellery.
9. Pretty In PINK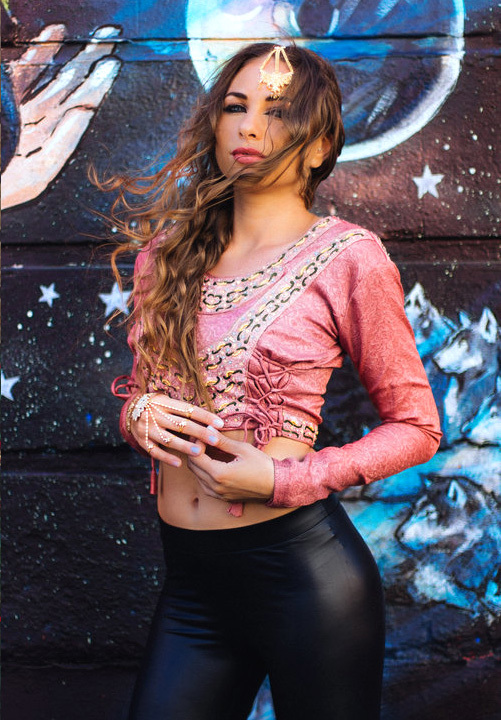 When you think of pink You usually think of bright, 'poking in the eyes' kind of pink. This Navratri think of more romantic, delicate pinks like powder or pastel pinks. A fusion of worlds can be your inspiration.
A body hugging modern, printed crop top with slim fit bottoms or a white flowy lehenga skirt can be a good navratri outfit, especially when accessorized with some delicate gold jewelry.
Or pair an embellished poncho-style top with a thick metallic ring choker. For bottoms you can get creative with dhoti pants, lehenga skirts or a jeans works too.
ENDNOTE:
Bohemian works very well for Indian festivals since it uses many ethnic, colourful and robust elements. This eclectic mix of 'desi' and 'videsi'  is great for a stand out look.
Now that you've learnt all that you needed to pull off this style, go flaunt your 'Hatke' look with these beaut Navratri 9 colours.
Image credits: The copyrights of the images used in this post belong to their respective owners. The credits where known are specified under the image - if you're the owner of an image and want it removed, please contact us.